Disclaimer: We sometimes use affiliate links in our content. For more information, visit our Disclaimer Page. 
When it comes to corporate strategy, sustainability is a significant factor. As the world around us changes and new challenges emerge, businesses will need to adapt and change. To do this, companies must pay attention to their environmental impact or risk losing out on valuable customers who care about these issues. In today's blog post, we'll take a look at one company that has adapted its corporate strategy to stay sustainable.
What is Corporate Strategy?
Corporate strategy is the process of determining and executing a company's vision for success. A corporate strategy entails a clearly defined, long-term vision that organizations set and achieve customer satisfaction. Corporations are always looking for ways to continuously improve their strategies by constantly investing in bettering themselves while also seeking new opportunities as they arise.
The strategy of a company is not something that's just created and then left to stagnate. On the contrary, it's crucial for companies to always be on the lookout to change their strategies to fit current circumstances and clients' changing needs.
Corporate strategy is the highest strategic plan of an organization, which defines their business goals and how they will achieve them. Organizational strategy is essential to the success of any company. It helps define the business goals and how they can make those goals a reality through strategic management.
Given the volatile environment in today's business world, organizations must revisit their corporate strategy. This includes constantly evaluating how they deliver value and being relentless about creating more of it than any other company out there. To do this successfully, companies need to:
Set a clear, shared, long-term vision
Define a portfolio strategy to realize your vision
Connect strategy with value creation 
Different Types of Corporate Strategy
There are four different categories when it comes to corporate strategy: 
Growth strategy
Stability strategy
Retrenchment strategy
Re-invention strategy
1) Growth Strategy
The best growth strategies for companies are those that can increase revenue, market share, and penetration. These include concentration or diversification routes based on the company's core competencies. Concentration will focus on one area of a product while diversifying might be ideal for companies looking at branching out into new areas.
2) Stability Strategy
Stability strategies are often geared towards keeping things the way they currently exist. This is because organizations enjoy success with their current situation. These stability strategies capitalize on this. For example, a company might use them as a safety net if something goes wrong due to being invested in the growth-focused strategy. However, stability Strategies can still be helpful for long-term plans that help maintain profitability by improving margins and cutting costs.
3) Retrenchment Strategy
The retrenchment strategy is a defensive, change-driven approach to improve an organization's position. The main objective of this type of strategy is either changing from a negative trajectory or cutting off the parts that are pulling down your company with aggressive changes.
4) Re-invention Strategy
Re-invention strategies are when you take the old businesses that haven't changed for a long time and re-invent them. You can do this with new technology. There are two types of strategy–evolutionary and revolutionary.
The Importance of Good Corporate Strategy
Corporate strategy is an emerging field that has been evolving over the past 40 years. It's concerned with a business's overall purpose and scope to meet its stakeholders' expectations, heavily influenced by investors in the company. Corporate strategy guides strategic decision-making throughout a company at all levels as it acts like glue, keeping each part of your business together for success!
Achieving success is not easy, and it requires more than just a solid foundation. It also needs the ability to evolve, change, and adapt in real-time – this means considering your strategy should be flexible enough to grow with you as time goes on.
But how can an organization know whether its corporate strategies are succeeding or failing? First, a strong foundation is not something to be taken lightly. Second, good corporate strategies consist of six elements that work together to give the company a competitive edge and ensure success. These are represented by what we know as 'The Corporate Strategy Triangle .' Each side represents one fundamental building block for good strategy: Resources, Businesses, and Organization.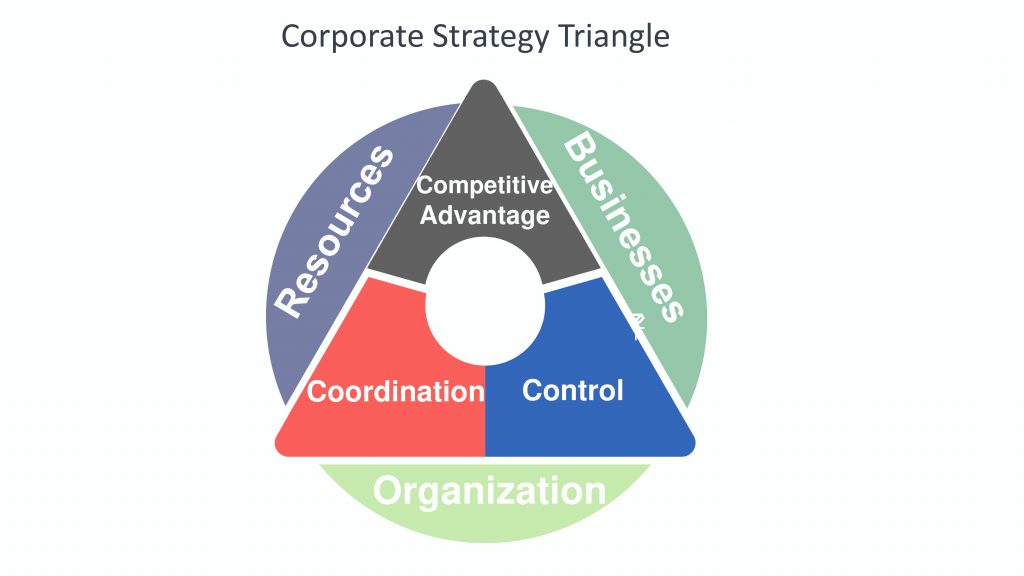 A corporate strategy is often a company's blueprint for accomplishing its goals. It defines the organization with all of its resources and capabilities, then focuses on achieving clearly defined objectives in both the short-term (within one or two years) and long-term (over five to ten years).
The triangle is a powerful, dynamic tool for achieving competitive advantage. By building three equally strong arms to be used by the business at will, its success could last indefinitely with any changes in the market or climate. However, if one arm of the triangle does not match up well and another has been put down like an old dog that no longer hunts; all it takes are some shifts within industry trends or needs before what was once invaluable becomes worthless as other companies compete more effectively against you -or even worse- overtake your company's efforts entirely!
Why Sustainability Should Be a Priority In Corporate Strategy
Sustainability is becoming an essential aspect for corporations due to changing perspectives in the world. As a result, companies have become increasingly necessary to address this widening gap between understanding sustainable business practices and embracing them. 
Sustainability can be defined as providing what we need today without compromising our needs tomorrow- in other words, sustaining ourselves while making sure that future generations can meet theirs too! There are three pillars of sustainability: economic (a healthy economy), environmental (preserving natural resources), and social (helping people achieve their potential).
One way that corporations can integrate sustainability into their strategy is by investing in commercial EV charging stations. These stations can help companies lower their carbon footprint and support the growing market for electric vehicles. By implementing a commercial EV charging station by ACP, corporations not only demonstrate their commitment to environmental sustainability but also encourage employees and customers to adopt eco-friendly practices. Furthermore, supporting the transition to electric vehicles through the installation of charging stations can contribute to a company's long-term economic success, as it aligns with the global trend towards cleaner, more sustainable transportation solutions.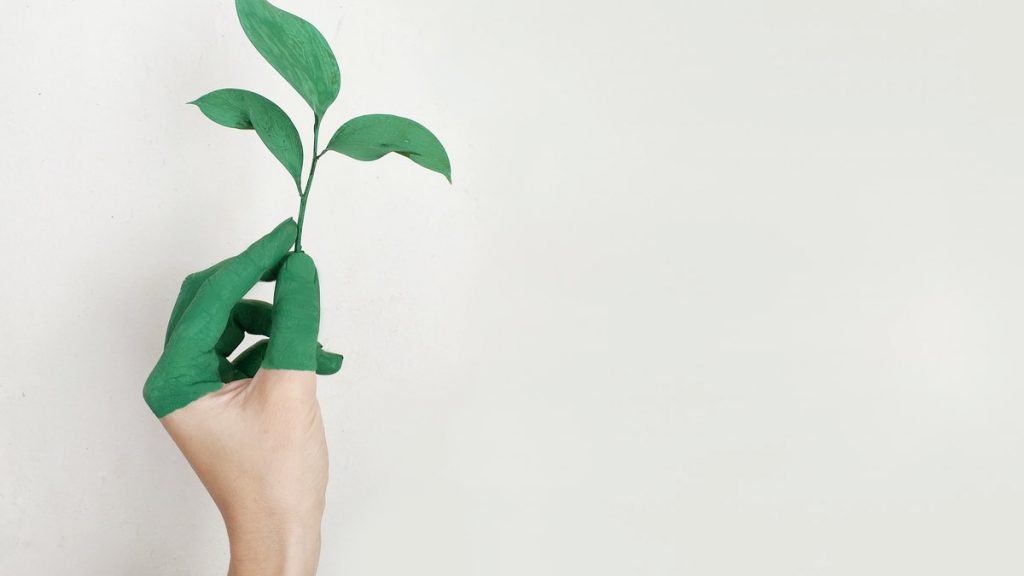 The Importance of Sustainability Strategy
The report shows that sustainability is important to 90% of CEOs and corporate boards, but only 60% have a strategy. This disconnect may be because the CEO or board has not been engaged with strategies yet; they need more information on how it can benefit them.
The world is experiencing resource scarcity: we have to use resources carefully. Resourceful individuals are becoming leaders in the business industry and making a difference for our future by creating sustainable initiatives that help people live better lives today, tomorrow, and well into the future.
Elon Musk has become one of these influential businessmen with his companies Tesla Motors, Solar City, and SpaceX, who make alternative sources of energy more affordable than they've ever been before as he's helping us explore space too! And it doesn't stop there – according to McKinsey research, having a sustainability strategy in place allows companies to make long-term investments which are necessary for us to survive this issue. 
When it comes to sustainability, a do-nothing approach can mean more significant losses in the future. More and more corporate leaders are becoming aware of how vital reusing and recycling have begun working toward a circular economy. This not only benefits them financially, with over $2.15 trillion expected by 2025 for renewable energy markets themselves, this also helps preserve our planet's natural resources.
Related Article: The 15 Most Eco Friendly & Sustainable Companies
– Increasing Brand Value
The world is changing, and so are millennials. They're the largest generation in history, with Generation Z not far behind them. Nielsen's survey found that Millennials are twice as likely to say they've changed habits due to their environmental concerns than Baby Boomers- meaning there will be many more millennial voices speaking out against climate change for future generations.
Apple continues to be a company with an excellent reputation. Alongside its products, the world-renowned brand constantly works on ways to help our environment and has made some good progress so far! For example, Apple has pledged that by 2030 all of its products will become 100% carbon neutral for both productions as well as a supply chain – this includes items such as iPhone chargers and other accessories too!
It's no surprise why people love brands who act like this because not only do these companies offer great values themselves, but we also feel great about what we buy from them at the same time. This shows that corporations can increase their value tremendously by focusing on sustainability.
– Benefit from a Trend that is Continuously Growing
People are more inclined to buy products from sustainable brands. Nielsen's studies show that 66% of consumers would spend more for a product if it came from a sustainable brand, and 81% of global consumers feel strongly that companies should help improve the environment.
There is an increasing trend among people toward supporting sustainability; this movement has been unstoppable since millennials first appeared and generation Z began growing up. Sustainable efforts also focus on social issues like poverty or equality in society and economic aspects such as climate change. However, today, environmental concerns lead the way, with all these other factors coming into play later down the line.
– Increase Profitability by using a Sustainability Strategy
The McKinsey report states that businesses can substantially reduce their costs and affect operating profits by as much as 60%. This is due to the ability of a sustainability strategy to lowering energy consumption, water intake. When building your organization's sustainable initiatives into business units, you can increase an organization's chance of profiting from those activities.
The Puma company used transparency about its environmental practices when it published data on the water used and carbon emitted through their supply chain; this was instrumental in identifying ways to cut back on these two areas, which would lower fuel usage (and consequently emissions.) Additionally, being more mindful of our environment has improved relations between them and stakeholders worldwide who support green lifestyles!
– Attract Talent with Your Green Pratices
In the last few years, sustainability has become one of the most critical factors in attracting talent. Nearly 40 percent of millennials have taken a job because they were attracted to an environmentally responsible company and willing to pay a cut for it. With so many talented millennial workers out there, not abiding by sustainable practices can be costly. There is also evidence that feeling like their work matters makes people more motivated on the job – this means both happy customers and happy staff, leading naturally to even better business outcomes and social change at scale over time!
– Tap into New, Expanding Markets
Just as China is now looking for new ways to address its air pollution, corporations should also look for potential business opportunities. When companies focus their products and services around sustainability initiatives like those in China's plan, they can tap into huge markets that provide much-needed solutions. Furthermore, a strong commitment by any company will put them above competitors who may not have been so forward-thinking about environmental issues such as climate change or global warming.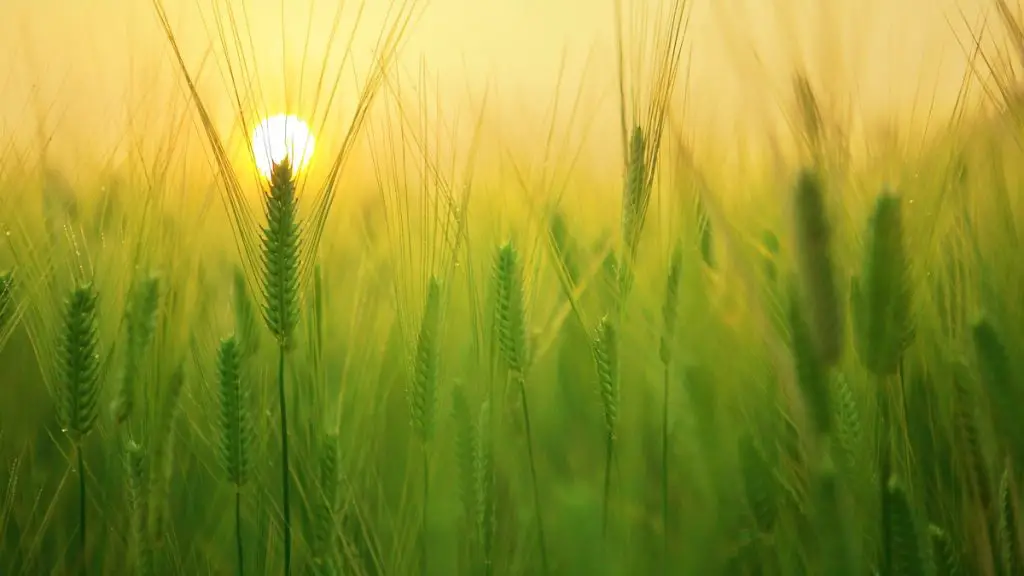 Conclusion
The importance of a sustainability strategy is undeniable. This business model can transform your organization into new territory. A little research on these merits will show you just how beneficial it could be for your company in the future!
We hope you have enjoyed reading about how sustainability is a critical component of corporate strategy and that this blog post has made the importance clear. If you're interested in learning more or would like to hear from me again, please subscribe below and share with your friends!