Disclaimer: We sometimes use affiliate links in our content. For more information, visit our Disclaimer Page. 
When it comes to choosing accounting software for your small business, there are a lot of factors to consider. QuickBooks and Xero are both popular options, but they have different features that might make one more suitable for your company than the other.
QuickBooks Online is great for businesses that need to track inventory, while Xero is ideal for companies that bill customers on a recurring basis. Xero also offers more customization options than QuickBooks Online, which can be important for businesses with complex financial needs.
We've put together a comparison of QuickBook vs Xero to help you decide which software is best for you. So, let's take a closer look at these accounting tools.
QuickBooks Online Software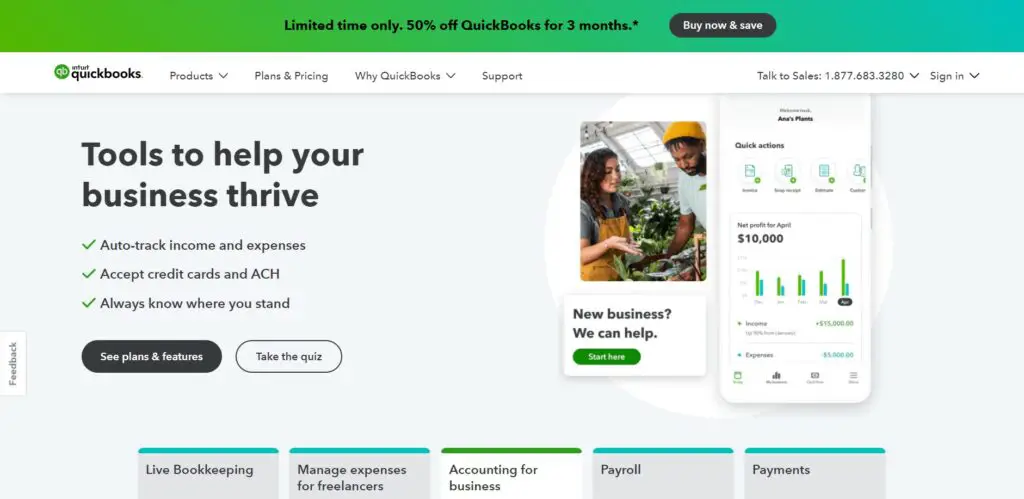 QuickBooks is one of the most popular accounting software solutions today. Whether running a small business or managing finances for a large corporation, QuickBooks has the features and tools you need to stay organized and efficient.
The software is user-friendly, with an intuitive interface that is easy to navigate. It allows you to track all aspects of your income and expenses, from simple income statements and balance sheets to complex profit-and-loss reports.
You can also create estimates, invoices, and bills in just a few clicks, making it easy to manage customer payments and vendor expenses. And with online tracking features that integrate seamlessly with your account information, you can easily stay on top of your finances no matter where you are. So if you're looking for an efficient way to manage your finances quickly and easily, QuickBooks is worth considering!
Related: QuickBooks Review
Key Features
– Project Accounting
For businesses with a lot of project-based work, QuickBooks Online is an ideal tool for managing finances. With its easy-to-use interface and comprehensive features, you can quickly create projects, assign expenses and income to each project, and track progress over time.
QuickBooks Online makes it easy to keep track of your finances while maintaining accuracy and efficiency in your work. And with the ability to update and manage tasks on the go with your smartphone or tablet, you'll never have to leave any piece of the puzzle behind.
– Inventory Management
If you run a business that sells products, QuickBooks Online can help you keep track of inventory levels and manage your stock. You can quickly add and remove items from your inventory, set reorder points, and track sales over time.
You can also create purchase orders and invoices, making it easy to manage your inventory and keep track of your finances in one place. And with online tracking features, you can always be sure that your inventory levels are accurate and up-to-date.
– Ease of Use
QuickBooks Online is designed to be user-friendly, with an intuitive interface that is easy to navigate. So even if you're not an accounting expert, you'll be able to find your way around the software and use it to its full potential.
And with online tutorials and help resources, you can always get the assistance you need to ensure that your finances are in order. In addition, users find the online version easier to use than the Quickbooks desktop because of its simple interface.
– Banking and Cash Management
One of the most powerful features of QuickBooks is the Banking and Cash Management tool. This tool allows businesses to connect their QuickBooks account to their bank account, making it easy to track payments and reconcile accounts.
The Banking and Cash Management tool also provides businesses with several powerful reports, including a Cash Flow report and a Profit & Loss report. These reports can help companies understand their financial situation better and make informed decisions about their spending. In addition, the Banking and Cash Management tool can also be used to set up an automatic payment schedule, making it easy to pay bills and manage vendor payments.
– Payroll Management
QuickBooks Online also offers a Payroll Management tool, which can be used to process payroll for employees. This tool allows businesses to set up direct deposits, calculate payroll taxes, and generate pay stubs. Moreover, the Payroll Management tool can also track vacation and sick days and manage employee benefits. QuickBooks Online makes it easy to process payroll and keep track of employee information in one place.
– Sales & Income Tax
With its robust sales and income tax features, QuickBooks Online is the perfect tool for businesses that need a comprehensive solution for tracking their tax obligations. Whether you add sales taxes to receipts, invoices, or estimates or keep track of your due dates, QuickBooks Online makes managing your tax payments hassle-free and straightforward.
Plus, with its advanced reporting tools, you can quickly review your tax data at any time and organize filing and payment deadlines.
So QuickBooks can be a great addition to your business if you are looking for a comprehensive software solution that will help you manage your sales and income taxes effectively.
– Reporting
QuickBooks Online accounting software offers a comprehensive suite of reports that can meet the needs of any business. The standard reports—like balance sheets, P&L statements, and cash flow statements—are essential for any business, and QuickBooks Online makes it easy to generate these reports with just a few clicks.
But QuickBooks Online also offers more specialized reports, like sales reports by customer, location, or class. These reports can be invaluable for businesses that need to track their sales data closely. And because QuickBooks Online is cloud-based, you can access your reports from anywhere—which means you can always stay on top of your business finances, no matter where you are.
– Integrations
Having access to a range of third-party integrations is essential for businesses and entrepreneurs today, as it allows them to transfer data easily and automate their workflows. QuickBooks Online is the go-to software for companies looking to streamline their operations and boost efficiency with its robust suite of integrations.
Whether you need to process payments, manage customers or inventory, or integrate your accounting data with project management tools or marketing platforms, QuickBooks Online has you covered.
And with powerful APIs that allow for seamless integration with countless other software platforms, this powerful accounting software is the ideal choice for any business that wants to thrive in today's fast-paced digital landscape.
Plans & Pricing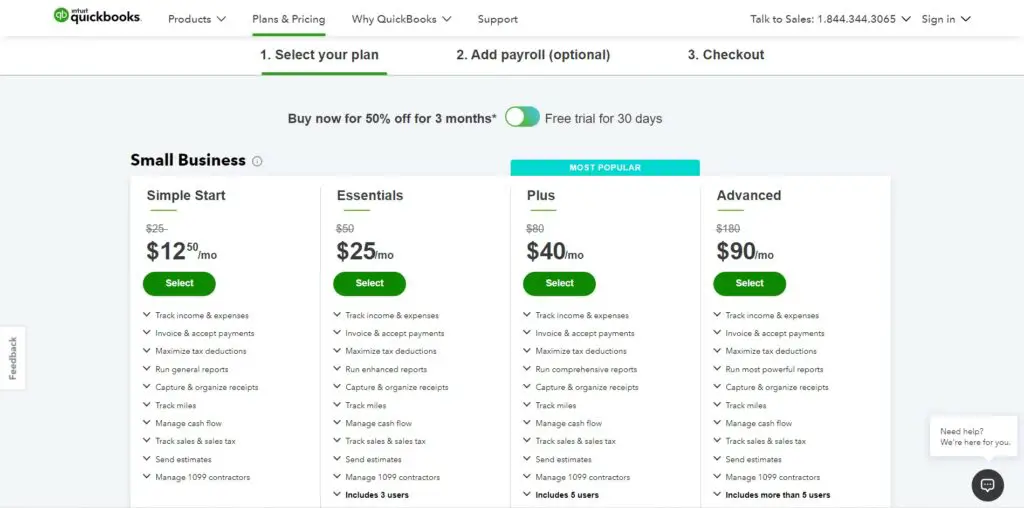 Simple Start is a great way to keep track of your income and expenses. With this program, you can invoice and accept payments, maximize your tax deductions, run general reports, and capture and organize receipts. This program is very user-friendly and easy to use. You can get started quickly and be up and running in no time.
The best part about the Simple Start plan is that it is very affordable. You can get started for only $12.50 per month. There is no contracts or commitment required. You can cancel at any time.
QuickBooks is a good option if you are looking for robust accounting software to help you manage everything from your business finances to sales tax tracking. The Essentials plan is ideal for small businesses and includes features such as tracking miles and mileage, creating estimates, and managing cash flow.
Additionally, it allows you to easily access real-time sales data and stay on top of your sales tax obligations by integrating seamlessly with TurboTax. Whether you are just starting or looking for an affordable accounting solution to scale with your growing business, QuickBooks Essentials is a great choice.
QuickBooks Online Plus is the perfect way to manage your finances and stay organized. The Plus plan includes managing 1099 contractors, tracking time, and paying bills. You can also add up to 5 users, so it's perfect for small & medium-sized businesses. Plus, you'll get access to exclusive discounts and support from professional accountants.
With this plan, users get powerful features like tracking and managing multiple currencies, handling complex inventory requirements with ease, and gaining instant access to critical business analytics via powerful integration with Excel.
The Advanced Plan also makes it simple to keep track of employee expenses and stay on top of project profitability. If you want a comprehensive business management solution that can handle even your most challenging situations, look no further than QuickBooks' Advanced Plan.
Customer Support
QuickBooks is one of the most user-friendly accounting software programs available, and it offers a wide range of features to suit businesses of all sizes. However, like any complex software program, QuickBooks can sometimes encounter problems. When this happens, users can take advantage of QuickBooks' customer support options to get help.
One option is to submit a form and wait for a customer service representative to call you back. Another option is to chat with a representative online. Alternatively, users can check out QuickBooks' vast collection of self-help resources, including blogs, set-up guides, troubleshooting tips, and community forums. No matter what issue you're experiencing, QuickBooks' customer support options can help you get back on track.
Pros & Cons
Pros:
QuickBooks can significantly benefit businesses by helping them to keep track of their finances, inventory, and customers. QuickBooks also makes it easy to generate reports and share information with accountants or other business partners.
The software can save businesses time and money by automating many of the tasks associated with accounting and bookkeeping. In addition, QuickBooks offers a wide range of features that can be customized to fit the needs of any business. As a result, QuickBooks is an essential tool for small businesses and organizations.
Hundreds of app integrations
One of the most appealing aspects of QuickBooks Online is the marketplace of over 600 apps that users can access. This includes both QuickBooks add-ons as well as third-party tools. This gives users a lot of flexibility in customizing their accounting experience.
For example, users can find an app that allows them to track inventory levels or create customized invoices. There is also an app for businesses that need to manage projects and track time spent on each task. QuickBooks Online users can tailor the software to fit their specific needs with many options available.
Easy to find QuickBooks resources
Perhaps the most important advantage of using QuickBooks is that it provides easy access to many resources and support. For example, there are handy guides available on the QuickBooks website that will walk you through the basics of setting up and running your system and more advanced tutorials for more advanced users.
Additionally, there are many online forums where you can connect with other users for advice and information about specific topics or issues. Overall, by offering an extensive range of helpful resources, QuickBooks makes it easy for people from all backgrounds and skill levels to reap many benefits.
Cons:
While QuickBooks is often hailed as one of the most convenient and user-friendly ways to manage your finances, it does come with its fair share of drawbacks. Perhaps one of the most significant issues with this software is the high cost of Quickbooks online plans, which can quickly add up if you are a small business owner or self-employed professional who runs your finances through this program.
Additionally, the customization options built into QuickBooks can be somewhat limited. As a result, some users may find themselves frustrated by the inability to navigate and organize their information exactly how they want it. Overall, while QuickBooks is undoubtedly a valuable tool for managing finances, it has certain limitations that business owners should consider when considering whether or not to use it.
Related: Best Accounting Software for Small Business
Xero Accounting Software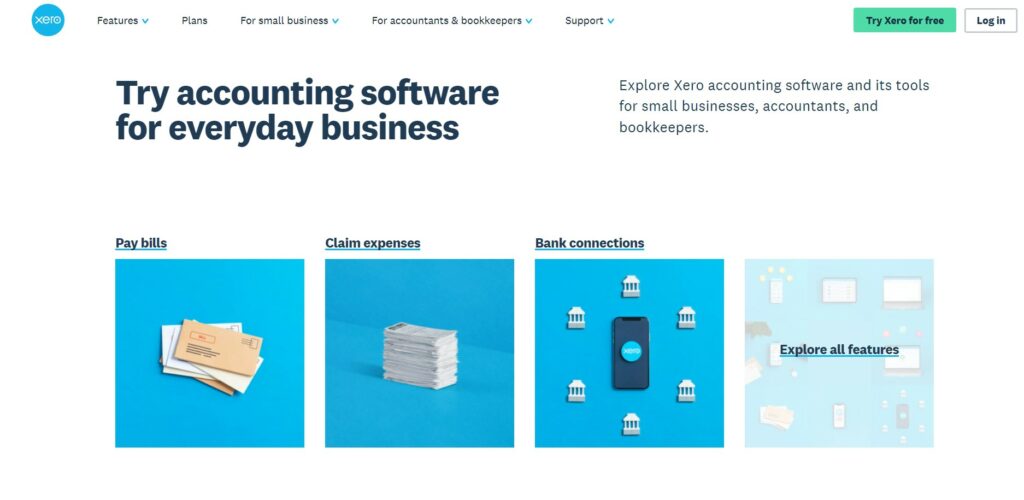 Xero is cloud-based accounting software that has become an industry-leading tool for small businesses. With features like invoicing, expenses tracking, and bank reconciliation, Xero makes it easy for business owners to manage their finances effectively and stay on top of their accounts.
The platform's user-friendly design makes it simple for even non-accountants to navigate and use. And because the program is cloud-based, users can access their records from anywhere and at any time.
Moreover, Xero offers highly customizable pricing plans, allowing businesses to choose a plan that matches their budget and requirements. With its wide range of powerful features and easy-to-use interface, Xero is an excellent choice for small businesses looking for cutting-edge accounting software.
Key Features:
– E-commerce
For e-commerce businesses, having accurate and up-to-date inventory information is critical. Xero's inventory tracking feature makes it easy to keep track of your stock levels, and it also calculates your cost of goods sold (COGS) automatically. This can save you time and effort, particularly if you have a large or complex inventory.
In addition, Xero's inventory tracking feature can help you manage your customer relationships more effectively. By keeping a list of customers and their contact information, you can easily follow up with them after purchase or resolve any issues they may have. As a result, Xero's inventory tracking feature is an essential tool for e-commerce businesses.
– Fixed asset management
With the Xero fixed asset manager, records for each asset are automatically kept up-to-date and can be easily accessed whenever needed. This feature automatically calculates depreciation expenses associated with each asset, so you don't have to worry about manual calculations or expense reports. Xero's fixed asset manager makes managing your company's assets efficient and straightforward.
– Mobile App
While Xero's mobile app may not be the most feature-rich on the market, it does offer the essentials that most small business owners need. Users can scan and upload receipts, send invoices, and manage Xero expenses with the app. This may not seem like much, but these features can be priceless for busy small business owners who are constantly on the go.
Furthermore, the app is always synchronized with the latest data from Xero's cloud-based accounting software, so users can be sure they're always working with the most up-to-date information.
– Assisted Bookkeeping Options
One of the most significant advantages of using Xero is its assisted bookkeeping options. You can access Xero-certified independent accountants and bookkeepers or accounting firms in Xero's Advisor Directory, making it easy to get expert guidance. But if you prefer more self-service options, you can also turn to services like Bookkeeper360 for additional support.
Whether you need help with data migration from your old system, on-site training, support, or ongoing bookkeeping assistance, Bookkeeper360 has the knowledge and experience required to help drive success for your business with Xero.
– Xero Dashboard 
With its customizable dashboard, Xero makes it easy to keep track of your business finances. It allows you to monitor your bank accounts, invoices owed to you, bills to pay, or total cash flow. The beautiful UI and clear graphs make financial management easy.
And with features like the ability to rearrange the order of these charts or switch between different views, Xero gives you complete control over how you want to view and manage your data. So if you run a business that relies on accurate and up-to-date financial information, Xero is the perfect solution for you. With its powerful tools and streamlined interface, Xero makes it easy to take control of your financial data and put it to work for you.
– Xero Invoicing
While Xero may only offer a single invoice template, you can still customize it extensively to meet your needs. And Xero offers some handy time-saving features that can make billing a breeze. For example, with recurring invoices, you can set up an invoice to automatically bill your client regularly – so you don't have to keep creating new invoices manually.
You can also set up automatic invoice reminders so your clients never forget to pay. With default payment settings, you can specify how you'd like to be paid (e.g., by check, bank transfer, or credit card), and Xero will automatically apply those settings to all new invoices.
And if you need to bill a client for multiple items at once, you can use the bulk invoicing feature. Finally, if you need to create an invoice similar to a previous one, you can use the replication feature to save time. Undoubtedly, Xero's Invoicing features are pretty robust and should meet the needs of most businesses.
– Integrations
With over 800 integrations to choose from, Xero is one of the most comprehensive accounting tools. Whether you need to connect with business software programs like QuickBooks and Salesforce, or more specialized tools like MailChimp and SurveyMonkey, Xero has you covered.
And if its vast selection of integrated applications still isn't enough for your needs, Xero also integrates seamlessly with Zapier, giving you access to hundreds of additional add-ons.
So if you need advanced sales reporting capabilities, customized marketing automation workflows, or inventory management features, Xero makes it easy to stay connected with your business data no matter what apps and tools you use.
Plans & Pricing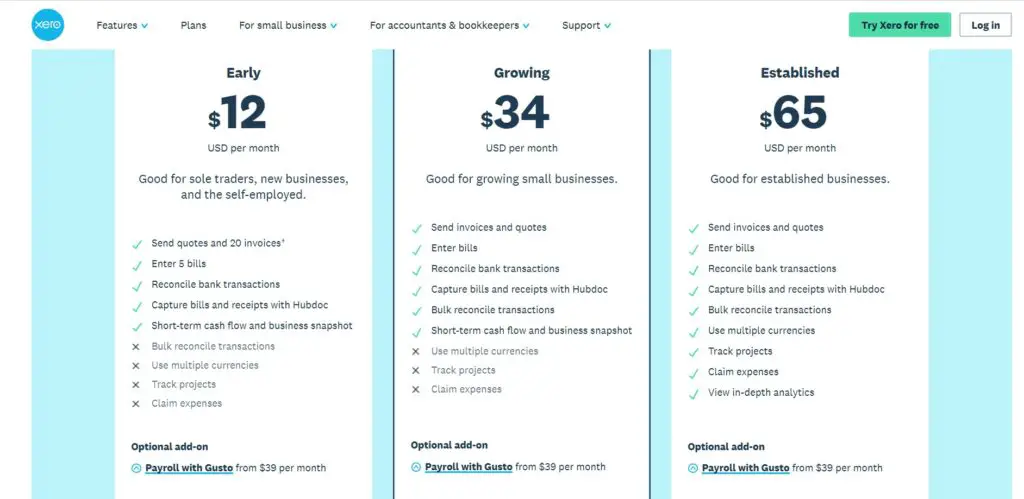 The Early plan from Xero is designed for businesses that are just getting started. For a monthly fee of $12, you can send quotes and invoices to your customers, enter bills into the system, reconcile bank transactions, and capture bills and receipts with Hubdoc.
This plan is a great option for businesses that need a simple accounting solution. It includes all of the essential features, and it is very affordable. If your business grows, you can always upgrade to a more comprehensive plan.
Growing Plan offers all the features that a growing business needs to thrive, including the ability to reconcile large volumes of transactions quickly, send unlimited invoices and quotes, and enter unlimited bills. With this plan, you also get access to detailed analytics that give you a real-time snapshot of your business performance, allowing you to make strategic decisions from a position of strength.
This plan allows you to use multiple currencies and track individual projects and overall business performance. Additionally, you can easily claim expenses directly through the platform and view in-depth analytics to understand your company's financial health better. Whether you run a small startup or a growing midsize company, Xero's Established plan is excellent for streamlining your accounting processes and staying on top of your finances.
Customer Support
Whether you're new to Xero or an experienced user, their premium customer support will help you get the most out of this powerful accounting software. With multiple channels available, including email and chat, you can quickly get in touch with their knowledgeable team members anytime you need assistance. And if you're just getting started with Xero, their comprehensive support center has all the information and resources you need to set up your account and begin using it like a pro.
Pros & Cons
Pros:
With Xero, you can add unlimited users to your account at each subscription level. This is a good feature for businesses that need to keep track of their finances. Many accounting software programs only allow a certain number of users on lower tiers, while higher-tier plans typically offer unlimited users.
By having the flexibility to add as many users as needed, Xero helps businesses stay organized and efficient. So if you're looking for an intuitive, versatile accounting solution that scales with your business needs, look no further than Xero. With this powerful tool at your disposal, you can take control of your company's finances and achieve results from day one.
Customizable reports and dashboards
At every subscription level, Xero offers customizable reports and dashboards that can help you gain valuable insights into your business's financial health. A dashboard, for example, provides a summary of key metrics like cash in and out, outstanding invoices, and overdue bills. This information can help you make more informed decisions about managing your business more effectively and efficiently.
In addition to dashboards, Xero also offers different report templates tailored to specific business needs and goals. So whether you need real-time insights into your inventory levels or a more detailed snapshot of expenses over time, Xero has the tools to get the data you need in a format that is easy for you to understand. With its powerful reporting capabilities, Xero truly is a powerful tool that can transform your data into meaningful and actionable information.
Inventory management in all plans
Xero's inventory management feature greatly benefits businesses of all sizes. Unlike QuickBooks Online, which limits Inventory management to its Plus plan and up, Xero offers basic inventory tracking in all plans. This means that businesses can keep track of their inventory within Xero without integrating with (and paying for) a third-party inventory tracking app.
This can save businesses a significant amount of money and time, and effort in managing their inventory. In addition, Xero's inventory management tool is easy to use and can help businesses keep track of their inventory levels quickly and efficiently. Xero's inventory management feature is a valuable feature that can save businesses time, money, and effort.
Cons:
One of the main drawbacks of Xero is that it does not provide phone support for customers. This can be a problem if you need to talk to someone about an issue or have questions about using the software.
The lack of phone support can also be frustrating if you are new to accounting software and need some help. However, Xero does provide email and live chat support, which can help get your questions answered. Overall, the lack of phone support is a significant drawback of using Xero.
While Xero's entry-level plan is very affordable, it does have some limitations. For example, you can only send 20 invoices and schedule 5 bill payments per month. This may be fine for a very small business, but you may need to upgrade to a more expensive plan if your business starts to grow.
Another downside of the Early plan is that it doesn't include access to Xero's advanced accounting features. So, if you need more than just the basics, you'll need to consider one of Xero's other subscription plans.
However, Xero is still a great accounting software for small businesses, but it's essential to be aware of its limitations before signing up for an account.
Related: Best Accounting CRM
Which one should you choose?
Both Xero and QuickBooks Online are the leading accounting software programs that offer a variety of features to individuals & Accounting firms. However, there are some critical differences between the two.
QuickBooks Online is more expensive than Xero, providing additional features like inventory management and time tracking. In addition, QuickBooks Online has a more user-friendly interface.
However, Xero is a better choice for businesses that need multi-currency support or advanced reporting features. Therefore, companies should decide which software program better meets their specific needs when choosing between the two.
Related: Non profit Accounting Software Free