Disclaimer: We sometimes use affiliate links in our content. For more information, visit our Disclaimer Page. 
If you are like most business owners, you are always looking for ways to streamline your processes and make your business more efficient. One area that can be significantly improved is your accounting process. Luckily, some Accounting CRM (Customer Relationship Management) software programs can help you do just that! This blog post will discuss 8 of the best Accounting CRM programs available today.
Related: Best Free Bookkeeping Software for Small Business
What is Accounting CRM?
Accounting CRM systems are software programs that help businesses manage their accounting and finances. They typically include invoicing, billing, expense tracking, and report generation.
Some also offer additional features such as contact management and project management. Accounting CRM systems can be used by businesses of all sizes but are most commonly used by small companies and startups.
Related: Types of CRM Software
Comparison: CRM vs. CMS
CRM (customer relationship management) and CMS (contact management system) are software systems used to manage customer and client data. However, there are some critical differences between the two.
CRM systems are typically used to manage and track customer interactions and data over time. In contrast, CMS systems track and store contact information for a single client or customer.
CRM systems also typically offer features that allow businesses to track and analyze customer data, trends, and buying patterns.
This can help businesses better understand their customers and create more effective marketing campaigns.
CMS systems usually do not offer these features, instead focus on tracking and managing contact information. However, some CMS systems do offer limited CRM features.
Do you need an accounting CRM?
Most small business owners find that using standalone software for their company's bookkeeping, contact list, and invoicing is not enough; it's challenging to know the full scope of your operation without more accurate data. As a result, some opt to use a single vendor such as FreshBooks or QuickBooks, while others choose an accounting CRM.
A CRM for accounting can give business owners a 360-degree view of their customers and vendors. This type of software often includes contact lists, calendars, task lists, document management, and project management.
Related: CRM Benefits
Key CRM features for accountants
1. Centralized contact list and client history
A centralized contact list allows you to keep track of all your clients and their interactions with you in one place. It also allows you to quickly look up contact information and sees what interactions you have had with that client in the past.
Client history lets you track your clients' progress and see how they have interacted with you over time. This can help identify areas where you need to follow up or make changes to your process.
2. Team collaboration and delegation in CRMs
Collaboration is vital when it comes to running a successful accounting firm. Delegating tasks and working as a team can help you manage your clients' accounts more efficiently. A good CRM should offer features that allow you to collaborate with your colleagues, such as:
Sharing notes and files
Assigning tasks
Tracking progress
3. Sales pipeline
The sales pipeline is one of the essential features of any CRM platform. It allows businesses to track their sales process and measure their performance.
By having a clear view of your sales pipeline, you can identify which areas need improvement and make necessary changes to your business strategy and cash flow management. In addition, a sales pipeline can also help businesses close more deals and increase their revenue.
4. Automated workflows
Automated workflows are a vital part of any CRM system. They allow marketing automation by managing and tracking customer interactions.
This can save time and money by reducing the need for manual input and enabling you to track interactions more effectively. Automated workflows can be customized according to your specific needs, and they can be used to manage a wide range of customer interactions, including:
Contact management
Quotations and proposals
Invoicing and billing
Purchasing and inventory management
Customer service and support
Lead tracking and management.
5. Email marketing & drip campaigns
Email marketing is a great way to keep in touch with your clients and let them know about new services, promotions, and events.
Moreover, Drip campaigns are a series of automated emails sent out over a period of time. They can be used to onboard new clients, follow up with past clients, or promote specific products or services.
8 Best accounting CRM software for 2022
Zoho Books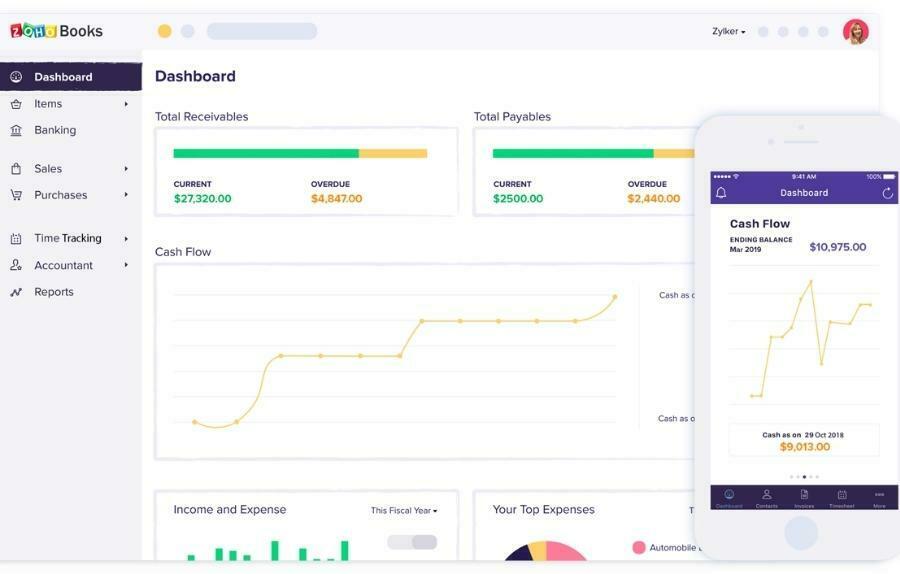 Zoho Books is a great accounting CRM system that offers everything you need to keep your business running smoothly. It features tools for customer management, expense tracking, invoicing, time tracking, and more.
You can also manage your finances and run reports with this software. Zoho Books is an all-inclusive solution that makes it easy to keep track of your business finances and manage your customers.
With Zoho Books, you can easily create and send invoices, track expenses, reconcile bank transactions, manage inventory, generate reports, and more.
The software is designed to save you time and help you grow your business. Zoho Books is an excellent choice for small businesses and startups.
Zoho Books offers a free trial to try the software before committing to a subscription. The free trial includes all of the features of the full version of the software. You can sign up for a free trial here. In addition, Zoho Books offers three paid plans: Standard, Professional, and Premium.
Pricing
Free Plan For businesses with revenue <50K USD per annum
Standard plan – $12 per month and includes all basic CRM features.
Professional plan – $24 per month and includes additional project tracking and time tracking features.
Premium plan – $36 per month and includes all of the features of the other two plans, plus advanced features such as multi-currency support and advanced reporting.
You can save money by buying annual subscriptions. Zoho Books also offers discounts for nonprofit organizations.
Close.io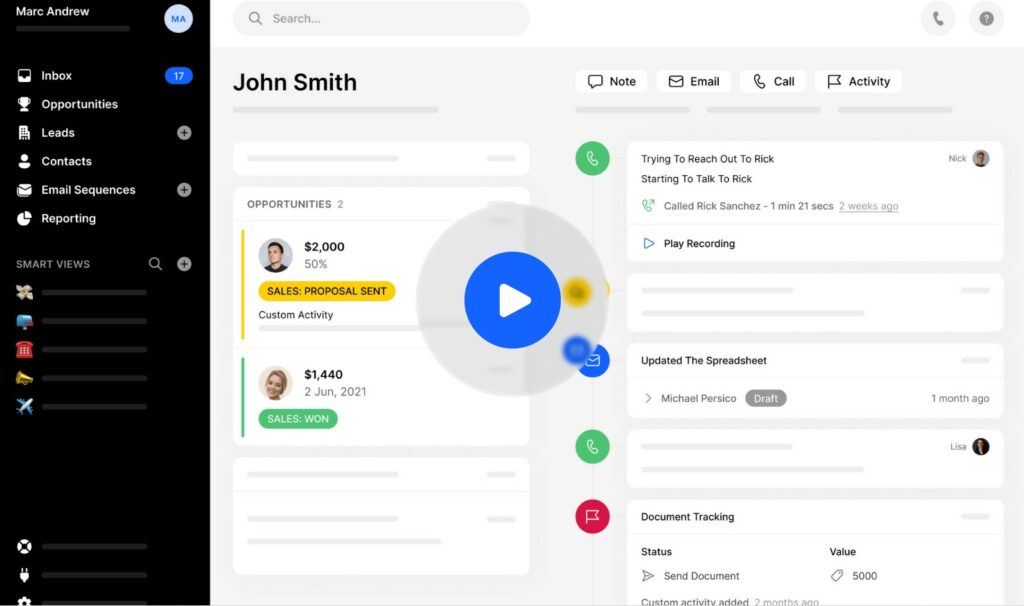 Close.io is a web-based CRM and email marketing tool designed for sales professionals in larger organizations or enterprises. Close.io empowers its users to manage their relationships with customers and prospects through advanced features such as native third-party integration, finance management capabilities, and collaboration features that make it easy to track emails exchanged between different members of an organization.
One unique feature of Close.io is that it offers a built-in "Stages" system, which helps sales reps track where each customer interaction falls on the buyers' journey.
This can be especially helpful for larger businesses with complex sales processes. In addition to its Salesforce integration, Close.io also integrates with other popular business tools such as QuickBooks Online, Xero, Google Apps, Mixpane, and Zapier.
The system also helps track the business's financial status and allows users to create invoices, estimates, and purchase orders. All of the data is stored in a secure cloud-based system so that users can access it from anywhere.
Pricing:
Pricing for Close.io starts at $29 per user/ month (3 users allowed) for the Starter plan, including Lead, contact, and Task management.
The Basic plan is priced at $69/month and allows up to 30 users. Moreover, it offers additional features such as comparison reports, custom fields, and sales leaderboards.
The Professional plan, which costs $99 per month, removes the contact limit and adds email sequences, a power dialer, advanced activity tracking, and message templates.
The Business plan, which is priced at $149 per month, includes all of the features in the Professional plan plus dedicated account management and priority support.
HubSpot CRM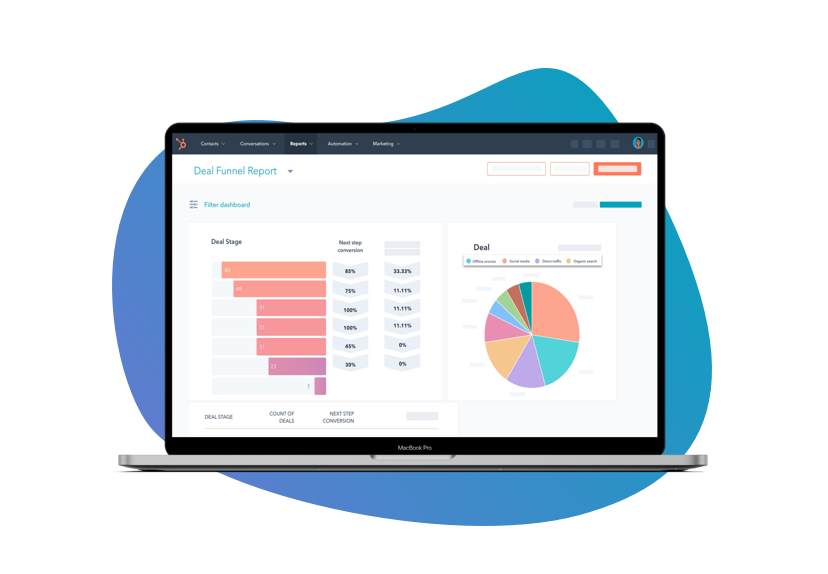 The HubSpot CRM is a comprehensive solution that helps you manage your finances and expand your business. It offers invoicing, billing, payments, and tracking expenses. You can also use it to create financial reports and track your company's overall financial health.
It integrates with popular accounting software such as Xero, Chargebee, QuickBooks Online, and FreshBooks.
Pricing:
Free Plan
The pricing starts at $45 per month for the Starter plan.
The professional plan is $800 per month.
Enterprise plan $3200 per month.

The customer service is excellent, and you can expect to get help with any issues you may encounter.
The HubSpot CRM is a great tool for managing your finances and growing your business. If you are looking for a comprehensive solution, this CRM is worth considering.
Method CRM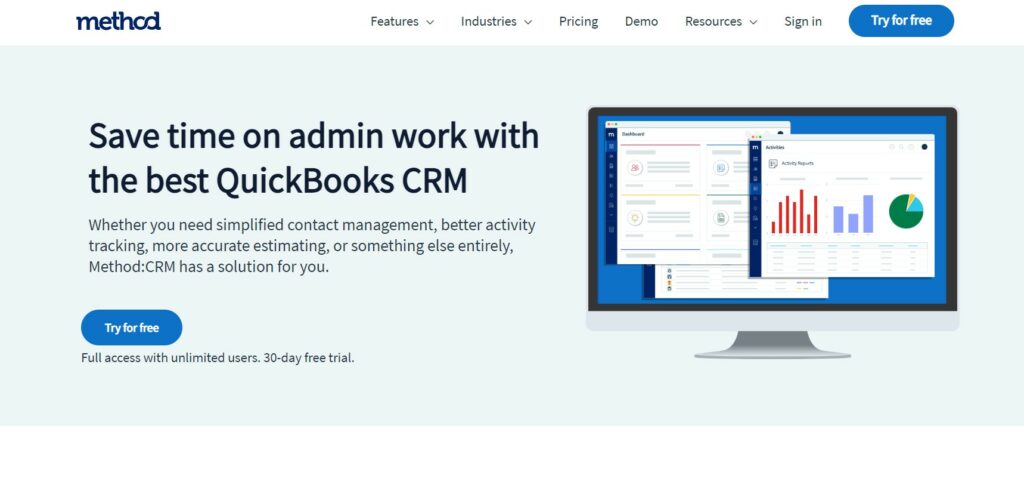 The Method CRM is a cloud-based solution that helps small businesses manage their finances and grow their business. It offers a wide range of features, including invoicing, accounting, contact management, and project management.
The software is easy to use and can be accessed from multiple devices. Additionally, Method CRM integrates with several other applications, such as Google Drive and QuickBooks.
It eliminates double data entry and offers real-time updates so that business owners can get updated financial reports such as cash flow statements and Balance sheets.
Pricing
Contact Management – $25 per month.
CRM Pro plan – $44 per month.
CRM Enterprise – $74 per month.
Liscio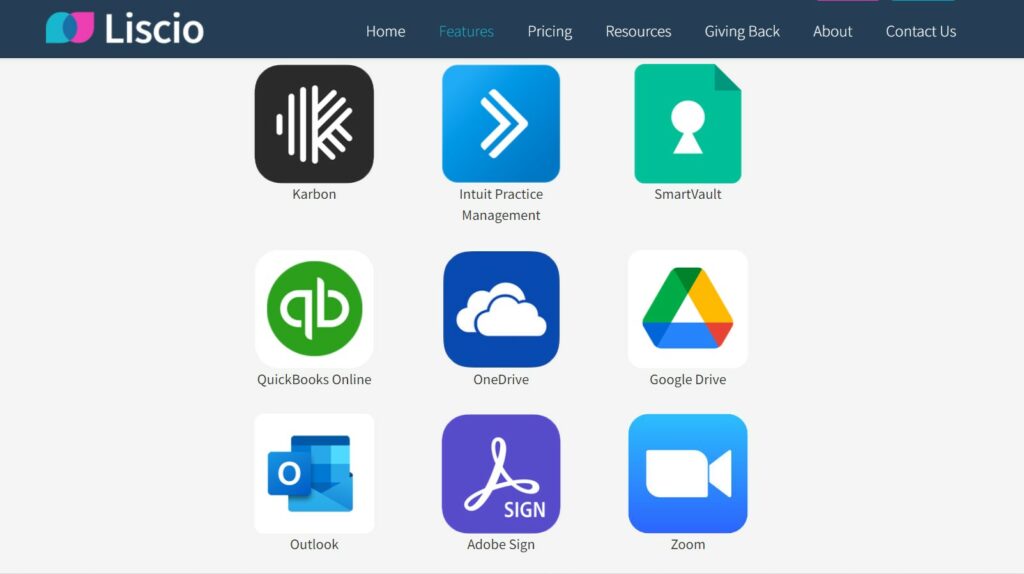 Liscio is a cloud-based accounting CRM system that helps businesses manage their finances and accounting. It offers features such as invoicing, tracking Income & expenses, creating reports, and more.
Liscio also integrates with other business apps, making it easy to keep your data all in one place. Popular integrations include QuickBooks, Xero, and FreshBooks.
Moreover, it allows businesses to connect with their clients and customers through its secure client portal. Liscio eliminates manual data entry, making it a time-saving tool for busy accounting professionals.
Pricing
All Liscio plans include unlimited users, so businesses can add as many team members as needed. Liscio also offers a free trial, so companies can try the system before committing to a paid plan.
The Small-Firm plan ($50+/month) is designed for small businesses & individuals. It offers detailed financial reporting such as Profit & Loss, Balance sheets & Company accounts!
The Mid-Size Firm plan ($199+/month) includes all of the features of the Small-Firm plan, plus technical support and additional integrations.
The Large Firm plan ($399+/month) is designed for businesses with unlimited clients. It supports Unlimited File Storage and Text Message Alerts. Plus, all plans allow Additional Upgrades.
My CPA Dashboard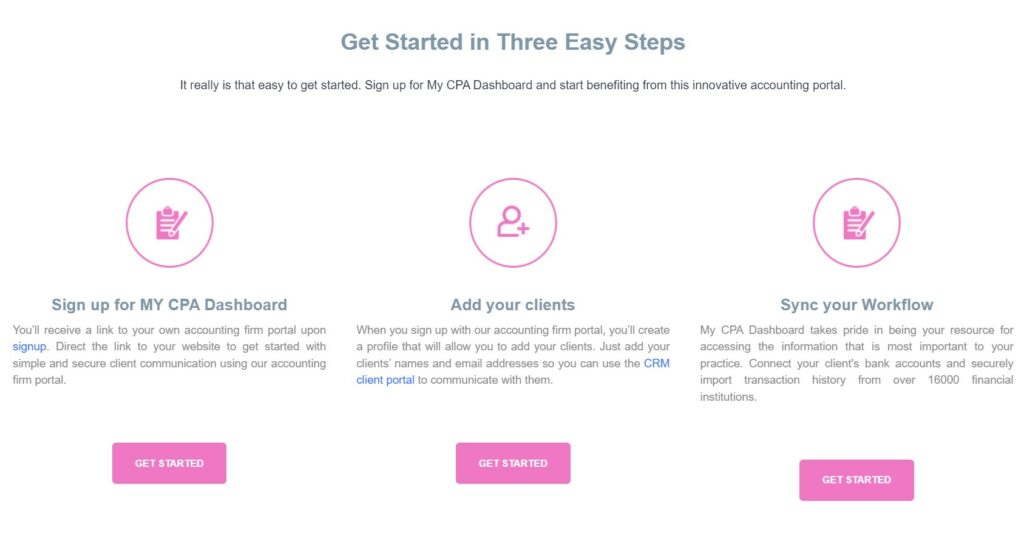 My CPA Dashboard is an accounting CRM system that helps small businesses grow their business.
The intuitive and easy-to-use system makes it simple to manage your finances, track expenses, and keep your books in order. You can also use the system to create invoices and track payments.
My CPA Dashboard provides helpful insights into your business finances to make informed decisions about your spending.
Furthermore, It allows accountants to receive clients' bank statements every month and reconcile them on the software. This way, you can avoid any late fees or penalties.
The system also makes it easy to file your taxes online. The system also includes a built-in contact manager to keep track of your clients and vendors.
Pricing
The plans offered by My CPA Dashboard are:
Starter– This plan is best suited for businesses with 25 clients. It includes access to email and phone support. The price for this plan is $49 per month.
Small– This is the best-selling plan for My CPA Dashboard. It is for businesses with up to 100 contacts and sends less than 500 emails per month. It is priced at $89 per month.
Medium– This plan is ideal for businesses with up to 350 clients. The price for this plan is $239 per month.
Enterprise – This plan is designed for companies with more than 350 clients. It includes unlimited admins, users, and individual clients. The cost of this package is $499 per month.
Microsoft Dynamics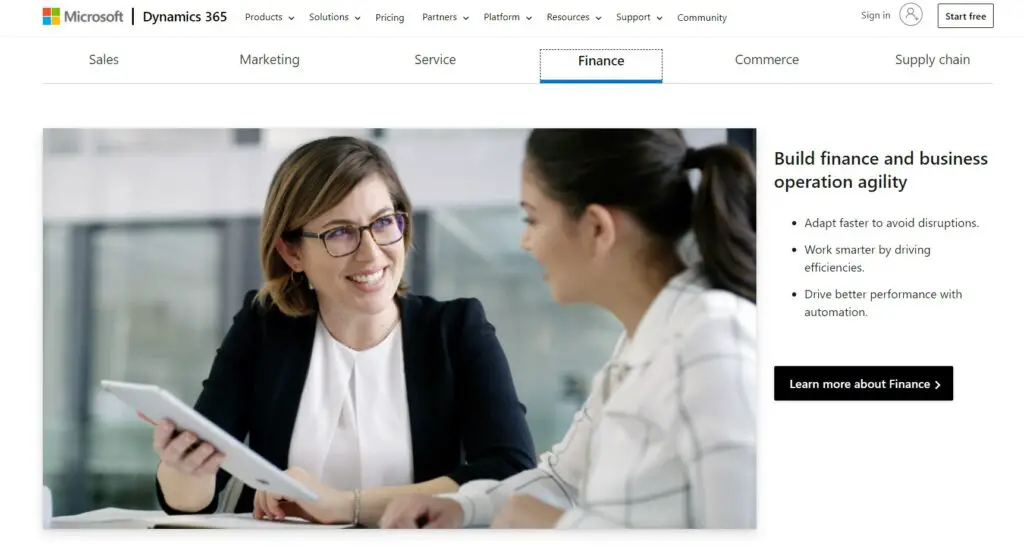 Microsoft Dynamics is an enterprise resource planning software suite that delivers financial, customer relationship, and supply chain management.
Microsoft Dynamics is a comprehensive business solution that helps you manage your finances, customers, and operations. It's an integrated system that gives you a complete view of your business and provides you with the tools to drive growth.
It includes all the features you'd expect from an ERP system, plus powerful CRM capabilities to help you manage your customer relationships. It also integrates with Microsoft Office, so you can easily create reports and presentations.
Pricing
Microsoft Dynamics costs $180. However, its price is based on a per-user basis, so you can scale it to fit your business.
Nimble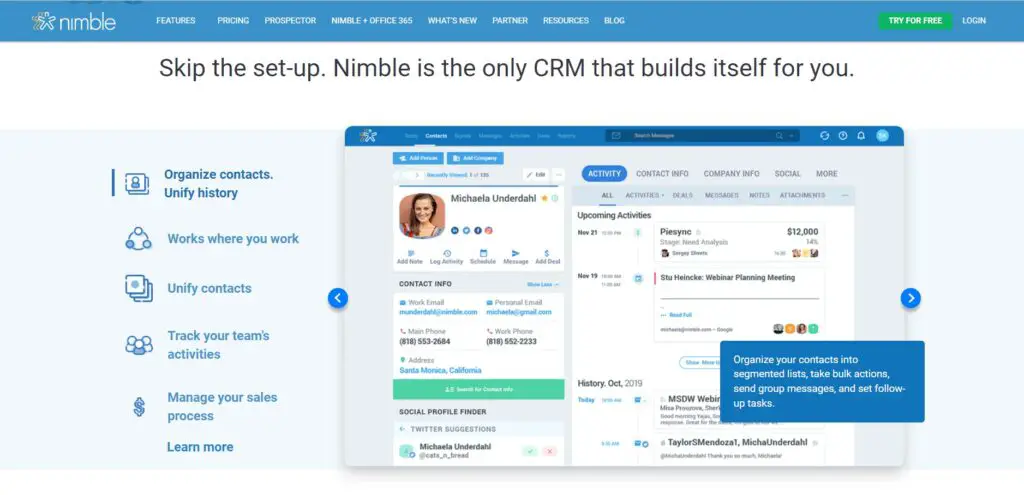 Nimble is a finance and accounting software designed for small business owners. The user-friendly interface makes navigating accounts easy, while powerful features let you analyze your data in detail to see where improvements need to be made.
Nimble also keeps your financial information secure, so you don't have to worry about sensitive files falling into the wrong hands. In addition, third-party integrations such as QuickBooks and Salesforce make it easy to keep your data in-sync across all of your business applications.
This CRM offers timesheet automation, invoice automation, consultant center, sales commissions, profitability & forecast, and financial & staffing reports to help you grow your business.
Pricing
Nimble pricing is the perfect fit for small businesses looking to save time and money
For only $25 per month (save $6 if purchased annually), you get access to all of Nimble's features. This includes contact management, task management, sales pipeline tracking, and more.
Related: Best Tax Software for Small Business
Common CRM hurdles for accounting firms
With the right CRM, your accounting firm can be more efficient. As a small business handling transactions and client information on behalf of your clients, you likely have to juggle the time to enter data into a system manually while also prioritizing finding new customers or increasing engagement with current ones.
And if you need to hire administrative help, they'll need to be well-versed in using the CRM, which can take some time and money to train on.
Related: Best CRMS for Startups
Closing Thoughts
Accounting CRM systems make it easy for accountants and other financial professionals to manage client relationships, track work progress, invoice clients, and collaborate on documents.
The best accounting CRM systems offer contact management, project management, time tracking, invoicing, and detailed reporting & analytics.
They can also integrate your existing accounting software to provide a seamless workflow. So, if you're looking for a streamlined client onboarding process and improved client relationship, then a good CRM system can be a great addition to your business.