Disclaimer: We sometimes use affiliate links in our content. For more information, visit our Disclaimer Page. 
Sales teams are often disorganized and struggle to keep track of their progress. This can lead to missed opportunities and a lack of focus. 
Not having a good sales management system in place can be costly for your business. Inefficient sales processes can lead to lost deals, wrong product choices, and an overall decline in revenue. 
Sales management software can help sales teams stay organized and on top of their sales process. This software can easily manage their leads, contacts, opportunities, and pipeline.
They can also use this software to track their performance and find ways to improve it. So if you're looking for a way to help your sales team be more organized and efficient, investing in sales management software is a good idea. There are a lot of different sales management software options out there. So how do you know which one is right for your business?
We've compiled a list of the six best sales management software so you can make an informed decision!
What Is Sales Management?
Sales management is the process of overseeing and coordinating the activities of a sales team. A sales manager is responsible for developing strategies to increase sales and market share and setting targets and quotas. In addition, sales managers also provide training and support to sales representatives and work with other departments within the company to ensure that sales goals are met.
Sales management is an integral part of any business, as it helps to ensure that products or services are sold efficiently and effectively. As a result, companies can maximize their profits and grow their customer base with the right sales management strategy.
What Is a Sales Management Software?
A sales management software helps salespeople track their leads, manage customer relationships, and automate their sales processes. By automating sales processes, sales management systems can free up salespeople's time to focus on selling.
Additionally, sales management systems can help salespeople close more deals by providing insights into their customers' buying habits and preferences. Sales management systems can also help managers track their team's performance and identify areas that need improvement. As a result, a sales management system can be an invaluable tool for any organization that relies on sales to generate revenue.
5 Key Benefits of Using a Sales Management Software
1. Save Time
A good sales management system can save you tremendous time by automating various tasks and keeping track of critical customer data. For example, a sales management system can send automatic appointment reminders to customers, which can help reduce the number of no-shows. It can also keep track of your sales pipeline and give you valuable insights into which deals are most likely to close.
2. Promote Teamwork
It can also promote teamwork within a company by providing a central place for information sharing. By using a sales management system, businesses can create a virtual space where salespeople can come together to share leads, best practices, and successes. This type of collaboration can help improve the overall performance of a sales team by making it easier for members to learn from one another. Moreover, a sales management system can help identify potential areas of improvement and provide managers with the tools to address them. As a result, businesses using a sales management system can realize significant teamwork and overall performance benefits.
3. Automate Workflow
With a sales management system, you can set up automatic follow-up reminders, create task lists for your team, and track progress toward goals. This frees up your time to focus on more critical tasks, such as developing strategies and closing deals.
In addition, a sales management system can help you identify patterns and trends in your data, which can be extremely valuable for making decisions about where to allocate resources. Ultimately, a sales management system can help you work more efficiently and effectively, freeing up your time to focus on critical tasks.
4. Stay Up-to-Date on Your Pipeline
After all, it's the only way to know where your deals are at and whether or not you're on track to hit your targets. But let's face it, manually updating your sales pipeline can be a huge pain. That's where a sales management system comes in. You can get real-time updates on your pipeline with a sales management system, so you always know where things stand. You can also automate many tedious tasks associated with managing a sales pipeline, like data entry and tracking down progress reports.
5. Exceed Sales Targets
By providing sales teams with real-time data and insight into customer behavior, a sales management system can help to drive more effective selling strategies. Additionally, a sales management system can help to track and measure progress against sales goals, providing valuable feedback that can be used to improve performance further.
Businesses can give themselves a significant competitive advantage in the marketplace by using a sales management system. In addition, with the ability to more effectively target and convert leads into customers, companies that use a sales management system are well-positioned to exceed their sales targets. Consequently, investing in a sales management system is essential for any successful sales strategy.
Related: CRM Benefits
Top 6 Sales Management software
Pipedrive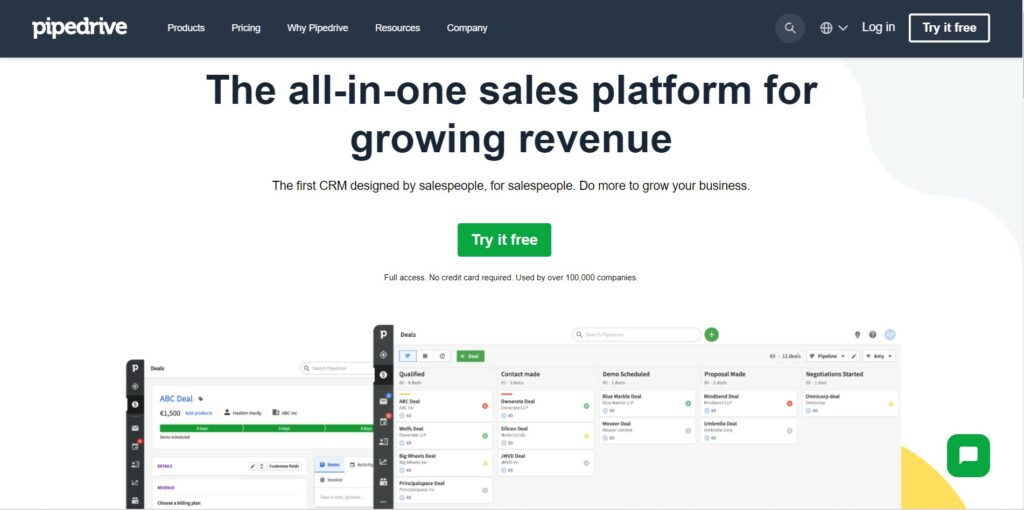 Pipedrive enables businesses to track their sales pipeline and close more deals. It helps sales reps stay organized and on top of their sales process by providing an easy-to-use interface with all the features they need to get things done. With Pipedrive, businesses can quickly see how each stage of a deal progresses, what deals are at risk of falling through the cracks, and where they need to focus their attention to close more deals.
This all-in-one sales platform is affordable and easy to implement, making it an excellent solution for small businesses or sales teams just getting started with sales management software. And because it's cloud-based, companies can access their data from anywhere, at any time.
Sales reporting
Sales reporting is a critical feature of any sales management tool, and Pipedrive doesn't disappoint in this regard. The software makes it easy to see which sales reps are performing well and which ones are struggling, allowing you to take corrective action. In addition, the reports can be customized to show different periods and different metrics, so you can always get the most relevant information and can be exported to PDF or Excel for further analysis.
Overall, Pipedrive's sales reporting functionality is robust and easy to use, making it a valuable tool for any sales manager. Whether you're looking for a quick overview or detailed analysis, Pipedrive's reporting features will help you understand your sales data and make better decisions for your business.
Sales forecasting
With Pipedrive's sales forecasting feature, you can see at a glance how your sales are looking for the current month, quarter, or year. The feature uses your historical data to generate accurate predictions of your future sales, and it updates the forecast as new deals are won or lost. This makes it easy to spot potential problems early and adjust your sales strategy accordingly. Moreover, the sales forecasting feature can track your progress against targets and compare your performance against other team members.
Lead generation
Launching and deploying a smart bot on your website with Pipedrive can help you collect leads and route them to your best sales representative automatically. By taking advantage of this feature, you can help your business generate more leads, leading to more sales and success. Additionally, using a smart bot can help you qualify leads and determine which ones best fit your products or services. This can save your sales representatives time and allow them to focus on selling to those leads that are most likely to convert. Ultimately, using Pipedrive's lead generation features can help you grow your business by making it easier to generate and qualify leads.
Pricing:
The Essential plan from Pipedrive is an excellent choice for small businesses or teams just getting started with CRM. The plan includes all of the basic features you need to handle your leads, deals, and calendar. You can also customize your data fields and pipeline to match your workflow. And if you ever get stuck, 24/7 support is just a click away. There are over 275 integrations available, so you can easily connect Pipedrive to the rest of your business tools.
The Advanced Plan from Pipedrive is the most feature-rich offering from Pipedrive. This plan provides full email sync with templates and scheduling, which can be a big time-saver for busy sales teams. In addition, the Advanced Plan includes group emailing plus open and click tracking, so you can see who is engaging with your emails. Finally, the Workflow builder with triggered automation is a valuable tool for streamlining sales processes. Overall, the Advanced Plan from Pipedrive is a great option for businesses that need a robust sales CRM solution.
The Professional Plan from Pipedrive is a good choice for businesses that need sales productivity features like one-click calling and call tracking, document management, eSignature, and enhanced custom reports and revenue projections. This plan also provides access to the Pepipost email delivery service for up to 10,000 emails per month.
The Enterprise Plan from Pipedrive is the top-tier pricing option that offers unlimited users, additional security features, heightened visibility settings, and phone support. This plan has no feature usage limits, so you can use as many or as few features as needed. The implementation program is also included to help you get set up quickly and easily. If you have any questions or need assistance, the phone support team is always available to help. With the Enterprise Plan, you'll have everything you need to get the most out of Pipedrive.
Pros
Solid mobile apps plus call and email synchronization
It helps SMBs keep on top of their CRM process
Drag-and-drop deal pipelines
Supports workflow automation
Cons
No separation between lists of new leads and contacts
Related: Pipedrive Review
monday.com sales CRM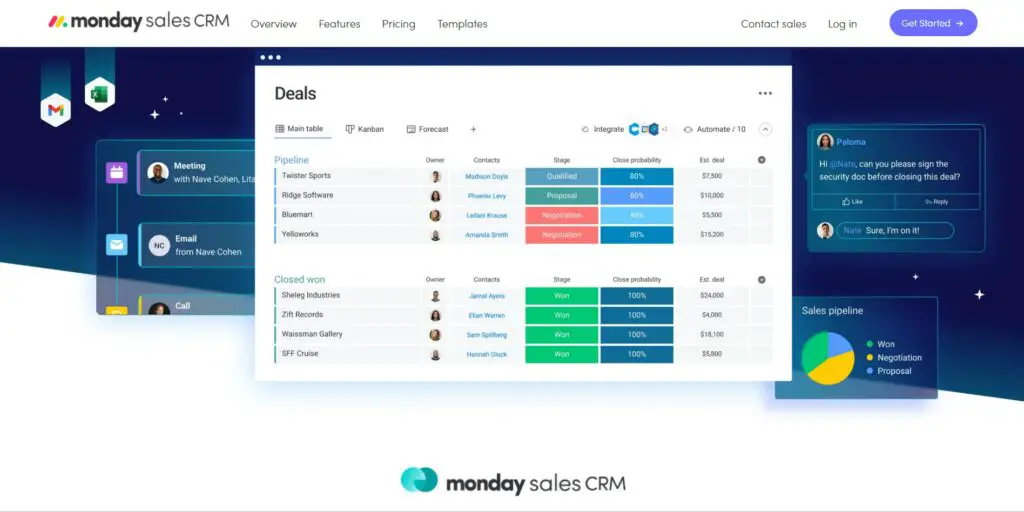 Monday is a sales management platform that helps you plan, track and execute your sales activities. It also allows you to collaborate with other team members. In addition, Monday monitors real-time data from the web, so there is no need for tedious manual work like customer call lists or sales team meetings. With this kind of insight into the past, present, and future opportunities, you can make your sales process more efficient.
Monday.com is excellent for managing both inbound and outbound sales. For inbound sales, you can use Monday to create a lead capture form and track conversions. For outbound sales, you can use Monday to manage your contact lists, track customer interactions, and schedule follow-ups. You can also use Monday to create sales reports to track your progress and identify areas for improvement.
If you are looking for a sales management platform that can help you to streamline your sales process, then Monday.com is worth considering.
Customizable Dashboards
The customizable dashboards on monday.com give you the power to change the way data is displayed according to the specific needs of your business projects. This way, you can make sure that only the most relevant information is presented in an easy way for you to understand. By tweaking the dashboard settings, you can gain valuable insights that would otherwise be hidden away in complex data sets. As a result, the dashboards can be a handy tool for project managers and other decision-makers. Monday.com's customizability ensures that your company can get the most out of the software.
Integrations
Monday.com integrates with more than 50 different applications. By integrating with common applications like Google Calendar, Asana, Dropbox, and Slack, Monday.com gives users the ability to create a centralized hub for all their work. This saves time by eliminating the need to switch between multiple applications and reduces the risk of errors and missed deadlines. In addition, Monday.com's integration with Zapier enables users to connect to over 1,000 other apps, allowing them to automate tasks and build custom workflows. With so many powerful integrations, it's no wonder Monday.com is one of the most popular project management software.
Customizable Templates
Monday.com offers customizable templates to help you get started with your workflow. You can adjust the templates based on your business size, type, and industry. The templates can be helpful for various workflows, such as project management, marketing, design, software development, HR, sales, and CRM. With Monday.com, you can get your workflow up and running quickly and efficiently.
Pricing:
Monday.com has a variety of pricing options to fit the needs of any individual or organization. For example, the Individual plan includes unlimited boards, docs, templates, over 20 column types, and up to 2 team members. This plan is perfect for individuals who need a flexible and powerful tool to manage their work but don't require the full suite of features offered by the company. Monday.com also provides a free trial for those who want to try the service before committing to a paid plan. Finally, for teams that need more features and flexibility, Monday.com offers a variety of upgrade options.
Monday.com's basic plan is a good way to get started with the program. It includes unlimited free viewers, so you can invite as many people as you want to view your board. You also get unlimited items to keep track of all your projects in one place. Additionally, the basic plan comes with 5 GB of file storage to keep all your project files in one place. And if you ever need help, you can reach out to customer support for prioritized assistance. All this for just $8 per month. So if you're looking for a simple and affordable way to manage your projects, Monday.com's basic plan is a fine option.
Monday.com's Standard plan is great for small businesses that need to track projects and get a high-level view of their timeline. The Gantt and Calendar views are both helpful for understanding what's coming up and when things are due. Guest access is also included, so you can invite clients or contractors to view your project progress.
Automations are a good addition, too – they can save you time by automatically creating tasks or sending notifications when specific criteria are met. One downside is that the Standard plan only allows for 250 actions per month, so if you have a lot of projects going on, you may need to upgrade to the Pro plan.
The Pro plan from Monday.com starts at $16 per user per month and offers users private boards and docs, chart view, time tracking, formula column, dependency column, and automation (25,000 actions per month). With the Pro plan, users can keep their project information private while still benefiting from the other features that Monday.com offers. For example, the chart view is beneficial for seeing how tasks are progressing, and the time tracking feature can help team members stay on track. Overall, the Pro plan from Monday.com is a preferred option for teams that need to keep their project information private.
The Monday.com enterprise plan is designed for businesses that need enterprise-scale features and advanced security. With this plan, you'll get all the features of the standard plan, plus enterprise-grade security, advanced reporting, and premium support. The Enterprise plan is priced according to users, with a minimum of 10 users. However, if you need more than ten users, you can contact Monday.com for a custom quote.
Pros
Highly customizable
Offers in-app automation
Includes templates
Highly customizable
Cons
A 14-day trial insufficient to learn the app
Related: Monday.com Review
Keap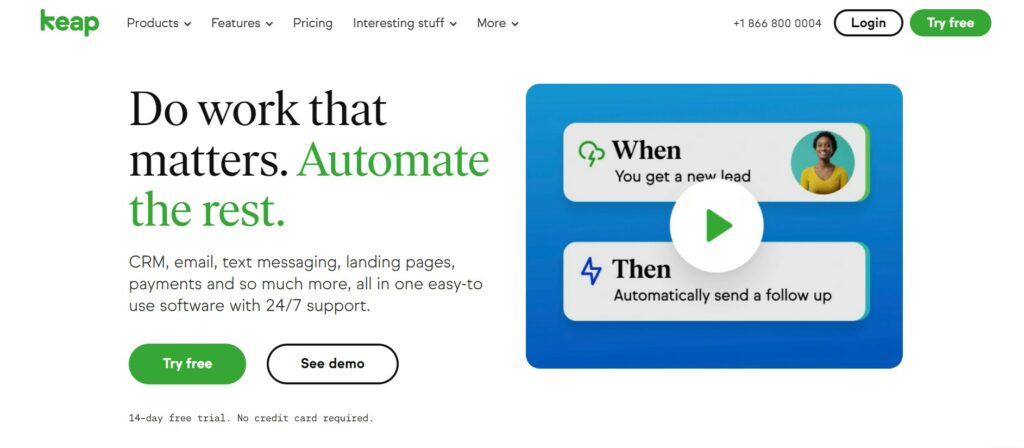 Keap is an all-in-one marketing, sales, and CRM software that provides small businesses with the tools to succeed. With robust analytics, Keap gives businesses a clear understanding of how their campaigns perform and what needs to be optimized to achieve the best results.
Additionally, Keap's customer service features make it easy to keep track of customer interactions and provide the excellent service that today's consumers expect. By streamlining these processes, Keap saves businesses time and money while helping them to grow.
Sales Automation
Automated workflows allow you to spend less time on repeat activities and focus on customer engagement. With Keap, you can create custom workflows to suit your business needs. For example, you can automate your lead capture process by setting up a workflow that automatically adds new leads to your CRM. Or, you can automate your email marketing campaigns by creating a workflow that sends out automated emails when someone subscribes to your list.
Payments and Invoices
Keap makes it easy to get paid by your customers. With the Keap Payments feature, you can accept credit cards right inside the app. You can also send invoices and track payments. This way, you can stay on top of your finances and keep your business running smoothly.
Best of all, Keap integrates with QuickBooks, so you can easily manage your accounting. With Keap, there's no need to use multiple apps to run your business – everything is right at your fingertips.
Email Marketing
Keap's email marketing tool is designed to help businesses cultivate leads and move contacts through the sales pipeline. The tool offers easy-to-setup automation for lead nurturing, which can help to build relationships with potential customers and keep them engaged with your brand. Additionally, the tool can help move contacts to the next stage in the pipeline, making it easier to convert them into customers. An email marketing tool is a powerful tool that can help businesses grow and succeed.
Pricing:
The Lite plan from Keap is the perfect solution for businesses that are just getting started with automated lead capture and follow-up. With this plan, you'll be able to quickly and easily set up email marketing campaigns and create payments and invoices. In addition, the Lite plan includes appointment scheduling, so you can keep your business running smoothly.
With Keap Pro, you'll have everything you need to create high-converting landing pages, track your sales pipeline, and analyze your results to optimize your performance. In addition, advanced automation will help you save time by automating critical tasks, and live in-app support will ensure that you're always getting the most out of Keap. If you're serious about growing your business, the Keap Pro plan is a significant investment.
Keap's Max plan gives you all the features of the other plans, plus a dedicated success manager, text marketing, promo codes & upsells, and marketing analytics. This is the best plan for businesses that want to take their marketing to the next level. With a dedicated success manager, you'll have someone to help you create and implement your marketing strategy, track your results, and troubleshoot any issues.
With Keap's text marketing feature, you can send coupons, promotional offers, and reminders to your customers' phones. Promo codes & upsells let you offer discounts and special deals to your customers. And with marketing analytics, you can track your results and optimize your campaigns for even better performance.
Pros
It makes it easy to add contacts
Excellent coaching and support options
Unlimited email marketing
Workflow automation
Cons
Template designs are limited
Act!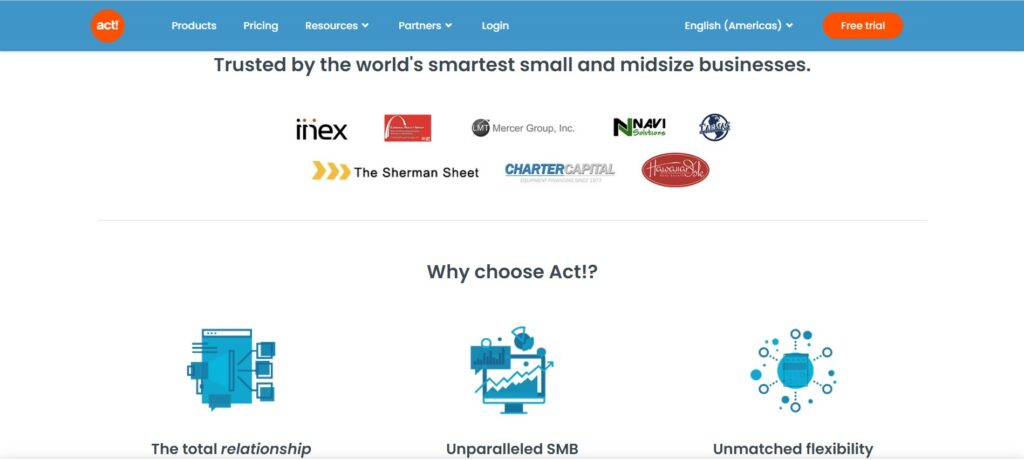 Act CRM is a comprehensive yet affordable solution for managing sales and customer relationships. It offers features like contact management, lead tracking, opportunity management, and project tracking to help you keep your sales process organized and efficient.
This CRM also provides reporting and analysis tools to track your progress and see where you need to make improvements. And because it's web-based, you can access your data from anywhere, anytime. So if you're looking for a sales management solution that will give you the power to manage your sales process and increase your bottom line, look no further than Act CRM.
Opportunity Management
Opportunity Management gives users the ability to store product and service details, prices, and links to contacts, groups, or companies. With this information entered into the system, users can generate detailed reports on their findings. The Opportunity Management feature is a valuable tool for sales teams as it provides a way to track potential leads and customers.
Adding background information to opportunities is also beneficial, as it allows users to get a complete picture of the opportunity. By understanding the full scope of an opportunity, sales teams can be better equipped to close the deal. Act CRM Opportunity Management feature is a powerful tool to help sales teams increase their success rate.
Email & Social media Integrations
Act! CRM offers some superior email marketing features and social media integration. For example, you can create and send campaigns with email marketing tools and track their performance. You can also see your contact's social updates on LinkedIn and Facebook, which gives you a better idea of what they're interested in and talking about.
This is a good way to connect with your contacts and build relationships. However, it should be noted that the social media integration is pretty limited compared to what other CRMs offer. For example, Nimble, Constant Contact, Zoho, and Relenta have more comprehensive social media integrations. Nevertheless, Act! CRM is still a great tool for managing your customer relationships.
Calendar & Activity Management
The Calendar & Activity Management feature in Act CRM is beneficial for keeping track of events and managing employees' schedules. The calendar can be synced with Google calendar and offers a variety of views of your upcoming events, but the management can also view their employees' calendars. This is also helpful for coordinating schedules and ensuring that everyone is on the same page. In addition, the activity management features allow you to track tasks and follow up with customers. This is a good way to ensure that nothing falls through the cracks and that you are providing exceptional customer service.
Pricing:
The Standard Plan for Act! CRM includes all of the basic features you need to manage your customer relationships, opportunities, and tasks. With this plan, you'll have access to the email template library, HTML editor, and Microsoft Office and Google integration. You'll also be able to create custom dashboards and reports to understand your data better. This plan is perfect for small businesses or individuals who need a simple way to manage customer relationships.
The Expert Plan from Act CRM is perfect for businesses that need advanced sales pipeline management. It offers custom sales KPIs, dashboards & analytics, and advanced customization. You'll be able to track your sales pipeline effectively and make sure that your team is always on the same page. This plan also allows you to create custom reports to see how your business is performing. If you're looking for a complete CRM solution that can scale with your business, the Expert Plan from Act CRM is worth giving a try.
Pros
Integrates with phone system to make phone calls.
Built-in email marketing tools.
Both Cloud-based & on-premise solutions
Powerful dashboards and document sharing
Highly customizable and versatile
Cons
Dated interface
Confusing menu options
Zendesk Sell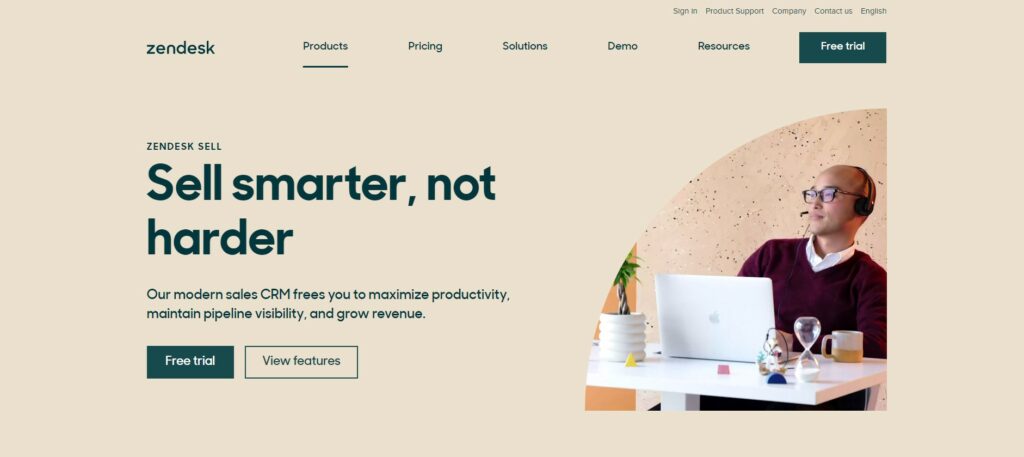 Zendesk Sell is a comprehensive sales management software that enables sales teams to manage their entire sales cycle from prospecting and lead capture through pipeline management and forecasting. In addition, it provides a 360-degree view of customer interactions, including email histories, phone conversations, meeting notes, and more.
This allows sales reps to have better visibility into their deals and pipeline and provides better customer service. Zendesk Sell also includes a mobile app for sales reps. Zendesk Sell is a powerful tool for sales teams of all sizes. It is simple to use and has a wide range of features that can be customized to fit the needs of any organization.
Sales Email Intelligence
Zendesk's sales email intelligence tools are a must-have for any salesperson who wants to close more deals. By tracking your emails in the Sell UI, you can see when your emails are being opened and clicked and receive real-time notifications so that you can reach out at the right time. In addition, Zendesk Sell's sales email intelligence tools can help you measure your email campaigns' success and improve your conversion rates. With these powerful tools at your disposal, you'll be able to take your sales game to the next level.
Sales Prospecting
Zendesk Sell gives you the ability to quickly create targeted prospect lists and identify the right professionals in each account. With its sales prospecting capabilities, you can engage with your prospects across multiple channels, increasing your chances of winning more business. You can also track your progress with real-time reports to see which strategies work and adjust your approach accordingly. With Zendesk Sell, you'll have everything you need to convert more prospects into customers.
Integrations and APIs
One of the key features is integrating with other applications and systems. This allows businesses to seamlessly connect their Zendesk Sell account with the tools they already use, making it easy to manage all of their customer data in one place. Additionally, the Zendesk API gives developers the ability to build custom solutions that integrate with Zendesk Sell. This gives businesses even more flexibility in using CRM to meet their specific needs. Overall, the integrations and APIs offered by Zendesk Sell make it a highly customizable and versatile CRM that can be tailored to fit the unique needs of any business.
Pricing:
With this plan, you'll also get one custom sales pipeline and access to a fully-featured mobile CRM. This is an affordable way to start with Zendesk Sell and get the features you need to grow your business. With email integration, you'll be able to keep track of your sales conversations and customer interactions in one place. And with the custom sales pipeline, you can tailor the sales process to fit your unique business needs. Furthermore, the mobile CRM gives you the ability to manage your contact list, add new leads, and update customer information while on the go.
Zendesk Sell offers a Professional Plan for unlimited paid users, including apps & integrations – both prebuilt and custom. With this plan, you get personalized bulk emailing and sales goals & forecasting to help you close more deals. Zendesk Sell makes it easy to manage your sales pipeline and gives you the insights you need to accelerate your sales. The Professional Plan is the perfect solution for businesses that need to scale their sales operations. With Zendesk Sell, you can grow your business without limits.
Zendesk Sell's Enterprise Plan is the highest pricing tier and provides users with multiple sales pipelines, activity reports, advanced permissions, and a product catalog. This plan is best for businesses with many sales representatives and needs to track performance across multiple pipelines.
The activity reports show managers which reps make the most calls, send the most emails, and close the most deals. The advanced permissions let managers customize which reps have access to which features. And the product catalog lets reps quickly add products to their deals without having to create new items. The Enterprise Plan is the way to go for businesses that need the most comprehensive Zendesk Sell experience.
Pros
Improved pricing options
Offers a 360′ view of contact interactions
Powerful analytics for additional insights
Drag-and-drop custom analytics dashboards
Cons
Uploading .csv files is tedious
Bitrix24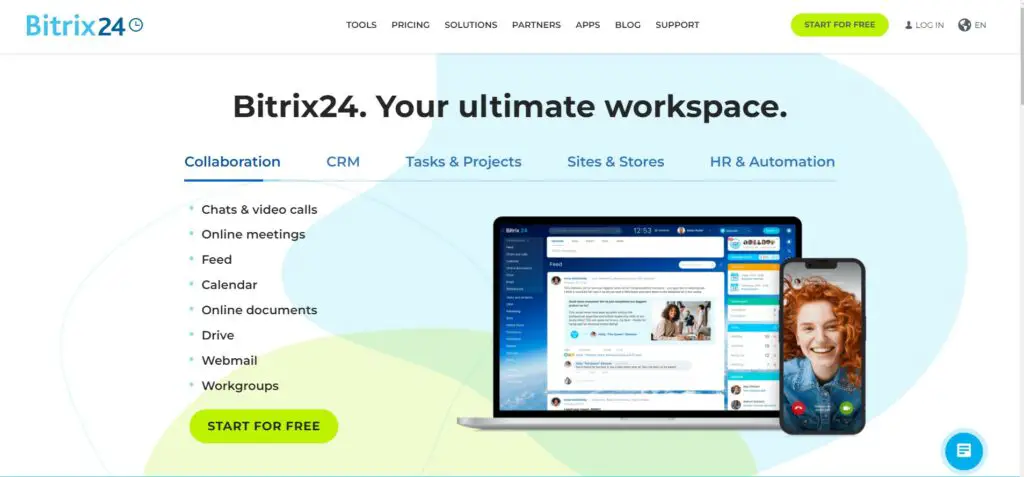 Bitrix24 is a comprehensive solution for sales management and team collaboration. It offers lead tracking, contact management, activity scheduling, and email marketing features. Additionally, it provides tools for project management, file sharing, and conferencing.
This allows businesses to manage their sales process more effectively and collaborate with team members more easily. In addition, Bitrix24 is available in both cloud and on-premise versions.
CRM
When it comes to customer relationship management (CRM), Bitrix24 offers a comprehensive solution. You can use the funnel management tools to keep track of prospects, and the pipeline management features to stay on top of sales, and the sales reports to get an overview of your performance. The support for repeat customers is also a valuable feature, as it allows you to manage your interactions with them more effectively.
Contact center
The contact center is a great feature that allows you to have a live chat on your website. In addition, it offers social networking tools that help you keep the communication active with your clients. With the contact center, you can respond to customer queries in real-time, no matter where you are.
You can also use the contact center to track and manage customer interactions and create support ticketing systems. In addition, the contact center provides tools for automating repetitive tasks, such as sending confirmations or follow-up emails. As a result, the contact center can help you improve customer satisfaction and reduce operational costs.
Advanced Reporting
Advanced Reporting allows you to create stunning reports that help you monitor all your significant activities, such as lead management, deal reports, sales, and overall business. You can also create custom user-generated reports and comprehensive activity reports. With this feature, you can see which areas need improvement and make the necessary changes to increase your productivity.
Additionally, the Advanced Reporting Feature provides you with valuable tools to help you analyze your results, such as the ability to export data to Excel and create custom charts and graphs. With these powerful tools at your disposal, you can make informed decisions about your business to succeed.
Pricing:
Bitrix24 offers a free plan with unlimited users, tasks, and projects. It also has a contact center and a website builder. The free plan is perfect for small businesses or teams who need basic collaboration features.
However, it does have some limitations. For example, you can only have five active contact forms, and you can only send up to 10,000 emails per month. If you need more than this, you'll need to upgrade to a paid plan. But overall, the free plan is a great way to get started with Bitrix24.
The Basic plan for Bitrix24 is perfect for small businesses that need a powerful CRM and online storage solution. The plan includes sales and marketing automation, invoicing, and 24 GB of online storage. With this plan, you can manage your customer relationships, track your sales pipeline, and create beautiful invoices. Plus, you'll have plenty of space to store your files and collaborate with your team.
The Standard Plan is the most popular plan for small businesses. It includes all of the essential sales and customer relationship management features, including unlimited leads, deals, and one-on-one chats.
The plan also includes customer segmentation in CRM, a powerful tool for targeted marketing. In addition, the pricing for the Standard Plan is very competitive, and it is the perfect choice for businesses looking for an all-in-one solution. There's also a 30-day money-back guarantee which makes it a risk-free investment for your business.
The Professional plan for Bitrix24 is loaded with features to help your team be productive and efficient. Sites and landing pages let you create a professional web presence for your business. Data import/export and integrations make it easy to connect Bitrix24 with the other tools you use.
The plan also offers pipelines, which give you the ability to track the progress of your projects from start to finish. So whether you're looking for a complete CRM solution or need a little extra help getting things done, the Professional plan has everything you need.
Pros
Offers a choice of using a separate lead listing or going direct to contact
Kanban user interface available
Comprehensive business suite
Free domain and website tools
Cons
Social networking limitations
Challenging learning curve
Choosing the right sales management software
When choosing sales management software, you will want to consider the important features to you and your team. Some factors to consider include:
1. Ease of use
One of the most important factors to consider when choosing sales software is ease of use. The last thing you want is a complicated system that takes days or even weeks to learn. Instead, look for a system with a clean interface that is easy to navigate.
Make sure the software comes with detailed documentation and tutorials to get up to speed quickly. And don't be afraid to ask for customer support if you have any questions. By finding a sales system that is easy to use, you'll save yourself a lot of headaches down the road.
2. Functionality
The software you use should include specific features to manage your sales team effectively. For example, it should allow you to track each team member's performance and compare it against quotas. It should also make it easy to create and manage sales territories and plan and implement call campaigns.
In addition, the software should provide features for managing leads, such as the ability to track their progress through the sales pipeline and prioritize them based on their potential. By including these and other essential features, the software you use can help you manage your sales team more effectively.
3. Price
Make sure that the price fits within your budget and doesn't put undue strain on your finances. However, it's important to remember that the price isn't the only factor to consider. You also need to think about whether the software will meet your needs and whether it will be easy to use. In some cases, it may be worth paying a slightly higher price to get a product that is a better fit for your needs. Ultimately, whether or not to buy should come down to a balance of cost and value.
4. Integration and Compatibility
Evaluating the compatibility and integration capabilities of any sales management software you consider purchasing is crucial. In addition, compatibility with other software platforms and systems is essential to maximize efficiency and productivity by integrating the CRM into your existing workflows. Fortunately, many software offers a variety of integration options, so you should be able to find one that fits your needs.
5. Customization
Customization is one of the essential features to consider when choosing software for a business. The more customizable the software is, the more attractive it is for companies. After all, every business is unique, and they need software that can be tailored to their specific needs.
That's why businesses should look for highly customizable software. The ability to customize the software will make it much easier for companies to use the software to their advantage.
6. Support
After all, no business wants to be left in the dark if there are problems with the software. The good news is that most sales manager software companies offer excellent support. They understand that businesses need to be able to rely on their software, so they offer support that companies can count on. Moreover, many software companies offer free support for a certain period after purchase. This allows businesses to get the help they need without paying for it.
Related: Best emailing software for small businesses
Final verdict
Sales management software can be a powerful tool for managing and growing sales revenue. Sales management software can help businesses identify trends and optimize sales strategies by tracking customer data.
Additionally, sales management software can automate repetitive tasks, freeing sales teams to focus on more strategic activities. By investing in sales management software, businesses can improve their bottom line and better compete in today's marketplace.