Disclaimer: We sometimes use affiliate links in our content. For more information, visit our Disclaimer Page. 
Operationalizing a business is challenging. From finances to promotions, staff productivity to product innovation – there's just so much that needs keeping track of! That's where management software comes in; it enables company owners to access their operations and keep everything organized easily. This allows business processes to be streamlined, making them effortless for everyone involved.
Are you trying to find the ideal business management software program for your needs? Look no further! This article will outline eight different programs and educate you on their features, pricing, pros, and cons. So that way, choosing the right one for you is a breeze!
8 Affordable Business Management Software
Here are some of the best affordable business management software solutions.
1. FreshBooks
FreshBooks is the perfect solution for businesses looking to simplify their financial processes. This cloud-based software offers a range of features, including invoicing, time tracking, and accounting services tailored specifically to help small businesses streamline their operations.
Businesses can save time and become more productive with FreshBooks, thanks to its tools that allow you to create and send professional invoices, track time and expenses, and manage projects. Small businesses or freelancers who need a practical yet powerful tool for managing their financials plus project tasks will find it especially advantageous.Additionally, through features like project allocation, team conversation area, along with centralized file location, the software truly makes running projects more accessible than ever.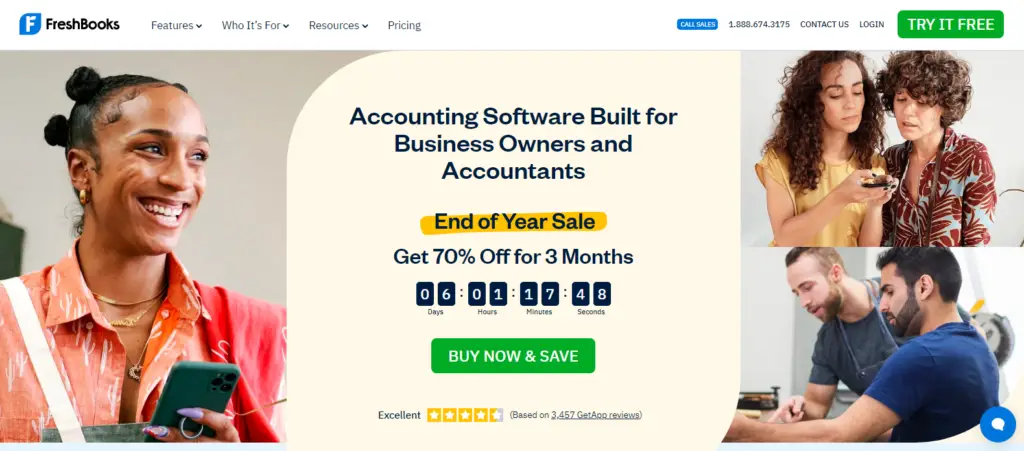 Key Features
Invoicing: Businesses can effortlessly generate and dispatch polished invoices to their customers, either manually or with automated reoccurring billing.
Time tracking: Provides a time tracking tool that allows businesses to track their time on tasks and projects, making it easier to bill clients for their time accurately.
Expense tracking: It provides tools for tracking and organizing business expenses, including attaching receipts and other documentation to expense entries.
Project management: With this tool, users can craft tasks and allocate them to team members, monitor development in real-time, and collaborate freely on projects.
Reporting: Comprehensive financial reports offer businesses pertinent information, enabling them to keep a close eye on their finances and grasp the full scope of their success.
Mobile app: Make handling invoices, expenses, and projects a breeze with FreshBooks' mobile app for iOS and Android.
Pricing: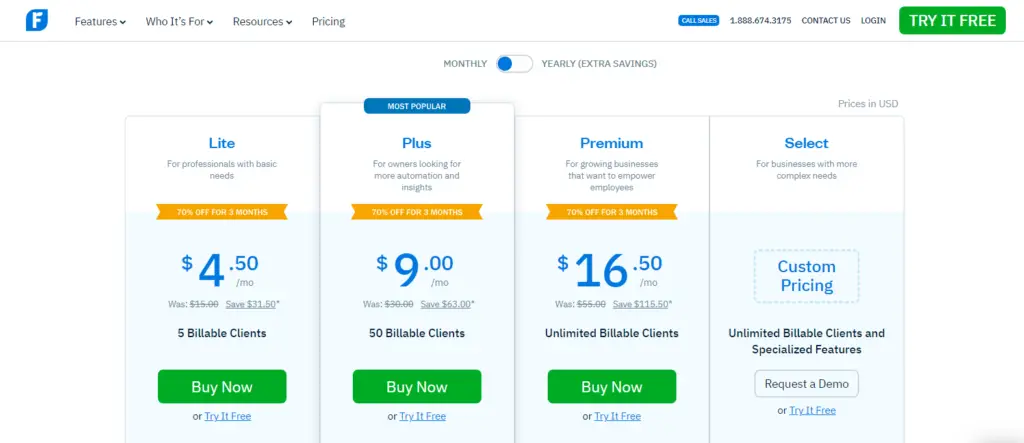 Here is a table summarizing the FreshBooks pricing plans, including their main features:
Lite: $15 per month. Main features: Invoice up to 5 clients, accept online payments, track time, expenses, and projects.
Plus: $30 per month. Main features: all Lite features, invoice up to 50 clients, unlimited proposals, acceptance e-Signatures, and advanced accounting.
Premium: $55 per month. Main features: all Plus features, unlimited invoices to an unlimited amount of clients, customized email templates with dynamic fields, and track bills, bill payments & vendors with accounts payable.
Select: Custom pricing—main features: all Premium features, plus a dedicated account manager and 2 team member accounts.
Note that these prices and discounts are based on the information provided in 1 and may vary depending on your location and billing cycle.
User-friendly and intuitive

Lower-tier prices at an affordable price

Features of double-entry accounting reports

Freelancer, solopreneur, and small business accounting software
Designed for small businesses, not large ones

Adding team members costs extra per month
Overall, FreshBooks offers a range of features designed to help small businesses streamline their financial management processes and work more efficiently.
2. nTask
NTask is revolutionizing the way teams collaborate and complete tasks. It conveniently provides a secure cloud-based platform to share easily, assign, and track all your workflow activities. By utilizing NTask's end-to-end solution, businesses can rest assured that their team will stay up to date on their task management so they never miss a beat.
It enables businesses to boost efficacy and simplify employee communication. It offers user-friendly task creation capabilities, priority sorting, and inbuilt analytics, but also extensive progress reports that keep everyone updated on the necessary tasks and deadlines. By achieving an ideal equilibrium between efficiency and organization with NTask, you can improve your business processes for enhanced success.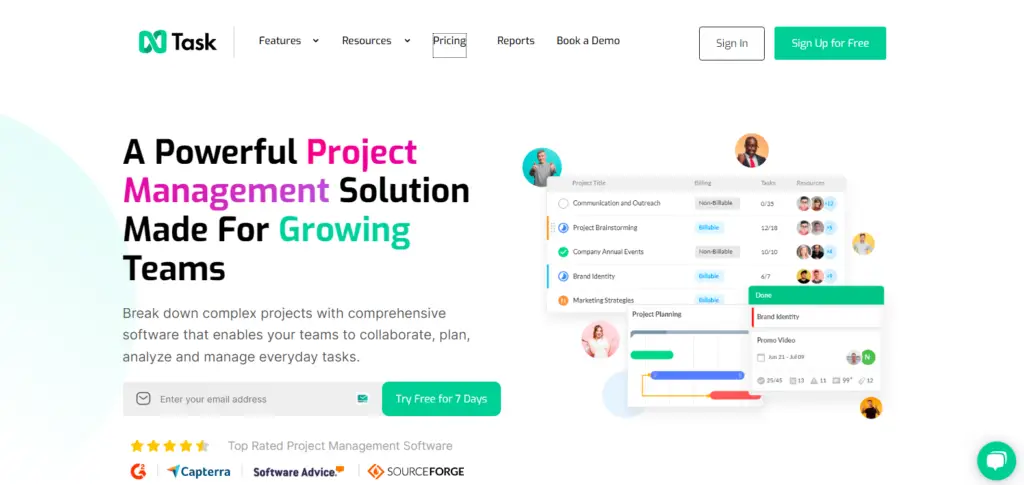 Key Features
Systematic workflow: By employing a strategic workflow instead of managing your projects impulsively, you will be able to add items to them as they progress continually.
To-do list: By utilizing it as a to-do list app, tasks can be delegated rapidly to your team members, and the roles will remain crystal clear.
Automatically repeat tasks: Set your task recurrence to whatever frequency fits your needs, and rest assured that tasks will automatically repeat regularly.
Team meetings: Streamline your team meetings for maximum productivity with a cutting-edge native meeting management solution.
Resolve issues: Develop, appoint, and address problems proactively utilizing ingenious issue metrics like severity and priority.
Safety: Documenting risks early on in the project lifecycle can help you minimize the chances of your project being compromised by potential hazards.
Project performance: With Gantt charts and timesheets that generate themselves, you can keep a close eye on your project's progress.
Pricing: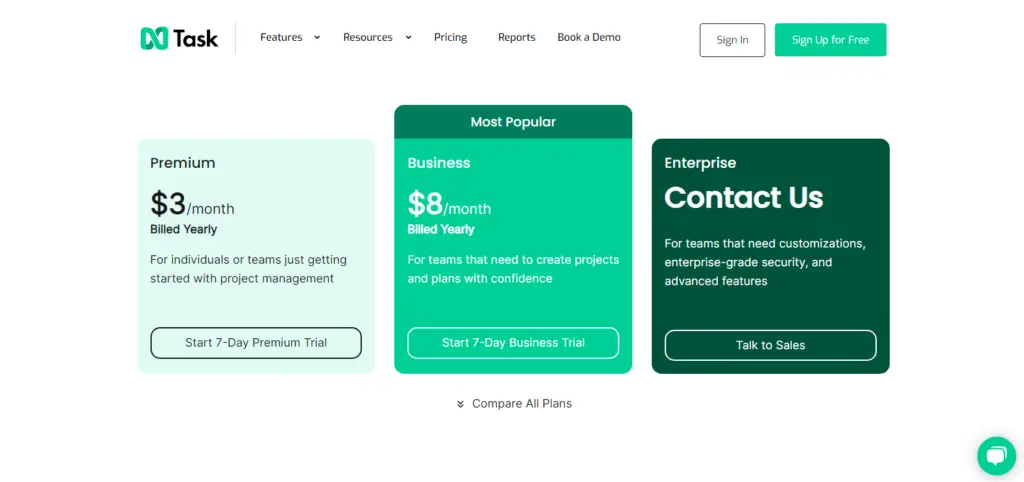 nTask offers four pricing plans for individuals and teams:
The Basic Plan is free: This plan is suitable for small teams who need basic project management features such as task management, time tracking, and team collaboration. It allows you to add up to 5 team members and includes unlimited workspaces and tasks.
Premium: This plan is suitable for individuals or small teams who need additional features such as project templates, Gantt charts, and custom reports. It costs $3 per month (billed yearly) and includes a 7-day free trial.
Business: This plan is suitable for teams that need advanced project management features such as issue tracking and timesheets. It costs $8 per month (billed yearly) and includes a 7-day free trial.
Enterprise: This plan is tailored for large organizations that need customizations, enterprise-grade security, and advanced features. It includes everything in the Business plan, priority support, and the ability to integrate with other business systems. Contact nTask sales for more information on pricing and features for the Enterprise plan.
Projects can be plotted and managed easily with it

With chat features, teams can communicate and collaborate more effectively

Keeping track of tasks efficiently

Charts with robust Gantts

Aim for maximum productivity when completing projects
The process of attaching large files takes longer

An advanced reporting feature is missing from the app

It is sometimes difficult to get a response from the support team
Overall, nTask is an easy and user-friendly app with an intuitive and clean interface, which is suitable for many businesses and teams. Furthermore, it offers various pricing options to meet different budgets and needs.
3. Inflow
Inflow is a cutting-edge business management software for inventory control and storage. Its user-friendly interface allows users to instantly access and store warehouse data on the move! In addition to simplifying your organization's workflow processes, Inflow also offers powerful insights into stock tracking, automated order fulfillment reports, and more – all of which will help you take actionable steps toward achieving success in no time.
Small business owners who require an effortless and speedy way to organize their stock will find Inflow incredibly beneficial. Furthermore, its compatibility with other apps and platforms, such as QuickBooks, Excel, and Google Drive, makes it even more advantageous. An essential benefit of Inflow is that it can streamline inventory management operations while decreasing the complexities when a company grows.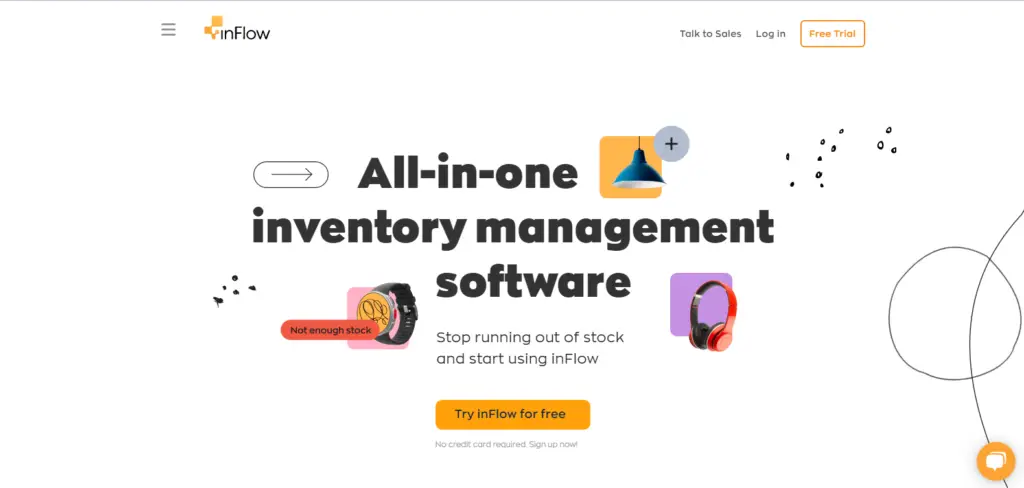 Key Features
Inventory tracking: With real-time tracking, users can quickly and easily monitor their stock levels and inventory status. This innovative feature ensures that businesses have the right amount of items on hand at all times, so they never miss out on a sale due to an empty shelf or unfulfilled order.
Order management: The software provides tools for monitoring and managing orders, such as generating custom purchase orders, sales orders, and quotes.
Warehousing management: With the help of our warehousing tools, businesses can streamline their operations and maximize efficiency. Our features enable users to track inventory movements and assign tasks, orders, and shipments quickly and accurately.
Reporting and analytics: Businesses can make more informed decisions using the suite of reporting and analytics tools available with data visualization capabilities, including customizable dashboards and reports designed to track critical performance indicators.
Integration with other tools: Incorporating a wealth of other tools and platforms, including QuickBooks, Excel, and Google Drive, into your workflow can help you increase efficiencies while working smarter.
Purchasing history: As well as tracking one customer's purchase history and orders, Inflow can also track the sales of multiple customers for the same inventory item.
Pricing: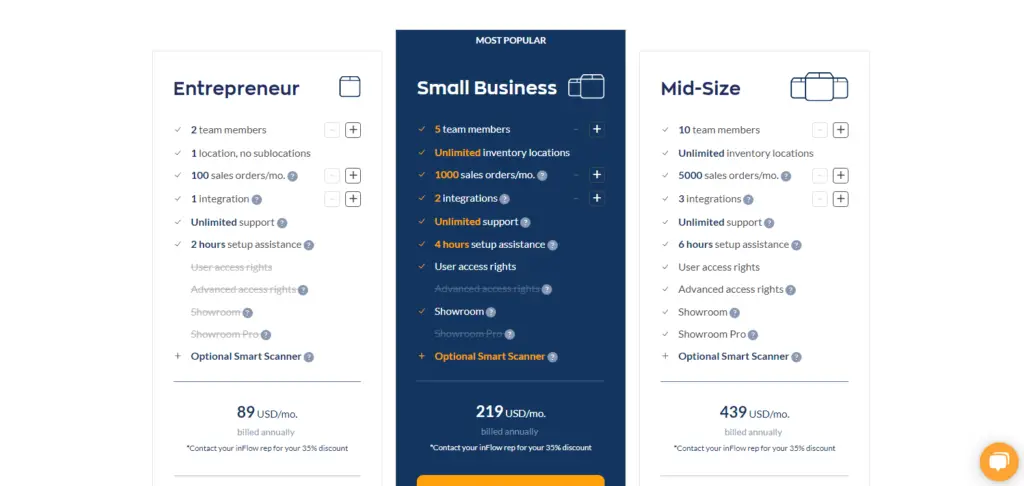 The Entrepreneur package starts at $89/month and offers access to 2 team members and 1 location. The Small Business package starts at $219/month and includes five team members with unlimited locations and 1000 sales per month. The mid-size package begins at $439/month and offers access to 10 team members, unified inventory locations, and 500 sales per month.
There's no need for a dealer to set up the system for you.

Instead of entering each item detail, upload multiple items via CSV file.

Any item can be moved to a new virtual location.

Configuration is easy without an expert's help.

Magento & Shopify can be integrated with InFlow.
Integrations are limited

Supply chain management features are limited to none
Overall, Inflow is a powerful business management software that offers a range of tools and features to help businesses improve their inventory management and streamline their warehousing processes. Its various features make it a useful tool for businesses of all sizes and industries.
4. Slack
Slack revolutionizes the way businesses communicate, collaborate, and manage projects. This cloud-based platform offers a centralized hub for team conversations, file sharing, and project organization – making it easier to stay connected with colleagues no matter their location. Compatible with various devices, including computers, mobile phones, and tablets; Slack is designed to help teams work smarter, not harder – streamlining productivity from any location.
This software can be especially beneficial for dispersed teams or those
that depend heavily on digital technology for communication and collaboration. Freelancers handling multiple clients can also reap the advantages of this fantastic tool as it offers a centralized location for managing their projects and tasks. With one click, your freelancing struggles will be over.
Leveraging Slack to its full potential is critical to achieving success. Establishing separate channels for individual projects and departments can help streamline your workflow, making it easier to find the information you need quickly and efficiently. This allows teams to share pertinent data faster than ever before.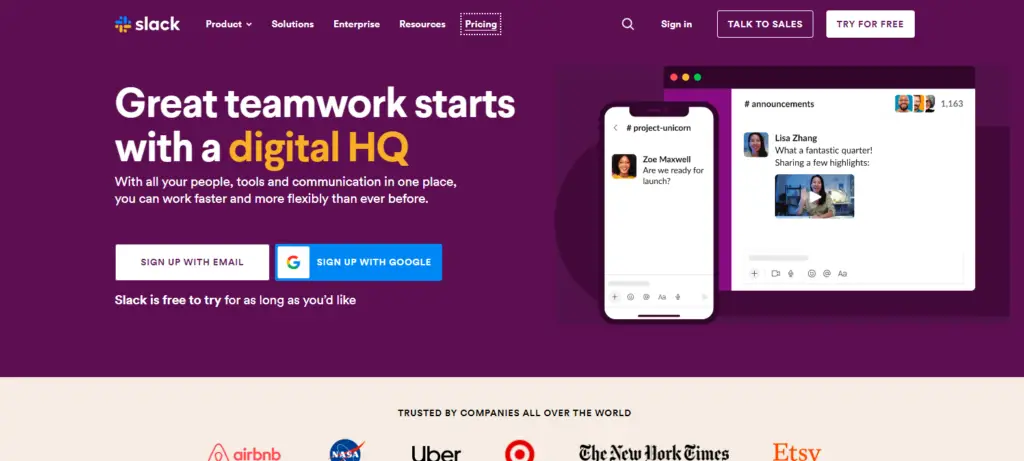 Key Features
Improved communication: Teams can communicate efficiently and quickly through direct messaging or group conversations, eliminating the need for cumbersome email chains and other old-fashioned forms of communication.
Enhanced collaboration: Equipped with the right tools, working remotely becomes an effortless process. With features such as file sharing, screen sharing, and video conferencing, collaborating with teammates is no longer a daunting task – it's made easy!
Streamlined project management: Incorporating a diverse selection of tools and services, including Trello and Asana, seamlessly, teams can effortlessly manage projects and tasks from within the platform.
Increased productivity: Slack can be a game-changer for any team by creating a unified space to communicate and work together more efficiently. In addition, Slack helps teams streamline their workflow and save time – so everyone can focus on the bigger picture!
In-app notifications: Get instant notifications delivered straight to your app.
Pricing: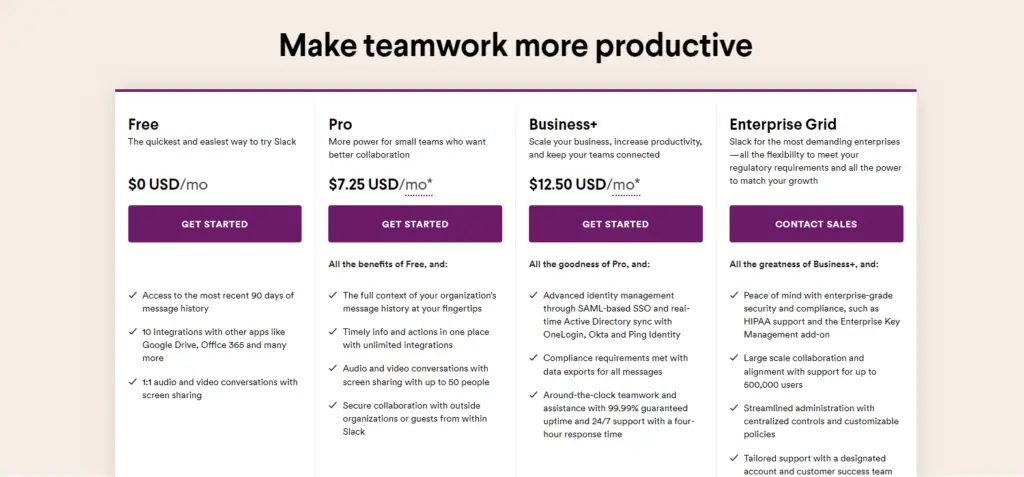 You can choose from three plans. From $7.25/month, you'll get complete context of your organization's message history at your fingertips, Timely info and actions in one place with unlimited integrations, and audio and video conversations with screen sharing for 50 people.
A Business+ plan starts at $12.50/month and includes SAML-based SSO and real-time Active Directory sync with OneLogin, Okta, and Ping Identity and Compliance requirements as well as data exports for every message. For enterprise plans, you need to contact them
Improves communication processes by automating them.

Channels, groups, and permissions are easy to manage.

Apps like JIRA make productivity easy.

Stakeholder responses are tracked through email threads.

Video, screen sharing, and voice are all faster on Huddle than on Google Meet.
Updates sometimes trigger notifications.

When participating in a meeting call, setting background is impossible.
Overall, Slack is a valuable tool for businesses as it provides a central location where communication and collaboration can take place, thus allowing teams to work more efficiently and effectively. This may be highly beneficial for organizations with distributed teams or those relying heavily on digital communication and collaboration tools.
5. Chanty
Chanty is a groundbreaking solution for businesses to optimize their internal communication. This robust and intuitive tool provides your team with instant messaging, audio/video calls, shared task lists, effortless file collaboration, plus an integrated knowledge base accessible from any device – all of which will streamline the way you collaborate.
With this all-encompassing business communication platform, teams can collaborate quickly and effectively, exchange thoughts and ideas, store information in the cloud quickly, delegate tasks seamlessly, monitor growth accurately – plus gain access to answers for common inquiries – all in one spot.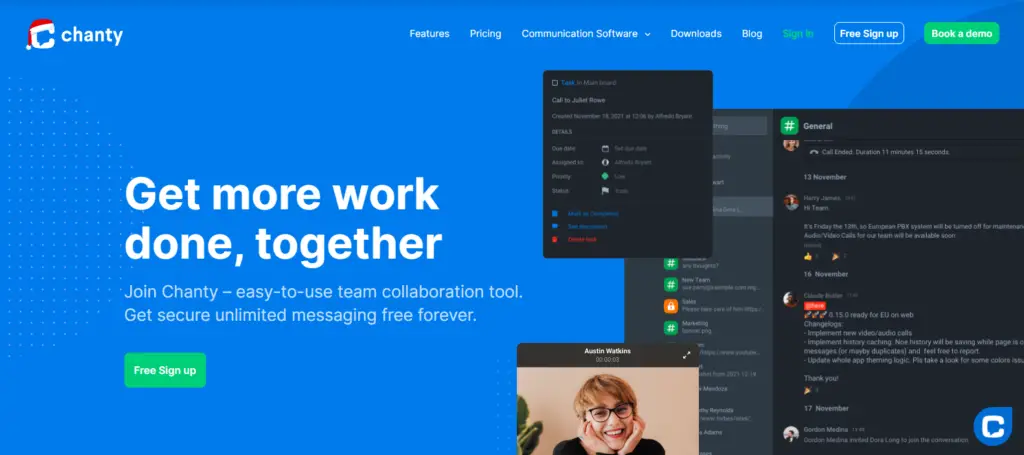 Key Features
Real-time messaging: Through its group and individual chat channels, Chanty quickens response times for efficient collaboration between team members, thus enhancing overall team cohesion.
File sharing: Chanty enables users to easily share files and documents within the platform, making it easier for teams to collaborate on projects and stay up to date with the latest versions of files.
Task management: The feature set allows team members to create and assign tasks, establish deadlines, and monitor progress – all critical aspects of staying organized and ensuring the timely completion of objectives.
Video and audio conferencing: With its audio and video conferencing capabilities, our service allows teams to have online meetings and discussions wherever they may be. It's beneficial for companies that employ remote workers or are spread out in different locations.
Integration with other tools: Integrating with a variety of other tools and platforms, like Google Drive, Trello, and Asana, teams can attain improved productivity by employing this remarkable technology.
Customization options: With this platform, users can tailor it to their needs and wants. This can range from creating custom chat channels to uploading unique emojis or integrations – everything is possible with this software.
Pricing: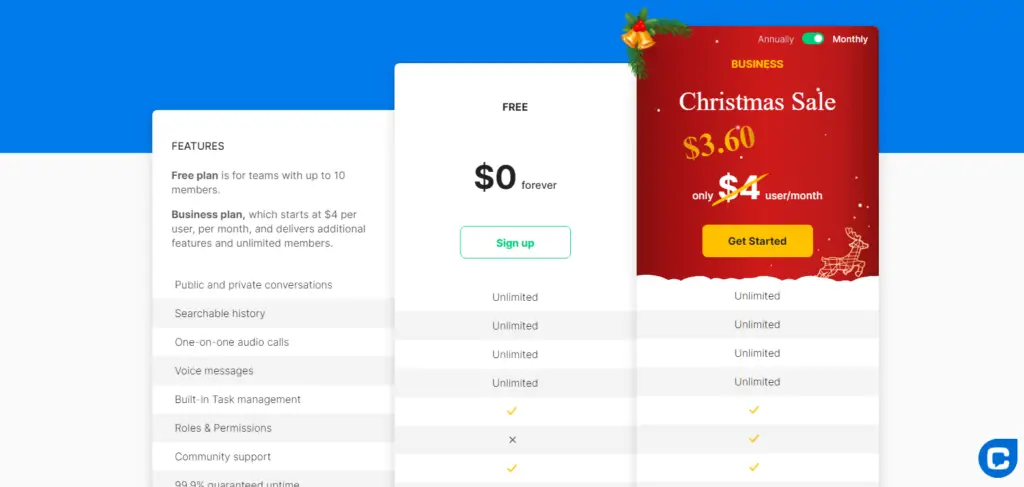 There is a free plan for teams with up to 10 members, and there is a business plan that starts at $4 per user, per month, which gives you additional features and allows you to have unlimited members.
Real-time communication between team members

The platform allows teams to share and access documents and files easily

Tasks can be assigned, deadlines can be set, and users can track progress

Meetings and discussions can be held online by teams
There is a limited ability to call group members

Give customers the option of customizing
Overall, Chanty is a strong team communication and collaboration platform that can help businesses to improve communication, streamline teamwork, and increase productivity. It is suitable for businesses of all sizes and industries and can support teams working remotely or in different locations.
6. ProductPlan
ProductPlan is the complete business management software that can craft a visual roadmap for your work. This software helps you with every step, from product development to testing and eventual completion – it offers complete business management capabilities. With ProductPlan, creating and managing your projects has never been easier or faster.
Moreover, teams can collaborate on your visual roadmap to assign estimates and construct work to guarantee everyone is informed of what you're doing. You can make a product timeline easily with its drag-and-drop interface while eliminating any possible roadblocks in development. Crafting this plan should be thrilling.Utilizing different color codes for progress tracking, setting milestones, and connecting related items with several other unique features will help drive your vision forward quickly and efficiently.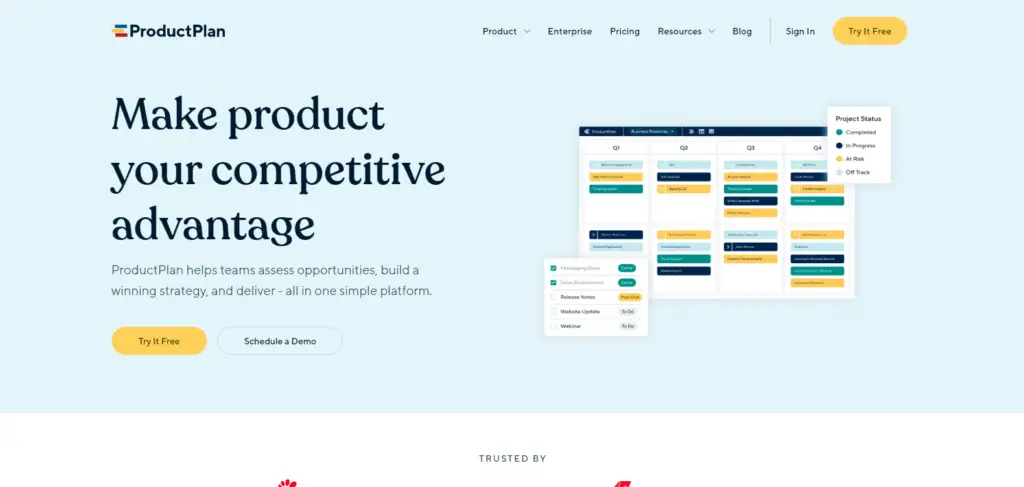 Key Features:
Roadmap creation and collaboration: By utilizing this tool, teams can construct and work together on product roadmaps that synchronize their objectives with their overall business plans.
Product roadmap templates: A range of custom-made templates empowers teams to build professional roadmaps without hassle or delay.
Roadmap sharing: ProductPlan enables teams to inform stakeholders effectively about their roadmaps and goals, boosting team collaboration.
Integrations: It can be integrated with a range of other tools and platforms, such as Jira, Trello, and Google Drive, which can help teams to work more efficiently and effectively.
Customization options: Providing users with the ability to personalize their platform, this software gives individuals complete control over colors, logos, and branding to cater to it specifically for them.
Reporting and analytics: With its extensive suite of reporting and analytics tools, teams can track critical performance metrics while making informed decisions based on data. Easily craft personalized reports and dashboards that provide an in-depth view into progress towards your goals.
Pricing: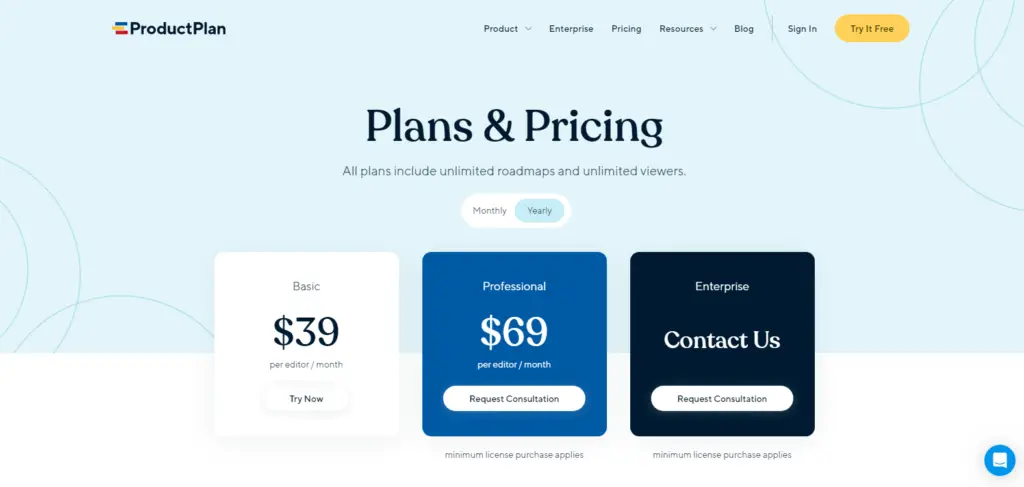 There are three different plans available. The basic plan starts at 39/month with unlimited roadmaps and viewers. The professional plan starts at 69/month with Portfolio View of Roadmaps, Jira, and ADO Two-Way Sync. For the enterprise plan, you will need to contact the company directly.
New bars can be easily created.

Jira integration is easy.

Simple user interface.
There is a limited output from the route sheets
Overall, ProductPlan is a powerful business management software that offers a range of tools and features to help teams plan, prioritize, and communicate their product roadmaps and initiatives. Its various features make it a useful tool for businesses of all sizes and industries.
7. Apptivo
Apptivo is an invaluable cloud-based business management software that provides many tools and features to assist businesses in streamlining their operations while increasing productivity. This all-encompassing platform includes provisions for customer relationship management (CRM), project control, invoicing, and much more.
By utilizing its project management tools, businesses can plan, track and efficiently cooperate on projects. Also included are invoicing features that enable you to create professional-looking invoices and follow payment statuses and collaboration resources that let teams collaborate in real-time.To top it all off, the app seamlessly integrates with popular platforms such as Google Drive, Dropbox, and QuickBooks – further optimizing your workflows.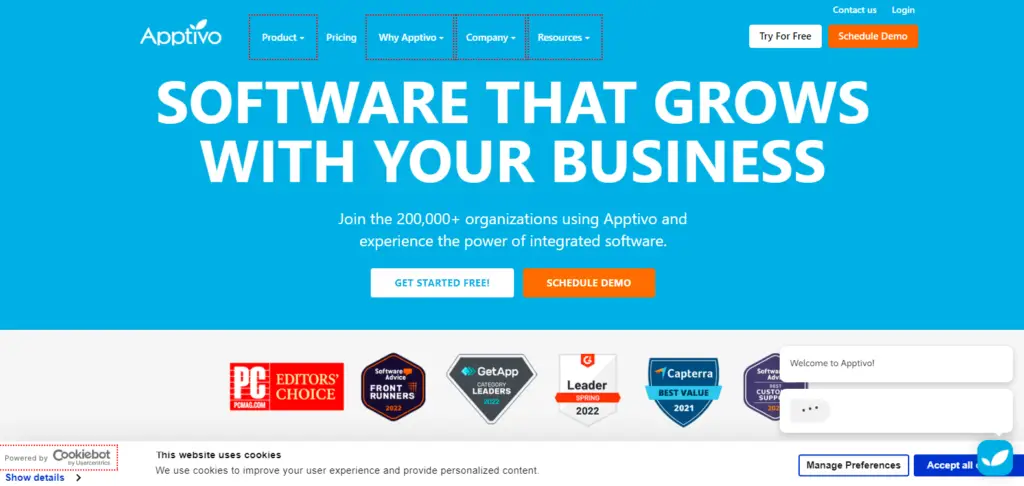 Key features:
CRM: Apptivo's capabilities enable businesses to monitor and organize customer relations, including tracking sales leads, managing customer information, and launching marketing initiatives.
Project management: With its project management tools, businesses can easily plan, collaborate on projects and track progress. These reliable tools also allow users to assign tasks, establish deadlines and view overall team performance in real time.
Invoicing: Invoicing features offer businesses the ability to craft and dispatch well-designed, professional invoices, keep track of payments received, and manage their finances without hassle.
Collaboration: This platform incorporates a wide array of tools for collaborative working, such as instantaneous messaging, file sharing, and video conferencing – an essential combination to keep your team connected.
Integrations: Businesses can become more streamlined and efficient with Proof's integration of essential tools like Google Drive, Dropbox, and QuickBooks. This invaluable combination provides an elevated level of convenience to complete tasks quickly and accurately.
Supply chain management: Supply chain management encompasses tracking vendors, purchasing items, and managing inventories.
Pricing: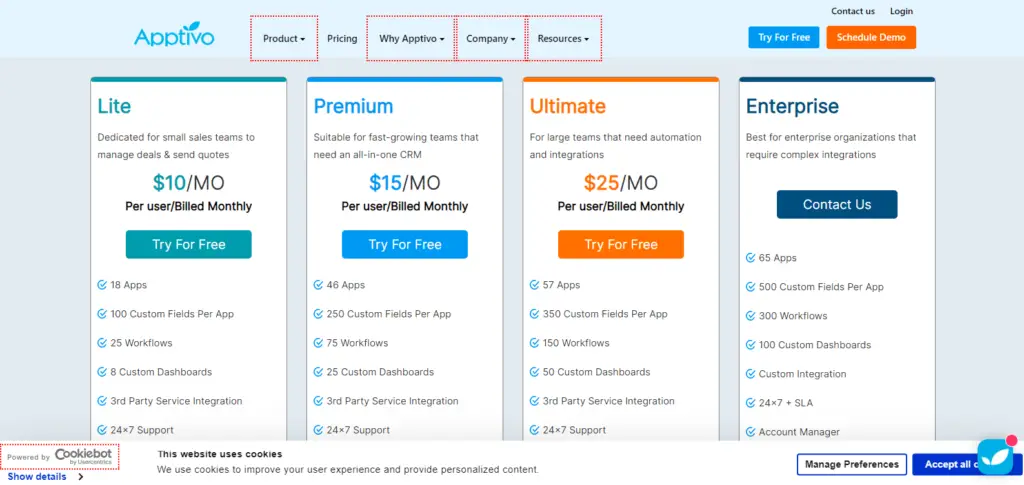 With the Lite package, you'll get 18 Apps, 100 Custom Fields Per App, 25 Workflows, and 8 Custom Dashboards for just $10/month. With the Premium plan, you get 46 Apps, 250 Custom Fields Per App, 75 Workflows, 25 Custom Dashboards, and for $15/month you get 46 Apps, 250 Custom Fields Per App, 75 Workflows, 25 Custom Dashboards.
The Ultimate plan starts at $25/month with 57 Apps, 350 Custom Fields Per App, 150 Workflows, and 50 Custom Dashboards. For an Enterprise plan, you'll need to contact them.
The interface is intuitive and easy to use

It is easy to learn and understand

The ability to make and track phone calls is available to you

Your computer won't be burdened with space-consuming programs.
The support service is inadequate

Limited version of the app for smartphones
Overall, Apptivo is a comprehensive business management software that can help businesses streamline their operations and improve their productivity. Its various features make it a valuable tool for businesses of all sizes and industries.
8. Gmail
Gmail, a Google-provided email service for personal and professional communication, is a convenient application with numerous advantages. Not only does it offer customizable email addresses, collaborative tools, calendar integration, and enhanced security measures – but these features come free of charge! Gmail will make your life easier through its easy-to-understand interface and mobile accessibility, allowing you to access your emails on the go.
Companies should use Gmail's collaboration tools, such as Google Drive integration, to maximize productivity and minimize hassle. With it, multiple people can work on the same documents in real-time, eliminating the need for scattered versions among team members. This allows businesses to streamline their processes efficiently and effectively.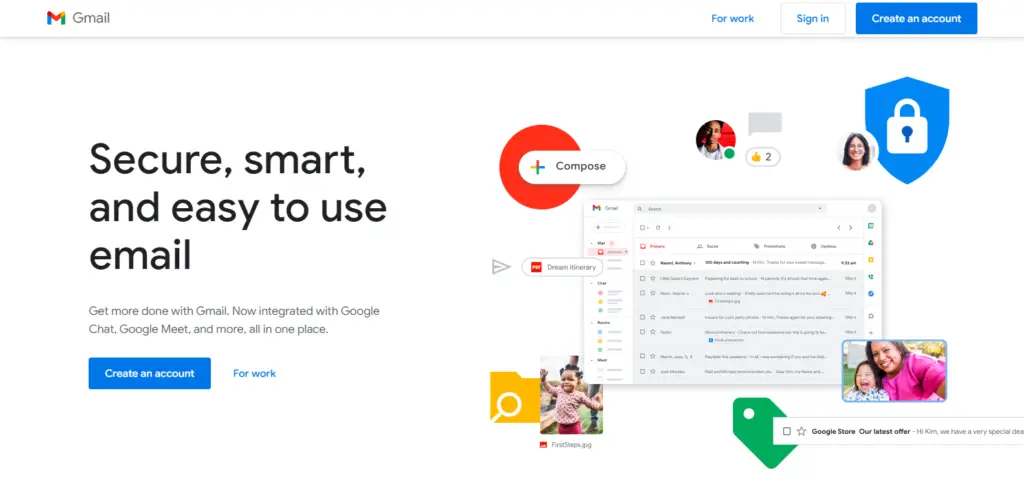 Key Features
Spam filtering: Gmail offers many valuable features, including spam filtering that eliminates all malicious emails from your inbox and categorizes emails into specified folders to facilitate organization.
Free storage: With its free storage, you can store an unprecedented amount of emails and attachments without worrying about running out of space.
Customizable email addresses: By incorporating their domain name, businesses can create custom email addresses for staff members that appear professional and credible. For example: [name]@[company].com
Collaboration tools: With Google Drive integration, teams can work jointly on documents, spreadsheets, and presentations in real-time from anywhere.
Calendar integration: Gmail's calendar integration offers a suite of features to make organizing meetings, setting reminders, and staying apprised of colleagues' availability quick.
Mobile accessibility: With its easy access to any device connected to the internet – including smartphones and tablets – it becomes straightforward for team members to stay linked, even when on the go.
Security: Featuring encryption, spam protection, and 2-step verification for optimal data security, it offers businesses the necessary tools to protect their data.
Pricing: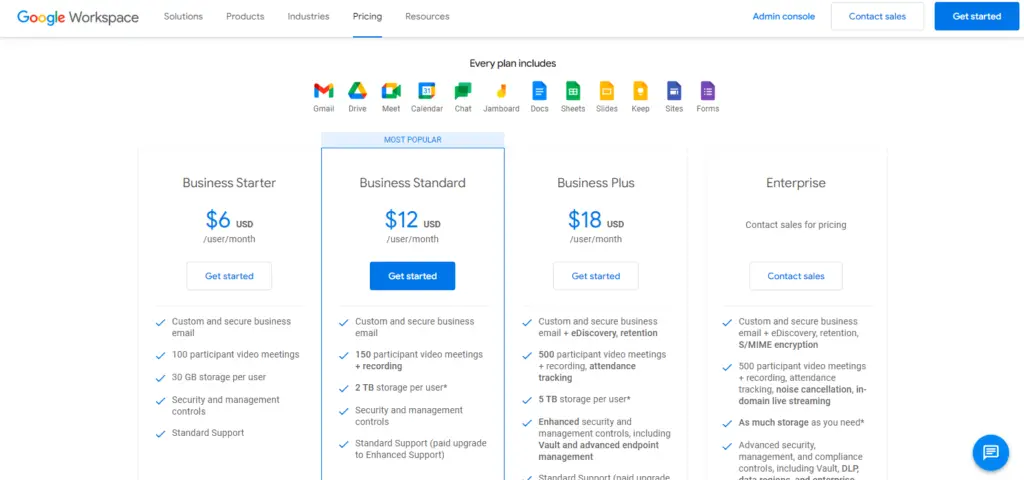 There are four packages available. Business starter plans start at $6/month and include custom and secure email, 100 participants' video meetings, and 30 GB of storage.
With the Business Standard plan, you get 150 participant video meetings plus recording, 2 TB of storage per user, and custom and secure business email. Custom and secure business email + eDiscovery, retention, 500 participant video meetings + recording, attendance tracking, 5 TB storage per user. Enterprise plans are available upon request.
Email addresses for employees can be customized using a business's domain name.

Integrated Google Drive for real-time collaboration on documents, spreadsheets, and presentations.

By integrating their calendars, users can schedule meetings, set reminders, and see who is available.

Accessible from any device with an internet connection, including smartphones and tablets

Secures businesses' data with encryption, spam protection, and 2-step verification.
Gmail offers free storage, but it may not be enough for large businesses.

Offers less customization than others
Overall, Gmail is a feature-rich email platform that offers a range of tools and features that can help businesses to streamline communication, improve teamwork, and increase productivity. Its spam filtering, email categorization, and free storage capabilities make it a convenient and user-friendly platform for businesses of all sizes and industries.
Related: Best Inventory Software for Small Business
How to choose the right business management tool for your business?
Choosing top business management software for your business can be difficult, as there are many factors to consider. Take a look at the following features:
1. Identify your needs
Understanding your company's objectives and requirements is the best place to begin if you're searching for a business management tool. Analyze what processes must be overseen and features that need to be included in the software, and think about how each team member will take advantage of it. This step helps ensure you choose an appropriate solution that fulfills your needs.
2. Consider the size and scope of your business
When selecting a business management tool, it's essential to find one that suits the size and type of your company. A large enterprise may demand something more sophisticated than a tiny business requires; hence, pick wisely.For example, if you have an extensive workforce with complex needs, you must opt for a robust system offering enhanced features compared to those necessary by smaller companies.
3. Resource management
Effectiveness and productivity are heightened with optimal resource supervision. To make this possible, businesses need the best software that includes advanced features for managing resources such as personnel, devices, and materials.
4. Compare features and capabilities
Once you have identified a list of potential business management tools, compare their features and capabilities to ensure they are the right fit for your organization. Consider pricing, integration with other applications, customization options, and customer service when making your decision.
5. Evaluate user reviews and testimonials
Before you invest in a business management tool, read reviews and testimonials from other users to uncover how it performs in the real world. This is an effective way to identify any potential issue or limitation before purchasing.
6. Test the tool
Unlock the full potential of various business tools by trying out their free trials and demos. This is a great way to get acquainted with how the tool works and any benefits it can bring your business. At the same time, you'll be able to identify any issues or limitations that may arise from using them.
Related: Best Business Software for Sole Proprietor
Conclusion
Business management software can help simplify the complexities of running a business. Many different programs are available, each with its own set of features. Pricing varies depending on the program and the level of functionality you need. Research and choose a program that will work well for you and your business!
Have you used any business management software? If so, which one? What did you think of it? Let us know in the comments section below!
Related: Best Risk Management Software for Businesses
FAQ
What is business management software?
Business management software is a type of software that helps businesses manage their operations. It can include accounting, inventory tracking, contact management, and more.
What is the simplest bookkeeping software?
One of the simplest options is online services like QuickBooks Online, which allows you to easily track your expenses and income and even generate reports.
What is the main focus of business management?
The main focus of business management is to ensure that the company is profitable and sustainable in the long term. This involves ensuring that the company is organized and efficient, has a good strategy, and provides value to its customers.
What is cloud-based business management?
Cloud-based business management is software that allows businesses to manage their operations from a remote location. This type of software is also known as enterprise resource planning (ERP).
What makes a good business management system?
A sound business management system can help you manage your business effectively and efficiently. It should help you track your expenses, income, and other vital statistics to make sound business decisions.