Disclaimer: We sometimes use affiliate links in our content. For more information, visit our Disclaimer Page. 
In leadership, the potency of a well-posed strategic question cannot be overstated. For team leaders and managers, the ability to ask the right questions is not just a skill, but a strategic necessity that can transform the dynamics of a team. It's about going beyond superficial answers to foster a deeper understanding and collaboration.
Effective questioning allows leaders to uncover underlying issues, engage team members, and promote a culture of innovation. It is especially crucial for senior leaders to master this art, as it helps them identify and address challenges that may escape the naked eye.
This discussion is an invitation to refine your inquiry approach, to shift from seeking immediate answers to fostering a dialogue that can lead to sustainable growth and peak team performance. Let's embark on this journey to discover how the right questions can become the compass that steers your team toward success.
Key Takeaways
Strategic questioning is a vital skill that can lead to improved team dynamics and clearer organizational focus.
Crafting the right questions can uncover hidden challenges and stimulate innovative solutions within a team.
The timing and context of questions are crucial for ensuring they are both relevant and impactful.
Effective questioning techniques and avoiding common pitfalls can significantly influence the quality of responses.
Regularly engaging in strategic questioning empowers leaders to make informed decisions and align their team with the organization's goals.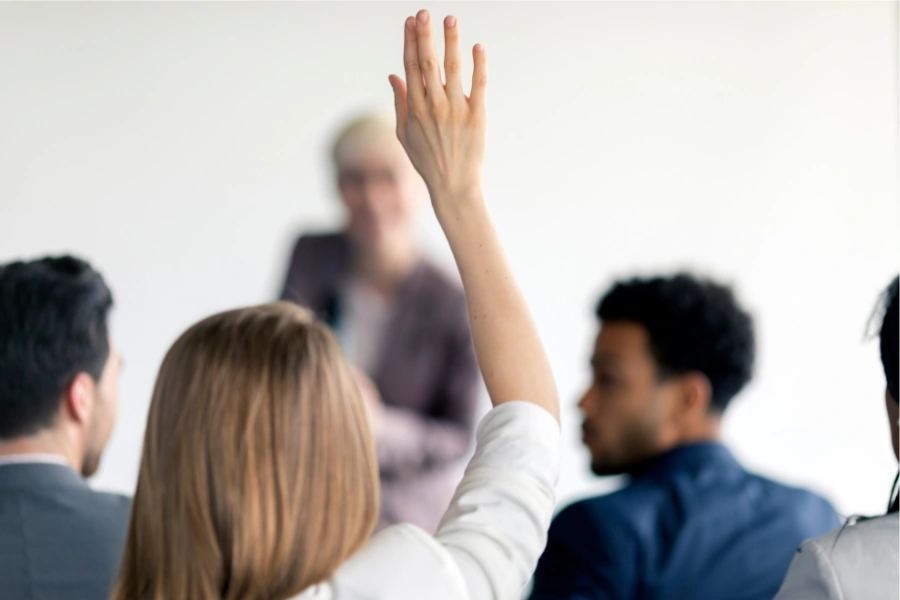 The Art of Asking Questions
The ability to craft and pose strategic questions is a subtle yet powerful tool in any leader's arsenal. It's not just about gathering information; it's about sparking conversation, challenging assumptions, and encouraging a deeper level of thinking among your team members.
Effective Communication Through Inquiry: Every question you ask sends a ripple through the pool of collective team knowledge. When you ask the right questions, you're not just communicating; you're also opening doors to new insights and perspectives. It's the difference between a monologue and a dialogue, where every team member feels heard and valued.
Engagement and Motivation: Questions have the unique ability to engage minds and hearts. By asking strategic questions, you invite your team to contribute their ideas and solutions, fostering a sense of ownership and motivation. It's about creating an environment where team members are not just participants but active co-creators of the team's journey.
Shaping Team Dynamics: The questions you choose to ask can significantly influence the team's atmosphere and workflow. Asking these types of questions can shift the focus from what went wrong to what can be improved, from individual blame to collective growth. It's a shift that can transform challenges into opportunities for team bonding and problem-solving.
Remember, the art of asking questions is not about interrogating but about facilitating a collaborative space where strategic thinking and mutual respect drive performance.
Crafting the Right Questions
The questions leaders ask are pivotal in navigating the complex landscape of organizational dynamics and can serve as the catalyst for innovation and change. Crafting the right questions is not just a matter of linguistics but of timing, context, and intent, all of which contribute to the cultivation of a high-performing team.
The Difference Between Good and Great Questions
Great questions have the power to unlock potential, reveal underlying issues, and propel your team to the next level. Here are some characteristics of strategic questions that can make all the difference:
Open-Ended and Thought-Provoking: Instead of looking for simple yes or no answers, great questions encourage a more expansive dialogue, inviting team members to explore and share more comprehensive insights.
Relevant and Timely: The best questions are those that resonate with the current situation of the team, addressing the immediate concerns while also aligning with the long-term vision.
Action-Oriented: They should inspire action by prompting the team to think about solutions and strategies, rather than just contemplating problems.
Inclusive: They invite contributions from all team members, leveraging the diversity of thoughts to foster a more robust discussion.
Timing and Context in Asking Questions
The 'when' and 'how' of question-asking are just as crucial as the 'what.' For strategic questions to be effective, they must be asked with consideration of the team's current state and the broader strategic goals.
Situational Awareness: Gauge the atmosphere and morale of the team. Asking the right questions at a time of high stress may require a different approach compared to a period of calm.
Alignment with Strategic Objectives: Ensure that the questions you ask are guiding your team back to the core objectives. Each question should serve as a stepping stone towards achieving the collective goals.
Fostering Focus: By asking questions that align with your strategic plan, you can help maintain the team's focus and steer the collective effort in the right direction.
In essence, the art of asking the right questions lies in striking a balance between seeking information, inspiring creativity, and maintaining alignment with your strategic vision. It's about understanding the power that questions have to shape the future course of your team's journey.
Strategic Questions to Ask Leaders for Team Success
In the pursuit of team success, the dialogue between leaders and their teams is a critical pathway to engagement, clarity, and direction. Leaders bear the responsibility of not only guiding their teams but also ensuring that each member is aligned with the collective mission. By asking strategic questions, leaders can foster a culture of involvement and shared purpose.
Questions Leaders Ask to Foster Engagement
To build cohesion and foster engagement, leaders need to ask questions that resonate with their team members on a personal and professional level. Such questions might include:
"What support do you need to achieve your individual goals and how can it contribute to our team's success?" This shows a commitment to individual development within the team context.
"How can we better align our team's efforts with the organization's vision?" This encourages team members to think about their role in the larger picture.
"What challenges are we not yet addressing, and how might they impact our objectives?" Openly discussing potential hurdles can preemptively strengthen team resilience.
Strategic Questions to Ask Senior Leaders for Guidance
Engaging with senior leaders for guidance requires a careful selection of strategic questions that can elicit depth and nuance in responses, providing a clearer path for the team. Consider asking:
"Based on your experience, what are the crucial factors that differentiate a good team from a great one?" This can uncover insights into effective team dynamics and expectations.
"In what ways can we better leverage our team's unique strengths to advance the organization's strategic goals?" This demonstrates proactive thinking about aligning team capabilities with organizational objectives.
"How do you suggest we measure and track our progress towards the strategic vision?" Understanding senior leaders' perspectives on success metrics can ensure that the team's efforts are correctly focused and evaluated.
Each question serves as a bridge connecting the team's daily efforts with the overarching goals set by the organization. The responses to these strategic questions can guide leaders in fine-tuning their approach, ensuring that every team member is not only heard but is also working in concert towards a common objective.
How to Ask the Right Questions
The ability to ask the right questions is as important as the ability to answer them. In leadership, this skill is honed through understanding not just what to ask, but also how to ask it. The technique of questioning can dramatically influence the type of information received, the level of engagement from the team, and the effectiveness of communication overall.
Techniques for Effective Questioning
When it comes to effective questioning, it's not only about the content of the question but also its delivery. Here are some best practices:
Use open-ended questions to encourage expansive thinking and detailed responses. Phrasing like "What are your thoughts on…" or "How do we improve…" invites elaboration.
Be direct and clear, avoiding ambiguity. Questions should be straightforward to ensure that the response addresses the specific issue at hand.
Timing is key. Pose questions at the appropriate moment when they are most relevant, and when there is sufficient time for thorough discussion.
Follow up on answers. This not only shows that you are listening but also deepens the dialogue and understanding.
Avoiding Common Questioning Pitfalls
In the realm of strategic leadership, every question counts. It's vital to steer clear of questions that do not add value to the discussion. Here's what to avoid:
Stay away from 'yes' or 'no' questions if you're looking for more than a simple confirmation. They close off the opportunity for discussion and insight.
Don't ask leading questions that suggest the answer you're looking for. This can stifle genuine feedback and creativity.
Resist asking multiple questions at once, as this can overwhelm the respondent and muddy the focus of the conversation.
Focus on the future rather than dwelling on past failures. Aim to ask constructive questions that propel the team forward rather than ones that place blame.
By adopting these techniques and avoiding common pitfalls, leaders can craft questions that not only seek answers but also inspire thought, encourage collaboration, and drive the team toward meaningful action. Asking the right questions is a powerful tool in the leader's arsenal, one that shapes the path to insightful discussions and informed decisions.
Strategic Questions to Consider
In the landscape of leadership and management, strategic questioning serves as a compass to guide teams through complex scenarios. Crafting an exhaustive list of such questions can prepare leaders for a multitude of situations, enabling them to navigate challenges with clarity and foresight.
For team alignment and motivation: "What are our core objectives, and how does each role contribute to these goals?"
Regarding decision-making: "What are the potential impacts of this decision in the short-term and the long-term?"
To foster innovation: "What assumptions are we making, and how can we challenge them to think differently?"
For problem-solving: "What is the root cause of this issue, and what are the viable solutions?
In crisis management: "How can we turn this challenge into an opportunity for growth?"
For performance evaluation: "What successes can we celebrate, and where are the opportunities for improvement?"
When mentoring: "What skills or knowledge are you looking to develop, and how can I support you in that journey?"
In change management: "How will this change affect our team dynamics, and what can we do to facilitate a smooth transition?"
Each of these strategic questions is tailored to provoke thoughtful consideration, encourage comprehensive analysis, and prompt action. When used wisely, they can reveal insights that might otherwise remain obscured and can foster an environment where every team member feels engaged and invested in the organization's success. Remember, the most powerful questions are those that lead to a deeper understanding and propel a team toward actionable solutions.
Strategic Planning: Information and Data to Gather
Strategic planning is not just about setting goals—it's about gathering the right information and data to make informed decisions. The journey to strategic clarity begins with asking the right questions to unearth the insights that will drive your team forward.
Questions to Uncover Critical Strategic Planning Data
Identifying the key pieces of information and data necessary for decision-making can transform the strategic planning process from guesswork to precision. Consider these questions to start gathering critical data:
Market Trends: "What shifts in the market are affecting our industry, and how can we adapt to stay ahead?"
Competitive Analysis: "Who are our main competitors, and what strategies are they employing?"
Customer Insights: "What feedback have we received from customers, and what does it tell us about their needs and preferences?"
Performance Metrics: "Which metrics best indicate our success, and what story do they tell about our progress?"
Resource Allocation: "How are our resources currently distributed, and is this alignment maximizing our potential?"
By addressing these questions, leaders can pinpoint areas that need attention, evaluate resources, and understand the competitive landscape. This approach ensures that every strategic decision is backed by solid data.
Analyzing Responses for Maximum Insight
Once the data is collected, the next step is to analyze the responses to extract actionable insights. This analysis can provide senior leaders with a comprehensive understanding of their team's performance and strategic direction.
Identify Patterns: Look for trends in the data that may indicate broader issues or opportunities.
Challenge Assumptions: Use the information gathered to question and refine the team's assumptions about their strategy.
Prioritize Actions: Determine which areas require immediate action and which are part of a long-term strategy.
Align Objectives: Ensure that the insights align with the team's objectives and the overall mission of the organization.
Through this rigorous analysis, leaders can develop a clear picture of where the team stands and what steps they need to take to achieve their strategic objectives. In essence, the right questions and thorough analysis are the bedrock upon which successful strategic planning is built.
Conclusion
Strategic questioning is not just a leadership tool; it's a critical component of organizational success. Senior leaders who regularly engage in strategic questioning are more equipped to navigate the complexities of today's business landscape with agility and foresight.
In conclusion, the power of strategic questioning cannot be overstated. It fosters a culture of continuous improvement, drives innovation, and ensures that the organization remains responsive to changes in the environment. By adopting a curious mindset and a disciplined approach to inquiry, leaders can unlock potential and propel their teams to peak performance.
So, team leaders, embrace the practice of asking insightful, strategic questions. It's more than just a way to gather information—it's a catalyst for growth and a beacon guiding your team towards success. Let the inquiries begin, and watch as they lead to a stronger, more aligned, and high-performing team.
FAQs
What is a good question to ask your team?
A good question to ask your team could be, "What challenges will our company face?" This question encourages team members to think about potential obstacles and how to overcome them.
What are good strategic questions to ask?
Good strategic questions to ask your team include:
"What are your current goals?" to align team objectives.
"What should the company do more?" to identify areas for improvement.
"How can I better support you?" to enhance team collaboration and support.
What are the top 5 powerful questions?
Five powerful questions could be:
"What lessons can our company leverage?"
"How does your product work?"
"What are we doing today?"
"What motivates you?"
"Who is our target customer?"
What are the 4 strategic questions?
The 4 strategic questions may include:
"What is our strategic vision?"
"What are our long-term goals?"
"What are our shorter-term objectives?"
"Who is responsible for each element of the strategy?"