Disclaimer: We sometimes use affiliate links in our content. For more information, visit our Disclaimer Page. 
In the intricate dance of human interaction, tact, and diplomacy are the unseen forces that can make or break relationships and careers. Understanding why being tactful is important is at the heart of effective communication, involving more than just exchanging information; it's about understanding the emotions and intentions behind the information.
In this article, we delve into the art of tactful communication, exploring how this skill are essential for anyone looking to foster positive, effective interactions in both their personal and professional lives.
Key Takeaways
Tactful communication is a crucial skill for effective interpersonal and professional interactions, balancing sensitivity with clarity.
Understanding why being tactful is important can transform relationships and improve career prospects.
Developing tact and diplomacy begins with emotional intelligence, the foundation of respectful and sensitive communication.
Effective listening and carefully chosen words are essential components of being a tactful communicator.
In professional settings, tactful communication is key to navigating office dynamics and building strong, trust-based relationships.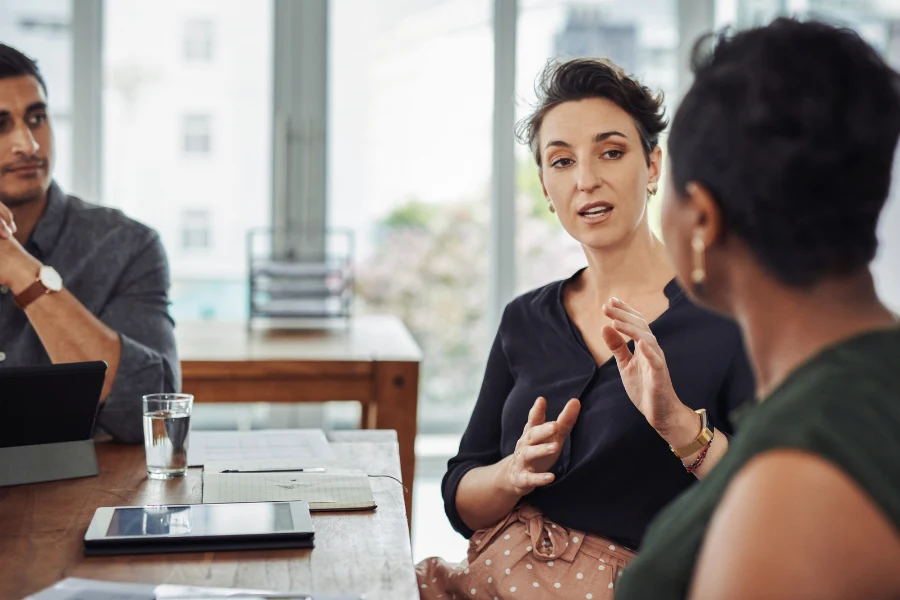 The Essence of Tactful Communication 
Tactful communication is an art that balances sensitivity with clarity. It's not just about what you say, but how you say it. In this section, we explore examples of being tactful and delve into the nuances of tact and diplomacy, essential skills for anyone looking to improve their interpersonal connections and professional relationships.
What is Tact? 
Tact is the skill of being sensitive in dealing with others or with difficult issues. It's about recognizing emotions and thoughts, both yours and others', and communicating in a way that respects these perspectives. Being tactful examples include thoughtfulness, a keen sense of timing, and the ability to see things from multiple angles. It's a delicate balance – ensuring your message is heard without stepping on toes or causing unintentional harm.
Tactful Communication in Practice
Imagine navigating sensitive conversations with ease, where your words are both heard and respected. This is the essence of tactful communication examples. It's not just about avoiding offense, but about expressing yourself in a way that values and respects the feelings and perspectives of others.
The Role of Diplomacy 
Diplomacy, in the context of communication, refers to managing relationships by effectively handling conflicts and negotiations. It's about articulating your views while remaining open and respectful to those of others. Diplomatic skills are crucial in preventing misunderstandings and building a foundation of trust. They help in not only conveying your message but also in ensuring it's received in the spirit intended.
Developing Tact and Diplomacy Skills 
To navigate the nuances of human interactions effectively, developing skills in tact and diplomacy is essential. This journey begins with understanding and harnessing the power of emotional intelligence.
Emotional Intelligence: The Foundation for How to Be Tactful
Emotional Intelligence (EI) is the cornerstone of tactful communication. It involves being aware of and managing your own emotions and understanding the emotions of others. This awareness is crucial for communicating with sensitivity and precision, key to learning how to be tactful. When you are attuned to the emotional context of a conversation, you can tailor your responses to resonate more deeply and avoid misunderstandings.
High EI equips you with the ability to respect and acknowledge other people's feelings, an indispensable aspect of diplomatic communication. It's about more than just choosing the right words; it's about creating a connection that validates the other person's perspective. This empathetic approach not only fosters better personal and professional relationships but also paves the way for more effective and harmonious interactions.
The Art of Choosing Words Carefully in Tactful Communication
The words we choose in our conversations can build bridges or create barriers. Thus, mastering the art of selecting words with care is a vital aspect of tactful communication. This skill is about more than just avoiding offense; it's about conveying your message in a way that is mindful and considerate of the feelings of others.
One key strategy is to think before you speak. This pause allows you to assess your words and their potential impact. Ask yourself if your message is clear, necessary, and kind. It's also essential to adapt your communication style to the context and the person you are speaking to. This adaptation shows respect for their feelings and perspectives.
Another aspect involves using positive language. Instead of focusing on what cannot be done, emphasize what can be done. For example, instead of saying, "Don't forget to send the report," you could say, "Please remember to send the report." Such small tweaks in phrasing can significantly change the tone and reception of your message.
Lastly, being specific and direct can prevent misunderstandings. Vague language can often lead to confusion, so clarity is key. However, this doesn't mean being blunt; it's about finding a balance between being straightforward and sensitive.
Mastering Effective Listening as a Tactful Communicator
Effective listening is a cornerstone of tactful communication, going beyond just hearing words to fully understanding and empathizing with the speaker. This skill is crucial for building trust and understanding in all types of relationships, making one a tactful communicator.
Active listening is the first critical step. It involves giving your undivided attention to the speaker, absorbing not just their words but also their non-verbal cues, such as body language and tone. Small acknowledgments like a nod or a verbal affirmation like "I see" can significantly demonstrate your engagement and understanding.
Providing empathetic responses is another key aspect. Empathy in listening means recognizing and validating the speaker's perspective, even if you don't agree. Phrases like "That must have been hard for you" or "I can understand why you'd feel that way" show that you are genuinely considering their feelings and points of view.
In addition, an effective listener engages by asking clarifying questions. This approach not only conveys that you are actively involved in the conversation but also ensures that you fully grasp the nuances of what's being shared. It's important to interject these questions thoughtfully, without interrupting or shifting the focus from the speaker.
Tactful Communication in Professional Settings 
In professional settings, tactful communication is a vital skill that helps navigate complex office dynamics and build strong working relationships. It's about striking the right balance between being assertive and respectful, ensuring your message is conveyed effectively without compromising the harmony of the workplace.
Maintaining professionalism and diplomacy is key in any workplace. It starts with understanding the diverse personalities and communication styles you encounter. Recognizing these differences and adapting your approach accordingly can significantly improve interactions.
A crucial aspect of being tactful at work involves balancing assertiveness with respect. Being assertive means stating your needs and opinions clearly and confidently, but without being aggressive. It's about being forthright with your ideas while still valuing and considering the perspectives of others.
Another important element is choosing the right moment for important conversations. Timing can be as crucial as the message itself. A well-timed discussion can lead to productive outcomes, whereas poorly-timed communication might lead to misunderstandings or conflict.
Active listening also plays a significant role. By genuinely listening to your colleagues, you demonstrate respect and openness, fostering a positive and collaborative work environment. This also helps in understanding the underlying concerns or motivations in workplace interactions.
Diplomatic Conflict Resolution 
In any professional setting, conflicts are inevitable. However, resolving these conflicts with tact and diplomacy can transform challenges into opportunities for growth and understanding. Diplomatic conflict resolution is about finding a middle ground where all parties feel heard and respected.
A key approach in this process is using 'I' statements. This technique involves expressing your feelings and perspectives without placing blame or making accusations. For instance, saying, "I feel overwhelmed when deadlines are changed at the last minute," instead of, "You always change deadlines without notice," can shift the conversation from confrontational to collaborative.
It's also crucial to respect the other person's perspective. Everyone has a unique viewpoint, shaped by their experiences and beliefs. Acknowledging and validating these perspectives doesn't mean you agree with them, but it does create a space for open, respectful dialogue. This approach can lead to more empathetic and effective problem-solving.
Another important aspect is seeking common ground. Find areas of agreement or shared goals as a starting point for negotiation. This helps in steering the conversation towards a solution rather than focusing on the conflict.
Active listening is essential in these scenarios. It involves not only hearing but truly understanding the other party's position. This understanding can pave the way for a resolution that is satisfactory for all involved.
The Non-Verbal Aspects of Tactful Communication 
Non-verbal cues play a pivotal role in the art of tactful communication. Often, it's not just the words we choose, but our body language, facial expressions, and tone of voice that convey our true intentions and feelings. Mastering these non-verbal aspects can significantly enhance the effectiveness of our communication.
The Power of Body Language 
Body language is a silent yet powerful communicator. Gestures, posture, and even the distance you maintain during a conversation can speak volumes. One key aspect is to make eye contact, which signifies attention and respect, conveying that you are fully engaged in the conversation.
On the other hand, crossed arms might be perceived as defensive or closed-off, even if your words are open and friendly. Being conscious of these signals and using them appropriately can greatly enhance your ability to communicate tactfully.
The Impact of Tone and Facial Expressions 
The tone of voice and facial expressions are integral to how your message is received. A friendly tone coupled with a genuine smile can make even difficult messages more palatable. Conversely, a harsh tone or a frown can make even neutral statements seem aggressive or unfriendly.
It's important to remember that communicating tactfully involves aligning your verbal message with your non-verbal cues. Consistency between what you say and how you express it non-verbally reinforces trust and clarity in your communications.
Enhancing Communication with Tact and Diplomacy 
To communicate effectively in today's diverse and fast-paced world, enhancing your communication skills with a blend of tact and diplomacy is crucial. It's about more than just choosing the right words; it involves cultivating a mindset and approach that fosters understanding and respect in all interactions.
Cultivating a Diplomatic Mindset 
Cultivating a diplomatic mindset starts with the recognition that every interaction is an opportunity to build positive relationships. This mindset involves being open, considerate, and aiming for win-win outcomes. It's about understanding that your approach to communication can significantly impact the nature and quality of your interactions.
Adopting this mindset means being mindful of your reactions and responses. It involves thinking before reacting and considering the long-term implications of your words and actions. A diplomatic approach is not about being passive; it's about being strategic and thoughtful in your communication.
Another key aspect is to modify your style of communication to suit different situations and personalities. This flexibility enables you to navigate various social and professional settings more effectively. It involves being empathetic and adjusting your communication to be more or less formal, direct, or empathetic as the situation demands.
Practical Exercises to Develop Tact 
Developing tactful communication skills is akin to building muscle; it requires regular practice and conscious effort. Engaging in practical exercises can significantly enhance your ability to communicate with tact and diplomacy, especially in challenging scenarios.
One effective exercise is role-playing different communication scenarios. This can involve practicing responses to difficult or sensitive situations. For instance, you might role-play a scenario where you have to deliver constructive feedback to a team member. The goal is to practice expressing your thoughts clearly and sensitively.
Another valuable practice is the reflection exercise. After a conversation, take a moment to reflect on how it went. Ask yourself questions like, "Could I have phrased something better?" or "Did I fully consider the other person's perspective?" This self-reflection can provide insights into how you can communicate more tactfully in the future.
Journaling your interactions can also be beneficial. Writing down conversations and your responses allows you to analyze and think about different ways you could have communicated. This practice helps in identifying patterns in your communication style that you may want to change or improve.
Conclusion 
As we conclude, it's essential to underscore the transformative power of tactful communication. It's a skill that not only improves interactions but also builds and strengthens relationships, be it in personal or professional spheres. Tact and diplomacy are not innate traits but skills that can be honed and developed over time.
The journey of mastering tactful communication is ongoing. It involves continuous practice, learning, and adaptation. Every conversation is an opportunity to apply and refine these skills. Remember, the goal is not just to convey information but to do so in a way that is respectful, considerate, and empathetic.
Tactful communication is about creating an environment where dialogue is open, understanding is mutual, and relationships flourish. Whether you're in a challenging work situation, navigating complex social dynamics, or simply engaging in everyday conversations, the way you communicate can leave a lasting impact.
In closing, I encourage you to embrace the practice of tactful communication. Reflect on your interactions, be open to feedback, and continually seek ways to improve. The rewards – stronger relationships, enhanced respect, and better outcomes – are well worth the effort.
FAQs
What is a tactful communication?
Tactful communication refers to the ability to convey information or feedback in a considerate and sensitive manner, taking into account the feelings and reactions of others. It involves delivering messages thoughtfully and diplomatically to maintain positive relationships.
What does it mean to be tactful?
Being tactful means having the skill to communicate honestly and effectively while avoiding offense or hurt feelings. It involves understanding the appropriate way to convey information to others in a sensitive and considerate manner.
What is a tactful approach?
A tactful approach involves using diplomacy, sensitivity, and clear communication to address situations or convey messages without causing discomfort or conflict. It aims to achieve a positive outcome while preserving relationships.
What is an example of tactful?
An example of being tactful is offering constructive feedback in a way that is encouraging and supportive rather than critical or harsh. It involves choosing words and actions that consider the other person's feelings and promote a positive response.