Disclaimer: We sometimes use affiliate links in our content. For more information, visit our Disclaimer Page. 
Every day, managers face a barrage of situations that demand their attention, discernment, and often, the ability to solve problems. As a steward at the helm of a business, a manager is often responsible for navigating these tumultuous waters, steering the team toward desired outcomes. But what happens when the path isn't clear, or worse, obstructed by complex problems?
Good problem-solving skills can be your lighthouse in the storm, guiding your way to a workable solution. Today, we'll explore these crucial strategies, equipping you with the knowledge necessary for improving problem-solving skills and overcoming obstacles.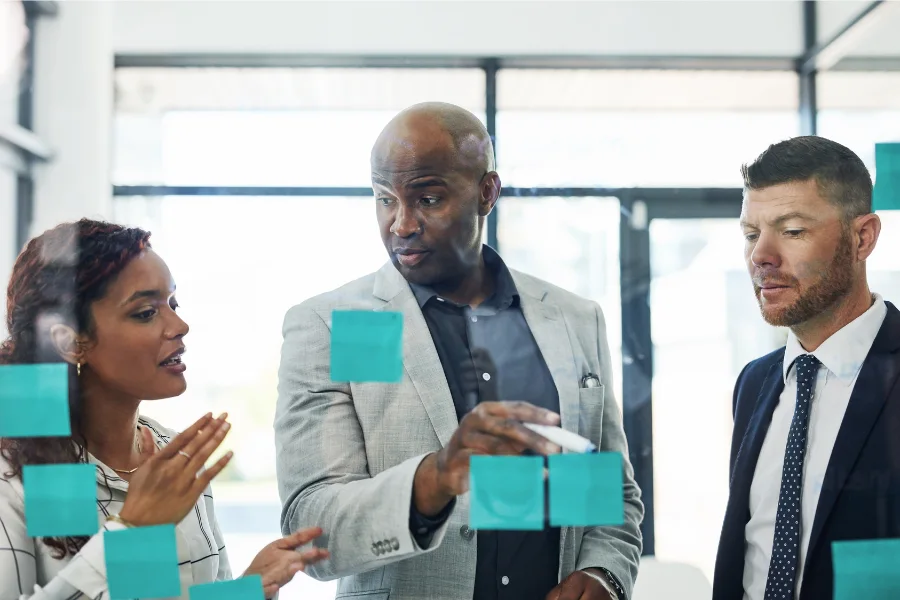 Recognizing the Issue: The First Step in the Problem-Solving Process
When a problem arises in a business context, the first step in the problem-solving process is to identify the issue. However, not all problems announce their presence loudly. Some are subtle, quietly eroding the efficiency and effectiveness of the team.
By refining your analytical skills, you can uncover these hidden snags, allowing for effective problem-solving and reducing the likelihood of the problem occurring again.
Consider the application of the Kipling Method — a technique of asking what, why, when, where, how, who, and which, as it pertains to the problem. This tactic encourages a comprehensive approach to understanding the issue, illuminating it from different angles. When you and your team feel comfortable sharing insights, you can collectively identify the root cause of the problem.
Harnessing Collective Brainpower: The Role of the Team in Solving Problems
One common problem-solving strategy is to leverage the collective brainpower of the team. A manager does not, and should not, operate in isolation. Each team member brings a unique set of skills, perspectives, and experiences to the table.
By encouraging creativity and fostering an environment in which everyone feels comfortable sharing their ideas, a wider range of potential solutions can be considered. In essence, the team becomes an incubator for innovative solutions.
This strategy can be particularly effective when dealing with complex problems. A multitude of ideas can lead to different strategies, some of which may offer the best solution. Managers should bear in mind that their role is not merely to solve problems themselves but to facilitate the problem-solving process among their team members.
Brainstorming: A Key Problem-Solving Strategy
Brainstorming has long been touted as an essential skill in the problem-solving process. This strategy encourages free thinking and stimulates creative thinking. The aim is to generate as many ideas as possible, regardless of their perceived viability. This pool of ideas can then be whittled down and evaluated for potential solutions.
At this stage, it's essential to stay positive and open-minded. The goal is to create an atmosphere that allows for the free flow of ideas, even ones that may seem unusual at first glance. Remember, what seems like an 'out-of-the-box' concept today could turn into a successful solution tomorrow.
Evaluating and Selecting Solutions: A Critical Step in Problem-Solving
Now you've identified the problem, gathered your team's input, and brainstormed possible solutions. The next step in the problem-solving process is to evaluate these potential solutions to find the best fit.
This stage can require a good deal of critical thinking, weighing up the pros and cons of each idea, considering their feasibility, cost, and impact on the current situation, the team, and the business as a whole.
Managers can employ different tools to assist in this stage of the process. One such tool is the SWOT analysis, which allows for a comprehensive review of the strengths, weaknesses, opportunities, and threats associated with each potential solution.
Trial and Error: The Art of Refinement in Problem-Solving
At times, the most effective solution emerges from the trial and error approach. It involves implementing a solution, observing the results, and tweaking the strategy as necessary. The most successful solutions can often be born out of a process of refinement, and it is through this iterative process that solutions can be tailored to suit the unique needs of your business problem.
Staying Agile: Adapting to New Challenges in Problem Solving
In a constantly changing business landscape, managers must adapt their problem-solving strategies to meet new challenges. This means staying open to new solutions, learning from solved problems, and being willing to re-evaluate and change course if a chosen solution isn't providing the desired outcome.
Being an effective problem solver often means being agile and responsive, qualities that help maintain job satisfaction, and ultimately, business success.
Root Cause Analysis: Understanding Why Problems Occur
An understanding of why a problem occurs is crucial to prevent a similar problem from recurring in the future. Root cause analysis is a problem-solving strategy that focuses on identifying the underlying cause of a problem.
By digging deeper to uncover the root cause, managers can implement solutions that address the issue at its source, leading to more effective problem-solving and better outcomes.
The Power of Reverse Engineering in Problem Solving
Reverse engineering is a powerful problem-solving strategy that involves working backward from the desired outcome to identify the steps needed to reach that goal. It's a way of breaking down a complex problem into manageable steps, allowing the problem-solving process to be methodical and strategic.
This approach can be particularly beneficial when dealing with complex problems, as it provides a clear roadmap for achieving the desired outcomes.
Overcoming Resistance: Encouraging Your Team to Solve Problems
Resistance can often be a stumbling block in the problem-solving process. But a manager who possesses good problem-solving skills knows how to navigate this hurdle. By fostering an environment where team members feel heard, respected, and encouraged, managers can help their team overcome resistance and engage in effective problem-solving.
After all, problem-solving should be a team effort, and every member should feel that they are a valuable part of finding the best solution.
The Importance of Fostering Essential Skills
For managers to effectively solve problems, they must foster a range of essential skills within their team. These skills include critical thinking, which is crucial for evaluating potential solutions, and analytical skills, which are key to understanding the many aspects of a problem.
Creative thinking is also an important skill, as it encourages the generation of innovative solutions, while resilience helps the team to stay positive and persistent throughout the problem-solving process.
Related: Skills Needed to be a Successful Manager
The Role of the Kipling Method in Problem Solving
One specific problem-solving strategy that is often overlooked is the Kipling Method. It is a powerful tool in any manager's problem-solving toolkit. The method encourages managers to ask the right questions: who, what, where, when, why, and how, and then ponder on their possible solutions.
By investigating the problem from these multiple angles, managers can gain a deeper understanding of the issue and identify a range of potential solutions.
Effective Problem Solvers: A Key Asset to Any Business
Managers who are effective problem solvers are a significant asset to any business. They not only work to find solutions to current workplace problems but also take proactive steps to prevent potential problems. By using a combination of different strategies and techniques, they can tackle problems head-on, creating an environment where the team can thrive, and the business can prosper.
Related: Steps to the Decision-Making Process as a Manager
Conclusion
Solving managerial issues can be tough. But with the right strategies, you can turn these problems into opportunities. Effective problem-solving needs problem identification, teamwork, idea brainstorming, solution evaluation, and approach refining. It's also key to be flexible, understand the root cause of problems, and use tactics like reverse engineering and the Kipling method.
As a manager, your goal is not just to fix problems but also to guide your team to be good problem solvers. Create a setting that promotes critical and creative thinking, resilience, and analytical skills. This way, your team can overcome any challenge. With these strategies, you are ready to guide your team toward success.
FAQs
What are 4 effective problem-solving strategies?
Four effective problem-solving strategies include:
1. Root Cause Analysis: Identifying the underlying cause of a problem to prevent recurrence.
2. Brainstorming: Generating as many ideas as possible to consider a wide range of potential solutions.
3. Trial and Error: Iteratively implementing and refining solutions based on their outcomes.
4. Reverse Engineering: Working backward from the desired outcome to identify necessary steps.
What are the 5 strategies of problem-solving?
Five strategies for problem-solving include:
1. Collaborative Problem Solving: Leveraging the collective brainpower of the team.
2. SWOT Analysis: Evaluating the strengths, weaknesses, opportunities, and threats of potential solutions.
3. Root Cause Analysis: Dig deeper to find the source of a problem.
4. Reverse Engineering: Starting from the desired outcome and working backward.
5. The Kipling Method: Asking the right questions to gain a comprehensive understanding of the problem.
What are the 7 problem-solving strategies?
Seven problem-solving strategies are:
1. Identify the Problem: Recognize and define the issue at hand.
2. Brainstorm Possible Solutions: Generate as many ideas as possible.
3. Evaluate and Select Solutions: Critically analyze each idea to find the best fit.
4. Implement the Solution: Apply the chosen solution and observe the results.
5. Review the Results: Check the efficacy of the solution and adjust as necessary.
6. Root Cause Analysis: Uncover the underlying cause of the issue.
7. Foster Essential Skills: Develop skills such as critical thinking, creative thinking, resilience, and analytical skills within your team.
What are the 3 key skills to effectively problem solve?
Three key skills to effectively problem solve are:
1. Critical Thinking: The ability to analyze and evaluate potential solutions objectively.
2. Creative Thinking: The capacity to think outside the box and come up with innovative solutions.
3. Analytical Skills: The capability to understand and break down a problem into its fundamental components.