Choosing the best team collaboration tool for your business can be daunting. Knowing what is right for you can be difficult with many available options. 
This article will discuss 17 of the best team collaboration tools on the market and help you decide which one is right for you. We will also provide information on pricing and features so that you can make an informed decision before investing in a team collaboration tool.
17 best team collaboration tools
Here are some of the best online collaboration tools you need to check.
1. Monday.com
Monday.com is a work operating system (Work OS) that helps your team stay in sync by organizing your work on one visual platform everyone can access. 
This would mean increased productivity as you would never have to check email, Slack, Salesforce, and Excel to track down information about one project. You could easily see what needs to be done and by whom without searching through multiple programs. 
Monday.com also makes it easy to communicate with your team, as everything is all in one place. This would save a lot of time as you wouldn't need to switch back and forth between programs to find the information or person you need.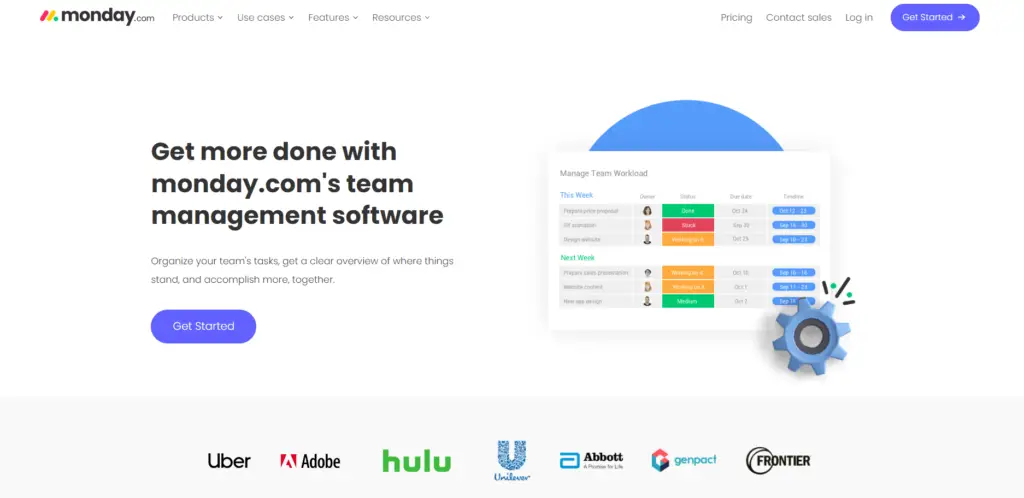 Why choose it?
Monday.com is one of the best online collaboration tools for business. It's easy to use and doesn't require coding skills. You can customize monday.com to work best for your team. It automates data entry, workflows, and repetitive tasks. In addition, you can assign tasks.
Related: Monday.com Review
Features:
Project Management: Monday projects offers advanced task management and portfolio management tools for complex projects.
Marketing & Creative: Using Monday Marketer, DPMs can keep track of creative campaigns, manage content calendars, and streamline creative content approvals.
CRM and Sales: Monday sales CRM can be used for contact management, lead capture, and custom customer support forms. NOTE: This product displays information differently than Salesforce or Hubspot.
Remote Work:Monday.com features socially engaging messaging systems, a built-in inbox, documents that can be collaboratively edited, and whiteboards.
Agile Software Development: Monday Dev provides product roadmaps, bug tracking, and iteration planning solutions.
Pricing:
Using the basic package, you can manage all your team's work in one place for $8. Using the standard package, you can collaborate and optimize team processes for $10/month, while using the pro package for $16/month, you will be able to streamline and run your team's complex workflows. In addition, you can contact them in the enterprise package to get a custom quote for your project.
2. Teamwork
If you're looking for a way to streamline your client work, then Teamwork is the platform for you. With features like invoicing, time tracking, and unlimited client access, Teamwork has everything you need to manage your client services effectively. 
The platform also provides valuable insights through tools and reports that allow you to see every project in detail. This includes milestones, capacity planning, budgeting, and time tracking. As a result, you can make informed decisions that help you maximize resources and never miss a billable minute again.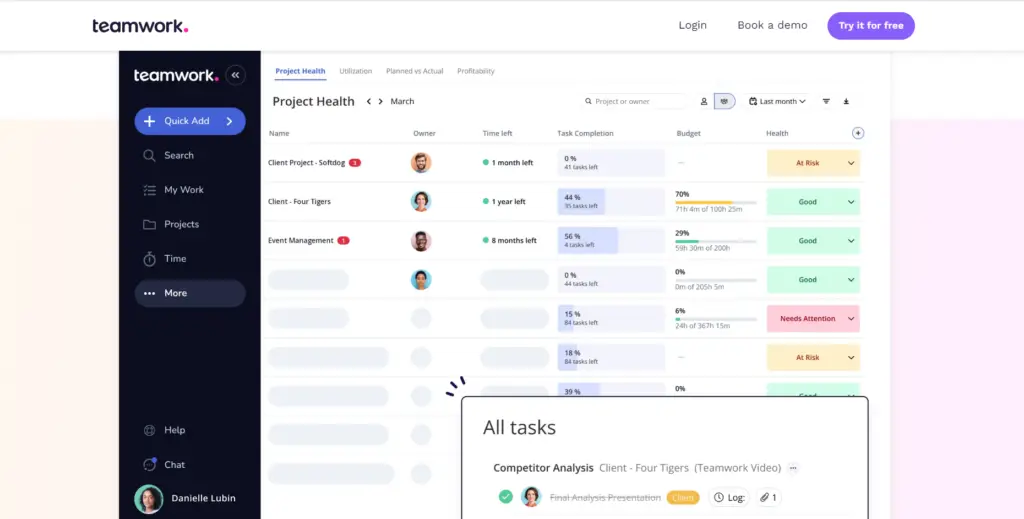 Why choose it?
Teamwork is essential to any successful organization, but it can be challenging to achieve. Several factors can contribute to team dysfunction, such as lack of communication, different working styles, and disagreements about goals. As a result, it's no wonder that many organizations use Teamwork to help their team members work more effectively.
Features:
Streamlines Communication: The teamwork Desk streamlines communication between teams and users. Routing tickets to suitable agents with notes added for instructions is possible. A case's progress can also be tracked, and a seamless customer experience can be ensured with the ability to view the ticket status.
Solve Problems Faster: Users can take action on jobs in Teamwork Projects without leaving the Teamwork Desk, thanks to unified inboxes, assigned tickets, and ticket statuses.
Be More Organized: Teamwork makes communication with customers simple. In addition, support can be delivered more efficiently with integrated background processes.
Measure Customer Happiness: By measuring customer satisfaction and happiness, the Software can provide insight into how teams perform and what customers think of customer service interactions.
Pricing:
DELIVER package provides All the project management basics in one place for $9.99/ month. GROW package will provide The complete feature set for managing complex projects starting at $17.99/month. In addition, you can get a custom quote in a scale package.
3. Empuls
The Empuls employee engagement solution is designed to help organizations improve their company culture and bring the entire digital Workplace to life. 
The Software provides various features that make it easy for HR leaders, CHROs, and CXOs to execute critical activities such as award workflows, budget automation, and industry-endorsed real-time surveys. In addition, with communication feeds, messaging, and groups, employees can easily engage with their peers and stay aligned with the organization's shared values. 
In addition, the Software provides several other features that make it easy for employees to stay connected and engaged with their work.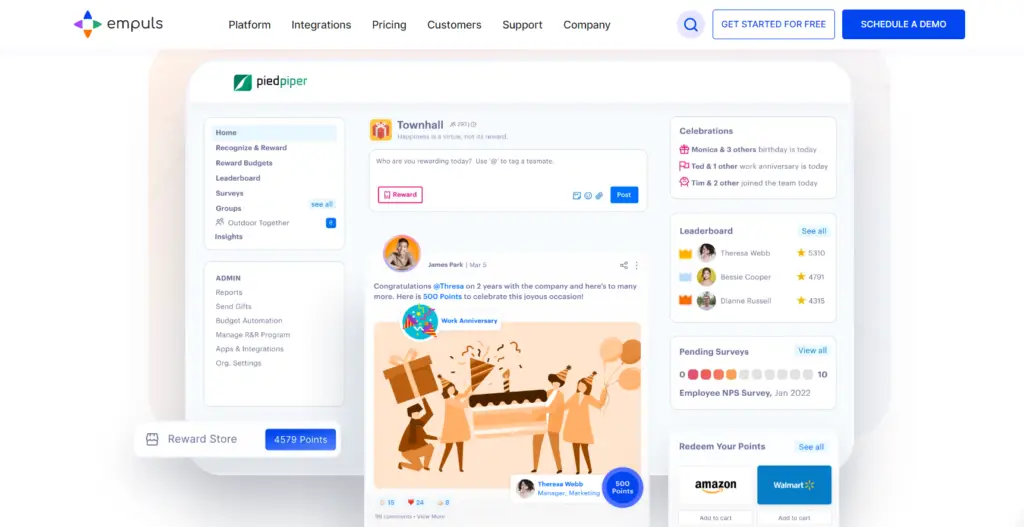 Why choose it?
Any organization is only as good as its employees. Satisfied employees are productive, and happy workers are likelier to stick around. That's where Empuls comes in. 
Empuls is a tool designed to help organizations measure and improve employee satisfaction. In addition, Empuls helps organizations identify areas where they can improve the employee experience by keeping track of employee NPS.
Features:
Provides communication tools: It is Empuls' responsibility to ensure employee alignment by providing the necessary communication tools that you can use to connect and collaborate. It also allows you to post relevant company announcements, such as event details and policy updates, to ensure everyone is on the same page.
Enables employee feedback: The Empuls platform helps you collect employee feedback, analyze it, and make informed decisions based on it. It allows you to conduct an employee NPS survey to identify your most valuable and vulnerable providers.
Supports rewards and recognition programs: Motivate employees using rewards, recognitions, and gamification with Empuls. It automates reward distribution based on defined goals and targets. 
Pricing:
Starter packages start from $2 per month with Rewards and Recognition, Employee Surveys and Feedback, Social Intranet, and Social Intranet. The Proficient package starts from $5 per month, which includes White Labeling, Polls and Quizzes, and Priority Support. And in Enterprise, you can get a custom quote based on your needs.
4. Nifty
True collaboration is essential for any team that wants to be successful. After all, getting everyone on the same page can be challenging if you're communicating in one place and taking action in another. 
Nifty can help with that. Nifty is an award-winning project management tool that closes communication and action gaps. With Nifty, you can easily keep track of your projects, manage your team's tasks, and stay organized no matter where you are. 
As a result, Nifty makes it easy for you to collaborate with your team and get things done. So if you're looking for a tool to help you take your team's collaboration to the next level, look no further than Nifty.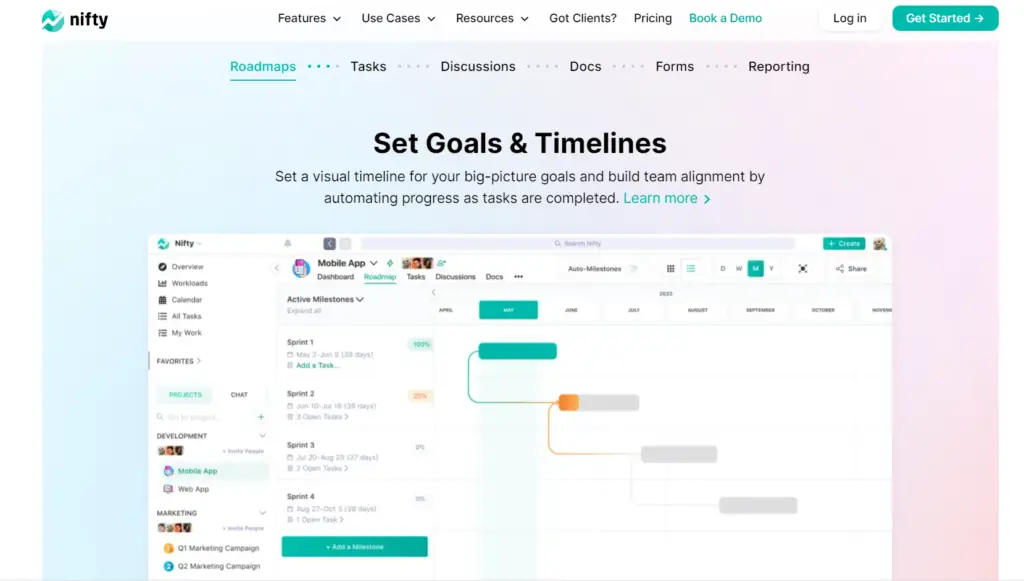 Why choose it?
Nifty is the perfect tool for keeping your project on track. With easy-to-use project management tools, you can stay organized and on top of every detail. 
And with direct and group messaging experiences, you can easily communicate with your team and get everyone on the same page. Nifty is the glue that holds everything together and keeps your project moving forward.
Features:
Project and Task Management: With Nifty, users can customize their Home screen to match their role and needs, toggle specific modules on and off to gain insights, and access all project-related work from one screen. 
Team Collaboration: Team Chat, Docs and Files, and Discussions are built into the project management software. In Discussions, members can brainstorm, share ideas, collect feedback, and communicate in real-time. A message can then be converted into a task from here.
Overview, Portfolios, Time tracking, and more: With Nifty, you can get an overview of all projects and team workload across the organization.
Pricing:
The starter package offers 10 members, 100 gigabytes, and 40 projects for about $39/month. The Pro package costs $79/month with 20 members, 500 gigabytes, and unlimited projects. The Business package costs $124/month with 50 members, 1 TB, and unlimited projects. In the Unlimited package, you'll get everything unlimited.
5. Chanty
Chanty is a simple, effective team chat solution that helps teams stay connected and engaged. With easy-to-use collaboration features, unlimited message history, and workplace apps, Chanty makes it easy for teams to foster healthy relationships through transparent and accessible communication.
Chanty's project management tools help teams stay organized and on track, while the built-in search function makes it easy to find relevant information quickly and efficiently.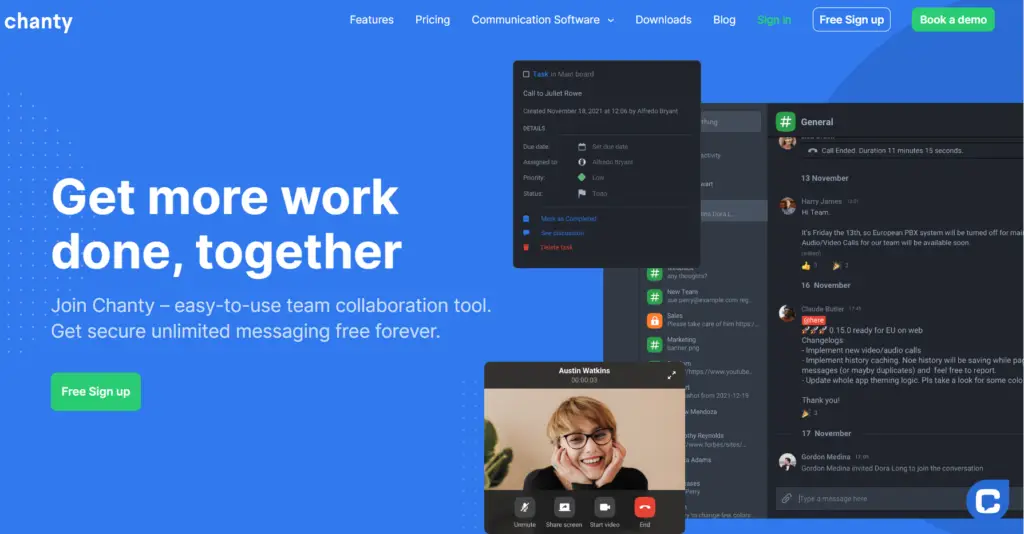 Why choose Chanty?
When it comes to choosing a messaging tool for your team, Chanty is an excellent option. It helps team members complete projects, activities, or tasks more easily and quickly. 
Plus, it consolidates all the information you need in one easy-to-use application. So why not give Chanty a try? You and your team may be surprised at how much more efficient and effective you can be!
Features:
Communication Tools: The Chanty communication tool allows you to ping individual team members, pin messages, and participate in group discussions.
Workflow Management: You can create tasks, set deadlines, and assign team members through the Kanban board view of Chanty. 
Integrations: Chanty allows you to integrate Chanty with a wide range of apps and Software you already use daily to complete tasks.
Pricing:
Chanty price starts from $3 per month.
6. Slack
Slack is a great collaboration tool for teams. It's available in desktop and mobile versions, so you can always stay connected with your team members. With Slack, you can send direct messages to each other individually or in groups. 
This makes it easy to keep everyone on the same page and ensure everyone is on the same page. In addition, slack integrates with various other tools, so you can always have the most up-to-date information at your fingertips.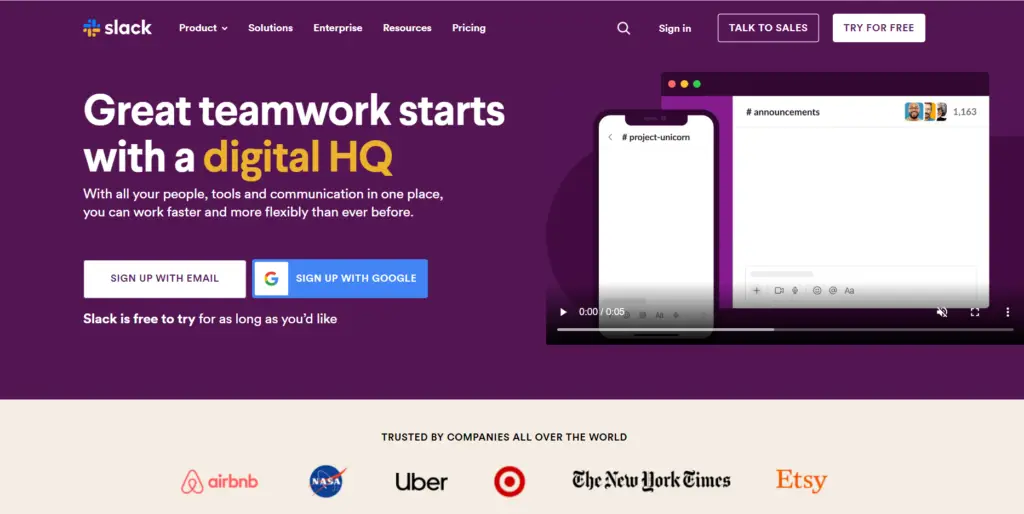 Why choose Slack?
Slack is a messaging app for teams that need to be able to communicate quickly and easily. Its features include real-time messaging, archiving, and searching for modern teams. 
You can also organize conversations into various channels for specific initiatives or projects. It integrates with the best Slack apps like Google Docs, Box, and Dropbox for a more unified experience. 
Slack also allows for easy integration with various other tools and platforms, making it a versatile option for businesses of all sizes. So choose Slack for your team messaging needs, and you won't be disappointed.
Features:
Managing and tracking documents: Our integrations with popular apps and tools help you get all your work done in one place, and we're always adding new ones. By connecting with file management tools like Google Drive and Dropbox Paper, busy teams can access and discuss files directly within their channels, cutting back on back and forth.
Advanced search modifiers: If you're looking for a specific phrase, you can put it in quotes to find exact matches. If you're searching for a partial word, you can place an asterisk after the word to find all instances of it in Slack.
Using shared channels across workspaces: It is possible to set up shared channels in Slack so that you can communicate with other companies and organizations with which you are working directly so that you can connect across workspaces, making it easier to collaborate.
Streamlining your sidebar: It's easy to use our sidebar menu, which provides the option to sort channels and direct messages according to your preferences. For example, if there's a channel that you need to check regularly, star it and watch it ascend to the top, so you'll never miss out on it again.
Pricing:
Slack offers the following pricing plans:
Free Plan: includes access to basic features such as direct and group messaging, integrations with other tools, and file sharing. This plan is suitable for small teams or individuals who want to try out Slack before committing to a paid plan.
Standard plan: costs $6.67 per user per month when billed annually. This includes all the free plan's features and additional features such as video and voice calls, custom integrations, and unlimited app integrations.
Business+ Plan: costs $12.50 per user per month when billed annually. This plan includes all the features of the Standard plan, as well as additional features such as guest accounts, 99.99% uptime, and priority support.
7. GoToMeeting
GoToMeeting is a great online tool for businesses to stay connected and collaborate with teams, clients, customers, and others in real-time. International companies will find this especially useful as it helps to reduce the learning curve with support for screen sharing. 
The video conferencing quality is top-notch, and businesses will appreciate the easy-to-use interface that makes joining and starting meetings a breeze. Overall, GoToMeeting is an excellent online meeting tool that businesses of all sizes can benefit from using.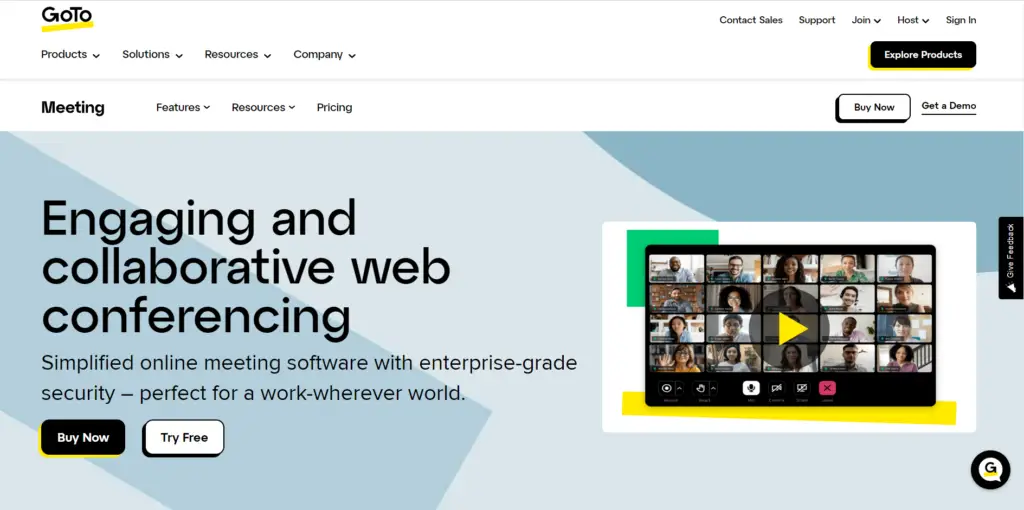 Why choose it?
There are many reasons to choose GoToMeeting as your go-to platform for online meetings and video conferencing. For starters, the platform is highly user-friendly and intuitive so that even first-time users can easily navigate its features. In addition, the interface is Flockcluttered and straightforward, making it easy to find the tools you need with just a few clicks. 
In addition, GoToMeeting offers a variety of handy features that can make your online meetings more productive and efficient. 
ThesFlocktures include messaging, group chat, recording, integration with other tools, and a one-click meeting feature that instantly schedules meetings in Google Calendar or Outlook.
Features:
Meeting Lock: When all meeting members are present, you can prevent anyone from joining. This way, Flockcipants scheduled for the next meeting will not be able to join an in-progress conference. Under the "People" section in your control panel, you can toggle the lock.
Hand-raising: Participants can "raise their hand" during the webinar to ask a question or make a comment, which the host can then address.
Polling: You can create polls and surveys during the webinar to gather feedback and insights from your audience.
Chat: Participants can send messages to the host or to the entire group using the chat function.
Custom branding: You can customize the look and feel of your webinars by adding your logo, background image, and color scheme.
GoToWebinar Lite: Regardless, the main drawback of GoToWebinar Lite is that you cannot share videos during the webinar unless you upgrade to the higher-priced Starter plan that most GoToWebinar customers subscribe to. You can still host webinars for up to 100 attendees without upgrading to the Starter plan.
Toll-free Numbers: With GoTo Meeting, you can create toll-free phone numbers. These numbers enable your customers to call you without worrying about long-distance fees.
Pricing:
A professional package starts at $12 for 150 participants, and a business package starts at $16 for 250 participants. You can also get a custom quote.
8. Flock
You might want to consider this solution if you want more comprehensive communication features. It is a communication tool that allows teams to communicate across various channels and bring together individuals and groups.
With Flock, you can quickly search through all messages, URLs, and files, as it is much faster and takes less time to load. In addition, it has been designed so that virtually any search query can be found in any channel, regardless of its source. 
Besides screen sharing and audio and video calls, Flock allows users to conduct polls, schedule reminders, share notes, and assign tasks, allowing users to become more productive in their meetings.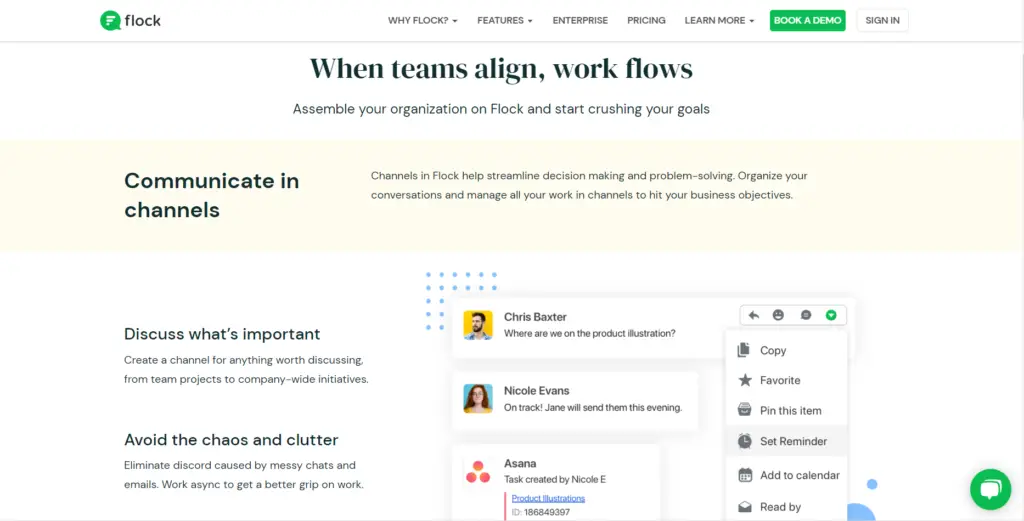 Why choose it?
With Flock, you can communicate seamlessly with your team without always sending emails. No longer will you waste your time on meetings as you will be able to discuss ideas on the Flock chat instead. 
As one of the best online collaboration tools for business, this tool allows you to communicate with your team via messages, and video calls, manage projects with to-do lists, forum discussions, polls, and reminders, and integrate your favorite apps to stay productive.
Features:
Chat directly or in groups: It is possible to start a conversation with just about anyone through the company directory, available at the touch of a button.
Jump onto video calls with just a click: You can connect with remote teams with the Flock video conferencing tool, with which you can make video calls from anywhere.
File sharing and finding: It is easy to share multiple images with your teammates by simply dragging and dropping them on the site. You will be able to see previews of the files you share.
Pricing:
Pricing for Flock starts at $4.50 per month, or you can contact them if you would like a quote based on your needs.
9. Facebook Workplace
Facebook offers a team collaboration service called Workplace. The Workplace is designed to be a corporate intranet portal, providing employees with a secure and efficient way to collaborate on projects. 
The Workplace offers many of the same features as Facebook, including News feeds, groups, chat, and video Calling. However, it also includes some unique features that make it ideal for business use, such as security controls and integration with other business applications.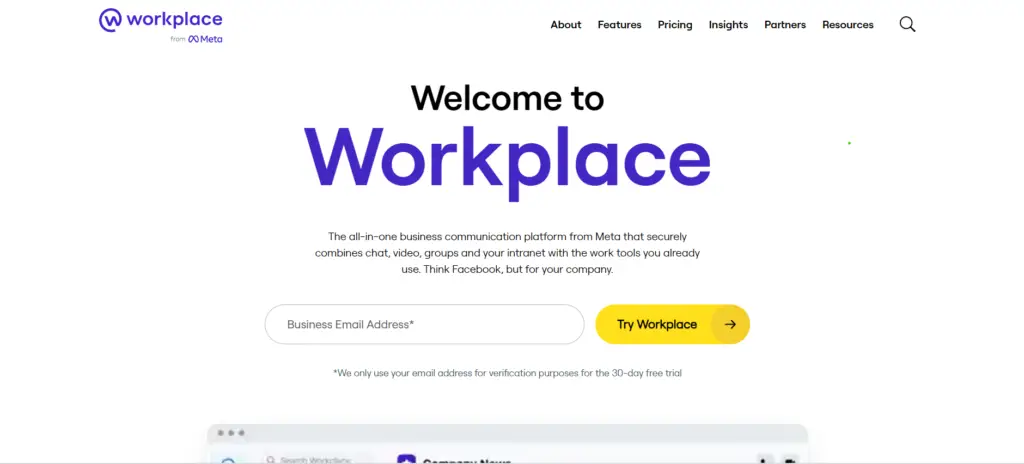 Why choose it?
The platform's user-friendly interface makes it easy for team members to stay connected and work together on projects. Through Workplace, teams can communicate via voice and video calls, instant messages, and Facebook's Pages, Notes, and Docs features. 
In addition, the platform's machine-learning bots can automate various tasks, making it easier for team members to get their work done. As a result, Facebook Workplace is a powerful tool that can help businesses improve their team collaboration and communication.
Features:
Collaborative Work on Files & Feedback: This workspace suite features a unique annotation feature that can allow your team to leave comments on various files that have been shared in the group. By doing so, keeping track of comments and feedback is made more accessible than ever before.
Tracking Project and Task Progress: In Workplace, the teammates can inform each other about their progress, preferences, and any other outstanding issues by posting weekly updates.
Real-Time Messaging Through Workplace Chat: Even though working from home does not always allow for audio or video calls, real-time communication is essential when a team is working on a project. It would be best if you had an instant chat option in your collaborative workspace to help you communicate with your colleagues.
Pricing:
Workplace price starts from $4 per month.
10. InVideo
InVideo is the perfect tool for creating videos to share online. The easy-to-use editing features and corporate templates make it simple to get creative with your data and create a professional-looking video presentation. 
And, because it's so easy to access and edit, you can easily make changes on the fly while you're in a webinar or video conference. As a result, InVideo is the perfect way to convey your message clearly and effectively.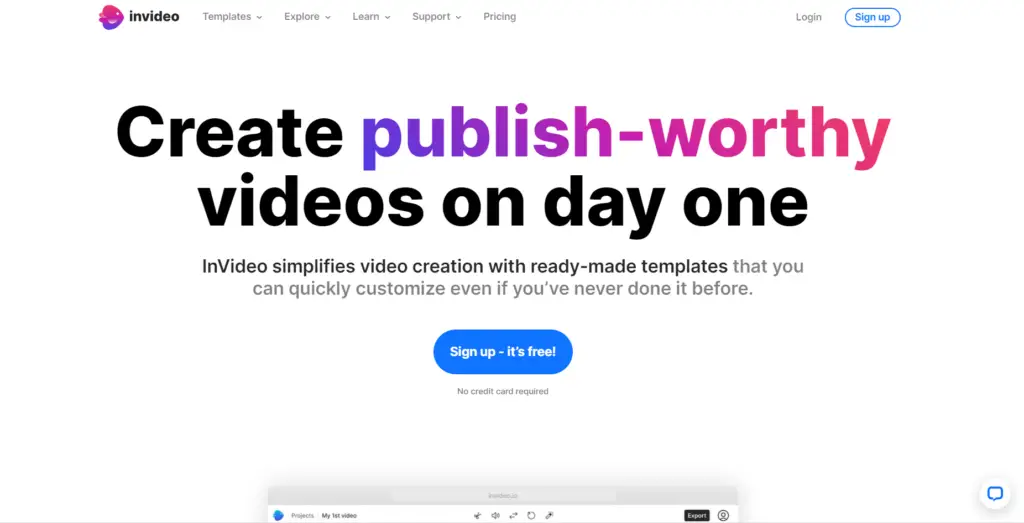 Why choose it?
An online collaboration software, InVideo allows you to collaborate and share videos through all popular browsers. 
With its user-friendly interface, you can determine what corporate videos work best for your organization's social media accounts and other websites you use regularly.
Features:
The nature of your video: The kind of Software you need will depend on whether you're making an official video, an advertisement, a social media post, or a photo montage.
The purpose: Using a video-making application can vary depending on the user. Many users likely wish to add some extra features to their existing videos, such as adding music, subtitles, or voiceovers. 
The features you might need: With software tools like InVideo, you can make your video feature-rich and satisfy all your demands. For example, you might want a time-lapse, a scene playing in a loop, or a specific dimension.   
Watermark: There are several reasons for having a watermark or a different logo on your video, and you can use it for several reasons. 
Pricing:
The business package starts at $15/month for small businesses, educators, and influencers. The unlimited package for agencies and multiple teams starts at $30/month.
11. Google Docs
Google Docs is a well-known document collaboration tool that allows users to work simultaneously on the same file. It also keeps track of every change made by each participant and provides a revision history, so users can easily see what was added or removed. 
In addition, Google Docs makes it easy to leave comments for specific document sections. This can be helpful when multiple people are working on the same project and need to communicate with each other about changes.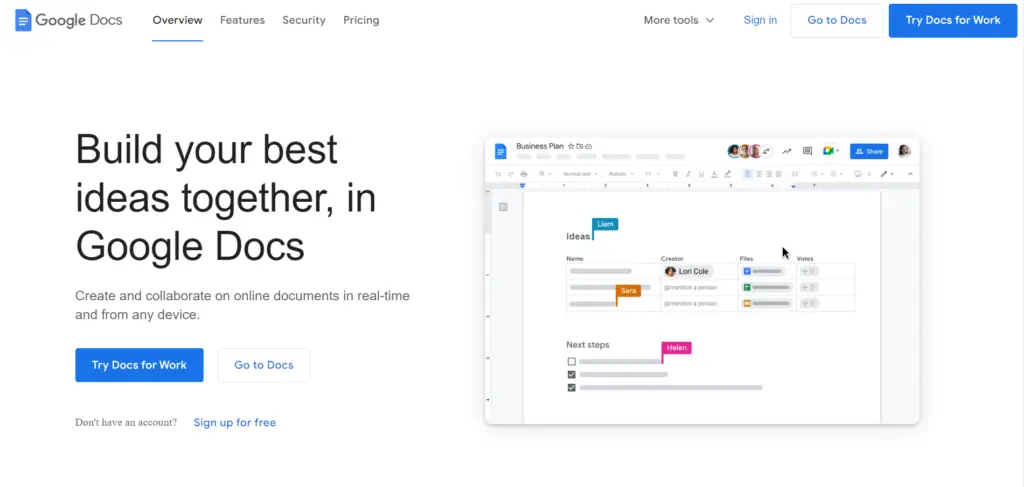 Why choose it?
With Google docs, you and your team can have a central place to store and share information. Notes can be taken, and information can be seamlessly collaborated on. This helps ensure everyone has the access they need to get work done. 
In addition, it is easy to invite team members to work on a file in Google docs. All you have to do is send them an invitation. As a result, using Google docs can help you and your team to be more productive and efficient.
Features:
Pageless view: A digital light strip pays top billing as it lets you write on an endless strip of white light instead of having to deal with pages in a document (and all the page breaks involved).
Menu shortcut: There is now a shortcut setting in Google Docs that works like Notion so that you can tag people, add elements, and use a wide range of features without having to press any buttons.
Dropdowns: A dropdown can be placed either premade or created from scratch- and any options can be added or removed. 
Table templates: Google Docs allows you to create a simple table easily. You're ready to go by choosing how many rows and columns you'd like. 
Meeting notes: You can choose an event from your calendar when you place a meeting notes template in your Google Docs.
Pricing:
Google doc price starts from $12 per month.
12. Filestage
The Filestage platform and project management software allow stakeholders to provide in-context feedback on videos, images, PDFs, and more. The project management software and platform make it simple for internal and external stakeholders to leave in-context feedback. In addition to generating to-do lists based on your team's comments, the tool ensures no feedback is missed. 
Filestage allows you to review and approve in real-time, it allows external clients and partners to provide comments without having to register on the site, it allows you to manage your projects easily, and it allows you to track which stakeholders have approved a file.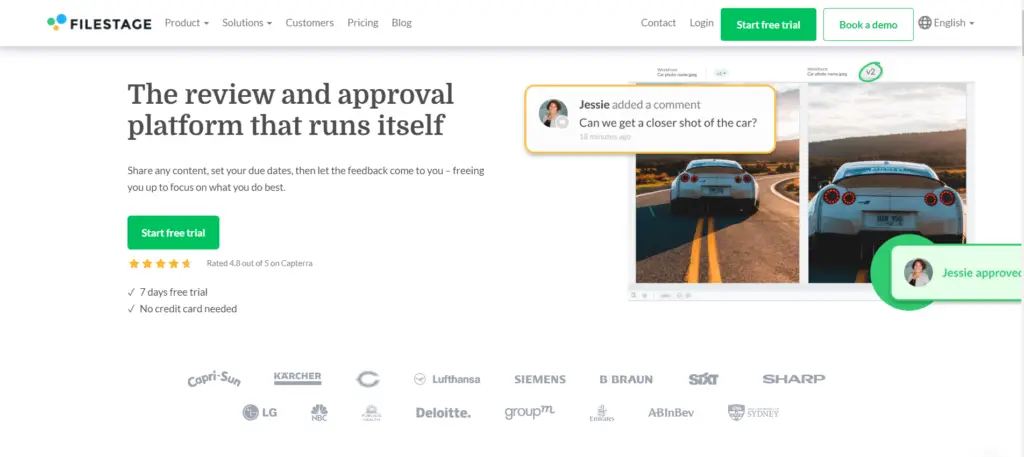 Why choose it?
Filestage is a software provider that offers a review tool for coordinating media content. Filestage's review workflow simplifies daily communication with customers and colleagues. 
With Filestage, you can easily manage your projects and keep track of your progress. Additionally, Filestage offers a variety of features that make it easy to use and collaborate with others. 
You can also customize your workflow to fit your needs. Filestage is essential for any freelancer, agency, or marketing department.
Features:
Easy review: No need to sign up if you are a reviewer to start the review process with FileStage. You don't even need to register to do the review.
Comments:  During the review process, reviewers can leave direct comments on files to share feedback, making the process easier and shorter.
Consistency:  FileStage allows you to share feedback in a centralized location, which helps you maintain consistency.
Resource management: FileStage's easy-to-use features help teams manage their creative work and collaborate quickly.
Time saver:  Teams no longer have to spend time juggling through email threads to perform creative reviews and approvals.
Pricing:
From $95/month, you can get unlimited files, proofs, 10 active projects, 2 review steps, 75 GB of secure storage, one project template, and unlimited files and proofs. In addition to 25 active projects, 3 review steps, 250GB of secure storage, and 2 project templates, the professional package starts at $195 per month. You may also request a custom quote.
13. GitHub
GitHub is a development platform that enables programmers to work on the same projects simultaneously and seamlessly collaborate. It also allows developers to share their code with other developers and receive feedback from them. 
In addition, GitHub provides a platform for developers to sell their code or product. Moreover, it also offers a variety of programming languages and frameworks that developers can use to create their code. 
Why choose it?
The platform makes tracking and managing code changes easy and allows developers to work collaboratively on projects. In addition, developers can easily roll back changes if necessary, making GitHub an essential tool for managing code changes effectively. 
As a result, many developers choose GitHub as their go-to platform for managing code repositories.
Features:
Iteration support: Many agile development methods can be applied to a project, but they all work within iterations as a general rule.
Codespaces: A code development environment hosted in the cloud has been developed to simplify code development and make configurations more repeatable and easier to manage.
Code scanning support for Ruby: CodeQL can now scan Ruby code within GitHub and secure Ruby code directly generated within the service.
Customizable fields: Teams can define fields in the platform and plan and track their tasks with customizable fields
Pricing:
A team package starts from $4 per month, for which you can access the GitHub codespaces, while the enterprise package starts from $21 per month with enterprise-managed users.
14. TimeCamp
TimeCamp is a popular time-tracking tool that offers task management features to help teams and freelancers work more efficiently. Its unique project structure allows users to add multiple tasks and subtasks to projects, making it easy to track hours spent on each customer's work. 
In addition, TimeCamp offers several other helpful features, such as the ability to set up recurring tasks, create task dependencies, and track time across multiple devices.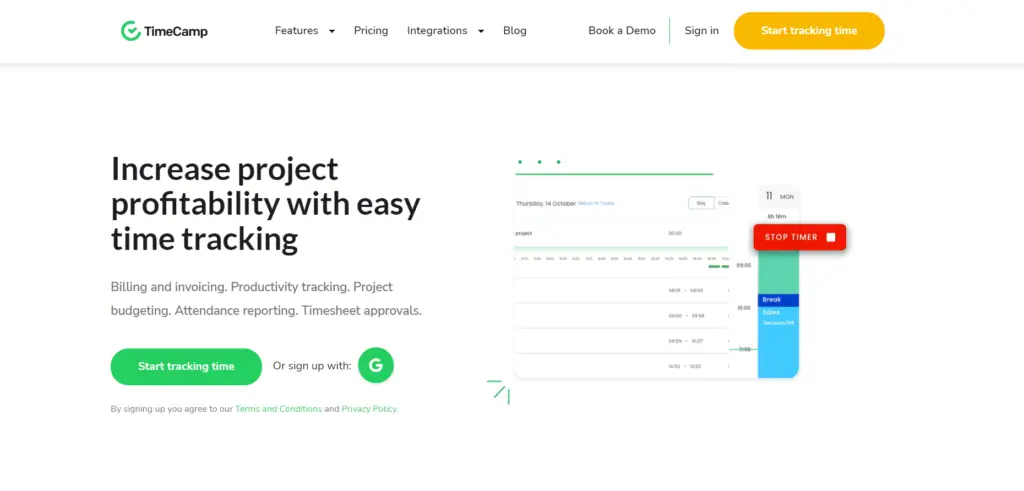 Why choose it?
There are plenty of reasons to choose TimeCamp as your time-tracking tool. For one, it offers a wide range of reports so that managers know exactly how their teams perform. 
Additionally, TimeCamp minimizes time spent on filling out timesheets manually. The desktop app works in the background and tracks the time for each activity performed during working hours. Overall, TimeCamp is an excellent choice for businesses that want to improve their productivity and bottom line.
Features:
Graphical timesheet: It is possible to keep track of your time using Graphical Timesheets easily, quickly, and conveniently by adding time for specific periods during your chosen day.
Automation: It is possible to automatically track the time of projects using TimeCamp's desktop application
Computer Time Dashboard: Using TimeCamp, you can analyze and calculate employees' productivity based on their computer time and, optionally, how they spend time away from computers.
Integrations & Add-ons: Use your existing project management system task structure instead of creating your own.
Pricing:
You will get Time rounding, Custom reports as part of the basic package that costs $6.3 per month. You will also find custom user roles, billing rates, and invoicing as part of the pro package that costs $9 per month. A custom quote can also be provided.
15. Adobe XD
AdobeXD is Software that allows real-time collaboration between team members on design projects. This makes it an essential tool for designers who often need to work with others to create the best possible outcome. 
Why choose it?
The Software has many features that allow designers to communicate and work together effectively, including chat, video conferencing, and file sharing. AdobeXD also makes it easy to track changes and see who is working on what, making it a valuable asset for any designer.
Features
3D Transforms: Showcase your work in a new dimension by giving it depth and perspective. Make it move in 3D space and make it move in time.
Components: You can create reusable buttons. You can create resizeable cards. You can edit once and have your changes synced across all your projects.
States: Adding hover and toggle controls to your components can be a great way to add interaction and endless variations for any scenario.
Repeat Grid: The gallery and list can be replicated. The gallery and list can be edited instantly with a few clicks, dragging, and repeating of elements.
Pricing:
You can create and share websites, mobile apps, and other user experiences with Adobe XD for $9.99/month. The All Apps package offers 20+ Creative Cloud apps, including XD, Photoshop, Illustrator, and After Effects, for $54.99/month.
16. ProofHub
It is a fantastic project management and team collaboration software tool enabling managers and their team members to work together to plan and execute projects efficiently. 
The built-in chat application helps you eliminate the barriers of remote communication by allowing you to organize and assign tasks to the team members smartly.
You can organize files, share notes, and monitor daily progress using ProofHub's online workspace. A comprehensive Gantt chart helps you plan your project effortlessly by putting it in an easy-to-understand visual timeline. At the same time, an online proofing tool lets you approve and review files.
Why choose it?
It is one of the top-rated project management solutions used by companies around the world. ProofHub offers many features, such as task management, calendar, discussions, custom roles, chat, file management, proofing, time tracking, reports, and mobile application. 
With this Software, you can manage the needs of small businesses or large corporations. The pricing for this Software is flat-rate, based on an unlimited number of users.
Features:
Online Proofing: As part of this process, you will have the opportunity to review files related to projects, provide feedback, and approve them in real time, as well as annotate the files to differentiate the specific regions that need to be amended.
Online Discussions: Create dedicated ProofHub discussion spaces as discussion topics when you need to brainstorm or gather thoughts from people on your team to resolve a particular matter. You can share files within a discussion space, invite team members to join the group, mention them in comments, and add people.
Chat app: It is incomplete to have team collaboration software without communication. With ProofHub's chat tool, everyone can stay on the same page. You can use the chat interface to interact with your colleagues and reply to clunky emails.
File Sharing: You can store all the files and details for your projects in a commonplace. ProofHub provides a cloud storage service that allows you to upload files from your computer or third-party platforms such as Dropbox, Google Drive, or other file hosting services.
Pricing:
The essential package starts at $45 per month and has 40 projects, unlimited users, and 15GB of storage space. The ultimate control package starts at $89/month and has unlimited projects, unlimited users, and 100GB of storage space.
17. Trello 
Trello is one of the most famous project management tools out there. It's optimized for organizing tasks and lets users create boards or lists that can be assigned and shared with others. 
Trello makes it easy to see what needs to be done, who is working on what, and how tasks are progressing. It's also simple to use, making it a popular choice for managing small projects. However, Trello can also be used for larger projects, making it a versatile tool for any project manager.
Why choose it?
A key benefit of Trello is that it helps team members to stay organized and on track. With features like deadline reminders and email notifications, Trello ensures that everyone is aware of upcoming deadlines and can plan accordingly. 
Trello integrates with other tools, such as Evernote, Google Drive, GitHub, and Slack, to provide a unified team experience. This allows team members to access all the necessary information in one place, saving time and improving efficiency. 
Features:
Well-Organized Board & Card System: As Trello's developers did their best to find the most user-friendly and easiest way of organizing workflows, they discovered their unique Board & Card system, which allows for comprehensive progress views of progress at all times.
Smooth Editing: It is Trello's job to make sure that you manage your projects in the most efficient manner possible, which is why it uses a simple drag-and-drop interface to make it incredibly easy to edit task lists.
Reasonable timeframes: There is a Power-Up calendar that you can use in Trello to prioritize tasks with shorter deadlines, assign operations at the last minute, and display each task based on how it is progressing.
Searchable database: The Trello system ensures that all relevant corporate data, such as discussions, will be elegantly and quickly stored in the system for future use, and all data will be backed up towards the eventuality of a compliance breach.
Security: In Trello, you don't need to worry about sharing sensitive information with anyone because you are using a system designed to meet the highest security standards and uses an encryption mechanism equivalent to that used by banks to ensure your data remains secure.
Pricing:
The standard package starts from $5 per month For small teams that need to manage work and scale collaboration. The premium package starts from $10 per month For teams that need to track and visualize multiple projects in several ways, including boards, timelines, calendars, etc. enterprise package starts from $17.50 per month For organizations that need to connect work across teams with more security and controls.
How do I choose a collaboration tool or Software?
Companies must select Software based on their specific needs and identify the exemplary service for their workforce. Once you know some commonly used tools, how do you choose one?
→ Prefer multiple features
Choosing the right tools for team collaboration is very important. Choosing tools with excellent customer service and multiple features allows people to utilize them in many ways, increasing their productivity.
→ Easy to use
If you do not want to use a complicated structure to work, make sure that the tool you are using offers services that are not complicated to learn and keep an eye out for an intuitive interface and easy navigation when choosing a tool.
→ Prefer a cloud-based
The benefits of cloud-based technology over traditional IT is that you are free from the headache of version control and can access your data from anywhere since everything is stored online.
→ Check for integration
When looking for a tool that integrates seamlessly with some of the more essential tools in your workflow and is compatible with many different devices, you are looking for something convenient.
Related: Collaboration Strategies
Conclusion
With so many great options available, deciding which team collaboration tool is right for your business can be challenging. However, by considering your needs and budget, you should be able to find the perfect tool to help your team work together more efficiently.
Do you have a favorite team collaboration tool that we didn't mention? Let us know in the comments!
Related: Best Cash Apps for Business
FAQ