Disclaimer: We sometimes use affiliate links in our content. For more information, visit our Disclaimer Page. 
Running a business can be challenging, especially when it comes to managing your finances. There are so many different options for handling your money that it can be hard to know which is the best solution.
This article will discuss seven of the best cash apps for businesses. We will look at their features and how they can benefit your business. We will also discuss the pros and cons of each app so that you can decide which one is right for you!
So, if you're in a hurry, here is a quick go of the best cash apps for your business.
Here are the 8 Best Cash Apps for Business
The following are some of the best apps for mobile payments that you can use:
1. Payoneer
Payoneer is a global financial services company that lets customers send and receive payments and manage their currencies within a Payoneer account. Payoneer has services explicitly aimed at eCommerce sellers, digital marketers, vacation rental hosts, freelancers, and IT outsourcing services. With Payoneer, you can open receiving accounts in foreign currencies to get paid by customers and clients worldwide, withdraw and manage your payments, and even pay tax or VAT.
If you are looking for a way to get paid by companies and marketplaces all over the world, then Payoneer is the app for you. With Payoneer, you can directly receive local bank transfers from companies in the US, UK, EU, Japan, Canada, Australia, and Mexico to your Payoneer account. In addition, you can also receive payments from marketplaces such as Amazon, Airbnb, Fiverr, Upwork, and thousands of other companies.
Payoneer is one of the most popular cross-border payment platforms, with over 4 million customers in 200 countries. The company has been in business for over 15 years and has an A+ rating with the Better Business Bureau (BBB).
Why choose it?
There are a few reasons why Payoneer is one of the best apps for business. First, Payoneer offers a very competitive exchange rate. Second, there are no hidden fees when receiving payments from companies. Third, you can withdraw funds to your local bank account in 150 countries and currencies. Lastly, Payoneer is very convenient because it allows you to receive payments directly into your Payoneer account, which can be used to pay for goods and services online.
Fees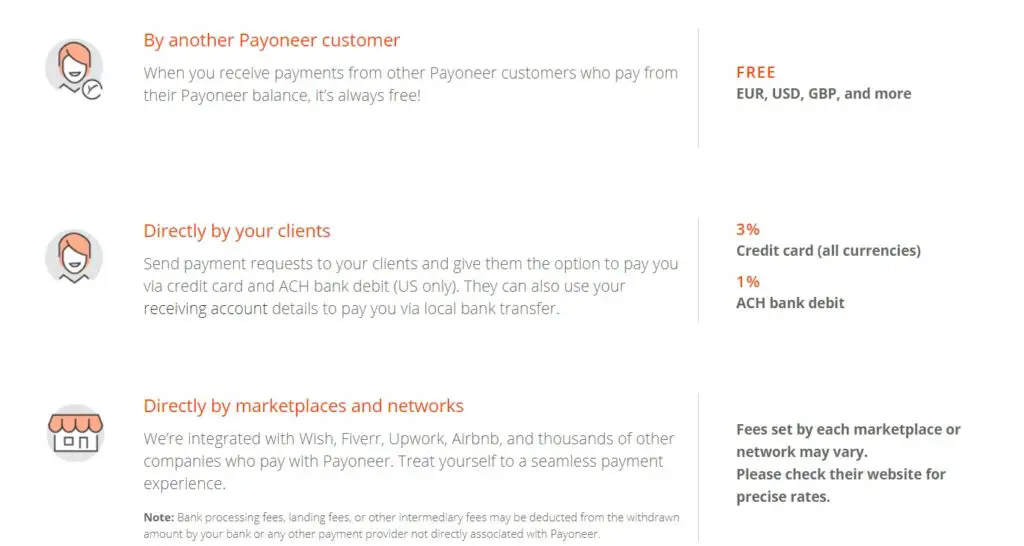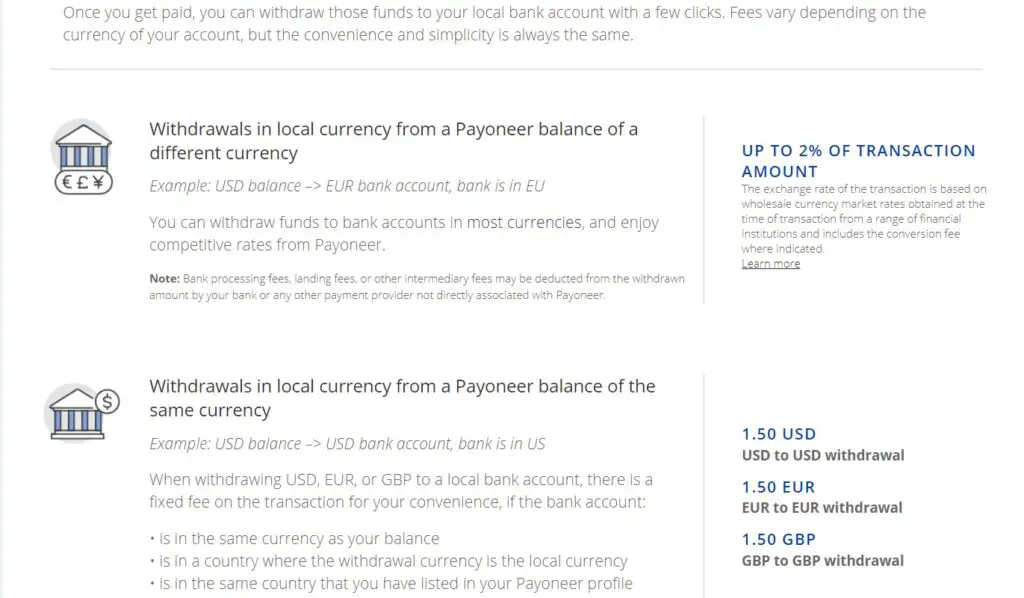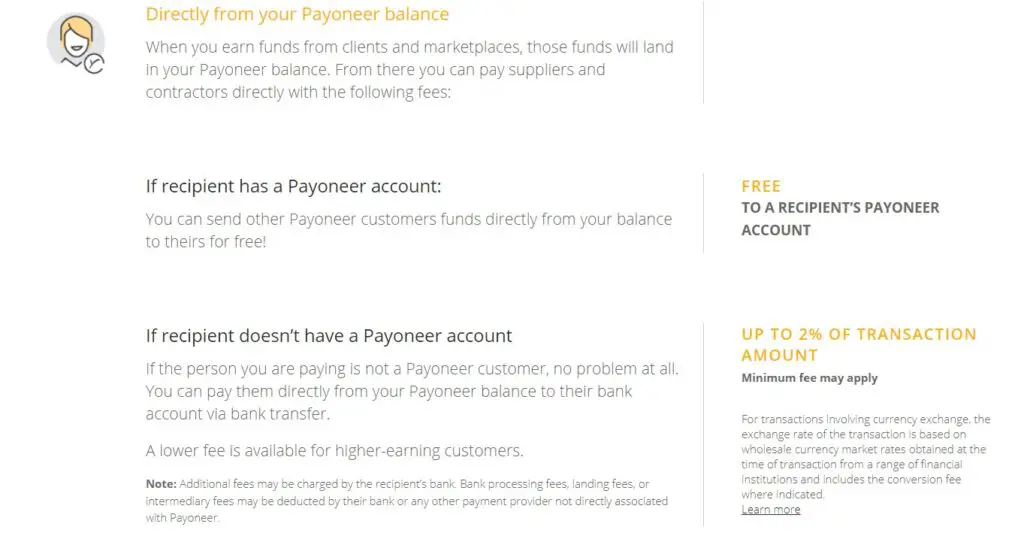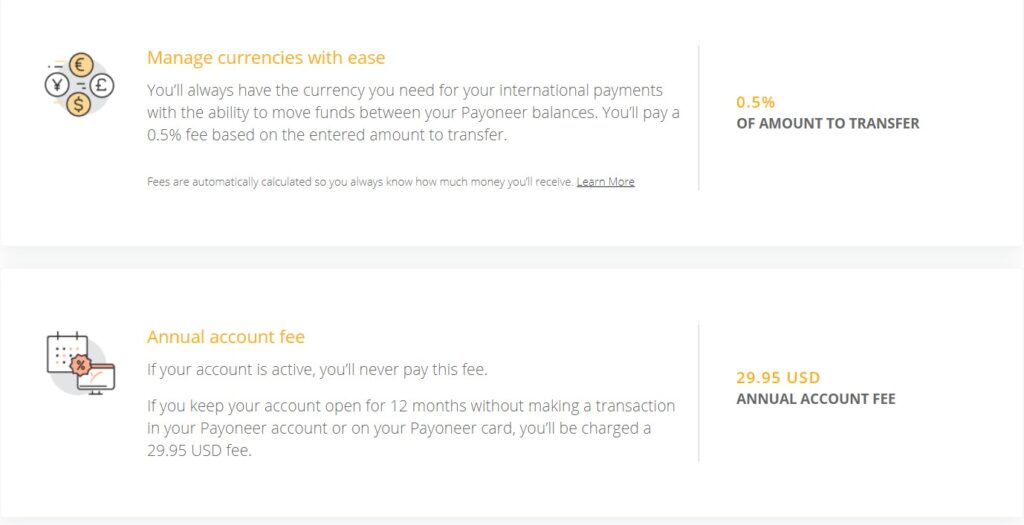 Features
If you're interested in getting a Payoneer account, here are some of the features you can access:
Get paid easily by international customers: Open receiving accounts in foreign currencies to get paid more easily from international customers.
Withdraw earnings in various currencies: With Payoneer, different platforms can be connected, and earnings can be withdrawn in multiple currencies.
Request payments directly into your Payoneer account: Customers and clients can request payments directly into your Payoneer account.
Pay suppliers and government bills easily: Paying suppliers and government bills in some regions can be done from your Payoneer account.
Withdraw your Payoneer balance to your regular account: When ready, withdraw your Payoneer balance to your regular account.
Connect with other Payoneer users for business collaboration: Connect with service providers in the Payoneer ecosystem to organize, manage, and grow your business more quickly.
Operating in over 200 countries.

150 local currencies supported.

Free payments between Payoneer accounts.

Robust customer support system.

Custom invoices and lets you request payment from individual clients.
High card transaction fees.

Adds a currency conversion charge of 2% for international transactions.

Charges an annual fee for usage of Mastercard.
2. WorldRemit
Among all money transfer apps that were considered for this category, WorldRemit won because it offers no hidden charges and the ability to transfer to over 130 countries without any hidden fees. In addition, with WorldRemit, you can send money to recipients within minutes, and most transfers are completed within 24 hours wherever recipients are in the world. 
In addition, the app offers a wide range of ways to send money, including cash pickup, bank transfer, mobile money, home delivery, and airtime top-up. This is why it has landed in our top picks. Almost all types of credit, debit, and prepaid cards issued by Visa or Mastercard are accepted by WorldRemit.
Moreover, WorldRemit is one of the best options for sending money abroad if you are looking for an affordable and flexible way to do so. They also accept payments from Klarna, Trustly, POLi, Apple Pay, and Google Pay.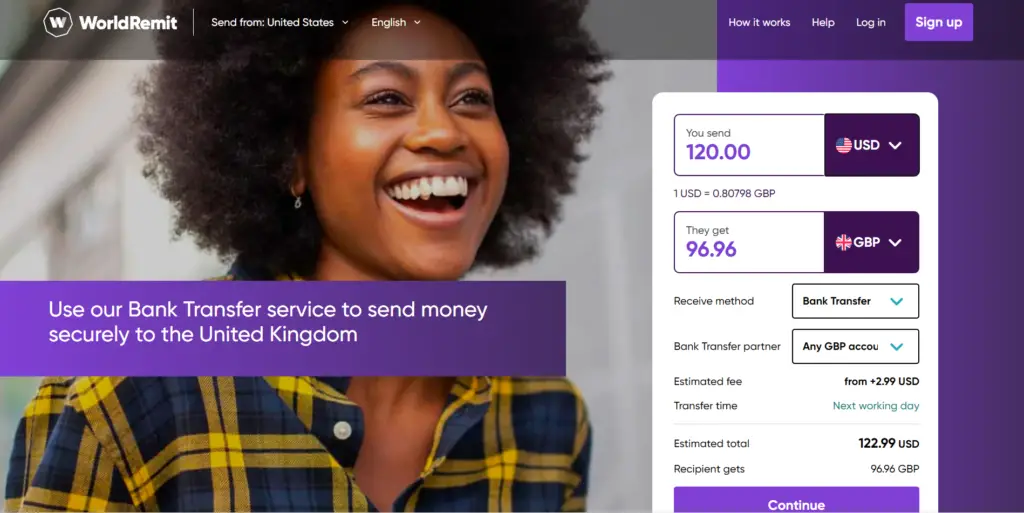 Why choose it?
Using its extensive network of local partners, WorldRemit partners with banks and financial institutions worldwide to transfer money. For example, in Apple Pay, you can transfer up to $9,000 within 24 hours and $5,000 per transaction if you use a debit, credit, or prepaid card.
Depending on the country, WorldRemit wallets are available in a limited number of countries. However, if you have a WorldRemit account, you can upload money to your WorldRemit wallet.
WorldRemit is a money transfer service that allows users to send money to friends and family worldwide quickly and easily. However, if you accidentally send money to the wrong person, WorldRemit may recall your transaction or bank transfer.
Fees
The company advises its customers that card issuers may charge additional fees for transfers made using their cards. For example, customers paying with their credit cards may be charged up to 3%. 
WorldRemit has a flat-fee structure, so customers know all costs upfront before they make a payment. Depending on the amount, destination, and type of transfer service, WorldRemit can save you up to 46% on these fees. When sending USD200, WorldRemit is 46% cheaper on average.
Features:
Instant money transfers: You can send money via cash pickup, mobile money, or bank transfer within a few minutes, depending on how you send it.
Track your transfers: You won't have to worry about where your money is.
Real-time exchange rates: The exchange rates you receive will be updated in real-time.
Safe and secure: It is essential to know that the money transfer app is always safe and secure.
You can make a quick deposit anywhere in the world with this service.

Using it is as simple as can be.

It is one of the cheapest options on the market.

You can calculate payment costs online by checking options, fees, and exchange rates.

Very Fast – 95% of the transfers are ready in minutes.

They offer competitive rates that are often lower than your bank's.

Cash pick up available in over 70 countries.

You can send money to over 140 countries.

Being transparent with transfer fees.
The limit for how much you can transfer at once is $9,000, but this varies depending on the currency.

Their transfer fee varies and can differ based on the currency being exchanged.

Doesn't offer support for businesses.
3. Google Pay
Google has been a moving target in recent years regarding mobile payment apps. First, there was Google Wallet, which allowed users to pay for goods and services using NFC technology. Then that feature was removed and transferred to Android Pay. Along the way, we also saw Pay with Google and an experimental payment app called Hands Free. Thankfully, all that confusion is now in the past.
If you've previously entered a card in Android Pay, it will carry over to Google Pay without further action. However, if you've previously entered payment information for Google payments, the Play store, or other Google services, that won't automatically be carried over into Google Pay. Nonetheless, the app offers a convenient way to make mobile payments using your smartphone or tablet.
You can also use Google Pay for in-app purchases from popular apps like Airbnb, Fandango, and Lyft. And if you're a frequent shopper at any of the thousand-plus stores that support Android Pay, you'll start seeing "Buy with Google Pay" buttons at checkout both online and in-store.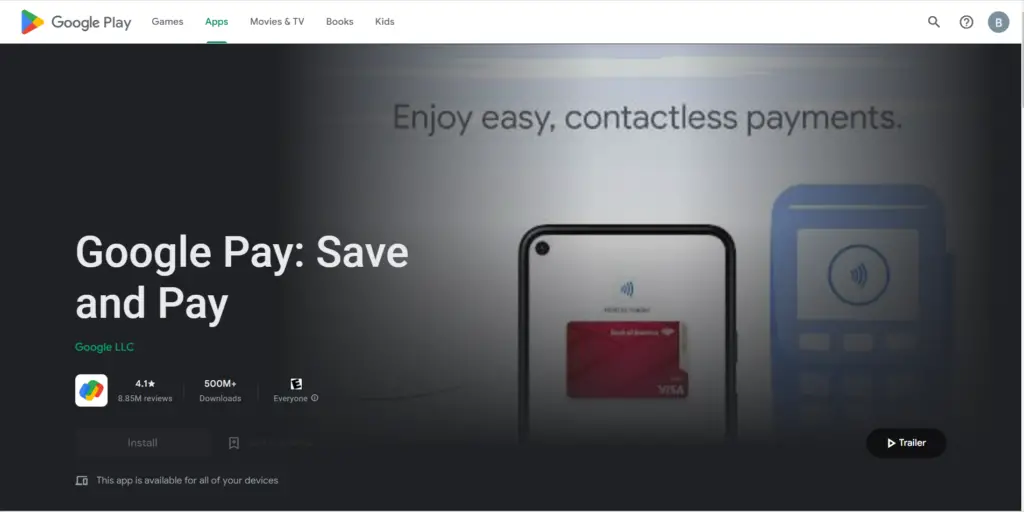 Why choose it?
When it comes to choosing a payment platform, there are a lot of factors to consider. But if you're looking for a safe and secure option that's also easy to use, Google Pay is a great choice. Businesses of all sizes use Google Pay, but it's especially popular with small businesses and those in the Information Technology & Services industry.
That's because Google Pay keeps your money and private information safe with built-in authentication, transaction encryption, and fraud protection. So if you're looking for a payment platform that can offer peace of mind, Google Pay is worth considering.
Fees
There is no monthly setup or gateway service fee when you use Google Checkout to process your sales. Rates start at 1.9% + $0.30 per transaction.
Features:
Authentication: When you open the app or pay someone with Google Pay, you will be required to authenticate with a pin, pattern, or biometric.
Privacy controls: With Google Pay, you can opt to personalize your experience within the app based on your transaction history.
Private payments: If you pay your friends, the payment stays private between you.
Lock your phone from anywhere: There are several ways to remotely lock it, log out from your Google Account, and wipe the data off your phone if it is lost or stolen.
Allows you to pay stores, sites, and people quickly (with NFC).

Android, iOS, and web versions of all functions are supported.

For security, virtual card numbers are substituted for actual ones.

Management of loyalty programs and gift cards.
Voice assistants, Google Assistant, and Siri are not supported.

Google Pay Does not Offer Buyer Protection
4. Cash App
When it comes to sending money, Cash App is the best choice due to its low fees and great flexibility. With it, you can transfer money from your account to a bank account or store money there if you need it later if you do not want to lose the money in your Cash App account.
It is easy to send and receive money with the Cash App without paying fees. With just a few taps on your smartphone, you can either pay someone or get paid with just a few taps. In addition to the unique features Cash App offers, other money transfer apps do not offer the same options, including investment options and the ability to purchase and sell bitcoin.
In terms of security, Cash App employs up-to-date security encryption and fraud detection technology. In addition, it features PCI Data Security Standard (PCI-DSS) Level 1 compliance. Unfortunately, the cash App does not currently support ATM cards, Paypal, or business debit cards.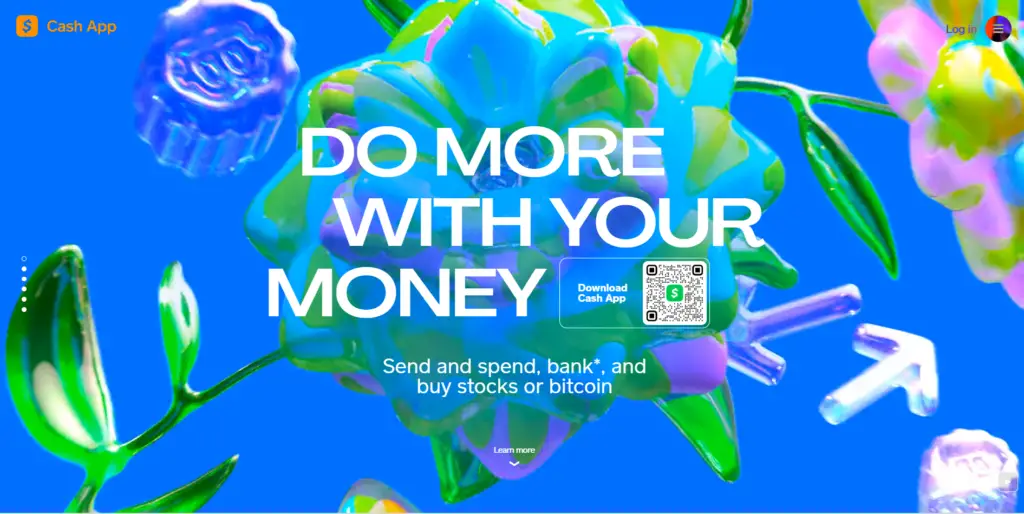 Why choose it?
Cash App is an excellent option for those looking for a reliable and easy-to-use payment app. The app offers many features that make it better than other options, such as instantly sending and receiving money and support for a wide range of debit, credit, and prepaid cards.
Additionally, the app is constantly updated with new features and improvements, making it a top choice for anyone looking for a payment app.
Fees
The Cash App costs 0.5% to 1.75% per instant transfer, with a minimum fee of $0.25, but it also offers a fee-free standard transfer that takes one to three business days.
Features:
Activity Tracking: The Cash App tracks all your activity in one place, making it easy to see how much money you have coming in and going out.
Authentication: The Cash App requires you to authenticate each time you open the app, adding an extra layer of security.
Electronic Payments: You can send and receive payments electronically with the Cash App, making it a convenient way to handle transactions.
Mobile Access: The Cash App can be accessed on your mobile phone, making it easy to keep track of your finances while on the go.
P2P Payments: The Cash App allows you to send and receive payments from others, making it a convenient way to pay friends and family.
Remote Deposit: You can deposit checks into your Cash App account remotely, making adding money to your account easy.
An interface and setup that is easy to use and straightforward.

Bitcoin and stocks can be purchased with this service.

Your bank account can be automatically credited with the money.

Tools for filing taxes.
Limits on daily payments are low.

Online purchases require the Cash App debit card.
5. PayPal
PayPal winner's best overall in the category due to its robust offerings, speed, and convenience. Due to PayPal's wide variety of flexible, secure, and easy-to-use tools, it is a very flexible and versatile way to transfer money since it is a straightforward method.
You can transfer money for free from a PayPal balance, a bank account, or an Amex Send account. You can use PayPal Instant Transfer for a fee if you want to transfer funds immediately.
The PayPal app is available for iOS, Android, and Windows, so you can download it in minutes and begin transferring money to and from multiple people simultaneously. There is no limit to how much you can send, but PayPal may restrict transactions to a maximum of $10,000, depending on the currency you send.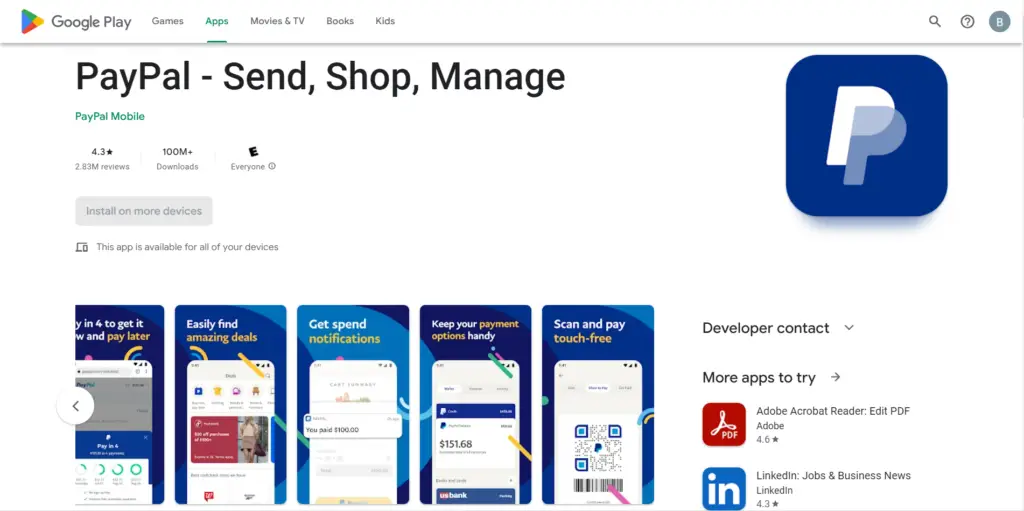 Why choose it?
Using PayPal as a payment method has many benefits, including the possibility of requesting a refund if you mistakenly send money to the wrong person. If someone does not respond, PayPal's Resolution Center can helPayPal'ssolve the issue.
Keeping money in your PayPal balance is easy with the PayPal Cash Card, a debit card with a daily spending limit of $3,000 and a daily ATM withdrawal limit of $400.
In addition to protecting your information with sophisticated encryption, PayPal offers dispute resolution if a transaction goes wrong.
Fees
PayPal charges users 2.90% plus a fixed fee when they use their credit card to send money abroad, while PayPal charges users 5.0% if they use their PayPal balance, bank account, or an American Express Send account to send money abroad.
Features:
Online purchases: When you check out, you can choose the payment method you wish to use from your linked credit, debit, or other payment accounts.
Secure: PayPal protects your financial information when you shop online.
Quick service: Streamline your purchases, transfers, and payments by typing your account numbers only once.
Many people widely use it.

The ability to combine online purchases with peer-to-peer transactions.

The setup and use of this product are straightforward.

International experience and expertise.

Exceptional track record in security.

Diverse financing options
Splitting payments is not as simple as it seems.

Payment options are limited in-store.

Disputes can delay refunds

Digital purchases aren't protected
6. Venmo
Aside from letting you send and receive money quickly and easily, Venmo provides you with a place to park your money. Since Venmo enables you to send, spend, and transfer money, it won the category for shared expenses. 
In addition, when you make a transaction, you can make it even more interactive by adding animated stickers or emojis.
If you're an iPhone or Android smartphone owner, you can use Venmo by choosing a sign-up method and creating a password between eight and 20 characters. Venmo will ask for your phone number, email address, and bank account information when you choose a sign-up method.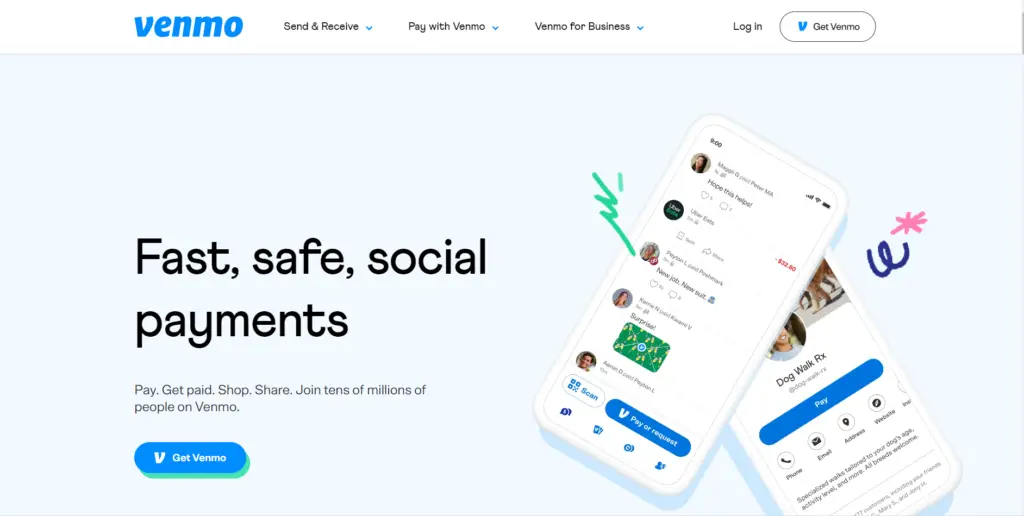 Why choose it?
When it comes to making and receiving payments, Venmo is a popular choice. But what makes Venmo so appealing? 
For starters, Venmo uses encryption to keep user information secure. As an added security layer, you can also set up multi-factor authentication on your account and create a PIN to protect it further.
Additionally, if you accidentally send money to the wrong person, you can request a refund. And if you need help with anything, Venmo's support team is always happy to assist. Plus, Venmo's no need to worry about recovery guarantees – there are covered for you.
Fees
As a peer-to-peer payment app, Venmo allows you to send and receive money for free, but if you send money using a credit card, you will be charged 1.75% of the amount transferred. In addition, the Venmo app charges 1.75% for instant cashout transfers to your bank account. It is possible to keep money in Venmo or your bank account, but you should keep it in Venmo.
Features:
Quick and convenient payments: It's easy to use, has a bare minimum learning curve, and you can start using it as soon as you download it.
Free:  There are no regular fees associated with Venmo, like monthly or annual subscriptions.
Offers a debit card and a credit card:  A Venmo Debit Card linked to your Venmo balance is an excellent option for frequent Venmo users since it doesn't charge an annual fee.
Payable at select businesses: A variety of apps and websites accept Venmo, such as Uber, GrubHub, Hulu, Poshmark, and Foot Locker.
It provides a way for money to be split socially.

It is instantaneous when money is transferred.

To make payments through Venmo, you do not need to add money to your Venmo account.

Credit and debit cards are available.

Quick, convenient payments
You will be charged a fee immediately if you withdraw money from your bank account.

Can't cancel payments

No international transactions
7. Zelle
In the bank-to-bank transfers category, Zelle was tied for first place. The company has a quick registration process, and its mobile app can be accessed via a bank's website or the mobile app. Moreover, when registering bank user only needs an email address or a phone number.
Unlike other apps, you can transfer money with Zelle from one bank account to another. With Zelle, you can send and receive money from other Zelle users. You can use an email or phone number to send or receive money. Sending or receiving money requires a Zelle account. A link to accept payment is sent via text or email.
You can use the app to send money directly to your recipient's bank account by entering the amount and sending them the money from the App Store or Google Play.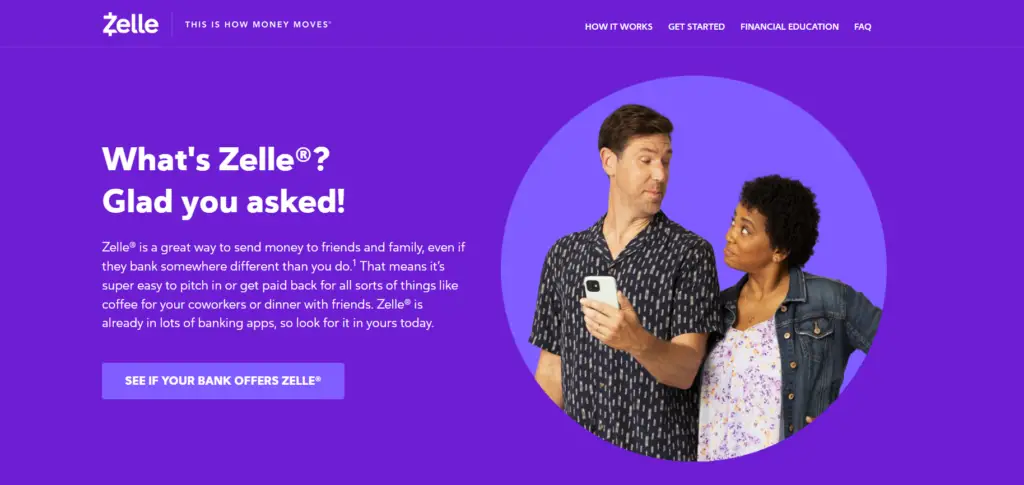 Why choose it?
There are many reasons to choose the Zelle app for your mobile payments. Zelle's app uses authentication and monitoring features to ensure the highest level of security, and you can also use your bank or credit union's mobile application to conduct the transaction.
It is still possible to send up to $500 if your bank or credit union does not yet offer Zelle. In addition, you can cancel the payment if the recipient is not enrolled in Zelle. 
You can cancel a payment using Zelle's app by going to your activity page and tapping "cancel this payment." With its high level of security and ease of use, it's no wonder Zelle is a popular choice for bank-to-bank transfers. 
Fee
You don't have to pay a fee to send or receive money with Zelle. You should check with your bank or credit union to ensure no additional fees are involved.
Features:
It's secure: Zelle's privacy-protection features make it a secure money transfer app.
Money transfers are fast: It is an excellent option for sending money quickly, and Zelle users can typically receive money transfers within minutes after enrolling. 
Integrated with banking apps: Many banking apps already integrate Zelle, so you may not even need to download it separately.
There are no receiving limits: The amount of money you receive through Zelle is unlimited.
There are no fees: You won't have to pay for sending or receiving money with Zelle.
No fees.

Quick transfers of money.

Ability to earn interest on money held.

The recipient doesn't need app.

Simple setup.
No international, store, or web payments.

Zelle account can't be linked to a credit card.
8. Facebook Pay
It takes special note that Facebook Pay won the award for its seamless and secure way of making small payments across the globe. Among the platforms supported by Facebook Pay are Meta Messenger, WhatsApp, the Portal, and Instagram, all of which work seamlessly and securely.
The biggest reason why Facebook Pay won over other contenders in this category is that it is so easy for you to send money to causes you support or to make a donation using just a few simple steps in the process:
But first, send a message to the recipient. 
Then, once you have tapped the money icon, you will be asked to enter the amount you want to send. 
Once the recipient taps "pay," Facebook Pay will guide the recipient through the process with specific instructions in the event the recipient does not have a Facebook account.
The Facebook Pay platform does not specify transaction limits. However, Messenger has a limit of $10,000, depending on the type of payment. You can also pay with your PayPal account if you have one.
Why choose it?
When it comes to online payments, security is always a top concern. That's why Facebook Pay is such an appealing option: it uses advanced encryption technology to protect your payment card and bank account details. You can also set up a PIN or fingerprint/face ID for added security. 
Plus, once you add a payment method, your money transfers immediately – no more waiting for the funds to hit your account for days. You can decline the money if you accidentally send it to someone who does not have a debit card added to their account when you send money in error to the wrong person.
With so many convenient and secure features, it's no wonder Facebook Pay is becoming the go-to choice for many online shoppers.
Fee
Facebook Pay or Meta Pay is a payment service that allows users to make payments and transfers within the Facebook ecosystem, including on Facebook, Messenger, Instagram, and WhatsApp. It is designed to be a convenient and secure way for users to send and receive money and make purchases.
Facebook does not charge users a fee for using Facebook Pay to send or receive money or to make purchases. However, some third-party merchants or organizations may charge a fee for using Facebook Pay to purchase or donate. Therefore, it's a good idea to check with the merchant or organization before completing a transaction to see if any fees are involved.
It's also important to note that while Facebook Pay itself may not charge fees, other payment methods used with Facebook Pay, such as credit or debit cards, may incur fees from the card issuer or financial institution. These fees may include transaction fees, currency conversion fees, or interest charges. It's a good idea to check with your card issuer or financial institution for more information about any fees that may apply when using Facebook Pay.
Features:
No-fee transactions: It's free to use Facebook Pay. PayPal, however, charges irritating fees that quickly accumulate. 
Faster checkout for customers: With Facebook Pay, you can optimize your checkout process at the same time. It's faster and easier than entering credit card information and addresses manually.
Mobile billing: The platform will also accept mobile billing, according to the payment terms.
Adding another payment option: You can integrate Facebook Pay with your website if you run your backend through Shopify.
It is an excellent chat feature that allows you to communicate with others.

It is easy to request and transfer money.

Money requests can be added to multiple people.
Availability may vary by payment method.

Not consistently available is purchase protection.

Poor customer service
How to choose the best cash app for your business?
Various payment apps are now available on the market, making it easier than ever to make payments. However, knowing which is best for your needs can be challenging with many available options. The one that will meet the needs of your company depends on its type, area, and other operational features. Shania Brenson, the co-founder of 15M Finance, believes that business owners should determine their needs and goals before choosing a business cash app. "Freelancers and businesses that work with companies from abroad can consider Payoneer and PayPal. If you're looking for a fast way to transfer cash by using minimum information, Zelle can help you out. Keep in mind that you don't need to choose just one option. Each app can be a great assistant depending on the goal you're pursuing." 
Here are a few things you should keep in mind when choosing a payment app:
→ Ease of use
When choosing an app, it is essential to consider functionality and ease of use. For example, an app that is difficult to navigate or has a confusing interface will quickly become frustrating. Likewise, an app not compatible with other apps on your phone can cause problems.
→ Security
As any experienced online shopper knows, security is crucial for payment apps. With so much personal and financial information being exchanged, choosing an app with robust security measures is essential. One way to tell if an app is secure is to check for reviews from trusted sources. 
→ Fees
Many people choose their bank's app, but this may not always be the best option. Some banks charge transaction fees for using their payment app, which can add up over time. Be sure to compare the fees charged by different apps before deciding which one to use. 
→ Supported banks and credit cards
When it comes to mobile payment apps, there are a lot of options to choose from. However, not all payment apps work with every bank and credit card, so checking that the app you're considering supports your use is essential. This is especially important if you have multiple bank accounts or credit cards, as you'll want to ensure that the app can handle all your transactions.
Related: Are We Moving Towards a Cashless Society
Conclusion
After looking at the seven best cash apps for businesses, it's clear that many options are available. Each app has unique features and benefits, so choosing the right one for you and your business is essential.
Consider what your needs are and which app will best meet those needs. Weigh each option's pros and cons and decide what is best for you. Try out one of these apps and see how it can benefit your business! And if you have any questions or comments, please tell us in the comment section below.
Related: Best Security Software for Small Business
FAQ
Can I use Cash App for my LLC?
Yes! You can use Cash App to pay your LLC members and to pay for things related to your LLC.
Is Cash App safe for businesses?
Yes, Cash App is safe for businesses. It's an excellent way for businesses to receive payments from customers quickly and easily. There are no setup or monthly fees, and Cash App allows you to receive payments in over 130 currencies.