Disclaimer: We sometimes use affiliate links in our content. For more information, visit our Disclaimer Page. 
Passwords are a weak form of authentication that is easily compromised. When you use a password-based method of security, your private data may be prone to unwanted access. Passwords can be weak and sometimes hard to remember due to the combination of different characters and letter cases. They can also be especially difficult to reset.
Passwordless authentication is a more secure and user-friendly alternative. This method of authentication has proven safer and more effective. It can be easily understood and navigated. To ensure proper protection of your "secrets" you should consider using one or two methods of passwordless authentication. These may include using fingerprint scanners or hardware tokens.
This blog post will discuss how to implement passwordless authentication for businesses. It would be beneficial for companies to protect their clients' information with these passwordless authentication solutions.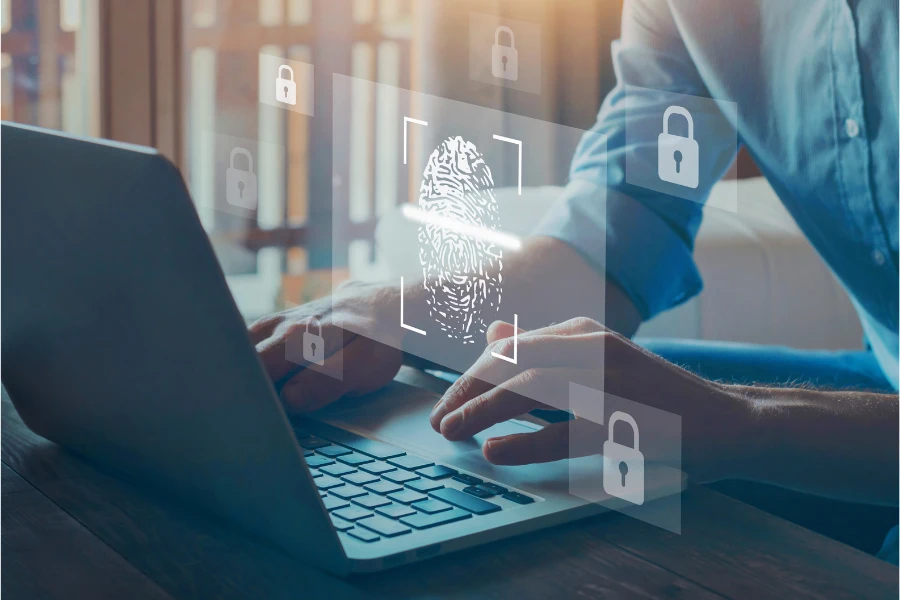 How passwordless authentication works
Passwordless authentication works by using other methods that are not password-based. These can include using biometrics for fingerprint and iris scans or hardware tokens for one-time passcodes.
These methods are more secure and with Kelvin Zero private enterprise passwordless authentication, you can go passwordless and provide more resilient and stronger protection for your sensitive information.
By adopting passwordless authentication, you eliminate the risks associated with traditional passwords, such as password reuse and weak passwords, while enhancing user convenience and overall security. This advanced authentication approach leverages biometric traits or security tokens, offering a seamless and highly secure login experience for users, thereby minimizing the vulnerabilities that passwords can introduce.
There are two main types of passwordless authentication:
① Time-based one-time passwords (TOTP)
② Challenge-response authentication
TOTP works by generating a one-time code that expires after a short period of time. It basically generates a unique code that if not used within a period of time, will not work anymore. If TOTP is in use, you can authenticate yourself by entering the code that is sent to your device into the provided place on a smartphone app or website. After this, the server calculates the code to confirm the time period. These codes are advantageous because they cannot be reused.
Challenge-response authentication works by sending a challenge to the user's device, and then requiring the user to enter a response. This type of authentication is common in the human verification process that you see on websites. A sort of quiz or puzzle is presented and you are expected to either complete the challenge or find or arrange pictures.
In other cases, it can come in a form of a mathematical problem, where you are expected to solve a simple equation. If you answer these correctly, you are then given access to proceed. This is done to be sure the websites are not being accessed by bots or unwanted personnel.
Why implement passwordless authentication for business?
l  Passwordless authentication can improve security and user experience. With fingerprint scanners on your devices, you can easily gain access to your devices and private applications. You will not have to use different passwords for each of them that may be easily confused or forgotten. You also won't have to use the same passwords for all applications as this may be easily infiltrated and if one of them can be attacked, all of them will be at risk.
l  It can reduce IT costs. In a case where you forget your password, resetting or accessing locked accounts may require you to call help-desk support. There may also be other authorized operational costs due to how important the hidden data are. With a passwordless authentication feature, you can avoid all this and enjoy stress-free access to your private information.
l  It can make it easier to comply with regulations. For instance, passwordless authentication lets you obey safety regulations that may require sharing of data privately and securely. This is because it offers a more reliable method of protection that guarantees that your information is kept safe, used for wanted purposes, and shared or transferred with encryption.
How to implement passwordless authentication for business
l  Choose a passwordless authentication provider. There are many passwordless authentication providers, in the market, that are highly reputable. Select one that fits your needs for your business.
l  Integrate the passwordless authentication provider with your applications. After selecting the perfect passwordless authentication provider for you, incorporate it with each of your applications on your device. This will make it easier to access across all platforms.
l  Educate your users about passwordless authentication. This is important as many users may be ignorant of the use of passwordless authentication. They may think it is less effective than their password-based security or just reluctant to change. Encourage them and tell them about why passwordless authentication is important for added security. Also, train your users on how to implement the various types or the preferred ones.
l  Monitor and troubleshoot your passwordless authentication implementation. Ensure that you monitor the process so as to determine any abnormalities. This will let you easily figure out how to fix any encountered issues and what to avoid next time.
Final Thoughts
Passwordless authentication is a secure and user-friendly way to authenticate users. It uses biometrics, challenge-response, and One-Time Passwords (OTP) to protect sensitive information.
By following the steps in this blog post, you can implement passwordless authentication for your business. As a business, it is advisable to use passwordless authentication to protect clients' data. This is because it offers more secure and reliable protection.