Disclaimer: We sometimes use affiliate links in our content. For more information, visit our Disclaimer Page. 
As a small business owner, protecting your company's data is vital. It would be best if you made sure that your systems are secure from hackers and malware and that your customers' information is safe. Many different security software programs are available, but which is suitable for you?
This article will discuss 10 of the best security software programs for small businesses and their features. Let's get started!
Here are our top three picks:
Editor's choice
ESET Smart Security
Best protection software for your android and macOS device
Visit ESET
best cloud base software
Kaspersky Endpoint Security
As far as real-time protection is concerned, Kaspersky is an excellent choice.
Visit Kaspersky
Easy to use
Bitdefender GravityZone
The software has a powerful detection capability and anti-ransomware protection, yet it is simple.
Visit Bitdefender
10 Best security software for small business
Here is some best security software you need to know:
1. ESET Smart Security
ESET Smart Security can protect your operating system and online safety. It is highly recommended that you try ESET Smart Security if you are looking for the best software on the market.
You will find various powerful features, such as anti-theft and a password manager, designed to meet the needs of the most demanding users. With ESET Smart Security, you can protect all your devices, including Windows, Macs, Linux, and Androids.
In addition to providing an ultra-high level of data protection, this software also manages passwords intelligently. The ESET Smart Security protects your data and laptop if stolen or a USB key is lost.
Using its password management feature, you can create strong and unique passwords for all your accounts. Malware, ransomware, and phishing are all examples of malicious software that can infect your computer.

Why did we choose it?
ESET Endpoint Security is a powerful antivirus solution that is compatible with a variety of operating systems. In addition, the built-in mobile device management makes it ideal for businesses with a diverse workforce.
Additionally, the console is available in 21 languages, and ESET offers localized support in 38 languages. This makes their solution ideal for SMBs with a diverse workforce and device fleet. Their Unified Management Console allows administrators to manage all endpoints from one cloud-based location, making deployment and maintenance easy. Additionally, updates are automatic, so there is no need for extra hardware.
The lightweight design of the software doesn't sacrifice performance, making it an ideal choice for businesses looking for an antivirus solution that won't slow down their systems.
Key features:
Protection layers: Multiple layers protect against threats of all kinds
Home security: IoT devices and webcams for home network security
Secure payments: Payments and transactions in the banking industry are secure
Parental control: Features for parental control
Simple to use: Maintainable and easy to install
Price:
Per single device, it is $59.99 per year, $89.99 per year for two years, and $119.99 per year for three years.
Microsoft Windows, Mac OS X, and Android protection.

An encryption system for files.

Password manager that works across platforms.

LiveGuard thwarts zero-day threats.
There are no advanced features in the password manager.

After encryption, originals cannot be securely deleted.

There is a lack of parental control on macOS.
2. Kaspersky Endpoint Security Cloud
As far as antivirus software is concerned, Kaspersky's software has always passed most tests. Endpoint Security for Business provides the best protection for your systems against dangers.
With this antivirus protection, you will enjoy multi-layered protection against many aggressive cyberattacks thanks to its extensive and efficient management features.
In addition to moving suspicious files to quarantine, this software can also delete them on the spot. You can easily use the software, including extensive data threat intelligence, to protect your business' computers from theft.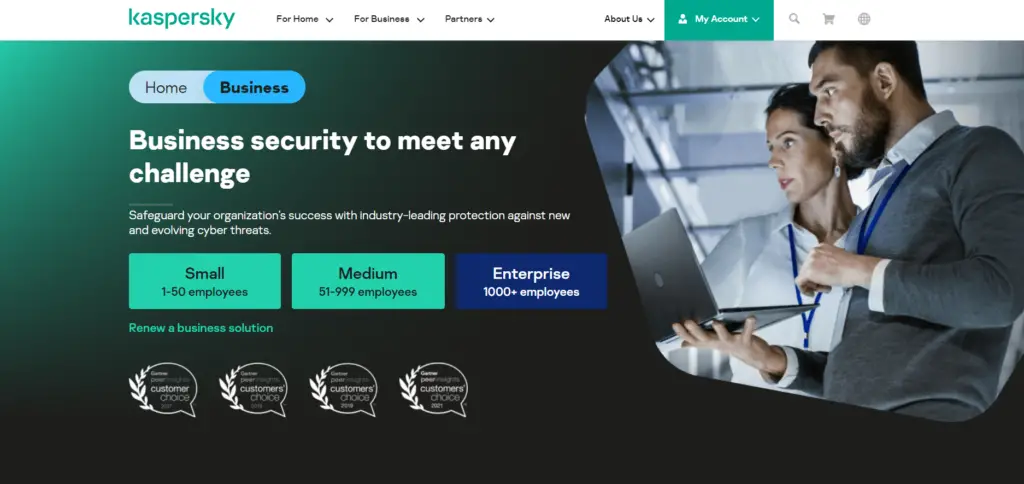 Why did we choose it?
Kaspersky is secure, reliable antivirus software that offers businesses various solutions. In addition, its business plans are scalable, depending on your company's IT management and needs. Kaspersky's scalability makes it an ideal solution for small-to-medium-sized businesses.
The software is easy to install and set up and offers many features to meet your company's specific needs. Kaspersky also provides excellent customer support, so you can always get help when you need it. Overall, Kaspersky is a perfect choice for businesses of all sizes.
Key features:
Easy to control: All computers on your network can be controlled at once
Anti-ransomware protection: Provides some of the most effective anti-ransomware protection
Very fast: Your computer won't slow down as a result of using this program
Monitoring: Monitor your files in the cloud and encrypt them completely
Real-time protection: Malware, viruses, and phishing attempts will be protected in real-time by the cloud
Antispam protection: Provides solid antispam protection and a password manager
Pricing:
Kaspersky offers three packages for a year and five devices for $215, $342, and $550, respectively.
Despite the fact that the first package responds to the requirement, it does not include control of the device and the protection of sensitive data; however, the second package contains root case analysis, web control, and data discovery. The third package also has Endpoint Detection and Response, Application Control, Web Control, Device Control, and Data Discovery, as well as Endpoint Detection and Response.
Detection of malware and viruses with aggressiveness.

The protection of the network is essential.

The ability to detect phishing emails is excellent.

It is more cost-effective to install software based on user needs.
Capabilities for full EDR are lacking.

Cloud visibility lags significantly behind endpoint detection.
3. Bitdefender GravityZone Business Security
You must choose the best antivirus software as a small business owner after realizing you need the best security for your digital life. Bitdefender offers one of the most effective solutions. In addition, the GravityZone solutions provide adequate protection for SMBs and large enterprises, consistently ranking highly in independent security tests.
According to the needs of your business, Bitdefender for Business offers a variety of more or less advanced solutions.
With Bitdefender's business solutions, your business is protected from malware without slowing down your systems or affecting your employees' productivity. Using advanced behavior technologies, Bitdefender for Business detects 99% of both known and unknown threats.
Bitdefender Advanced Threat Control ATC monitors all running processes for signs of malicious behavior. As AVC, ATC was launched in 2008 and has continually improved to keep users safe. Bitdefender's Global Protective Network currently protects over 500 billion machines.
For increased protection, Bitdefender offers machine learning and artificial intelligence, which have been perfected over years of experience.
In addition to detecting and blocking threats such as worms, viruses, spyware, Trojans, and more, Bitdefender software for businesses can also remove malware. This software won't slow down your computer when working in the background, which is essential for maintaining high performance.

Why did we choose it?
When it comes to business security, Bitdefender is a top-notch choice. It's one of the most effective, lightweight, and easy-to-use advanced antivirus programs. It offers a wide range of security tools suitable for all business types. And if you're worried about cost, don't be — Bitdefender is affordable compared to other business antiviruses.
Plus, it offers flexible subscription options to accommodate businesses of any size. And if you're unsatisfied with the product, no problem — all Bitdefender plans come with a 30-day money-back guarantee.
Key features:
Easy to use: Easily installable and intuitive enough for even non-expert users.
Easy to manage: Components are managed excellently.
Cloud-based: Cloud-based and on-premises options.
Protection from viruses: Blocks worms, viruses, spyware, and other threats.
Pricing:
Among Bitdefender's offerings is the small office security package for $99.98 for the first year, the family pack for $54.99 for the first year, and the total security package for $39.97 for the first year.
Unknown threats are detected with excellent accuracy.

Tools for managing policies.

Analyzer for Sandboxes.

A dashboard that can be customized.

Even without EDR, you can perform basic attack forensics.
Plans and pricing are hard to understand.

Learning some features can be challenging.
4. SpamTitan Plus
SpamTitan Plus integrates AI-driven anti-phishing solutions with zero-day threat protection and intelligence. A top-of-the-line dedicated anti-phishing solution that covers every market-leading market feed.
Through the tool, malicious links in emails are neutralized, improving protection against phishing. SpamTitan Plus provides a 1.5X increase in unique phishing URL detection. Additionally, it will rewrite all URLs and provide time-of-click analysis within 5 minutes after a malicious URL is detected and delivered to your end user.
As it detects phishing 1.6X faster than any other phishing product, Zero-day Threat intelligence cannot be found in other phishing products.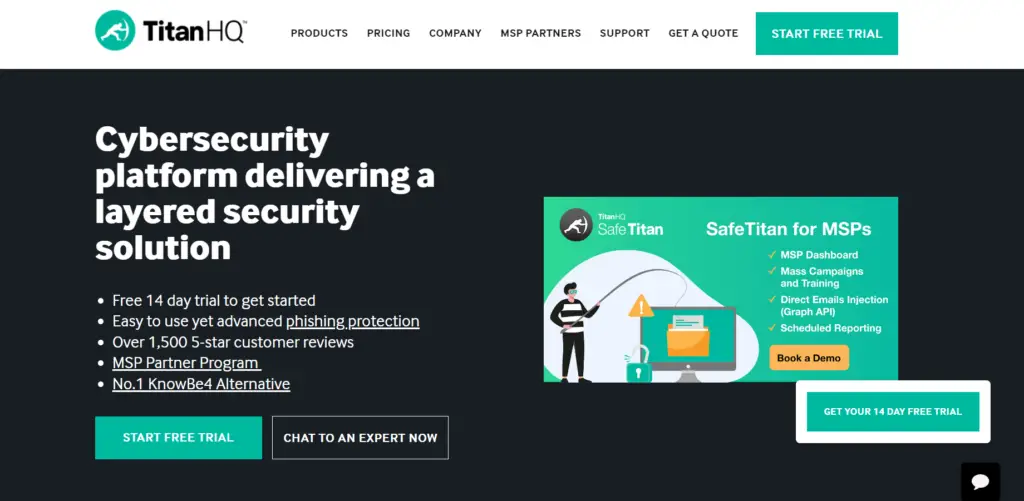 Why did we choose it?
As a business owner, you know how important it is to protect your company from spam, viruses, and malware. You also know that links to malicious websites can be just as dangerous. That's why you need SpamTitan. SpamTitan is an advanced and highly effective spam blocker that blocks all these threats from your email.
With SpamTitan, you can rest assured that your business is safe from the many dangers that email can pose. Contact us today to learn more about how SpamTitan can help protect your business. Thank you for choosing SpamTitan!
Key features
Email Protection: Malware-based email threats, such as phishing and malware, are protected from URL-based email threats.
URL protection: Identifying suspicious URLs using predictive analysis.
Rewriting URL: Rewriting URLs increases security. 
Block unsafe links: Provides a dedicated page for blocking unsafe links
Pricing:
Currently, they do not have a price available, but you can request a quote by sending them a message via their contact form.
With an excellent customer service team, this software is well-developed and compelling.

The filtering and customization of the opt-ins are good.

Easily manageable and well-supported.

An affordable piece of software.
There is a problem with the plugin.
5. NordLayer Teams
Designed for small and large businesses alike, NordLayer Teams is a cloud-based VPN service. One of the best things about the brand is that it has some of the fastest servers in the world and several security features.
Remote access is available with every VPN package designed for organizations, which is protected with 256-bit AES encryption on every endpoint. Using a secure virtual private network, you and your team can work whenever and wherever you like.
A VPN can be customized by clicking a few buttons according to the goals and needs of your business. You can achieve this by accessing the Control Panel and adding dedicated server locations around the globe.
Flexible pricing options and unique features are included in each NordLayer Teams package.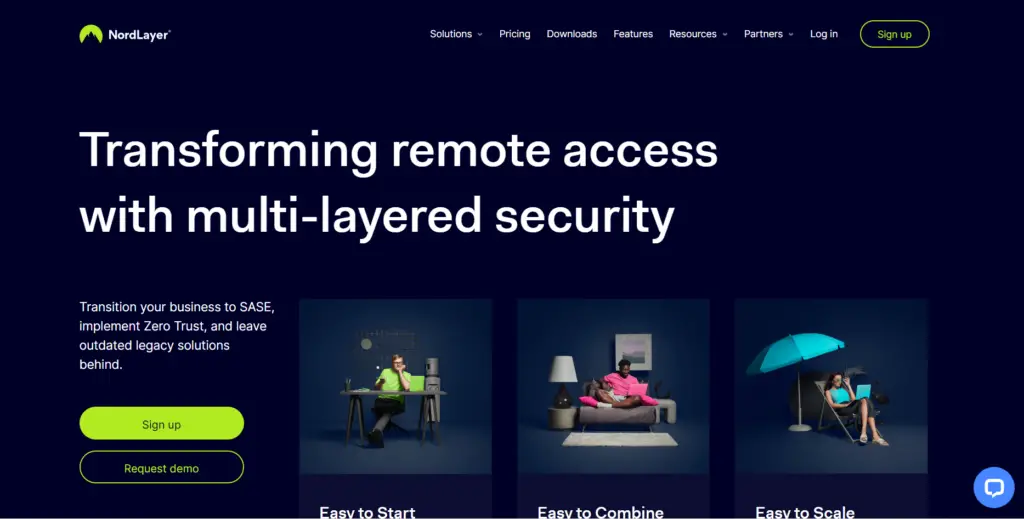 Why did we choose it?
NordLayer is a cloud-based security system that uses biometrics to verify users' identities and provide granular access control features for businesses. NordLayer provides complete insight into who is accessing which areas of the company network and can detect jailbroken or rogue iOS devices.
Using biometrics adds an extra layer of security, making it more difficult for unauthorized users to access the system. As a result, businesses can be safe knowing that their sensitive data is secure and restricted to authorized users only. NordLayer is an essential tool for businesses that must protect their data from unauthorized access.
Key features
Authentication: Authentication with two factors.
Single integration: Integrating Google, Okta, and Azure Active Directory (AD) for single sign-on.
DDoS attack protection: Protection against DDoS attacks.
Different operating systems: Operating systems supported include Windows, macOS, Android, and iOS.
Different server locations: Thirty-three server locations are available for shared access.
Good customer support: Customer service is available 24/7.
Pricing:
Regarding pricing, Nordlayer offers two monthly plans at $7 and $9. You can also get a custom quote if you contact them directly.
An IP address dedicated to you

There are more than 33 dedicated server locations

Protection against DNS leaks

Interconnectivity between sites

Access from a remote location
Several countries are available for selection in the free trial.
6. CyberGhost VPN
As its name implies, CyberGhost can deliver on its promise of awesomeness. Despite its playful logo, it will exactly accomplish its task. An international team founded the software in 2011 in Romania, and at the time of writing, it boasted more than 15 million users.
The CyberGhost VPN software hides your IP, encrypts and anonymizes your Internet traffic, and protects your system whenever you're connected.
Security is one of the most important concerns for small businesses, so you should look into the benefits of a VPN service. With CyberGhost, you can limit who can access the network content and hide your online activity from snoops.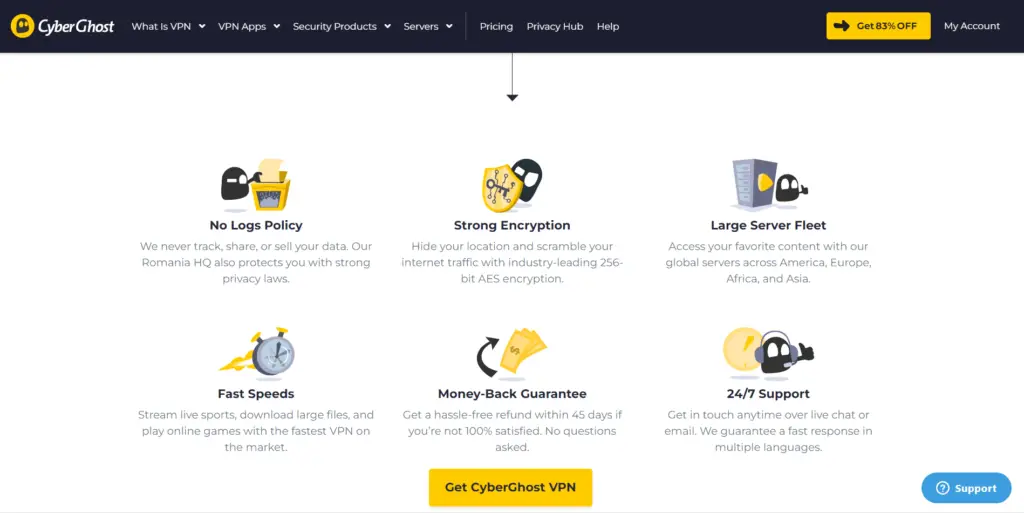 Why did we choose it?
CyberGhost VPN is a reliable and trusted way to keep your internet activity private. Not even your ISP can see what you're doing by encrypting your traffic and running it through a secure tunnel. This stops them from being able to throttle your connection or charge you more for certain activities.
And because our encryption prevents Deep Packet Inspection, your ISP also can't tell whether you're streaming, torrenting, or just browsing the web.
Key features
Good speed: In today's world, reliable connection speeds and excellent network security are essential.
Compatible with most OS: It is also compatible with most modern operating systems.
Secure protocol: Your activity will be hacker-proof with CyberGhost, as it offers the most secure protocol available today.
Easy installation: Installation is easy, and the user experience is excellent.
Pricing:
There is a $12.99/month price for CyberGhost with a 14-day money-back guarantee, $2.19/month for two years and two months, and $6.99/month for six months with a 45-day money-back guarantee.
Server fleet with a good distribution

Multiple connections are allowed at the same time

Several add-ons, including an antivirus program

Achieving outstanding results on speed tests
There was no audit by a third party

Policies that are confusing in regard to the privacy
7. Emsisoft Anti-Malware
When trying to minimize your resource consumption, Emsisoft Anti-Malware is one of the best lightweight security tools available.
However, don't be fooled – even though it consumes few system resources, it is a powerful PC that consistently outperforms independent antivirus programs. This security tool offers you a wide range of superb features at a great price, so you should try it.
Also, it comes with a 30-day trial period to determine whether it is a good antivirus for your company before purchasing.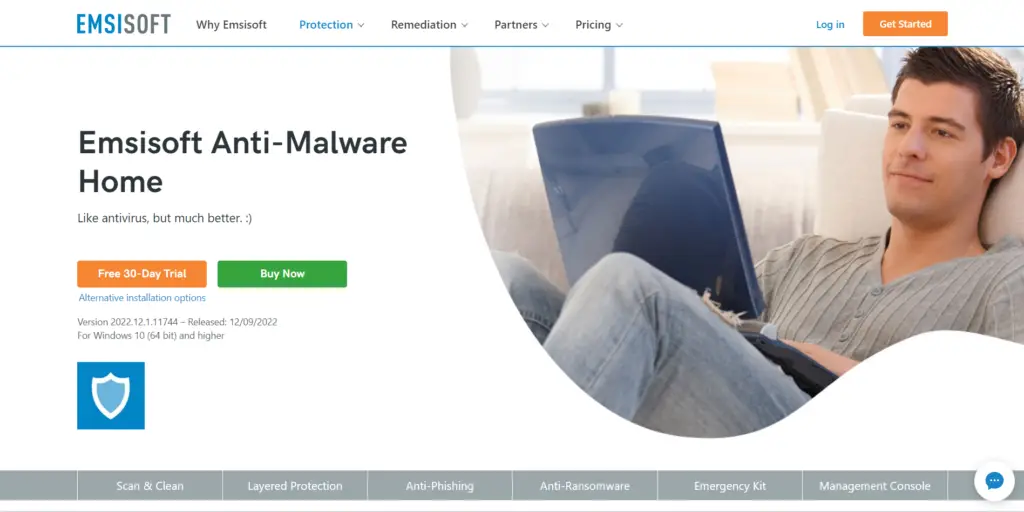 Why did we choose it?
Emsisoft is powerful antivirus software that protects both home and business users. It has been designed to provide excellent performance against live malware and effective on-demand scanning that doesn't cause any PC performance issues.
The interface is easy to use, making it ideal for those who are not tech-savvy, and the customer support team is reliable and always on hand to help with any queries or problems. Emsisoft is an impressive antivirus solution that offers excellent protection against all threats.
Key features
Behavior blocker: Introducing the Behavior Blocker, an innovative cyber-threat defense tool.
Managing endpoints: Managing and deploying endpoints in a centralized manner.
Good servers: Optimization for server usage.
Email notification: Detection of a threat and email notification.
Prevent viruses: Prevent phishing, ransomware, and PUPs.
Pricing:
It costs $19.99, $39.99, and $59.99 per year for Emisoft's Anti-Malware Home, Business Security, and Enterprise Security products. The Enterprise Security suite gives you unlimited workspaces and protections. In contrast, the Business Security suite only grants you two workspaces and ten protections, while the Anti-Malware Home suite does not give you any workspaces or protections.
Test results for malware protection were excellent.

Ransomware was successfully prevented by behavioral detection.

Controls can be managed remotely from the management console.

Dangerous websites are blocked regardless of the browser.
Independent labs have not provided scores.

Testing failed to protect against fraudulent and dangerous websites.
8. AVG Business Security
AVG Business Security might be the right choice for you if you are looking for a reliable antivirus for your business. Software like this is designed for small businesses and comes in several versions.
CyberCapture is a feature of all AVG versions that allows users to send files that are not recognized to AVG's servers for detailed scanning. Monitoring and managing all company devices is also possible via remote management.
If you operate a Windows Sharepoint Server or a Microsoft File Server, you will be pleased to hear that you can protect them with the File Server Security feature. As part of AVG Business security, a Network Antivirus feature automatically detects and eliminates malware from devices connected to your network.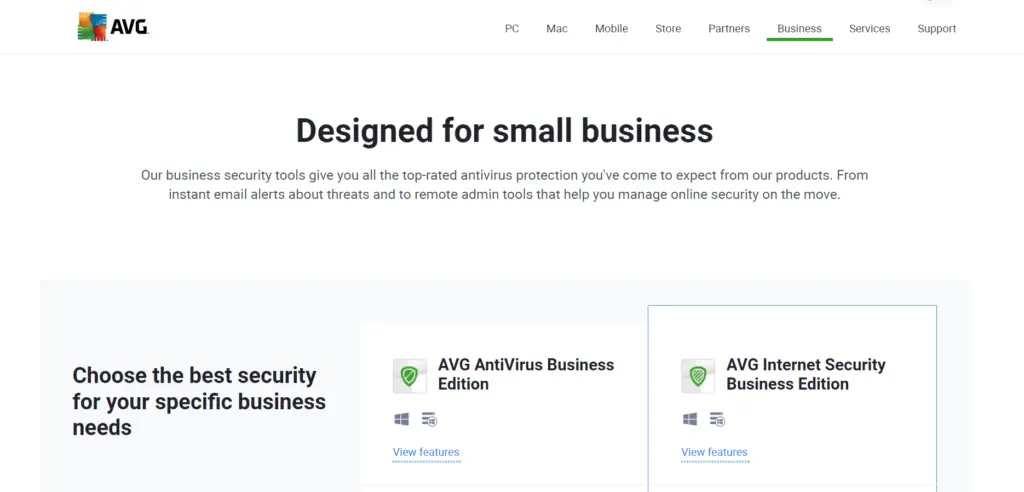 Why did we choose it?
As a small business owner, you must be aware of online threats and take steps to protect your business. AVG AntiVirus Business Edition offers advanced threat protection, privacy protection, and a firewall if you want more features.
In addition to the features above, this version also comes with Email Server Security and Spam Protection. As a small business owner, you should try any of these three versions of AVG Business Security since it offers many features. With complete protection, you can rest assured that your business is safe from online threats.
Key features
Analyzation: AVG analyzes unrecognized files sent to CyberCapture by CyberCapture.
Manages different devices: You can manage all your devices from one place.
Protect files: Protect business-related files with File Server Security.
Remove any virus: You can detect and remove malware from all devices on your network with the Network Antivirus.
Online protection: Protection for email and online activities and a robust firewall.
Pricing:
You can secure three devices for $140 or $170 a year with AVG business security. In the first package, password protection and exchange protection are not available.
The system is efficiently removed and protected by it.

In detecting undesired threats, it is such a powerful tool.

There is a great deal of flexibility in its pricing.
There are problems with email protection.

Due to its outdated and complex interface, it needs more work.

There is a delay in its installation, which takes a long time.
9. Avast Business Antivirus Pro Plus
In terms of antimalware applications, Avast holds the second-largest market share worldwide. In addition to endpoint security, Avast offers network security solutions for small and medium businesses. Because the antivirus solution is cloud-based, it can be managed from one platform.
Using a combination of machine learning, behavioral detection, and signature-based detection, Avast's innovative security engine quickly identifies and remediates malware threats. They crowdsource information from almost half a billion endpoints to stay one step ahead of bad actors.
With Avast Business Antivirus Pro Plus, you can protect your computer on a desktop, laptop, or server. Its powerful threat detection capabilities block malware before it is executed, sandboxing and testing questionable content. VPNs and firewalls built into the software further protect your online identity and prevent adware from tracking your online activities.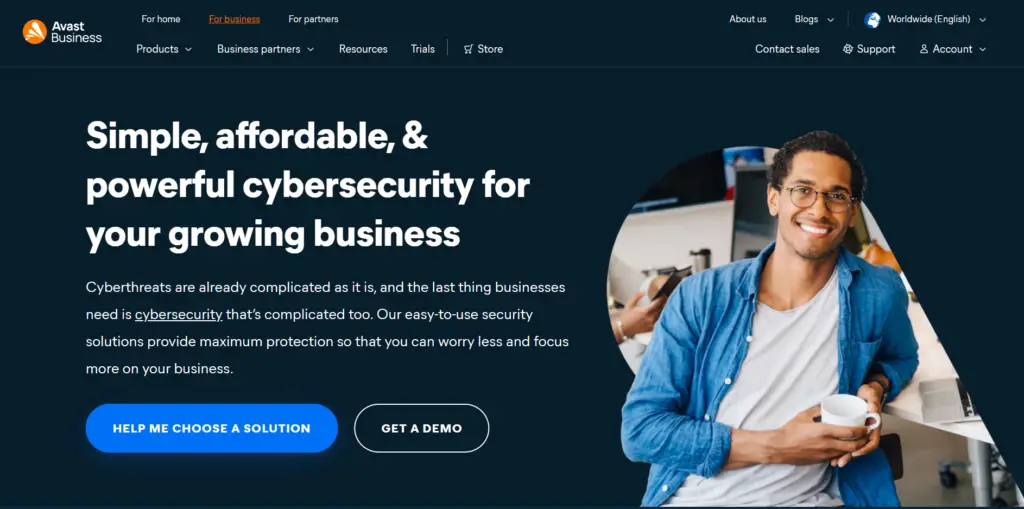 Why did we choose it?
Avast is not as well-known as some other antivirus software providers; it offers several advantages worth considering, especially for small businesses and self-employed individuals.
Perhaps most importantly, it is straightforward to install and set up, even for those not particularly tech-savvy. In addition, its threat detection capabilities are strong, and it consistently scores well in independent testing. Furthermore, its interface is user-friendly and easy to manage, even for those unfamiliar with antivirus software. However, it should be noted that Avast is currently not compatible with mobile devices.
Key features
Firewall: A powerful antispam filter and a top-notch firewall.
Business-supported: Workstations and servers are fully supported.
Online protection: Protection features for email servers.
Administration: The Enterprise Administration and Small Office Administration options are dedicated management options.
Pricing:
According to Avast, there are three packages, each costing $185.45 per year, $233.75 for premium, and $283.85 for ultimate.
It should be noted that for essential VPN, USB protection and patch management are not available. And in premium, only patch management is unavailable. However, in Ultimate, all of these features are available.
Capacity to detect threats effectively.

Includes VPN and file shredding.

Easily manageable.

The remote control includes essential functions.
Management of mobile devices is not available.

A separate license is required for patch management.

There are no features associated with EDR.
10. Norton
Norton Small Business offers an easy-to-use and highly effective small business solution.
Setting up Norton is straightforward, and guidance is provided during installation. Norton uses heuristic analysis, machine learning, and an extensive malware directory to detect malware and other cyber attacks. Trojans, keyloggers, rootkits, spyware, PUPs, and ransomware were among the malware files detected by Norton during testing.
Additionally, Norton includes an online hub to oversee device management, which is particularly helpful when onboarding and offboarding employees. Larger companies seeking a more advanced solution can choose Symantec (Norton's parent company), which offers an excellent endpoint solution.
To help resolve malware-related issues, Norton offers excellent customer service available 24/7. Customer support can even freeze a lost or stolen device at any time.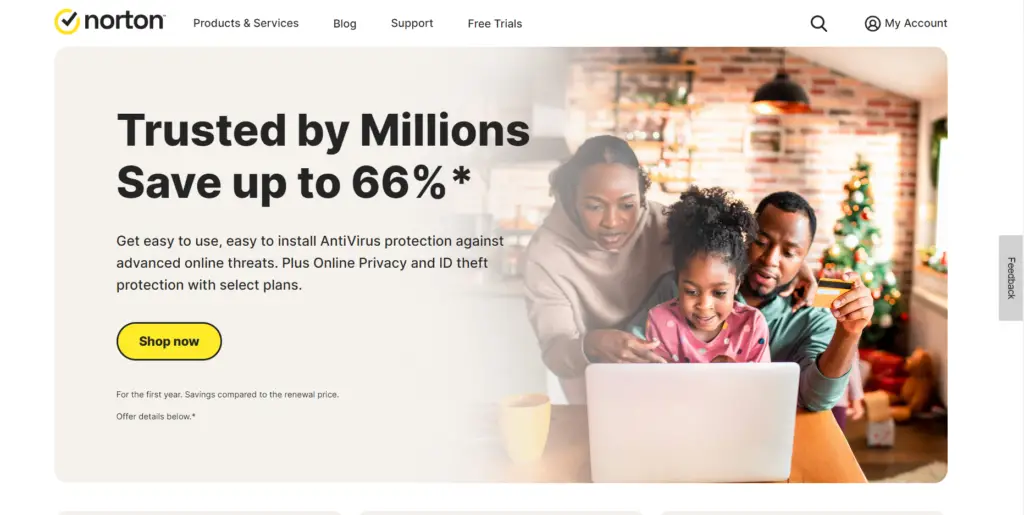 Why did we choose it?
Norton Small Business is an easy-to-use option for start-ups and small businesses looking for solid protection. It's a cloud-based service with straightforward deployment and device management, which is perfect for small businesses as an IT department isn't necessary.
Norton's adequate protection, user-friendly interface, and flexible subscriptions make it an ideal solution for small businesses. There are three levels of subscription – Basic, Deluxe, and Premium – which can be customized to suit the size and needs of your business. Introductory offers protection for up to 5 devices, deluxe protects up to 10, and premium protects an unlimited number of devices.
Key features
Real-time protection: Protect yourself from social networking scams and spam in real time.
Available offline: Employees' access to off-site Wi-Fi networks while meeting or working remotely is protected by Wi-Fi security.
Warning signs: This warning encourages employees not to download files from potentially risky sites.
Safe credentials: Employee login credentials can be securely stored with Identity Safe.
Monitoring: Monitoring and protection of your identity with Norton LifeLock.
Pricing:
It costs $129.99 per year to subscribe to Norton. In the first year, you only have to pay 54.99$.
Test results in independent labs and hands-on training were excellent.

Data Protector foils ransomware attacks.

An updated software updater is now available.

Dashboard enhancements for My Norton.

Out-of-the-box support for online backup.

Security features include many bonuses.
It is expensive.

Pricing does not apply to multi-licenses.

The phishing test score is rare.
Related: Best Budgeting Software for Small Business
How can you choose the best antivirus for your business?
Before getting into the list of software, here are some things you should consider:
→ Your business's needs
Before investing in a new security system for your business, assessing your needs is essential. You need to consider whether your employees frequently travel, whether they work remotely, and if they handle confidential information.
Specific features such as the ability to protect against unsecured Wi-Fi connections and encrypt files should be prioritized depending on such factors.
→ Antivirus program management
Your company may have an IT department, an IT administrator, or someone who does not have a technical background and is responsible for managing the system, so you should choose a solution that they can use efficiently.
→ Device type and number
As a growing business, you must find a company that offers scalable license options if many devices require protection. To ensure that all your devices are protected, you must select an antivirus program that works with all your devices, including PCs, Macs, tablets, and smartphones.
→ Money-back guarantees and pricing
The best antivirus solution for your business should provide good value for your money and meet your company's budget. When you have never tested a key to see if it works well for your business's needs and workflow, it can be tough to know if it is the right fit. 
→ Ease of use
To make your IT department and entire team happy, you need antivirus software that's easy to use. Although some solutions are more complex since they are designed to meet the needs of larger businesses with advanced IT professionals, there are still several options available to both technical and non-technical users.
→ Business-focused features
To be successful at antivirus software, you should look for programs with a good administrator interface, allow for sandboxing, have a robust firewall, and can detect and protect against unsecured Wi-Fi connections and networks – especially important considering the increase of remote working.
Related: Best Accounting Software for Small Business
Conclusion
Small business owners have a lot to worry about, but protecting your data should not be one of them. Many different security software programs are available, but which is suitable for you?
This article discusses 10 of the best security software programs for small businesses and their features. In the comment section, tell us which program you decided to attend and how it works. Stay safe out there!
FAQ
What is the best business antivirus software?
ESET Smart Security is an excellent business antivirus software. It offers many features, including anti-theft, password management, and a firewall. In addition, it's straightforward to use, making it an excellent choice for businesses of all sizes.
Is Bitdefender suitable for small businesses?
Absolutely! We believe that Bitdefender is one of the best antivirus solutions for small businesses. It's incredibly comprehensive and easy to use, making it perfect for small businesses that might not have a lot of IT resources. Plus, it's very affordable, which is always a bonus.
What is the most common protection software?
The most common protection software is avast. A free program protects your computer from malware, viruses, and other online threats. It also includes a built-in firewall to protect your computer from unauthorized access.