Disclaimer: We sometimes use affiliate links in our content. For more information, visit our Disclaimer Page. 
If you are a small law firm, you must find the best accounting software for small law firms to help manage your finances. The right software will make tracking expenses and preparing tax returns much more straightforward. Many options are available, so it can be challenging to decide which is right for you.
This article will discuss the best accounting software for small law firms and highlight their features with prices. Let's get started!
Editor's choice
FreshBooks
You can concentrate on your legal cases while it does work hard.

Visit Site
best for micro businesses
Zoho Books
An intuitive billing platform for legal firms that is easy to use and intuitive to use.

Visit Site
Best for daily use
Quickbooks
Legal services can be provided with more transparency when lawyers use them.

Visit Site
Benefits of using legal accounting software
Here are some of the benefits of using law firm accounting software:
• Boost the cash flow of your law firm
A healthy cash flow is essential to the financial health of any legal practice. The right legal accounting software helps you better manage and improve your cash flow by providing a clear, real-time picture of the firm's financial data.
Almost all modern online accounting platforms feature intuitive dashboards that make monitoring your firm's business easy. Besides bank balances, reconciliation information, outstanding invoices, and budgets, these dashboards show critical financial data.
In addition, if your legal accounting software is cloud-based, you can access this information at any time, from anywhere.
• Reduce the time you spend entering data.
It is time-consuming and leaves you at risk of human error to deal with spreadsheets or manual accounting. The use of law firm accounting software reduces the amount of time spent entering data manually.
Contacts, invoices, financial information, trust transactions, and disbursements can all be synchronized between QuickBooks Online and Clio's practice management software. Through their Clio integration, you can eliminate redundant data entry using these tools.
• Payroll can be done faster.
Law firms often overlook payroll processing as a significant overhead. It is essential to process payroll accurately, but it can be time-consuming and complicated. You can automate your payroll with the best legal accounting software.
Your accounts will automatically be updated after you process your pay run using law firm accounting software.
• Record your finances accurately. 
A practice's financial records should be accurate at all times. Without meaning and value, logs are useless. Online legal accounting software will ensure that necessary financial data is processed and tracked correctly, so your firm's accounting and bookkeeping will run more smoothly.
Using cloud-based law firm accounting software will ensure compliance with applicable ethics regulations. 
8 Best Accounting Software for Small Law Firms
Here is some accounting software for your small law firm:
1. FreshBooks
As a busy lawyer, you can't afford to waste time on administrative tasks like tracking expenses and sending invoices. FreshBooks is an intuitive software that makes it easy to follow your financial health to spend more time on billable hours.
With FreshBooks, you can easily track expenses, send invoices, and accept online payments. This way, you can build your law firm smarter and faster. Plus, with FreshBooks' easy-to-use interface, you'll be able to get up and running in no time. 
Our expert opinion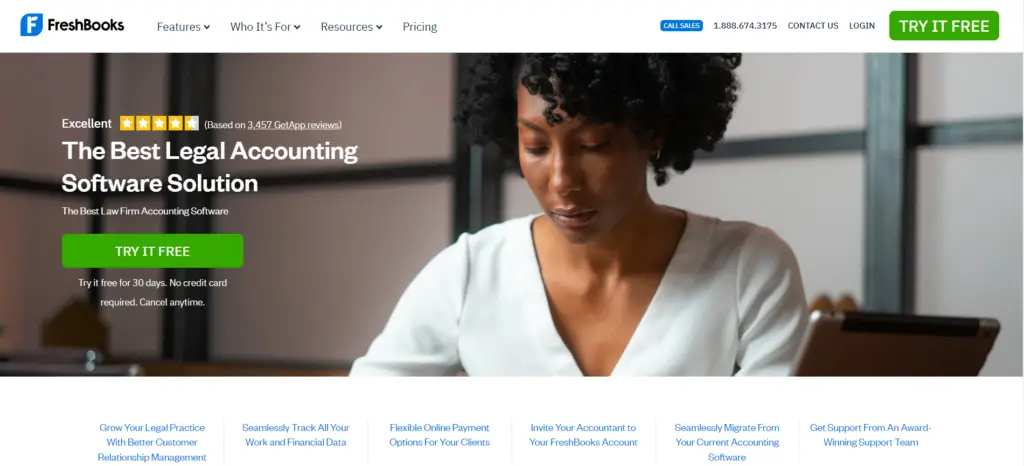 There are numerous integrations available with FreshBooks, a small business accounting program.
It has several positive aspects, but there are also some drawbacks. In addition to being expensive, the app also lacks features you'd find with other accounting software, such as a built-in payroll. Each plan only comes with one user, so additional users quickly add up.
There is no doubt that FreshBooks is an excellent option for small businesses. It is easy to use, has fantastic customer support, and offers built-in proposals.
Features
Tracking: Time tracking and expense organization can be automated to save you time.
Secure payments: Payment options and secure online billing portals made possible by FreshBooks help you get paid faster.
Remind of late payments: Automatically remind the customers about late payments and charge them a fee with FreshBooks.
Recurring profiles: With FreshBooks, you can create recurring profiles with automatic billing features.
Integration: You can customize your account with various integrations to meet your company's needs.
Price:
| Plan | Monthly Price | Annual Price (Paid Upfront) |
| --- | --- | --- |
| Lite | $15 | $180 |
| Plus | $25 | $300 |
| Premium | $50 | $600 |
| Select | Custom | Custom |
Note: Promotions may be available.
Freelancers and small businesses will find it easy to use.

Customer service is well-rated.

Services for invoicing are good.

In all plans, you can track time and mileage.
There are limits to the number of clients and users.

The lowest-tier plan does not include bank reconciliation or accountant access.

Estimates tax payments quarterly but does not provide them.
2. Zoho Books
Zoho Books is a cloud-based accounting software that offers a range of features for small businesses, including law firms. It includes invoicing, expense tracking, project management, and more features. Zoho Books is user-friendly and intuitive, making it easy for small businesses to use. It also offers a range of pricing plans to suit different needs and budgets.
In addition to its core features, Zoho Books also offers a number of other useful tools for small businesses, including a customer portal, document management, a vendor portal, and a mobile app. The software is designed to be flexible and customizable, allowing you to tailor it to your specific needs.
Our expert opinion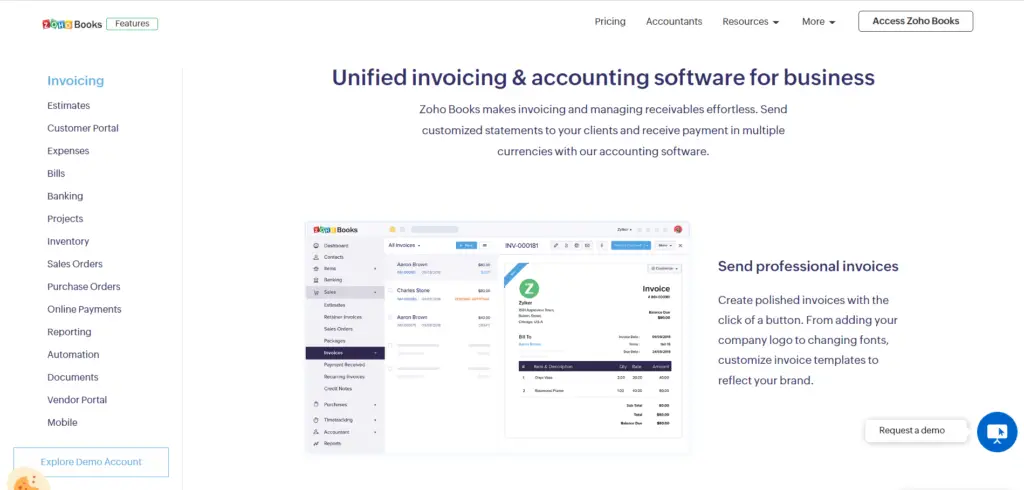 Using Zoho, you can send customized invoices and connect to payment gateways so your customers can pay for your products and services online. You can also link important transactions to one or more bank accounts for fast and easy reconciliation and categorize them automatically.
You can also use the dashboard to create profit and loss statements, balance sheets, and cash flow statements and see your highest expenses, receivables and payables, and sales. A tax tool lets you calculate sales tax, file 1099s for contractors, and set a default tax rate.
With the Zoho Books app, you can manage your accounting needs on the go, generating invoices and sending them, recording expenses, and getting quick business insights.
Features
Zoho Books is an online accounting software that offers a range of features to help businesses manage their financial operations. These features include:
Invoicing: Create customized invoices and get paid faster with online payment options.
Estimates: Generate professional quotes and convert them to invoices with just a click.
Customer Portal: Give your customers access to their transactions in one place.
Expense Tracking: Upload receipts and track where your money is going.
Billing: Generate bills to track payments owed to vendors.
Banking: Fetch and categorize bank transactions, and reconcile your accounts easily.
Project Management: Track billable minutes with timesheets and turn time into revenue.
Inventory Management: Monitor inventory levels to identify fast-moving items and keep them in stock.
Sales Orders: Send orders and confirm each sale before shipping goods to customers.
Purchase Orders: Communicate your requirements to vendors.
Tax Management: Stay on top of your tax liability and be prepared for tax season.
Online Payments: Accept secure online payments from customers.
Reporting: Schedule reports and get real-time data to optimize your business.
Automation: Save time by automating business workflows and focus on growth.
Document Management: Streamline and store all your documents in one place, and attach them to transactions.
Vendor Portal: Give your vendors the ability to self-manage their transactions with you.
Mobile App: Access your accounting on the go with iOS, Android, and Windows apps.
Pricing:
Plan
Monthly
Yearly
Features
Free
–
–
Access for one user and one accountant. Client portal. Customizable invoicing with automatic payment reminders. Expense tracking. Mobile app for sending invoices on the go and tracking mileage. Manage 1099 contractors. Basic reports. Create bank rules that automatically categorize transactions. (only for businesses with less than $50,000 in annual revenue)
Standard
$20
$
180
All Free plan features, plus the following: Access for up to three users. Track project expenses and create project tasks. Reporting tags for tracking transactions by location, etc. Sales tax tracking. Bill customers based on time spent on a project. Create custom fields for invoices, etc.
Professional
$50
$
480
All Standard plan features, plus the following: Access for up to five users. Create sales and purchase orders. Handle multi-currency transactions. Custom user roles. Create up to 10 workflow rules. Track project profitability.
User-friendly interface

Automation

Integration with other Zoho apps

Customization
Limited reporting options

Limited budgeting and forecasting tools
3. QuickBooks
QuickBooks is essential for anyone looking to streamline their law practice. It lets you manage your office, track your time, bill clients, and automate tasks. QuickBooks makes it easy to see where your money is coming from and going with its one-step report generation.
You can also integrate QuickBooks with other apps to make your life easier. Clio, Time Tracker +Legal, and LeanLaw are all great QuickBooks integrations for attorneys.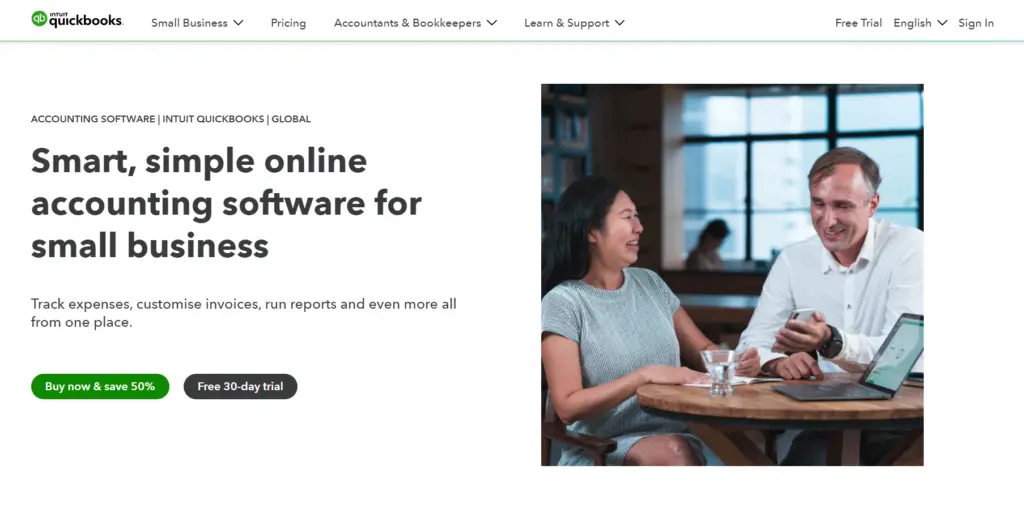 Our expert opinion
Because QuickBooks Online is the most widely used accounting software for small businesses, it makes sense for them to use it over other accounting software. Since the software contains everything one would need to run a successful business, it is the top choice for most accountants, as it allows users to easily manage their company's finances and keep track of payments and expenses most efficiently.
Additionally, the customizable features encourage businesses to create a professional brand, such as the ability to add the company's logo to invoices.
Features
Easy automation: With QuickBooks, you can automate your daily account tasks and eliminate pesky data entry.
Simple to use: You can set a billing rate according to the type of legal service you are providing. There is no math to worry about, and adding hours is as simple as adding a clock time.
Instant reports: One-click access to instant reports ensures that you know exactly where everything stands.
Easy tracking: You can track your time and expenses with your computer or mobile device. It's easy to schedule and create invoices and recurring invoices, and getting paid couldn't be easier.
Price:
Four plans are available:
Simple Start: $30/month.
Essentials: $55/month.
Plus: $85/month.
Advanced: $200/month.
Flexible with third-party applications and well integrated with other systems.

Reports accounting information promptly.

The affordable price.

Mobile, tablet, and computer devices (depending on the version) are compatible.

Errors/mistakes are easily found and corrected.
Key accounting reports are not available outside of the accounting department.

Crashes and instabilities in the system.

Support from professionals is lacking.
4. PCLaw
If you are looking for accounting software for your law firm, PCLaw is the best choice. You won't need any other software if you have this one, since it has all the features you need. The PCLaw software can handle everything by itself without the need for third-party integration.
You can integrate this software with the LexisNexis suite of products with different management applications. By customizing the software, you can meet the needs of your firm. If you plan to use this software, you will need an accountant who knows everything about accounts.
Despite being one of the best accounting software for law firms, it still has one disadvantage. Due to its partnership with ADP doesn't have payroll processing, but you don't have to worry about that.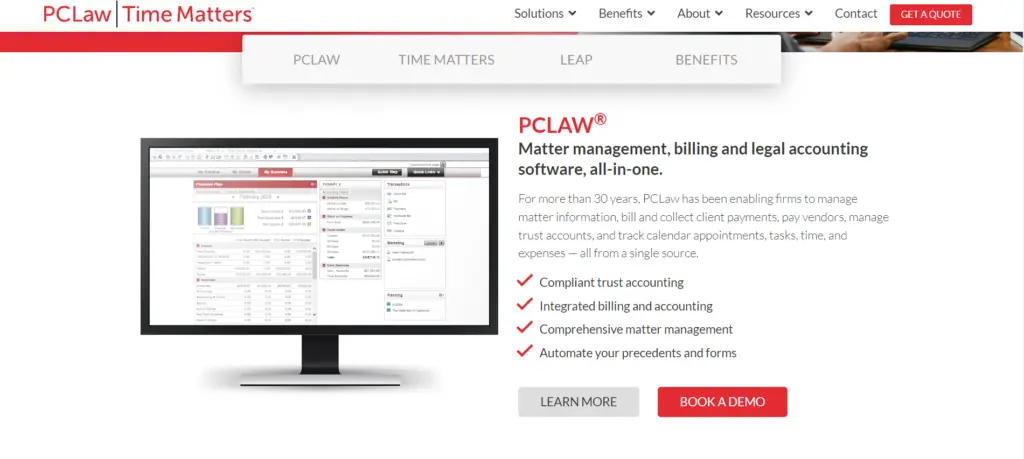 Our expert opinion
In PCLaw, you'll find almost everything you need. With its mobile timekeeping app, PCLaw Go, you can track your time on the go, create tasks and assign them to different lawyers, use LEDES codes to streamline client billing, and create multiple accounts for client trusts, firm funds, and IOLTA accounts.
You can connect PCLaw to other programs you currently use since it is a part of the LexisNexis legal practice management family. Using PCLaw is complicated but powerful legal accounting software, so you might want to consult an accountant or bookkeeper who is familiar with it.
Features
Document management: Including documents, to-do lists, and communications, PCLaw allows you to manage and store information about your matters.
Trust accounting: You can write checks, accept client payments, and reconcile trust bank journals.
Tracking: It will track everything, so there is no need for other software. Bill payment and accounting functions will all be handled by this software.
Unlimited resources: The annual plan offers unlimited customer service, training, and resources.
Bank reconciliation: Using PCLaw, you can ensure that your records are accurate by reconciling your bank statements with your bank journals.
Price:
Pricing is not available on the official website. You can message them for a custom quote.
The legal profession benefits greatly from software that is easy to use and very helpful.

Your client will receive accurate reports thanks to PCLaw's excellent spell checker.

Easily integrates with the portals of various insurance carriers.
There is no explanation of definitions. 

Another hour is lost and wasted while the engineer fixes the error. 
5. LeanLaw
If you are looking for highly affordable accounting software for law firms with excellent customer reviews, you have come to the right place. Bookkeepers and accountants who work for law firms love this software because of its features.
This software will always keep your accounting for the firm up to date and accurate. LeanLaw is wholly integrated with QuickBooks, so if you like QuickBooks but want a legal accounting system, this is the software for you.
It is one step ahead of QuickBooks as it can record everything from public records to advanced accounting systems. With this software, you can be sure that your accounting needs will be taken care of effectively and affordably.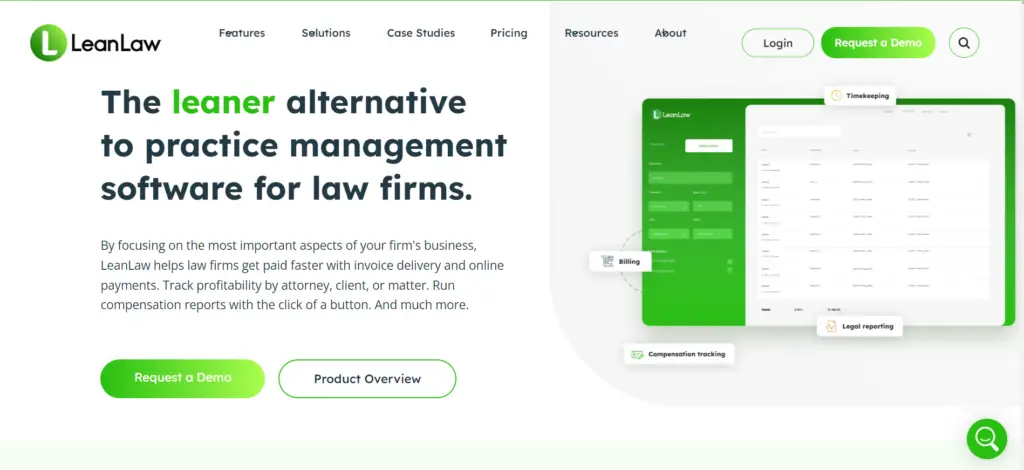 Our expert opinion
Although primarily a legal billing software, LeanLaw has a vital feature that reconciles trust accounts automatically. LeanLaw will help you fix your IOLTA funds if they keep going out of balance. Integrating IOLTA accounting into the invoicing workflow allows you to deposit trust funds directly into trust accounts and pay invoices.
Additionally, LeanLaw has an extensive time tracking tool that lets you use any device to capture time on top of its deep QuickBooks Online integration. 
LeanLaw supports standard LEDES codes for easy invoicing, time entries are converted into invoices automatically through QuickBooks, and electronic payments can be processed through the Intuit Payment Network.
Features
Integration with QuickBooks Online: Accounting reports, client reports, origination/contingency reporting, and accounts receivables aging are just some features LeanLaw integrates with QuickBooks Online.
Timekeeping: Use a calendar view with timers, a pop-up on the web, or a mobile app to keep track of your project's time.
Advance report system: The software provides advanced reports that include client origination and revenue details.
Billing and invoicing: As part of its commitment to compliance with LEDES and American Bar Association (ABA) standards, LeanLaw submits invoices via LEDES systems, including counsel, Lawtrac, Legal Tracker, and CounselLink.
Price:
Pricing Model: Per User, $40.00 and $55.00 /month.
Billing methods that support fixed fees.

Beginners will find it easy to use and simple to understand.

The app includes a variety of features.
Software program with limited features when compared to others of its kind.

Invoices cannot be created without a QuickBooks Online account.

Client intake forms or CRM tools are not available.
6. Clio
Law firm owners will find Clio to be a thoughtfully designed software. Experts highly recommend this practice management software. Using an internet connection, you can access this cloud-based accounting software from anywhere. Traveling lawyers significantly benefit from it.
It also integrates with Xero and QuickBooks Online, which are external programs. Users can also export their accounting data to another program using the accounting export feature.
You will find all the features in this software for your growing law firm. Different pricing options are available; the software can be scaled up or down based on the needs of your firm.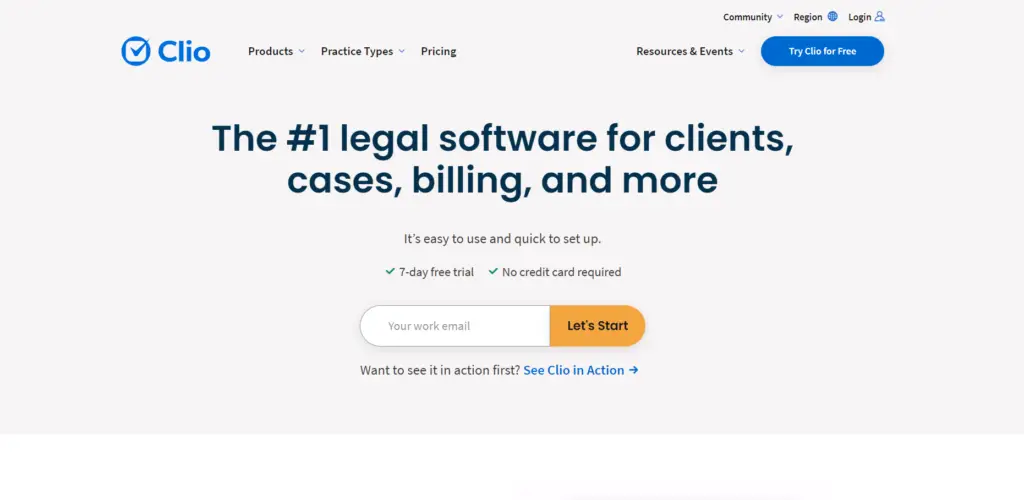 Our expert opinion
This platform allows law firms and other legal businesses to track deadlines, manage client cases and documents, invoice clients, and accept service payments. Using Clio's dashboard, you'll be able to view your billable hour targets and goals and track your performance. 
Lawyers can receive payments directly into a trust or operating account through Clio Payments. Billing features include creating custom bill plans, managing fee structures, entering time automatically or manually, and billing clients via email or a secure client portal. Document automation, custom fields, and e-mail are document management features.
Features
Activities organization: Organize your activities, calendar events, contacts, documents, bills, notes, communication history, time entries, financials, and more. Your complete case information is displayed in this report.
Tracking performance: Each member can be assigned a different task or to-do list. Additionally, you can track each task's progress and see what upcoming tasks are. Depending on the starting date, the deadline will be automatically set.
Tracking: Time and expenses can be tracked entirely with Clio. Additionally, you can follow the time spent with your clients.
Easy billing: Billing and invoicing are also included in Clio Manage. In addition to hourly and flat fees, it also supports contingency fees.
Price:
Four packages are available:
Easystart: $39 per user/per month 
Essentials: $69 per user/per month 
Advance: $99 per user/per month
Complete: $129 per user/per month
The cloud-based option is excellent and very reasonably priced, with excellent support.

It is also easy to use and integrates with all other legal applications in one place.

There is a high level of functionality and customization in terms of specialization and jurisdiction.
The handling of document templates.
7. Zola Suite
The Zola Suite is the best option for professionals seeking an all-in-one cloud-based solution. With all its advanced features, it is one of the best accounting software for law firms. With this software, you will get all the fantastic features for the least amount of money.
An accounting platform is included in this case management software for law firms. You will be able to stay more and more organized as a result. User demands are taken into account in every aspect of the interface.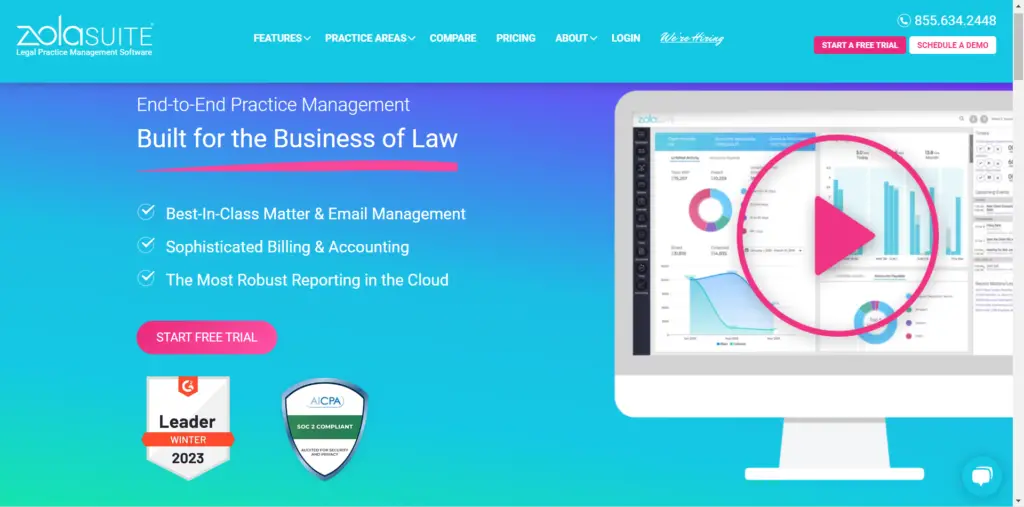 Our expert opinion
Those who need help with their marketing efforts and have a repeatable process will find Zola Suite helpful. Law firms and lawyers can take advantage of the built-in CRM and client intake tools to make sure no critical communication, client, or lead is overlooked. In addition to CRM features, you'll get split billing and vendor bill management with the higher pricing tiers.
Features
CRM: TimeSolv comes equipped with an integrated CRM system that allows you to manage tasks, events, emails, notes, and notes about your prospects.
Easy documentation: Document management software like Zola Suite makes creating and managing your documents easy.
Client intake forms: You can email prospect intake forms and then convert the leads into matters once the forms have been completed.
Billing: Zola Suite uses the LEDES billing method to make billing and tracking invoices easy for law firms.
Smart Account Reconciliation module: Reconciling your accounts manually ensures accurate recording of trust transactions.
Price:
$59 per user per month for the Core plan, $79 per user per month for the Enterprise Plan, and $89 per user per month for the EnterprisePlus Plan.
There are many features and benefits to the Core plan.

Management of emails and documents is included.

Documents can be handled in an unlimited number (higher pricing tiers).
Payroll processing is not integrated.

Your external accountant does not have free access.

LawToolBox is required to manage calendars.
8. CosmoLex
If you're looking for a legal accounting software solution specifically for law firms, CosmoLex is an excellent option. It offers all the features you need for trust accounting, business accounting, client billing, and practice management, and it's cloud-based so that you can access it from anywhere.
And because it's specifically designed for law firms, it's likely to fit your needs better than other accounting software like QuickBooks or Xero. So if you're looking for an all-in-one solution for your firm's accounting needs, CosmoLex is worth considering.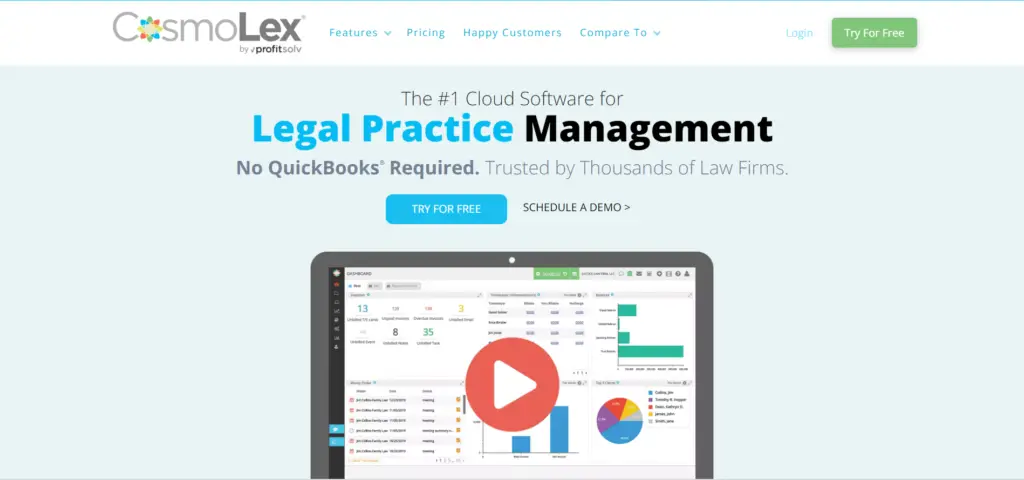 Our expert opinion
No need to subscribe to QuickBooks or any other accounting software to use general bookkeeping features with CosmoLex. This is the case in many programs. The software might be a bit expensive, but it saves you the cost of purchasing third-party accounting software, which is expensive and time-consuming. 
Due to its cloud-based nature, you can access and manage your data anywhere in the world, making it an excellent choice for lawyers and timekeepers who are frequently out of the office meeting clients and prospects.
Features
Accounting for legal trusts built-in: Several trust accounting tools are included with CosmoLex, including the ability to print disbursement checks, import bank statements, and run trust accounting reports.
The billing and invoicing process: There are different ways to charge clients for services, such as hourly rates, fixed fees, and contingency billing. Invoices can be created legally, and bulk invoices can be sent and printed.
Matter management: Keep track of invoices, time cards, expense cards, and trust transactions related to matters.
Document management: As long as you are connected to the Internet and store your files online, you can access them wherever you are.
Price:
Prices are as low as $89 per month.
It is cloud-based so it can be accessed from anywhere.

The process of getting started is straightforward.

Generally intuitive user interface.

You do not need to use a separate accounting program.

Multiple checks can be printed quickly and smoothly.
To enter multiple expenses manually, the program must be loaded after each entry.

It can take a while for actions to load, such as generating reports, preparing checks, entering data, and moving between matters.
How to choose accounting software for your law firm?
Before getting into the list of software, keep the following considerations in mind when comparing legal accounting software options:
→ Features you need in law firm accounting software.
Many legal accounting software solutions is available in the market, each offering additional features. When choosing a software package, you must consider which segments will be most beneficial for your needs.
Some features, such as time tracking and invoicing, are necessary for all businesses. 
→ Think about the user
If you're looking for accounting software for your law firm, it's essential to find a solution that is user-friendly enough to meet the needs of your firm's users. Look for software that is easy to navigate and offers personalized customer support.
For an idea of how other firms have used law firm accounting software, it may also be helpful to read law firm accounting software reviews.
→ Invest in cloud-based legal accounting software
Perhaps the most significant advantage of cloud-based solutions is their flexibility. With cloud-based solutions, you can access your software from anywhere with an Internet connection, which means you can work from the office, the courtroom, or even the beach.
In addition, cloud-based solutions are easier to integrate with other cloud-based solutions, which can help you create systems that benefit your firm and streamline your accounting process.
→ Security
As a lawyer, understanding and keeping up with the latest security protocols is essential and part of your ethical duty to your clients.
Technology has made great strides in recent years in terms of security, but that doesn't mean there isn't room for improvement. When storing and processing client data, you must be sure you're using a solution with solid security features.
This means looking for a solution that uses encryption to protect data, offers two-factor authentication, and provides access control features.
Related: Best Accounting Software for Small Business
Conclusion
With so many different accounting software programs to choose from, it can be challenging to decide which one is right for your small law firm.
In this article, we have highlighted the eight best options and their features. We hope this information will help you make the right decision for your business.
Which of these accounting software programs do you plan on using? Let us know in the comment section below!
FAQ
Is QuickBooks good for lawyers?
Whether or not QuickBooks is suitable for lawyers depends on the specific needs of the lawyer. QuickBooks is an excellent program for tracking expenses, income, and billing. However, it may not be as well suited for tracking trust accounts or other complex financial transactions.
What computer software do lawyers use?
Lawyers use a variety of software, depending on their practice area. For example, attorneys who practice family law may use software that helps manage cases, while attorneys who practice intellectual property law may use software to search and analyze patents.
Is Clio only for law firms?
No, Clio is not only for law firms. Clio is a cloud-based practice management software for small businesses and solo practitioners in various industries.