Disclosure: We sometimes use affiliate links in our content, meaning, at no additional cost to you, we will earn a commission if you click through and make a purchase. This helps us offset the costs of paying our writing team and keeping this website running. Thanks for your support!
---
Are you a small business owner who is looking for free bookkeeping software? If so, you have come to the right place!
In this blog post, we will discuss six options available to you. Keep in mind that not all of these programs are perfect for everyone. You will need to research and find the program that works best for your business.
But, overall, these programs are a great starting point for anyone looking for free bookkeeping software.
Let's get started!
What is Bookkeeping Software?
Bookkeeping software Or Accounting Software is a program that helps you track your finances and manage your accounting. This type of software can be used to keep track of income, expenses, invoices, and other financial data.
6 Best Free Bookkeeping Software for Small Business
There are many different types of bookkeeping software available, and it can be challenging to decide which one is right for you. That's why we have created this list of the six best free accounting software options.
1. Zoho Books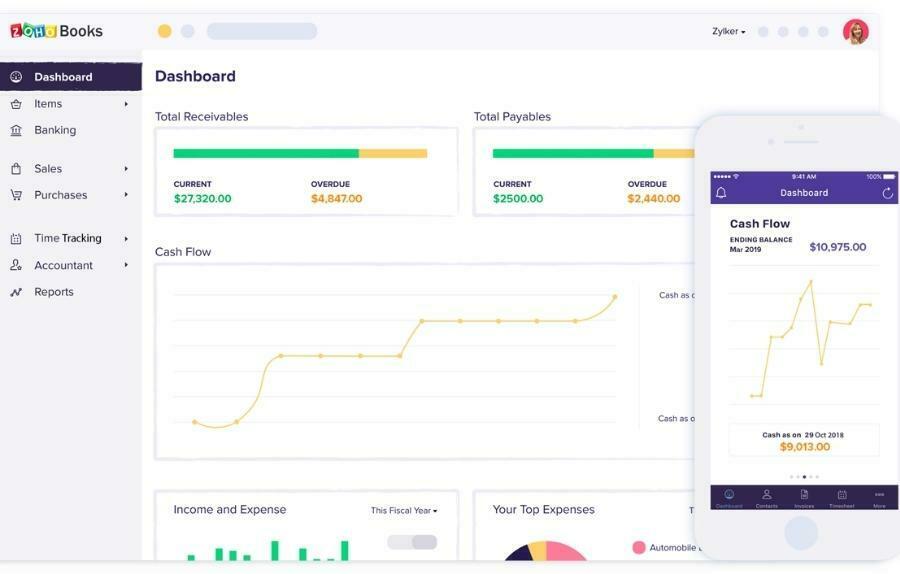 Zoho Books is cloud-based accounting software that makes income and expense tracking very easy. You may use Zoho Books to manage your customers and bills while keeping costs in check.
It can also keep track of your money and transactions and collaborate with your accountant in real-time. Finally, Zoho Books aids you in making better, more informed decisions and staying on top of your business.
To get started with Zoho Books, you first need to create an account. Once you have created an account, you can add your business information, such as your company name and address. You will also need to add your bank account information and create invoices for your customers.
Zoho Books also offers several features to help you manage your business effectively. For example, you can create reports to track your business income and expenses and reconcile your bank accounts. You can also collaborate with your accountant in real-time, so they can help you get the most out of Zoho Books.
2. ZipBooks
ZipBooks is the free and overall best accounting software. ZipBooks, a Utah-based software firm, offers cloud-based accounting and bookkeeping programs. It's a complete bookkeeping solution that allows business owners to handle credit cards and send financial and invoices, among other features.
Since ZipBooks is a cloud-based program, users can access it anywhere with an internet connection. This makes it a perfect tool for entrepreneurs and small business owners who are always on the go.
ZipBooks also offers a wide range of features to help businesses save time and money. For example, users can process credit cards, send and finance invoices, and create reports with just a few clicks. In addition, it is constantly updating its software to ensure that it is the best tool possible for business owners.
If you're looking for a cloud-based accounting and bookkeeping tool, ZipBooks is a great option. It's free, easy to use, and packed with features that can help your business save time and money.
3. Wave Financial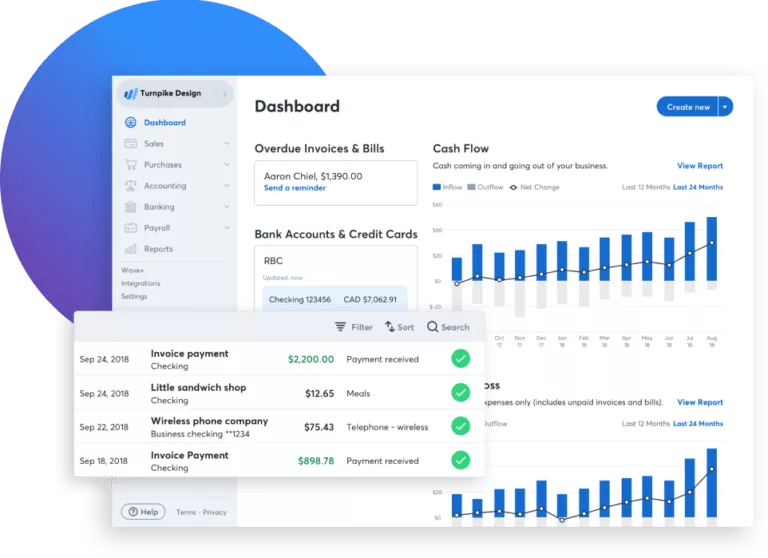 Wave is a Toronto-based firm that provides finance and software for small enterprises. Wave's headquarters are in the Leslieville area of Toronto, Canada.
The company was founded in 2009 by entrepreneurs James Lochrie and Kirk Simpson. Wave's mission is to make it easy for small businesses to manage their finances and get paid. The company's products include invoicing, accounting, payments, and payroll.
Wave has been a leader in the fintech industry, winning awards for its innovative products and services. The company has also been recognized for its social impact, being named one of Canada's most charitable companies in 2016.
Wave is an excellent option for small businesses that need easy-to-use financial software and services. Its products are free, making them perfect for companies of all sizes. Wave also offers excellent customer support, so you can get help when you need it.
If you're looking for financial software and services that are easy to use and affordable, Wave is another great small business accounting software. Check out its website to learn more about its products and services.
4. GnuCash
GnuCash is a software program that allows users to manage their finances through a double-entry bookkeeping system. This means that the program can help users keep track of their assets and liabilities and monitor how their money is being spent.
Initially, GnuCash was designed to compete with Quicken, the popular personal finance software from Intuit. However, GnuCash has also proven to be a valuable tool for small businesses, as it provides accounting features that are specifically tailored to their needs.
Overall, GnuCash is an effective way for users to keep tabs on their financial situation and make informed decisions about their money. It is completely free and open-source software, which is available for anyone to download and use.
Additionally, many users and developers are constantly improving the program.
5. Sunrise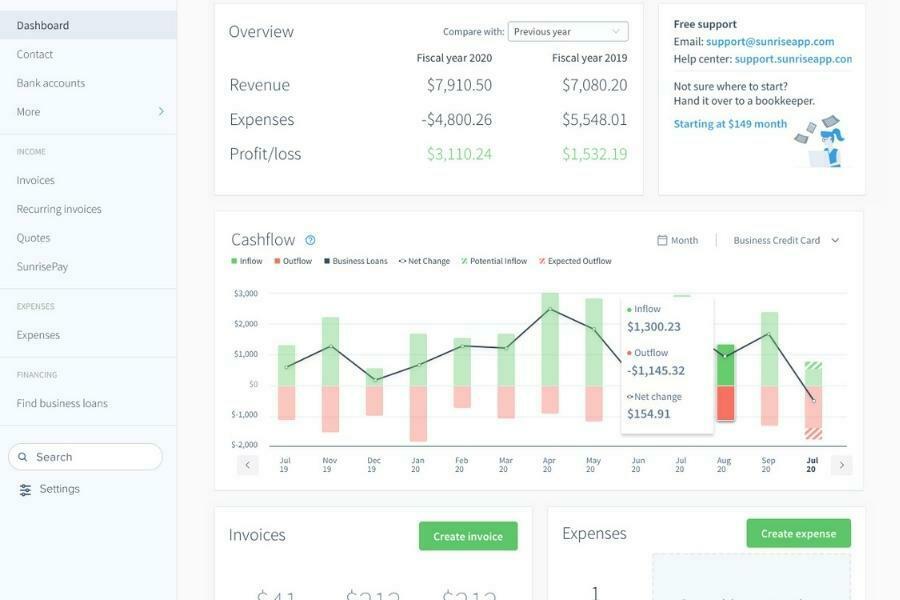 Sunrise is a cloud-based accounting application that helps small businesses and freelancers in all industries manage their finances. It offers a wide range of features, such as billing, invoicing, quote management, contact management, accounting, and more. This makes it an ideal tool for anyone looking to streamline their financial operations.
Additionally, Sunrise is easy to use, making it an ideal choice for those not particularly tech-savvy. It has a free, self-service plan that includes a broad range of features and enough flexibility for bookkeeping, allowing for unlimited invoices and transactions.
Sunrise Bookkeeping Software is a simple, successful software with a free plan that can work for many small companies. Sunrise's free plan is worth checking out if you need a short-term bookkeeping solution with an affordable upgrade fee.
6. NCH Express Accounts
NCH Express Accounts is a software program designed to assist small enterprises in keeping track of their finances. It allows users to log cash flow in and out, including sales, receipts, payments, and purchases.
Users can get live balances and reports. Real-time balances and reports are also available. Thanks to NCH Express Accounts, users may also fax or email their accountant directly and quickly prepare their tax returns with financial statements.
The program may also produce over 20 different financial reports, such as Income Sheets and Balance Statements, which can track development. Finally, NCH Express Accounts provides secure online mobile access.
Overall it is complete accounting software for small businesses medium-sized businesses. It's ideal for companies that need to track cash flow in and out.
Related: QuickBooks Review – Is the Best Accounting Software?
Limitations of Free Accounting Software
Limited features: Free accounting software usually has limited features compared to its paid counterparts. This can be a significant limitation for businesses that need more comprehensive features to manage their finances.
Restrictions on the number of users: Many free software programs only allow a certain number of users, which can be a problem for businesses with many employees. On the other hand, paid accounting software provides you with unlimited users access.
Limited storage capacity: Free software may also have a limited storage capacity, which can be a problem for businesses that need to store a lot of data.
Lack of customer support: One of the most significant drawbacks of free software is the lack of customer support. If you have any problems with the software, you're on your own.
Limited customization options: Free software often has limited customization options, which can be a problem for businesses that need to tailor it to their specific needs.
Inventory management: Many free software programs don't include inventory management features, which can be a problem for businesses that need to track their inventory.
Limited reporting capabilities: Free software often has limited reporting capabilities, making it difficult to get a comprehensive overview of your finances.
These are just a few of the limitations of free accounting software. If you're looking for a more comprehensive solution, you may want to consider paying for a software program. However, if you're on a tight budget, free software may be a good option for you. Just be aware of the limitations and make sure the software meets your needs.
Related: Best Softwares for Small Business
Final Thoughts
No matter what business you're in, bookkeeping is essential. Otherwise, it would be challenging to track your finances and make sound decisions about your business.
While several different bookkeeping software programs are on the market, not all are created equal. Some are better suited for certain businesses than others.
This blog post has looked at six of the best free bookkeeping software programs for small businesses. Each program has its strengths and weaknesses, so be sure to choose the one that's right for your business.
Thanks For Reading!