Disclaimer: We sometimes use affiliate links in our content. For more information, visit our Disclaimer Page. 
Even though running a small business is hard, it is also hard to maintain its accounting records. Therefore, finding the best free bookkeeping software for your needs is imperative. There are several different free accounting programs available, and each one has its own set of features and benefits.
However, not all free accounting programs are created equal, and there are limitations, no advanced features, and difficult-to-navigate interfaces among the problems that can arise with free programs.
This article will discuss eight of the best free bookkeeping software programs. We'll also examine their pros and cons, so you can decide which is right for you. Let's get started!
Here are our top picks!
8 Best Free Bookkeeping Software for Small Business
The best free accounting software options offer an enticing $0 price tag but should not be limited to just being free. Even if they are free, the best free accounting software options should still be reliable, secure, and feature-rich. Here are some of the best.
1. Wave
Despite being the free accounting software choice of over 3.5 million people, Wave stands out from the competition because of its forever-free plan. It doesn't come with any limitations like some other free software. Besides being easy to use, this cloud-based software offers a robust feature set that is on par with most paid software services.
Customizing invoices, estimates, expense tracking, and bank reconciliation is possible when you use Wave. You will also be able to create journal entries, inventory lists, and a chart of accounts that can be customized according to your needs. Despite some shortcomings, Wave has generally received positive reviews from its users.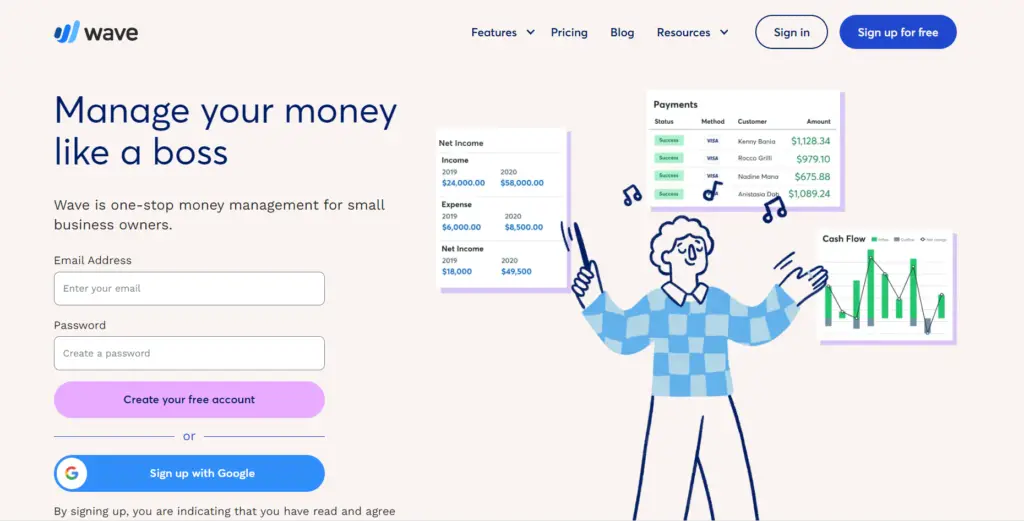 Why did we choose it?
There are many reasons why Wave is our top choice for small business accounting software. First and foremost, it is free. While you can pay for add-ons, such as payroll, payment processing, or professional bookkeeping services, all other features are available at no cost. 
With Wave, you don't have to spend a lot of time learning the ropes of accounting software – it can be used by business owners who don't have much money to invest in accounting software. Furthermore, Wave supports multiple businesses, additional users (with four permission levels), and personal finance tracking. 
This makes it an excellent option for businesses with multiple employees needing to track their finances in detail. Overall, Wave is an excellent choice for small businesses that need solid accounting features without a high price tag.
Features:
Reports: With Wave, you can create reports in four categories: tax reports, profit and loss reports, customer and vendor reports, and balance reports.
Expenses: A vendor CRM lets you manage your vendor contacts, as well as keep track of bills, receipts, and product and service purchases.
Customer CRM: Adding customer contact information to Wave is as simple as adding it manually or importing it from Google Contacts or a CSV file.
Invoicing & Sales: Businesses can customize invoices with company logos based on three pre-built invoice templates. Wave's invoicing feature is as straightforward as it gets. 
Dashboard: It shows your net income, payables, and owing as well as a graph of your cash flow, profit, loss report, and expenses breakdown by year and month. 
Pricing:
Paid add-ons are available on Wave Accounting, including credit card processing starting at 2.9% plus $0.60 per transaction and ACH bank account payments with a 1% fee per transaction.
Additionally, Wave provides payroll services starting at $20 monthly, with an additional $6 monthly for each employee. Wave Advisors' monthly tax and bookkeeping services begin at $149 for bookkeeping and payroll coaching. Tax services start at $899 annually, and accounting and payroll coaching begin at $229 annually.
Wave offers a $35 package for those who only need payroll services.
Security features that are strong and reliable

Using this software is simple and easy

The feature set of this product is excellent

It has no limitations as far as features are concerned
There are a limited number of integrations available

There is no support for multiple users in this application
2. Zoho Books
Zoho Books is a cloud-based bookkeeping software for small businesses. It offers invoicing, expense tracking, and project management features, making it a comprehensive solution for managing your finances.
It has 16 invoice templates that can be easily customized to suit your business needs and multiple automation, making the invoicing process quicker and easier. In addition, Zoho Books has an excellent public reputation and outstanding customer support. Though there are some limitations with the free plan, it is still an excellent option for businesses that want powerful accounting software without the monthly subscription fee.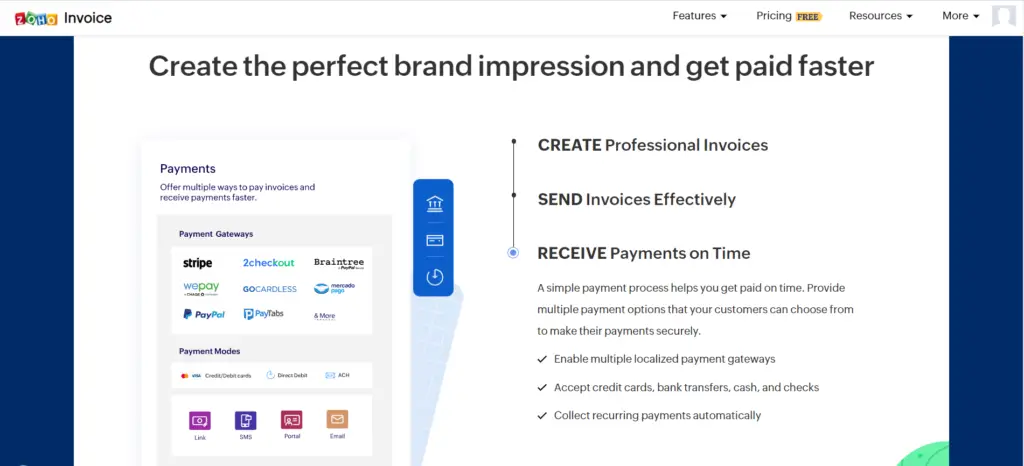 Why did we choose it?
Zoho Books is an excellent option if you're a small business owner looking for an accounting software Package that can do it all. Zoho Books offers excellent invoicing features, ample features, and integrations, and now includes payroll integration – a significant feature gap in previous versions. 
With new features and the same excellent customer service, Zoho Books is great accounting software for small business owners and is an excellent alternative to QuickBooks Online. So if you're looking for an all-in-one accounting solution that won't break the bank, check out Zoho Books!
Features:
Automation: With Zoho Books, you can automate your workflow and save time.
Invoicing: Invoices can be converted from sales orders and estimates with a few clicks, edited as needed, and rearranged via drag and drop.
Online payments: Authorize.Net, Braintree, PayPal, Square, Stripe, WePay, Worldpay, and 2Checkout support connecting your account to popular payment gateways.
Expense tracking: The expense tracking feature allows you to easily track and manage your expenses. You can categorize your expenses by type, add receipts and supporting documents, and track your expenses against a budget to see how you're doing.
Bank reconciliation: The bank reconciliation feature can help you reconcile your bank and credit card transactions, ensuring that your financial records are accurate and up to date. You can easily import transactions from your bank or credit card provider and match them with your existing records in Zoho Books.
Tax compliance: The tax compliance feature can help you stay on top of your tax obligations by providing features such as tax rate tracking, tax payment reminders, and tax reports. This can help you ensure that you're paying the correct amount of tax and avoid penalties from the tax authorities.
Project management: The project management feature can help you keep track of your project expenses, revenue, and profitability. You can create projects and task lists, assign tasks to team members, and track the status of your projects to see how they're progressing.
Mobile app: Zoho Books has a mobile app, like many accounting programs.
Pricing:

Zoho Books offers free features, but additional fees apply to extra users.
The basic plan costs $15 for up to three users. The professional plan costs $40 and includes up to five users. The premium plan costs $60 and accommodates up to ten users. Additionally, this plan includes integrations with Shopify stores and warehouse management. The elite package costs $120 and provides access for up to ten users, while the ultimate package allows up to fifteen users and costs $240.
The feature set of this product is strong

Invoicing with advanced features

Support from the customer service department is excellent

Powerful mobile application that can complete almost any accounting task
Several advanced features can only be accessed by paying subscribers

Invoices are limited under the free plan
3. Fiverr Workspace
It is freelancer-friendly accounting software for freelancers, microbusinesses, and independent contractors. Fiver Workspace (formerly known as AND CO) is not full-fledged accounting software. Still, it provides plenty of essential tools that benefit freelancers, small businesses, and independent contractors. In Fiverr Workspace, you can track expenses, manage contacts, create invoices, and track time in an easy-to-use way.
It is possible to upgrade to a paid subscription if you need to invoice more clients. If you aren't a freelancer but a small business owner, you may need more tools than Fiverr Workspace offers. The management software, however, has several useful features with an easy-to-use interface that helps freelancers simplify their bookkeeping and accounting needs.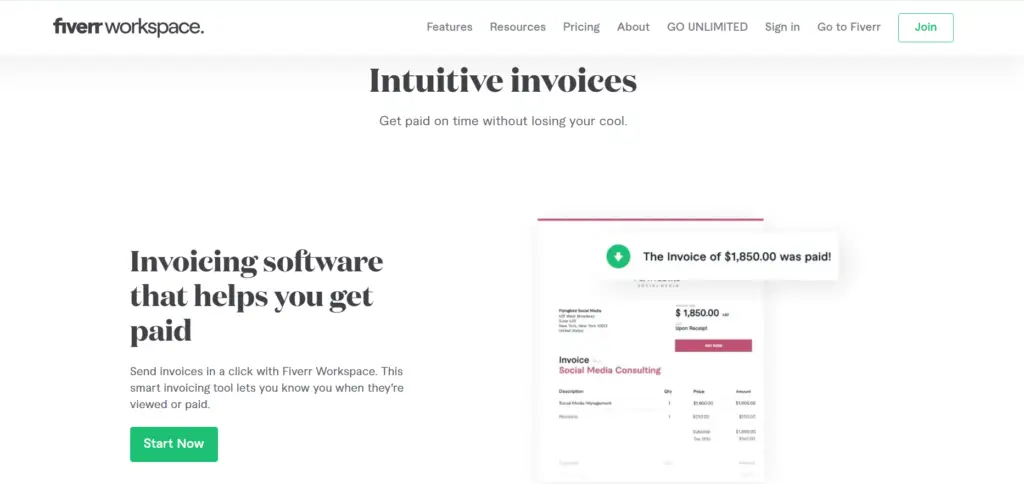 Why did we choose it?
Among the many features offered by Fiverr Workspace are the invoicing, expense tracking, time tracking, contracts, and reports that it offers as a freelancer management software. The features of Fiverr Workspace make it a good choice for freelancers, independent contractors, and micro-businesses that provide services. In addition, Fiverr Workspace offers outstanding customer support and a free plan, making it easy for freelancers to use as a bookkeeping and invoicing tool.
The Fiverr Workspace platform will not be suitable for businesses that require full accounting software or anything more than the basics. As a result, the software is noticeably lacking in essential features, such as tax support and mileage deductions, which would benefit freelancers with multiple clients. Even though Fiverr Workspace has a free version, its limitations make this software useless for freelancers.
Features:
Dashboard: You can quickly look at your finances and tasks in Fiverr Workspace via the "My Desk" dashboard.
Invoicing: There is only one invoice template available in Fiverr Workspace, which makes it very easy to use.
Client Portal: Invoices can be viewed and paid directly through the client portal.
Contact Management: Fiverr Workspace lets you save client information so that you can create projects and invoice your clients more efficiently.
Expense Tracking: Fiverr Workspace automatically tracks income and expenses through live bank feeds, or you can enter them manually.
Pricing: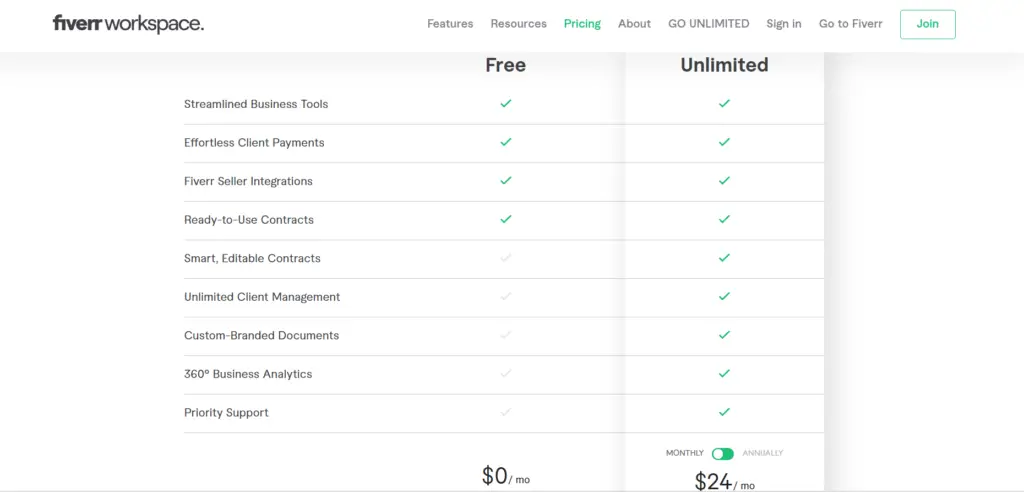 Fiverr Workspace's free invoice generator is a great tool to try if you need a quick and easy way to create professional invoices for your business. The process is straightforward – fill out all the necessary information in the invoice, and you can then save, print, or send it electronically to your clients.
For $24 a month, you'll be able to invoice unlimited customers. However, you must upgrade to the Unlimited plan if you have more than one client. With this plan, you'll also have access to features such as non-branded invoicing and customized contracts for your business.
Using this software is simple and easy.

This company provides an exceptional level of customer service

Apps for solid mobile devices

Software that is based on the cloud
There is a limit of one client per free plan

There are a limited number of integrations available
4. ZipBooks
Keeping track of finances can be daunting for small business owners. There are so many different aspects to manage, and it can be easy to get overwhelmed. That's where ZipBooks comes in. ZipBooks is free accounting software that was designed specifically for small business owners. It automates many tasks that would otherwise be manual, making the accounting process more straightforward and less time-consuming. 
A ZipBooks account allows you to manage contacts, send invoices to customers, and access business health scores for free. In addition, the actual monthly membership plans are available at ZipBooks for those looking for additional features. As well as providing excellent customer service, ZipBooks offers robust security.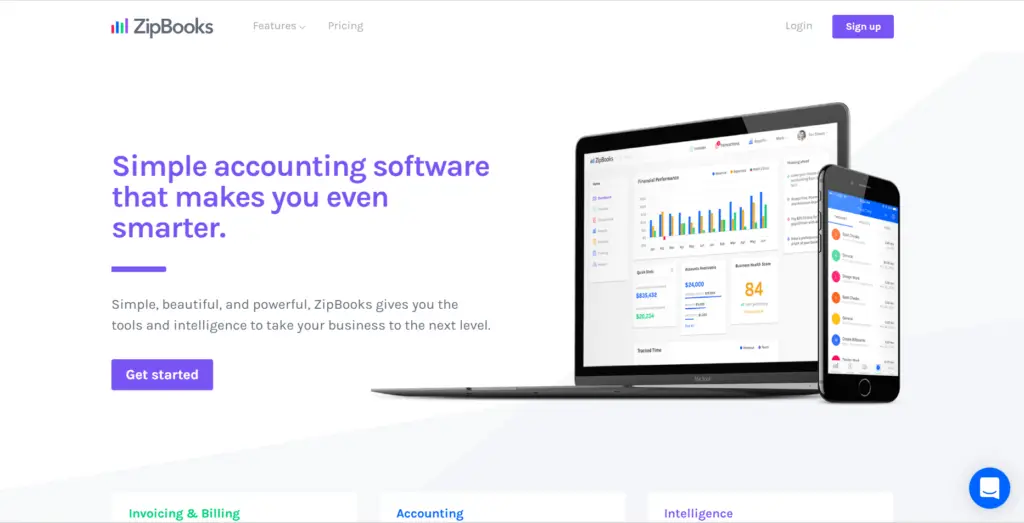 Why did we choose it?
With ZipBooks accounting software, you can simplify the confusing lingo and complexity of accounting by automating as many processes as possible. ZipBooks is known for its robust features, affordable pricing, and consistent updates. Its intuitive, colorful design offers several features, such as invoicing, contact management, project management, and time tracking. In addition, it features a color-coded design, making it easy to use and easy to navigate.
Even though ZipBooks is an online service that gives you business advice and health scores based on the data you enter, there is also a great free plan, high-quality customer service, and marketing add-ons that can assist your business in growing.
Features:
Accounting: Its accounting functionality streamlines the accounting process while including a variety of instruments that make bookkeeping more accessible than ever. It includes tools such as a general ledger, balance sheet, accounts receivables, payables, income statements, and tax invoices.
Bank reconciliation: This feature comes with an intuitive import tool. It eliminates any inconsistencies between your accounts and the bank's records and consolidates all your information regarding deposits, withdrawals, and invoices. Even when you can't connect to your bank, you can still import bank statements into ZipBooks.
Invoicing and billing: It is easy to create and send invoices with the billing management feature. Using the auto-billing function, you can also track and organize billable expenses to be reimbursed quickly. The software also includes expense management.
Business intelligence (BI): With this module, you can turn your data into actionable insights. Reports, machine learning, and customized scores help you identify where and how to improve. You will receive a score of invoice quality and a business health score. You will then receive customized recommendations for helping your company succeed.
Pricing
The ZipBooks Starter plan is entirely free. However, if you want access to more features, you can upgrade to one of ZipBooks' paid subscriptions.
For $15/month, you can sign up for the Smarter plan, which boasts additional features and automation, including scheduled recurring invoices, time tracking, and support for up to five team members. For $35/month, you can upgrade to the Sophisticated plan, which includes smart tagging, additional reports, and support for unlimited users.
Software that is hosted in the cloud

Features that provide a high level of security

Using the application is very easy

Support from the customer service department is good
Only limited integrations are available

It is important to note that the free plan has some limitations
5. Odoo
Unlike other software on our list, Odoo is different because it is not an accounting program. Instead, the name Odoo derives from its enterprise resource planning (ERP) software. While it could be technical, we will keep it simple: Odoo is a business application provider that offers over 40 business applications, including Odoo Accounting. 
The best thing about Odoo Accounting is that it can be used either as an accounting tool alone or you can use it in conjunction with other small business apps that you might have. The best thing about Odoo Accounting is that it can be completely customized to suit your business's needs right now and scalable for your business's needs in the future.
This review will focus primarily on Odoo Accounting, a small business accounting software package that includes what you would expect from small business accounting software. For example, it includes a chart of accounts, invoicing, expense tracking, accounts payable, and essential inventory management, among other features. 
Furthermore, the software is easy to use, and you can choose between a web-hosted and an on-premise installation, which may affect your monthly cost, although the choice will not affect the ease of use.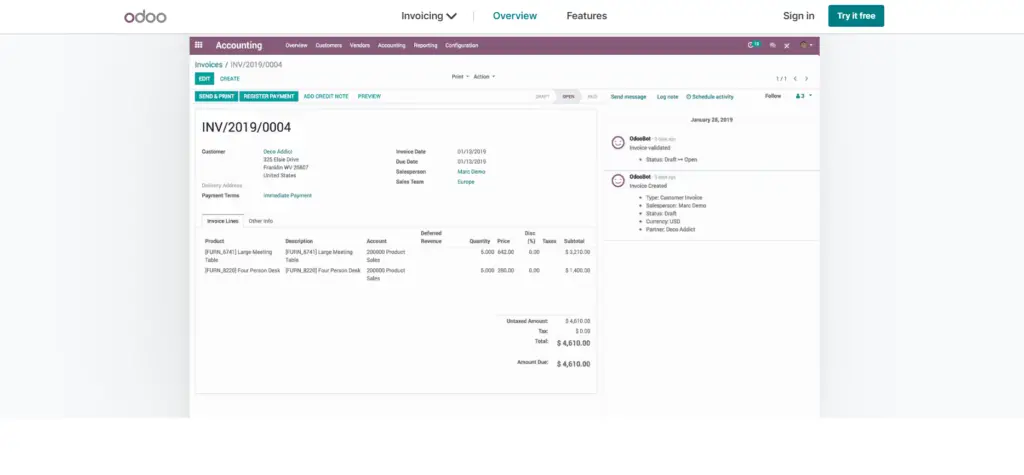 Why did we choose it?
It offers a complete chart of accounts, fixed assets management, depreciation, accounts payable, basic reports, and more, along with solid accounting. Despite this modular pricing model, Odoo is cheaper than most of its ERP competitors. You must purchase Odoo's other applications to access key features such as project management, time tracking, and estimates.
Other accounting programs offer more features for less money if you are only interested in a small business accounting solution. In the event, however, that you are looking for a complete ERP solution or that you are a developer who is enthusiastic about the idea of totally customizing your software, Odoo could be an excellent option for you.
Features:
Fully Integrated Software: There are several extensions and additional modules in the ERP and core modules.
Multi-Odoo: Managing multiple business units within a company's business software must be seamless.
Limitless Customization: A complex business process often requires an individualized approach or solution. Odoo can provide almost anything you need.
Impressive User Interface: A business software's user interface impacts how efficiently it runs the connected business processes.
Warehouse Management System: Make your warehouse processes more efficient with the Odoo Inventory App, which integrates barcode scanning and QR codes.
Pricing:
This is free software that you can use for most of your tasks, but you will have to pay extra for extra users, apps, and integrations if you want them.
The use of open-source software

A customizable solution

A scalable solution

It is easy to use
There is a lack of customer service at the company

The cost of scaling up can be pretty high
6. GnuCash
To maintain a smooth process, GnuCash is available for free download on Linux, Windows, and Mac OS X and offers numerous features that can help you manage your business. For example, it features double-entry accounting, a checkbook-style register, scheduled transactions, and customizable visual reports.
Many potential users might not want to use GnuCash because of its initial setup and somewhat dated interface. However, suppose you're willing to endure the tricky installation process and don't need an excellent accounting solution. In that case, you'll be left with a solid accounting solution for free that covers many of your business needs.
There is no denying that GnuCash is an excellent tool for small businesses that are looking to expand into a larger market. However, it might not be the best choice for companies anticipating rapid growth. It suits sole proprietors who need a simple tool to keep them organized.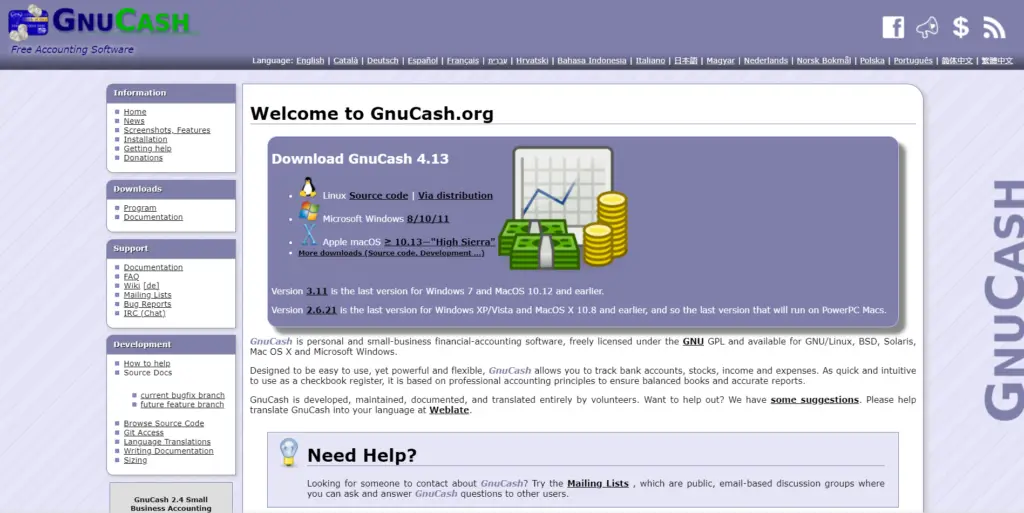 Why did we choose it?
The GnuCash budgeting software is based on the double-entry accounting system, which requires that every transaction be debited from one account and credited to another. It can track bank accounts, stocks, income, and expenses, and it also allows users to import the information of their bank accounts, so they don't have to input this information manually.
Key Features:
Reporting: You can view financial data in graphs, pie charts, or scatter plots. Take advantage of a comprehensive suite of reports which includes standard options as well as those that can be customized. 
Data Storage: Create an XML backup for every saved file. Store data in an SQL database. Store data locally on the computer.  
Multi-Currency Options: Using double-entry, create separate accounts with different denominations and fully balanced currency movements.
QIF: Create a QIF file in Intuit and use it as a starting point to migrate smoothly from other software using Intuit's practical assistant.
Reports: Organize data into bar charts, pie charts, scatter plots, and pie charts based on the business's requirements.
HBCI Support: German users can download statements, initiate transfers, and initiate direct debits through the German Home Banking Computer Information protocol.
Pricing:
It is free.
Compatible with Linux, MacOS, and Windows devices

Free and open-source

Cross-platform

Wide range of features
Fewer features compared to some commercial invoicing solutions

Less visually appealing than some modern invoicing tools

Requires more setup and configuration compared to some turnkey solutions

Smaller user base and community compared to other invoicing tools, potentially limiting support options

7. Akaunting: Best for Businesses Looking for a Truly One-Stop
The Akaunting accounting software is a free, open-source accounting solution that small businesses and freelancers can use! It consists of an array of features that can be retrieved for free, making it one of the few "one-stop-shop" solutions on the market.
It is free online accounting software, meaning you can access it from any device connected to the internet, whether a desktop computer, tablet device, or mobile device. It offers many features that help you manage cash flow, track expenses, handle invoicing, and set up transaction categories.
Besides offering a client portal, it allows you to accept bulk payments and share transactions with your clients. In addition to boasting over 270,000 users, Akaunting is available in over 50 languages and is one of the most widely used open-source solutions available today.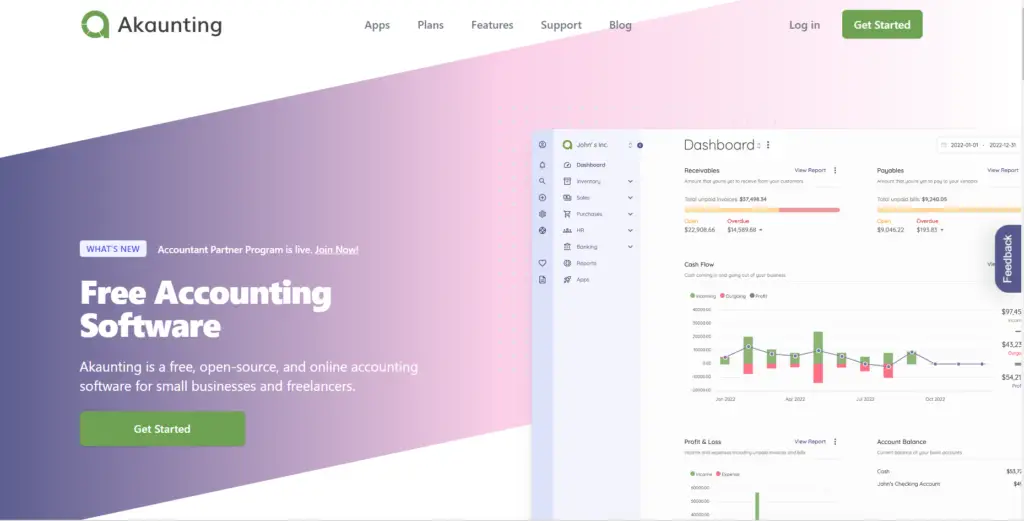 Why did we choose it?
For businesses, accounting is an essential but often complex and time-consuming task. Akaunting streamlines this process by providing a comprehensive yet easy-to-use platform that covers all the bases. For example, estimates and invoices can be created with just a few clicks, and income and expenses can be tracked in real time. 
The client portal allows for easy sharing of transaction details and invoices, and easy payments can be accepted online. With Akaunting, businesses can finally get a handle on their finances and free up time to focus on what they do best.
Features:
Accounting: Provides you with assistance with accounting and customer management.
Email Integration: By using Akaunting, you can integrate your emails
Expense Management: This makes it easier to calculate your expenses.
HR & Payroll: Provides you with assistance when it comes to payroll.
Inventory Management: Ensure that your inventory information is kept up to date.
Invoice: There is the option to obtain an invoice.
Pricing:
It is a free accounting program for 1 user. Still, suppose you are looking for unlimited users. In that case, you will have to pay $36 per month for that service, giving you premium support, rank feeds, balance sheets, general ledgers, charts, expense claims, two-factor authentication, and a client portal.
An all-in-one free resource

Easily accessible from any location

The open-source software is secure and open
Support that seems questionable

Operational difficulties may arise
8. CloudBooks
Small businesses and freelancers can use CloudBooks, which needs basic accounting features. Over 2 million people subscribe to the program, providing a range of features, including invoicing, time-tracking, reporting, and payments.
There is no question that the platform is primarily a solution for managing invoices – and that can be an advantage or a disadvantage, depending on what you intend to accomplish with it.
The main selling point of CloudBooks is its invoicing functionality – meaning that its accounting capabilities aren't as well fleshed out as those of other programs on this list.
There are a lot of cloud-based invoice creation and management solutions available, but Cloudbooks is of particular value when looking for exceptional invoice creation and management software. However, if you require a more robust accounting solution, you might want to look elsewhere.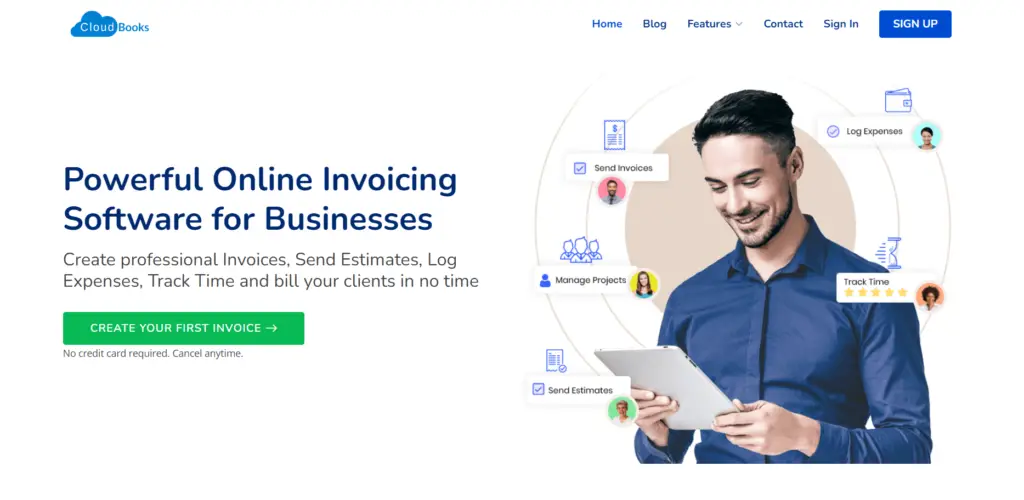 Why did we choose it?
We chose Cloudbooks because it helps us to monitor project costs in real-time. This is essential for our business, as it allows us to add project expenses to invoices and bill projects to the right client. 
The application also monitors project progress, checking the time spent on a particular project and comparing it with the time allocated. This helps us to ensure that our projects are on track and that we are meeting our deadlines. Overall, Cloudbooks is a valuable tool that helps us to manage our projects effectively and efficiently.
Features:
Track invoices & payments: Keep track of all your invoices, and see which ones have been paid and which remain unpaid.
Accept online payments: By allowing customers to pay online for their invoices, you can ensure faster payments.
Automate repeat invoices: Automate the sending of recurring invoices to your customers by using recurring invoices.
Automate follow-up: Avoid manually following up on every invoice by configuring auto-reminders in the service.
Manage Invoices Online: Automate recurring invoices and use the invoice template to design your invoice and brand it with your business logo. Then, create, track, and export your invoices online.
Track Expenses: Keeping accurate financial records and invoicing reimbursable expenses such as travel will allow you to reimburse your clients for those expenses.
Pricing:
If you are interested in upgrading, you can get extra 5 users for 799 per month for the team plan and 1597.99 per month for the unlimited plan. You can also get this for a lifetime if you are willing to pay 79899 for it.
The number of users is unlimited

Email support is available

Stores data in the cloud for free

A reasonable price is charged for upgraded plans
Limits the number of clients you can bill

Limit of five invoices per month

Support is not available by phone or chat
What Features to Look For in Free Accounting Software
Here are some features you need to look for
→ Accessibility
You are probably not an accountant looking for free accounting software. Instead, you are trying to grow a business, and if you are trying to do that, you must focus on your long-term plans and day-to-day operations to achieve your goals. At least not yet; you will not have to spend too much time and energy learning complicated, overly technical accounting software.
As your business grows, it becomes increasingly important to use an accounting platform with an accessible interface and straightforward functionality. When determining which free accounting software is right for your company, you must prioritize accessibility over functionality.
→ Connectivity With Credit Cards and Bank Accounts
Manual receipt entry can be highly time-consuming if your business has many transactions. Thus, if you are exploring your options, it is always a good idea to find free accounting software that can connect with your credit cards and bank accounts to automate this process.
→ The Ability to Export Your Records
As your business grows, you are almost sure to reach the limits of your free accounting software as it reaches the limits of its capabilities. You will probably want to upgrade to a paid accounting program when your business starts to grow in this manner. The data you have accrued in your free accounting solution will not be lost if you move on from it.
During the transition from your free application to a paid one, you will need to maintain the historical records stored in your free application. You can prepare for this transition ahead of time by utilizing a program that will assist you with seamlessly exporting and migrating those previous records to your new application.
→ The Specific Features You Need
When it comes down to it, your business is your business – your specific needs and priorities will determine what kind of accounting solution you need to manage your business effectively.
When selecting your software, you must take the time to understand the needs and priorities and seek out programs that offer the necessary features to suit them.
Limitations of Using Free Accounting Software
The following are some of the limitations of using free accounting software for your business:
1. Limited Number of Users
There are often only a few users you can grant access to with free accounting software — and that number is usually one. It might be a good idea to consider using a paid option if multiple people within your organization need to utilize the solution regularly.
2. Lack of Scalability
Several free accounting applications limit how many transactions you can perform or how many records you can keep. Hence, as your business scales, you will likely have to deal with both more and more frequently. In some cases, going with a free accounting solution may not be sustainable in the long run.
3. Difficulty Migrating Your Data
You should remember that if you switch between a free accounting solution and a paid one, you will have to migrate your existing data. Some free accounting solutions are more complex and frustrating than others – be aware of this when choosing your platform.
4. A Lack of Access to a Fuller Suite of Features
There is a reason why free accounting solutions are available. In many cases, they are offered as a free trial and a preview of a fully fleshed-out accounting application in the context of a "freemium" model. Using a free accounting program will likely settle for less than the premium version until you can justify a premium package.
Related: Non profit Accounting Software Free Options
When Should You Upgrade To Paid Accounting Software?
For a while, it's lovely to use free accounting software. However, businesses will inevitably reach a point where they need more than even the best free software can offer. That's when they should upgrade to paid software. So how do you know when it's time to switch? Here are some reasons:
Advanced Features: You'll need to upgrade your free plan to a paid subscription if you want access to the more advanced features you'll find in full accounting software. You can explore various paid subscription options if you prefer the free plan.
Customized Accounting: If you want a program specifically tailored to your field of work or a program that is scalable to meet the demands of your business, customization usually comes at a price.
Improved Reporting: If you are looking to make significant changes to your business, if you are looking to add more employees, or when you are looking to gain funding from a lender, you may need the ability to generate advanced reports. While most free software can offer you a few reports, you will usually need a subscription to access advanced reports.
Latest version: It's essential to consider your options if your current free software is becoming slow, outdated, or doesn't offer the features you need. If you find that other free applications aren't quite meeting your needs, it's time to upgrade to paid software.
Related: Best Accounting Software for Small Law Firms
Conclusion
While it might be tempting to try and save money by using free bookkeeping software, it's essential to consider your options and weigh the pros and cons before making a decision.
We hope this article has given you some insights into eight of the best free bookkeeping software programs available and helped you decide which one is right for you. Tell us in the comment section below if you have questions or suggestions about bookkeeping software.
FAQ
Is Excel an accounting software?
Excel can be used for accounting, but it is not explicitly designed for that purpose. However, some features in Excel can make it worthwhile for accounting, such as the ability to create formulas and track data over time.
Does Google have a bookkeeping program?
Google does have a bookkeeping program, but it's not the same as traditional bookkeeping software. Instead, Google Sheets is a spreadsheet application that lets you create and edit spreadsheets online.
Do small businesses use QuickBooks?
Yes, many small businesses use QuickBooks. It's an excellent tool for managing finances and tracking business expenses.
What is AR automation software?
AR automation software is a piece of software that allows you to control and automate tasks using augmented reality. It inserts digital objects into the real world, which you can interact with to control the task.
Can I be my accountant for my small business?
You could be your accountant, but hiring one would probably be a better idea. The reason being is that accounting is a complex and ever-changing field. As a result, you may not be up-to-date on all the latest tax laws and accounting procedure changes.