Disclaimer: We sometimes use affiliate links in our content. For more information, visit our Disclaimer Page. 
Small businesses can benefit from using invoicing software to manage their finances. In addition to automating the billing process, invoicing software can help companies keep track of their spending, make informed strategic decisions about pricing, and improve customer service.
While there are several free invoicing software options available, be sure to choose one that meets the specific needs of your business.
To help you get started, we've compiled a list of the three best free invoicing apps. So let's dive right in!
Best Free Invoice Software for Small Businesses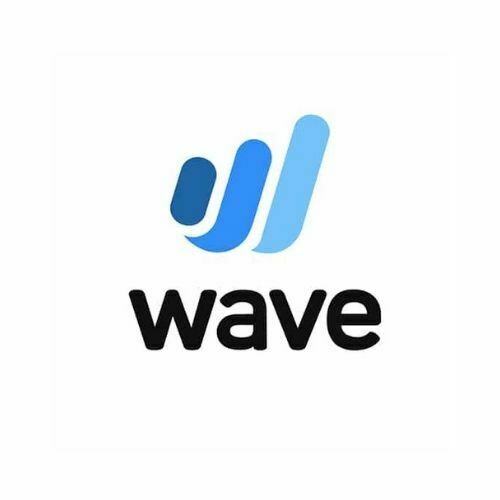 Wave
Overview
Wave is free invoicing software with many features and integrations to help you manage your finances.
Pros
👍 Excellent Invoice and transaction management
👍 Feature-rich dashboard
👍 User-friendly
👍 Unlimited users with varying user permissions
Cons
👎 No additional plans to increase functionality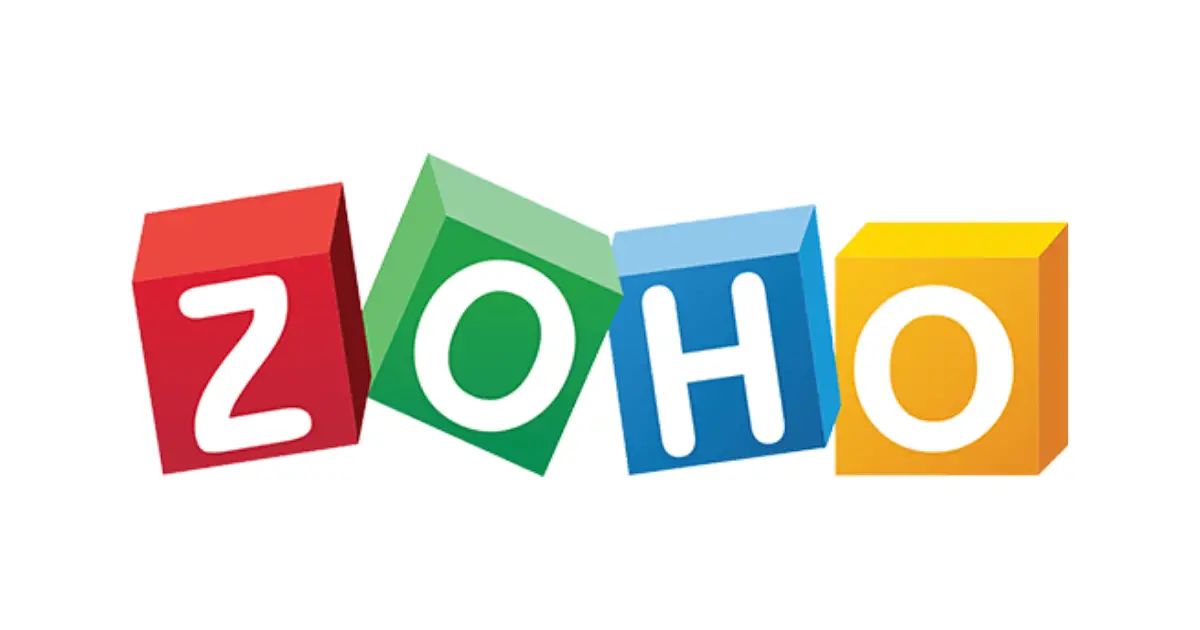 Zoho Invoice
Overview
Zoho Invoice is a simple yet powerful online invoicing software that helps you craft professional invoices and reminders, track expenses, log your work hours, and get paid faster.
Pros
👍
Deep customizability
👍
Advanced invoicing features
👍
Excellent mobile invoicing
👍
Easy to use
Cons
👎
Limited functionalities for the free tier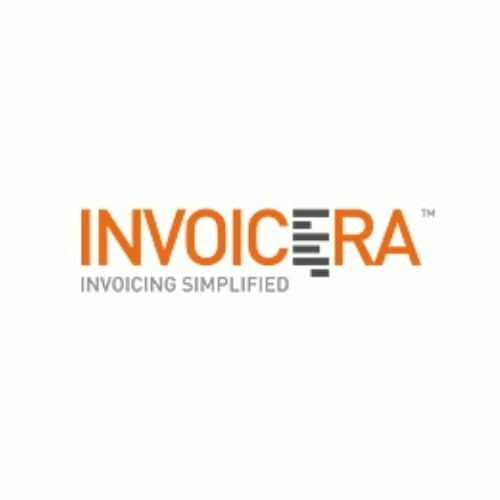 Invoicera
Overview
Invoicera offers features tailored to small businesses needs, including customizable invoice templates, automatic billing, and more.
Pros
👍 Numerous integrations
👍 Reasonably priced
👍 Comprehensive features
👍 Attractive invoicing templates
Cons
👎 Inconsistent customer support
Here are three of the best free invoice software options for small businesses in more detail:
1. Wave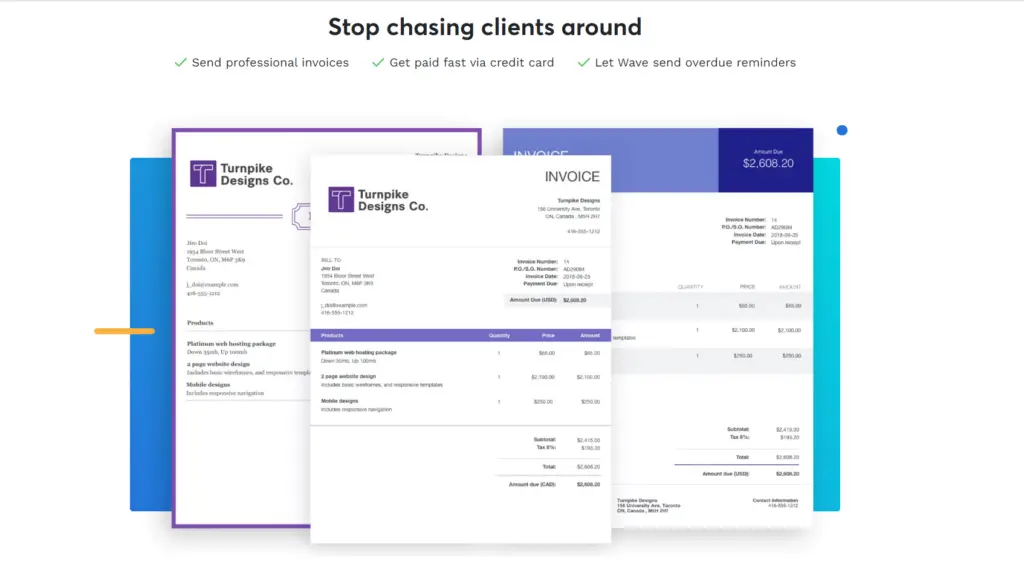 Wave is an all-in-one solution for managing business finances. With Wave, you can create invoices, track payments, and manage expenses. Plus, this free invoice software is packed with features that make it easy to keep track of your business' growth. You can even use Wave to pay employees and contractors. You can also design professional-looking invoices using Wave's templates or create custom designs. Plus, Wave integrates with QuickBooks and Xero, so you can easily manage your finances from one platform.
→ Transaction Table
Wave's Transaction Table includes all the information you need about your transactions, including the date, description, amount, and account. This makes it easy to track your spending and cashflows. In addition, the Transaction Table can be sorted by date or account, making it easy to find specific transactions. Wave also makes it easy to add new transactions, so you can always keep your accounting up-to-date.
→ Tax Support
Filing taxes can be complicated and time-consuming, but Wave makes it easier by integrating with H&R Block. With this integration, you can file your taxes directly through Wave without switching back and forth between platforms. There is an additional fee for filing your taxes through Wave, but this fee is generally lower than the fees charged by other tax filing services. Moreover, Wave offers a 100% accuracy guarantee, so you can be confident that your taxes will be filed correctly.
→ Reporting & Budgeting
Wave's Reporting & Budgeting is an essential tool for small business owners. You can easily track your income and expenses to see where your money goes each month. You can also use Wave to create a budget and monitor how much you need to spend on each category of expenses. Reports are easy to use and understand and valuable for organizing your finances.
Pricing

The Wave Accounting Free Plan is an excellent option for individuals who want to monitor their income, expenses, and sales tax. This plan utilizes a fully functional double-entry system that ensures accuracy and completeness in all financial transactions.
One of the significant advantages of this plan is the ability to generate financial statements for year-end, which makes it easy to stay compliant. Additionally, there is no limit to the number of partners, collaborators, or accountants that can be added to the account, ensuring that everyone has access to the information they need.
With Wave Accounting, you have all the necessary tools to manage your finances in one convenient location. This includes the ability to track income and expenses, generate invoices, and monitor sales tax. Whether you're a small business owner or a freelancer, the Wave Accounting Free Plan is an excellent choice for keeping your finances in order.
Related: Best Tax Software for Small Business
2. Zoho Invoice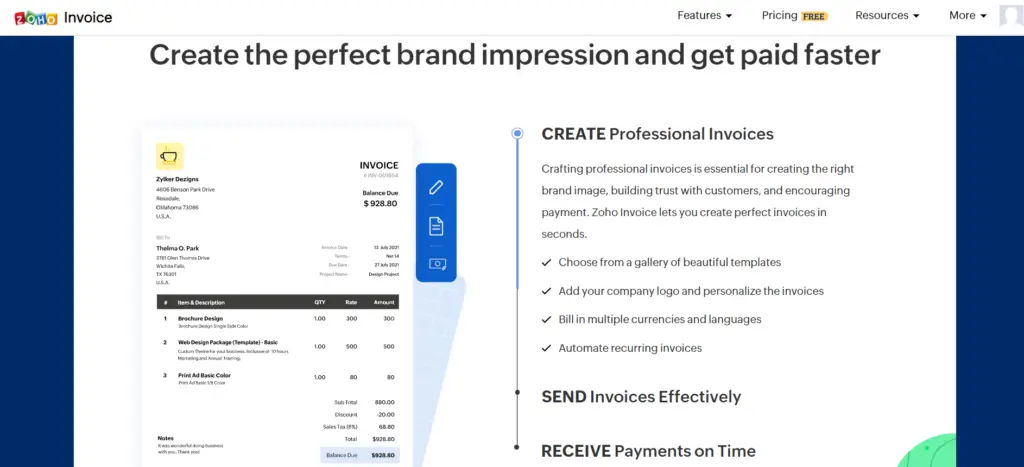 Zoho Invoice has been developed as an online application to offer free invoicing services for small businesses of up to five different clients. It provides over 80 invoice templates, professional layouts, and themes to help you professionally present your company branding.
In addition, you can manage time tracking, warranty management, and other tasks with the project management tools available. Zoho Invoice integrates with Zoho Books so that you can manage your finances in one place. You can get paid faster by setting up online payments and getting real-time visibility into your cash flow.
→ Unified Dashboard
Zoho Invoice's Dashboard is a beneficial tool for business owners. It provides a quick and easy way to keep track of your finances and can be customized to show only your information. For example, the dashboard shows total receivables and their aging, unbilled hours and expenses, and top expenses displayed as a pie chart.
This information is vital for businesses as it helps them stay on top of their finances and make informed decisions about allocating their resources. Thdashboardrd is a simple yet powerful tool that can help business owners better understand and manage their finances.
→ Client Portal
Client Portal gives clients access to their home dashboards, estimates, invoices, and projects and allows them to make full or partial payments directly through the portal. The portal is easy to use and makes managing your finances a breeze. With Zoho's technical support, you can rest assured that any questions you have will be answered quickly and efficiently.
→ Estimates
Estimates are a valuable tool for any business. They allow you to provide potential customers with a price quote for your services, and they can also help you keep track of your costs. With 15 different estimate templates to choose from, you can easily find the right one for your needs. You can also duplicate estimates or convert them into invoices or projects.
Pricing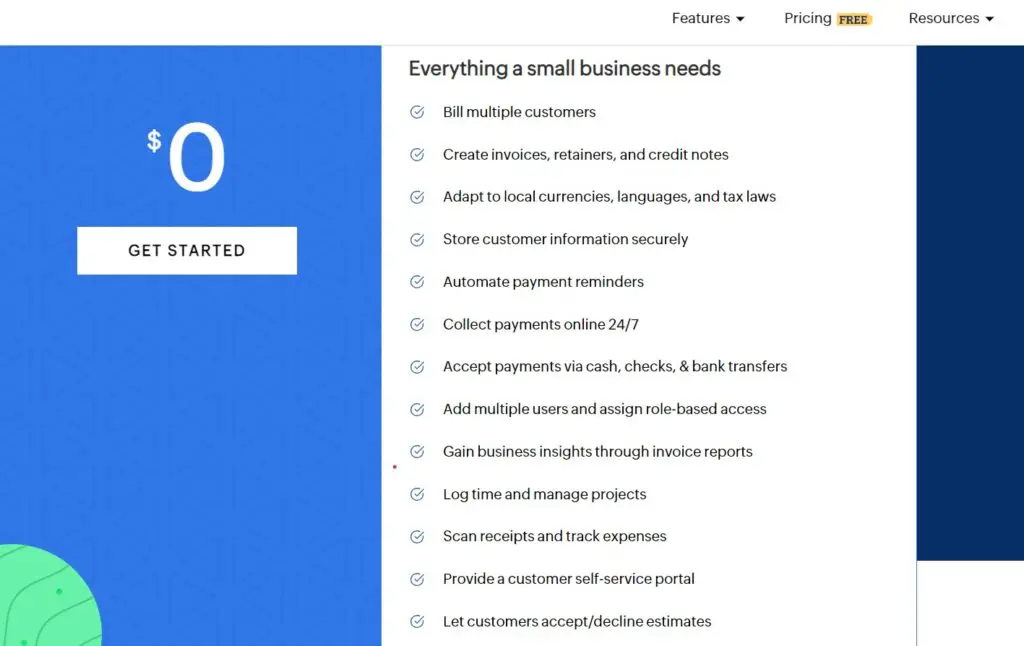 Zoho Invoice's free plan is an excellent solution for businesses that need to bill multiple customers. With Zoho Invoice, you can create invoices, retainers, and credit notes and automate payment reminders so that you can collect payments online 24/7. With Zoho Invoice's free plan, you can use all of the software's features without paying a monthly subscription fee.
That said, there are a few limitations to the free plan. For example, you can only create invoices for five clients and use Zoho Invoice for one user. Nevertheless, the free plan is a great way to get started with Zoho Invoice and see if it meets your business needs.
Related: Best Free Bookkeeping Software for Small Business
3. Invoicera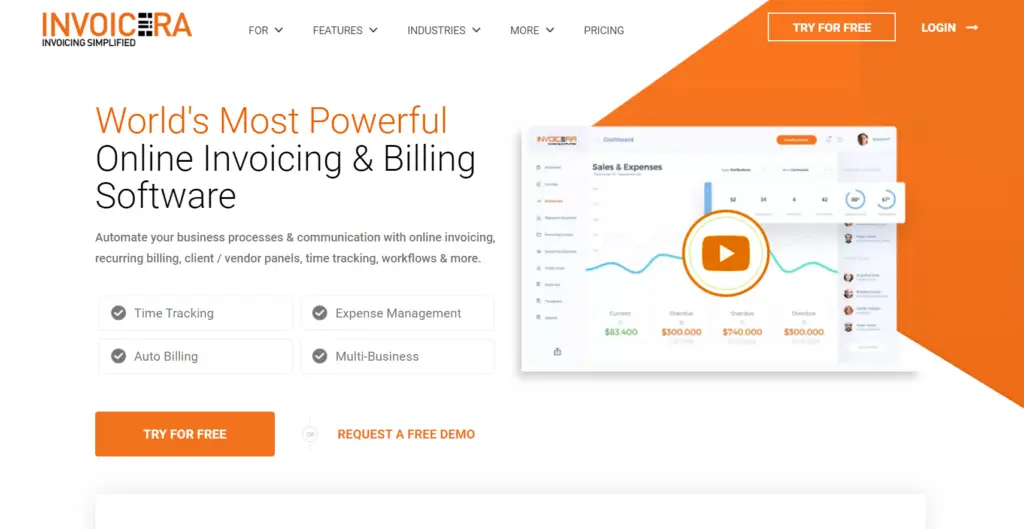 Invoicera is an easy-to-use online invoicing and billing software that lets you create, send and manage invoices with just a few clicks. It offers a wide range of features tailored to small businesses needs, including customizable invoice templates, automatic billing, tracking payments, and more. Invoicera makes it easy to get paid on time and manage your finances, so you can focus on growing your business.
→ Contact Management
Invoicera's contact management feature is a great way to keep track of your customers and vendors. You can add basic contact information and both billing and shipping addresses. This feature makes it easy to keep track of your contacts and ensure they always have the most up-to-date information.
Moreover, the contact management feature can help you build better relationships with your customers and vendors by keeping track of their communication history. With the contact management feature, you can always be sure that you provide the best possible service to your customers.
→ Invoicing
Invoicera offers businesses a simple, efficient way to invoice customers and get paid. Companies can find the perfect fit for their business with seven different templates. Or, if they prefer, they can design their custom template.
Invoicera makes it easy to send invoices, accept payments online, and manage customer information. And with its built-in reports, businesses can see which invoices are due, which are overdue, and which have been paid.
→ Expense Tracking
With Invoicera, You can add attachments to each expense entry, such as pictures of receipts. This makes managing your spending easy and ensures all expenses are accounted for. You can also import expenses via .xls or .csv, which is handy if you have a lot of expenses to track.
Furthermore, Invoicera offers numerous features and options that allow you to customize the expense tracking process to suit your needs. For example, you can set up recurring payments, create budgets, and generate reports.
Pricing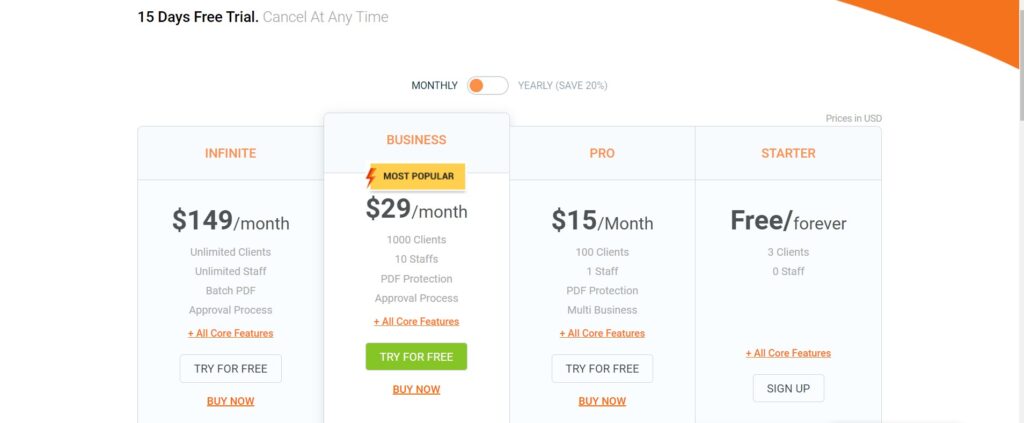 ◈ STARTER – $0
Invoicera is a versatile, easy-to-use invoicing software for small businesses. With the starter plan, you can have three clients and support multiple companies. Unlimited invoices and recurring invoices make it easy to keep track of your sales, and automatic payment reminders ensure that you get paid on time. Estimates are also handy for keeping track of potential sales. Overall, the starter plan is a great way to get started with Invoicera.
◈ PRO – $15
The professional plan is ideal for businesses with up to 100 clients. With this plan, you get all the features of the starter plan plus support for multiple currencies, custom branding, and advanced reporting. You can also generate invoices in multiple languages for international clients. This plan also allows you to set up payment terms and late fees to customize the invoicing process to suit your needs.
◈ BUSINESS – $29
The Business Plan from Invoicera gives you all the features you need to manage your invoicing, with no limits on the number of clients or staff. In addition, with API access, you can easily integrate Invoicera with your existing accounting software.
The invoice approval process ensures that all invoices are reviewed and approved by the appropriate staff member before they're sent out. And with PDF protection, you can be sure that your invoices can't be altered or tampered with. With its competitive pricing and powerful features, Invoicera's Business Plan is great for businesses.
◈ INFINITE – $149
The Infinite Plan from Invoicera gives you the power to handle an unlimited number of clients and staff, with features like API access, PDF protection, and batch PDF invoicing to make your life easier. With this plan, you'll also be able to take advantage of our invoice approval process to ensure your invoices are accurate and compliant before they're sent out. And with advanced reports, you can track your business's performance and get insights into your sales, customers, and more.
Conclusion
If you're a small business owner, then you know how important it is to have a good invoicing system. The three software we've listed are great options for anyone needing a simple and effective way to invoice their customers. We hope this list has helped you find the perfect app for your needs!
Related: QuickBooks Review