Disclaimer: We sometimes use affiliate links in our content. For more information, visit our Disclaimer Page. 
Whether you are a freelancer, an entrepreneur, a sole proprietor, or a small business owner, you will need the right software to help you maximize your efficiency and productivity. In our opinion, Zoho One is the best business software for sole proprietors.
Zoho One has many features that make it the perfect software for a sole proprietor. It offers Sales and Marketing, CRM, Finance and Accounting, HR and Payroll, Inventory Management, E-Commerce Platforms, and many other features. We will examine each of these features in more detail.
By the end of this article, you will understand precisely why Zoho One is such an excellent choice for your business needs.
What is Zoho One?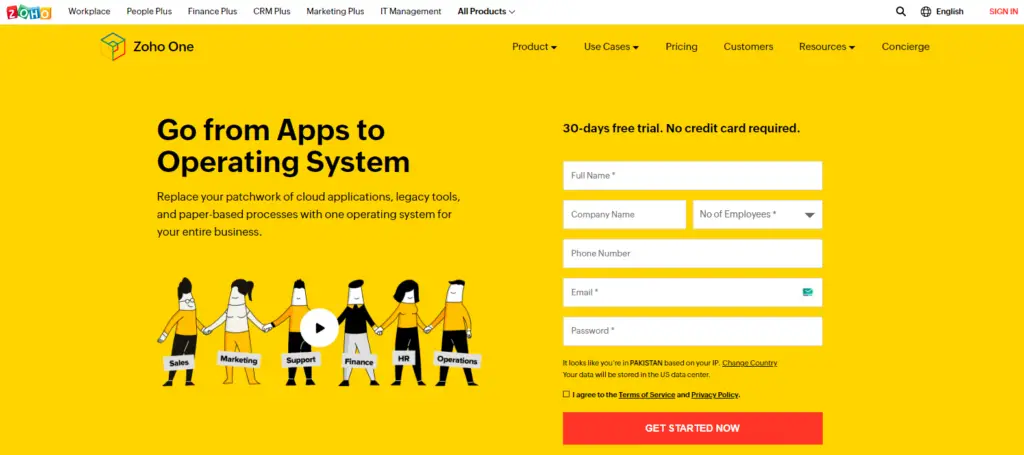 Zoho One is a software solution that offers a range of business tools and applications in a single, integrated system.
The software is designed to help businesses streamline and automate various activities and processes, increasing productivity and efficiency. It also aims to improve customer experiences by providing tools and features for customer relationship management, marketing, sales, and more.
Some of the specific features and tools offered by Zoho One include email, document management, project management, accounting, and customer support. Overall, Zoho One aims to be a comprehensive solution for businesses looking to optimize and streamline their operations.
Zoho One Software Categories
To understand the software better, we have categorized it into the following groups with applications so that you can understand it better.
1. Sales & Marketing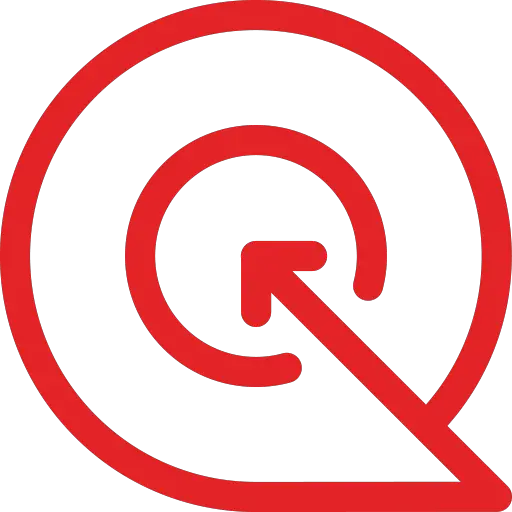 Zoho Sales is designed to help businesses streamline and optimize their sales processes.

You can attract and convert leads, nurture relationships with customers, and measure the success of your marketing with Zoho's sales and marketing tools. You can use these tools for marketing automation, email marketing, social media marketing, customer segmentation, and lead generation.
To accelerate closing more business deals, give your sales staff the perfect collection of apps.
Bigin: Using an intuitive CRM solution makes it easier for small companies to keep track of daily operations, stay in touch with clients, and develop faster. You also get several pipelines to work from.
Campaigns: You can customize emails, send them directly to recipients' inboxes, automate processes, and connect with new clients using tools for email marketing.
Forms: Using built-in applications, you can design forms, share them online, and get prompt notifications.
Sign: This will be your all-in-one app for digital signatures in the business world.
Social: A tool for tracking your social media activity, keeping track of what's essential, and generating customized reports.
Salesiq: Using Salesiq's all-in-one live chat and analytics platform, you won't have to worry about losing touch with your customers and can learn more about them.
Survey: Using this tool, you can quickly create a survey according to your company's needs.
Sites: It is possible to create any website using this app, depending on your needs.
PageSense: This analytics tool allows you to track essential website metrics, understand the online activities of your visitors, and provide them with a customized website experience that will increase conversions on your website by providing them with a streamlined online experience.
Backstage: An event management tool that makes conferences, gatherings, and product launches more effective and impactful.
Commerce: A great eCommerce tool for creating a website, taking orders, monitoring inventory, handling payments, managing shipping, promoting your brand, and analyzing data.
Bookings: This app allows customers to self-book and pay for appointments while syncing their calendars.
Marketing Automation: Coordinate your marketing efforts across multiple channels with the help of an automated tool.
Landing Page: Make stunning landing pages with this software that helps you design and publish them.
Thrive: Implement a referral marketing campaign on your e-commerce platform to increase client growth.
2. CRM

As a CRM software provider, Zoho provides businesses with the tools to organize and track customer data, interactions, and sales opportunities. This section provides applications that can be used to help you establish positive customer relationships.
For example, it offers features like lead management, sales forecasting, customer service, and sales analytics. 
Desk: Optimize agent productivity, simplify customer service operations, and provide enduring client experiences with this extensive task desk.
Assist: An excellent customer support platform that enables safe remote support in the cloud.
Lens: It is software that provides remote support based on reality.
3. Finance

Zoho Finance is a suite of online apps that includes invoicing, inventory, and accounting tools.

The Zoho Finance tool suite helps businesses manage their financial operations in various ways, including invoicing, expenses, billing, and accounting. The package also includes tools for budgeting, forecasting, and presenting financial statements.
Expense: An automatic expense tracking system and recurring invoices are available
Inventory management: Managing the inventory of goods and services
Checkout: An online payment solution that can be used for both one-time and recurring payments
Subscriptions: A more innovative way to manage your subscription business' billing
Free Demo for Zoho Finance: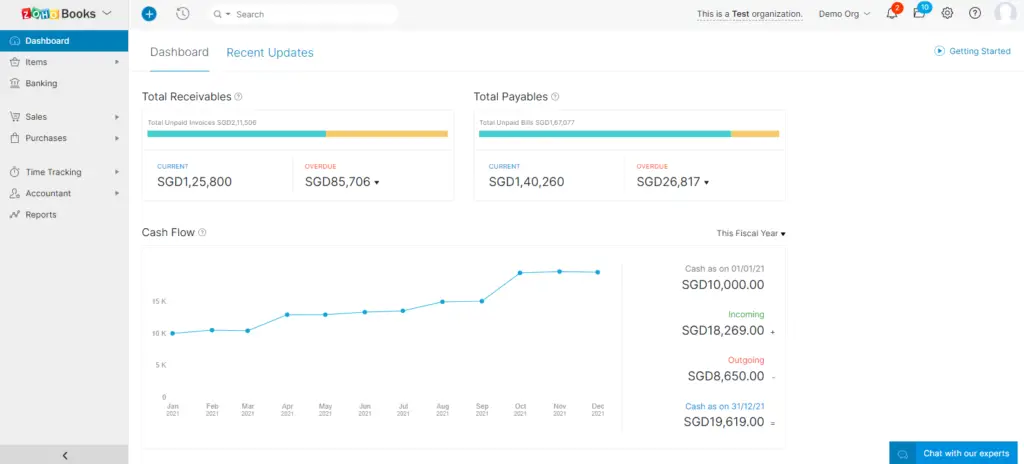 Zoho's offer of a demo account for its accounting software, Zoho Books, is great news for those looking to get acquainted with the product before making any commitments.
With the demo account, businesses can explore various features and observe first-hand how easy it can be to manage everyday operations like invoicing, tracking sales tax, and measuring income and expenses without worrying about costly subscriptions.
Best of all, the demo account comes complete with a sample company and dummy data so businesses can see exactly how everything works together. This feature is extremely helpful in helping users decide if this software is worth investing in!
4. Email & Collaboration

It is a suite of online tools designed to help teams work together more efficiently.

You can use Zoho for many email and collaboration tools to help your team and customers communicate and collaborate more effectively.
These tools include email, instant messaging, document management, and project management. Using this platform, your staff can collaborate and automate tasks.
Mail: A secure, encrypted, privacy-guaranteed, and ad-free business email service that you can use to host your business emails on the cloud.
Meeting: Organize webinars and meetings online, allowing people from all over the world to collaborate, work together, and communicate effectively.
Cliq: Cliq is a tool that makes it easier for your team to communicate with one another by providing structured discussions and easy access to information.
Voice: This is a great way to instantly connect to high-quality voice services worldwide.
Workdrive: A collaborative file management system that can be accessed from anywhere.
Writer: A robust word processor that can be accessed from any device.
Sheet: You can use this app for free to make spreadsheets that your teams can use to collaborate efficiently.
Show: Create expert slides, collaborate with your team, and deliver visually appealing presentations from anywhere, on any device, all for free, using this interactive presentation tool.
Projects: Cloud-based project management software allows you to keep track of your work, collaborate with your team, and organize your work effectively.
Sprints: It is a tool that aids teams in implementing a collaborative and iterative working style that allows them to manage projects in an agile manner.
Bugtracker: This makes managing bugs and delivering excellent products easy and fast with this straightforward, fast, and scalable bug-tracking software.
Connect: Using this app, employees can collaborate, communicate internally, and engage with one another.
Showtime: The platform is an all-in-one solution that gives you access to expert trainers and comprehensive presentation tools, which allow you to create compelling content and deliver presentations.
Notebook: Notebook is an excellent application for taking notes on any device.
Teaminbox: It is so helpful to provide your teams with the convenience of working in a transparent environment by providing them with shared inboxes through this tool.
Zeptomail: You can concentrate on growing your business while we handle the timely delivery of these crucial transactional emails.
Learn: Learn how to create and track training programs, track the effects of your training, and capture and retain your team's knowledge with this comprehensive learning management system.
Calendar: Scheduling is simplified for businesses with an online calendar.
5. Human Resources

An online human resource management system designed to help businesses manage and access employee data from a centralized location.

Several human resources tools are offered by Zoho, including payroll, benefits, onboarding, training, and time-tracking tools. Zoho is a company that offers tools for managing employee information, payroll, benefits, and performance. With Zoho solutions, you can focus on managing your team rather than managing your human resources operations. 
Recruit: Recruit's scalability, customization, and remote hiring tools allow your staffing company or HR team to match the ideal candidate to the ideal role.
People: This cloud-based HR platform enables effective and agile HR management, supports staff, and adapts quickly to changes.
Workerly: Staffing companies can use this system to manage the entire lifecycle of temporary workers.
Backtowork: You can improve your work environment and workflow with this solution.
Shifts: The purpose of this plugin is to allow you to schedule shifts in a specific way.
6. Security & IT Management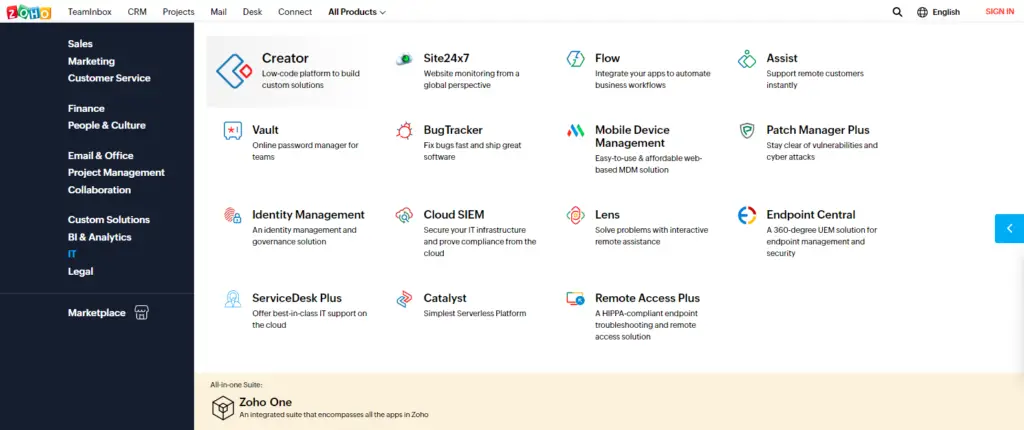 Businesses can utilize Zoho's security and IT management tools to protect their data and systems, including data backups, disaster recovery tools, and security monitoring tools to help them protect their systems and data.
You need the Vault password manager to keep track of your passwords securely and automatically fill them into applications and websites.
ServiceDesk Plus: A user-friendly and easy-to-use SaaS service desk application.
Mobile Device Management: With this app, you can configure, manage, and secure your enterprise mobile devices and applications.
Patch Manager: A cloud-based patch management solution that is thorough and automated.
Remote Access Plus: Connect securely and unattended with a mouse click.
Site24x7: A solution for monitoring the performance of DevOps and IT Operations
Cloud SIEM: You can quickly identify threats with this solution.
Identify Management: By using this app, end users can access applications they need quickly, and IT administrators can keep an eye on application access from a single dashboard.
Endpoint Central: With this solution, you can manage your IT infrastructure's endpoints and simultaneously ensure network security.
Domain Toolkit: This is an all-in-one, free resource for administrators searching for information about their domains.
7. Custom Solutions

Custom Solutions Platform enables you to transform your industry expertise into ready-to-deploy multi-platform cloud applications.

As part of its Custom Solutions offering, Zoho offers businesses the ability to tailor their software solutions to meet the specific needs of their businesses.
Using these solutions, businesses can automate processes, integrate them with other systems, and customize their software to suit their specific needs.
Catalyst: Developers can create and implement cutting-edge solutions without managing servers with a serverless platform.
Flow: A tool for automating business workflows and building clever integrations.
Office Integrator: Integrate Zoho's world-class office editors into your web applications easily and securely.
QNTRL: Provides visibility, control, and automation with its Workflow Orchestration Software.
ResearchStudio: A cloud-based qualitative research repository for sharing, analyzing, and creating insights.
Apptics: Software that measures the important metrics in mobile apps.
8. Business Intelligence

The business intelligence tools provided by Zoho provide businesses with insights into their performance and operations. These tools include dashboards, reports, and data visualization. Using a cutting-edge self-service business intelligence & analytics platform, you can empower your organization with insightful data.
Analytics: In this app, you can connect to, prepare, and analyze your data, visualize the data, and uncover insights you never knew existed.
Datarep: Tools for connecting, exploring, transforming, and enriching data for analytics, machine learning, migration, and data warehousing.
Embedded BI: Business intelligence and analytics software that can be embedded into any application.
Related: Best Free Bookkeeping Software for Small Business
What are the Key Features of Zoho?
In terms of self-employed accounting software, Zoho One provides the following features to its users.
1. Workflow Automation
Managing a micro business is hard work, so saving time is critical. Zoho One automates the accounting process by eliminating otherwise time-consuming tasks. Zoho One workflow automation tools make creating and sending recurring invoices and automatic payment reminders to overdue clients easy.
With automatic reminders and notifications, you'll always know when your bills are due. This program also does account reconciliation for you, so you don't have to spend time checking the books for inconsistencies.
2. Invoicing
Zoho's invoicing feature is a must-have tool for any sole proprietor. It allows you to quickly and easily create professional-looking invoices and keep track of them in one place.
With Zoho's invoicing, you can also stay on top of your finances with real-time payment tracking, set automatic reminders to ensure timely payments, and even send out personalized discounts and promotions to encourage customer loyalty. These are just a few features that make Zoho's invoicing an invaluable business asset for solo entrepreneurs.
3. User-Friendly Dashboard
In accounting software, the dashboard should be easy to navigate and easily digestible. Zoho One' dashboard is relatively sparse but still informative. There are many essential details, such as income and expenses, credits, and cash flow, but the design is straightforward. It doesn't overwhelm you like some more comprehensive accounting programs.
Because many sole proprietors do not have a team to focus on financial information all day, the data must be easy to contextualize and understand. With Zoho One, you'll find all the information you need in an organized package with a few helpful visualizations.
4. Online Payments
You want to get paid securely and quickly when you run a micro business that relies on cash flow. With Zoho One, you can choose from several integrations: click the gear icon and select the one you want. Stripe, PayPal, Authorize.Net, Payflow Pro, Payments Pro, 2Checkout, Braintree, Forte, Worldpay, Square, ACH Payments, and WePay are the complete list of payment gateways. 
5. Motivator
Your sales team's targets, incentives, and promotions can be taken to new levels of success with Zoho, which builds on the excitement of the sales floor. Regardless of where your team takes their calls, trophies and badges become part of the competitive sales atmosphere – no matter where your team generates leads, makes calls, or closes deals.
Your teams can stay on their toes with pop-up notifications that keep them updated on their daily, weekly, monthly, quarterly, or annual goals.
6. Add-ons and Integrations
Four subscription bundles are available on this site, including the ability to connect to third-party software and apps for online meetings, team collaboration, telephony, productivity, storage, analytics, email marketing, customer service, finance, business operations, and website visitor tracking.
In addition to Zoom, GoTo Meeting, Slack, Trello, Dropbox, Google Analytics, Mailchimp, Zendesk, and QuickBooks online, you'll find tools like Zoom, GoTo Meeting, Slack, Trello, Dropbox, Google Analytics, Mailchimp and Zendesk.
7. Online payments
With Zoho's online payment feature for sole proprietors, business owners can rest easy knowing that their money-handling processes are secure and efficient. Paying vendors and customers online is a tremendous time-saver, eliminating the need for traditional, paper-based transactions. 
8. Client Portal
Through Zoho's Client Portal, sole proprietors can streamline customer interactions and communication while providing enhanced security. The integrated e-payment system lets clients view their documents and relevant information and pay invoices online.
Additionally, clients can access various reporting features that track project progress and payment. 
9. Mobile application
Zoho One has a mobile app that makes it easy to access its core features anytime, anywhere, and from any device with an internet connection.
Related: Best Inventory Software for Small Business
Zoho One Pros and Cons:
The following are some of the pros and cons that can be found with the software.
Every module offers depth and flexibility

Forms for sales and expenses in multiple formats

Reports that are excellent and customizable

Support options that are second to none

Using SurePayroll as an integration

A great mobile app
Some very businesses may find it too complex

Projects must be linked to time tracking

Assembly inventory is not available

There is a limited pool of accountant partners
Why Choose Zoho One as the Best Business Software for Sole Proprietor?
Zoho One is ideal for small businesses and sole proprietors looking to simplify their accounting and operational processes. With its user-friendly interface, small business owners can quickly identify the features most suited to their needs among the wide range of Zoho offerings.
Small business accounting software helps businesses keep their books in order and manage finances easily. In contrast, the best business software for sole proprietors facilitates complex operations such as customer relationship management, project management, invoicing, and billing.
With Zoho One, small businesses and sole proprietors have a complete suite of digital tools designed to help them perform better every day.
Related: Best Banks for Small Business
Zoho One Software Cost
It is one of the few accounting software platforms offering a free version rather than a free trial. For a business owner starting, this can be an invaluable benefit.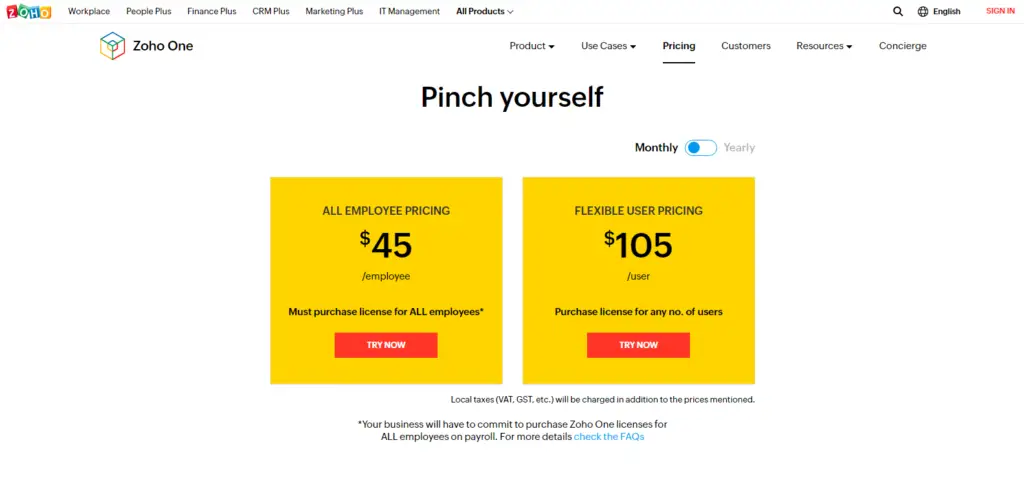 You can choose between two pricing options with Zoho One: all-employee pricing and flexible user pricing. The all-employee pricing starts at $45/per user per employee. There is no minimum number of employees needed to purchase the license. In the case of flexible user pricing, you will pay around $105/user/month, which means you will need to purchase a license for any number of users you wish.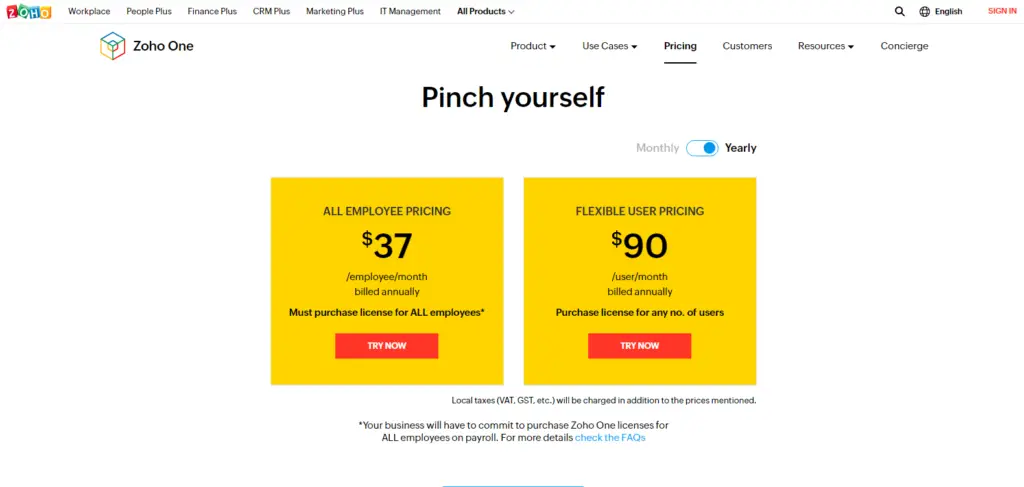 Zoho One also provides a yearly subscription. All employee pricing starts from $37/employee/month​ billed annually​. Flexible user pricing costs around $90/user/month​ billed annually​
Regardless of the pricing option you choose, it provides the following features: All-In-One Licensing Model, Centralized Administrative Control, One Invoice for Your Organization, 40+ Integrated Business Apps, Enterprise-level Features, Mobile, Native Apps, & Extras Included.
Related: Best Free CRM Software
Conclusion
Zoho One is excellent accounting software for very small businesses to medium businesses because of its features, price, and usability. The range of accounting software programs offered by Zoho can help organizations automate tedious accounting tasks while streamlining accounting operations and improving the accuracy of financial calculations.
If you are a sole proprietor or have a small business, we highly recommend giving it a try! Tell us in the comment section below if you have any questions or experiences with Zoho that you would like to share.
FAQ
What is the most accessible accounting software for self-employed?
Zoho Books is an excellent option because it is relatively easy to use and has great features like automatic invoicing and tracking of expenses. It also integrates with other Zoho products, which can be helpful if you use other Zoho products for your business.
Can you use QuickBooks as a sole proprietor?
Yes, you can use QuickBooks as a sole proprietor. QuickBooks is a great way to keep track of your business finances and help you stay organized and on top of your bookkeeping. It's also a good tool for preparing your taxes.