Disclaimer: We sometimes use affiliate links in our content. For more information, visit our Disclaimer Page. 
In the world of paperwork, signatures carry significant weight. Whether signing a legal document, supporting a check, or simply personalizing your possessions, your signature is your unique mark on the world. 
Crafting the perfect signature is an art! In this step-by-step guide, we will help you master this art to perfection.  In this guide, you will learn how to write a signature and authenticate your digital presence.
Key Takeaways
Perfecting your signature begins with honing your handwriting to ensure it's a distinct representation of your identity.
Understand and adhere to any legal requirements for signatures to maintain their validity across various contexts.
Choosing the right pen and practicing consistently are essential steps in creating a signature that's both professional and personal.
Personalizing your signature while keeping it readable is crucial to establishing your unique and professional mark.
Whether or not to include a title in your signature should be determined by the context of the document; professionalism and clarity are paramount.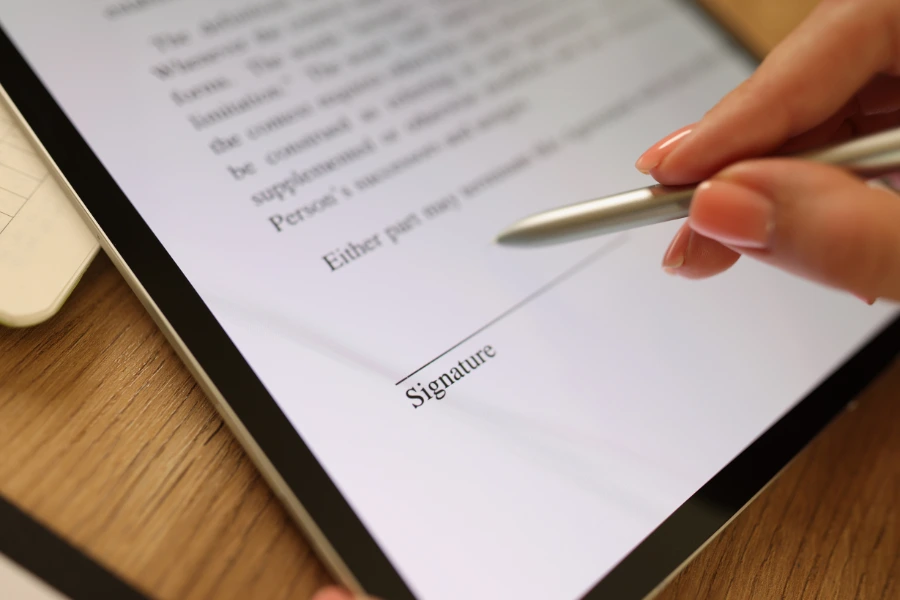 8 Essential Steps to Write Your Signature
Just like when you create your signature, writing a signature also has its steps. To make a perfect signature, follow these eight simple steps: 
Step 1: Hone Your Handwriting 
A remarkable signature starts with perfect handwriting. To create a signature that stands out, enhance your writing, as it forms the foundation of your unique mark.
Step 2: Know Legal Requirements 
Before diving into signature creation, research any local or industry-specific legal requirements for signatures. Understanding the guidelines is crucial to ensure the validity of your signature in various contexts.
Step 3: Choose Your Signature Name
Decide on the name you want to use in your signature. It could be your full name, initials, or a combination. This step establishes the foundation for your unique mark.
Step 4: Pick a Writing Style 
Select a readable writing style that suits you best, whether it's elegant writing or straightforward print. Your chosen style should be comfortable and easy to reproduce consistently.
Step 5: Practice, Practice 
Grab a stack of blank paper and practice your signature until you feel confident and at ease. Repetition is key to perfecting your unique mark.
Step 6: Choose the Right Pen 
Your choice of pen matters. Choose a black or blue pen when signing documents; they are the most readable and presentable options. Avoid using pencils or colored ink, as they can fade over time and compromise the visibility of your signature. Ensure the pen you choose writes clearly and doesn't spread.
Step 7: Position Matters
Place your signature in the designated space when signing a document. Typically, this is at the bottom of the page. Pay attention to the area's size and ensure your signature fits comfortably. Sign consistently and with a steady hand to make your signature Authentic and readable.
Step 8: Personalize Your Signature 
Adding a personal touch to your signature can make it uniquely yours. Consider adding small Flows, loops, or bold lettering, or even incorporate graphic elements that hold special meaning for you. However, balance personalization and readability to ensure your signature remains professional.
Do and Don'ts of Signature Creation
When crafting your signature, there are a few dose and don'ts to keep in mind:
Don'ts: Use Your Name or Initials. Make your signature uniquely yours by using your full name or initials. Avoid using someone else's signature, which can lead to legal issues.
Do: Keep It Readable. Your signature should reflect both your professional and personal identities. Ensure it remains straightforward to read, avoiding difficult words or symbols that could have unfavorable effects.
Is Including a Title After Your Signature Necessary?
The decision to add a title after your signature often depends on the document's context and purpose. The necessity of including a title can vary when dealing with academic papers or business letters. 
In some situations, joining your job title can be beneficial as it provides additional information about your role or position within an organization. This can enhance credibility and clarify your authority to sign on behalf of an entity, particularly in official letters. 
However, for personal notes or emails, adding a title might appear formal or unnecessary. It could even be interpreted as an attempt to elevate your position in certain cases. Therefore, it's essential to consider the document's context and purpose before deciding whether to include a title. It's often better to skip a tag when in doubt to avoid potential misunderstandings.
Choosing the Right Font for Your Signature:
Selecting an acceptable font for your signature is a personal choice that reflects your style and personality. There isn't a one-size-fits-all answer and many options to create a unique signature rather than using an existing font. 
However, it's crucial to prioritize readability for legal documents and contracts. Choose simple, legible fonts over give ones, as they convey professionalism and ensure that your signature remains easily recognizable.
Tips for Enhancing Your Signature:
There are a number of easy but effective techniques you may use to make your signature attractive and unique.
Consistency is key in maintaining a recognizable signature style, making it easier for others to identify your mark on various documents. 
Regular practice is essential to ensure that your signature becomes second nature, instilling comfort and confidence in your penmanship. 
Investing a small amount of time each day in perfecting your signature is a valuable commitment that leads to refinement and distinctiveness. 
Maintaining good posture and using a loose grip when signing not only promotes a smoother and more comfortable signing experience but also helps avoid hand tiredness, allowing you to consistently produce a clear and professional signature in all your efforts.
Conclusion
In conclusion, your signature is a personal mark of authenticity and identity. By following these eight steps and considering the dos and don'ts, you can create a perfect signature that represents you and stands the test of time, ensuring that your mark on the world is both distinct and legally sound. So, pick up that pen, start practicing, and craft a signature uniquely yours.
FAQs
How do I digitally write my signature?
To digitally write your signature, you can use tools like DocuSign, Adobe Sign, or Microsoft Word. Log in to your account, select 'Manage Profile,' and create a new electronic signature. Alternatively, you can draw your signature using a mouse or trackpad.
How do I create a digital signature in Word?
In Microsoft Word, open your document, click where you want to add your signature line and select 'Insert' > 'Signature Line' from the Text group. Follow the setup instructions to create your digital signature.
How can I do my digital signature?
You can create your digital signature by choosing a digital signature tool or services like Adobe Sign, DocuSign, or SignEasy. These tools provide easy-to-follow steps for creating and managing your digital signature.
How do I digitize my signature?
To digitize your signature, write it on a piece of paper, scan it, or take a photo. Then, use digital tools to crop and refine the scanned image, making it suitable for electronic use.
How to create a digital signature free?
Many digital signature tools offer free versions with limited features. For instance, you can use CreateMySignature's website to draw your signature for free. Explore these options to find the one that best suits your needs.