Disclaimer: We sometimes use affiliate links in our content. For more information, visit our Disclaimer Page. 
In today's fast-paced business world, effective leadership is the driving force behind every successful organization. Leaders play a critical role in shaping their teams' direction, culture, and overall performance by providing clear vision, fostering motivation, and ensuring smooth communication.
In this blog post, we will explore the essential roles of leadership in achieving organizational success and delve into strategies that can help leaders develop these skills further.
Key Takeaways
Effective leadership involves creating and communicating a clear vision, motivating and inspiring employees, effective communication, delegation, and empowerment of responsibilities, as well as decision-making and problem-solving.
Positive leadership impacts organizational success by building a positive work culture and providing guidance and support through an effective organizational structure.
A good leader plays a vital role in managing and motivating teams while creating a competitive advantage through strategic thinking. Developing practical leadership skills such as emotional intelligence, empathy, effective communication, and active listening promotes continuous learning toward personal and organizational growth to achieve success.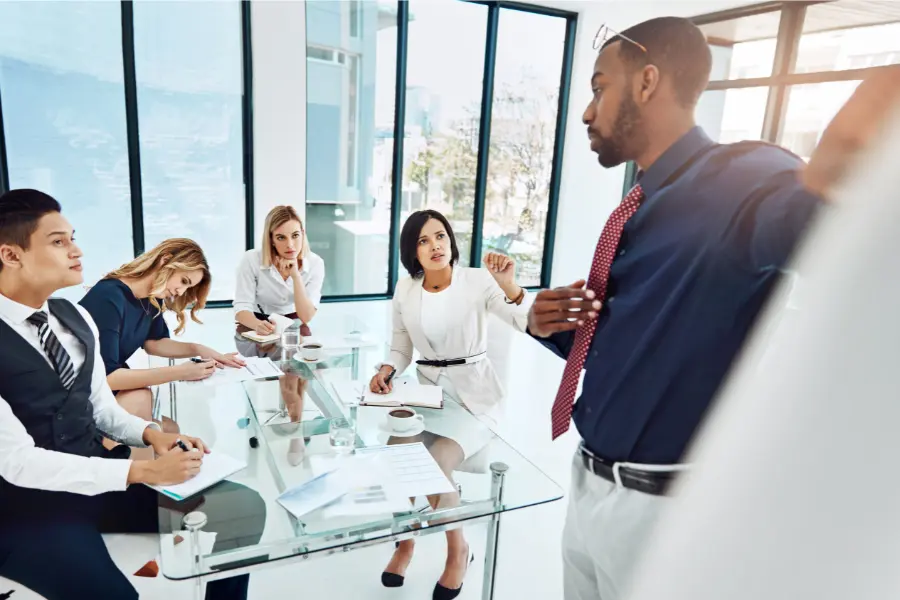 Essential Roles Of Leadership In An Organization
Leadership in successful organizations involves creating and communicating a clear vision and direction, motivating and inspiring employees, effective communication, delegation, empowerment, decision-making, and problem-solving.
Creating And Communicating A Clear Vision And Direction
Establishing a clear vision and direction is paramount to the success of any organization. Leaders who excel in this aspect can set long-term goals, define strategic objectives, and inspire their team members to work towards these shared aspirations.
For instance, when Apple Inc.'s late CEO Steve Jobs communicated his vision for creating user-friendly products that blend technology with artistry, he inspired an entire generation of innovators.
Not only did this unified vision lead to groundbreaking products like the iPhone and iPad, but it also fostered unparalleled commitment from Apple's employees. Thus, effective leadership involves crafting a compelling narrative around organizational goals while consistently reinforcing these messages through actions and communications strategies.
Motivating And Inspiring Employees
Influential leaders understand the importance of motivating and inspiring their employees. When leaders motivate and inspire their employees, they create a sense of purpose, engagement, and commitment to the organization's objectives.
Leaders need to know what motivates their team members and use that knowledge to create strategies that will drive productivity and improve job satisfaction.
For instance, an effective leader can organize regular team-building exercises or provide emotional support when needed. When employees feel valued by their leaders through recognition of good work or support during tough times, they are more likely to be motivated towards achieving organizational goals.
Effective Communication
Effective communication is a critical component of leadership that should always be noticed. Leaders must communicate their vision and goals for the organization clearly and concisely to all team members.
They should also encourage an open-door policy, ensuring everyone feels comfortable expressing themselves at any time.
For example, a leader might communicate with employees more frequently during change or uncertainty to ensure they remain engaged and productive.
Delegation And Empowerment
Delegation and empowerment are essential roles of leadership that enable a leader to focus on high-level tasks while entrusting their team members with significant responsibilities.
Effective delegation requires understanding each employee's strengths, weaknesses, and skill sets and utilizing them best.
Empowerment goes hand-in-hand with delegation as it gives employees autonomy to make decisions independently within their areas of responsibility. Empowered employees tend to be more motivated, engaged, and productive as they feel trusted and valued by their leaders.
By effectively delegating tasks and empowering employees, leaders free up time for themselves while creating a culture of trust, collaboration, and innovation where employees can thrive professionally.
Decision-making And Problem-solving
One of the essential roles that leaders play in every successful organization is decision-making and problem-solving. Leaders must make prompt, informed decisions when issues arise in the workplace, or opportunities present themselves.
Effective problem-solving requires both analytical thinking and creativity. Leaders must use data-driven analysis to determine the root cause of a problem, study trends and patterns, and explore new approaches for resolution.
Additionally, excellent decision-making involves understanding the risks while weighing potential outcomes against each other. Leaders combine past knowledge with best practices from their industry; they consider team opinions while remaining focused on solving an issue efficiently.
Positive Leadership And Its Impact On Organizational Success
Positive leadership creates a work culture that promotes employee well-being, productivity, and engagement, resulting in tremendous organizational success.
Building A Positive Work Culture
Building a positive work culture is an essential aspect of leadership in successful organizations. It creates an environment where employees feel valued, appreciated, and supported.
This often includes fostering open communication and collaboration between team members, encouraging innovation and creativity, promoting work-life balance, and recognizing employee contributions.
A positive work culture can significantly impact employee morale and productivity by reducing turnover rates and increasing job satisfaction. For example, companies like Google have established fun-filled workplaces that provide their staff with flexible schedules and opportunities for personal growth through regular training programs.
Providing Guidance And Support
Leadership involves providing guidance and support to employees. This aspect of leadership is essential in helping employees navigate the challenges they face in their roles.
Good leaders listen actively, offer advice, and provide the resources necessary for success.
For example, a leader can provide guidance and support by offering mentorship programs that help employees develop new skills or one-on-one coaching sessions to improve performance.
Guidance and support from leaders are crucial for developing employee morale, job satisfaction, and engagement levels within an organization. By doing this, organizations ensure that their teams have the necessary resources to succeed while cultivating loyalty among staff members toward the company's mission and goals.
Establishing An Effective Organizational Structure
Leadership plays a crucial role in establishing an effective organizational structure. A well-structured organization ensures everyone knows their roles and responsibilities, creating accountability.
Leaders must clearly define job functions, operational procedures, and organizational communication channels.
For instance, if multiple departments or teams are working on various projects within an organization, it's crucial to have effective coordination between them.
This can only be achieved through a sound organizational structure where information flows smoothly across all levels of management.
Effective leadership enables organizations to adapt quickly to external changes, such as market demands or emerging technologies, by restructuring departments or processes as needed.
The Importance Of Strong Organizational Leadership
Organizational solid leadership is crucial for managing and motivating a team, utilizing problem-solving skills, and creating a competitive advantage in today's dynamic business environment.
Managing And Motivating A Team
Effective leadership involves managing and motivating a team toward achieving common goals. Leaders must create an environment that fosters teamwork, collaboration, and mutual respect among employees.
Motivating employees is an essential role of leaders in organizations. Influential leaders recognize that their success depends on the success of their employees; thus, they prioritize understanding what motivates each team member.
For instance, setting achievable goals with rewards is one way to motivate teams to perform at optimal levels. Alongside this method comes frequent check-ins regarding progress and updates and open communication to ensure everyone is on board with the direction set for achieving those goals together.
Utilizing A Problem-solving Mindset
Influential leaders must approach problems with a clear and practical mindset. They recognize that every obstacle presents an opportunity for growth and development.
Leaders who possess problem-solving skills take the time to identify the root cause of any issue and develop solutions that address it.
For instance, when confronted with a low-performing department or employee morale-related issues, influential leaders work closely with their teams to diagnose issues accurately before developing effective strategies to improve productivity or motivation.
By approaching problems proactively rather than reactively, good leaders enhance organizational performance while fostering a culture of continuous improvement within the workplace.
Creating A Competitive Advantage
One of the essential roles of leadership in every successful organization is creating a competitive advantage. Leaders must consider what sets their company apart and leverage those qualities to stay ahead.
This requires a deep understanding of the market, industry trends, and customer needs. Influential leaders identify opportunities for growth and innovation, encourage experimentation, and empower employees to think outside the box.
For example, Amazon's founder Jeff Bezos has consistently emphasized customer obsession as a core value, which has helped them create an unrivaled online shopping experience that keeps customers coming back.
Developing Effective Leadership Skills
Leadership skills are essential for personal and organizational success, and developing these skills requires a focus on emotional intelligence, effective communication, encouraging innovation and growth, and continuous learning and self-improvement.
Emotional Intelligence And Empathy
Emotional intelligence and empathy are crucial skills for effective leadership. Here are some ways in which these traits play a valuable role in organizational success:
Leaders with high emotional intelligence can identify and understand their own emotions and those of others. Enabling them to communicate more effectively and build stronger relationships within the workplace.
Empathy allows leaders to put themselves in their employees' shoes. Enabling them to connect better and understand their needs and expectations.
Leaders can foster a workplace culture of understanding, respect, and inclusivity by showing empathy. Boosting employee morale and creating a positive work environment.
Leaders who exhibit emotional intelligence can manage conflicts gracefully. Diffuse tense situations or disagreements within teams effectively, resulting in improved collaboration.
Empathy enables a leader to recognize stress or burnout among employees early on before it becomes a severe issue. This promotes employee retention as well as increased productivity among team members.
Leaders who possess emotional intelligence skills such as empathy are more likely to gain the trust of their team members. This leads to better team communication and results in an efficient working atmosphere.
Effective Communication And Active Listening
Effective communication and active listening are two essential skills of a successful leader. Leaders must communicate effectively to convey their vision, instructions, and expectations.
Communication is not just about speaking; it also involves actively listening to employees' feedback, concerns, and ideas.
Active listening fosters trust between leaders and team members while promoting employee engagement. Effective communication ensures everyone understands what is expected of them to achieve organizational goals.
For instance, when a team member has difficulty meeting targets or deadlines, active listening can help identify underlying issues that may prevent them from performing optimally.
Therefore as leaders strive towards ensuring success in their organizations by motivating teams to give optimal productivity yields, effective communication through regular constructive feedback will go a long way in enhancing this productivity dream come alive.
Encouraging Innovation And Growth
Influential leaders understand the importance of pushing for organizational innovation and growth. Encouraging employees to think outside the box, take calculated risks, and embrace new ideas is crucial for staying ahead of competitors in today's rapidly changing business landscape.
Leaders can foster this culture by providing resources and support for experimentation, celebrating successes and learning from failures, and creating a safe space where creativity is encouraged.
This approach drives growth both on an individual level by promoting career development opportunities and at the organizational level by fostering innovation that drives profitability.
Continuous Learning And Self-improvement
Continuous learning and self-improvement are crucial for effective leadership. Leaders who commit to continuous improvement can grow their knowledge, skills, and ability to lead their team to success. Here are some ways leaders can prioritize learning and development:
Attend leadership workshops and conferences regularly.
Read books, articles, and blog posts on leadership topics.
Seek feedback from colleagues and employees to identify areas for improvement.
Consider getting a mentor or coach to provide guidance and support.
Enroll in courses or training programs to develop new skills.
Take time for self-reflection to assess strengths and weaknesses.
By committing to continuous learning and self-improvement, leaders can strengthen their abilities to make decisions, motivate others, delegate effectively, communicate clearly, and solve problems. This benefits the leader and creates a positive impact on the entire organization.
As mentioned previously, influential leaders inspire and motivate people, playing a vital role in the success or failure of an organization. Therefore it is imperative that they continuously evolve as a leader.
Conclusion
The role of effective leadership in an organization must be balanced. A good leader plays a vital role in creating and communicating a clear vision and direction, motivating and inspiring employees, effective communication, delegation and empowerment, decision-making, and problem-solving.
Positive leadership impacts organizational success by building a positive work culture and providing guidance and support through an effective organizational structure. Organizational solid leadership is essential for managing and motivating teams while creating a competitive advantage through strategic thinking.
Developing practical leadership skills such as emotional intelligence, empathy, effective communication, and active listening promotes continuous learning toward personal and organizational growth to achieve success.
FAQs:
What are the essential roles of leadership in a successful organization?
The essential roles of leadership in a successful organization include setting clear goals, establishing a vision for the company's future, motivating employees to work toward success, and facilitating communication between different departments or levels within the company.
How can leaders establish effective communication within their organization?
Leaders can establish effective communication by promoting transparency, actively listening to feedback from employees at all levels, and providing regular updates on progress toward achieving organizational goals through various channels such as company-wide meetings, newsletters, or digital platforms.
What qualities should an ideal leader possess?
An ideal leader should possess empathy, solid problem-solving skills, decisiveness, and excellent communication skills. They should also be able to inspire trust among team members while maintaining accountability for actions taken by themselves and others under their supervision.
How can organizations develop strong leaders within their ranks?
Organizations can develop strong leaders by implementing training programs that focus on developing specific skills such as public speaking or conflict resolution, mentoring junior staff members, or assigning them to cross-functional projects where they can gain exposure to different aspects of the business. Additionally – job shadowing senior executives during day-to-day activities is another great way for individuals aspiring towards leadership positions to garner valuable experience seeing role-played out first-hand & understanding what it takes reach top-level management positions within industry verticals typically targeted by specific companies/industries working with similar products to services offered internally.