Disclaimer: We sometimes use affiliate links in our content. For more information, visit our Disclaimer Page. 
Do you often find yourself dreading Monday mornings, struggling to muster the energy to face yet another workweek? If so, your job might be causing more than just routine stress – it could be making you utterly miserable.
With numerous consequences on mental health and overall well-being, identifying if your career is at the root of your unhappiness is crucial for taking back control of your life.
In this blog post, we'll explore 11 signs indicating that your job is causing misery and provide actionable steps for creating a positive change in both professional and personal aspects.
Key Takeaways
Physical and emotional exhaustion, lack of work-life balance, feeling undervalued and unappreciated, conflict with colleagues or management, and lack of motivation and passion are all signs that your job is causing misery.
Taking action to address these issues is essential for your mental health and overall well-being. This could mean communicating openly with your supervisor or HR department, seeking advice from mentors, or networking with like-minded individuals in your industry.
Self-reflection is a critical component of taking action – assess whether your values, goals, and skills align with your current job duties.
Pursuing further education or training may be necessary to open up new career opportunities that align with your interests/values. Remember that it's never too late to make changes toward improving professional fulfillment in life!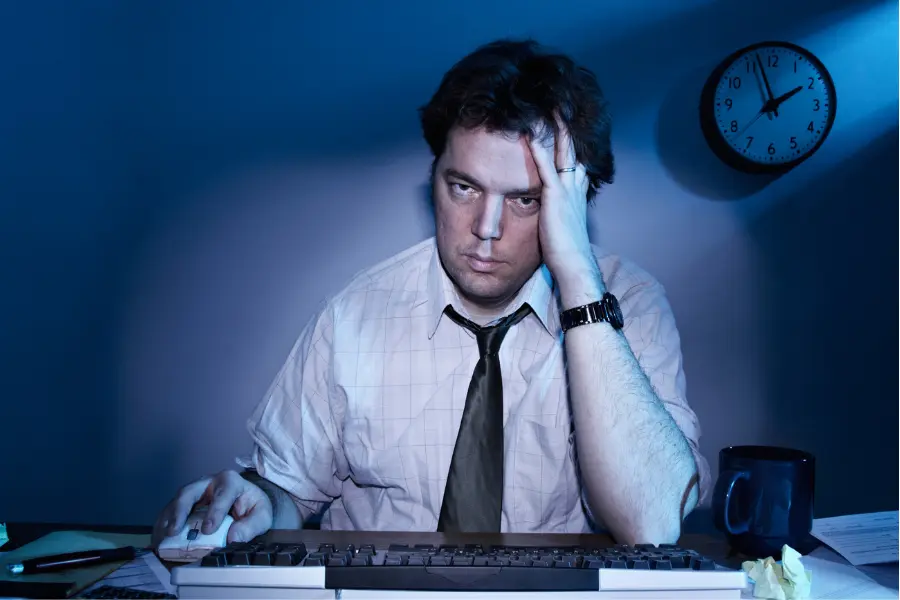 Signs My Job Is Making Me Miserable
– You feel physically and emotionally exhausted, even after a good night's rest.
Physical And Emotional Exhaustion
Physical and emotional exhaustion is a significant sign that your job is causing misery. This type of fatigue goes beyond the normal weariness of a busy workweek; it's a persistent feeling that makes it difficult to regain energy and motivation even after resting.
You may find yourself losing focus, becoming short-tempered, or experiencing brain fog.
In some cases, this exhaustion might manifest in physical symptoms like headaches, backaches, or insomnia due to work-related anxiety. It's important to recognize these signs early on so you can address them before they worsen further are detrimental consequences for both your career path and overall well-being.
Non-existent Work-life Balance
A non-existent work-life balance is a major contributor to job-induced misery. It can lead to burnout, increased stress levels, and health problems such as depression and anxiety.
When you're constantly working without taking breaks or having time for personal activities, it can feel like you've lost control of your life. You may also feel resentful towards your employer for not providing adequate support for healthier boundaries between work and personal life.
For example, if you find yourself skipping meals or working late into the night, these could be signs that you need to reassess your priorities and establish better boundaries between work and leisure time.
Feeling Undervalued And Unappreciated
Feeling undervalued and unappreciated is a common sign that your job is causing misery. It can lead to demotivation, low morale, and a lack of productivity. This feeling often arises when employees believe that their hard work and contributions are not recognized or rewarded appropriately.
For instance, if you consistently meet or exceed targets but do not receive any acknowledgment or promotion for your efforts, it's natural to feel undervalued.
If you're experiencing this issue at work, don't dismiss the importance of addressing it. Consider scheduling an open discussion with your supervisor to express how you feel.
Be specific about the things that make you feel unrecognized and ask for guidance on how to improve in those areas. Alternatively, seek advice from mentors who have gone through similar experiences as they can offer valuable insights into navigating such situations in the workplace effectively.
Conflict With Colleagues Or Management
Workplace conflict can arise from personality differences, communication breakdowns, power struggles, and more. Facing daily conflicts with colleagues or management can make the work environment tense and uncomfortable.
It can also lead to reduced productivity and job dissatisfaction.
For instance, if you are not given credit for your contributions to a team project or are constantly undermined by your supervisor, this can cause feelings of resentment towards them and the company as a whole.
Additionally, negative relationships with coworkers could cause anxiety about going to work every day which leads to poor job performance overall.
Lack Of Motivation And Passion
Feeling unenthusiastic and disinterested in your work is a significant warning sign that your job is causing misery. When you lack motivation and passion, it becomes difficult to perform at peak levels, resulting in a decrease in job satisfaction and performance.
You may find yourself dragging your feet into work or dreading the prospect of tackling tasks that would have otherwise excited you. Additionally, feeling weighed down by low energy and apathy can harm your mental health, leaving you unhappy both inside and outside of work.
Over time, this can lead to burnout symptoms such as exhaustion, physical illness, anxiety, or even depression.
The Importance Of Taking Action
It's not easy to deal with a job that is causing misery, but taking action is crucial for your mental and physical well-being. Ignoring the problem can lead to long-term negative effects on your career, relationships, and health.
Taking action means acknowledging that something needs to change and being proactive in finding solutions. It requires self-reflection, courage, and determination to take steps toward improving your situation.
This could mean having an honest conversation with your supervisor or HR department about how you feel at work.
Whatever strategies you choose to employ, know that taking action is vital for reclaiming control over your happiness and professional fulfillment. Don't let a miserable job define the entire trajectory of your life when there are options available to improve it.
Strategies To Take Action
Assess your values, goals, and skills to determine the best course of action; have open communication with your supervisor or HR department; seek advice from mentors and consider further education or training; prioritize self-care and mental health to take control of your situation.
Self-reflection And Assessing Values, Goals, And Skills
Take some time to reflect on your values, goals, and skills to determine if your current job aligns with them. Here are some steps you can take:
Identify your core values and what is important to you in a job. Ask yourself questions like: What motivates me? What type of work do I enjoy? Does my current job allow me to use my strengths?
Assess your short-term and long-term goals. Evaluate how your current job fits into those goals. Determine if there are any opportunities for growth or advancement within the company.
Evaluate your skills and strengths in relation to your job duties. Ask yourself if you are being challenged enough or if you are underutilized.
By taking these steps, you can gain clarity on whether your current job is really the right fit for you. It's important to remember that it's never too late to make a change and pursue a career that brings you fulfillment and happiness.
Have Open Communication With Your Supervisor Or HR Department
It's important to communicate openly with your supervisor or HR department if you're feeling unhappy at work. They may be able to help you find ways to improve your situation or suggest alternative roles within the company.
Be honest about how you're feeling and specific about what's causing your dissatisfaction, whether it be long hours, a lack of support from management, or unclear expectations.
Provide examples of situations where you've felt undervalued or unappreciated. This will give them insight into what changes need to be made in order for you to feel more fulfilled in your work.
[Output]: Communicating with your supervisor or HR department is crucial when struggling with job-induced misery. Being open about specific issues such as long hours or a lack of support from management can allow them to gain insight into what needs to change in order for employees like yourself to feel more valued at work.
Network And Seek Advice From Mentors
Another effective strategy for taking action when your job is causing misery is to seek advice and guidance from mentors in your field. Mentors have years of experience and can provide valuable insights into how to navigate challenges and overcome obstacles.
Networking with other professionals in your industry is another way to gain valuable knowledge and support. Attend conferences or seminars where you can meet others who share similar goals or interests.
Join online groups or forums where you can connect with like-minded individuals from around the world. Having a community of people who understand what you're going through and are willing to lend their expertise can make all the difference in moving towards a more fulfilling career path.
Consider Further Education Or Training
If you're feeling stuck in your current job and lacking motivation, it might be time to consider further education or training. By acquiring new skills and knowledge, you can open up new career opportunities that align with your values and interests.
Investing in yourself is never a bad idea, especially if it means improving your mental well-being and job satisfaction. Additionally, pursuing further education or training shows initiative and dedication to your professional development, which can make you stand out to potential employers.
Pursue Alternative Career Paths
It can be difficult to accept that your current job isn't fulfilling, but pursuing alternative career paths can lead to greater satisfaction and professional fulfillment.
This doesn't necessarily mean quitting your job right away, but rather taking steps towards exploring other options. Consider researching industries or positions that align with your values and skills, reaching out to professionals in those fields for informational interviews, or even volunteering in related organizations to gain experience and insight.
It's important to approach this process realistically and with an open mind – alternative career paths may not immediately lead you to a dream job, but they can provide valuable growth opportunities and new perspectives.
Prioritize Self-care And Mental Health
Taking care of your mental health and well-being is crucial, especially if you're dealing with a miserable job. Prioritizing self-care involves practicing small acts of kindness towards yourself that can have a significant impact on your overall well-being.
This could mean taking breaks for mindfulness exercises throughout the day, finding time to exercise or meditate before work, staying hydrated, ensuring you get enough sleep at night, and taking regular vacations to unwind and recharge.
It's crucial to understand that prioritizing your mental health isn't just limited to working hours; it extends beyond the workplace as well. Whether it be engaging in activities that bring joy outside of work or seeking professional help when necessary – prioritizing mental health should always remain an essential aspect of one's life regardless of their career path.
Coping Mechanisms For A Miserable Job
– Building a supportive network of friends and family can help alleviate work-related stress and provide emotional support.
Building A Supportive Network
Building a supportive network can help alleviate the misery caused by a job. Here are some ways to do so:
Join online or in-person groups related to your industry or interests.
Attend networking events and conferences to expand your professional circle.
Reconnect with old colleagues or classmates who may offer guidance or job leads.
Seek out a mentor or career coach who can provide guidance and support.
Share your struggles with trusted friends and family who can offer emotional support.
Consider joining a support group specifically for those dealing with workplace stress or job dissatisfaction.
Utilize employee assistance programs provided by your employer, which may offer counseling services or other resources.
Participate in team-building activities at work to build better relationships with colleagues.
Volunteer in your community to meet new people and expand your network outside of work.
Engage in hobbies or interests outside of work that allow you to connect with others who share similar passion.
Mindfulness And Stress-reduction Techniques
Mindfulness and stress-reduction techniques can be helpful in managing the negative effects of a miserable job. Here are some effective methods to try:
Practice meditation regularly to cultivate relaxation and reduce stress levels.
Incorporate deep breathing exercises into your daily routine to alleviate anxiety.
Take short breaks throughout the workday to stretch and move your body.
Listen to calming music or nature sounds during breaks or while working if allowed.
Focus on the present moment by using grounding techniques, like feeling your feet on the ground or observing your surroundings.
Write down your thoughts and feelings about work in a journal to process emotions and gain perspective.
Use positive affirmations to reframe negative thoughts about work into more constructive ones.
Prioritize self-care activities outside of work that brings joy and relaxation, such as reading, cooking, or spending time with loved ones.
Consider seeking support from a therapist or counselor who specializes in work-related stress management.
Attend mindfulness-based stress reduction workshops or classes offered by local organizations for additional guidance.
Remember, it's essential always to prioritize your well-being above anything else, especially when it comes to matters related to mental health at work!
Finding Enjoyment In Work
Finding enjoyment in work is important, even when you're dealing with a job that may be causing misery. Look for ways to inject some fun into your day by finding tasks or projects within your current role that interests you.
This could involve taking on new responsibilities or seeking out additional learning opportunities. Additionally, try to approach situations with a positive mindset and focus on the things you do enjoy about your job.
Sometimes, it can be as simple as changing your perspective and choosing to see the good rather than only focusing on the negative aspects of your role.
However, it's essential not to let yourself become too bogged down in negative feelings about your job because this affects productivity levels negatively which leads to low performance at work too.
Engaging In Hobbies And Interests Outside Of Work
Engaging in hobbies and interests outside of work is a great way to find joy and fulfillment beyond the stresses of your job. Finding activities that you enjoy, whether it be playing sports, painting, or simply reading a book, can help provide balance in your life and remind you of what brings you happiness.
Studies show that engaging in hobbies can improve overall well-being and reduce stress levels. By making time for things outside of work that bring enjoyment, individuals are better equipped to handle the challenges they may face on the job.
Additionally, taking part in activities with others who share similar interests can lead to new friendships and a sense of community outside of work.
Seeking Professional Help If Necessary
If you are struggling with the effects of a miserable job, seeking professional help can be an important step in taking care of your mental health. A therapist or counselor can offer support and guidance in coping with work-related stress, anxiety, and depression.
Through therapy, you may gain new insights into your feelings and behaviors related to your job dissatisfaction.
Conclusion
Recognizing the signs that your job is causing misery is vital to your overall well-being. Don't let workplace stress, burnout symptoms or a toxic work environment continue to affect your life.
Taking action by prioritizing self-reflection and communication with supervisors, and seeking out alternative career paths and coping mechanisms can help you navigate through a miserable job situation.
Remember that it's okay to put yourself first and prioritize your mental health at work.
FAQs:
What are some common signs that your job is causing misery?
Common signs include feeling constantly stressed or anxious, lacking motivation to go to work, experiencing physical symptoms like headaches or stomach issues, and having conflicts with coworkers or management.
How can I take action if I realize my job is causing me misery?
The first step is to identify the specific cause of your dissatisfaction with the job. You may need to speak with a supervisor about making changes in your position, seek support from colleagues or friends outside of work, consider taking time off for self-care or explore new career opportunities altogether.
Can seeking professional help be beneficial if my job is causing me misery?
Speaking with a therapist or counselor can be valuable when dealing with immense stress and unhappiness related to one's profession. They may also utilize coping strategies targeted toward managing difficult emotions surrounding employment-related matters.
Are there any benefits associated with quitting a miserable job?
In some cases, walking away from a taxing situation might be necessary for overall well-being and better mental health outcomes.. Quitting could allow you more freedom & flexibility along with open doors keeping you fresh on your toes for new chances while allowing recognition regarding where indeed happiness lies moving forward.