Disclaimer: We sometimes use affiliate links in our content. For more information, visit our Disclaimer Page. 
Getting fired from your job is never a good experience. Unfortunately, it happens to many people every year. If you have been fired and are having a hard time finding a new job, don't worry – you can still find work!
In this blog post, we will discuss eight ways to improve your chances of getting a job after being fired for poor performance. We will also talk about why people get fired so that you can avoid making the same mistakes in the future.
8 ways how to get a job after being fired for poor performance
Here are the steps to follow for getting a job after being fired for poor performance:
1. Take a moment to reflect
The hiring process is an important time for both employers and employees. It's a chance for employers to learn about potential new hires and for employees to learn about the company and the job they're applying for.
Unfortunately, not every hiring process goes smoothly. Sometimes, an employer will decide to fire a candidate after reviewing their application materials or interviewing them.
If this happens to you, it's essential to take the time to understand the employer's feedback and to use it to improve your chances of being hired in the future.
2. Make a plan
When job seekers are asked why they left their previous job, it is essential to have a well-thought-out answer prepared. A job seeker can worst be to speak badly about their former employer.
Doing so will only make the job seeker look bad and unprofessional. Instead, the job seeker should take the opportunity to demonstrate how they have resolved the issue that led to their termination.
3. Make a recommendation
As you prepare to apply for jobs, it can be helpful to reach out to former employees who can speak to your skills and qualifications. Focus on former co-workers you worked with closely, especially if you have good relationships with people who supervised you.
You can ask them to endorse your skills on professional networking websites or write a recommendation on your profile highlighting your attributes and the positive aspects of working with you.
This can help demonstrate to potential employers that despite your former employer terminating you, others valued your work and appreciated working with you. 
4. Make revisions to your resume
A well-written resume is essential for any job seeker, but it's necessary for those who have been out of work for some time.
In addition to including complete employment history, highlight any skills, experience, qualifications, and certifications relevant to the position you're applying for. Revising your resume can increase your chances of landing the job you want.
5. Your cover letter needs to be updated
When applying for a job, it's essential to take the time to customize your cover letter. A generic letter won't tell the employer anything about you as an individual and won't showcase why you're the best candidate for the role.
Instead, please take the opportunity to highlight your specific qualifications and how they align with the position's requirements. If you've been unemployed, use this time to update your cover letter and discuss any new qualifications you've earned. 
6. Get familiar with answering questions
It's always a good idea to be prepared to answer questions about employment gaps on your resume. If you have an employment gap, be honest and limit the details you share. Explain the circumstances of your former employer's decision, acknowledge that you understand their choice, and take responsibility for your actions.
Be sure to discuss your former manager or employer positively or objectively to help make a good impression on the interviewer.
7. Plan how you will improve
When most companies fire an employee, they're unhappy with that person's performance. So if you're asked why you were fired in an interview, you must be honest and share that your former employer wasn't happy with your performance.
However, it would be best if you coupled this answer with an explanation of how you resolve these concerns. Finally, discuss what you learned from the experience, and reiterate that you take responsibility for the situation.
Doing this will show that you're taking responsibility for your past mistakes and working to ensure they don't happen again.
8. Identify other concerns
If an interviewer has any other concerns about your work history, you should address them. For example, hiring managers are often reluctant to hire people who switch jobs frequently, while others may have concerns about people who have worked for the same company for many years.
Describe what you learned from these jobs in your answers and emphasize what you learned from each. Focus on how these positions helped you develop essential skills rather than why you left or stayed at the job.
Related: How To Reach Out to Recruiters on LinkedIn
Other reasons why people get fired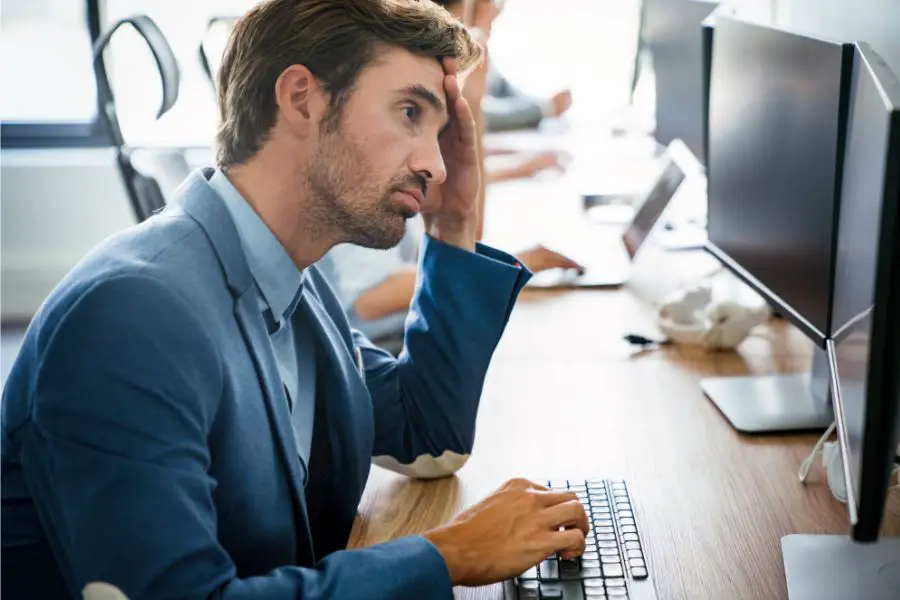 Here are some other reasons why people get fired:
→ Acts of misconduct
Misconduct is one of the most common reasons people get fired. This can include anything from sexual harassment to stealing. Employees who break a company's rules or code of conduct may be subject to disciplinary action, including termination.
Sexual harassment is a form of misconduct involving co-workers, customers, or anyone else in the workplace. It can include unwanted sexual advances, comments, or actions.
→ Chronic lateness and absences
Being absent or late for work creates a burden for your co-workers, who are often left to pick up the slack. This can lead to a loss of productivity and may eventually result in your termination.
In the United States, 22 percent of employers have fired an employee for providing a false excuse when calling in sick, and 41 percent have fired an employee for being late. Therefore, it is essential to be punctual and present at work to avoid negative consequences.
→ Violations of company policies
Upon accepting a job, reviewing the company's policies is essential. Many of these policies are in place to comply with government regulations and industry standards.
Violating these policies could result in verbal or written disciplinary action from the company, including termination of employment.
Other company policies, such as the dress code, the company's stance on romantic relationships between co-workers, and social media use, are important guidelines to be aware of. Understanding and upholding these policies is essential to being a successful employee.
→ Workplace drug and alcohol abuse
Even though marijuana has been legalized in California for recreational and medicinal purposes, the drug is still illegal under federal law.
Many employers participate in the Federal Drug-Free Workplace Act, which provides several benefits and results in mandated drug testing when an employee is hired, randomly throughout employment, and if the employee suffers an on-the-job injury.
In addition, employees who test positive for drugs may be subject to disciplinary action, including termination of employment.
→ Use of company property for personal purposes
A company usually permits employees to use a copier once or twice weekly to copy a personal document. In contrast, frequent individual use of copiers, office supplies, printers, and laptops will likely be considered theft, and you can lose your job if you use them frequently.
→ Property damage or theft
You can face legal repercussions if you take anything from your company for personal use, even pens, and paper.
In addition, you should treat company property with care as an employee. Your job may also be at risk if you don't take care of your laptop, the copy machine, and other office equipment.
→ Creating false records for a company
Falsifying company records is a serious offense that can have harsh consequences, not just for the individual who commits the act but also for the company. If the records are financial, falsifications could create risk for the company regarding its bottom line.
In industries regulated by the government, such as healthcare or transportation, false information on company records could result in hefty fines or even criminal charges.
→ Insubordination
Most employers recognize the importance of having employees who can think for themselves and offer ideas or insights on how to improve the workplace. Insubordinate behavior, however, is strictly prohibited.
For instance, they are arguing repeatedly or disrespectfully with a manager or coworker, refusing to follow orders, or otherwise obstructing regular business.
Insubordination has one notable exception: when an employee refuses a manager's order because it would violate the law or public policy. The employee is generally protected from termination by federal whistleblower laws in such situations.
Related: How To Ask for Feedback After Job Rejection
Conclusion
It's never easy to lose your job, but it's not the end of the world. You can still find work if you are willing to put in the effort.
The eight tips we've outlined should help to improve your chances of finding a new job. Remember, don't make the same mistakes that got you fired first! Leave us a comment and let us know how you're doing. We wish you all the best in your job search.
FAQ
Does getting fired affect future employment?
It can. Unfortunately, a social stigma attached to being fired can make it difficult to find future employment.
Can you get a good job after being fired?
Many people think getting fired from a job is the end of their career. However, this is not always the case. Although finding another job after being fired can be challenging, getting a good job after being let go from your previous position is possible.
How do you act when you're getting fired?
If you're getting fired, your best bet is to stay calm and professional. You may be entitled to unemployment benefits, so you must be as cooperative as possible with your employer. There are a few things you can do to make the process go more smoothly:
• Ask for a reference letter or other documentation to help your job search.
• Don't badmouth your former employer – it'll only reflect poorly on you.
• Collect any personal belongings and exit the building calmly.