Disclosure: We sometimes use affiliate links in our content, meaning, at no additional cost to you, we will earn a commission if you click through and make a purchase. This helps us offset the costs of paying our writing team and keeping this website running. Thanks for your support!
---
The way we manage conflict can have a big impact on our relationships. Therefore, it's important to know your own style and others to find ways to work together and be successful.
This article will explore the five different conflict management styles and apply them to various situations. The best thing about knowing each style is that it allows you to adapt when necessary!
After reading this blog post, I hope you will better understand yourself and others so that everyone can get along more easily, no matter what type of people.
What are conflict management styles?
Every person has a way of dealing with conflict in life. Some people prefer to avoid it, while others are more assertive and proactive about addressing the issue head-on.
Conflict management styles can be broken down into a few different categories that you might find yourself using on occasion: avoidance, negotiation, mediation, or assertion (among other methods).
It is essential to be aware of the benefits and drawbacks of every method to choose a style that will suit your personality. Knowing which one would work best in any given situation could help avoid stressful escalation!
Understanding your natural conflict management style will help you have successful interactions with people in the workplace. You may be a coach, doctor, or other professional dealing with conflicts at work and find it hard when different personalities clash together. The way you solve an issue is not always going to apply to someone else because they are on a completely different career path than yourself.
The tactics used as coaches can't exactly fit what nurses need, which means understanding why certain styles don't seem like "the one" can make all the difference!
Related: Self-Management the Best Tool for Success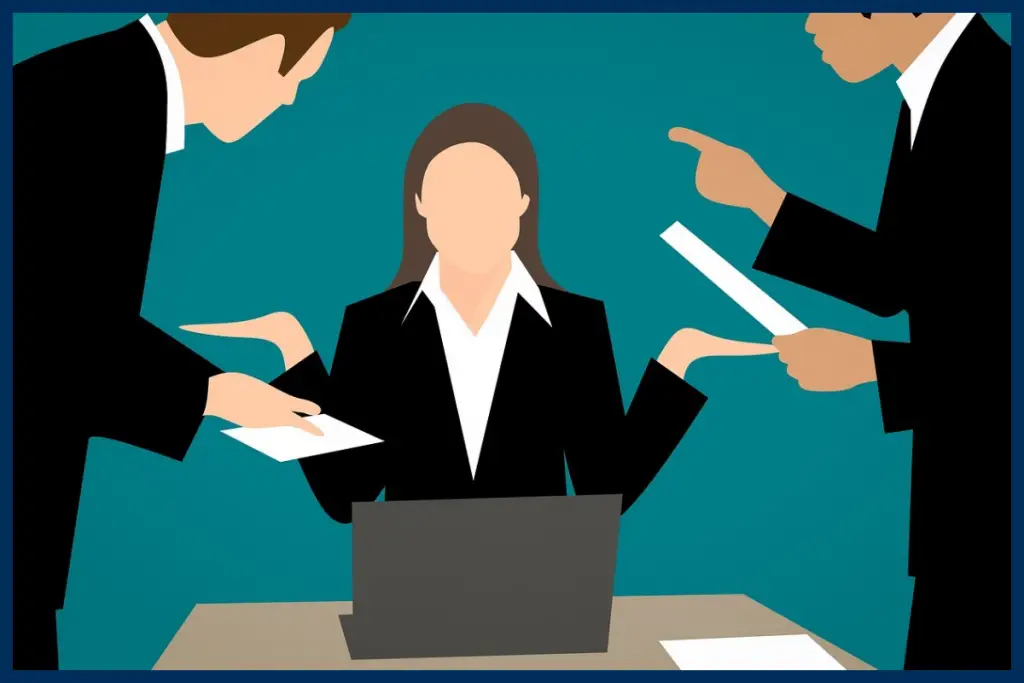 What are the 5 conflict management styles?
According to the Thomas-Kilmann Conflict Mode Instrument (TKI), there are five conflict management styles: accommodating, avoiding, collaborating, competing, and compromising.
When choosing a style, each individual has one or two that they prefer over others; however, knowing when and how to utilize these different approaches effectively can help you navigate challenging conversations in healthier ways. Here is a brief overview of what goes into each approach: 
Accommodating Style 
If you have an accommodating conflict management style, it means that the outcome of your disagreements is often beneficial to everyone. You place other's needs ahead of yours, and small arguments can be resolved quickly without too much effort on anyone's behalf. In addition, your team will feel comfortable speaking their mind when they know there won't be any repercussions for being honest with one another.
Unfortunately, you may find that accommodating others can sometimes be detrimental to your goals and your team's success. It's one thing to be open-minded and respectful, but it is also crucial that you know when accommodating might not work in your best interest.
When making decisions, it is essential to consider how often you can accommodate. This conflict management style should be avoided when significant decisions are made because they will not yield lasting solutions.
When to consider using the accommodating style:
When you are wrong about something 
When interacting with someone who has a strong personality.
When you just can't come to an agreement
When conflict has monopolized your time.
When employees are experiencing conflict
When there's no other solution
Related: Laissez-Faire Leadership
Avoiding Style 
An avoidant conflict management style is a way to dodge the issue until it resolves itself or pushes the problem off into the future. This can be necessary when you need time to collect your thoughts and calm down.
It's essential to use this technique at the right time and place. It isn't appropriate in situations that have already turned hostile, for example, during a heated argument with another team member or your boss. When you do it, people might think you are incompetent because they will feel like you can't handle disagreements respectfully among staff members.
When to consider using the avoiding style:
When managing conflict is currently impossible due to a lack of resources/time
When uncertain on how they should proceed,
When increased tension between parties. 
When makes others feel uncomfortable 
When there's high tension
Collaboration Style
Collaborating is the perfect conflict management style for those who love win-win situations because it provides both assertiveness while still being cooperative. Collaborate with others to find a solution that fully satisfies everyone and minimize negative feelings so as not to allow anyone person's opinion or feeling about the situation to dominate your thoughts. It also ensures long-term solutions as people are invested in outcomes that make deadlines easier.
The collaborating style has been a vital asset for many people to maintain successful professional relationships. However, implementing this style can often be time and labor-intensive, but it frequently produces the most satisfying long-term results.
When to consider using the collaboration style
When the resolution will impact several people.
When the interests, needs, and beliefs of all involved people need to be considered.
When the relationship is important.
Related: Democratic Leadership: How to Drive Better Decisions
Competing Style 
The competing style of conflict resolution is defined as one party pushing ahead with their mission and goals without concern for the other person in a disagreement. The fast-paced environment associated with this situation can quickly produce results due to the lack of concern for the other parties in a dispute.
While this conflict management style may solve disputes quickly, be cautious when using it. This approach can come off as authoritarian and make your team hesitant to bring up ideas or concerns with you.
When to consider using the competing style:
When there's been no change over time in the situation at hand.
When other methods of managing conflicts haven't yielded any positive changes.
When standing up for yourself or your values seems necessary.
When a less forceful style has been ineffective, counterintuitive, or unsuccessful.
Related: Autocratic Leadership: What is it
Compromising Style
When you compromise, the goal is to please both parties. You are in between them and try your best to ensure that each party gets a little bit of what they want from the argument. When people leave with more understanding about one another's opinions on an issue, it creates better relationships and solutions faster than when using collaborative methods for conflict management.
When you address conflict with this style, it means that both parties will have to make some significant sacrifices. This can be difficult for those who want everything their way and see themselves as having more power than others because they don't think there will ever really be any change made (or at least not enough).
However, suppose the two sides in a dispute can set aside their differences temporarily and work toward finding a middle-ground solution. In that case, everyone wins- even when neither side gets exactly what they wanted.
When to consider using the compromising style:
When a solution is more important than the problem.
When neither party will compromise.
When it is necessary to address all parties involved.
When you want to push the team towards collaboration.
When two parties cannot come to a mutual agreement.
How do you handle conflict management?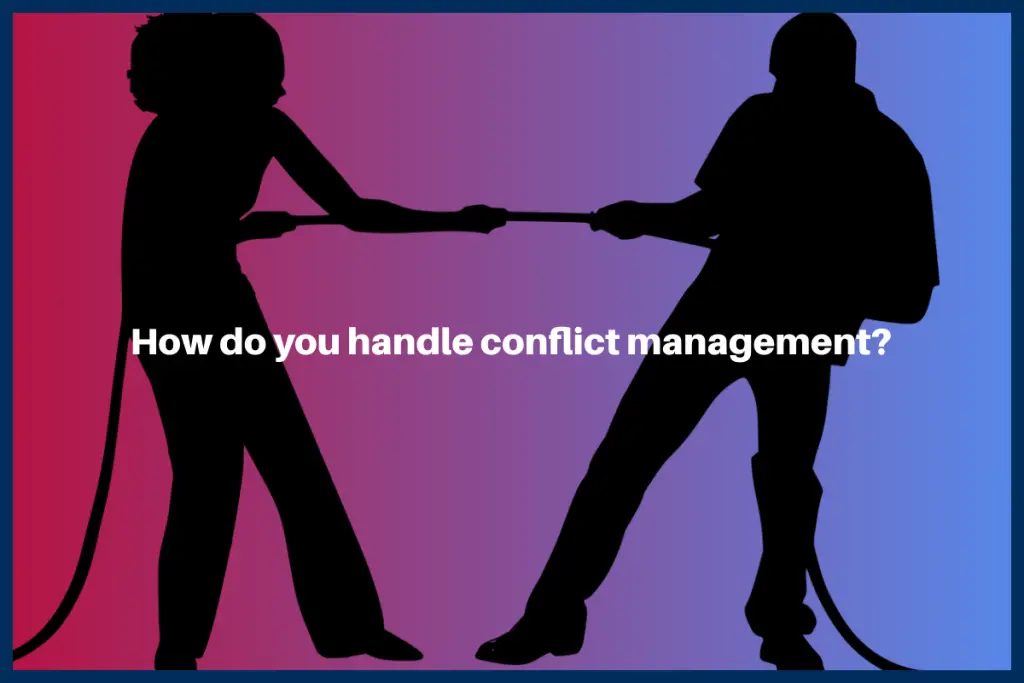 We all have to manage conflict at some point in our lives. Sometimes it's a minor disagreement with your spouse, other times, you're dealing with a significant issue at work. Dealing with conflict is never easy and can be frustrating for many people. But that doesn't mean we should avoid the inevitable conflicts we face in life. 
We'll handle conflict management by examining some of the most common scenarios that cause conflict with our coworkers or family members. We'll also provide you with tips on how to solve these conflicts without any hurt feelings.
In a conflict situation, keep these things in mind:
What is the goal of this conversation? How can we work through it together as partners rather than opponents or enemies? What do I need from you to feel safe and heard?
How important or urgent was it for them to talk through this right away etc. so that both of you know what to expect moving forward (e.g., How would be helpful for me/them if I can't meet your expectation?)
Find out how much support have each other and brainstorm some possible solutions together while considering everyone's needs and priorities around the situation.
How can I help you? How can we fix this together? What do you need from me?
We may need to be able to agree on some ground rules ahead of time (e.g., "I will not interrupt you." or "We only have 20 minutes for this conversation")
What is your goal in talking through this with me right now, and how do we both get there?
How might each other's processes work for us during the conflict management session to go well?
How does one person feel like they are reasonably heard by the other party every time? How do people know when their needs are met and honored?
What if something happens again: Some things happen more than once because our communication is not clear enough, or we are not communicating in the right way. How can I get back on track if this happens again?
How do you want to use your anger?
First, you should always be aware of your team's emotional state to identify where the conflict is coming from. From there, you'll know what steps you need to take next to resolve it and get everyone working together again.
Related:Article: The Importance of Interpersonal Communication Skills
Conclusion 
This article has been a great resource to help you better handle and understand the conflict in the workplace. We hope this guide will be helpful for your next meeting or task at work, and we invite you to share it with coworkers who may find these strategies helpful as well. 
Have any thoughts on how each of these styles can play out in different scenarios? Let us know! Sign up for our newsletter to continue providing insightful content like this right into your inbox.