Disclaimer: We sometimes use affiliate links in our content. For more information, visit our Disclaimer Page. 
You may be wondering why it is that self-management is the best tool for success. It's not just a good idea to have as an option, but without this skill, you'll never reach your maximum potential. You will always find yourself lacking something significant when completing tasks on time or getting projects completed successfully.
Read on below if you want some tips about what makes self-management such a powerful tool for improving your work performance and productivity levels at home or in the office.
What is Self-Management?
The term "self-management" refers to a person's ability to regulate their behavior and thoughts to achieve goals. Self-management includes managing your thoughts, feelings, and behaviors so that you can work towards achieving personal or professional milestones. The best way of doing this is by establishing boundaries for yourself that are both fair and reasonable, depending on the situation at hand.
Self-regulation involves managing every aspect of oneself, including one's emotions and behavior, and making decisions about what should happen around you. It requires setting up appropriate guidelines to know when we must act – either internally (within ourselves) or externally (to people around).
The ability to self-regulate and have a high level of control over your behaviors. It provides:
The foundation for learning.
Relationships with others.
Success in school or work environments.
Developing meaningful lives filled with personal strength and integrity.
What are Self-management Competencies?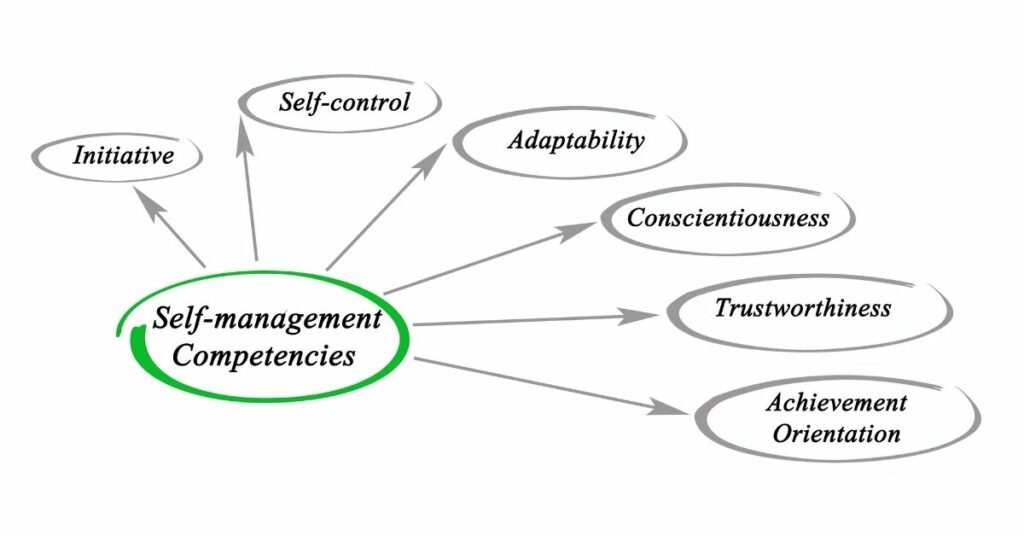 Self-management competencies involve regulating one's emotions, thoughts, and behaviors to achieve desired outcomes. They include skills such as setting goals, managing time and stress, and dealing with difficult situations.
People who are good at self-management usually have a lot of control over their lives. They know what they want, and they are proactive in getting it. They are also good at staying calm under pressure and making rational decisions even when things get tough. This makes them very effective leaders and problem-solvers.
The Importance of Self-Management for Success and Happiness
To be successful, we must be self-aware and know what we want out of life. We need to have a clear vision of our goals and how to achieve them. The most successful people in the world are the ones who can get up every morning and have a plan for where they want to go that day.
We can not expect others to do this for us. We need to be willing to put in the necessary time, work, and effort into creating our own success story. In addition, we need self-awareness so that we know what motivates us and what makes us happy. It is only then that we can create lasting success in life.
Self-management is an essential skill that enables people to be more productive and happy. It includes developing your life purpose, figuring out what are your strengths and weaknesses, handling stress and challenges, setting goals for yourself, and identifying the tasks that you find most tedious.
Self-management helps us create better habits, prioritize what's important in life, overcome inner conflicts, learn how to deal with different emotions like anger and fear, and be mindful in everyday activities.
6 Ways to Apply Self-Management to Your Life
One of the most challenging concepts to understand is self-management. Yet, a person needs to be able to manage their own lives to reach long-term goals. It can feel like a daunting task, but there are a few ways people can start this process today:
Identify your current habits that are not working for you.
Learn how you can make small changes over time – one step at a time.
Start with the goal of making one change in your life per month.
Once you have made a change, reward yourself for accomplishing it.
Keep track of what changes you have made and how those changes have impacted your success .
Do not forget that self-management is about taking control of your actions.
Related Article: Time Management
Why is Self-Management Important in Business?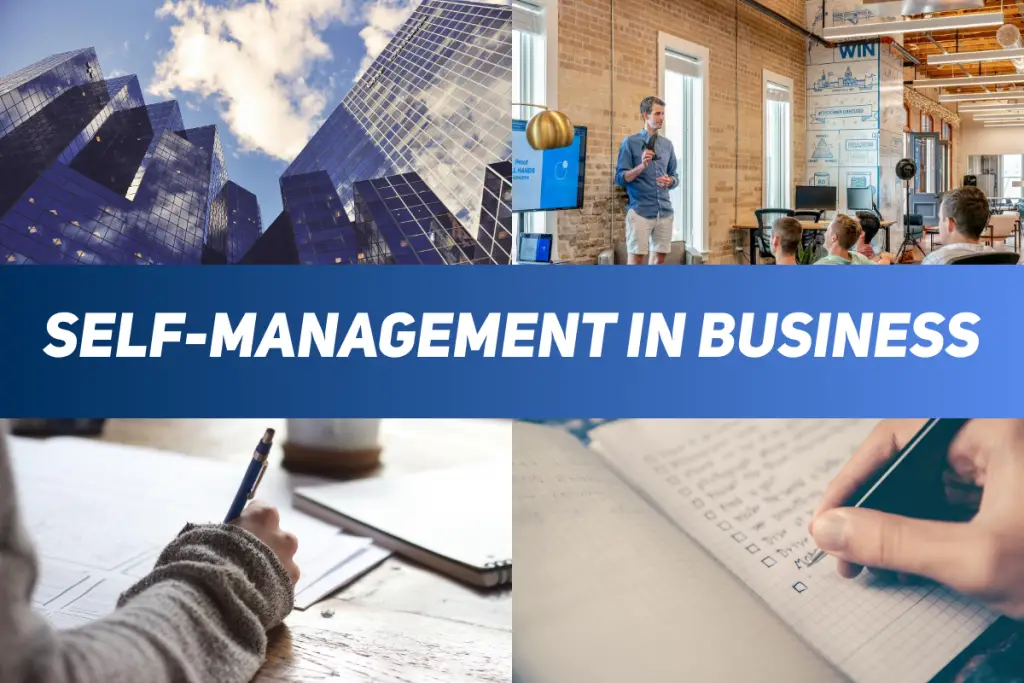 In today's modern business world, only the most self-motivated and proactive people can thrive.
Few things have been as crucial to the development of our society and economy as self-management. Of course, it's a key ingredient in any successful business, but more importantly, it is the cornerstone for living an autonomous life with pride, dignity, and respect.
Self-managed people don't needlessly complicate their lives by following orders or relying on others for direction; they can take ownership over every aspect of themselves from finances to relationships if they choose to – which has given them all levels of control that are not possible under systems where power resides at the top instead of distributed throughout the entire organization using shared values during the decision-making process (like democratic leadership and laissez-faire leadership).
People in the workforce are moving away from traditional hierarchical structures to self-management. For organizations and companies to stay competitive, they must adapt their management style or see a decline. What does this mean? This means that managers will have less power, but it also gives employees more freedom when making decisions about how work is done on a day-to-day basis– within certain limits, of course!
Small businesses and individuals need to be self-managed because they cannot rely on management from others. They must take care of themselves for the business or individual to succeed, which is why it's so important that small entities can do more than just delegate tasks.
Self-management is essential in business. It allows for better decision-making, increased productivity and creativity amongst the labor force, and lower turnover rates than traditional management methods. Sure there may be a learning curve when first implementing this method, but it will pay dividends down the line with all those benefits I mentioned previously!
What Are The Self-Management Skills You Should Develop In Your Company?
Do you ever feel like your company is just running on a loop with no direction? To succeed in this high-paced world, they must develop self-management skills. Skills such as delegation are core to success and can be invaluable when trying to keep up with the demands of modern-day business.
Delegation empowers employees by giving them more responsibility to have an increased sense of ownership over their tasks and goals. This ultimately helps motivate staff members because now there's something at stake if things go wrong! Giving someone else some degree of control will also make each person think about whether they do matters; making sure everyone feels valued makes people happier and increases morale within organizations.
Related Article: Delegation of Authority
Employees should focus on developing two core self-management skills: time management and task prioritization. As a manager, you may be able to give employees deadlines or assign tasks that are important for the company's success; however, it is ultimately up to them to complete these assignments. You can help by providing your staff with resources such as templates of typical work schedules, so they know what amount of hours per week their job requires to get everything was done that needs getting done.
This will also clear any confusion between expectations set forth by managers versus expectations established at home due to conflicting demands, which often lead people into making poor choices when trying to manage both simultaneously.
Related: Create a Great Management Team for Your Business
How can emotional intelligence be used in self-management?
Emotional intelligence is essential for self-management because it enables you to be aware of your own emotions and the emotions of others. When you can read and understand your feelings, it's easier to stay in control during challenging situations. You're also better equipped to manage relationships effectively when you can understand the emotions of others and respond in a way that leads to productive outcomes.
Like any other ability or skill, emotional intelligence can be used in self-management. For example, you can use your emotional intelligence to:
Monitor your own emotions and thoughts
Recognize your emotional triggers
Understand your emotions and how they affect your behavior
Regulate your emotions (including managing stress and handling anger)
Use emotion to motivate yourself
Manage difficult relationships
How to Manage Your Self-Managing Skills
Many people in today's workforce need to become self-managers because the traditional work environment is disappearing. But, unfortunately, these skills are not innate to most of us, so we have two choices: learn how or get left behind.
The great news is that it can be done! You may already know many techniques but just aren't applying them correctly for your new role as a leader within an organization. So here's some advice on managing yourself when working with others:
1. Create a Plan for Maximum Productivity
To become more productive, you must be able to manage your own time efficiently. Having a plan of action for the day, prioritizing tasks, and remaining focused on what's most essential at any given moment will help you clear obstacles quickly and get ahead in life.
Setting a plan for maximum productivity is everyone's duty. The managers and the staff members in your company should be looking at ways to increase their efficiency, which can be done by following these five steps:
Step1. Analyze and review what went wrong last week, so you know what needs improvement;
Step 2. Set measurable goals that are realistic but push yourself or others out of their comfort zone – this will ensure victory!
Step 3. Prioritize tasks based on importance to create an actionable list
Step 4. Assign time limits per task
Step 5. Find someone who'll hold each other accountable with consequences if not completed.
2. Make an Action Plan for Effortless Success
The goal of a good action plan is to make things as easy as possible for oneself. You must know your ultimate goals and have reasonable deadlines for reaching those milestones before mapping out the necessary steps required to meet them in time. Once you've got everything laid out ahead of yourself, it will be much easier than trying piecemeal different tactics from every other article or book ever written about self-management skills. Success comes down to hard work, after all!
3. Boost Your Emotional Intelligence in Everyday Life
Your emotional intelligence allows you to be mindful of your emotions, take responsibility for them, and use self-management skills. Emotional intelligence can help us navigate the complex social world we live in today and has been linked with a wide range of benefits, including better relationships.
You can become better at understanding human emotions and interacting with people by developing your emotional intelligence. This skill will help you understand yourself, others, and the social world around you in new ways.
A socially intelligent person has an intuitive sense of how to communicate successfully through words or actions; empathetic towards other's feelings while still maintaining their own values as well as boundaries; capable of self-awareness which helps them manage challenging behaviors like anger outside themselves more effectively than those who are less aware of what they're feeling inside all skills which would serve any individual very well!
4. Challenge Yourself to Conquer a New Goal Every Month
To manage yourself effectively, it's wise to set monthly goals and work through them.
Monthly goal setting will help you feel motivated by rewarding your success with a new challenge. To start this process, always take the time to sit down and think about what you want in life or how achieving these things would make you feel more fulfilled as an individual: anything from starting that business idea of yours, for instance!
After considering all those ideas–whether big or small- create at least one list each month of achievable tasks explicitly related to that objective; then find ways within your day-to-day routine where they can be put into action.
Related Article: Teamwork Makes the Dream Work
Conclusion
Hopefully, this blog post has given you a better understanding of the importance self-management plays in successful personal and professional endeavors. With these tips for self-management, it's clear that there are many ways to use your time more wisely and get out of procrastination habits.
If you need more information on developing self-management skills, sign up for our newsletter, where we share helpful tips like this one monthly! Share with a friend who needs some help in this area too!
FAQs
What is self management?
Self-management is the ability to control one's thoughts, feelings, and actions. It can also be called self-control or willpower.
What are self management skills?
Self management skills are the skills that individuals need to manage their schedules, budgets, stress levels, and more. They allow people to have the ability to plan to stay productive and happy in their lives.
Why self-management is important
Self-management is important because it gives people the power to make their own choices. As a result, they can set goals and implement strategies that work best for them, increasing personal efficacy and leading to a more fulfilling life experience overall.
How to improve self management
You can improve your self-management skills by setting specific goals, making a plan to achieve them, and understanding what motivates you.