Disclaimer: We sometimes use affiliate links in our content. For more information, visit our Disclaimer Page. 
Aiming to boost your productivity, reduce stress, or dive into a new hobby? Harnessing the power of effective time management can be your game-changer and the best part? There are several free tools at your disposal to help you optimize every moment of your day.
Navigating the professional realm, be it in a traditional office setting or from the comfort of your home, presents its own set of challenges. The relentless influx of tasks and a barrage of new information can sometimes feel insurmountable!
Dive into this blog post for insightful strategies to master time management, complemented by a curated list of our top four free tools designed to keep you aligned and ahead.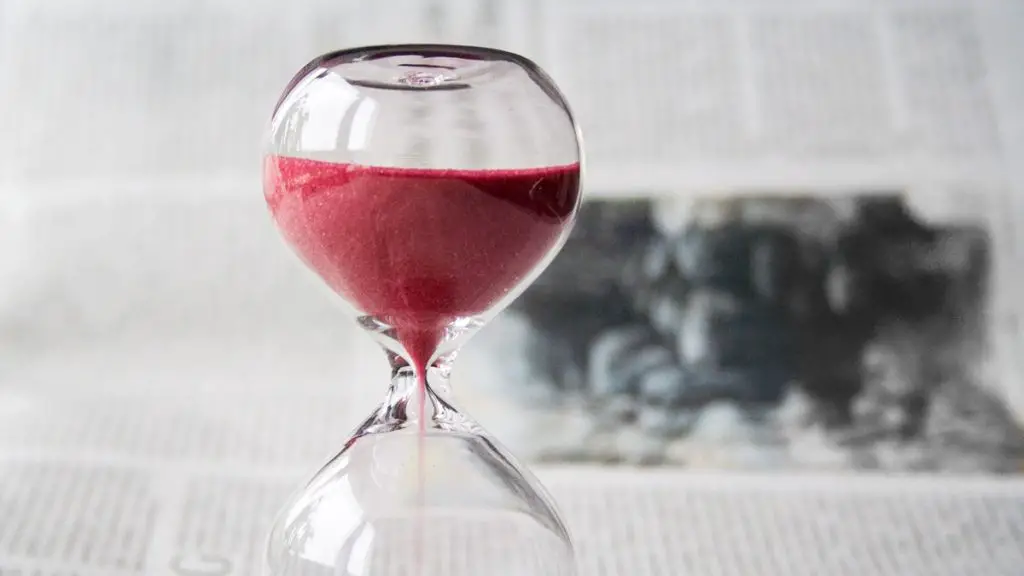 The Profound Influence of Peter Drucker on Time Management
Peter Drucker stands out as a renowned management consultant and author, who notably introduced the "management by objectives" concept. This pioneering idea subsequently became a foundational model for numerous businesses. Among his vast literary contributions, "The Effective Executive" remains one of his most acclaimed works. In another insightful book, "Managing in Turbulent Times," Drucker delves into strategies for navigating change and fostering innovation in the business realm.
Drucker's footprint on time management is monumental. He provided invaluable insights into optimizing productivity, enabling individuals to achieve more objectives and tasks daily.
The magnitude of Drucker's contributions to the field cannot be overstated. With a repertoire of 39 books, his in-depth exploration of organizational dynamics and his groundbreaking ideas about social responsibility have fundamentally transformed the corporate world. Impressively, Drucker foresaw numerous late 20th-century developments, including the rise of the "knowledge worker" (a phrase he coined) and the dawn of the information age.
It's worth noting that in 1958, James McKay pioneered the first book dedicated solely to time management. Since then, various influential concepts have emerged, with Steven R. Covey's "The 7 Habits of Highly Effective People" deserving special mention. This book, a nonfiction bestseller, alongside Covey's other works, has significantly championed the idea of personal time management.
List of Techniques for Effective Time Management
Navigating our days efficiently is less about adding hours and more about maximizing the ones we have. The right techniques can transform our approach to tasks, helping us work not just faster, but smarter. Explore the strategies below and discover the potential shifts they can bring to your daily rhythm.
The Pomodoro Technique: Break your work into short, focused intervals (usually 25 minutes) followed by a short break. This cycle helps maintain high levels of focus and gives your brain "rest" periods to recharge.
The Two-Minute Rule: If a task takes less than two minutes to complete, do it immediately. This prevents small tasks from piling up and overwhelming you.
Time Blocking: Allocate specific blocks of time for specific activities. This helps in ensuring that you have enough time for essential tasks.
The Eisenhower Box: Categorize tasks based on their urgency and importance. This helps in prioritizing what needs immediate attention and what can be scheduled for later.
The 80/20 Rule (Pareto Principle): Focus on tasks that produce the most significant results. Often, 20% of our efforts yield 80% of the results.
Batch Processing: Group similar tasks together to tackle them in one go, reducing the mental load of switching between different types of activities.
Set SMART Goals: Make your goals Specific, Measurable, Achievable, Relevant, and Time-bound. This provides clarity and direction in your tasks.
Limit Multitasking: Focus on one task at a time. Studies show that multitasking can reduce productivity by up to 40%.
Delegate: If someone else can do a task, especially if they can do it better or faster, delegate it. This allows you to focus on tasks that only you can do.
Regularly Review & Reflect: Set aside time weekly or monthly to review your goals and progress. Adjust your strategies based on what's working and what's not.
Implementing even a few of these techniques can make a notable difference in how you manage and utilize your time. Choose the ones that resonate most with your workflow and see the transformation unfold.
Benefits of Effective Time Management
Time is a resource that, once gone, cannot be reclaimed. Yet, its effective management can unlock a myriad of advantages that impact both our personal and professional spheres. As we explore these multifaceted benefits, it becomes evident how mastering this essential skill can be transformative:
Enhanced Productivity
Effective time management paves the way for higher efficiency. When tasks are organized and prioritized, it becomes easier to focus on what matters, leading to quicker and more effective results. This systematic approach ensures that efforts are channeled in the right direction, amplifying the overall output.
Reduced Stress Levels
One of the immediate reliefs of managing time well is the significant reduction in stress. No longer burdened by the chaos of cluttered schedules or the anxiety of impending deadlines, individuals find a sense of calm and control, fostering a healthier mental space.
Improved Work Quality
With a well-structured plan in place, there's more room to concentrate on the task at hand. This focus translates to higher quality work, characterized by meticulous attention to detail and a deeper understanding of the subject.
Balanced Personal and Professional Life
A harmonious blend of work and leisure is a coveted ideal for many. Effective time management creates clear boundaries between professional commitments and personal time, ensuring neither overshadows the other. This balance is essential for overall well-being and happiness.
Strengthened Professional Reputation
Timeliness, reliability, and consistent high-quality output are hallmarks of a professional who manages time well. Such traits not only earn respect among peers but also open doors to more significant opportunities and collaborations.
Elevated Job Satisfaction
The joy of ticking off tasks, meeting goals, and having time for self-improvement contributes to a heightened sense of job satisfaction. This positive sentiment fosters a more engaged and enthusiastic approach to work.
Nurtured Personal Relationships
With work no longer spilling into personal hours, there's more quality time available for loved ones. This undistracted time strengthens bonds and deepens connections.
Financial Prosperity
In the business world, time is often directly linked to money. Efficient time management can lead to faster project completions, more clients served, and consequently, increased revenue.
Space for Personal Growth
Lastly, managing time effectively carves out moments for self-reflection, learning, and growth. This personal development time is crucial for evolving as an individual and expanding one's horizons.
The benefits of effective time management extend beyond mere task completion. It's a transformative skill that enriches both professional endeavors and personal life, making it a vital tool in today's fast-paced world.
Implications of Poor Time Management
In an era where time is often equated with currency, ineffective time management can have far-reaching consequences. Beyond missed deadlines and unmet goals, the ripple effects of poor time management can permeate various aspects of one's personal and professional life. Let's delve into some of the significant implications:
Reduced Productivity: One of the most immediate consequences is a drop in efficiency. Tasks take longer, projects get delayed, and the overall output diminishes.
Increased Stress: Consistently running behind schedule or feeling perpetually overwhelmed can lead to heightened stress levels, adversely affecting mental well-being.
Deteriorating Work Quality: With the rush to complete tasks, the quality of work can suffer, leading to mistakes, oversights, and subpar results.
Compromised Work-Life Balance: Poor time management can blur the boundaries between professional and personal life, leading to overwork and reduced time for personal pursuits and relaxation.
Damaged Professional Reputation: Habitual tardiness, missed deadlines, or substandard work can tarnish one's reputation in the professional arena, limiting future opportunities and collaborations.
Decreased Job Satisfaction: Constantly feeling like you're playing catch-up can diminish the joy and satisfaction derived from one's job, leading to burnout and disillusionment.
Strained Relationships: Personal relationships can also bear the brunt. Friends and family might feel neglected when work spills into personal time due to poor time management.
Lost Opportunities: Time wasted is synonymous with lost opportunities. Whether it's a missed business deal or a forgone personal enrichment activity, the cost of poor time management can sometimes be intangible but deeply felt.
Financial Implications: In the business realm, delays can lead to contractual penalties, lost clients, or reduced sales, impacting the bottom line.
Reduced Personal Growth: With time slipping away unproductively, there's less opportunity for personal development, learning, and growth.
In essence, while time remains a constant, how we manage it dictates our experience of life. Poor time management doesn't just affect the now; it has lasting implications for our future, both professionally and personally. Recognizing these potential pitfalls underscores the importance of honing effective time management skills.
Free Time Management Tools
Let's take a look at some of the best time management tools that are available for free. They can help you increase productivity and improve your work outcomes in many ways, depending on what tasks need to be completed over different periods.
Clockify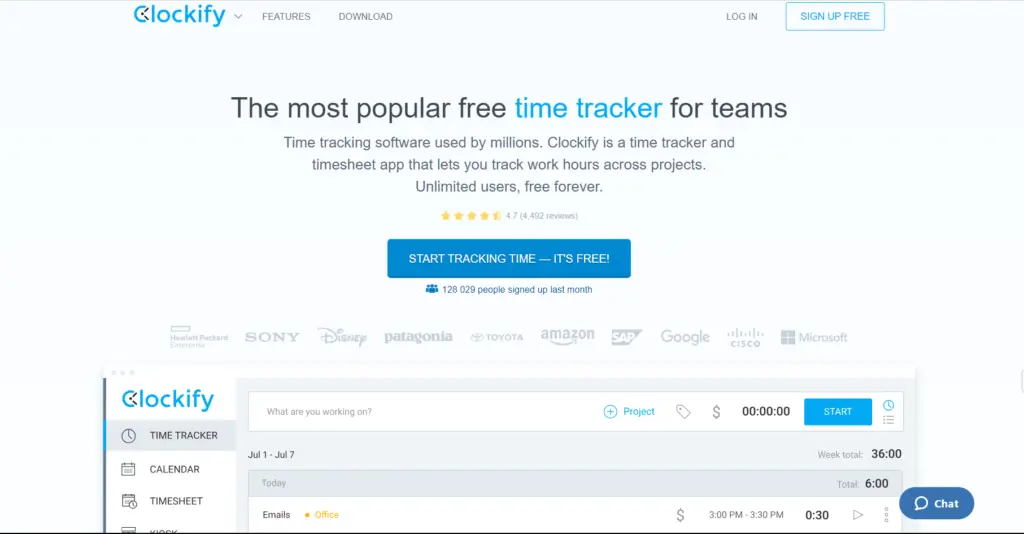 Clockify is a renowned time-tracking software that has garnered the attention and trust of millions of users worldwide.
Features and Offerings:
Timekeeping: Clockify offers various tools for tracking work hours, including a real-time timer, a weekly timesheet, a visual calendar, an auto-tracker for apps and websites, and a kiosk for clocking in from shared devices.
Reporting: Users can analyze and export tracked time, view activity reports to see who's working on what, calculate earnings, costs, and profits, and monitor project estimates and budgets.
Management: The platform provides scheduling tools for work, assignments, and shifts, manages leaves and holidays, approves timesheets, creates invoices from billable time, records project expenses, and manages team members and their roles.
User Experience:
Cross-Platform Compatibility: Clockify is designed to work across various devices. Whether you're on a desktop (Windows, Mac, Linux), using a web browser (Edge, Chrome, Firefox), or on a mobile device (Android, iOS), Clockify ensures seamless time tracking.
Why Use Clockify: The platform emphasizes boosting productivity, billing clients accurately, managing teams effectively, and streamlining processes across projects, clients, departments, and employees.
Clockify stands out as a comprehensive and user-centric time-tracking software. With its wide array of features, it caters to both individual freelancers and large teams. The platform's emphasis on boosting productivity, coupled with its flexibility across devices, makes it a top choice for those seeking an effective time management tool.
Time Clock Wizard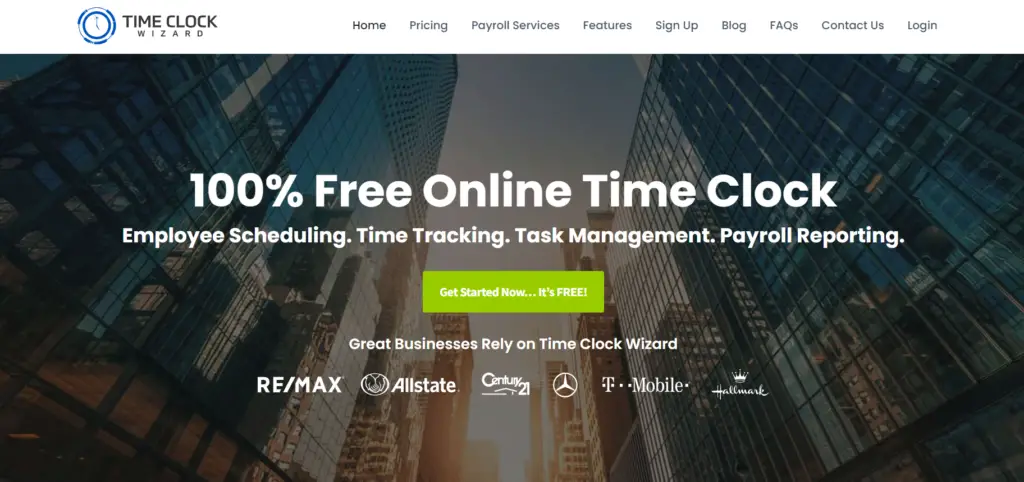 Time Clock Wizard is a comprehensive online platform designed to assist businesses in managing their employees more effectively.
Features and Offerings:
Employee Scheduling: The platform offers intuitive employee scheduling with features like alternating work days, different pay rates, and reimbursements.
Time Tracking: It provides a free online time clock that accurately tracks employee work hours, capturing details like absences and late clock-ins.
Instant Alerts: Customizable mobile and email alerts can be sent instantly to both employees and managers.
Payroll Reporting: The tool simplifies the process of tracking employee time and generating payroll reports.
Additional Features: Other notable features include expense reimbursements, PTO reports, photo capture at clock-in for verification, and a powerful dashboard for real-time insights.
User Experience:
Mobile Compatibility: Time Clock Wizard has a free app that's compatible with the latest versions of iOS and Android. This allows staff to clock in from a single device, turning any tablet into a wall-mounted or desktop time clock.
Security: The platform emphasizes security with features like user-based permissions, off-site data protection, user-specific passwords, two-factor authentication, and photo capture.
Time Clock Wizard appears to be a robust and user-friendly platform for businesses looking to streamline their employee management processes. With a range of features from scheduling to payroll reporting, it caters to various needs. The positive testimonials further attest to its effectiveness and user satisfaction. For those interested in diving deeper or seeking more info about its offerings, I recommend visiting their official website.
Evernote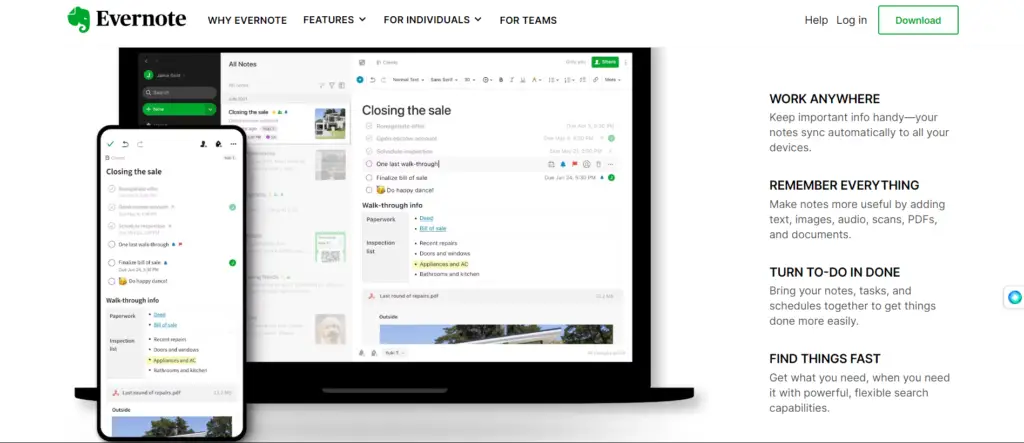 Evernote is a renowned digital note-taking application designed to help individuals and professionals capture, organize, and prioritize their ideas, tasks, and schedules.
Features and Offerings:
Work Anywhere: Evernote ensures that your notes are synchronized across all your devices, allowing you to access your information from anywhere.
Comprehensive Note-Taking: Users can enhance their notes by adding text, images, audio, scans, PDFs, and other documents.
Task Management: Evernote allows you to create, assign, and set due dates for tasks within your notes. This ensures that you stay on top of your to-dos and never miss a deadline.
Search Capabilities: The platform boasts powerful and flexible search capabilities, ensuring you find what you need quickly.
Web Clipping: Users can save web pages (excluding ads) and annotate them with arrows, highlights, and text to make the content more meaningful.
Integration with Google Calendar: This feature ensures that your meetings and notes are contextualized, preventing any loss of information.
User Experience:
Go Paperless: Evernote offers a feature to scan important documents, ensuring they're accessible across all devices.
Product Variants: Evernote provides different plans tailored to individual needs, including Evernote Free, Evernote Personal, Evernote Professional, and Evernote Teams.
Additional Features: The platform offers features like PDF and doc Search, Search Handwriting, Document Scanner, and Calendar integration.
Evernote stands out as a versatile and comprehensive note-taking app suitable for both individuals and professionals. Its array of features, from capturing ideas to task management, makes it a valuable tool for those looking to organize their thoughts and tasks efficiently. The platform's emphasis on integration and accessibility further enhances its appeal.
Todoist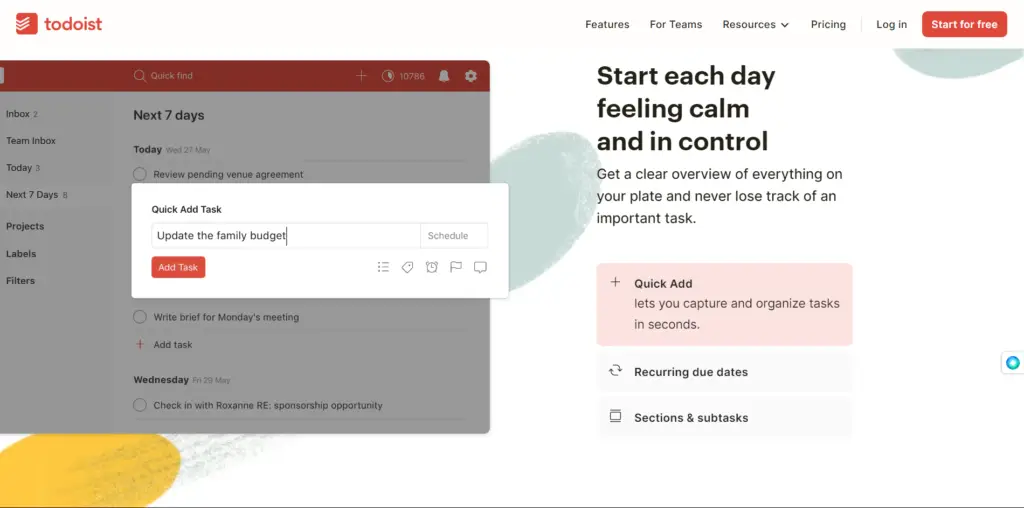 Todoist is a premier task management and to-do list application designed to help individuals and teams streamline their tasks and achieve a balanced work-life organization.
Features and Offerings:
Natural Language Recognition: Todoist offers a unique feature where users can type almost anything into the task field, and the app's natural language recognition will instantly populate the to-do list.
Task Prioritization: Tasks are automatically sorted into categories like Today, Upcoming, and Custom Filter views, aiding users in focusing on their most pressing tasks.
Unified Task Management: Todoist allows for the coexistence of work and personal tasks within the same platform. With the help of workspaces, tasks from various aspects of one's life can be organized seamlessly.
Longevity and Trust: Todoist boasts of a 16-year legacy, emphasizing their commitment to users and ensuring they won't compromise user trust.
User Experience:
Simplicity and Flexibility: Todoist is praised for its ability to cater to both simple and complex task management needs.
Global Reach: The platform has over 30 million app downloads, with users from over 160 countries. Over 2 billion tasks have been completed using Todoist.
Highly Rated: Todoist has received over 337,000 five-star reviews on Google Play and the App Store, underscoring its popularity and user satisfaction.
Todoist stands out as a comprehensive and user-friendly task management platform suitable for both individuals and teams. Its array of features, from natural language recognition to unified task management, makes it a valuable tool for those looking to organize their tasks efficiently. The platform's global reach and high user ratings further attest to its effectiveness and widespread appeal.
RescueTime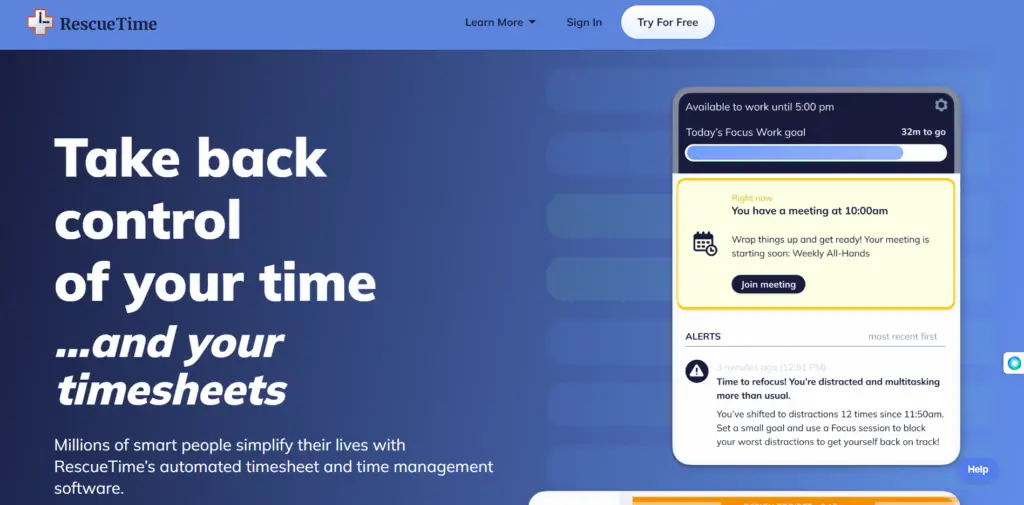 RescueTime is a digital platform designed to help individuals regain control over their time by offering automated timesheets and time management solutions.
Features and Offerings:
Automated Timesheets: With the introduction of Timesheets AI beta, RescueTime simplifies the process of tracking projects. The software uses AI and an intuitive drag-and-drop interface to create timesheets in minutes, ensuring accuracy when billing clients.
Focus Sessions: RescueTime offers a feature called Focus Sessions that blocks distracting sites, helping users maintain their concentration. At the end of each session, the platform provides feedback on how well the user stayed on track and the amount of work accomplished.
RescueTime Assistant: This feature provides users with a morning forecast, allowing them to check their meeting schedule and identify opportunities to focus throughout the day.
Comprehensive Time Management: RescueTime not only blocks distractions but also manages users' meeting schedules and provides accurate time tracking.
User Experience:
Compatibility: The platform is compatible with macOS, Windows, Android, and iOS.
Recognition: PC Mag has awarded RescueTime the title of "Editor's Choice," describing it as one of the best productivity tools they've tested.
Insights: RescueTime provides insights into users' time and focus, helping them understand their productivity patterns.
RescueTime emerges as a comprehensive solution for those looking to enhance their productivity and gain better control over their time. With features ranging from automated timesheets to focus sessions, the platform caters to the diverse needs of modern workers. Its longstanding presence in the market and its vast user base further attest to its effectiveness and reliability.
TimeCamp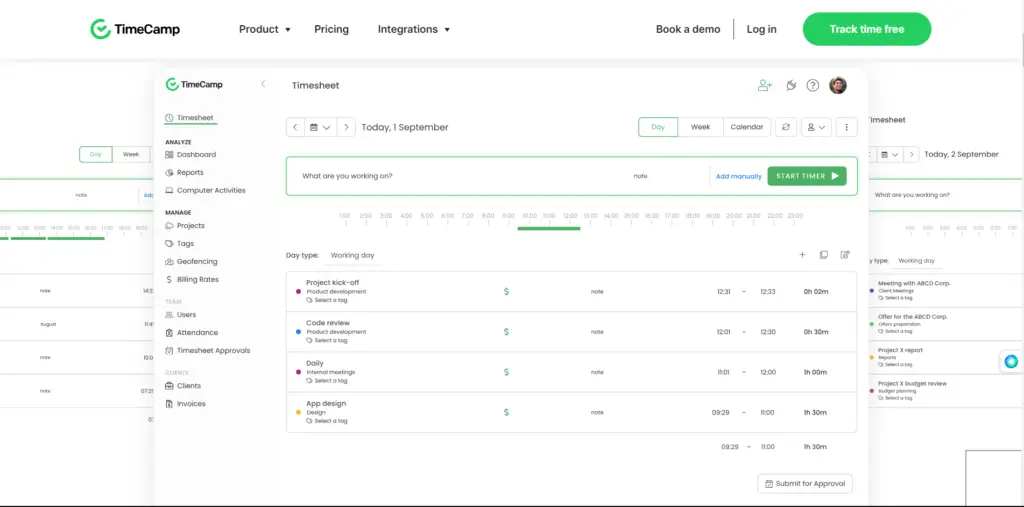 TimeCamp is a dedicated time-tracking platform that aims to help individuals and businesses optimize their time management and enhance productivity.
Features and Offerings:
Automated Time Tracking: TimeCamp offers automated time tracking, ensuring that every second is accounted for without manual input.
Attendance Management: The platform provides tools to log work hours, manage employee attendance, and create payrolls seamlessly.
Project Efficiency Monitoring: Users can track time and utilize the data to enhance their projects' productivity and profitability.
Team Performance Analysis: TimeCamp allows users to analyze their team's daily activities and collaboratively address productivity challenges.
Precise Billing: The platform ensures accurate and transparent billing for clients, turning time into revenue.
Geofencing and Kiosk: Features designed for field workers and enhanced attendance management, respectively.
Planner: A collaboration platform that integrates seamlessly with TimeCamp, aiding in project management.
User Experience:
Ease of Use: 82.2% of TimeCamp users chose the platform over other time trackers due to its user-friendly interface.
Productivity Boost: Users have reported a 15.8% increase in productive hours after implementing TimeCamp.
Testimonials: Various professionals, from programmers to designers, have praised TimeCamp for its efficiency, automation, and integration capabilities.
TimeCamp stands out as a comprehensive time management solution tailored for both individuals and businesses. Its diverse range of features, from automated time tracking to team performance analysis, ensures that users can maximize their productivity and optimize their time use. The platform's emphasis on ease of use and integration capabilities further solidifies its position as a leading time-tracking tool.
Conclusion
We hope you've found today's blog post useful and that these time management tips will help make your life a little easier. Also, if there are any other topics you want to see covered in future posts, please let us know!
Keep up with the latest news, tips, and tricks by signing up for our newsletter. In addition, if you have any favorite tools that can help better manage your time, feel free to share them in the comments below; we would love to hear what works best for others as well.
FAQs
How can I manage my time for free?
You can manage your time for free by using various free time management tools and apps available online. Some popular options include actiTIME, RescueTime, Clockify, Toggl, and more. These tools help you track your tasks, set priorities, and optimize your daily schedule.
Yes, Clockify is a free time tracking software that offers unlimited users and is free forever. It allows you to track work hours across different projects and tasks efficiently.
What is a good time management tool?
Several good time management tools are available, and the choice depends on your specific needs. Some widely regarded options include actiTIME, Todoist, Paymo, and Clockify. The best tool for you will depend on your preferences and workflow.
Is there a free tool to track hours?
Yes, there are free tools to track hours. Clockify, Toggl, and TimeCamp are some examples of free time-tracking apps that allow you to monitor and manage your work hours without any cost.