Time is a precious commodity. But unfortunately, we only have so much of it in our day, and it's essential to use it wisely. That's why time management skills are so critical. They help us operate our time in the most efficient way possible to achieve our goals.
This blog post will discuss seven examples of time management skills. Also, how can you improve them, which can help you succeed!
What is a time management skill?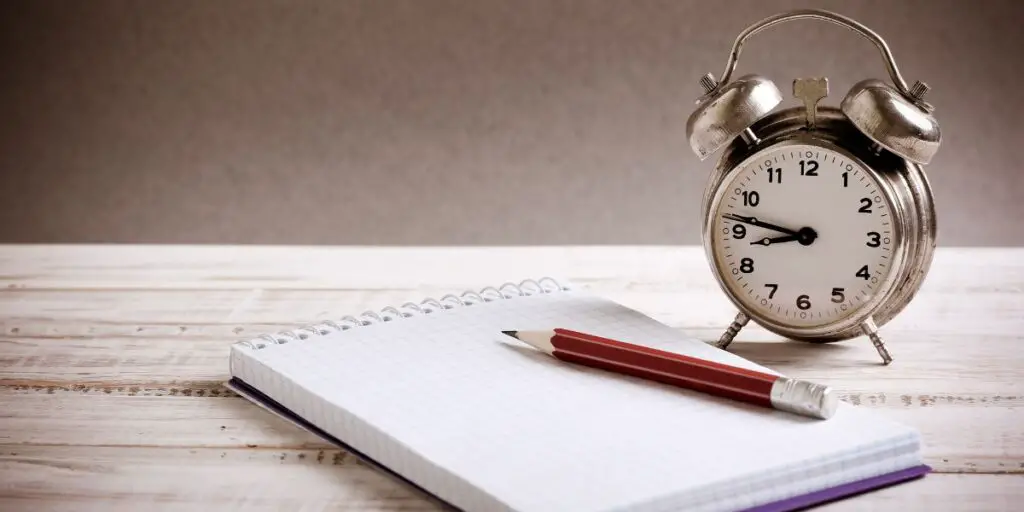 Time management skill is the ability to use your time efficiently to accomplish tasks and goals. This may seem simple, but it's pretty challenging to master. Many different factors can impact our ability to manage our time effectively.
Related: What is Management?
Importance of time management skills
Strong time management skills are essential because they help you structure your work in a way that allows you to accomplish goals.
For example, if your goal is to get a job, you need time to update your resume, search for openings, apply, and research companies. And prepare yourself for a job interview. Setting aside specific amounts of time per day will help you complete the necessary steps to getting a job.
Alternatively, if you already have a job, you likely have a variety of responsibilities to help the company achieve specific goals. Maintaining your calendar, meetings, and tasks is necessary to be successful in your role.
Another example is if you are running late to a meeting and must work on a project you forgot was due while people are waiting for you in the conference room, it isn't easy to focus on either task. If you had managed your time better, you would have known about the project and completed it before the meeting.
Alternatively, if you arrived on time for the meeting, you could have given your full attention to the discussion and engaged more with your colleagues. Good time management skills involve avoiding distractions, scheduling essential and urgent tasks, and maintaining focus throughout the day.
When it comes to time management, it is essential to focus on urgent and vital tasks that will help you and your company accomplish goals.
Related: Time Management Tools
Most Important Time Management Skills to Develop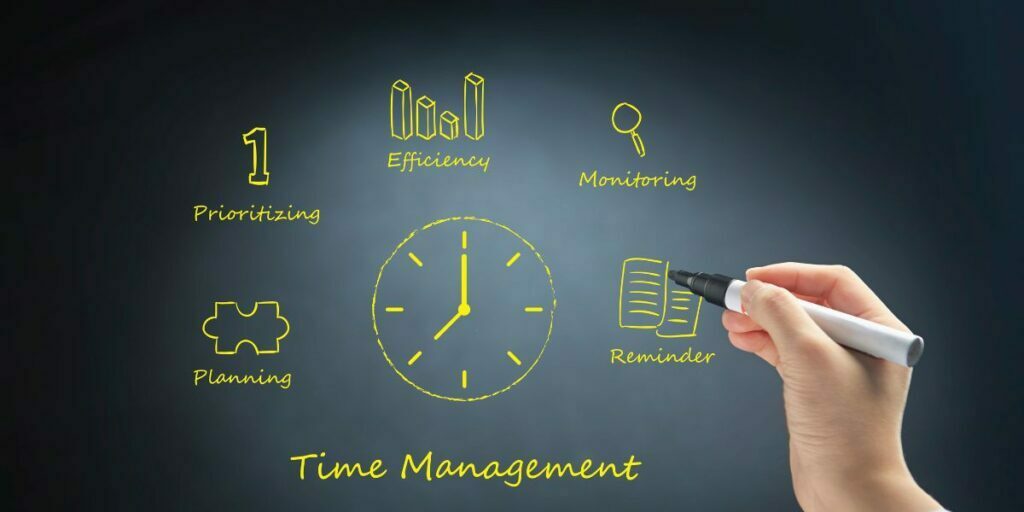 Here are the seven most crucial time management skills you need to know
→ Setting up a goal
It's no secret that goals are essential to success. But many people don't realize that setting business goals is the first step to becoming a good time manager.
Goal-setting lets you clearly understand your end goal and what you need to prioritize to accomplish it.
Setting both short-term and long-term goals can lead to success in your career. That's where goal-setting comes in handy.
By setting business goals, you can ensure that you're better able to manage your time and achieve the success you desire.
→ Staying organized
Being well-organized can help you stay on top of important tasks and meet deadlines. This might mean maintaining an up-to-date calendar, being able to locate specific documents quickly, having a tidy environment, and taking detailed, diligent notes.
Keeping track of important dates and information can avoid last-minute scrambling and ensure that essential tasks are completed promptly.
In addition, being organized can help you stay calm and focused in the face of sudden changes or challenges. Whether you're dealing with a personal crisis or a work deadline, staying organized can help you maintain a clear picture of what needs to be done and when.
In short, there are many benefits to being well-organized. So if you're looking to improve your productivity and reduce your stress levels, take some time to get your affairs in order.
→ Prioritization
Being a good time manager requires assessing your responsibilities and prioritizing accordingly.
There are many ways to prioritize what you need to accomplish. For example, you might decide to complete fast, simple items followed by longer, more involved ones.
Alternatively, you might prioritize your tasks, starting with the most time-sensitive. Or, you might use a combination of both methods. Creating and referring to a to-do list can be helpful regardless of your priorities.
That way, you can ensure that you're tackling your most important tasks and that nothing falls through the cracks. In addition, you can become an expert at managing your time by honing your prioritization skills.
→ Strong Communication
Strong communication skills are essential to be successful in any field. Communicating your plans and goals clearly to those you work with allows for a more streamlined and effective workflow.
Additionally, delegating tasks to others frees up your time to focus on the most critical tasks that align with your goals. Developing strong communication skills can thus have a profound impact on your ability to achieve success.
However, developing these skills takes time and practice. Luckily, many resources are available to help you hone your communication skills.
Whether you attend a workshop or simply read a book on the subject, making an effort to improve your communication skills is sure to pay off in the long run.
→ Planning
Planning is one of time management's most critical and often overlooked aspects. You can save yourself hours of wasted time by taking a few minutes to plan out your day. Begin by creating a to-do list, prioritizing tasks based on their importance.
Then, estimate how long each task will take to complete. This will help you gauge whether you are realistic in your expectations.
Finally, try to schedule blocks of time for each task, and stick to your schedule as closely as possible. By being efficient in your planning, you can make the most of your time and get more done than you ever thought possible.
→ Delegation
While it can be tempting to say yes to every request, practicing delegation and boundary setting is crucial to managing your time well.
By prioritizing urgent and essential tasks, you can ensure that you are using your time in the most productive way possible.
In addition, delegating tasks and setting boundaries can avoid becoming overwhelmed and ensure you have the time necessary to complete your goals. Ultimately, being a good time manager means being strategic about how you use your time to achieve success.
→ Stress management
Stress can quickly lead to burnout, which can, in turn, make it challenging to stick to a schedule. That's why it's essential to find ways to handle stress positively.
This might include taking small breaks throughout the day or rewarding yourself with a special treat after completing an important task.
By attending to your mental health, you can increase your chances of success when practicing good time management.
Related: Self Management
7 Examples of Time Management Skills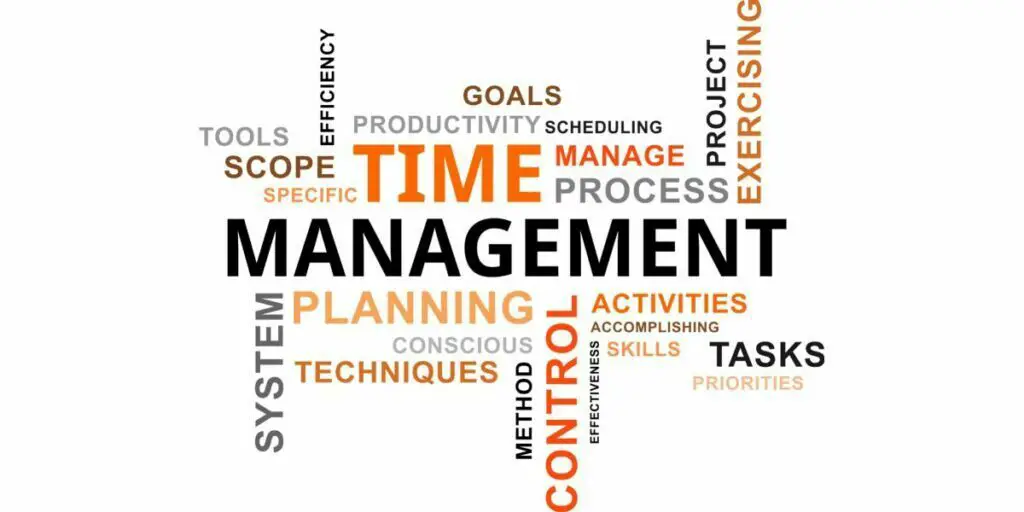 Here are some examples of time management skills.
1. Learn how to prioritize
Learning how to manage our time is an essential skill that everyone should learn. However, when we have a lot of tasks to do, it can be challenging to know where to start.
That's where prioritizing comes in. We must learn to prioritize our tasks and focus on the most important ones first.
This will help us use our time more efficiently and accomplish more daily. Prioritizing is just one of many time management skills we should learn, but it is crucial. With a bit of practice, we can all learn how to manage our time better and get more done daily.
2. Saying NO to things you don't like
Being good at time management is not only about being able to efficiently use your time but also knowing when to say no.
We often take on too much because we don't want to disappoint people or let them down.
However, this can lead to us feeling overwhelmed and stressed out. Therefore, it's essential to learn how to say no to focus on the things that are truly important to us.
Learning to say no can be difficult, but it's worth it in the end. When we're able to select the commitments we make carefully, we're more likely to succeed at them and feel good about ourselves.
So next time you're tempted to say yes to something you're not sure you can handle, take a step back and consider whether it's worth your time and energy.
3. Delegate your task
Many of us have difficulty admitting that we can't do everything ourselves. We think that if we just try a little more complicated, we'll be able to get all the tasks done. However, this isn't realistic, and it's not healthy.
Trying to do everything ourselves can lead to burnout, and it also means we're not making the best use of our time. So learning how to delegate is a crucial time management skill.
It doesn't mean that we're giving up or that we're not capable. It just means we're being efficient with our time by focusing on what we're good at or enjoy doing.
Delegating also allows us to take on complex tasks without becoming overwhelmed. So next time you're feeling overloaded, remember that it's okay to ask for help. You'll be surprised at how much lighter your load will feel.
4. Taking breaks for work
Time management skills are essential for anyone who wants to be successful in today's fast-paced world.
One of the essential time management skills is learning how to take breaks. It might seem counterintuitive, but taking breaks can help us be more productive.
We give our brains a chance to rest and recharge during breaks. This helps us come back feeling refreshed and ready to work again.
So if you're looking to boost your productivity, take some time out for yourself every once in a while. Your future self will thank you!
5. Setting boundaries
The fifth time management skill is learning how to set boundaries. It can be challenging to set limits on time, but it's important to remember that we can't do everything.
If we overcommit ourselves, it leads to wasted time and not accomplishing what we initially set out to do. Setting boundaries helps ensure that we only take on the things we can handle.
This time management skill is essential because it allows us to use our time more efficiently and prevents us from becoming overwhelmed.
Learning to set boundaries is an essential time management skill that will help us better utilize our time.
6. Manage your distractions
As we've seen, many different time management skills can help us to be more productive.
One skill that's worth mentioning is learning how to deal with distractions. Of course, there will always be distractions in our lives, but it's essential to learn how to manage them so that they don't take up too much of our time.
One way to do this is by setting aside specific times for tasks that require uninterrupted focus.
That way, we can minimize distractions and get more done. With practice, we can all learn to manage our time better and get more out of each day.
7. Planning ahead
Finally, a seventh time management skill is learning how to plan.
This can be difficult because it's essential to think about what we need to do in the future. Planning will help us use our time more efficiently because it allows us to focus on the essential things.
For example, if we know we have a big project due in two weeks, we can start working on it each day so that it's not such a crunch when the due date arrives.
Learning to plan is a crucial time management skill that can help us make the most of our time.
Tips to improve time management skills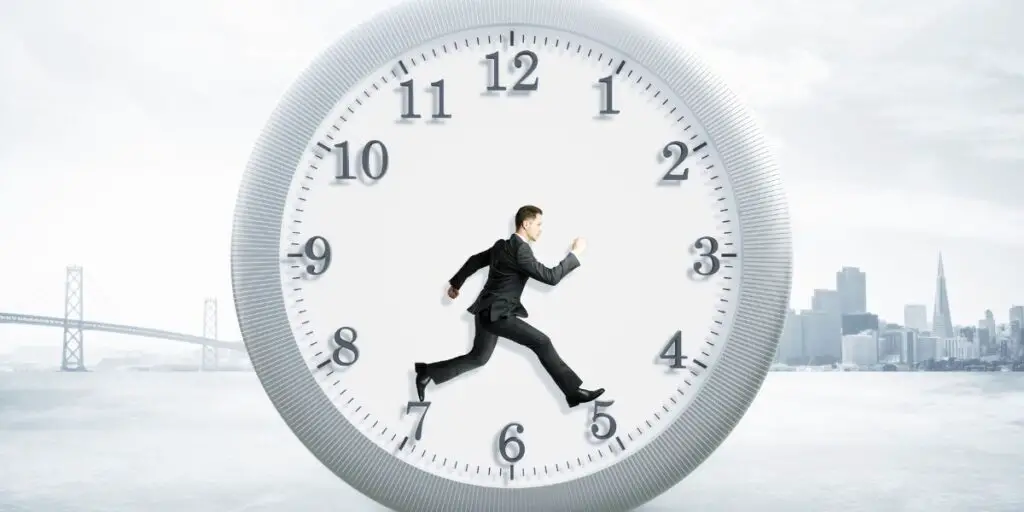 Here are three time management tips you can use:
→ Understanding Urgent and Important tasks
Everyone has 24 hours a day, but it's how we manage our essential time. We all have things that are urgent and vital, things that are just urgent, and things that are neither.
It's essential to focus on the urgent and crucial tasks and get them out of the way. The things that are just urgent can often wait or be delegated to someone else. And the items that are neither urgent nor important can be saved for last or ignored altogether.
Time management skills are essential to be successful in life. By learning to prioritize our time, we can make sure that the most important things get done first and don't get lost in the shuffle.
→ Schedule your task's accordingly
Managing time can be a difficult task. But it is essential to try and schedule complex tasks that require complete focus for the times of day when you are most productive.
For example, if you are a morning person, you may want to try and schedule more difficult tasks for the morning hours.
Alternatively, if you are an evening person, you may want to try and schedule more difficult tasks for the evening hours.
However, it is also essential to remember that everyone is different and that there is no "right" or "wrong" time of day to be productive.
Ultimately, the best way to manage your time effectively is to figure out what works best for you and to try and stick to that as much as possible.
→ Set priorities for your work
To-do lists are a time management technique that can help you prioritize your work. By writing or typing out everything you need to get done, you can better assess which tasks are most urgent or can be quickly completed.
If you have difficulty prioritizing, ask your manager or a colleague who is good at it for help. Understanding how the task at hand affects others and business goals will also assist you in knowing what needs to be done first.
If, despite your best efforts, you can still not meet the due date, requesting a deadline extension may be an option. Practicing these techniques will help make prioritization easier overall.
Related: Best Scheduling App for Small Businesses
Time Management Skills Vs. Time Management Techniques
There is a difference between time management skills and time management techniques. Time management skills include planning, organizing, and prioritizing your time.
Time management techniques are the tools you use to help you manage your time more effectively. Many people use time management skills and techniques to help them get the most out of their day.
Ultimately, whether you use time management skills or techniques (or both), the goal is to help you use your time more effectively.
Conclusion
Time management skills are essential for anyone looking to be successful.
The seven-time management skills we've discussed can help you improve your productivity and achieve your goals.
However, these are just a few examples of the many time management skills available to you.
We want to hear from you! What is your favorite time management skill? How have you been able to use it effectively in your business? Let us know in the comments section below.
And don't forget to share this blog post with your friends and colleagues who could benefit from learning more about time management skills.
FAQ
What is time management in the workplace?
Time management in the workplace is about creating and following a schedule that optimizes your working time. This can involve creating to-do lists, setting deadlines, tracking your progress, and taking daily breaks.
How do you demonstrate Organisational and time management skills?
For example, you can show how well you plan and prioritize tasks by sharing examples of projects you have completed on time and within budget. You can also share examples of how you have managed multiple projects or deadlines and any experience with time-tracking tools or systems. Lastly, discuss your organizing philosophies and how they help you stay productive.
What are some strengths of time management?
Some strengths of time management include the following:
• Time management can help you be more productive. You're likely to get more done when you're better organized and plan how to use your time.
• It can help you avoid feeling overwhelmed. When you know what you need to do and plan to do it, you'll be less likely to feel stressed out by all the things that need to be done.
• Time management can help improve your focus. Knowing what tasks need to be done and when they need to be done can help keep your mind from wandering and make it easier for you to concentrate on the task at hand.
Is time management a soft skill?
Yes, time management is a soft skill. It's considered a soft skill because it's more about attitude and approach than specific techniques or abilities. Time management is all about being proactive and organized. It's about setting priorities and taking action to achieve your goals. It's about learning how to use your time effectively so that you can make the most of every day.
What is productivity and time management?
Productivity measures how much work you produce in a certain amount of time. Time management is the practice of organizing and managing your time to make the most efficient use of it.
Productivity can be increased by developing better work habits, such as setting priorities, planning, and focusing on one task at a time.
Time management can be improved by using tools such as to-do lists, calendars, and planners, dividing large tasks into smaller manageable tasks, and scheduling time for essential activities.
Why are Organisational and time management skills important?
Organizational and time management skills are essential for several reasons. Firstly, they allow you to be more productive and efficient in your work. Secondly, they help you set priorities and manage your time effectively to get more done in less time. Thirdly, they improve your communication skills and enable you to better communicate with others, making working together more effective and efficient. Finally, these skills also help you manage stress better, allowing you to break down tasks into smaller, more manageable chunks. Organizing and managing your time can make your work life much easier and less stressful.