Disclaimer: We sometimes use affiliate links in our content. For more information, visit our Disclaimer Page. 
As a small business owner, you know that time is money. Scheduling appointments is one of the most time-consuming tasks in running a small business. Therefore, you need to efficiently manage your time to focus on what's important – running your business!
The best way to manage your time is by using a scheduler app. There are many different scheduler apps on the market, but how do you know which one is the best for you?
We've researched and found the nine best scheduler apps for small businesses. These apps will help you stay organized and make the most of your time.
This blog post will discuss the nine best appointment scheduling and employee scheduling apps for small businesses. We'll also give you a brief overview of each app and explain why it is worth considering. So without any further talk, let's get started!
What are scheduling apps, and what do they do?
A scheduling app is software that helps people schedule and manage their time. They can be used for personal or professional purposes and can often be customized to fit users' specific needs. Scheduling apps typically have features that allow users to create tasks, set deadlines, and track their progress.
Some also offer integrations with other software, such as email and calendar programs, making managing time even more effortless. Scheduling apps can be a great way to stay organized and productive, and many options are available to fit any budget or need. So, a scheduling app may be the answer if you're looking for a way to get your life organized.
When choosing a scheduling app, there are a few things to consider. First, decide what type of app you need. Personal apps help individuals manage their schedules, and business apps enable managing team schedules or tasks.
Next, decide what features are important to you. Some apps offer a lot of customization, while others are more basic. Finally, consider your budget. Many apps have free versions, but some offer more features for a price.
Related: Restaurant Scheduling App
9 Best appointment scheduling apps for small Businesses
Many different scheduling apps are available, so choosing one that best suits your needs is crucial. The following are nine of the best scheduling apps for small businesses:
1. HubSpot Meetings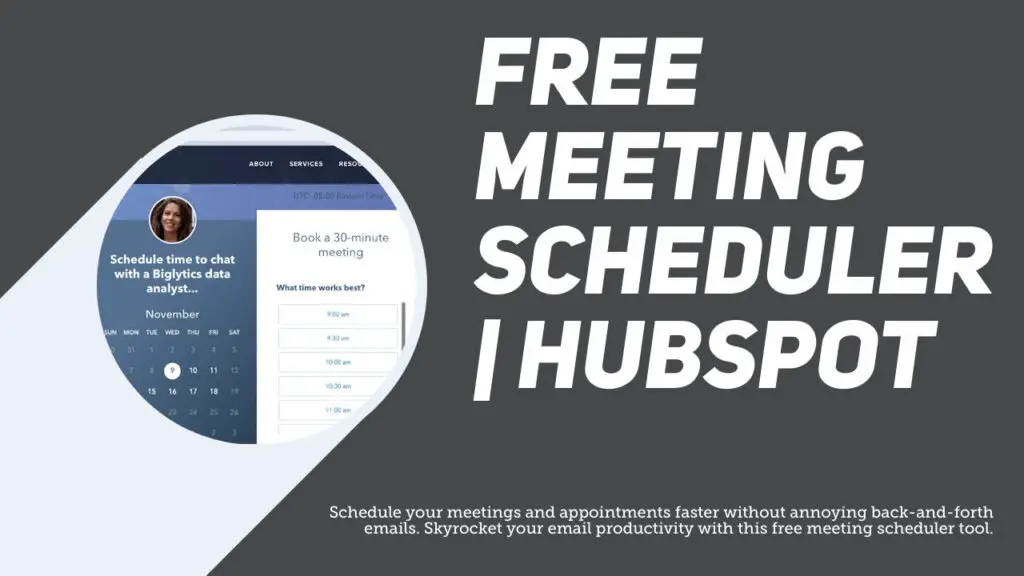 HubSpot Meetings is a powerful online scheduling tool part of the HubSpot CRM platform. It allows businesses to schedule and manage meetings, appointments, and events online. The scheduler is free for paid HubSpot users, and a free plan is also available for businesses to try out.
The full-featured scheduler includes various features such as managing meeting invitations, tracking RSVPs, and sending automated appointment reminders. It also integrates with HHubSpot'sother tools, such as contact lists and sales funnels, making it a comprehensive solution for businesses looking to manage online meetings.
If you're looking for a powerful online scheduler that integrates with other HubSpot tools, then HubSpot Meetings is the tool for you. But, try out the free plan to see if it's the right fit for your business.
2. Setmore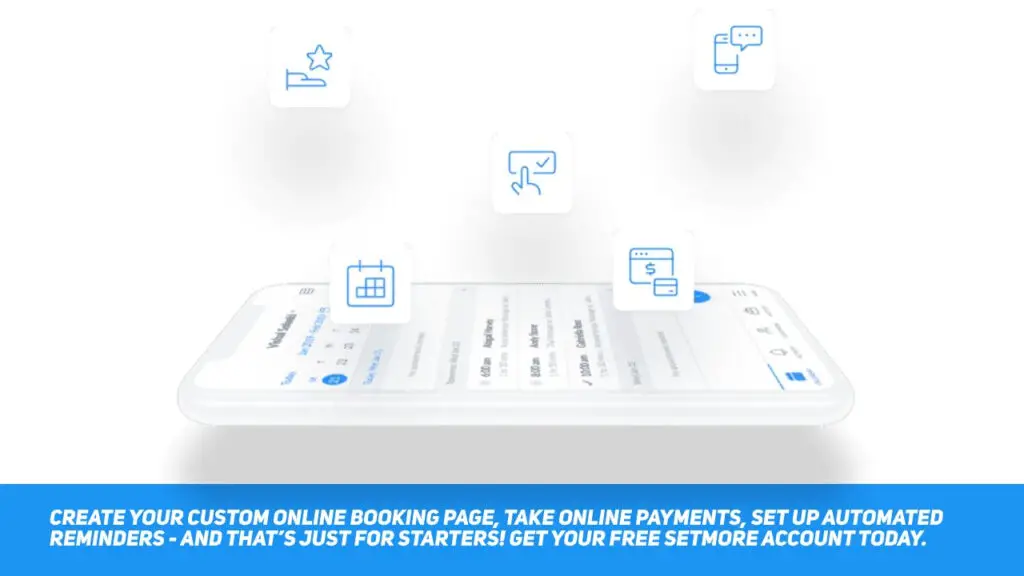 Setmore is a cloud-based appointment booking and management system that helps businesses manage customer appointments. It offers a simple and easy-to-use interface, making it perfect for small businesses that want to focus on their work rather than administrative tasks.
You can also integrate Setmore with various payment gateways, making it easy for businesses to process payments for appointments. It also offers a built-in invoicing system to keep track of their income and expenses. And if you need help, Setmore has an expert team who can assist you. For Up to 4 users, set more offers a free plan, and the paid plan costs you.
3. Appointlet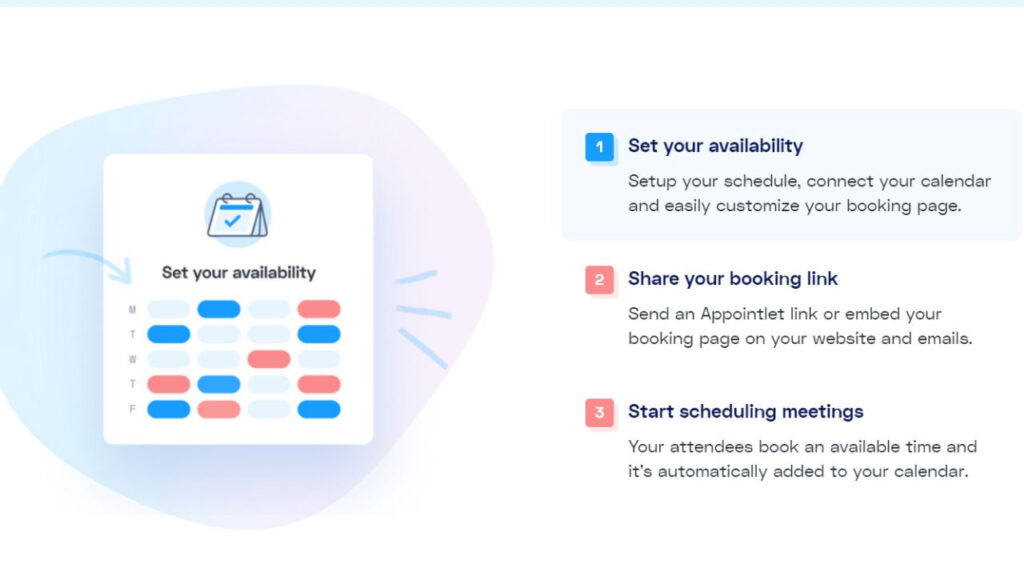 Appointlet is a cloud-based appointment scheduling software that helps businesses connect with their prospects through emails, landing pages, and a sales funnel. Key features include individual or organization scheduling pages, automated reminders, multiple timezone support, and calendar integration.
It is an excellent solution for small businesses as well as enterprise-level companies. Appointlet'skey features include individual or organization scheduling pages, Automated reminders, Multiple timezone support, and Calendar integration.
You can integrate this tool with many calendars, including Google, Outlook, and Apple. Appointlet also supports multiple timezones, which is essential for businesses with customers in other parts of the world. It offers a free plan with basic features to get started, and the paid plan starts at 8$ per month for one member.
4. Calendly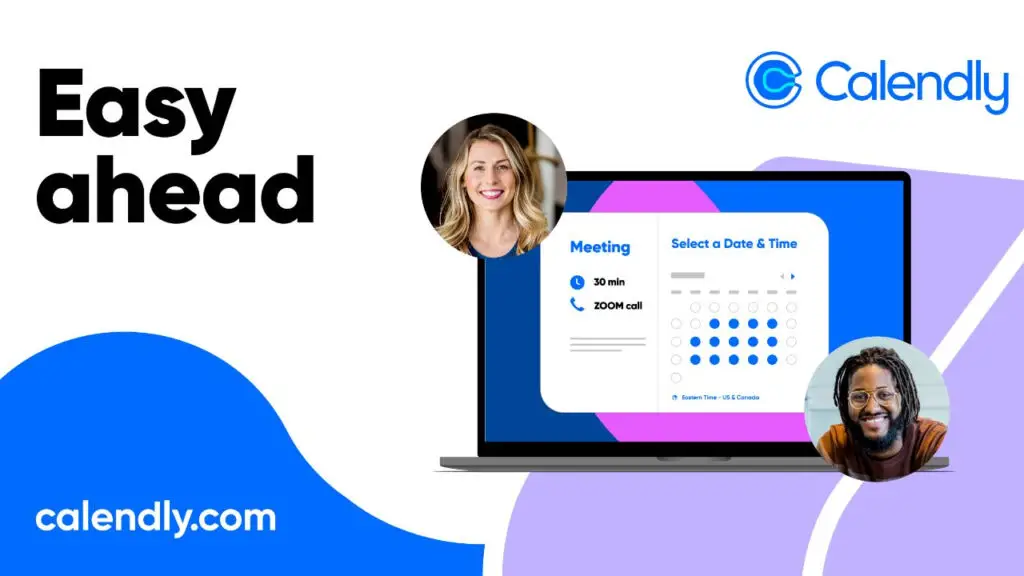 Calendly is a great app that offers many features to help small businesses save time. With it, you can create custom event types and send automatic reminders, so meetings are never missed! You'll also be able to track your events efficiently with this easy-to-use software.
It helps businesses set up schedules and rules for booking appointments. It can be integrated with Google Calendar, Outlook, or any other calendar platform, making it easy to book your next meeting on demand! The buffer function ensures you don't participate in consecutive meetings without taking a break while the Calendars sync together, so everything goes smoothly from start to finish.
5. Acuity-Scheduling
Acuity-Scheduling is a web-based appointment scheduling app that allows business owners and professionals to manage their time more effectively. It offers a variety of features and options to help you streamline your online bookings and improve your customer service.
One of the key benefits of using Acuity-Scheduling is that it allows you to see your entire booking schedule at a glance. This makes it easy to manage your time and meet all of your appointments. In addition, Acuity-Scheduling offers tons of features that allow you to customize your booking page.
If you want to improve your booking process and provide better customer service, Acuity-Scheduling is a great option. It offers cost-effective pricing levels so organizations of all sizes can choose one that suits their needs. Businesses can also take payments via PayPal, Stripe, and Square through Acuity. In addition, it offers a free plan for life and is paid to start at $10/month.
6. Square Appointments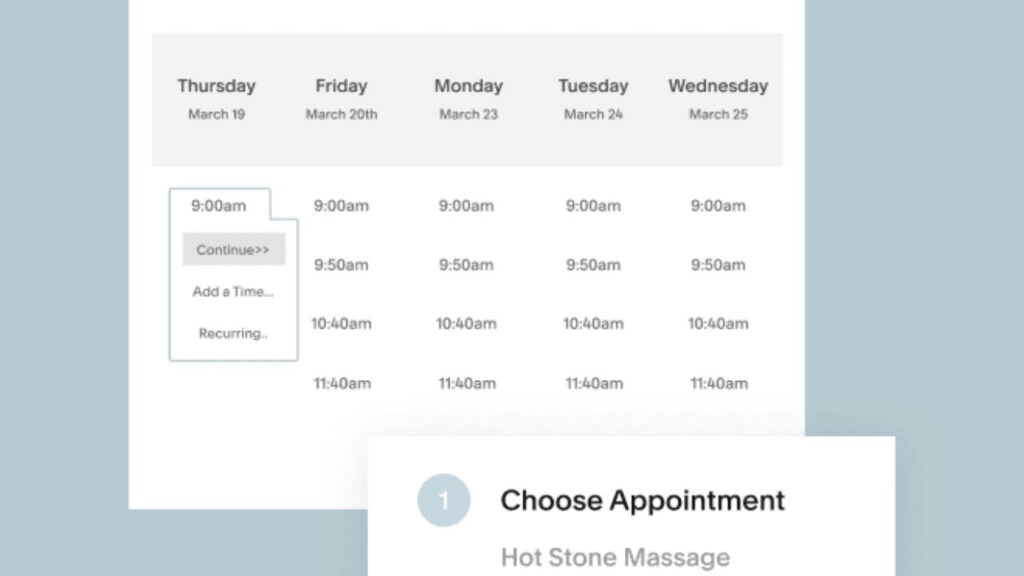 Square Appointments is an online platform that allows users to book, schedule, manage appointments, send reminders and accept payments. Square Appointments is an all-in-one solution for businesses and individuals who need to schedule appointments.
The app is available on the web, iOS, and Android devices and can be used anywhere in the world. With Square Appointments, users can book appointments quickly and easily, send reminders to clients to help them keep appointments, and accept payments for online and in-person meetings.
Square is another best appointment scheduling app for anyone looking for an easy way to manage their appointments. The basics to run your own business while staying ahead of schedule, Square offers a free plan, and the paid plan starts at 29$.
7. HoneyBook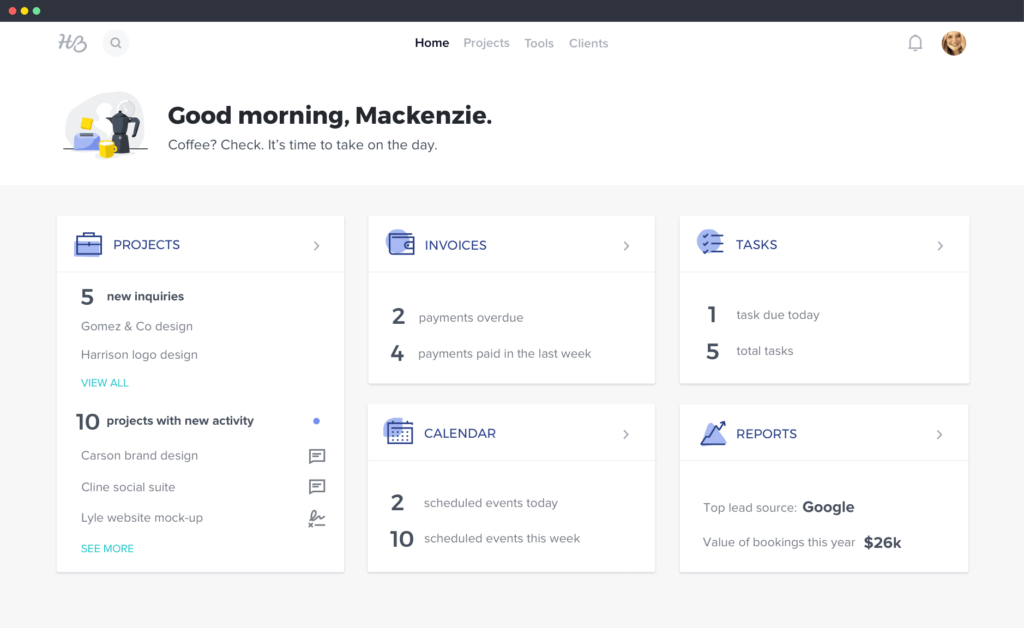 HoneyBook is an easy-to-use software program built to help small business owners streamline their processes, from inquiry to invoice. With HoneyBook, users can manage projects, book clients, sign contracts online, send invoices and accept payments.
HoneyBook is designed for busy professionals who want to streamline their workflow and get organized. The software offers a variety of features to make managing your business easier, including the ability to Manage projects, Book clients, Sign contracts online, Send invoices, and Accept payments.
It is also an affordable solution that can save small businesses time and money. The software is easy to use, making it a great choice for business owners who focus on their work rather than administrative tasks. HoneyBook offers a seven-day free trial (No CC Required). The starter plan costs you $9/month.
8. ScheduleOnce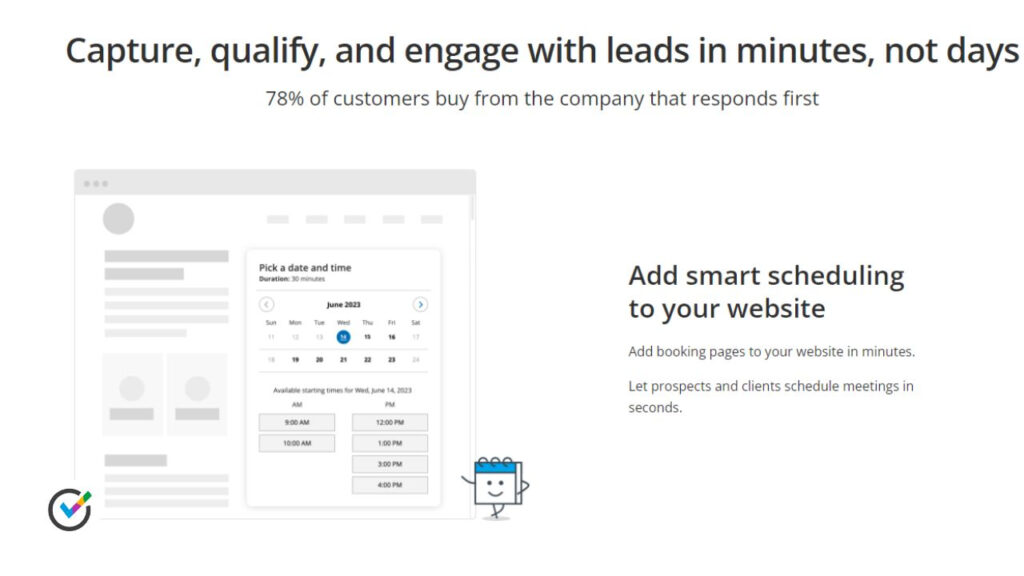 ScheduleOnce is a web and mobile app that helps you manage group meetings, one-on-one calls, and video conferences. It syncs across your website, email, and payment processor, so you'll always have the most up-to-date schedule view.
Plans start at $10 per month, with a free plan that lets 25 users collaborate at no cost. ScheduleOnce's branding choices are impressive, letting you put your special touch on any of your customer-facing tools.
If you need your teams on one page, ScheduleOnce is worth considering. Features include group meetings, one-on-one calls, and video conferences. You can also use it to manage appointments and bookings. In addition, ScheduleOnce integrates with several different calendar services, including Google Calendar, Outlook Calendar, and iCal.
ScheduleOnce also integrates with various payment gateways, making it easy for businesses to process payments for appointments. It also offers a built-in invoicing system to keep track of their income and expenses. And if you need help, ScheduleOnce has a team of experts who can assist you.
9. Calendar
A calendar app is a software application that allows users to schedule and manage appointments, events, and tasks. Many different calendar apps are available, each with its features. Some popular calendar apps include Google Calendar, Apple'siCal, and Outlook. Calendar apps can manage personal appointments and events or management meetings. They can also be used to manage tasks.
Many calendar apps offer features that allow users to sync their calendars across multiple devices. This means that users can access their appointments and events on their desktop, laptop, phone, and tablet. In addition, some calendar apps include features that allow users to transcribe meetings. This means the user can listen to a meeting recording and have the meeting's transcript appear in the calendar app.
The price of calendar apps varies, but most start at around $6 per month. There are also a few free calendar apps available.
Related: Best Softwares for Small Business 
6 Best employee scheduling apps
There are several employee scheduling apps available in the market. But which one should you choose for your small business? Here is a list of the five best employee scheduling apps for small businesses:
1. Homebase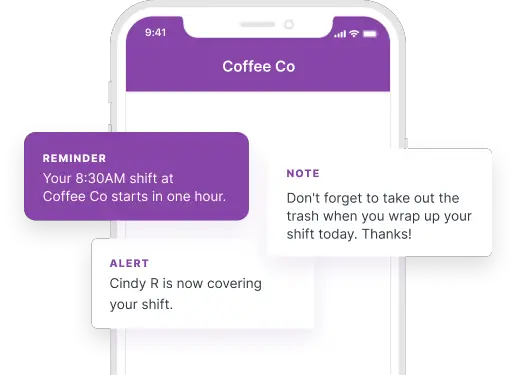 The Homebase is a small-business employee scheduling app designed with companies like yours in mind. It's flexible enough to meet the demands of various industries, including retail, health and beauty, service providers, and more.
Employees can use Homebase to view their schedules, request time off, and swap shifts with other employees. In addition, business owners can use Homebase to create and manage schedules, track employee hours, and generate reports.
Homebase is available as a web app and a mobile app. The web app is compatible with most browsers, while the mobile app is available for iOS and Android devices.
Homebase is a free Employee Scheduling Software, not entirely, but it has a free edition that supports an unlimited number of workers. Of course, you won't get everything in the free version, but you will receive scheduling, time recording, team messaging, POS connections, and payroll.
You may get the most out of the program by upgrading to a paid plan, starting at $14 per month per location.
2. Sage HR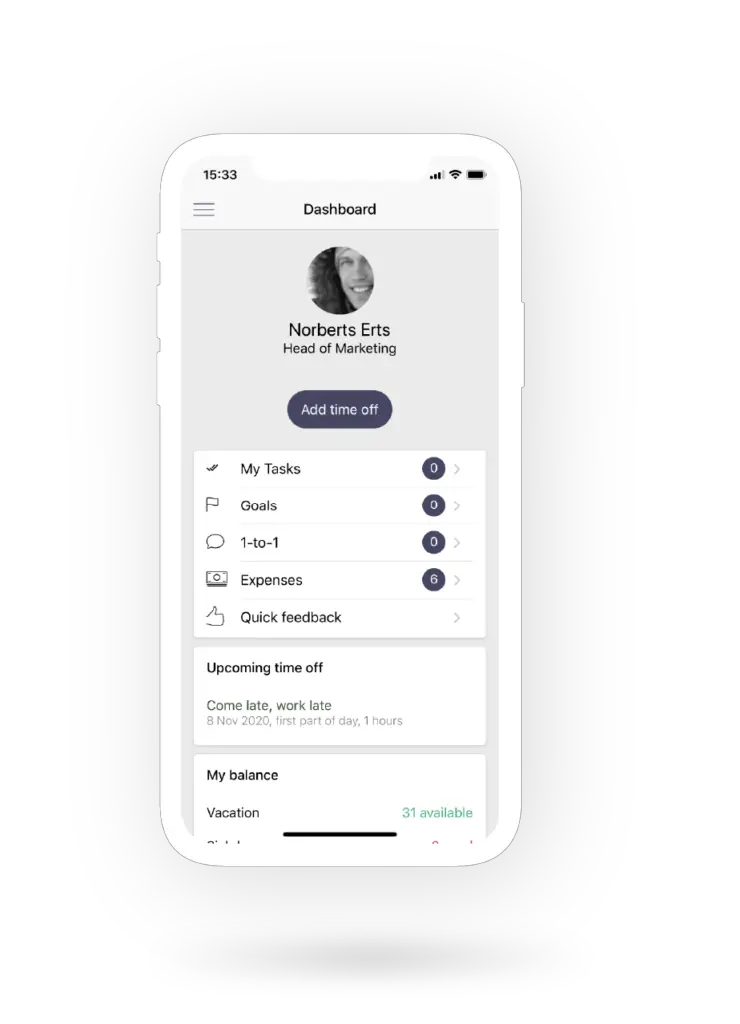 Sage HR (formerly CakeHR) is a comprehensive HR software that includes robust tools for shift scheduling. This all-in-one HR solution offers a wide range of features to help you manage your employee data, including tracking employee hours and leaves.
Additionally, Sage HR makes it easy to create and manage employee schedules. With its intuitive interface, you can quickly and easily create custom shift patterns for your team. So whether you're looking to manage a small team or a large organization, Sage HR has the features you need to get the job done.
Sage HR costs $8.50 per month for core HR and shift scheduling, with additional modules costing extra. You can also try it free for 14 days. 
3. Deputy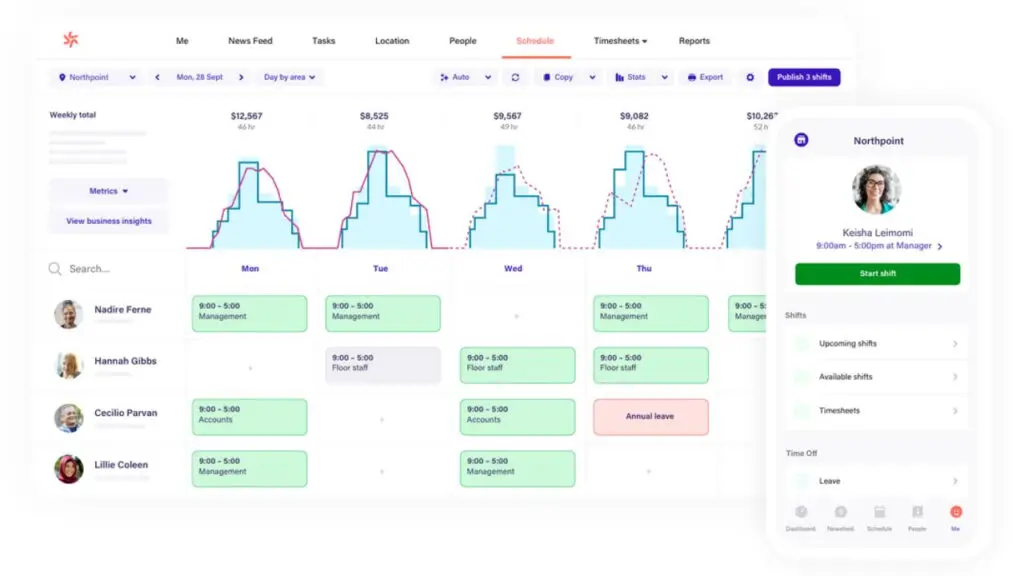 Deputy is multi-functional software that includes employee scheduling, time & attendance monitoring (digital time clock), tasking, and communication tools. In addition, the Deputy's mobile apps allow you to control your staff from anywhere, while the iPad kiosk app allows clock in/out for employees who have completed self-service.
Deputy is ideal for small companies to Fortune 500 enterprises. Deputy gives you everything you'll need to run your team more effectively and efficiently. You can schedule shifts, keep track of time and attendance, give assignments, and chat with your workers in one spot! In addition, the Deputy offers 31 days free trial, no credit card required. 
4. Shiftboard
Shiftboard is a web-based time and scheduling management system that allows people and groups of collaborating organizations in a community to collaborate for participation and overall staff work coverage. Users can browse, create, and manage scheduled shifts and events for their company or group using Shiftboard. Shiftboard also includes tools for online recruitment, communication, and timekeeping.
Shiftboard is used by various organizations, including schools, hospitals, businesses, sports teams, and religious institutions. The benefits of using Shiftboard include improved communication, increased accountability, and a streamlined scheduling process. Additionally, Shiftboard can help reduce time spent on administrative tasks, allowing organizations to focus on their core mission.
Shiftboard is a web-based platform accessible from any computer or device with an internet connection. There is no software to install, and updates are automatic. Additionally, Shiftboard offers a mobile app for iOS and Android devices.
Shiftboard is a secure platform that uses SSL encryption to protect data. As a result, only authorized users can access information on the site. In addition, Shiftboard undergoes regular security audits to ensure the safety of user data. You can request a free demo to check it out.
5. Rotageek
Rotageek is an easy-to-use system that can be accessed from any internet-connected device. It offers a variety of features and modules, such as shift swapping, time-off management, and automatic alerts. Rotageek also integrates with leading HRIS (human resources information system) and payroll systems, making it a comprehensive solution for businesses of all sizes.
RoRotageek'sI technology predicts labor demand and creates efficient and compliant rotas with relevant labor laws. It also offers a forecasting tool that predicts the number of staff required for a shift based on current and historical data. This allows businesses to budget and plan for their staffing needs.
If you are looking for an efficient way to schedule shifts and manage rosters, Rotageek is the perfect solution.
6. Humanity
At last, Humanity is the best employee scheduling software. A global business scheduling program that serves over 175,000 enterprises across the world. Thanks to it, managers and staff may stay in touch with the company from anywhere using desktop and mobile apps. In addition, businesses may readily create, modify, and publish shifts and schedules using Humanity.
With Humanity, businesses can manage their workforce more efficiently and effectively. Employees can also take advantage of features such as viewing and swapping shifts, requesting time off, and more. In addition, with Humanity, employees have the flexibility to manage their work schedules on their terms. The price starts at 3$ and also offers a free trial. Try Humanity today to see how it can benefit your workplace!
Related: Top 4 Free Time Management Tools
Final Thoughts
There you have it! These are the best appointment and employee scheduling apps for small businesses. No matter your business needs, an app on this list can help you stay organized and efficient. So, what are you waiting for? Get started with one of these appointment scheduling apps today!
All of the apps listed above offer a variety of features and pricing options, so be sure to compare them before making a decision. Ultimately, the best scheduling app for your business is the one that makes it easy for you to manage your appointments, events, and tasks.
Do you have a favorite scheduling app that we did not include on this list? Let us know in the comments below!