Disclaimer: We sometimes use affiliate links in our content. For more information, visit our Disclaimer Page. 
Restaurant owners and managers have a lot of responsibilities, and it can be tough to keep track of everything.
It's hard to know where to start when trying to get your restaurant organized. There are so many things to do, and it can be challenging to know what's the most important.
These eleven apps will help you manage your restaurant more efficiently. In addition, these tools will make your job a little easier, from employee scheduling apps to inventory tracking apps.
What does Scheduling Software do?
Scheduling software helps businesses track employee hours, create work schedules, and manage payroll. This type of software is essential for any business that needs to manage its workforce effectively.
There are many different types of scheduling software on the market, but not all of them are created equal. When choosing a scheduling app for your restaurant, be sure to choose one easy to use, and that fits your specific needs.
Related: Best Scheduling App for Small Businesses
The Top 11 Restaurant Scheduling Software Apps
Here are the top 11 of the best restaurant scheduling tools on the market:
1. Homebase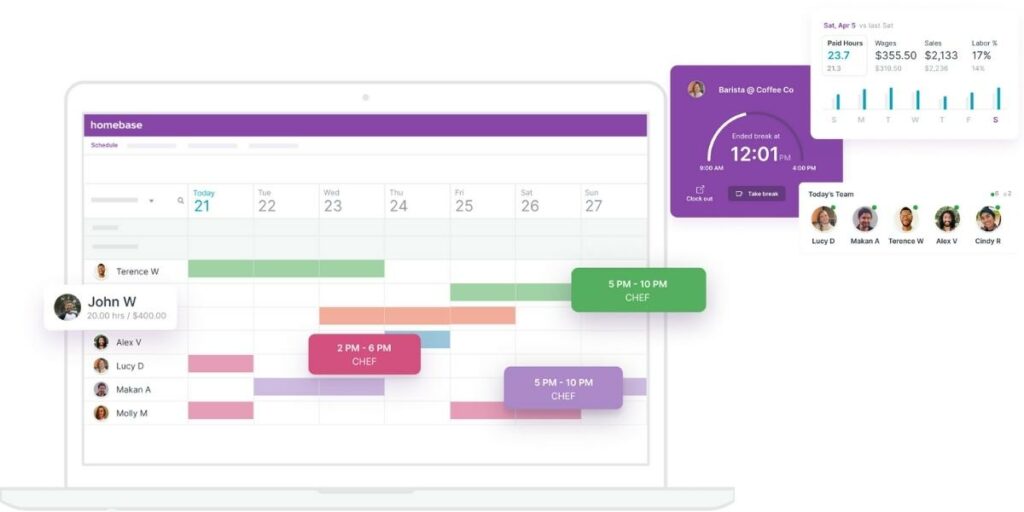 Homebase is a cloud-based time tracking and scheduling solution that helps human resources OR restaurant managers to manage employee schedules, timesheets, and payroll. It caters to the foodservice, retail, healthcare, software, and more businesses.
It offers a variety of features to help users efficiently manage employee schedules. These features include creating and managing shift schedules, tracking employee hours and overtime, and processing payroll. Additionally, Homebase offers a mobile app that allows employees to clock in and out from their phones.
Homebase is an affordable solution for businesses of all sizes. The company offers a free plan, and pricing starts at just $14 per month.
If you're looking for a way to manage employee schedules efficiently, Homebase is a great option. The cloud-based solution offers a variety of features to help you get the job done, and it's affordable too.
Key Features:
Employee scheduling
Schedule templates
Time tracking
Payroll
Team management & HR
Third-Party Integrations
Alerts/Notifications
Employee Database
Employee Management
Reporting/Analytics
2. 7shifts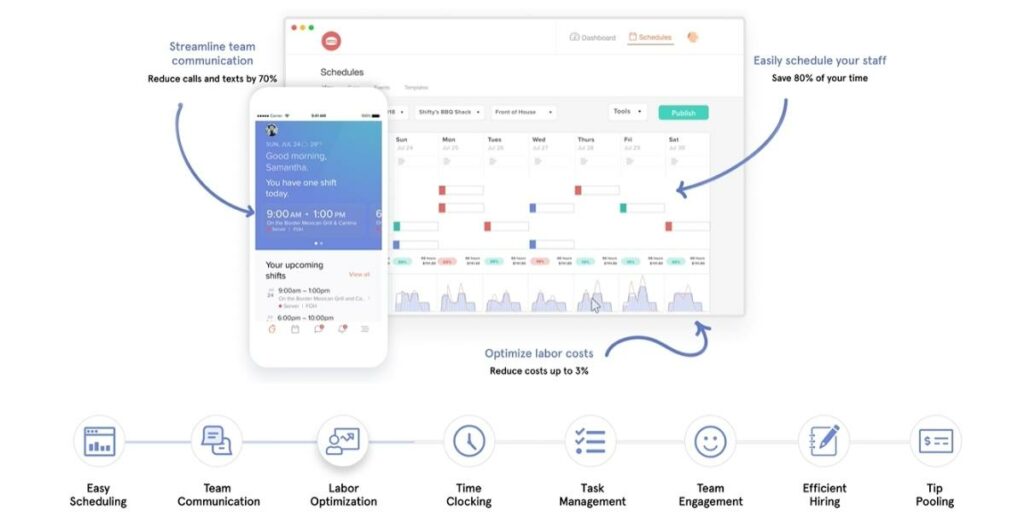 7shifts is so much more than simple restaurant scheduling. It helps tons of restaurants across the globe create perfect employee schedules that save money, stay compliant, and improve team communication. Their award-winning software makes creating and managing schedules a breeze for managers while empowering employees with shift swapping, time-off requests, and messaging capabilities.
This software is easy to use and helps restaurateurs save time and money.
Key Features: 
Mobile apps for your team.
Create Schedules & request management.
Factors in availability, overtime, and labor laws
Team chats & messaging.
POS integration
Weekly labor budget tool
Hiring & applicant tracking.
Engagement insights and reporting
20+ integrations
Customer support and resources
Free trial
3. Sling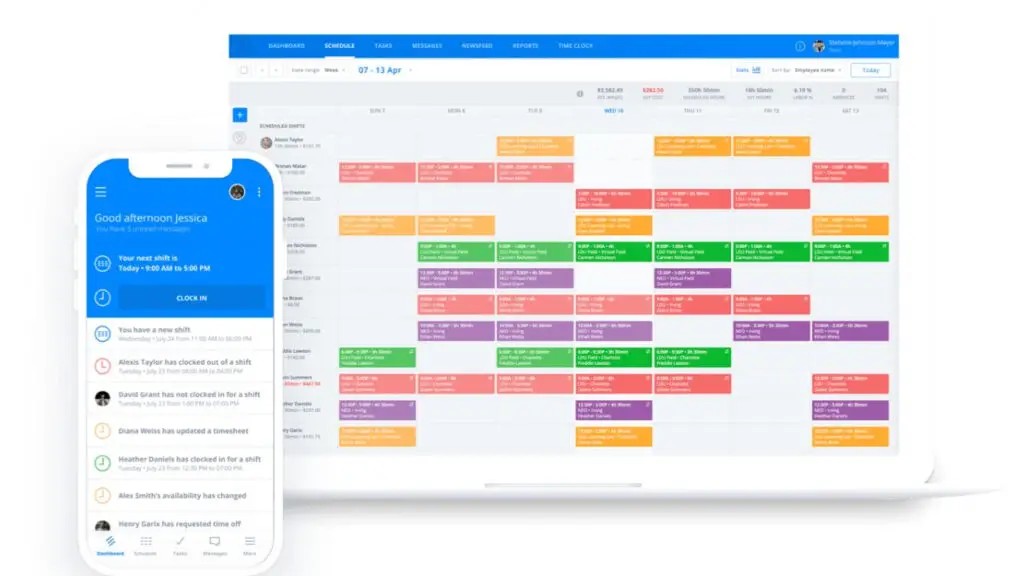 Sling is a time-management software that assists restaurants in managing their workers' schedules, tracking time, and communicating with each other. It combines scheduling, messaging, time recording, task management, and reporting features into a single platform. It also makes it simpler for bosses and workers to keep track of everything going on in their business.
Sling is great for businesses with employees who work shifts. It allows them to manage their time better and communicate more efficiently. Overall, Sling is a valuable tool that can assist businesses to operate more smoothly. If you're searching for a method to handle your workforce's schedules and activities that are both simple and effective, Sling is worth consideration.
Key Features:
Alerts/Notifications
Availability Management
Calendar Management
Employee Management
Employee Scheduling
Messaging
Online Punch Card
Online Time Clock
Payroll Management
Mobile Access
4. Planday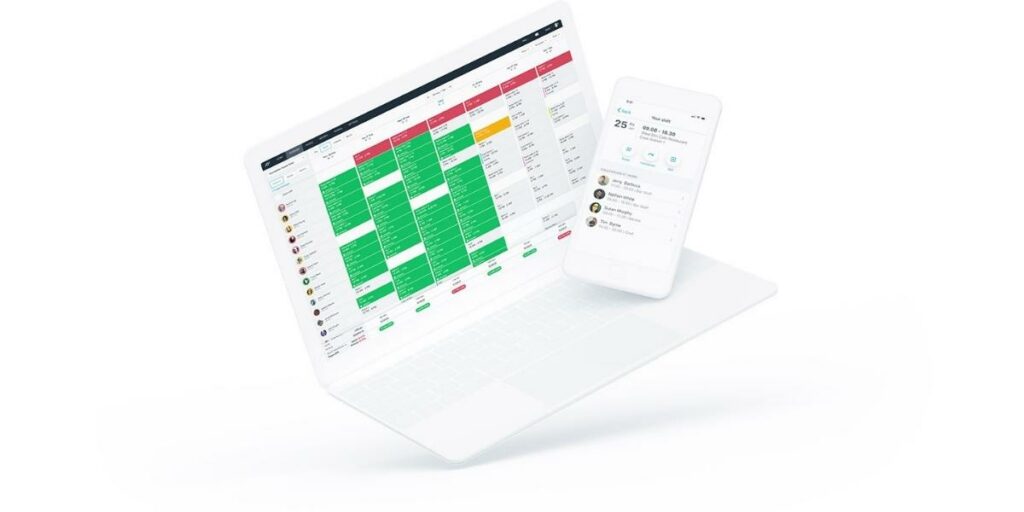 Planday is a powerful online employee scheduling software that makes it easy to build an employee schedule. With Planday, you can easily create and manage employee schedules with just a few clicks.
It also offers several great features that help you save time and money. For example, with Planday, you can Automatically generate staff schedules in minutes, Easily make changes and updates to your schedule, Assign tasks and duties to employees and Track employee hours and absences.
Planday is available in several different languages, so you can easily create staff schedules tailored to your needs. The solution also integrates with some other applications, making it easy to manage all aspects of your business from one place.
Key Features:
Email Management
Employee Database
Employee Profiles
Payroll Management
Self Service Portal
Task Management
Time & Attendance
5. ZoomShift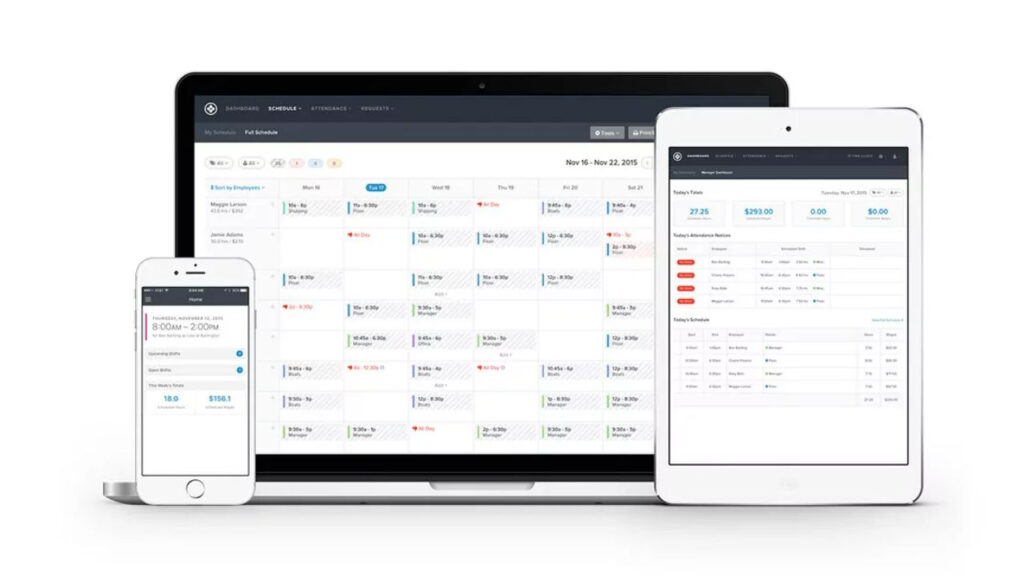 ZoomShift is an online scheduling and time tracking software that allows businesses to save time and money. With ZoomShift, companies may set schedules in minutes, see employee availability and time-off requests, track shift swaps, and keep track of labor goals. Employees appreciate the mobile app, while business owners benefit from increased productivity—thousands of organizations using ZoomShift.
Key Features:
Automated Scheduling
Messaging
Mobile Access
Online Punch Card
Online Time Clock
Payroll Management
Reporting/Analytics
Salaried Employee Tracking
Shift Swapping
Timesheet Management
Vacation/Leave Tracking
6. Deputy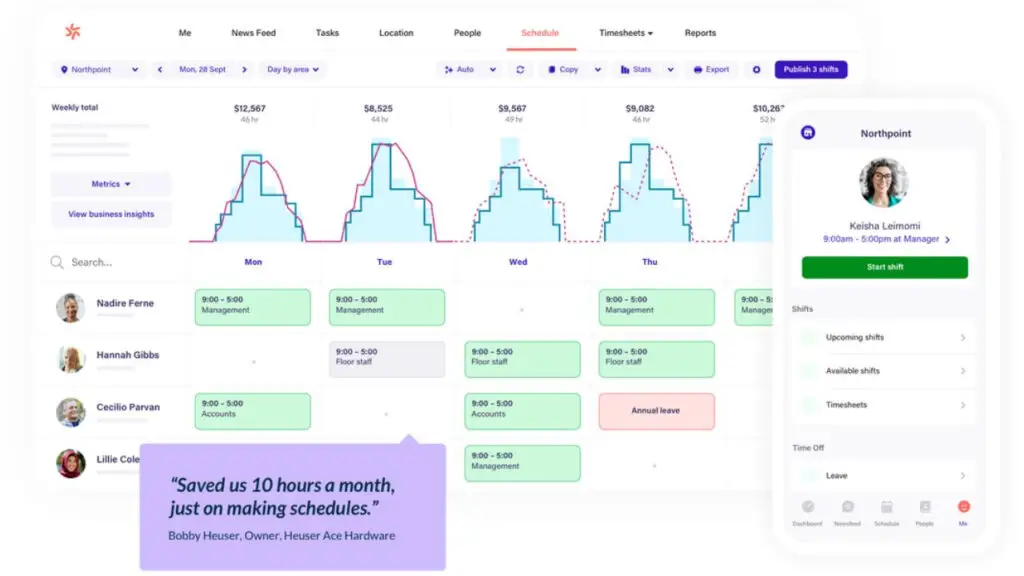 Deputy is a cloud-based human resource management (HRM) solution that provides employee management and scheduling functionalities. For example, Deputy's rostering application can calculate overtime and provide capabilities to schedule staff. Deputy is a fast, simple, and reliable employee management tool that helps managers keep track of their team's hours worked and shifts.
It is an ideal solution for businesses of all sizes, as it can be scaled up or down to meet the needs of any company. Deputy is also a great solution for organizations with multiple locations, as it provides a single platform to manage employees across all sites.
Deputy's intuitive interface makes it easy to use, even for those unfamiliar with HRM software. The solution can be accessed from any device, so you can keep track of your workforce wherever you are. Deputy also integrates with several other applications, making it easy to manage all aspects of your business from one place.
Key Features:
Activity Dashboard
Approval Process Control
Calendar Management
Calendar Sync
Collaboration Tools
Employee Database
Employee Profiles
Mobile Access
Payroll Management
Performance Management
7. Fourth (Formely HotSchedules)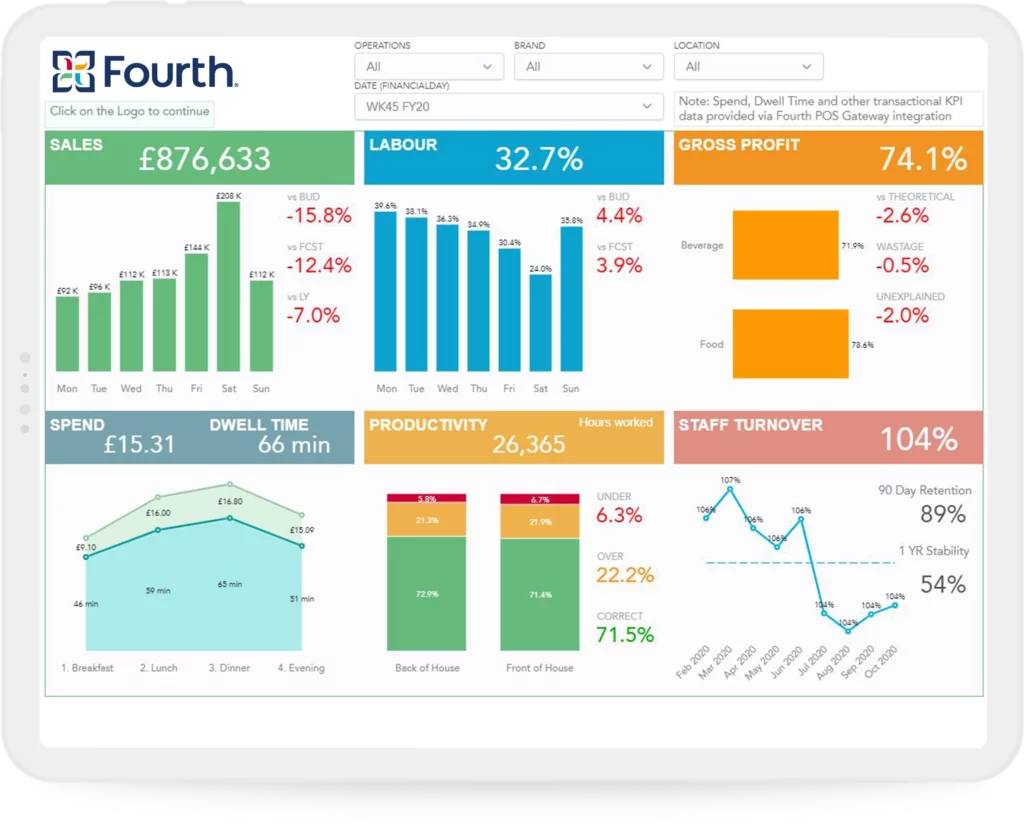 Fourth is another excellent time and attendance software that makes the lives of managers and employees a lot simpler. This restaurant scheduling software makes it easy for managers to save hours each week by setting up correct schedules quickly and automatically approving shift changes on their phones.
They may also organize open shifts, stay in touch, and track company performance on the move. Employees may effortlessly view their itineraries, request time off, and make changes. The fourth makes running a business more convenient than ever before.
Key Features:
Alerts/Notifications
Automated Scheduling
Availability Management
Budgeting/Forecasting
Calendar Management
Calendar Sync
Cost Management
Employee Database
and more.
8. Coast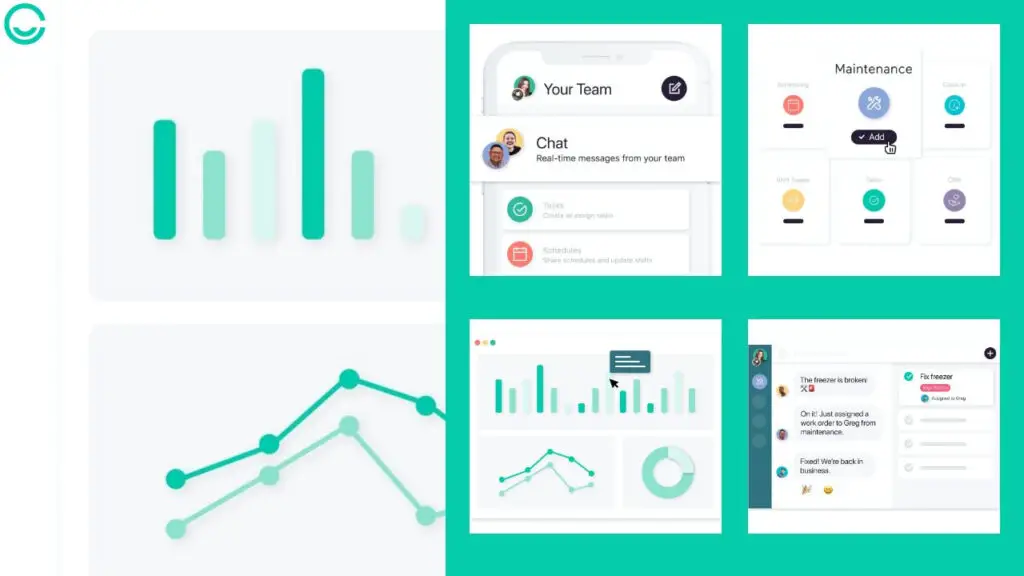 Coast helps teams manage work orders, employee schedules, team communications, and maintenance on the go. With over 100,000+ teams using Coast, it's the perfect tool for managing all your work in one place. Coast makes it easy to track and organize work orders, communicate with employees, and stay on top of maintenance.
Plus, Coast is available on both iOS and Android devices, so you can take your work with you wherever you go. So give Coast a try today and see how it can help you streamline your team's workflow. The Starter plan is available for $4 a user per month.
Key Features:
Scheduling & Time tracking
Checklist
Powerful Search
Read Receipts
Team Chat
Recurring Tasks
Reminders & Progress Tracking
Asset management
Work Order & Maintenance
9. When I Work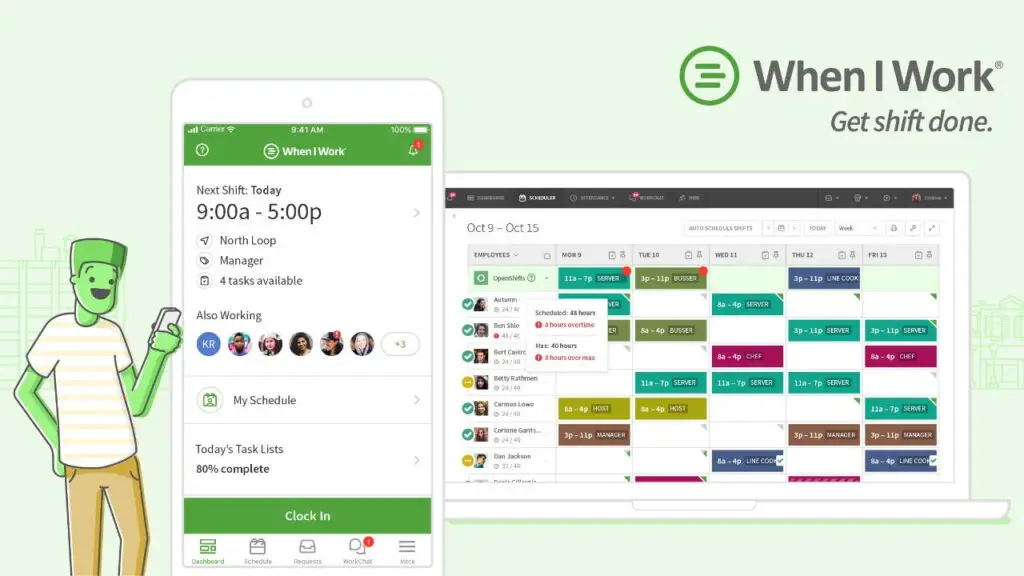 When I Work is an employee scheduling app that does more than save you time on scheduling. It also helps you improve communication, eliminate excuses, and keep your life organized. With features like messaging, notifications, and shift swapping, employees can easily communicate with each other about the schedule and their shifts.
And since everything is online and updated in real-time, employees can never use the excuse that they didn't know about a change in their schedule. So with When I Work, you can finally rest easy knowing that your employees are always aware of their schedule and there are no excuses for them not to show up to work on time.
Key Features:
Attendance Tracking
Calendar Management
Calendar Sync
Compliance Management
Drag & Drop
Employee Database
Employee Management
Schedule Employees
Event Management
Multi-Location
10. Restaurant365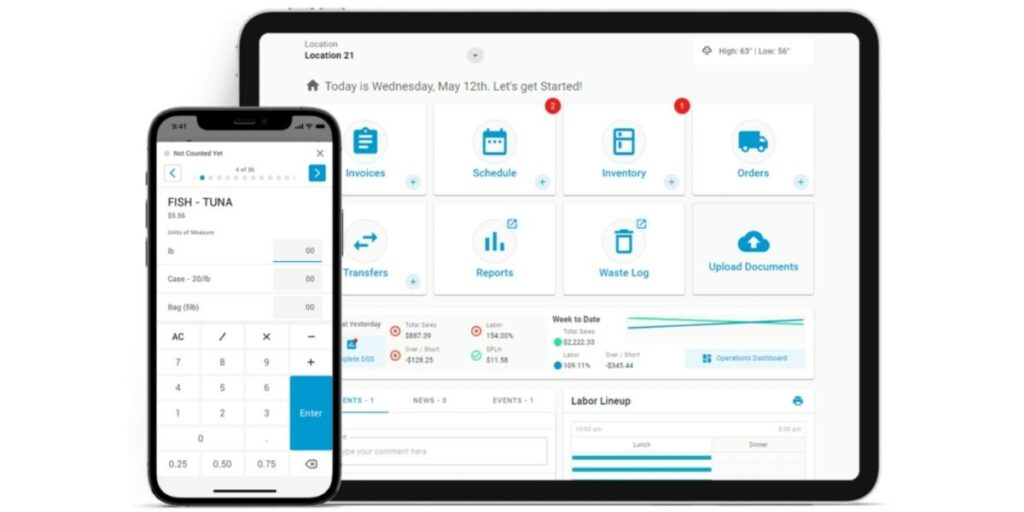 Restaurant365 is a SaaS, restaurant-focused accounting and operations system that links to the point of sale, vendors, banks, and payroll to provide comprehensive reporting and help owners make profit-driven decisions every day. It is one of the best restaurant scheduling apps for busy restaurant owners who want to focus on their business rather than paperwork.
Since Restaurant365 is cloud-based, restaurateurs can access it anywhere with an internet connection. This means they can keep tabs on their business even when they're not at the restaurant. In addition, Restaurant365's intuitive interface makes it easy for operators to track their expenses, sales, and profits.
What's more, Restaurant365 is always up-to-date with the latest tax laws and regulations, so restaurateurs can be confident that they're keeping compliant. This saves time and hassles down the road. Ultimately, Restaurant365 helps restaurant owners make sound business decisions that improve their bottom line.
Key Features:
Accounts Receivable
Automated Scheduling
Bank Reconciliation
Billing & Invoicing
Built-in Accounting
Cost Management
CPA Firms
Demand Forecasting
Employee Management
Expense Tracking
Fixed Asset Management
11. Push Operations
Push is also a cloud-based employee management software that combines human resources, payroll, time tracking, and scheduling functions into a straightforward program. This helps firms to customize their personnel management system to their specific requirements.
The Push Operations platform offers real-time labor forecasting, which can be especially helpful for small businesses that need to closely monitor their employee hours and keep tabs on upcoming deadlines. Additionally, the platform integrates easily with point of sale (POS) systems, making it a valuable tool for businesses in various industries.
Small business owners can benefit significantly from using Push Operations as their go-to employee management system. Its comprehensive functionality and ease of use make it an essential tool for managing a business's most important resource: its employees. In addition, thanks to the real-time labor forecasting feature, small businesses can keep an eye on upcoming deadlines and stay on top of their staffing needs.
Key Features:
Onboarding
Remote access
Hiring, promoting, or offboarding tasks
Labor costs optimization and planning from any location
Employee hourly calculation
Sales forecasting
Staff communication
Role-based access and regulatory compliance
What Are the Benefits of Scheduling Software?
There are many benefits of using scheduling software. Here are seven of the most important:
1) Increased productivity
When you have a schedule that is well-organized and easy to follow, it becomes much easier to get things done. Scheduling software can help you stay on track and avoid wasting time on unnecessary tasks.
2) Improved communication
By sharing your schedule with others, you can ensure that everyone knows what needs to be done and when. This can help to prevent misunderstandings and reduce the need for last-minute changes.
3) Reduced stress
A well-planned schedule can help minimize stress by ensuring that you have enough time to complete your tasks. This can be especially helpful during busy times or when working under a tight deadline.
4) Enhanced flexibility
Scheduling software can help you to adapt to change quickly and easily. For example, if something comes up and you need to make a last-minute change, the software will help you to rearrange your schedule easily.
5) Increased efficiency
With a good scheduling system in place, you can work more efficiently and get more done in less time. This can be especially helpful if you are under a lot of pressure to meet a deadline.
6) Better organization
A well-organized schedule can help you keep track of your responsibilities and avoid becoming overwhelmed. This can free up valuable time and allow you to focus on the tasks that are most important to you.
7) Keep Staff Updated
By keeping your staff updated on your schedule, you can ensure that everyone is aware of their responsibilities and avoid confusion. This can help to improve communication and make it easier for everyone to work together as a team.
Scheduling software provides many benefits for individuals, businesses, and organizations. Using scheduling software can increase productivity, improve communication, reduce stress, enhance flexibility, increase efficiency, better organize your time, and keep staff updated.
These are just some of the benefits that scheduling software can provide. With so many advantages, it is no wonder why this type of software has become so popular.
Related: QuickBooks Review – Accounting Software
Final Thoughts
There you have it! These are some of the best restaurant scheduling software apps available on the market today. You can easily create and manage staff schedules, communication between managers and employees, time off requests, and more with any of these solutions.
So if you're looking for a way to streamline your restaurant's operations, be sure to check out one of these apps. All the tools listed above have tons of features that you need to run your business in an organized way.
Thanks for reading!