Disclaimer: We sometimes use affiliate links in our content. For more information, visit our Disclaimer Page. 
Having the right HR software tools can transform your workplace, making it easier to manage and streamline processes. From recruitment and onboarding to payroll and employee performance, having reliable HR solutions will save you time and money while improving efficiency.
To guide you, we look at seven of the best HR software tools that you should consider implementing in your organization for maximum productivity. These strong tools can help you manage daily duties and create a great work environment for your staff.
Below are our top picks – the seven best HR software tools to streamline your workplace efficiency.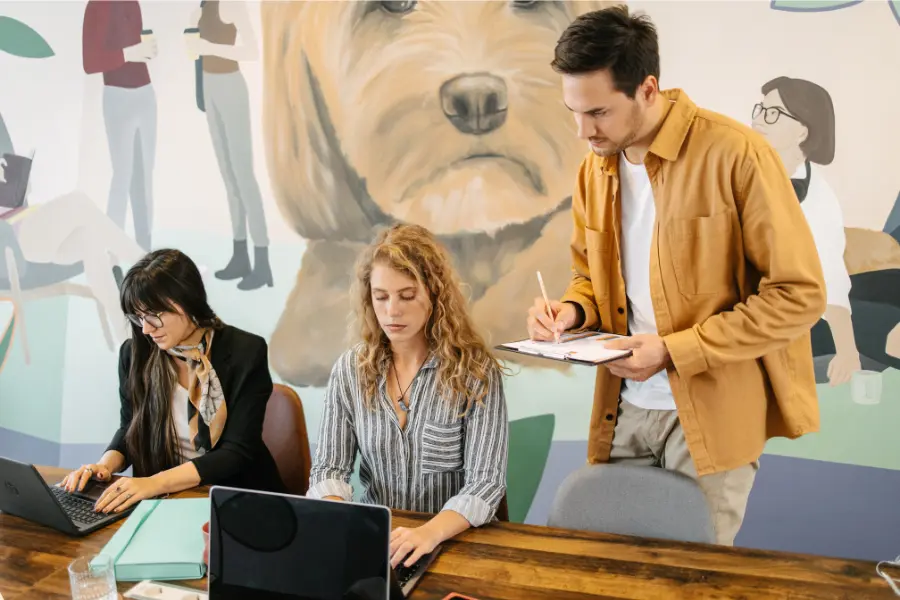 1. Fusion Culture
This software creates a wonderful work environment and performance culture. It helps you foster a positive team dynamic by allowing employees to give feedback on the company culture. It also provides visibility into employee engagement and satisfaction levels.
This HR software is intended to manage your employees' development and engagement, making it easier for each person to reach their full potential. It is also easy to use and can be tailored to the needs of your company.
2. Star Workplace
This software aligns employees with organizational goals. It helps boost employee performance by showing individual performance. This engagement and alignment tool also offers personalized feedback for each employee to help them stay on track and succeed in their roles. 
Plus, it helps managers easily track progress and create personalized development plans for each person. This way, you can ensure that your team is well-aligned with the company's vision and goals.
3. BambooHR
BambooHR is a user-friendly HR tool created to increase workplace productivity. You can quickly take care of all of your HR requirements in one location with tools like applicant tracking, payroll management, and reporting & analytics. 
Furthermore, it requires no complicated setup or training because of its simple user interface. Additionally, it's for a small or fledgling firm. Additionally, it provides a lot of features and value for the money. Thus, you can optimize HR software benefits while minimizing costs.
4. Elmo Software
Are you exhausted with HR management and paperwork? Elmo Software is an easy-to-use solution that offers a variety of HR tools, ranging from streamlined recruitment and onboarding processes to efficient employee management and payroll systems. 
Plus, with their performance management features and learning management system (LMS), you can ensure your team is both productive and engaged. And with a locally hosted option, accessing and utilizing these tools has never been simpler. Take your work efficiency to the next level and revolutionize your HR management with Elmo Software.
5. Workday
Workday removes all the complexity and makes it simple for you to manage your financials and human resources. It offers an intuitive dashboard, employee portal, powerful reporting and analytics tools, performance management features, recruitment capabilities, and staff scheduling and time tracking solutions – all in one place. 
What really sets this apart is its workforce management system that helps optimize organization structures with visual drag-and-drop tools. With it, you can easily identify opportunities for improvement and make the necessary changes quickly. No more wasting precious time on tedious manual adjustments.
6. Deel
Deel enables an easy, automated way of finding the right talent and getting them on board quickly. It's perfect for firms that need to hire people from different countries. With Deel, you don't have to worry about setting up employers of record or other complicated paperwork – their global recruitment and onboarding capabilities make it all a breeze. 
Its user-friendly design and many amazing features simplify HR, payroll, and other tasks. Also, it works with lots of popular integrations, so it fits right into your existing workflow. You may speed up your hiring process and ensure that all new recruits comply with their native country's laws with it.  
7. Workable
Workable is a comprehensive HR software solution that makes the recruitment process easier. It simplifies the recruiting workflow with AI-powered Recruiter technology, passive candidate selection, job posts on over 200 different boards and websites, and so much more. These elements improve workplace efficiency and hiring faster. 
This software suite includes recruitment, hiring, onboarding, and training – it's the perfect one-stop shop for all of your HR needs. Excellent customer assistance and a simple UI. This way, your HR team can manage all of their tasks effectively and accurately. It's the perfect choice to help you maximize efficiency in your workplace.
Conclusion
Overall, improving workplace efficiency can be difficult. But with the right HR software tools, you can make it much simpler. The seven best HR software tools discussed above will help streamline your workflow and make sure that all of your administrative tasks are managed accurately and efficiently. 
These solutions will simplify your life and boost workplace performance with their automated procedures, user-friendly interfaces, integration capabilities, and comprehensive functionality. Why not try them today? Good luck!