Disclaimer: We sometimes use affiliate links in our content. For more information, visit our Disclaimer Page. 
As a leader, continuously growing and developing your leadership skills is vital. To be successful, you need to be able to lead your team through change and growth. This requires a lot of personal development.
This blog post will discuss the steps you need to take to grow as a leader. We will also provide you with a leadership development plan that you can use to help you reach your goals!
Development Plan for Leaders
A development plan for leaders is a critical tool that can help new and experienced leaders set goals, identify development opportunities, and create action plans for their personal and professional growth. By taking the time to assess their strengths and weaknesses thoughtfully, leaders can create a plan to guide them in becoming their best version.
Related – Professional Development Examples
What is Leadership Development?
The process of developing leadership is concerned with the expansion of people's capacity to execute organizational strategies. Leadership roles help an organization achieve its strategy by generating alignment, gaining attention, and developing others' talents.
Leaders are not born; they are made. And leadership development is how they are made. It is a lifelong journey during which one acquires new skills, learns from experience, and develops new coping mechanisms. Therefore, there is no one-size-fits-all approach to leadership development; what works for one person may not work for another.
But some common elements are essential for all leaders, such as self-awareness, empathy, and emotional intelligence. By definition, leadership development is a journey; it is never complete but constantly evolving. As such, it requires a commitment to lifelong learning and personal growth. But the rewards of becoming a leader are well worth the effort; leaders have the unique opportunity to positively impact the lives of others and the world around them.
Advantages of Good leadership development training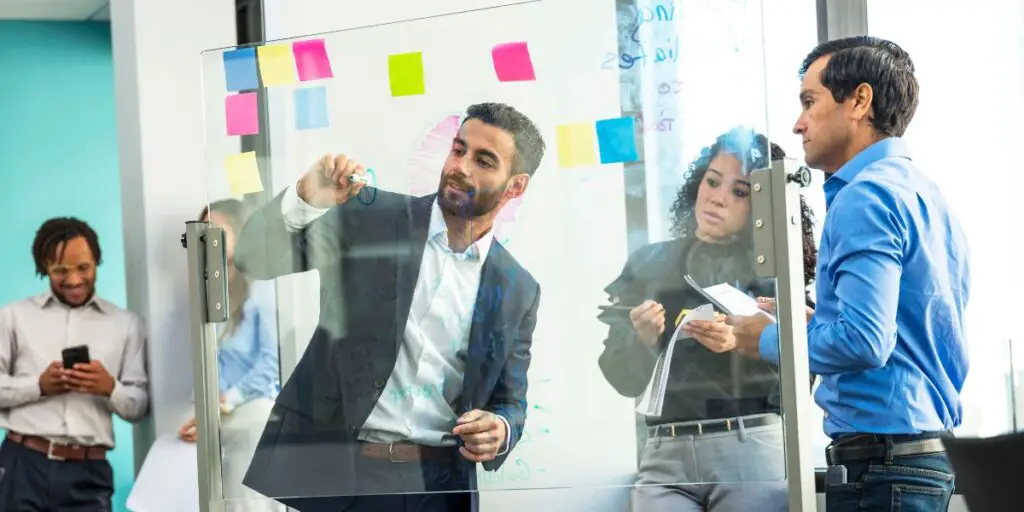 Leadership development is a necessary process for any leader. There are several benefits to having excellent leadership development training.
• Retained workforce
Working under poor leadership can be frustrating and demotivating. Employees may not feel like their best work is good enough, and they may start to search for a new job that offers better leadership.
On the other hand, strong leadership can keep employees motivated and engaged in their work. Good leaders inspire others to stay with the company and do their best work. Attracting more people to join them. In this way, leadership significantly impacts whether or not employees stay with a company.
• Increased productivity
Many factors contribute to increased productivity in the workplace, but one of the most important is strong leadership. Good leaders have a clear vision for their organization and know how to motivate and inspire their employees to achieve outstanding results.
They create a positive work environment where people feel valued and are empowered to do their best. And they provide the necessary resources and support to help their team reach its full potential.
If you want to see increased productivity in your organization, it is essential to have a leader who understands how to get the best out of people. With exemplary leadership in place, you can achieve amazing things.
• You can Discover the perfect leadership style
There are many different leadership styles, and the best leaders can adapt their style to the situation. However, it can be challenging to identify which style is best for any given situation. That's where leadership development training comes in. By attending a leadership development program, you can learn about the different styles and how to apply them in various situations.
One of the most critical aspects of leadership development training is assessing a situation and determining which leadership style is best suited. For example, a more authoritative leadership style may be necessary if you're dealing with a team that's resistant to change. On the other hand, if you're working with a highly motivated team and are open to new ideas, then a more participative leadership style would be more effective.
• Improved decision-making
Leaders are constantly faced with decisions, both big and small. And the quality of those decisions can profoundly impact an organization.
That's why it's so crucial for leaders to develop their decision-making skills. With the help of leadership development training, you can learn how to make better decisions by considering all relevant factors and gathering input from others. You'll also learn how to effectively communicate your decisions to your team and get buy-in from them.
Making better decisions can improve your organization's results and help build trust between you and your employees. When they see that you're making decisions in the company's best interest, they'll be more likely to trust and respect you as a leader.
• Greater self-awareness
One of the most important aspects of being a successful leader is understanding your strengths and weaknesses. This self-awareness can be difficult to achieve on your own, but it's something you can develop with the help of leadership development training.
Through this training, you'll learn how to identify your strengths and weaknesses, capitalize on your strengths, and improve upon your weaknesses. This self-awareness is essential for making sound decisions, communicating effectively with others, and building relationships.
When you see yourself clearly, you can make the necessary changes to become a better leader. And that can have a profound impact on your organization.
4 Critical Components of a Leadership Development Plan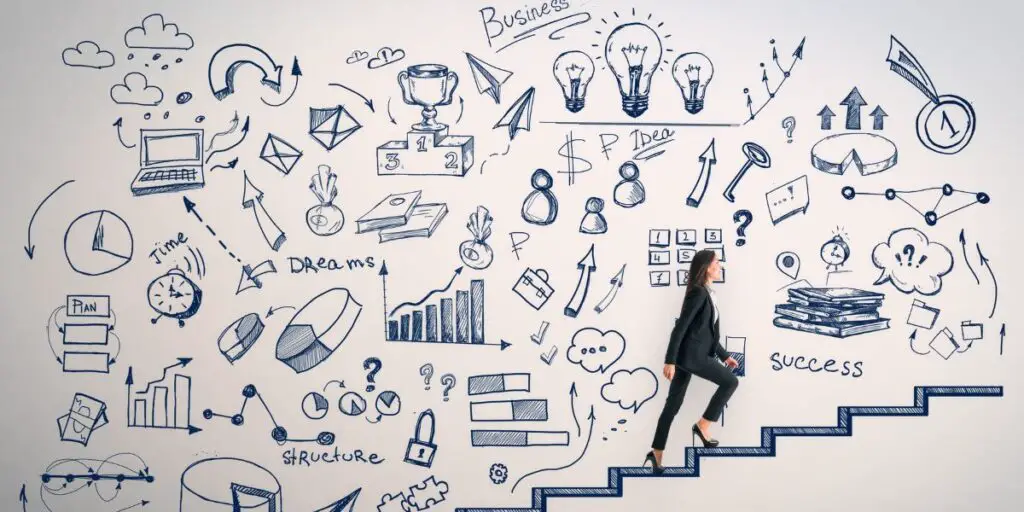 A leadership development plan is a roadmap for leaders to follow as they work to improve their skills and abilities. There are four key components of a successful leadership development plan:
1. Goals and objectives
The first component of a leadership development plan is setting goals and objectives. Leaders need to know what they hope to achieve through their development journey. Without clear goals, measuring progress and success won't be easy.
Some examples of goals that could be included in a leadership development plan are:
Improve communication skills
Learn how to handle conflict better
Develop a more strategic mindset
Gain a better understanding of financial statements
Increase emotional intelligence
Objectives are the specific steps or actions that will be taken to achieve the leadership development goals. They should be SMART: Specific, Measurable, Achievable, Realistic, and Timely.
For example, if the goal is to improve communication skills, an objective could be to attend a workshop on effective communication. If the goal is to develop a more strategic mindset, an objective could be to read one book on strategy every month.
2. Coaching and mentorship
Coaching and mentorship are essential components of any leadership development plan. A mentor can guide, support, and advice as you navigate your leadership journey. In addition, by learning from the successes and failures of more experienced leaders, you can develop the skills and knowledge necessary to become an effective leader.
In addition to one-on-one mentoring, coaching programs can also be a valuable resource for developing your leadership qualities. These programs pair you with a coach who will help you identify your areas of strength and weakness, set goals, and create a plan for reaching your full potential as a leader.
3. Change Management
Change is inevitable in any organization. Therefore, leaders must be prepared to manage change effectively to minimize disruptions and maximize success. It is the process of planning, implementing, and monitoring organizational changes. It includes identifying the stakeholders affected by the change, assessing the impact of the change, developing a plan for how to implement the change, and then executing and monitoring the plan.
When managed effectively, change can be a positive force that helps an organization adapt and grow. However, poorly managed change can lead to chaos and confusion, damaging morale and disrupting business operations. To be successful, leaders must carefully assess the need for change, develop a clear and concise plan, and then execute that plan with precision. As a result, organizations can navigate even the most challenging changes with proper planning and execution with minimal disruption.
4. Accountability
Leaders must be held accountable for their actions and their results. Without accountability, measuring progress and identifying areas needing improvement is difficult. Several methods can achieve accountability, including setting goals, tracking progress, and receiving feedback. Leaders should also be held accountable by their peers, superiors, and subordinates.
By holding leaders accountable, we can ensure that they are meeting their obligations and working to improve their skills. By setting goals, we can help them focus on what is important. By tracking progress, we can identify areas in need of improvement.
And by receiving feedback, we can help them learn from their mistakes. Accountable leaders are essential to the success of any organization. They are the cornerstone of effective leadership development.
How to create an action plan to improve leadership skills?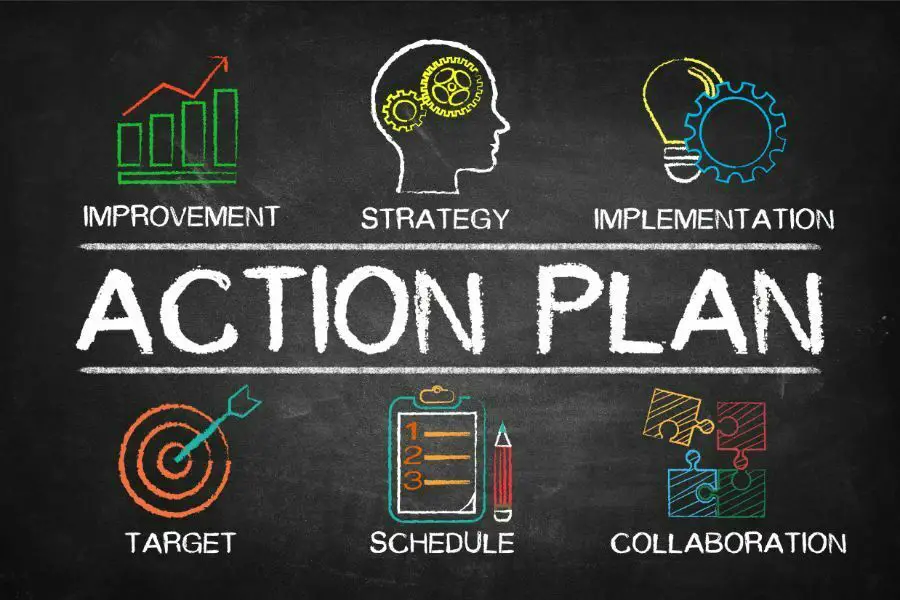 When it comes to leadership, there is always room for improvement. Whether a new leader or an experienced one, there are always ways to fine-tune your skills. Creating an action plan is one of the best ways to improve leadership skills.
This type of plan will help you identify areas that need improvement and give you a roadmap for making changes. Creating an action plan is not difficult, but it takes time and effort. Below are some most important steps you can follow to develop an action plan.
→ Consider your business needs and goals
Every business is different; therefore, every organization will have different leadership needs. Before developing a leadership training plan, you must closely examine your business goals and needs. What strategies are working well? Are there any gaps that need to be filled? How many leaders do you need to achieve your goals? Once you have a clear idea of what you're looking for, you can begin to develop a plan for training the leaders to help take your business to the next level.
→ Look at the current situation
As you assess your current leadership team, it's essential, to be honest about their strengths and weaknesses. This will help you identify where they may need additional development to be successful leaders. Do any of them already have the qualities and skills that are necessary? If not, how can you help them develop these skills? Consider their strengths and weaknesses when making your assessment. By taking a step back and looking at the current situation, you'll be better prepared to develop a plan for moving forward.
→ Set specific goals and objectives
When creating leadership development plans, setting specific goals and objectives is crucial. These goals should be realistic and achievable, and they should be aligned with the overall strategy of your organization. For example, if one of your goals is to improve communication within the company, you might want to set a goal to have all leaders complete a communication training course. By setting specific goals, you will be able to measure the success of your leadership development plan and make necessary adjustments.
→ Choose the right tools and resources
When it comes to leadership development, there are many different options to choose from. Whether you're looking for an online course, an in-person workshop, or a book to read, there's something out there for everyone. However, choosing the right resources for your specific needs is important.
Before deciding, consider each program's cost, time commitment, and format. Then, once you've found a few that fit your criteria, research them further to see which one will best fit you. With so many great options available, you're sure to find the perfect tools and resources to help you achieve your leadership goals.
→ Implement your plan
Implementing a new plan can be daunting, but it can also be successful with careful preparation and clear communication. First, ensure that all the leaders involved in the plan are on the same page. Then, communicate your goals and expectations to them, and provide them with the resources they need to succeed.
Then, give them space to implement the plan. Be available to answer questions and provide feedback, but resist the urge to micromanage. Finally, celebrate successes along the way. By taking these steps, you can increase your chances of successfully implementing a new plan.
Related – Leadership Philosophies
Final Thoughts
So overall, Developing a leadership training plan is a crucial step for any company. You may ensure that your leaders have the abilities and knowledge they require by taking the time to assess your requirements and establish concrete objectives. You can assist them in developing into competent leaders who can help you achieve greater heights with the assistance of the proper tools and resources.
FAQ
What is professional development in leadership?
Professional development in leadership is the process of improving one's leadership skills and abilities. This can be done through formal training and education or informal learning experiences.
How do you write a leadership development plan?
When writing a leadership development plan, one must first assess what skills and abilities need improvement. Once these areas have been identified, goals can be set and a plan of action created. This plan should include both short-term and long-term goals, as well as a timeline for completion.
What should be included in a leadership plan?
The components of a leadership development plan will vary depending on the individual's needs and goals. However, common elements include a self-assessment of current skills, setting goals, a plan of action, and a timeline.
What is a personal leadership development plan?
Personal leadership development plans are created to help individuals improve their skills and abilities as leaders. This type of plan is usually tailored to the individual and may include short-term and long-term goals.
What is personal leadership example?
An example of personal leadership would be an individual who takes the initiative to improve their skills and knowledge to better themselves as a leader. This could involve attending workshops or seminars, reading books on leadership, or shadowing a more experienced leader.
What is a leadership development plan template?
A leadership development plan template is a tool that can be used to create a customized plan for developing the skills and abilities of leaders within an organization. The template can identify the goals, objectives, and strategies for leadership development and track progress over time.
How to nurture leadership skills?
There are various ways to nurture leadership skills, including formal training and education programs, mentorship and coaching relationships, and on-the-job experiences. Leadership development plans should be tailored to the individual leader's needs and goals and may include a combination of these approaches.
What is career vision?
A career vision is a long-term plan to develop one's career. It includes short- and long-term goals and a strategy for achieving them. It can help individuals stay focused and motivated and decide their career paths.