Disclaimer: We sometimes use affiliate links in our content. For more information, visit our Disclaimer Page. 
Are you struggling to understand what strategizing really means and how it can be effectively utilized? Strategizing, in simplest terms, is the act of designing a roadmap to reach your specific goals.
In this blog post, we'll delve into the concept of strategizing – from its definition to the step-by-step process involved and the benefits that come with efficient strategizing. Get ready to uncover the secrets behind successful strategies!
Key Takeaways
Strategizing involves designing a systematic plan to achieve specific long-term goals, and it requires critical thinking skills and problem-solving abilities.
The process of strategizing includes collecting and analyzing information, developing strategizing processes, implementing them, and evaluating and adapting as necessary.
Effective strategizing involves setting clear goals, assessing the current situation, evaluating options, developing a plan of action, implementing the plan, monitoring progress, adapting to changes, honing decision-making skills, and encouraging strategic thinking.
Strategizing offers benefits such as achieving long-term objectives, adapting to change effectively, gaining a competitive advantage by leveraging unique strengths and opportunities for growth,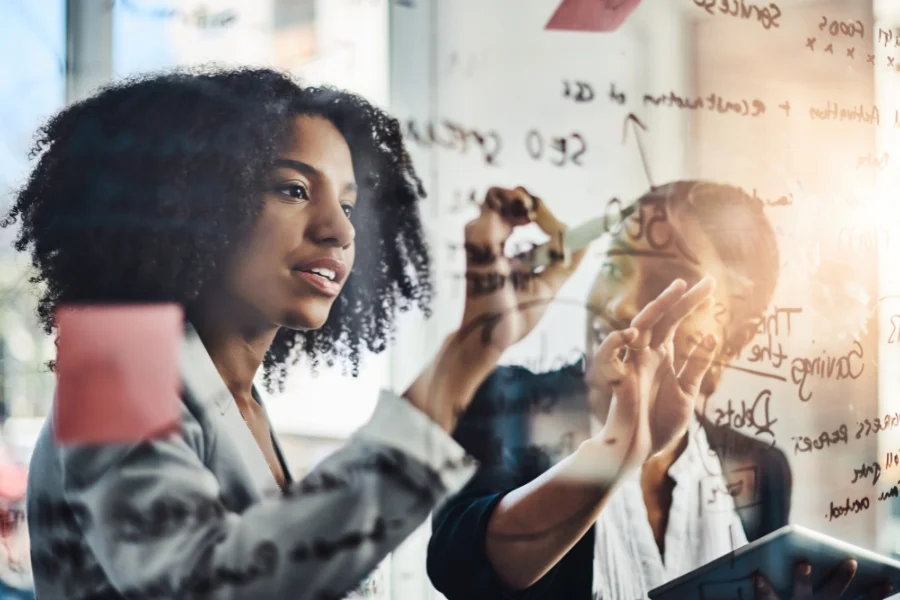 Definition of Strategizing
Strategizing involves creating a systematic plan or method to achieve specific, long-term goals. Derived from the noun "strategy," strategize is a transitive verb first used in 1855, meaning it's an action directed towards achieving something.
In a business context, strategizing is not just limited to planning; it also requires critical thinking skills and problem-solving acumen.
Charting the future course of action while considering potential challenges forms the crux of strategizing. Managers frame strategies keeping in mind competitive advantages and efficient use of resources.
From devising plans for marketing campaigns to mapping strategic domains for trade-union leaders or CEOs, effective strategizing plays an indispensable role in organizational success.
Related: Marketing Strategy
The Process of Strategizing
The process of strategizing involves collecting and analyzing information, developing strategizing processes, implementing those processes, and evaluating and adapting them as necessary.
Collection and Analysis of Information
Collecting and analyzing information marks the beginning of any strategizing process. Here's how:
Search for relevant data: Information can come from a variety of sources. It can include financial reports, market trends, customer feedback, or competitor analysis.
Scrutinize the collected data: Critical thinking skills are essential here as you need to identify patterns, discrepancies, opportunities, and risks in the data gathered.
Categorize the information: Organizing data into categories makes it easier to understand and draw conclusions from. This could be done according to relevance or influencing factors.
Use tools for analysis: Make use of business strategy tools like SWOT — that's Strengths, Weaknesses, Opportunities, Threats — or PESTLE analysis which includes Political, Economic, Social, Technological, Legal, and Environmental factors.
Derive insights from the analysis: From this step forward is where strategizing begins to take shape using insights such as an expected change in an environment or identification of a strategic domain.
Share findings with the team: Strategic conversations with teammates can help refine ideas further and ensure everyone has a clear understanding of the situation at hand.
Development of Strategizing Processes
Crafting a strategic blueprint involves several vital steps. These tasks are designed to help individuals or organizations devise an effective long-term plan of action.
Setting Goals and Objectives: The initial task of developing a strategy involves setting precise goals and objectives. Clarity allows teams to direct their future actions effectively.
Assessing the Current Situation: A thorough understanding of the present scenario serves as a fundamental element in strategizing processes.
Evaluating Options: With clear objectives and an accurate assessment of the situation, the next step is to evaluate all potential routes to success.
Developing a Plan of Action: Once every opportunity has been studied, it's time to formulate a definitive plan meant for execution.
Implementing the Plan: An effectively strategized plan must then be put into action by all involved parties.
Monitoring the Plan: Regular checks on progress keep everyone on track and reveal areas for improvement.
Adapting the Plan: The ability to adjust strategies according to changes in the environment or unexpected obstacles can mark the difference between success and failure.
Honing Decision-Making Skills: Effective strategizing relies heavily on sound decision-making principles – knowing what, when, and how choices should be made influences strategic outcomes greatly.
Encouraging Strategic Thinking: A culture that promotes forward-thinking helps ensure that strategies align with long-term organizational goals.
Implementation of Strategizing Processes
Effective implementation of strategizing processes is crucial for achieving desired outcomes. Here are the key steps involved:
Set clear goals and objectives: Clearly define what you want to achieve through your strategy.
Allocate resources: Determine the necessary resources, such as budget, manpower, and technology, needed for successful implementation.
Develop a detailed action plan: Create a step-by-step plan outlining specific tasks, timelines, responsibilities, and milestones.
Communicate the strategy to all stakeholders: Ensure that everyone involved understands the strategy and their roles in its execution.
Monitor progress: Regularly track and evaluate the progress of the strategy using key performance indicators (KPIs) and other relevant metrics.
Adapt to changes: Stay flexible and be prepared to make adjustments or modifications to the strategy as needed.
Seek feedback and address issues: Encourage open communication and actively address any challenges or concerns raised by stakeholders.
Continuously improve: Learn from both successes and failures to refine your strategizing approaches for future initiatives.
Evaluation and Adaptation of Strategizing Processes
Strategizing processes need to be evaluated and adapted to ensure their effectiveness. Here are some key factors to consider:
Assess the outcomes: Measure the results achieved through the implemented strategies. Determine if they align with the desired goals and objectives.
Identify strengths and weaknesses: Analyze the strengths and weaknesses of the strategizing processes used. Identify areas that have been successful and areas that need improvement.
Gather feedback: Seek feedback from key stakeholders, such as clients, employees, or customers. Their perspectives can provide valuable insights into the effectiveness of the strategies.
Monitor performance: Continuously monitor the performance of the implemented strategies. Regularly track key metrics to determine if adjustments are needed.
Adaptation and flexibility: Be open to adapting strategies based on changing circumstances or new opportunities that may arise. Flexibility is crucial in ensuring that strategizing processes remain relevant and effective.
Learn from mistakes: Analyze any failures or setbacks encountered during strategizing processes. Use these experiences as learning opportunities to make necessary improvements for future strategies.
Stay updated: Keep up with current trends, industry developments, and changes in the business environment. This helps in evaluating whether strategizing processes need adjustments to stay competitive.
Review regularly: Establish a regular review cycle to assess and adapt strategizing processes periodically. This ensures continuous improvement and keeps strategies aligned with evolving objectives.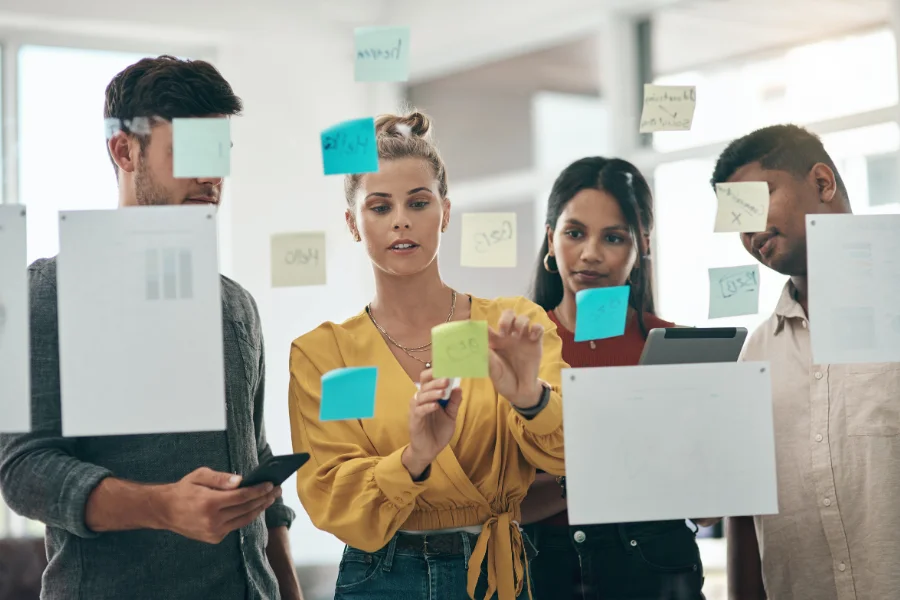 Benefits of Strategizing in Business
Strategizing in business offers several benefits that can contribute to the overall success and growth of a company. One key advantage is the ability to achieve long-term objectives.
By developing a strategic plan, managers can set clear goals and create a roadmap for reaching them over time. This helps keep everyone aligned and focused on the same priorities, which increases the likelihood of achieving desired outcomes.
Another benefit of strategizing is its role in adapting to change. In today's dynamic business environment, companies need to be able to respond quickly and effectively to shifts in market conditions, technology advancements, or competitive pressures.
A well-developed strategy enables businesses to anticipate these changes and make proactive adjustments that help maintain their competitive edge.
Furthermore, strategizing provides a competitive advantage by helping businesses differentiate themselves from competitors. Through careful analysis and planning, companies can identify their unique strengths and opportunities for growth.
They can then develop strategies that leverage these advantages to outperform rivals in the marketplace.
Lastly, effective use of resources is another benefit derived from strategic planning. By aligning resources with prioritized initiatives outlined in the strategy, companies can maximize efficiency and minimize wastage.
This ensures that limited resources are allocated toward activities that deliver the highest value and yield optimal results.
Overall, strategizing plays an essential role in business success by enabling long-term goal achievement, facilitating adaptability in changing environments, creating competitive advantages, and optimizing resource allocation.
Examples of Strategizing
Strategizing can be applied to various contexts, showcasing its versatility and effectiveness. For example, in the realm of politics, strategizing plays a crucial role in campaign planning and execution.
Political candidates strategically align themselves with trade-union leaders and garner support from key stakeholders to secure their position. On an international scale, strategizing is essential for countries like Germany to maintain their competitive edge in industries such as manufacturing and technology.
In the business world, organizations like Walmart utilize strategic planning to stay ahead of the competition. They carefully analyze market trends, consumer behavior, and competitor strategies to create effective advertising campaigns that resonate with their target audience.
Additionally, advancements in technology have enabled companies to leverage automation tools and optimize their operations through strategic decision-making.
These examples illustrate how strategizing empowers individuals and entities across different sectors to achieve long-term goals by adapting to changing environments while making efficient use of the resources available.
Related Posts: Product Innovation Strategy
Conclusion
Strategizing is the process of developing and implementing effective plans to achieve specific goals. It involves collecting and analyzing information, developing strategies, implementing them, and evaluating and adapting them as needed.
Through strategizing, businesses can gain numerous benefits such as competitive advantage, effective resource utilization, and adaptation to change. By understanding the principles of strategizing and applying them in their planning and execution processes, businesses can increase their chances of success in today's dynamic business environment.
So start strategizing for your business today!
FAQs
What is the simple meaning of strategizing?
The simple meaning of strategizing is to devise a strategy or plan for achieving specific goals or objectives.
What does strategizing mean in management?
In management, strategizing refers to the process of planning and executing strategies to achieve long-term goals, such as mission and vision, and developing plans for the organization.
How do you strategize effectively?
Strategizing effectively involves analyzing the current situation, setting clear goals, considering various options, understanding potential risks, and creating a well-defined plan of action.
What is an example of strategize?
An example of strategizing would be a company devising a marketing strategy to enter a new market, which includes identifying target customers, creating a competitive pricing strategy, and developing a promotional campaign.
What is the role of strategizing in management?
The role of strategizing in management is crucial as it helps organizations plan for the future, make informed decisions, allocate resources efficiently, and achieve their objectives in a competitive environment.
What is strategizing and why is it important?
Strategizing refers to the process of developing a plan or approach to achieve specific goals or objectives. It is important because it helps organizations identify their purpose, analyze their current situation, and make informed decisions on how to allocate resources and take actions that will lead to success.
How do you create an effective strategy?
Creating an effective strategy involves conducting a thorough analysis of your organization's internal and external factors, setting clear goals and objectives, identifying key actions or initiatives, allocating resources appropriately, regularly monitoring progress, and making adjustments as needed.
What are the benefits of effective planning and execution strategies?
Effective planning and execution strategies can lead to improved performance, increased productivity, better decision-making processes, enhanced competitive advantage in the market, higher customer satisfaction, and overall organizational growth.