Disclaimer: We sometimes use affiliate links in our content. For more information, visit our Disclaimer Page. 
In today's fast-paced world, soft skills have become more important than ever. These intangible abilities can be the key to unlocking professional success and personal growth. In this article, we'll explore the importance of soft skills, the various types of soft skills, and how you can develop them to advance in your career and build stronger relationships with others.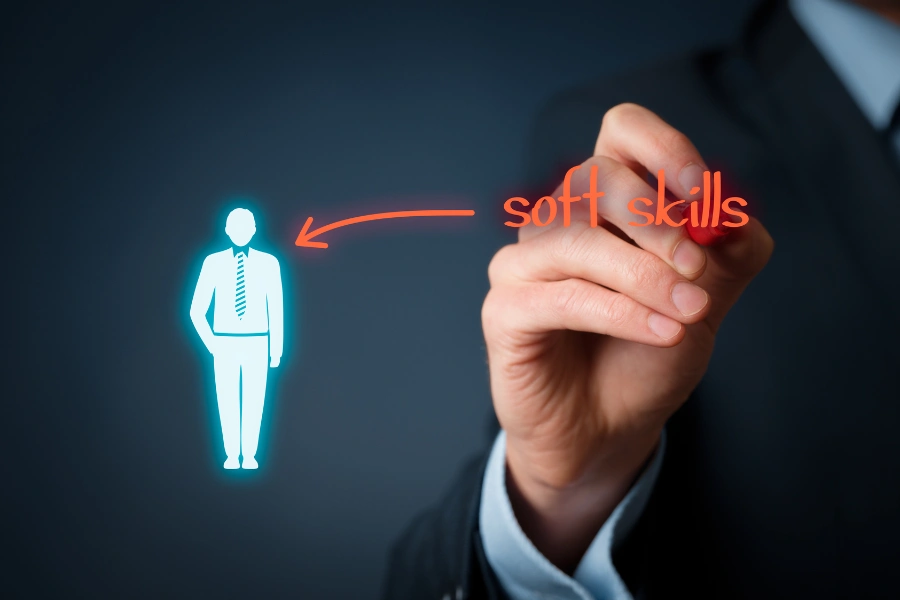 Why Soft Skills Matter
Soft skills are the non-technical abilities that enable us to interact effectively with others. Unlike hard skills, which are learned through training and education, soft skills are often innate or developed through personal experiences. They play a crucial role in fostering positive relationships and enhancing work performance.
Hiring managers and employers are increasingly prioritizing candidates with strong soft skills, as they recognize the value of these abilities in driving workplace collaboration and overcoming complex problems. By cultivating a diverse range of soft skills, you can open new doors in your career path and better adapt to the evolving demands of the job market.
Related: Soft Skills for Managers
The Most Important Soft Skills to Develop
Soft skills are essential for personal and professional growth, but with so many to choose from, it can be challenging to know where to start. In this section, we'll explore some of the most important soft skills to develop, providing you with a strong foundation for success in any career.
Communication Skills
Effective communication is the foundation of all strong interpersonal skills. Mastering the art of expressing your thoughts and ideas clearly and succinctly can enhance your relationships with colleagues, clients, and managers. Some important aspects of communication skills include active listening, public speaking skills, and reading body language.
Emotional Intelligence
Emotional intelligence (EI) is the ability to recognize, understand, and manage our own emotions as well as the emotions of others. A high level of EI is essential for building positive relationships, managing difficult situations, and adapting to new challenges. Key components of emotional intelligence include empathy, self-awareness, and self-regulation.
Problem-Solving Skills
The ability to solve problems creatively and efficiently is a valuable skill in any job or career. Critical thinking and the capacity to analyze complex problems can help you find innovative solutions and demonstrate your value as a team member.
Leadership Skills
Leadership skills encompass the ability to inspire, motivate, and guide others toward a shared goal. Even if you don't hold a formal leadership position, honing these skills can make you an invaluable team player and help you advance in your career.
Time Management
Time management is the ability to prioritize tasks, set goals, and allocate your time effectively to maximize productivity. This skill is particularly important for staying organized and meeting deadlines in a fast-paced work environment.
How to Develop Soft Skills
Developing soft skills requires commitment, patience, and the right approach. Here, we'll delve into practical tips and strategies to help you enhance your soft skills, enabling you to build stronger relationships, improve your work performance, and advance in your career.
Reflect on Your Own Strengths and Weaknesses
Before you begin working on your soft skills, take time to assess your own strengths and areas for improvement. This self-awareness will help you focus your efforts and make the most of your personal development journey.
Seek Feedback
Receiving feedback from others can be an invaluable tool for growth. Ask your colleagues, friends, or family members for their thoughts on your communication, leadership, or problem-solving abilities. Be open to their insights and consider incorporating their suggestions into your personal development plan.
Practice, Practice, Practice
As with any skill, practice is key to improvement. Take advantage of opportunities to hone your soft skills in both personal and professional settings. For example, volunteer to lead a team project at work or join a public speaking club to improve your communication skills.
Learn from Others
Observe others who excel in the soft skills you're trying to develop. Identify the traits and techniques they employ, and consider how you might incorporate them into your own approach.
Step Outside Your Comfort Zone
Challenging yourself and embracing new experiences can be a powerful catalyst for personal growth. Seek out situations that push your boundaries and require you to adapt, such as taking on a new job or collaborating with other departments.
Engage in Lifelong Learning
Stay committed to your personal and professional development by continuously seeking out new knowledge, skills, and experiences. Attend workshops, read books, or enroll in online courses to keep your soft skills sharp and up-to-date.
Practice Active Listening
Active listening is an essential component of effective communication. To become a better listener, focus on fully understanding the speaker's message, paying attention to both their words and body language. Ask questions to clarify any unclear points and summarize what you've heard to demonstrate your engagement in the conversation.
Develop Emotional Intelligence
Cultivating emotional intelligence involves honing your self-awareness, empathy, and self-regulation. Practice identifying and managing your emotions, as well as tuning into the emotions of others. By doing so, you can build stronger relationships and navigate difficult situations with greater ease.
Improve Your Public Speaking Skills
Public speaking is a valuable skill that can enhance your communication and leadership abilities. To become a more confident and engaging speaker, practice speaking in front of a mirror or record yourself to evaluate your performance. Consider joining a public speaking club or taking a course to receive feedback and support from others.
Work on Time Management
Effective time management involves prioritizing tasks, setting goals, and allocating your time efficiently. To improve this skill, experiment with different time management techniques, such as the Pomodoro Technique or the Eisenhower Matrix. Use calendars, planners, or productivity apps to stay organized and track your progress.
Cultivate a Positive Attitude
A positive attitude can make a significant impact on your success in the workplace and personal relationships. Focus on the bright side of situations, practice gratitude, and surround yourself with positive influences. This mindset can help you stay calm in stressful situations and foster a more enjoyable work environment.
Enhance Your Problem-Solving Abilities
Develop your problem-solving skills by tackling challenges head-on and seeking out opportunities to practice critical thinking. Approach problems with an open mind, considering various perspectives and potential solutions. Collaborate with others to gain new insights and perspectives on the issue at hand.
Build Stronger Relationships
Fostering positive relationships with colleagues, clients, and managers is crucial for both personal and professional success. To build stronger connections, practice active listening, demonstrate empathy, and offer your support when needed. By investing time and effort in your relationships, you can create a supportive network that will benefit you throughout your career.
Putting Your Soft Skills to Work
Once you've developed your soft skills, it's important to put them into practice in your professional life. Here are some tips for showcasing and utilizing your soft skills in the workplace:
Demonstrate Your Abilities: Showcase your soft skills during job interviews, performance reviews, or team meetings. Provide examples of how you've used these abilities to overcome challenges, lead projects, or support colleagues.
Collaborate Effectively: Soft skills such as communication, problem-solving, and emotional intelligence can help you work more effectively with your team. Practice these skills in group projects or cross-functional initiatives to enhance collaboration and drive better results.
Lead by Example: As a leader or team member, model the soft skills you'd like to see in others. By demonstrating strong communication, empathy, and adaptability, you can inspire others to develop their own soft skills and contribute to a more positive work environment.
Seek Out New Challenges: Embrace opportunities that require you to use your soft skills, such as leading a team, presenting at a conference, or negotiating a deal. These experiences will help you refine your abilities and demonstrate your value as an employee.
Provide Support and Mentorship: Offer guidance and encouragement to colleagues who are working on their own soft skills. Share your experiences and insights, and help create a culture of continuous learning and personal growth within your workplace.
Continuously Reflect and Improve: Regularly evaluate your soft skills and seek feedback from others. Identify areas for improvement and remain committed to your ongoing development at your own pace.
Network with Professionals: Networking can be a great opportunity to practice and showcase your soft skills. Attend industry events, conferences, or social gatherings to expand your professional connections and demonstrate your abilities in a variety of settings.
Promote a Positive Work Environment: Use your soft skills to create a supportive, inclusive, and engaging workplace culture. Encourage open communication, provide constructive feedback, and celebrate the successes of your team.
By putting your soft skills and unique personality traits to work, you can create a more fulfilling and successful career path, foster stronger personal relationships, and contribute to a positive work environment for yourself and your colleagues.
Conclusion
Developing soft skills is essential for both personal and professional success. By focusing on areas such as communication, problem-solving, emotional intelligence, and adaptability, you can foster stronger relationships, enhance your work performance, and create a more fulfilling career path. Remember to continually practice and refine your soft skills, seek feedback, and embrace new challenges to grow and succeed in today's competitive job market.
FAQs
What are the 7 essential soft skills?
The seven essential soft skills include communication skills, emotional intelligence, problem-solving skills, leadership skills, time management, adaptability, and teamwork.
What are the top 3 important soft skills?
The top three important soft skills vary depending on the individual and their career, but some common ones are communication skills, emotional intelligence, and problem-solving skills.
Can soft skills be learned or improved?
Yes, soft skills can be learned and improved through practice, reflection, and feedback from others. Developing soft skills often involves a commitment to continuous learning and personal growth.
What is a soft skill example?
An example of soft skill is effective communication, which involves expressing thoughts and ideas clearly, listening actively, and interpreting nonverbal cues such as body language.
How can we improve soft skills?
Improving soft skills involves self-assessment, seeking feedback, learning from others, practicing in various settings, and committing to continuous personal and professional development.
How to improve your skills?
To improve your skills, identify areas for growth, seek out resources and opportunities for learning, practice regularly, and remain open to feedback and new experiences.
How soft skills can be improved?
Soft skills can be improved through reflection, practice, feedback, and embracing opportunities to use these abilities in both personal and professional settings.
What does improve soft skills mean?
Improving soft skills means enhancing your non-technical abilities, such as communication, problem-solving, and emotional intelligence, to foster stronger relationships and achieve greater success in your career.
How do you sharpen soft skills?
To sharpen your soft skills, engage in continuous learning, practice in various settings, seek feedback from others, and remain committed to personal and professional growth.
How do you develop soft skills training?
Developing soft skills training involves identifying the specific skills to be addressed, designing engaging and interactive learning experiences, and providing opportunities for participants to practice and receive feedback.
How do you train employees soft skills?
To train employees in soft skills, create targeted training programs that focus on specific abilities, offer interactive learning experiences, provide opportunities for practice, and encourage ongoing development through feedback and support.
What are the 3 key takeaways from soft skills?
The three key takeaways from soft skills are:
1. Soft skills are crucial for career success and personal growth.
2. Developing soft skills requires self-assessment, practice, and a commitment to continuous learning.
3. Putting soft skills to work can enhance workplace collaboration, strengthen relationships, and open new opportunities for career advancement.