Disclaimer: We sometimes use affiliate links in our content. For more information, visit our Disclaimer Page. 
The modern workplace is riddled with challenges, from tight deadlines and demanding clients to complex projects and difficult coworkers. In these difficult situations, effective time management is crucial to maintaining productivity and well-being.
This article explores various time management strategies for difficult situations and provides practical examples to help you conquer your work environment.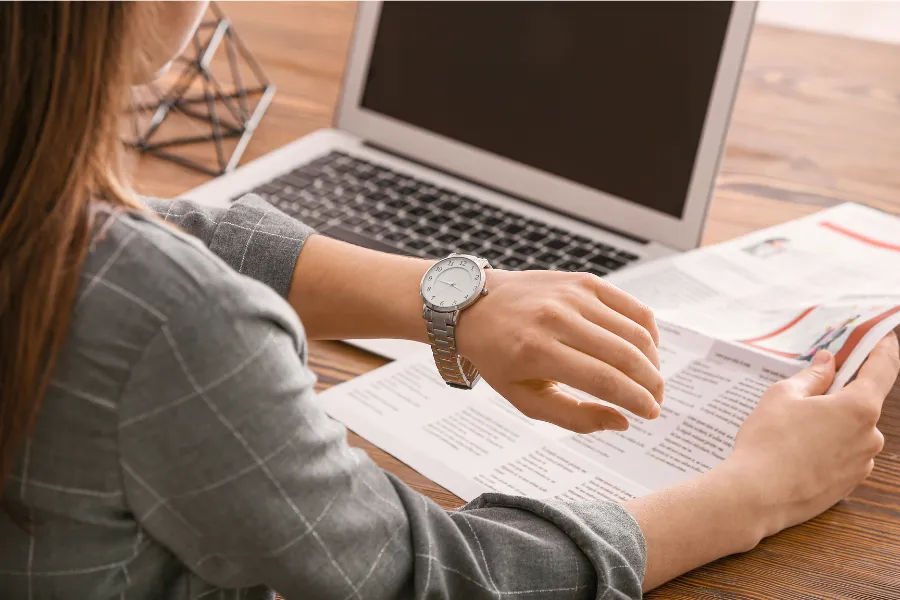 Identifying Time Management Challenges in Difficult Situations
Before diving into specific time management techniques, it's essential to identify the challenges you may face in difficult work situations. Common obstacles include:
Tight deadlines
Multiple high-priority tasks
Unexpected changes or emergencies
Procrastination or lack of motivation
Interruptions and distractions
Difficulty prioritizing tasks
Understanding these challenges is the first step toward developing successful time management strategies.
Related: Examples of Difficult Work Situations
Prioritizing Tasks for Efficient Time Management
One of the most effective time management techniques is learning how to prioritize tasks. This involves categorizing your tasks based on their importance and urgency. The Eisenhower Matrix is a popular time management tool that helps with this process, dividing tasks into four categories:
Important and urgent tasks: Complete these tasks immediately.
Important but not urgent tasks: Schedule these tasks for later.
Urgent but not important tasks: Delegate these tasks to others, if possible.
Neither important nor urgent tasks: Set these tasks aside or eliminate them altogether.
By categorizing your tasks this way, you can focus on what's most important and avoid wasting time on non-essential tasks.
Time Management Techniques: The Pomodoro Technique
The Pomodoro Technique is a popular time management method that involves breaking work into short, focused intervals (usually 25 minutes) followed by a short break. This approach helps maintain focus and prevent burnout, making it ideal for tackling challenging tasks in difficult work situations.
Here's how to implement the Pomodoro Technique:
Choose one task to focus on.
Set a timer for 25 minutes.
Work on the task until the timer goes off.
Take a 5-minute break.
Repeat the process, taking a longer break (15-30 minutes) after every four cycles.
This time management technique helps you stay focused and maintain a steady work pace, even in demanding situations.
Time Blocking for Improved Focus and Productivity
Time blocking is another effective time management strategy that involves setting aside specific blocks of time for dedicated work on a particular task or project. This approach can help you maintain focus and prevent distractions, allowing you to complete tasks more efficiently.
To implement time blocking, follow these steps:
Identify your most important tasks for the day.
Schedule dedicated blocks of time for each task, taking into account your biological prime time (the time of day when you're most alert and productive).
Eliminate distractions and work on your task during the scheduled time block.
Take regular breaks between time blocks to recharge and maintain focus.
Time blocking is especially useful for deep work tasks that require intense focus and concentration.
Rapid Planning Method: A Time Management Strategy for Project Management
The Rapid Planning Method (RPM) is a time management strategy designed for project management. This method involves setting clear objectives, identifying the necessary resources, and creating a detailed action plan to achieve your goals.
To implement the RPM, follow these steps:
Define your desired outcome (the "result" in RPM).
Determine the necessary resources (the "purpose" in RPM).
Develop a detailed action plan (the "massive action plan" or "MAP" in RPM).
Developing Effective Time Management Skills: The SMART Method
Another essential time management strategy is setting SMART (Specific, Measurable, Achievable, Relevant, and Time-bound) goals. By setting SMART goals, you ensure that your objectives are clear, attainable, and aligned with your priorities, which helps you manage your time more effectively.
Here's how to create SMART goals:
Specific: Clearly define your goal, outlining what you want to achieve and the steps required to get there.
Measurable: Establish criteria for success, so you can track progress and determine when the goal has been achieved.
Achievable: Ensure that your goal is realistic, given your available resources and constraints.
Relevant: Align your goal with your broader objectives and priorities to ensure it's worth your time and effort.
Time-bound: Set a deadline for achieving your goal to keep yourself accountable and focused.
Applying the SMART method to your goals can lead to more efficient time management and focused success.
Stress Management for Improved Time Management
Effective stress management is closely related to successful time management, as excessive stress can negatively impact productivity and decision-making. By developing healthy habits and coping strategies, you can manage stress and maintain focus on your work tasks, even in difficult situations.
Some stress management tips include:
Regular exercise
Adequate sleep
Mindfulness and meditation
Time for relaxation and hobbies
Establishing a support network of friends, family, and coworkers
Incorporating these habits into your daily routine can promote a healthy life and improve your overall time management skills.
Delegation: A Time Management Strategy for Busy Professionals
Delegating tasks is an important time management strategy, especially for those in leadership roles or with heavy workloads. By delegating tasks to others, you free up time to focus on high-priority and demanding tasks, ultimately leading to improved productivity.
To effectively delegate tasks:
Identify tasks that can be delegated.
Choose the right person for the task, considering their skills, workload, and interest in the task.
Clearly communicate the task's objectives, expectations, and due dates.
Provide support and guidance, as needed.
Monitor progress and provide feedback.
By delegating tasks, you can save time, reduce stress, and focus on your most important tasks, leading to more efficient time management.
The Importance of Regular Breaks in Time Management
Taking regular breaks is crucial for maintaining focus and productivity throughout the workday. The human brain has a limited capacity for sustained concentration, so taking breaks allows your mind to recharge and regain focus.
To incorporate regular breaks into your schedule:
Follow the Pomodoro Technique or a similar time management method that includes breaks.
Schedule breaks at strategic points during the day, such as after completing a challenging task or during natural energy dips.
Use break time to engage in relaxing activities, like stretching, meditation, or a brief walk.
Regular breaks can help prevent burnout and maintain focus on your work tasks, contributing to successful time management.
Avoiding Procrastination with Time Management Strategies
Procrastination is a common obstacle to effective time management, as it leads to wasted time and increased stress. By employing time management strategies designed to combat procrastination, you can stay on track and complete tasks in a timely manner.
Some anti-procrastination time management strategies include:
Break down large projects into smaller, manageable tasks.
Set specific deadlines for each task, using the SMART method.
Use a to-do list to keep track of tasks and maintain focus.
Minimize distractions, such as social media, email, or a cluttered workspace.
Reward yourself for completing tasks or making progress towards your goals.
By implementing these effective time management strategies, you can overcome procrastination and improve your important time management skills.
Time Management Tips for Meetings and Collaboration
Meetings and collaboration are essential aspects of most work environments, but they can also be significant time sinks if not managed effectively. Implementing time management strategies for meetings can help ensure that they are productive and efficient.
Here are some time management tips for meetings:
Set a clear agenda and share it with attendees in advance.
Assign a time limit for each agenda item to keep discussions focused.
Schedule meetings during periods when attendees are most alert and productive.
Encourage open communication and active participation from all attendees.
Follow up with a summary of key points and action items after the meeting.
Utilizing Time Management Tools and Resources
Various time management tools and resources can help you stay organized, track progress, and manage your time effectively. Some popular time management tools include:
Task management apps: Tools like Todoist, Trello, or Asana can help you organize tasks, set deadlines, and track progress.
Calendar apps: Google Calendar or Outlook can help you schedule events, meetings, and time blocks for specific tasks.
Time tracking apps: Apps like Toggl or RescueTime can help you monitor how you spend your time and identify areas for improvement.
Pomodoro timers: A simple timer or a dedicated Pomodoro app can help you implement the Pomodoro Technique.
Leveraging these tools, you can enhance your time management skills and optimize your productivity.
Adapting Time Management Strategies for Remote Work
Remote work presents unique time management challenges, such as increased distractions, lack of structure, and difficulty separating work from personal life. However, many time management strategies can be adapted to suit remote work environments.
Here are some tips for effective time management in remote work situations:
Set a consistent daily schedule, including start and end times for your workday.
Create a dedicated workspace that is free from distractions.
Use time blocking to schedule focused work sessions and breaks.
Establish boundaries with family members or housemates to minimize interruptions.
Stay connected with coworkers through regular communication and virtual meetings.
By applying these time management strategies to your remote work routine, you can maintain focus, accomplish tasks, and tackle even the most challenging tasks while working from home.
Related: Time Management Goals
Conclusion
Time management is an essential skill for navigating difficult work situations and maintaining productivity and well-being. By implementing the strategies and techniques discussed in this article, you can overcome challenges, complete tasks efficiently, and achieve success in the workplace.
FAQs
What is the most effective time management strategy for difficult situations?
There is no one-size-fits-all answer to this question, as the most effective strategy will depend on your specific circumstances and preferences. However, prioritizing tasks, setting SMART goals, and using time management techniques like the Pomodoro Technique or time blocking can be particularly helpful in challenging work situations.
How can I improve my time management skills?
Improving your time management skills involves developing healthy habits, setting clear goals, prioritizing tasks, and utilizing effective time management techniques. Regularly reviewing and refining your strategies can also help you identify areas for improvement and optimize your time management skills.
What are some common obstacles to effective time management?
Common obstacles to effective time management include procrastination, distractions, lack of motivation, difficulty prioritizing tasks, and poor stress management. Identifying and addressing these challenges can help you improve your time management skills and overall productivity.
How can I manage my time more effectively when dealing with multiple projects or deadlines?
When managing multiple projects or deadlines, it's crucial to prioritize tasks, set clear goals, and break down large projects into smaller, manageable tasks. Using time management techniques like time blocking or the Pomodoro Technique can help you stay focused and allocate your time effectively.
What role does stress management play in time management?
Stress management plays a significant role in time management, as excessive stress can impair decision-making, focus, and productivity. By adopting healthy habits and coping strategies, such as regular exercise, adequate sleep, and mindfulness practices, you can manage stress and maintain focus on your tasks, contributing to better overall time management.