Disclaimer: We sometimes use affiliate links in our content. For more information, visit our Disclaimer Page. 
No one ever said that work would be easy. Many times it can be pretty tricky. Whether you are dealing with a demanding customer or coworker, there are ways to handle the situation to benefit everyone involved.
This blog post will discuss ten examples of challenging work situations and how to handle them best!
What Does Difficult Situation Mean?
A difficult situation at work can mean different things depending on the context and your individual experience. But, generally speaking, it could refer to any disagreement or conflict involving employees, supervisors, customers, clients, or external partners that may require resolution.
It could also mean a situation where there is an imbalance of power at play that makes communication more challenging or uncomfortable. In either case, difficult workplace situations often require careful handling and thoughtful solutions to be resolved effectively.
10 Examples of Difficult Work Situations and How to Handle Them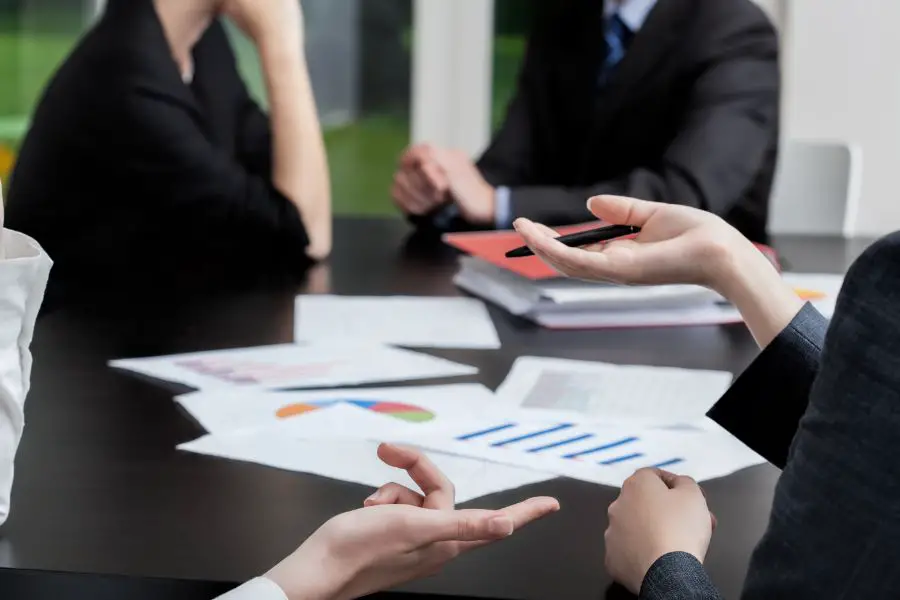 Here are a few examples of difficult work situations and how to deal with them effectively. 
1. Conflict With Co-workers 
The conflict between co-workers is inevitable, especially in an environment where everyone has different goals and opinions on how to reach them. It's important to remember that not all conflicts need to be resolved immediately; however, if two parties cannot resolve them, a third party may need to step in and help mediate the situation.
Additionally, always remain professional during disagreements—avoid personal attacks or assumptions about the other person's motivations. This will help maintain respect and trust among colleagues. 
2. Unhappy Customers 
No business wants an unhappy customer—but it happens from time to time. The best way to handle an unhappy customer is with empathy and understanding. Put yourself in their shoes—what would you want as a solution? Listen carefully to what they say and show genuine concern for their experience. Offer tailored solutions, so they know you are paying attention and taking their needs seriously. Apologizing sincerely can also go a long way in showing that you take responsibility for the issue at hand. 
3. Difficult Projects 
The most successful people have learned the value of perseverance when tackling challenging projects or tasks at work. It's important not to get overwhelmed by breaking down the project into smaller, manageable pieces that can be addressed one at a time. If needed, ask for help from colleagues with more experience with certain aspects of the project or task; this will help build team dynamics while ensuring progress is made on all fronts!   
4. Overly Strict Deadlines 
Sometimes you're asked to complete a task or project with an overly strict deadline. In this case, it's crucial to stay organized and prioritize tasks so that the most important ones are completed first. It may also be helpful to set mini-deadlines for yourself throughout the process; this will help keep you on track and prevent procrastination. Additionally, don't be afraid to ask for an extension if needed—this shows that you're taking the task seriously and are organized in your approach.  
5. Stressful Managerial Role 
Leading a team can be stressful, especially if you're not used to the role. The best way to handle this is to stay organized and remain calm in difficult situations. Ensure you set clear expectations and goals for your team and provide the necessary resources and support for them to succeed. 
6. Unclear Job Expectations 
When starting a new job, clarifying expectations with your manager or supervisor is essential. Ask questions about the tasks you will be expected to complete and how much autonomy you have in completing them. Make sure you are on the same page with your manager, so there is no confusion later. Additionally, if you're ever unclear about something, don't hesitate to ask for help or clarification. 
7. Complicated Work Processes 
It can seem daunting if a task or project requires complicated work processes. However, it's important to take the time to understand each step of the process before beginning—this will help avoid mistakes and save time in the long run. Then, ask questions or request additional resources from colleagues to ensure you clearly understand what is expected. 
8. Office Politics 
Office politics can be tricky to navigate, but it doesn't mean you should avoid it altogether. On the contrary, it's essential to be aware of the dynamics at play; this way, you can ensure your efforts aren't being undercut by someone else. Additionally, make sure to speak up if you have an opinion that differs from the majority— voicing your ideas can lead to more constructive conversations and better outcomes for all involved.
Most importantly, always remain professional in any situation—this will ensure that everyone respects one another and builds a positive work environment. Any difficult workplace situation can be resolved successfully with the right attitude and approach.
9. Excessive Workload 
You may find yourself overwhelmed with work at some point in your career. It's important to remember that you are only human, and it's ok to ask for help! Don't hesitate to delegate tasks to other team members or request assistance from colleagues when needed. Additionally, it's important to take breaks throughout the day and make time for self-care to avoid burnout.
10. No Growth Opportunities 
Finding yourself in a role with no room for growth or advancement can be disheartening. The best way to approach this is to create something for yourself. Take the initiative and develop ideas to make your current job more meaningful. This could involve developing new skills or teaching others what you know. Additionally, look around for other opportunities within the company or conduct research on pursuing new roles outside of your current organization.
Related: How To Handle an Ethical Dilemma at Work
Interview Tips: Answering Questions About Difficult Work Situations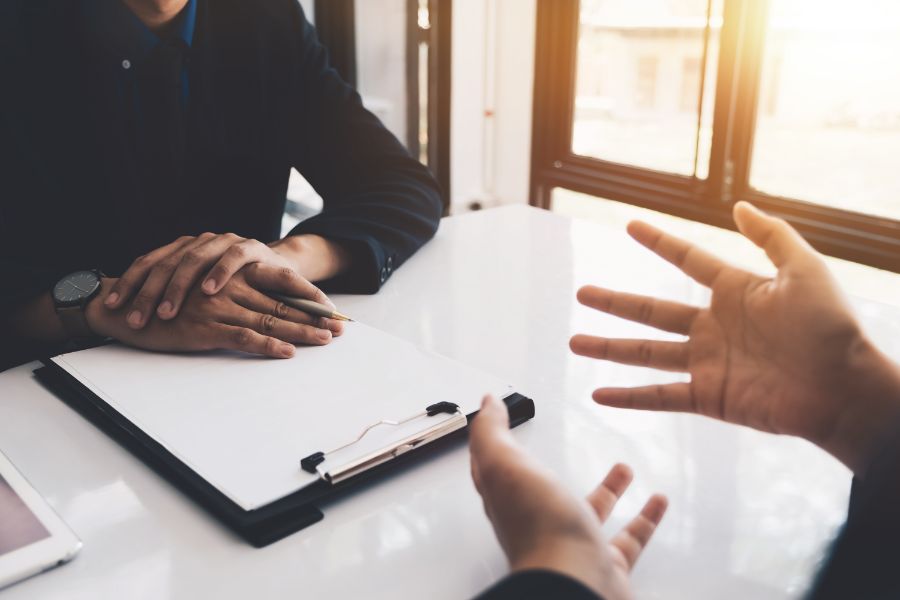 Interviews can be a daunting experience, especially when you're asked questions about how you handle difficult work situations. However, knowing how to answer these questions is essential to make a good impression on the interviewer and standing out from the other candidates. So let's look at some tips for answering questions about difficult work situations in an interview. 
→ Be Prepared with Examples 
Before you walk into the interview, it's important to have examples of difficult work situations that you've encountered in mind. Think about times when you had to make tough decisions or when something didn't go according to plan, and you had to think quickly and come up with a solution. Having concrete examples ready will help demonstrate your problem-solving skills and ability to stay calm under pressure. 
→ Emphasize Your Positive Qualities 
When answering questions about difficult work situations, it's important to focus on your positive qualities, such as your ability to think critically under pressure or your willingness to take the initiative. Rather than dwelling on the negative aspects of the situation, emphasize how positive qualities helped you get through it and ultimately find success. This will show that even during challenging times, you can remain composed while maintaining a professional demeanor.  
→ Show Your Problem-Solving Skills 
Employers want to know that you can analyze the problem logically and develop creative solutions when faced with a difficult work situation. Therefore, when discussing your experiences in an interview, try to emphasize how your problem-solving skills allowed you to find an effective solution. This will show that even in high-pressure environments, you can remain focused on finding answers rather than getting overwhelmed by the challenges at hand. 
Overcoming Adversity: The Best Interview Answers to "Describe a Difficult Situation"
When it comes to behavioral interview questions like this, you need a strategy to prepare a good answer. Here are some sample answers you can take a close look at.
1. Example Answer:
"As part of my previous job, I was required to take over a troubled project from a coworker who had quit. In my first meeting with the customer, he walked into the room screaming. He was furious that we had not yet solved the problems. Despite his anger, I did not interrupt him and took notes on the things he said. When he finished, I told him that I would take care of all complaints he raised.
He calmed down as I asked him more questions about each issue. After discussing the specific actions I planned to take and getting our top specialists working on it, I kept the customer regularly informed of my progress. In the end, he apologized for his behavior. We had to solve all problems within one week, but I was able to regain his trust. An angry customer can often be turned into a satisfied one with patience and perseverance."
2. Example Answer:
"I was a trainee at the company when a client requested a major change to the website just a few days before the launch of the website. It was late at night, and the team had to work late, but the manager told me I didn't need to. I decided to stay and help anyway. While I wasn't familiar with their tools, I offered to test the site anyway. I tested every page until all errors were fixed. After that, the manager decided to include me as a trainee in the next project."
3. Example Answer:
"My team and I had a new client at ___ Corporation who was always very rude to our team when I was the team leader of customer support. I decided to meet with him in person to understand him better and hopefully create a more positive working relationship. I was responsible for communicating with my customers only by phone and email, but I thought something more needed to be done here.
It was my aim during our meeting to politely frame the issue in a way that would communicate that we wanted to know how we could make things better for him. It was not my intention to focus on his behavior but on what we could do to surpass his expectations. In the end, he apologized and explained that he was very stressed due to personal issues. Afterward, he became much easier to work with."
4. Example Answer:
"There was a time when I worked at a small publishing company, and my boss asked me to contact a few well-known authors to get endorsements for a new book. I had never done it before, but I accepted the challenge. I compiled a list of about 60 names of great authors. 
In the beginning, I began contacting the top 10 names on the list. Upon receiving the first positive response, I continued to get the other people, mentioning the one who had accepted. As a result, I acquired 18 endorsements that impressed my boss and boosted the book sales significantly."
5. Example Answer:
"During my time as a project manager, I encountered an extremely challenging situation in which I needed to enter more billable hours so that she could meet her financial goal. For this reason, she asked me to join in 80 additional hours in that quarter, and I would then subtract those hours from the timesheet for the following month to reach her financial goal.
She appreciated the warning I gave her, thanked me for letting her know, and she gave up that idea when she realized doing so was against the company's policy. This meant I could not register hours that I had not worked. And if that project were audited, we would be in trouble."
6. Example Answer:
"My last job as an HR training specialist revealed some of the same errors in specific HR processes every time I conducted an internal audit. I then noticed that the training material they provided managers was dehydrated, with a lot of text and no illustrations or media. I checked the training material they used for managers and noticed the same errors. 
Because of this, I decided to create an updated version of that training course, which included videos and multiple-choice tests after each lesson. It was a success as every manager took the system, and we were able to perform those processes correctly following the internal audits."
7. Example Answer:
"There have been a few challenges that I have dealt with on my journey so far, but one that stands out to me was when one of my colleagues was hospitalized one day before a presentation to a potential client. My manager asked me to fill in for him, but I was unaware of his selling products. 
I aimed to study everything he had already prepared and finish the presentation as quickly as possible. I then enlisted the help of a specialist from the support team to assist me with the technical aspects. It was an excellent presentation, and we could close the deal in less than an hour."
8. Example Answer:
"During my first team meeting at ___ Corporation, my manager told a few prejudiced jokes that everyone laughed at. Even though a few other people seemed uncomfortable at the meeting, no one spoke. I later approached him privately and respectfully explained that those jokes might have offended some people, even though I was a newcomer. He was surprised by the comment and said he did not realize it. During the next meeting, he apologized to us for what he had said."
Related: What To Say at An Interview
Tips on How to Handle Difficult Work Situations Like a Pro 
No matter what industry you work in, it's likely that you will have to deal with difficult workplace situations at some point. From dealing with a critical boss to navigating interpersonal conflicts, these challenging scenarios can be hard to manage. But don't worry—here are some tips on handling difficult work situations like a pro. 
◈ Stay Calm and Collected 
When faced with a difficult situation, staying calm and collected is essential. Take a few deep breaths and acknowledge how you're feeling before responding. This will help ensure that your emotions don't take over the conversation and make the situation worse than it has to be.  
◈ Listen Actively 
Listening actively is key when handling any tough situation at work. Pay attention not only to the words being said but also to nonverbal cues such as body language or tone of voice. Repeat what was said to ensure that both parties are on the same page about the issue at hand, then use this information as a jumping-off point for finding a mutually beneficial solution. 
◈ Communicate Constructively  
Do so constructively when communicating your solution or response in a difficult situation. Be respectful of other people's opinions, avoid finger-pointing or blaming others, and maintain an understanding tone throughout your conversation. Try not to take things personally but instead focus on finding common ground between all parties involved so that everyone feels heard and respected throughout the process of resolving the situation. 
◈ Be Empathetic 
Getting caught up in our feelings when encountering an unpleasant situation can be easy. However, remember that everyone involved has their perspective, too—including the other person or people. Showing empathy towards someone else's feelings is essential for building trust and respect, so even if you don't necessarily agree with what they're saying or doing, try your best to understand where they're coming from. 
◈ Focus on Solutions 
Once everyone is on the same page about what's happening and why it's time to move forward by focusing on solutions rather than putting energy into assigning blame or pointing out faults. Instead, ask open-ended questions that allow each party involved to come up with potential solutions together, so everyone feels heard while also collaboratively problem-solving.  
Related: How To Deal With Difficult Employees as a New Manager
Conclusion
While work can often be difficult, it is essential to remember that there are ways to handle every situation. You can successfully navigate any tricky work scenario by following the tips in this blog post.
Knowing how to handle this situation properly will also give you a leg up in future job interviews. Do you have any other examples of difficult work situations? How do you suggest handling them? Let us know in the comment section below!
FAQ
When do you have to work long hours or overtime?
If you're required to work long hours or overtime, staying focused and organized is essential. Try breaking the task into smaller steps, taking breaks, and setting a deadline. It can also help to have someone to work with, so you can take turns focusing on the task.
Is communication skills necessary in difficult work situations?
Yes, communication skills are essential in difficult work situations. Communicating effectively with your coworkers, boss, and other employees can help resolve complex problems. It's also important to listen to others and understand their perspective.
What should be the thought process in a challenging work situation?
When in a challenging work situation, explain your exact answer for choosing your actions, being as specific as possible. Visualizing yourself succeeding can also help you stay motivated.
What is the effect of emotional intelligence in difficult work situations?
Emotional intelligence can help handle a behavioral interview question. Being able to understand and manage your emotions, as well as the feelings of others, can help resolve difficult situations. It's also essential to communicate effectively to understand different perspectives.