Disclaimer: We sometimes use affiliate links in our content. For more information, visit our Disclaimer Page. 
Soft skills are the personal attributes and interpersonal qualities that influence how we interact with others. They are becoming increasingly valuable in the workplace, as professionals must work collaboratively and adapt to changing environments. In fact, studies show that individuals with strong soft skills are more likely to succeed in their careers.
Developing and mastering soft skills in the workplace is crucial for long-term career success. While hard skills, such as technical knowledge and expertise, are important, employers are increasingly seeking professionals who have the ability to communicate effectively, work well in teams, and adapt quickly to change.
Key Takeaways:
Soft skills are becoming more valuable in the workplace.
Professionals with strong, soft skills are more likely to succeed in their careers.
Employers are seeking candidates with strong soft skills and technical expertise.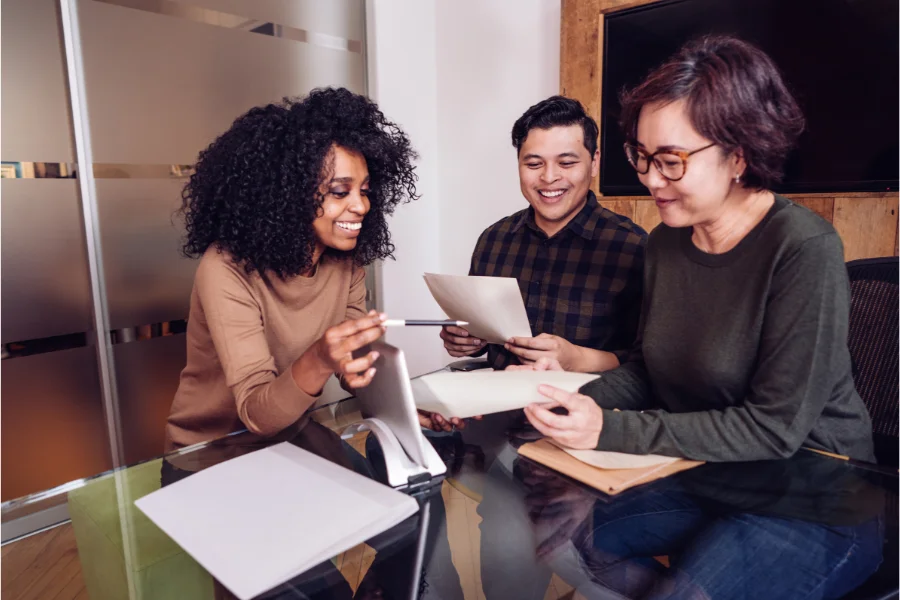 The Key Soft Skills in the Workplace
Soft skills are the essential personal qualities and traits that enable professionals to work effectively with others. Without these skills, even the most technically proficient person may struggle to succeed in the workplace. Here are some of the essential soft skills for workplace success:
Effective Communication
Effective communication is one of the most critical soft skills for workplace success. It involves not only being an excellent speaker but also a great listener. Employees who can communicate clearly and thoughtfully build strong relationships with colleagues and clients alike. They can articulate their thoughts and ideas, listen actively, and provide constructive feedback.
Effective communicators make great team players, manage conflicts efficiently, and easily handle difficult conversations. Improving your communication skills will lead to better relationships and a more positive and productive work environment.
Problem-Solving and Creativity
Employees who excel at problem-solving and creativity can tackle complex challenges and think outside the box. They can identify the root cause of problems, develop solutions, and implement them effectively. Additionally, they can come up with novel ideas and innovations that can help a business grow.
Problem-solvers and creative thinkers are excellent assets to any team, and their unique perspectives can lead to breakthrough solutions. To develop these skills, practicing critical thinking, analyzing data, and looking for ways to approach problems from different angles is important.
Adaptability and Flexibility
In today's fast-paced work environment, adaptability and flexibility are essential. Employees who can adjust to changes quickly and easily handle unexpected situations can thrive in any workplace. Being open to new ideas and approaches, learning new skills, and being willing to take on new challenges are key characteristics of adaptable employees.
Flexibility also involves balancing competing priorities, managing multiple tasks, and meeting deadlines. With the increasing demand for agility and responsiveness in the modern workplace, developing these skills is crucial for career success.
Other important soft skills for workplace success include leadership, teamwork and collaboration, time management, emotional intelligence, workplace etiquette, and navigating workplace diversity and inclusion. By cultivating these skills, you can become a valuable asset to any employer and position yourself for career success.
Developing Effective Communication Skills in the Workplace
Effective communication is a cornerstone of success in any workplace. It helps establish good relationships between team members, promotes understanding, and ensures that tasks are executed efficiently and effectively. Improving communication skills is essential for everyone in the workplace, from entry-level employees to upper management.
Verbal and Non-Verbal Communication
Verbal communication refers to the use of words to convey information, ideas, and emotions. Using clear and concise language when speaking to colleagues or clients is important. Nonverbal communication, on the other hand, is the use of body language, gestures, and facial expressions to communicate feelings or attitudes. It is important to be aware of nonverbal cues when communicating since they can sometimes send conflicting messages.
Here are some tips for improving verbal and nonverbal communication in the workplace:
Use appropriate language and tone
Be an active listener
Avoid interrupting others when they are speaking
Practice good posture and maintain eye contact
Use respectful gestures and facial expressions
Promoting Clear and Concise Communication within Teams
Promoting clear communication among team members is important to avoid misunderstandings and ensure all tasks are executed efficiently. Some practical tips for promoting clear and concise communication within teams include:
Establishing ground rules for communication, such as avoiding jargon or acronyms that others may not understand
Creating an open-door policy that allows team members to ask questions or seek clarification when needed
Scheduling regular check-ins or meetings to provide updates and review progress
Using collaboration tools such as project management software, instant messaging, or video conferencing to facilitate communication among team members
Active Listening
Active listening is a critical skill in the workplace, particularly when working in teams or in client-facing roles. Active listening involves fully concentrating on what the speaker is saying, asking questions to clarify information, and providing feedback to demonstrate understanding. Here are some tips to improve active listening:
Avoid interrupting the speaker
Make eye contact and provide nonverbal cues to show you are engaged
Ask questions to clarify any misunderstandings or uncertainties
Provide feedback to demonstrate that you have understood the speaker's message
By improving communication skills, professionals can foster better working relationships, prevent misunderstandings, and promote efficiency in the workplace.
Enhancing Teamwork and Collaboration in the Workplace
In today's modern workplace, teamwork and collaboration are essential for achieving goals and creating a positive work environment. Effective teamwork leads to improved communication, increased productivity, and better problem-solving. In this section, we will explore some practical strategies for enhancing teamwork and collaboration in the workplace.
Building Trust
Trust is the foundation of any successful team. When colleagues trust each other, they are more likely to share ideas, work together, and take risks. Building trust takes time, but it is achievable with consistent effort. Leaders can foster trust by being transparent, keeping their promises, and being approachable. Team members can build trust by actively listening to their colleagues, being accountable for their actions, and offering help when needed.
Promoting Communication
Effective communication is key to teamwork and collaboration. Teams that communicate regularly and openly are more efficient and productive. Everyone on the team should feel comfortable expressing their ideas, concerns, and feedback. Implementing regular team meetings and utilizing digital communication tools can improve communication and ensure everyone is on the same page.
Resolving Conflicts
Conflicts can arise in any team, but how they are resolved is what matters most. Leaders should encourage team members to voice their disagreements respectfully and work towards a resolution. It's important to remember that conflict is not always bad; it can lead to better solutions and improve team dynamics. Team members should focus on finding a compromise and moving forward.
By implementing these strategies, teams can enhance their collaboration and achieve success in the workplace. Effective teamwork takes effort and dedication, but the result is worth it.
Workplace Etiquette and Soft Skills
Workplace etiquette and soft skills go hand in hand when it comes to creating a positive work environment. Professionalism, respect, punctuality, and work ethic are essential components of workplace etiquette. Practicing good workplace etiquette demonstrates your soft skills in action and creates a positive impression on your colleagues and superiors.
Professionalism is crucial in the workplace. It involves dressing appropriately, acting respectfully, and maintaining proper decorum. Professionalism sets the tone for effective communication, builds trust and confidence, and fosters a sense of belonging.
Respect is fundamental in the workplace. Treating everyone with courtesy, consideration, and empathy creates a harmonious work environment. It is essential to recognize and appreciate diversity in the workplace and avoid any form of discriminatory behavior.
Punctuality is significant in the workplace. Arriving on time for meetings, deadlines, and appointments shows reliability and respect for others' time. It also demonstrates a strong work ethic and the ability to prioritize tasks efficiently.
Work ethic encompasses values such as responsibility, integrity, and accountability. It involves working diligently, maintaining a positive attitude, and striving for excellence in your work. A strong work ethic shows your commitment to your job and your desire to succeed.
Practicing good workplace etiquette demonstrates your soft skills and can enhance them by building positive relationships and improving your communication and teamwork skills. Employers look for employees with strong soft skills, as they are crucial for career success.
The Role of Emotional Intelligence in the Workplace
Emotional intelligence is an essential soft skill that can significantly impact an individual's success in the workplace. It involves recognizing and managing our emotions and those of others, such as colleagues and clients. Developing emotional intelligence can result in more effective communication, better relationships, conflict resolution, and leadership skills.
There are several strategies that professionals can use to improve their emotional intelligence in the workplace. One crucial step is to practice active listening, which involves fully engaging with what others are saying and responding appropriately. By being present and attentive during conversations, we can better understand others' perspectives and build stronger relationships.
Another essential aspect of emotional intelligence is being able to manage our emotions, particularly in stressful situations. This involves being self-aware, recognizing our emotions, and then taking steps to manage them. Strategies such as deep breathing, taking a break, or reframing negative thoughts can help us control our emotions and respond more rationally in challenging situations.
Developing empathy is also crucial for improving emotional intelligence. This involves understanding and relating to others' feelings and perspectives, which can aid in conflict resolution, team building, and leadership. By putting ourselves in others' shoes, we can better understand their needs, motivations, and emotions, leading to more positive interactions and outcomes.
Overall, developing emotional intelligence is vital for professionals looking to enhance their soft skills in the workplace. By practicing active listening, managing our emotions, and developing empathy, we can build more effective relationships, resolve conflicts, and become more effective leaders.
Mastering Problem-Solving and Decision-Making Skills
Problem-solving and decision-making skills are essential for workplace success. From minor challenges to complex issues, these skills are required to navigate through unexpected situations. Professionals who can effectively analyze problems and make timely decisions are highly valued in the workplace.
There are various problem-solving techniques that individuals can learn and apply. Root cause analysis, brainstorming, and the 5 Whys method are some of the commonly used techniques. The key is identifying the problem, gathering information, evaluating options, and selecting the best solution.
Effective decision-making requires critical thinking and careful evaluation of available options. By considering the pros and cons of each option, individuals can make informed decisions that align with their goals and the organization's objectives.
Creativity is also an essential component of problem-solving and decision-making. By thinking outside the box, professionals can come up with innovative solutions to complex challenges.
With these skills, professionals can overcome challenges and drive success in the workplace.
Effective Time Management for Workplace Productivity
Time is a precious commodity in the workplace, and effective time management is a crucial soft skill for professionals. Improving soft skills in the workplace, such as time management, can result in increased productivity, enhanced job satisfaction, and reduced stress.
Below are some practical tips for improving time management skills:
Set clear goals: Define your objectives and prioritize tasks based on their importance and urgency. Use a to-do list to ensure that you stay organized and focused.
Avoid distractions: Minimize interruptions, such as unnecessary phone calls and emails, and delegate tasks when appropriate. Focus your attention on one task at a time and avoid multitasking, which leads to reduced productivity.
Delegate tasks: Identify tasks that can be assigned to team members, allowing you to focus on critical responsibilities. Effective delegation not only saves time but also promotes teamwork and collaboration.
Take breaks: Taking short breaks throughout the day can help boost productivity and reduce stress. Use your break time to stretch, take a walk, or simply relax.
Use technology: Leverage technology tools such as time-tracking software, project management apps, and automation tools to streamline tasks and manage your time more efficiently.
Professionals can enhance their performance, achieve their goals, and maintain a healthy work-life balance by mastering time management skills.
Diversity and inclusion in the workplace are critical for fostering an environment of innovation and creativity. It is essential to embrace diversity and promote cultural sensitivity to increase understanding and build strong relationships with colleagues and clients.
Soft skills such as communication, empathy, and open-mindedness are crucial when navigating workplace diversity. Effective communication helps understand different perspectives and build rapport with colleagues from diverse backgrounds. Being empathetic and respectful towards others' experiences and cultural differences is also essential.
To cultivate inclusivity, it is essential to celebrate diversity and promote equality in the workplace. Encouraging open communication and creating a safe space for employees to share their experiences and perspectives can help eliminate biases and stereotypical assumptions.
In summary, embracing diversity and promoting inclusivity is essential for creating a positive work environment. Developing soft skills such as communication, empathy, and open-mindedness can help to navigate workplace diversity. We can build a strong, inclusive workplace culture by celebrating diversity and promoting equality.
Overcoming Challenges and Adapting to Change
Adapting to change and overcoming challenges is crucial in today's fast-paced work environment. Soft skills such as flexibility, resilience, and agility are essential in navigating through uncertainty and staying proactive.
Change can be daunting, but it is inevitable. Professionals must embrace change with an open mind to successfully adapt to change. They must be willing to learn new things and take on different challenges.
Managing uncertainty is another critical skill in adapting to change. Staying positive, being proactive, and seeking feedback can help professionals manage uncertainty. Developing a growth mindset can also help them embrace new opportunities.
Resilience is an essential soft skill in overcoming challenges in the workplace. Professionals must develop the ability to bounce back from setbacks, learn from failures, and stay optimistic in challenging situations.
Agility is another critical skill in adapting to change. Being agile means having the ability to change direction quickly, adapt to the situation, and respond to new challenges effectively.
Employers value professionals who can adapt to changes and overcome challenges. By developing and improving soft skills, professionals can position themselves for success in today's dynamic work environment.
Conclusion
Mastering soft skills in the workplace is critical for achieving career success. Effective communication, teamwork, problem-solving, time management, emotional intelligence, workplace etiquette, diversity and inclusion, and adaptability are some essential soft skills that can enhance your professional life.
Remember that developing and improving these skills is an ongoing process that requires continuous effort and practice. Applying them in your daily work routine can improve your productivity and efficiency and boost your confidence and morale.
By prioritizing the development of soft skills, you can establish yourself as a valuable asset in any workplace and create a positive work environment for yourself and your colleagues. So, start honing your soft skills today to achieve your desired career success.
FAQs
Soft skills are a set of personal attributes, qualities, and abilities that enable individuals to interact and communicate with others in the workplace effectively. They include communication, teamwork, adaptability, problem-solving, and leadership skills.
How can I develop and improve my soft skills?
Developing and improving soft skills requires practice and self-awareness. Some ways to improve soft skills include seeking feedback from others, taking on leadership roles, actively listening to others, seeking opportunities for professional development, and reflecting on personal strengths and areas for improvement. Observing and learning from professionals who excel in the desired soft skills is also helpful.
Can soft skills be learned?
Yes, soft skills can be learned and developed. While some individuals may naturally possess certain soft skills, others can acquire and improve them through intentional effort and practice. Soft skills are not fixed traits and can be cultivated over time through self-reflection, learning from experiences, and seeking opportunities for growth.
How can I demonstrate my soft skills during job interviews?
You can demonstrate your soft skills during job interviews by providing specific examples from your past experiences. Share instances where you effectively communicated with a team, resolved conflicts, demonstrated adaptability, or showcased leadership skills. Use the STAR method (Situation, Task, Action, Result) to structure your answers and highlight how your soft skills have positively influenced outcomes in the workplace.
Are soft skills more important than technical skills?
Soft and technical skills play important roles in the workplace. While technical skills are specific to a particular job or industry, soft skills are transferable and applicable across various roles and industries. Employers often value a combination of both technical and soft skills in employees, as they complement each other and contribute to overall success in the workplace.
Credits
Featured Image: Credits Roman via Canva.com
In-article Image: Credits kate_sept2004 via Canva