Disclaimer: We sometimes use affiliate links in our content. For more information, visit our Disclaimer Page. 
Diversity is an essential component of a healthy and thriving society. Differences in race, ethnicity, gender, religion, sexuality, and socioeconomic status make our communities richer and more vibrant. However, promoting diversity and inclusivity requires ongoing effort and intentional action. This is where training for diversity comes in.
Diversity training programs help individuals better understand different cultural perspectives, overcome biases, and appreciate differences. Such programs can be implemented in various settings, including workplaces, educational institutions, community organizations, and government agencies.
Key Takeaways:
Training for diversity is crucial in promoting inclusivity and celebrating differences in society.
Such programs help individuals better understand different cultural perspectives, overcome biases, and appreciate differences.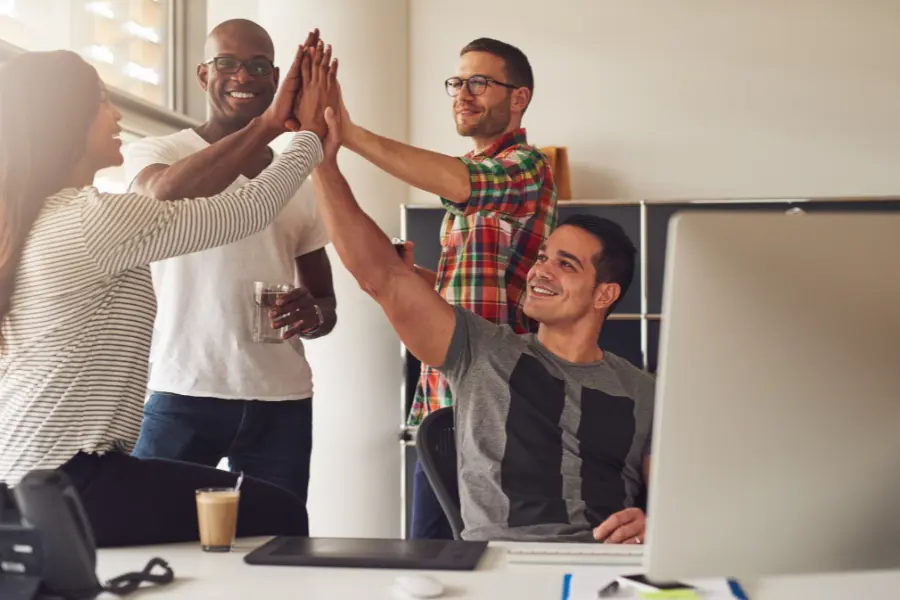 Training for Diversity Ways to Celebrate Differences in the Workplace
Diversity in the workplace is no longer just a buzzword; it's a crucial factor for success. Organizations that embrace diversity have been shown to have improved innovation, productivity, and employee satisfaction. To achieve these benefits, promoting diversity in the workplace is essential.
There are a variety of strategies that organizations can employ to promote diversity and inclusion. These strategies include but are not limited to: creating affinity groups, partnering with diverse organizations, implementing diversity training programs, and providing mentorship opportunities for underrepresented groups. The key is to focus on creating an inclusive workplace culture where all employees feel valued and supported.
Establishing diversity and inclusion task forces or committees is an effective strategy to promote diversity. These groups can help ensure that diversity goals are being met, track progress, and create accountability for leadership. They can also provide insights into underrepresented groups' unique challenges and offer solutions to overcome those barriers.
Promoting Diversity Through Recruitment and Hiring
Another crucial aspect of promoting diversity in the workplace is through recruitment and hiring practices. By actively seeking out diverse candidates, organizations can ensure that their workforce reflects the diversity of their customer base and the community they serve. This can be achieved by partnering with organizations focusing on diverse talent pipelines, posting job openings in diverse publications, and using inclusive language in job descriptions.
Finally, it's important to recognize that promoting diversity in the workplace is an ongoing effort. Strategies that work now may need to be adjusted in the future to ensure continued success. By committing to promoting diversity and implementing effective diversity and inclusion strategies, organizations can create a workplace culture that celebrates differences and fosters inclusivity.
Building an Inclusive Culture
Creating an inclusive culture within organizations is essential for promoting diversity. It requires a concerted effort to ensure that everyone feels welcome and valued, regardless of their differences. This is where diversity awareness training comes into play.
Diversity awareness training can help employees understand and appreciate different perspectives, backgrounds, and experiences. It can also help them to identify unconscious biases and avoid stereotyping. Doing so can create a more accepting and respectful workplace environment.
Multicultural Training: Embracing Differences
Embracing diversity is crucial for fostering an inclusive workplace environment. Multicultural training can help organizations create a culture that values diversity, promotes equality, and ensures inclusivity.
Equality and diversity training programs can expose employees to different perspectives, experiences, and backgrounds. This can help them better understand the challenges faced by their colleagues from diverse backgrounds and appreciate their unique contributions to the organization.
Benefits of Multicultural Training
1. Increased cultural awareness
2. Improved communication and teamwork
3. Greater creativity and innovation
4. Increased employee satisfaction and retention
Moreover, multicultural training programs can help organizations adhere to legal requirements and avoid discrimination or harassment issues. When employees receive adequate training, they are less likely to hold discriminatory or harmful beliefs, attitudes, or behaviors that can harm their co-workers, customers, or clients.
In summary, equality and diversity training programs can be a great investment for organizations that want to create a more inclusive and accepting environment. By embracing differences and promoting diversity in the workplace, organizations can benefit from increased innovation, productivity, and employee satisfaction.
Celebrating Diversity in Education
Diversity in education is critical to creating a respectful and safe learning environment that celebrates differences. Educational institutions play a crucial role in promoting inclusivity, understanding, and respect for diverse points of view, backgrounds, and experiences.
To achieve this, many schools and colleges implement diversity training programs to promote cultural awareness, improve communication, and address stereotypes and biases. These programs can help students and faculty alike to appreciate and respect differences, creating an inclusive environment that celebrates diversity.
Some of the most successful diversity training programs in education include workshops, seminars, and interactive events designed to promote cultural understanding. These programs provide opportunities for students and faculty to engage with one another and learn from diverse perspectives, helping to create a more inclusive culture on campus.
Moreover, schools and colleges can partner with local community organizations to promote diversity and inclusivity in their surrounding areas. Community outreach programs, student-led events, and diversity fairs are just ways educational institutions can engage with their surrounding communities and promote inclusivity at a broader level.
Ultimately, celebrating diversity in education requires a commitment from everyone involved in the learning process – students, faculty, administration, and community members alike. By embracing and promoting diversity, educational institutions can create a more understanding, accepting, and inclusive society.
The Role of Government in Promoting Diversity
The government plays a significant role in promoting diversity and creating inclusive policies. Through various initiatives, the government aims to foster diversity, equity, and inclusion in society.
One of the key strategies used by the government is to implement diversity and inclusion training programs for its employees. The government can create a more diverse and inclusive work environment by training government employees on diversity awareness and strategies for promoting inclusivity.
The government can also implement policies that help promote diversity, equity, and inclusion in society at large. For example, the government can enact laws protecting individuals from discrimination based on race, gender, sexual orientation, or religion. Such policies not only help to promote inclusivity but also create a more just and equitable society.
Initiatives taken by the government to promote diversity and inclusion include:
Establishing diversity councils and committees
Creating diversity and inclusion task forces
Developing diversity training programs for employees
Implementing diversity and inclusion policies in hiring and retention
Enacting laws to protect individuals from discrimination
While the government has made significant progress in promoting diversity, equity, and inclusion, much work remains to be done. It is crucial that the government continues to make efforts to create a more diverse and inclusive society and that individuals also play an active role in promoting diversity within their personal and professional lives.
Celebrating Diversity in Arts and Media
The arts and media play a crucial role in shaping our perceptions of the world, and as such, it is essential that they reflect the diverse nature of our society. Celebrating diversity in creative industries through accurate representation and inclusivity is important.
Diversity awareness training can help artists and media professionals understand and appreciate different perspectives, backgrounds, and experiences. Such training can also help consumers be more aware of the impact of media representation on marginalized communities and challenge harmful stereotypes.
By actively celebrating diversity in arts and media, we can challenge harmful stereotypes and create a more inclusive and accepting society.
Embracing Diversity in Community Engagement
Community engagement plays a vital role in promoting diversity and fostering inclusivity at the local level. Through active participation in community initiatives and events, individuals can contribute to building a more understanding and accepting society.
Diversity training programs can enhance the effectiveness of community engagement efforts by equipping individuals with the necessary skills and knowledge to communicate with people from different backgrounds and promote inclusive practices. Community members can learn to appreciate and celebrate differences by attending diversity training sessions, effectively communicating with people from diverse backgrounds, and recognize the impact of bias and discrimination.
Successful community initiatives that embrace diversity include cultural festivals, educational programs, and social events that bring people from different backgrounds together. These initiatives provide opportunities for individuals to learn from one another, share their experiences, and build relationships based on trust and respect.
In order to foster inclusivity and promote diversity in community engagement, it is important to create safe and welcoming spaces that encourage open communication and dialogue. Community leaders and organizers can facilitate this by implementing diversity awareness training, creating inclusive policies and guidelines, and ensuring all community members know their rights and responsibilities.
Overcoming Challenges in Diversity Training
While diversity training programs can effectively promote inclusivity and celebrate differences, challenges may arise in their implementation. It is important to address these challenges to ensure the effectiveness of diversity training initiatives and create a truly inclusive environment.
One of the major challenges in diversity training is resistance from employees. Some may view the training as unnecessary or even resentful. It is important to communicate the value of diversity and inclusion in the workplace and emphasize the benefits it brings to the organization as a whole. Offering incentives or rewards for participation in diversity training can also help mitigate resistance.
Another challenge is the lack of follow-up and reinforcement. Diversity training should be an ongoing process, and it is important to reinforce its message in day-to-day operations. Regular feedback and assessments can help track progress and identify areas for improvement.
Ensuring diversity training programs' cultural sensitivity and relevance can also be challenging. Tailoring the training to the organization's and its employees' specific needs and experiences is important. This may involve incorporating case studies, sharing personal experiences, or providing resources for further education.
In order to overcome these challenges, it is important to approach diversity training as an ongoing process rather than a one-time event. Organizations can create an inclusive environment that values diversity and promotes inclusivity by addressing employee resistance, providing ongoing reinforcement, and tailoring the training to meet specific needs. By implementing effective diversity and inclusion strategies, companies can improve their bottom line and contribute to a more inclusive and accepting society.
Importance of Evaluation and Continuous Improvement
Implementing diversity training programs is the first step in building an inclusive culture that celebrates differences. To ensure the long-term success of these initiatives, it is crucial to evaluate their effectiveness and make necessary adjustments regularly.
Evaluation can take many forms, such as surveys, focus groups, and feedback sessions with participants. Such evaluations can help gather insights into the strengths and weaknesses of the training programs, identify areas for improvement, and measure their impact on the organization's culture.
Continuous improvement is also vital in building an inclusive culture. Organizations should consider incorporating ongoing reinforcement in their diversity training programs to ensure employees remain engaged and committed to celebrating differences. It may include regular workshops, discussions, and activities encouraging employees to embrace diversity and promote inclusivity.
Building an inclusive culture is an ongoing process that requires commitment and effort from everyone in the organization. By continuously evaluating and improving diversity training programs and emphasizing their importance, organizations can create a welcoming and supportive environment for everyone.
Creating an Inclusive Future: Our Role
Creating an inclusive future is a collective responsibility that we all share. Diversity and inclusion strategies must be implemented not only in workplaces but also in our personal lives. Here are some actionable steps we can take to promote inclusivity:
Embrace differences: We should learn about different cultures, traditions, and beliefs and celebrate them. We can attend cultural events, watch documentaries, or read books about diverse communities.
Use inclusive language: We can use gender-neutral pronouns, such as "they" or "their," and avoid using words that can be offensive or derogatory to certain groups.
Call out discrimination: We should not tolerate discrimination in any form. If we witness discrimination, we can stand up for the victim and report the incident to the appropriate authority.
Volunteer: We can volunteer in organizations that promote diversity and inclusivity in our communities. We can participate in initiatives that provide resources and support to marginalized groups or advocate for their rights.
Continue learning: We can continue to educate ourselves about diversity and inclusion by attending workshops, training sessions, or online courses. We can also seek feedback from our peers or mentors to improve our understanding of different perspectives.
Remember, creating an inclusive future is an ongoing process that requires continuous effort and commitment. By implementing these strategies, we can contribute to building a society that values and celebrates diversity.
Conclusion
The need for diversity training programs in society cannot be overstated. These programs provide an avenue for celebrating differences and promoting inclusivity in the workplace, educational institutions, and the community at large.
To create an inclusive culture, organizations must prioritize diversity and implement strategies that promote diversity and inclusivity. It is also important to evaluate these programs continuously and make improvements where necessary to ensure their effectiveness.
Lastly, as individuals, we have a role to play in creating an inclusive future that celebrates differences. We can help create a better and more accepting society for all by taking actionable steps to promote diversity and inclusivity. Let's embrace diversity and celebrate our differences together.
FAQs
What are some ways to celebrate diversity?
Organizing cultural expos and events that showcase different traditions and backgrounds.
Incorporating diverse learning materials and teaching methods.
Creating a multi-cultural calendar to honor various holidays and celebrations.
Hosting international movie nights to explore different cultures.
Encouraging discussions and presentations that highlight unique cultural aspects.
What are the ways to celebrate diversity in an organization?
Conducting diversity training workshops to promote inclusivity and cultural competency.
Creating employee resource groups (ERGs) that focus on different cultures, genders, or backgrounds.
Organizing events that showcase different traditions, such as cultural expos or food festivals.
Incorporating diverse perspectives in decision-making and problem-solving processes.
Encouraging open dialogues that allow employees to share their unique experiences and viewpoints.
How do you give diversity training?
Workshops and seminars led by experts in diversity and inclusion.
Online courses and e-learning modules that cover different aspects of diversity.
Interactive activities and group discussions to encourage engagement and learning.
Role-playing exercises that simulate real-life diversity-related scenarios.
Case studies and examples that illustrate the importance of diversity in different contexts.
How can workplaces promote diversity and inclusion?
Providing diversity training to educate employees about different cultures and backgrounds.
Establishing clear diversity and inclusion policies that promote equal opportunities.
Creating an inclusive culture that values diverse perspectives and encourages collaboration.
Implementing diverse hiring practices to ensure a varied workforce.
Offering support and resources for underrepresented groups through employee resource groups (ERGs).
What are some activities to celebrate diversity in the workplace?
Cultural expos: Organizing events that showcase different cultures through food, music, and art.
Diversity calendar celebrations: Recognizing and honoring various holidays and traditions.
Speak your truth sessions: Providing a platform for employees to share their unique experiences and perspectives.
International movie nights: Screening films from different cultures and discussing their themes.
Employee resource groups (ERGs): Establishing groups that focus on different cultural or identity aspects and organizing related events.