Disclaimer: We sometimes use affiliate links in our content. For more information, visit our Disclaimer Page. 
Business analysis techniques are critical to effective decision-making in American business strategies. By mastering these skills, professionals can identify and evaluate strategic options, leading to better outcomes for organizations and stakeholders.
From data analysis to process modeling, business analysis techniques provide tools and frameworks for understanding complex business problems and making informed decisions. Techniques such as SWOT analysis, market research, stakeholder analysis, cost-benefit analysis, decision-making tools, requirements gathering and analysis, and project management tools can all be employed to help businesses succeed.
Key Takeaways
Business analysis techniques empower professionals to identify and evaluate strategic options.
Data analysis, SWOT analysis, market research, stakeholder analysis, cost-benefit analysis, decision-making tools, process modeling, requirements gathering and analysis, and project management tools are all essential business analysis techniques.
Effective use of business analysis techniques can lead to better outcomes for organizations and stakeholders.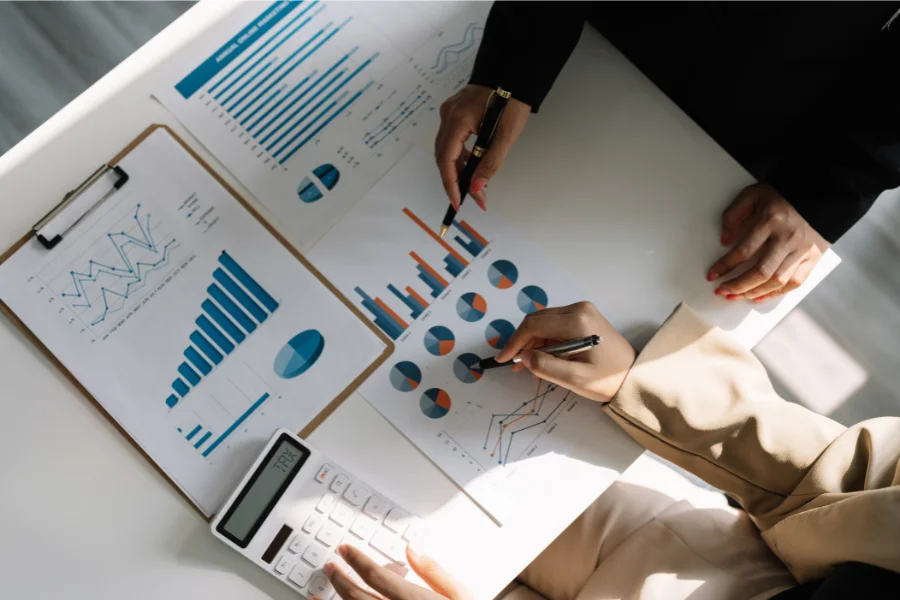 Understanding Data Analysis for Business Success
Data analysis is a critical component of effective business analysis techniques. By analyzing data, businesses can gain valuable insights and make informed decisions. There are various types of data analysis techniques that businesses use, including:
Descriptive analysis: analyzing data to describe and summarize key characteristics and trends
Predictive analysis: using data to make predictions about future trends and events
Prescriptive analysis: using data to make decisions and develop strategies
Each of these techniques has its own unique benefits, and businesses may use one or a combination of these methods to gain insights and inform decision-making.
In addition to the different types of data analysis, various tools and software are available to help businesses analyze their data. These tools range from simple spreadsheets to complex software programs using machine learning algorithms to analyze large data sets.
When using data analysis in business analysis techniques, it's important to ensure that the data being analyzed is accurate, relevant, and reliable. Businesses should also consider the context in which the data was collected and analyzed, as this can significantly impact the insights gained from the analysis.
Unleashing the Power of SWOT Analysis
SWOT analysis is a valuable technique in business analysis that enables an organization to assess its internal and external environments by identifying its strengths, weaknesses, opportunities, and threats. This analysis helps businesses to gain a better understanding of their competitive position and develop effective strategies that leverage their strengths while addressing weaknesses and mitigating threats.
SWOT analysis stands for:
S- Strengths
W- Weaknesses
O- Opportunities
T- Threats
Conducting a SWOT analysis involves several steps:
| Step | Description |
| --- | --- |
| 1 | Identify strengths and weaknesses by analyzing internal resources and capabilities of the organization. |
| 2 | Identify opportunities and threats by analyzing the external environment, including market trends, competition, and regulatory factors. |
| 3 | Combine the results of the analysis to identify strategic options that leverage the organization's strengths, address its weaknesses, take advantage of opportunities, and mitigate threats. |
SWOT analysis is an effective tool for businesses of all sizes, as it provides a clear understanding of their current position and informs strategic decisions. By identifying areas of improvement and potential growth opportunities, businesses can create actionable plans that drive growth and success.
Conducting Effective Market Research
Market research is a critical technique in business analysis that enables organizations to gather valuable data for strategic decision-making. Effective market research involves identifying the right sample size, conducting surveys, and analyzing data to arrive at actionable insights.
The process entails the following steps:
Defining research objectives: Clearly outlining what the research aims to achieve helps develop relevant questions and identify the target audience.
Choosing the research design: The research design is determined by the research objectives and the nature of the data to be collected. It could be exploratory, descriptive, or causal.
Selecting the sample size: The sample size ideally represents the target audience and should be large enough to reduce sampling error.
Collecting data: Data collection can be done through surveys, interviews, focus groups, or observation. Online surveys have become popular in recent years due to their convenience and affordability.
Analyzing data: The data is analyzed through regression, factor, and cluster analysis. It is essential to ensure that data is accurate and free from bias.
Market research provides organizations with an in-depth understanding of customers, competitors, and industry trends. It helps identify new opportunities, develop effective marketing strategies, and improve product offerings. By investing in market research, businesses can make informed decisions, minimize risks, and maximize returns.
Analyzing Stakeholders for Business Success
Stakeholder analysis is a critical technique in business analysis. It helps businesses identify and analyze stakeholders and their roles, impact, and interest in their business strategies. Stakeholders encompass various entities, including customers, employees, government agencies, shareholders, and suppliers. An effective stakeholder analysis enables businesses to determine the interests and needs of various stakeholders and align their strategies accordingly.
There are three steps involved in conducting a stakeholder analysis: identify, prioritize, and engage. The identification of stakeholders helps businesses define who they are and their interests. Prioritization, on the other hand, enables businesses to determine which stakeholders are most important and how they impact their business strategies. Finally, engaging stakeholders helps businesses establish communication and develop strategies that cater to their needs, fostering a positive relationship.
Stakeholder analysis is crucial for businesses because it enables them to make informed decisions. By understanding the interests and needs of their stakeholders, businesses can establish effective communication, minimize risk, and maximize value. Additionally, stakeholder analysis is useful in crisis management, enabling businesses to proactively identify and address potential issues.
Evaluating Costs and Benefits with Cost-Benefit Analysis
Cost-benefit analysis is a powerful business analysis technique that enables businesses to evaluate the costs and benefits of various decisions. Businesses can make informed choices that maximize success by assessing the potential costs and benefits of a decision.
The process of conducting a cost-benefit analysis involves several steps. First, businesses must identify the options or alternatives they are considering. Next, they must identify the costs and benefits associated with each option. Costs may include direct expenses, such as labor or materials, as well as indirect costs, such as lost productivity. Benefits may include increased revenue, improved efficiency, or enhanced reputation.
After identifying costs and benefits, businesses must assign a monetary value to each. This enables them to compare the relative costs and benefits of each option. When conducting a cost-benefit analysis, businesses may also consider non-monetary factors, such as environmental or social impacts.
Ultimately, a cost-benefit analysis aims to determine whether a decision's benefits outweigh the costs. If the benefits outweigh the costs, the decision will likely be good. Businesses may need to reconsider their options if the costs outweigh the benefits.
Businesses can make informed choices that maximize their success by using cost-benefit analysis in their decision-making processes. This powerful business analysis technique is just one of many tools available to American businesses to improve their strategies and achieve their goals.
Leveraging Decision-Making Tools for Optimal Results
Business decisions require careful consideration. With the help of decision-making tools, businesses can analyze complex scenarios and make informed choices that lead to optimal results. This section'll explore some popular decision-making tools and explain how they can be leveraged to improve business strategies.
Decision Trees
Decision trees are a graphical representation of the decision-making process. They help businesses break down complex decisions into simple sub-decisions and visualize their outcomes. By analyzing different scenarios, businesses can determine the optimal path to take.
Scenario Analysis
Scenario analysis involves examining different scenarios or potential outcomes and their impact on a business. By considering different variables, such as market conditions, customer preferences, and regulatory changes, businesses can develop strategies that account for different possible futures.
Pareto Analysis
Pareto analysis, also known as the 80/20 rule, helps businesses identify the most significant factors affecting their success. By focusing on the 20% of factors that contribute to 80% of their outcomes and addressing these factors, businesses can optimize their operations and improve their results.
By leveraging these decision-making tools and incorporating them into their business analysis techniques, businesses can make well-informed decisions that lead to success.
Streamlining Processes with Process Modeling
Business analysis techniques like process modeling have become increasingly vital in today's competitive business landscape. Process modeling involves visualizing the flow of work within an organization to identify inefficiencies and streamline operations. By creating process models, businesses can clearly understand their current workflows and identify areas that require improvement. This enables them to optimize their processes, reduce costs, and improve efficiency.
Process modeling is especially valuable in complex organizations, where different departments may work on the same processes without realizing it. By creating process models, businesses can identify overlaps and redundancies, eliminating duplication of effort and ensuring that everyone is on the same page.
Process modeling involves several steps, starting with the identification of key processes within the organization. Once these processes have been identified, they are broken down into smaller, more manageable steps. Each step is then mapped out in detail, often using flowcharts or diagrams, to represent the workflow clearly. This makes it easier to identify bottlenecks, inefficiencies, and areas where automation could be introduced.
In addition to identifying inefficiencies, process modeling can also help businesses to optimize their workflows. Once a process model has been created, businesses can experiment with different scenarios to see how changes to the workflow could impact efficiency. This enables them to make informed decisions about which changes to implement, ensuring that any changes made will positively impact the organization.
Overall, process modeling is a crucial technique in business analysis. It enables businesses to clearly understand their workflows, identify inefficiencies, and optimize their processes to improve efficiency and reduce costs. By utilizing process modeling, businesses can streamline their operations and stay ahead of the competition.
Maximizing Success with Requirements Gathering and Analysis
Requirements gathering and analysis is a crucial technique in business analysis that enables businesses to align their strategies with customer needs. When businesses understand their customers' requirements, they can develop products and services that meet their needs, thus increasing customer satisfaction and loyalty. Understanding these requirements helps to eliminate guesswork when making business decisions, reducing the risk of poor decision-making and increasing the likelihood of success.
The process of gathering and analyzing requirements involves several steps, including identifying stakeholders, eliciting requirements, analyzing and prioritizing requirements, and documenting requirements. To ensure a comprehensive understanding of requirements and expectations, involving the right stakeholders in the process is critical, including customers, partners, and employees.
Effective requirements gathering and analysis involves using different techniques, such as interviews, surveys, observation, and document analysis, to elicit requirements. These techniques allow businesses to collect accurate and relevant information from stakeholders, identify common requirements and potential conflicts, and prioritize requirements based on importance and feasibility.
Documenting requirements is critical for ensuring clear communication between stakeholders and avoiding misunderstandings. Requirements documentation can take many forms, such as use case scenarios, user stories, or functional requirements. The documentation should be clear, concise, and detailed, with all requirements and expectations documented for future reference.
Requirements gathering and analysis is an ongoing process that should be revisited regularly to ensure that business strategies continue to align with customers' needs. It's essential to track progress, measure success, and incorporate changes necessary to keep up with market or business environment changes.
Conclusion
In today's fast-paced business world, mastering business analysis techniques is crucial for effective decision-making. In this article, we discussed various techniques like data analysis, SWOT analysis, market research, stakeholder analysis, cost-benefit analysis, decision-making tools, process modeling, and requirements gathering and analysis, which enable businesses to make informed choices and align their strategies with customer needs.
Incorporating these techniques into your business strategies allows you to optimize workflows, identify bottlenecks, evaluate costs and benefits, and streamline processes. Additionally, these techniques provide valuable insights into market research, stakeholder analysis, and decision-making tools that can result in maximizing business success.
We encourage readers to apply these techniques in their respective businesses, as they can strengthen your ability to make effective and informed decisions. Embracing these powerful business analysis techniques can prepare your business to stay ahead of the curve and achieve long-term success.
FAQs
What are business analysis techniques?
Business analysis techniques refer to a set of tools and methodologies used to analyze data, gather information, and make informed decisions in the business environment.
What is SWOT analysis, and why is it important?
SWOT analysis is a technique used to identify the internal strengths and weaknesses of an organization, as well as external opportunities and threats. It is important because it helps businesses understand their position in the market and make informed decisions.
How does market research contribute to business analysis?
Market research provides valuable information about customers, competitors, and market trends. It helps organizations make informed decisions, identify market opportunities, and develop effective strategies.
How does cost-benefit analysis help in decision-making?
Cost-benefit analysis is a technique used to assess the costs and benefits associated with a project or decision. It helps organizations evaluate the financial implications, identify potential risks and rewards, and make informed choices.
What is stakeholder analysis, and why is it necessary?
Stakeholder analysis is the process of identifying and assessing the interests, needs, and influence of various stakeholders in a project or organization. It is necessary for understanding stakeholder expectations, managing relationships, and aligning strategies with stakeholder needs.
Credits
Featured Image: Credits da-kuk via Canva.com
In-article Image: Credits ismagilov via Canva