Disclaimer: We sometimes use affiliate links in our content. For more information, visit our Disclaimer Page. 
Are you feeling stuck in your current job? Do you find yourself unsure of what your next career move should be? The solution to these problems lies in effective career path planning. Career path planning is the process of identifying your professional goals and mapping out the steps you need to take to achieve them. It is a crucial step towards achieving career development and growth.
Career path planning involves proactively approaching your career by identifying your strengths, weaknesses, and interests. It helps you make informed decisions and take steps towards achieving your goals.
Key Takeaways:
Career path planning is essential for achieving success and growth in your career.
Career path planning involves identifying your professional goals and mapping out the steps needed to achieve them.
Effective career path planning requires taking a proactive approach to your career by identifying your strengths, weaknesses, and interests.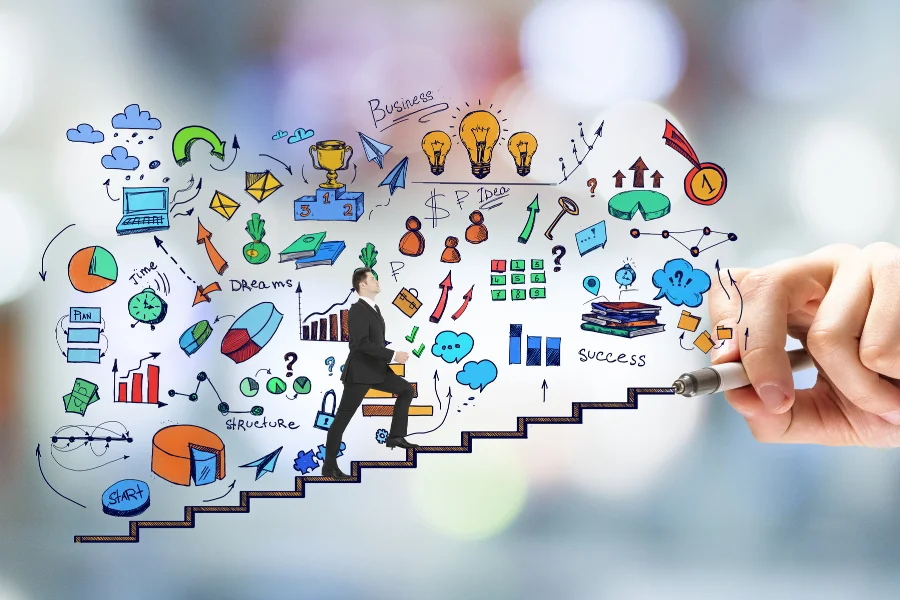 Understanding Career Path Planning
Effective career path planning requires a thorough understanding of oneself, including one's strengths, weaknesses, interests, and values. It involves setting clear and achievable career goals and strategies to achieve them. Career path planning is an ongoing process that involves exploring different career opportunities, setting realistic timelines, and making informed decisions.
The Importance of Setting Career Goals
Setting career goals is critical in determining the direction of one's career path. A career goal is a specific and measurable objective that an individual wants to achieve. It should be aligned with one's interests, skills, and values and should be achievable within a particular timeframe. The process of setting career goals requires careful consideration of one's personal and professional priorities and should involve regular reflection to ensure they remain relevant and updated.
As one progresses in their career, they may encounter different opportunities that will require them to make complex decisions. It is essential to conduct thorough research and weigh the pros and cons of each decision before taking the leap. Seeking advice from trusted mentors, professional networks, and career coaches can provide valuable insights and guidance for navigating the career path successfully.
Career advice is also crucial in making informed decisions in the job market. Seeking advice from mentors and professionals can offer new perspectives, uncover hidden opportunities, and help one stay abreast of emerging trends and best practices in their industry.
Taking Control of Your Career Path
Effective career path planning requires individuals to take responsibility for their professional development. It involves being proactive in identifying new opportunities for learning and growth, seeking feedback, and consistently refining one's skills and knowledge.
By setting clear career goals, seeking advice from professionals, and taking control of their professional development, individuals can unlock their potential and achieve long-term success and fulfillment in their careers.
Exploring Career Opportunities
One of the critical steps in effective career path planning is exploring career opportunities. With so many career options available, it is essential to conduct thorough career exploration to make informed decisions. Career exploration involves identifying your skills, interests, and values and mapping out potential career paths that align with them.
To explore career opportunities, start by researching different industries and job roles. Attend career fairs and informational interviews to gain insights into specific fields. Use online resources such as LinkedIn, Glassdoor, and career websites to find job listings and learn more about different companies.
Once you have identified potential career paths, create a career map to help visualize your options. A career map visually represents your career goals and the necessary steps. It allows you to see how different career paths intertwine and what skills and experience you need to acquire to advance in your chosen field.
| | |
| --- | --- |
| Tip: | Consult with a career counselor or mentor to get guidance on career exploration and mapping. Their professional expertise and experience can provide valuable insights. |
Career exploration and mapping are ongoing processes that require a willingness to learn and adapt. It's important to stay updated on industry trends and changes in the job market continually. By exploring different career opportunities and creating a career map, you can make informed decisions that align with your skills and interests and pave the way for your professional success.
Setting Realistic Career Goals
Setting career goals is an essential part of career path planning. However, setting realistic and achievable goals that align with your skills, interests, and values is equally important. Here are some career advice tips to help you set realistic career goals:
Assess Your Skills and Interests: Start by evaluating your strengths, weaknesses, skills, and interests. Consider what you enjoy doing and what you are good at. This will give you a better understanding of the types of jobs and industries that would be a good fit for you.
Be Specific: Avoid setting vague goals. Instead, be specific about what you want to achieve. For example, if you want to become a manager, specify what type of manager you want to be and in what industry.
Make it Measurable: Set goals that can be measured, such as acquiring a specific certification or skill set within a certain timeframe.
Break it Down: Break down your long-term goals into smaller, more manageable short-term goals. This will help you stay motivated and focused.
Be Realistic: Consider your current experience and education level when setting your goals. It's important to set realistic goals that are achievable within a reasonable timeframe.
Stay Flexible: Modifying your goals is okay as you gain more experience and insights. Be open to adjusting your goals based on your changing interests and priorities.
By following these career advice tips, you can set realistic career goals that align with your skills and interests and help you achieve long-term career success.
Strategies for Career Growth
Once you have identified your career goals and explored your options, the next step is to focus on strategies for achieving career growth. Career growth is more than just getting promoted to a higher position; it's about continuous learning, skill development, and seeking new opportunities to enhance your professional development.
To achieve career growth, you must be proactive and own your development. Here are some strategies to help you:
Invest in yourself: Continuous learning is essential to stay current in your field and position yourself for new opportunities. Consider taking courses, attending professional conferences, or pursuing additional certifications to expand your knowledge and skill set.
Network: Building and maintaining professional relationships is key to career growth. Attend industry events, connect with colleagues on LinkedIn, and seek out mentors who can offer guidance and support.
Take on new challenges: Stepping outside your comfort zone and taking on new challenges can help you grow both personally and professionally. Look for opportunities to take on new projects or responsibilities, even if they are outside your area of expertise.
Seek feedback: Soliciting feedback from colleagues, supervisors, and mentors can provide valuable insights into areas where you can improve and help you identify areas of strength to leverage in your career.
Set goals: Setting specific, measurable goals is essential for tracking your progress and staying motivated. Consider setting short-term and long-term goals that align with your career plan.
Remember, career growth is a journey, not a destination. It requires ongoing effort and a willingness to adapt and learn. By staying focused on your goals and continuously seeking new opportunities for growth, you can take control of your career path and achieve the desired success.
Career transitions can be both exciting and daunting. Whether you are switching careers entirely or moving up the ladder in your current field, it is normal to feel overwhelmed by the decisions that lie ahead.
One key piece of career advice is to take the time to assess your skills, interests, and values before making any significant changes. This self-reflection can help you identify potential career paths that align with your passions and strengths.
Identify Transferable Skills
If you are considering a career change, you may worry that your current skills and experience will not apply to your new field. One way to ease this concern is to identify your transferable skills. These are skills that can be applied across different industries and job titles.
Examples of transferable skills include communication, teamwork, problem-solving, and adaptability. By highlighting these skills on your resume and in interviews, you can demonstrate to potential employers that you are a strong candidate, even if you lack direct experience in their industry.
Consider Additional Education or Training
Depending on your career goals, you may need to pursue additional education or training to acquire new skills or knowledge. This could involve obtaining a degree or certification, attending workshops or seminars, or enrolling in online courses.
While this can be a significant investment of time and money, it can also lead to greater career opportunities and earning potential in the long run.
Seek Out Mentors and Networking Opportunities
Making professional connections is essential for career success, especially during transition. Reach out to people in your desired field and request informational interviews to learn more about their career paths.
Joining professional organizations or attending industry events can also help you expand your network and gain valuable insights into the job market.
Remember, making a career change is a process, not an overnight decision. Be patient with yourself and seek out career guidance and support when needed.
Seeking Career Guidance
When it comes to planning your career path, seeking guidance from others can be an invaluable tool. Whether through mentorship, counseling, or networking, gaining insights and support from those with more experience can help you navigate challenging career development decisions.
One of the most effective ways to seek career guidance is through mentorship. Finding a mentor who has already walked the path you hope to take can offer you the benefit of their experience and provide valuable connections within your industry. Consider reaching out to someone you admire or have a career you aspire to, and ask if they would be willing to take you under their wing.
Counseling can also be a helpful resource in gaining career guidance. Speaking with a professional can help you explore your strengths and interests, identify potential career paths, and overcome any obstacles that may be holding you back. Don't be afraid to seek out a career counselor or coach if you feel you need some extra support in your career journey.
Networking is another important aspect of seeking career guidance. Connecting with others in your industry, attending industry events, and joining professional organizations can help you expand your knowledge, gain insight into different career paths, and even open doors to new opportunities. Don't underestimate the power of building relationships with those around you.
Remember, seeking career guidance is not a sign of weakness but rather a smart and proactive step toward achieving career success. By seeking guidance from others, you can gain valuable insights and support to help you make informed decisions and overcome any challenges.
Overcoming Career Obstacles
Career development is often a journey filled with challenges and setbacks. However, overcoming obstacles is an integral part of the process that leads to professional growth. Here are some strategies to help you overcome career obstacles:
Identify the obstacle: The first step is to identify the problem. Take time to reflect on the issue and understand what is causing the obstacle.
Get feedback: Seek feedback from people you trust, such as a mentor or a career counselor. They can offer an outside perspective and provide valuable insights on how to overcome the obstacle.
Develop a plan: Developing a plan can help you stay focused and organized. Set specific goals and outline the steps needed to achieve them.
Stay positive: Maintain a positive outlook even when facing challenges. Remember that setbacks are opportunities for growth and learning.
Keep learning: Continuously invest in professional development. This can help you gain new skills that can make you more marketable in your field.
Build a support system: Surround yourself with a supportive network of colleagues, friends, and family who can offer encouragement and motivation.
Career obstacles can be daunting but can be overcome with the right mindset and strategies. Remember that career development is a lifelong journey; every obstacle presents an opportunity to learn and grow.
Embracing Lifelong Learning
In today's fast-paced and constantly evolving job market, embracing lifelong learning is essential for career development and professional growth. The ability to adapt to new technologies, industries, and trends is crucial for staying competitive and advancing in one's career.
There are several ways to embrace lifelong learning. One of the most effective methods is to pursue additional education and training. This can be in the form of online courses, workshops, or even obtaining a new degree or certification. By continuously expanding one's knowledge and skills, individuals can position themselves as experts in their field.
Networking and mentorship are also important components of lifelong learning. Individuals can gain valuable insights and perspectives by connecting with others in their industry. A mentor can provide guidance and support in navigating career decisions, while networking can lead to new opportunities and collaborations.
Embracing lifelong learning also means being open to new challenges and stepping outside of one's comfort zone. Sticking to familiar tasks and routines can be tempting, but taking on new projects and responsibilities can lead to personal and professional growth.
Ultimately, embracing lifelong learning is about having a growth mindset and a commitment to continuous improvement. Individuals can regularly seek new knowledge and experiences to achieve their career and professional development goals.
Conclusion
Effective career path planning is crucial for unlocking success in professional life. By setting realistic goals, conducting thorough career exploration, embracing lifelong learning, and seeking guidance, individuals can enhance their career growth and achieve their desired outcomes.
Career transitions, obstacles, and setbacks can be challenging, but by staying resilient, individuals can find new opportunities for career development. Embracing change and staying updated with evolving industries is key to staying relevant in the job market. Thus, developing a strong career path planning strategy is essential for long-term professional success.
Remember, career path planning is a continuous process that requires reflection, assessment, and adaptation. Individuals can build a fulfilling and rewarding career by remaining open to new experiences and seeking support from mentors and networks.
FAQs
What is career path planning?
Career path planning is a structured process where individuals or organizations map out a clear route for career progression. It involves setting goals, identifying skills and experiences needed, and creating a plan to achieve professional objectives.
What are the 4 types of career planning?
Strategic Career Planning: Long-term planning involving career goals.
Tactical Career Planning: Short-term planning to address immediate career needs.
Operational Career Planning: Day-to-day tasks and responsibilities.
Situational Career Planning: Adapting to changes in the job market or personal circumstances.
How to Create a Career Path Planning Framework?
Setting actionable short- and long-term goals.
Identifying skills and experiences required.
Establishing clear steps and milestones.
Regularly reviewing and adjusting the plan.
What are the benefits of investing in career path planning?
Improved employee satisfaction and retention.
Enhanced skill development and knowledge.
Clearer career progression opportunities.
Better alignment with organizational goals.
How (and why) to create a career progression plan for employees?
Assessing their current skills and interests.
Identifying opportunities for growth and development.
Setting goals and milestones.
Providing necessary resources and support.
Credits
Featured Image: Credits Warchi via Canva.com
In-article Image: Credits peshkov via Canva