Disclaimer: We sometimes use affiliate links in our content. For more information, visit our Disclaimer Page. 
High school is a critical time for students to explore their interests and passions and begin planning for their future. Career development for high school students is essential to help them make informed decisions about their education and career paths and ensure they are on the right track for success.
Without guidance and support, students may struggle to navigate the complex world of career planning and may not have the necessary skills to achieve their goals. Therefore, it is crucial to provide them with the resources and tools they need to build a strong foundation for their future.
Key Takeaways
Career development is essential for high school students to plan for their future success.
Guidance and support are critical to exploring career options and setting goals.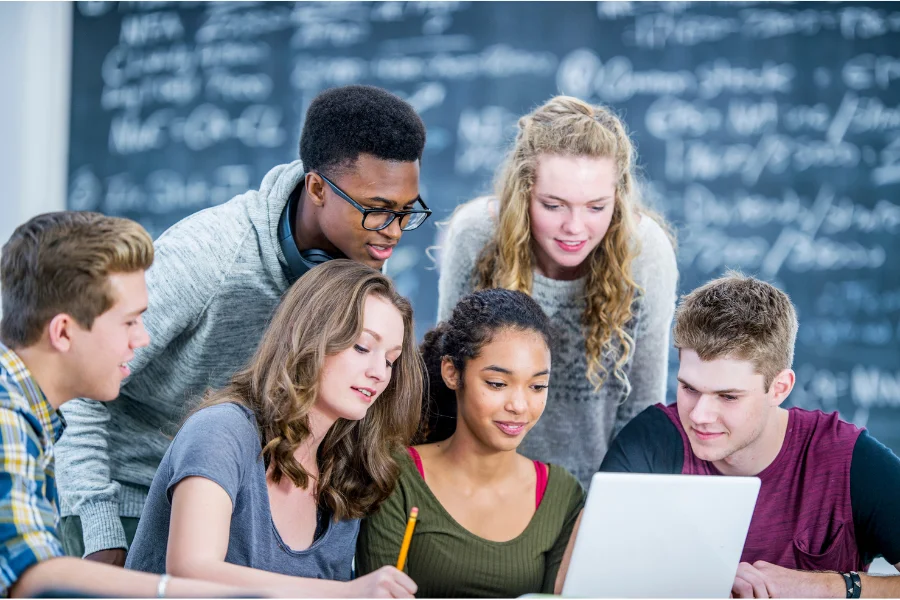 The Benefits of Career Counseling for Teenagers
As high school students prepare for college or the workforce, they face many challenges and decisions that can impact their future success. This is where career counseling comes into play, providing invaluable guidance and support in making informed choices about their educational and career paths.
Career counseling offers numerous benefits for teenagers, including:
| Advantage | Description |
| --- | --- |
| Identifying strengths and interests | Career counselors help students assess their talents, skills, and passions, enabling them to make informed decisions about their future. |
| Goal setting | Counselors assist students in setting realistic, achievable goals for their education and career journeys. |
| Access to resources | Counselors provide information on schools, scholarships, internships, and other resources to support students' career development. |
| Resume building and interview skills | Counselors offer guidance on writing strong resumes and interview techniques, empowering students to present themselves professionally and confidently. |
With the help of career counseling, high school students can feel confident and equipped to pursue their dreams and achieve lifelong success.
Career Development for High School Students: Building a Strong Foundation
Preparing for college and the workforce can be overwhelming for high school students. However, building a strong foundation of essential skills can empower them to tackle future challenges confidently.
Developing good study habits, time management skills, and effective communication abilities are key to success in both academic and professional settings. Prioritizing these skills early on is important to foster a growth mindset and prepare for future opportunities.
Creating a comprehensive resume and cover letter can also set students apart in the job market. These documents should highlight academic achievements, relevant extracurricular activities, and work experience or internships. Resources like college and career centers can provide valuable guidance and support in navigating college applications and career paths.
Exploring Career Options: Guiding the Path to Success
Choosing a career path can be overwhelming for high school students, but exploring career options can be an exciting and rewarding experience. Many resources and programs are available to help students gain exposure to different industries and professions, making it easier to identify their interests and passions.
Career assessments are a great starting point for students unsure of their career goals. These assessments help students identify their strengths, interests, and personality traits, providing valuable insight into potential career paths.
Job shadowing opportunities are another excellent way for students to gain firsthand knowledge about various careers. Through job shadowing, students can observe professionals in their desired fields, ask questions, and better understand the skills and qualifications needed for success.
Internships are also a valuable tool for students looking to explore their career options. By participating in an internship program, students can gain practical experience in their desired field, build their professional network, and develop essential skills to prepare them for their future careers.
By taking advantage of these resources and programs, high school students can broaden their horizons and gain valuable insights into the endless possibilities for their future careers.
Preparing for the Future: Developing Essential Skills
As high school students begin to think about their future careers, it's important to focus not only on choosing a particular field of work but also on developing the essential skills that will make them successful in any profession. These skills can be learned inside and outside the classroom and will serve students well throughout their careers.
Communication skills: Effective communication is a key skill in any workplace. High school students should improve their written and verbal communication skills by participating in class discussions, presenting projects, and practicing public speaking.
Teamwork: Collaborating with colleagues or team members is a valuable skill for any career. High school students can improve their teamwork by participating in team projects, extracurricular activities, and sports.
Problem-solving skills: The ability to think critically and solve problems is critical for success in any industry. Encourage high school students to improve their problem-solving skills by taking challenging classes, engaging in debates, and participating in STEM-related activities.
Growth mindset: In a rapidly changing job market, it's important to have a growth mindset and be adaptable to new situations. Encourage high school students to embrace challenges, learn from failures, and seek new opportunities to grow and learn.
High school students will be better equipped to succeed in college, the workforce, and life by developing these essential skills.
Unlocking Opportunities: Internship Programs for High School Students
Internships provide an excellent opportunity for high school students to gain practical experience and build professional networks. These programs expose students to real-world job responsibilities, allowing them to explore different career paths and build valuable skills.
Different types of internships are available to high school students, including summer, part-time, and virtual internships. Summer internships typically last for a few weeks or months during the summer break, while part-time internships allow students to work a few hours a week throughout the school year. Virtual internships are becoming increasingly popular and allow students to work from home and gain experience remotely.
Securing an internship can be competitive, but there are ways to increase your chances of success. Research companies and organizations that align with your interests and career goals. Contact your school's career center or guidance counselor for assistance and advice in identifying potential internship opportunities. Preparing a strong resume and cover letter highlighting your skills and why you would be a good fit for the position is also important.
Internships can offer numerous benefits to high school students beyond gaining practical experience. They can help students build confidence, develop critical thinking and problem-solving skills, and make informed decisions about their future educational and career paths. Additionally, internships provide an excellent opportunity to network and establish important connections for future job opportunities.
Participating in an internship program is an excellent way for high school students to unlock new opportunities and take the first steps in building their future careers.
Job Shadowing for Teens: Learning from Professionals
Job shadowing is a valuable experience that allows high school students to gain insight into various careers by observing professionals in action. Students can learn about the day-to-day responsibilities, required skills, and educational paths of different careers, helping them make informed decisions about their future.
Job shadowing can occur in various settings, such as offices, hospitals, or manufacturing plants. Students can ask questions, take notes, and observe firsthand as professionals perform their duties. Job shadowing experiences can be arranged through school or community programs or by contacting employers directly.
Preparing for a job shadowing experience is important by researching the career and company beforehand, dressing appropriately, and demonstrating a positive attitude and eagerness to learn. Students should also follow professional etiquette, such as arriving on time, turning off cell phones, and respecting confidentiality and privacy.
Overall, job shadowing is an excellent way for high school students to gain exposure to different careers and industries, build their knowledge and skills, and explore their interests and passions. With the right mindset and preparation, job shadowing experiences can be a valuable and memorable part of a student's educational journey.
As high school students approach graduation, they often face difficult decisions about their future. Choosing a college major or career path can be overwhelming, and some students may feel lost or unsure where to turn. That's where career guidance can be invaluable.
Whether seeking advice from a mentor or working with a professional career counselor, young adults can benefit greatly from guidance and support as they navigate life choices. It's important to remember that it's okay to ask for help and seek resources to make informed decisions about the future.
One of the first steps in seeking career guidance is to set goals. This can involve identifying interests, passions, and priorities, as well as taking time to research potential careers and educational paths. Mentors or counselors can provide helpful insights and guidance, helping students map a clear path toward success.
Another important aspect of career guidance is developing critical skills for the workforce. This can include communication, teamwork, problem-solving skills, resume writing and interview preparation. Working with professionals in these areas can help young adults build confidence and feel more prepared for job interviews and internships.
Finally, young adults need to seek out mentorship and support networks. This can involve building relationships with mentors, teachers, or career counselors and joining professional organizations or groups related to their interests or career paths. A strong support system can make all the difference in navigating life choices and achieving long-term success.
Career Exploration Programs: Broadening Horizons
Career exploration programs offer an excellent opportunity for high school students to gain exposure to different industries and professions. Students can explore potential career paths and identify their interests and passions by participating in workshops, seminars, and interactive activities. These programs are designed to broaden horizons and provide valuable insights into the world of work, helping students make informed decisions about their future education and career choices.
High schools, community centers, and non-profit organizations offer many career exploration programs. These programs are often free or low-cost and can provide students with many resources and support. They may include guest speakers, field trips, career assessments, and job shadowing experiences, all aimed at helping students better understand various career paths.
Career Planning for High Schoolers: Mapping the Future
Starting to plan for a future career can be overwhelming for high school students, but breaking it down into smaller steps can make the process more manageable. Here are some tips to help:
Set realistic goals: Start by thinking about what you want to achieve in the short- and long-term. This will help you create a roadmap for your career development.
Research career paths: Use online resources such as the Bureau of Labor Statistics and the Occupational Outlook Handbook to learn more about career opportunities. Consider speaking with an experienced career counselor or mentor for guidance.
Identify educational requirements: Once you have a general idea of the career path you want to pursue, research the educational requirements necessary to achieve success in that field.
Build a career action plan: Create a plan for your career development that outlines the steps you need to take to achieve your goals. Consider including a timeline for each step and a list of the needed resources.
Utilize college and career centers: Many high schools have college and career centers that offer guidance to students. Take advantage of these resources to gain information and insight into your chosen career path.
Career planning is ongoing and should be reassessed and revised as your interests and goals evolve. High school students can successfully map their career paths by staying proactive and utilizing available resources.
Conclusion
Career development is a crucial part of high school education, providing students with the tools and guidance necessary to make informed decisions about their future. By taking advantage of career counseling, internship programs, and job shadowing, students can gain firsthand experience in various industries and professions. This allows them to develop essential skills and build a professional network at a young age.
In addition, by focusing on college and career readiness and exploring career options through programs and resources, high school students can identify their interests and passions, set achievable goals, and lay a strong foundation for future success.
FAQs
What are the five career development?
Self-Assessment: Understanding your interests, strengths, values, and skills.
Exploration: Researching different career options and industries.
Decision-Making: Choosing a career path based on your research and self-assessment.
Preparation: Gaining the necessary education, skills, and experience for your chosen career.
Job Search: Actively seeking employment opportunities and transitioning into your chosen career.
What are the 4 stages of career development?
Self-Assessment: Evaluating your skills, interests, values, and personality traits.
Exploration: Research various career options and learn about their requirements.
Decision-Making: Select a career path that aligns with your preferences and goals.
Preparation: Acquiring the education, training, and experience needed for your chosen career.
What is the career development process for students?
Self-Discovery: Reflecting on your interests, strengths, and values to understand yourself better.
Exploration: Research different careers and industries to find matches for your preferences.
Goal Setting: Setting clear career goals based on your research and self-assessment.
Skill Building: Acquiring relevant skills and knowledge through education and experiences.
Networking: Connecting with professionals in your desired field to learn and gather insights.
Job Search: Actively looking for opportunities aligned with your goals.
Continuous Learning: Embracing ongoing learning and development to adapt to changing career trends.
How do I create a career development plan for students?
Self-Assessment: Identify your strengths, interests, and values.
Research: Explore different career options and their requirements.
Set Goals: Define short-term and long-term career goals.
Education and Training: Choose relevant courses, majors, or certifications.
Gain Experience: Pursue internships, part-time jobs, or volunteering.
Networking: Connect with professionals in your desired field.
Resume and Portfolio: Build a strong resume and showcase your work.
Job Search: Apply for positions that match your skills and goals.
Continuous Learning: Stay updated with industry trends and enhance your skills.
How do I help high school students with career planning?
Self-Assessment: Encourage them to reflect on their interests, strengths, and values.
Career Exploration: Provide resources for researching different careers.
Guest Speakers: Arrange talks by professionals from various fields.
Internships: Help them find internships or job-shadowing opportunities.
Counseling: Offer guidance in setting career goals and choosing academic paths.
Skill Development: Suggest courses, clubs, or projects that align with their interests.
College and Career Fairs: Attend events where students can explore options.
Networking: Teach them basic networking skills and etiquette.
Resume Building: Assist in creating a basic resume or portfolio.
Support: Provide ongoing encouragement and reassurance throughout the process.