Disclaimer: We sometimes use affiliate links in our content. For more information, visit our Disclaimer Page. 
As a college student, it's never too early to start thinking about your future career. Career development is about proactive steps to ensure your professional growth, increase job opportunities, and attain your career goals. This article explores strategies to help you succeed in your chosen field, from job opportunities and internships to resume building, career counseling, networking, skill development, and career planning. Read on to discover how you can elevate your career development during your time in college.
Key Takeaways
Career development is vital for college students to set a solid foundation for future professional growth.
Exploring job opportunities and internships can provide practical experience in your desired field.
Building a strong resume tailored to specific job applications is crucial for making a lasting impression.
Career counseling services can provide guidance on career assessments, major selection, and personalized career plans.
Networking can open doors to job opportunities and build professional relationships.
Continuous skill development can boost your career growth by acquiring new skills through online courses, workshops, and joining professional organizations.
Creating a long-term career plan is important in setting goals, identifying milestones, and making informed decisions.
Learning to balance academics and career development efforts can result in a healthy equilibrium between studying and pursuing career-related activities.
Overcoming challenges and setbacks is a normal part of career development, and seeking mentorship and guidance can help you stay resilient and adapt to change.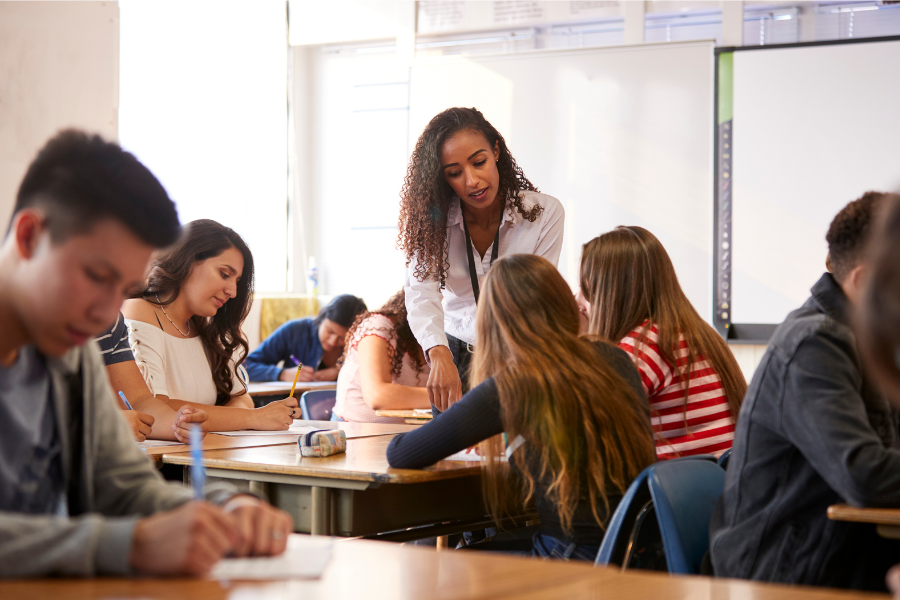 The Importance of Career Development for College Students
College is an excellent time for students to consider their future careers. Career development is a crucial aspect of college life, as it helps students identify their goals, interests, and skills and prepares them for the job market.
Investing time in career development allows students to gain insight into their chosen fields and explore possibilities for growth. It is not enough to focus entirely on academic coursework and grades; students must also develop the necessary skills and experiences to set them apart in the job market.
By starting early, students can take advantage of the vast resources available and take actionable steps toward achieving their career goals.
Career development increases students' chances of finding job opportunities in their desired fields. It provides a competitive advantage in the job market by preparing them with essential skills and experiences. Students that invest in career development are well suited to tackle the job market challenges and earn higher salaries.
Exploring Job Opportunities and Internships
College is a great time to gain practical experience in your chosen field and build professional connections. Here are some tips to help you explore job opportunities and internships:
Utilize career services: Many colleges have career centers that provide resources and connections to potential employers. Check out your school's career services website, or visit a career counselor.
Network: Attend career fairs and networking events to meet professionals in your field and learn about potential job opportunities. You can also connect with alumni on LinkedIn or other professional networking sites.
Research companies: Research companies in your field that interest you and look for internships or job openings on their websites.
Apply early: Many companies have early application deadlines for internships and jobs, so plan and apply as early as possible.
Remember that gaining experience through internships or part-time jobs can help you stand out to potential employers and give you a competitive edge in the job market. Keep an open mind and explore different opportunities to find the best fit for your career goals.
Building a Strong Resume
Your resume is often the first impression you make on potential employers, so it's important to make it count. Here are some tips to help you build a strong resume:
Format: Keep it simple and easy to read. Use clear headings, bullet points, and proper spacing to make it visually appealing.
Relevance: Tailor your resume to the specific job you are applying for. Highlight the skills and experiences that are most relevant to the position.
Accomplishments: Don't just list your job duties. Include specific accomplishments and quantifiable results to show your value.
Keywords: Use keywords from the job description in your resume. This can help your resume get past applicant tracking systems and be seen by human eyes.
In addition, make sure to proofread your resume carefully and have someone else review it to catch any errors or inconsistencies. Your resume is a reflection of your professionalism and attention to detail.
Exploring Job Opportunities and Internships
One of college students' most important aspects of career development is gaining practical experience through job opportunities and internships. Not only does this help build a solid foundation for professional growth, but it also increases the chances of securing a job after graduation.
Here are a few tips for exploring job opportunities and internships:
Start early: Begin researching and applying for positions as early as possible.
Network: Talk to professors, career counselors, alumni, and professionals in your desired field to learn about potential job opportunities and internships.
Utilize online resources: Find job boards, career fairs, and company websites to find openings that fit your interests and qualifications.
Apply strategically: Tailor your application materials to each position, emphasizing relevant skills and experiences.
Be persistent: Don't give up if you aren't accepted for a position. Keep applying and exploring other opportunities.
By gaining practical experience through job opportunities and internships, college students can develop essential skills, build their professional network, and enhance their resumes for future job applications.
The Power of Networking
One of the most valuable activities that college students can engage in for career development is networking. Building relationships with other professionals and experts in their field can offer valuable insights, advice, and potential job opportunities.
Attending industry events and conferences is a great way to meet new people and expand your network. Social media platforms such as LinkedIn can also be a powerful tool for connecting with professionals and joining relevant groups.
Remember that networking is about building authentic relationships, so always be genuine and approachable. Listen actively, ask thoughtful questions, and offer your insights and expertise when appropriate.
Finally, don't hesitate to follow up with connections after your initial meeting. Sending a personalized message or requesting a coffee meeting can strengthen your relationship and potentially lead to future opportunities.
Continuous Skill Development
Continuous skill development is essential to successful career development for college students. The job market constantly evolves, and employers always look for candidates with the most up-to-date skills.
One of the best ways to acquire new skills is by taking advantage of online courses and workshops. Many educational institutions and professional organizations offer affordable courses and webinars that cover a wide range of topics. Students can also consider volunteering for projects or organizations that align with their career goals and gain valuable experience that way.
Joining a professional organization is another excellent way to develop and refine skills while staying up-to-date with the latest industry trends. These organizations often offer exclusive opportunities for networking, job postings, and career development resources.
Remember, skill development is continuous, and staying motivated and committed to learning is important throughout one's career.
Planning for Long-Term Career Success
While it's essential to focus on the present, it is equally important to plan for the future. Creating a long-term career plan can help you stay on track and achieve your goals. Here are some tips to help you get started:
Set specific goals: Identify what you want to achieve in your career and break it into smaller, achievable goals. Create SMART goals (Specific, Measurable, Achievable, Relevant, Time-bound) for optimal success.
Identify milestones: Determine the milestones you must achieve to reach your long-term goals. These milestones should be specific, measurable, and time-bound so that you can track your progress effectively.
Stay updated: Keep up with industry trends and advancements by subscribing to relevant newsletters, following industry leaders on social media, or attending conferences and workshops. Staying informed can help you plan better and make informed decisions.
Network: Build a strong network of professionals in your desired career field. Attend networking events, connect with people on LinkedIn, and join professional organizations. Your network can provide valuable insights and opportunities to help you achieve your long-term career goals.
Be flexible: Acknowledge that your long-term career plan may change due to personal or professional circumstances. Be adaptable and willing to adjust your plan to ensure you stay on track and achieve your goals.
Creating a long-term career plan lets you stay focused, motivated, and excited about your future career prospects. Review and update your plan regularly to ensure you're on the right track.
Balancing Academics and Career Development
Balancing academic commitments while pursuing career development can be challenging but essential for success. Here are some tips to help you find a healthy equilibrium.
Prioritize your tasks: Make a daily to-do list, prioritize it, and allot specific times to academic and career-related activities.
Learn to say "no": Learn to recognize when you've taken on too much and when you need to say "no" to new commitments.
Seek support: Contact friends, family, or your college's career center for support and guidance.
Take breaks: Take breaks throughout the day to recharge and maintain your focus.
Embrace flexibility: Accept that your schedule may need to change at times, and be willing to adjust your plans accordingly.
Remember, you don't have to put your academic success on hold to pursue career development. By striking a healthy balance, you can achieve both.
Overcoming Challenges and Setbacks
As you pursue your career development goals, it's important to remember that setbacks and challenges are a natural part of the process. Don't let them discourage you or derail your efforts. Instead, use them as opportunities to learn, grow, and develop resilience.
You may face rejection when applying for internships or jobs, experience difficulty in mastering a new skill, or struggle to balance academic demands with your career pursuits. These challenges can be frustrating, but they also offer valuable lessons and opportunities for self-improvement.
One effective strategy for overcoming setbacks is to break large goals into smaller, more manageable steps. This can help you stay motivated and focused, as well as allow you to track your progress along the way. Additionally, seek feedback and guidance from mentors or career counselors who can offer constructive criticism and advice to help you overcome obstacles.
Remember to remain flexible and adaptable, as unexpected setbacks and changes may occur. Rigidly adhering to a particular career plan may limit your opportunities, while being open to new experiences can help you gain valuable skills and insights.
Most importantly, believe in yourself and your ability to achieve your career goals. With perseverance, determination, and a growth mindset, you can overcome challenges and succeed on your career journey.
Seeking Mentorship and Guidance
One of the most effective ways to accelerate career development is by seeking mentorship and guidance from experienced professionals in your desired field. Mentors can provide valuable insights and advice on navigating the job market, building relevant skills, and making informed career decisions.
When seeking a mentor, looking for someone who shares your values, goals, and interests is important. This could be a teacher, a former boss, or someone you've met through networking events or professional organizations.
Once you've identified a potential mentor, contact them and express interest in connecting with them. Respect their time and clarify what you hope to gain from the relationship.
During your mentorship, be open to feedback and advice. Take the time to listen, ask questions, and be willing to work to grow and develop your skills.
Remember that mentorship is a two-way street. While you may benefit from your mentor's guidance, you can also provide value by sharing your knowledge and experiences.
By cultivating meaningful relationships with mentors, you can gain the support and guidance needed to take your career to the next level.
Conclusion
As a college student, career development should be a top priority. By implementing the tips and strategies discussed in this article, you can set a strong foundation for your future professional success. Remember the importance of exploring job opportunities and internships, building a strong resume, leveraging career counseling services, networking, skill development, career planning, balancing academics with career development, overcoming setbacks, and seeking mentorship.
Don't wait until after graduation to start thinking about your career. Start taking action now by implementing the tips and strategies discussed in this article. The sooner you start, the better prepared you will be for the future job market.
Good luck on your career journey!
FAQs
Why is career development important for college students?
Career development is crucial for college students as it provides a solid foundation for professional growth and increases job opportunities.
How can college students explore job opportunities and internships?
College students can explore job opportunities and internships by actively searching for openings, attending career fairs, networking with professionals, and utilizing online job boards.
How can career counseling services help college students?
Career counseling services can assist college students in navigating their career paths by offering resources such as career assessments, guidance on choosing a major, and creating personalized career plans.
Why is networking important for college students?
Networking is essential for college students as it helps them cultivate meaningful connections, which can lead to job opportunities and professional relationships.
How can college students continuously develop their skills?
College students can continuously develop their skills by taking online courses, attending workshops, participating in relevant extracurricular activities, and joining professional organizations.