Disclaimer: We sometimes use affiliate links in our content. For more information, visit our Disclaimer Page. 
Cracking the code to the inevitable interview question, "Where do you see yourself in 10 years?" can often feel like you're being asked to gaze into a crystal ball and discern your professional fate. Yet, it's a pivotal moment that can dictate the trajectory of a job interview, one where interview preparation intertwines with future planning to paint a picture of your career arc.
In this guide, we arm you with the strategies to deliver a compelling narrative that intertwines your career objectives with expert envisioning yourself in the future. Our insights lift the fog of uncertainty, empowering you to chart a course articulating ambition, realism, and alignment with your prospective role.
Key Takeaways
Discover how to construct a response that integrates professional foresight with personal ambition.
Learn the importance of aligning individual goals with a company's trajectory.
Gain insight into projecting a ten-year vision that is both aspirational and grounded.
Unveil the value of showcasing adaptability and continuous learning in your career plans.
Acquire techniques for articulating career milestones and growth potential during interviews.
Prepare for perfecting your response with our actionable interview techniques.
Avoid common pitfalls by learning what constitutes an overly scripted or vague answer.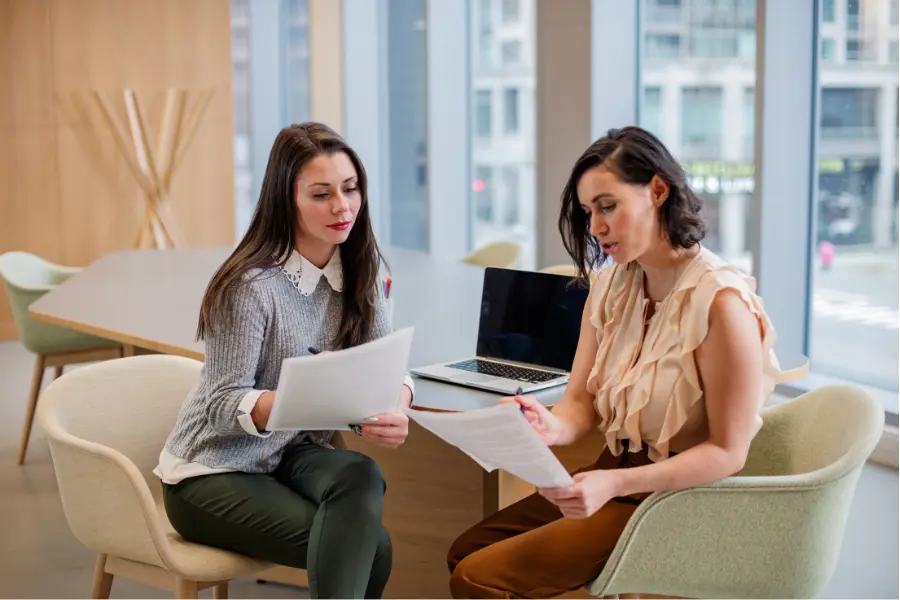 Understand How to Answer Where Do You See Yourself in 10 Years
Delving into the reasons behind common interview questions, particularly "Where do you see yourself in 10 years?" offers a window into what hiring managers consider when evaluating potential new hires.
This question is a conversational placeholder and a strategic probe into a candidate's future-thinking abilities and alignment with the company's trajectory. The insights gained from responses help determine whether interviewees have clearly defined career goals and a long-term vision that aligns with the company's direction.
During a job interview, the hiring manager is tasked with uncovering far more than a candidate's current competence. They must ascertain the individual's potential for growth, capacity for planning, and readiness to commit to a path that contributes to mutual success.
Heightened interest in the candidate's foresight also gauges their understanding of the industry and the role they wish to play in it over time.
Asking about long-term career aspirations cuts through the clutter of rehearsed interview responses, compelling candidates to reveal the substance of their professional identity and personal values.
What follows is a breakdown of the multidimensional motives behind this pivotal question:
Commitment Gauge: Measures the seriousness and thought a candidate has invested into their career trajectory.
Potential for Advancement: Evaluates the candidate's ambition and readiness to take on more significant roles within the company.
Cultural Fit: Assesses how the candidate's vision aligns with company culture and values.
Retention Indicator: Foretells the likelihood of long-term association of the candidate with the organization.
To further illustrate the complexity of what a response to this question can convey, consider the following table:
| Candidate's Reply | Hiring Manager Insight | Impact on Candidate Evaluation |
| --- | --- | --- |
| Candidate's Reply | High potential for growth and contribution | Positive impact on the prospect of hiring |
| Vague or non-committal answer | Uncertainty about career direction or fit | Negative concern for future performance |
| Overly ambitious without a clear plan | Potential for mismatched expectations | Concern about practicality and realism |
As such, candidates must recognize the weight of this question in a job interview scenario. When crafting their response, it's beneficial to consider the hiring manager's pursuit of talent and consistent contributors who share a common vision with the organization they aim to join.
Reflecting on Your Career Goals for the Next Decade
Silver linings of aspirational growth become clearer when one delves into the intricate tapestry of one's career goals in 10 years. Projection is not merely daydreaming; it's a vital piece of the career-planning puzzle. This section aspires to guide professionals and aspiring talents in setting goals for the next decade, anchoring their long-term goals and aspirations in the fertile soil of practicable foresight.
Assessing Personal Aspirations and Professional Ambitions
Embarking on a journey of self-assessment necessitates a candid look in the mirror. What reflections of the professional self do you see looking back at you in ten years? Imagining your future self requires a balance of optimism and practicality. To aid this envisioning process, studies suggest considering the following systematic approach:
Envision the zenith of your career path: what role are you playing, what skills have you honed, and who surrounds you?
Interrogate your values: are they in harmony with your career's trajectory?
Contemplate your life's scenario: identify which aspects of personal growth dovetail with your professional tapestry.
Measure the realistic stretch of your aspirations: are your goals ambitious yet attainable with dedicated effort?
Through this introspective quest, your narrative must weave traces of authenticity with professional relevance, ensuring your answer to where you see yourself in 10 years resonates with the harmonic truth of your aspirations.
Illustrating a Practical Example
To bring these concepts to life, let's examine a practical example of how one might answer the "Where do you see yourself in 10 years?" question. This will help you visualize how to blend personal goals with professional aspirations in a coherent and impactful way.
Example Response:
Consider crafting your response like this:
In 10 years, I envision myself having evolved into a pivotal leadership role within this organization, leading strategic projects and initiatives. By building on my skills in [specific skill areas] and leveraging my experiences in [specific industries or roles], I aim to contribute significantly to areas such as [mention specific company goals or projects]. This vision aligns with both my personal career aspirations and the company's trajectory, especially in the realm of [mention a specific aspect of the company's vision]."
This example demonstrates how to effectively connect your career objectives with the company's future, reflecting the balanced approach to goal-setting and career planning we've discussed.
Self-awareness transforms into strategic foresight when you crystallize your career goals in the template of long-term planning. The matrix above serves as a dynamic model for candidates to coalesce deeply personal aspirations with their natural progression on the career ladder, instilling confidence in the interviewers about the promise and potential of their candidacy.
Take a moment to pause and meditate on the substratum of your potential decade-long odyssey. It's incumbent upon you to set actionable waypoints today so the echo of your footsteps is heard in the hallways of your future.
Aligning Your Future With the Company's Mission
When contemplating the progression of your career, it's crucial to reflect not just on your individual goals but how these interlock with the company mission of your prospective employer. Demonstrating role alignment between your personal development and the company's strategic future showcases that you are poised for career advancement within the organizational culture and its aspirational framework.
To convey your understanding of and alignment with a company's mission, it's effective to highlight specific areas where your aspirations overlap with the organization's larger goals.
Strategizing your responses to reflect these alignments can make a significant impact. Express your eagerness for personal development opportunities within the company and how this aligns with helping the organization achieve its mission. For instance:
My goal to lead a team resonates strongly with your company's commitment to fostering leadership from within. I am excited about the opportunity for career advancement through taking on challenges that not only develop my managerial capacities but also propel the company forward.
When mapping out your future aspirations, consider how they merge with the company's trajectory. If the organization is known for its innovative products, explain how your inventive mindset and desire to work with cutting-edge technology fit into the picture. If they're committed to community outreach, highlight your passion for social impact work.
Ascertain core values and long-term objectives of the company
Match your skills and passions with the company's needs and future projects.
Communicate a clear vision of how your progress can aid in the company's growth.
Exemplify a personal commitment to fields that reflect the company's mission.
In summary, a clear and coherent depiction of your professional journey, showing how it naturally dovetails with the company's mission, positions you not just as a potential employee but as a future asset integral to the collective success. Thoughtful consideration of role alignment can signify a readiness for personal development and meaningful career advancement within the organization's mission-driven direction.
Constructing a Realistic Vision of Your Long-Term Career Path
Building a long-term strategy that balances your ambitions with practicality is crucial as you embark upon the career planning journey. Crafting a well-defined career path requires thoughtful consideration of various factors that contribute to a professionally rewarding future.
In shaping your narrative for the 'where do you see yourself in 10 years' interview question, the following considerations are paramount in establishing realistic goals that resonate with your aspirations and potential employers.
Factors to Consider When Planning Your Career Trajectory
Setting realistic goals is an art that involves examining the interplay of individual skills, industry trends, and the evolving job market. Here are key elements to reflect on when planning for the long term:
Industry Dynamics: Understand your chosen field's current and projected growth areas and how they might influence available opportunities.
Personal Skill Sets: Take stock of your existing competencies and identify high-demand skills.
Market Trends: Keep abreast of global economic shifts that might affect your industry.
Integrating these factors into a structured career planning process is essential for constructing a vision that's adaptive to change and aligned with future professional environments.
Your roadmap to the next decade of your career should also include milestones that are not just aspirational but actionable. Anticipate potential obstacles and plan for contingencies. This agile approach to career planning demonstrates to employers that you are both a visionary and a tactician.
"Success in a rapidly changing labor market requires an ability to adapt to changes, foresee emerging trends, and continuously learn and evolve."
Considering the confluence of these factors leads to the formulation of a career plan that's robust yet flexible. To illustrate how these elements come together, let's explore them in a table format:
| Element | Description | Impact on Career Path |
| --- | --- | --- |
| Industry Dynamics | Understanding sector-specific growth patterns. | Enables targeting of high-growth areas for skill development. |
| Personal Skill Sets | Inventory of current skills and potential areas for development. | Provides a framework for professional development and specialization. |
| Market Trends | Awareness and anticipation of broader economic or global factors that affect the industry. | Prepares for adaptability to external influences. |
Combine these insights with a realistic assessment of where you could fit in both emerging and enduring career landscapes. By doing so, you will offer a compelling picture of your projected career path to interviewers, illustrating how you plan to grow alongside the ever-evolving demands of the industry.
Finally, remember that while you aim to portray a decade's worth of aspirations, the essence of your plan should be rooted in realistic goals. This balance conveys foresight and maturity. Your career vision not only shapes your future but also communicates to potential employers the level of your self-awareness and dedication to your professional journey.
Articulating Your Professional Growth and Skill Development
Every job interview offers a unique opportunity to showcase your professional growth and skill development ambitions. When you're asked about the upcoming years of your career, the interviewer is seeking a glimpse into your roadmap to success. Understanding how to effectively express the trajectory of your professional growth in terms of career milestones and learning opportunities is crucial for setting yourself apart as a future-forward candidate.
Highlighting Anticipated Milestones and Learning Opportunities
As you envisage your future, you'll encounter several pivotal career milestones. These checkpoints serve as a testament to your commitment to continuous improvement. During an interview, let's discuss how to identify and speak about these milestones.
Delineate key positions of influence or leadership you aim to hold and how these roles serve as significant achievement markers in your field.
Reflect on how obtaining professional certifications or completing a higher degree could be valuable benchmarks in your career progression.
Parallel to these milestones are learning opportunities that reflect your curious spirit and dedication to constant self-enhancement.
Specify courses or workshops you intend to pursue to expand your professional capacity.
Discuss your plans to engage with emerging technology, concepts, or methodologies pertinent to your industry.
"Every skill and milestone achieved should serve not just as a personal triumph, but as a building block towards larger contributions in any professional setting."
Moreover, it's important to demonstrate how these milestones and learning experiences align with the prospective company's needs and goals. By projecting a synergy between your personal development and the organization's growth, you establish a mutual benefit that resonates with hiring managers. To illustrate these alignments, consider the following table:
| Milestone | Learning Opportunity | Organizational Alignment |
| --- | --- | --- |
| Attain a Senior Management Role | Leadership and Strategic Management Training | Directs teams toward innovation and market leadership |
| Master a New Software or Technology | Participation in Tech Conferences and Certifications | Keeps the company at the forefront of technological integration |
| Expand International Business Understanding | Cross-Cultural Communication and International Market Studies | Enhances the brand's global presence and market penetration |
Approaching your interview with this kind of detailed preparation illustrates your forward-thinking mindset and readiness to undertake new challenges—a trait every employer values. Through this reflection, your conversation with the interviewer becomes more than just a dialogue; it's a platform to lay out the potential and proficiencies you bring to your team.
In essence, articulating your career path in this manner shows an unyielding passion for professional growth, a strategic approach to skill development, and an unwavering commitment to reaching and setting new benchmarks within the organization.
Emphasizing Adaptability and Continuous Learning in Your Answer
The evolving landscapes of virtually all industries render adaptability and continuous learning not merely advantageous traits but non-negotiable assets for today's professionals. When envisioning your future during an interview, articulating your commitment to these principles can bolster your appeal to potential employers. Your ability to showcase how you've adapted to professional challenges and actively engaged in career exploration indicates that you are a forward-thinking and resilient employee.
Let's dissect how to integrate these essential keywords to underscore a forward-thinking career trajectory.
Adaptability and continuous learning are today's currency for professional relevance and resilience.
When asked about where you see your career in a decade, contemplate the following tangibles:
Detail previous instances where you've successfully adapted to industry shifts or navigated through uncertainty.
Highlight your track record for learning new skills or technology that bolstered your role or company's success.
Discuss your proactive strategy for career exploration and how it positions you to embrace upcoming professional challenges.
Employers seek more than a chronological career plan—they seek proof of a growth mindset. Consider this table outlining how to incorporate these keywords into your interview strategy effectively:
| Keyword | Application in Interview Response | Projected Outcome |
| --- | --- | --- |
| Adaptability | Share examples of adapting to new roles, industries, or technologies; emphasizing flexibility and eagerness for growth. | Describes a candidate who thrives in change, valuable in dynamic business environments. |
| Continuous Learning | Speak to ongoing education, certifications, or learning initiatives you are pursuing or plan to take up. | Portrays a self-motivated individual dedicated to maintaining and expanding their skill set. |
| Professional Challenges | Recount situations where you overcame significant challenges, focusing on the learning experience and positive outcomes. | Highlights resilience and the ability to transform obstacles into opportunities for progress. |
| Career Exploration | Discuss passions or areas of interest you are exploring to diversify your expertise and contribution to the field. | Signals a dynamic, engaged professional who brings new perspectives and ideas. |
Incorporating these concepts into your interview responses exhibits a robust professional character that is ever-evolving and capable of propelling any organization forward amidst a ceaselessly changing corporate terrain. It reflects that you anticipate the future and shape it through your unyielding drive for personal and professional betterment.
Demonstrating Value to the Potential Employer
When preparing for a job interview, it's imperative to articulate your experience and skills and how they align with the company culture and industry trends. This alignment between your career objectives and the prospective employer's values exhibits a unique employer value that can set you apart from other candidates. A crucial element of demonstrating this alignment involves thorough company research, providing insight into how you will contribute meaningfully to the company's future.
Incorporating Industry Trends and Company Culture
Understanding the latest industry trends is crucial for positioning yourself as an asset to your potential employer. This awareness signifies that you are well informed and proactive in adapting to the industry's dynamic nature. Pairing this knowledge with an appreciation of the company's culture offers a comprehensive value proposition to the hiring manager.
By staying abreast of industry trends and melding them with the ethos of the company, you demonstrate strategic foresight and cultural acumen—two attributes highly valued in today's job market.
To effectively incorporate industry trends and company culture into your interview responses, consider the following steps:
Perform targeted research on your industry's recent developments, technological advancements, and forecasts.
Analyze the company's history, mission statement, and recent press releases to grasp its strategic direction.
Identify key figures and understand their influence on company culture and decision-making.
Examine the company's social media and content to understand its brand voice and values.
Align your career milestones and learning goals with the knowledge you've accumulated about the company and its industry.
This researched-backed preparation can enable you to create connections that show foresight and personalized touch to employers.
Another effective strategy is to illustrate how your skills and experiences prepare you to address current challenges faced by the company within the context of industry trends. This can be substantiated through a well-crafted table that delineates these connections:
| Industry Trend | Your Skill/Experience | Company Challenge | Value Proposition |
| --- | --- | --- | --- |
| Rapid technological innovation | Proficiency in emerging tech tools | Need for digital transformation | Leveraging tech skills to drive the company's digital strategy |
| Shift towards remote work | Experience managing remote teams | Creating a cohesive team culture in a virtual environment | Applying remote management expertise to foster a productive and engaged remote workforce |
| Consumer-centric market approach | Skill in customer relationship management | Aligning products with consumer expectations | Employing CRM strategies to better align product development with customer needs |
Wrap up your preparation by matching your personal and professional goals with the organization's plans. Doing so illustrates a shared trajectory that benefits both parties and solidifies your candidacy deeply in sync with the potential employer's ethos and ambitions.
Link your career progressions, like leadership aspirations, to the company's growth paths.
Match your commitment to learning with the company's investment in employee development.
Express your adaptability as a response to the company's evolving needs in a shifting industry landscape.
In essence, thoughtful company research combined with your career narrative helps you frame yourself as a valuable contributor well-equipped to propel the organization toward success in an ever-changing industry landscape.
Expressing Commitment to Job Retention and Company Loyalty
In your career journey, articulating a convincing message of job retention and company loyalty is essential, especially during interviews. Reflecting on this deep-rooted commitment can often turn the tide in your favour, setting the stage for a relationship characterized by lasting career stability. Employers greatly value candidates who manifest dedication beyond the present, envisioning themselves as integral contributors to the company's long-term planning and success.
To effectively communicate this allegiance, reinforce your narrative with specifics about how you envisage your future with the company. Describe your interest in long-term career development plans that coincide with the organization's growth. This approach does not just showcase your intent to remain with the enterprise and demonstrates an understanding of the symbiotic relationship between your career trajectory and the company's prosperity.
Consider including tangible aspects of your professional life that signal loyalty and intention for long-term engagement:
Discuss your desire to contribute to significant milestones in the company's future.
Express openness to adopt various roles within the company, adapting to evolving needs over time.
Highlight past experiences where you had a long tenure and the positive impact you made during that period.
Address how you plan to embed yourself into the company culture and participate in community-building initiatives.
Additionally, to strengthen the case for your long-term commitment, employ a structured approach, similar to the table below, where you can connect your career goals with specific ways you can contribute to the company's overarching objectives:
| Career Goals | Company Contributions | Projected Longevity Impact |
| --- | --- | --- |
| Develop into a leadership role | Mentor junior employees and innovate management processes | Contributes leadership continuity and internal knowledge retention |
| Expand expertise in niche areas | Drive specialized projects and enhance the company's domain authority | Builds a reputation as an industry thought leader over time |
| Master cross-functional collaboration | Facilitate interdepartmental initiatives and knowledge sharing | Strengthens corporate cohesion and operational efficiency |
| Champion company values | Represent the company in community and industry events | Improves brand image and public relations through sustained advocacy |
Forward-thinking candidates understand the importance of longevity and stability in their career paths. Aligning your response to highlight a shared future can greatly influence the interview outcome. By presenting a well-rounded vision that incorporates job retention, company loyalty, career stability, and long-term planning, you emphasize your suitability for the role and your commitment to contribute to a legacy within the prospective company.
Preparing and Practicing Your Interview Response
Excelling in an interview demands more than surface-level interview preparation; it demands a cohesive strategy combining career planning strategies, personal branding, and tailored interview techniques. A substantive approach is indispensable to navigate the complexities of interview questions successfully, especially when asked to forecast your professional future.
Utilizing Career Planning Strategies and Interview Coaching
Foundationally, career planning strategies are critical in defining the roadmap for your envisioned career trajectory. These plans serve as the architecture upon which you construct responses that reflect a thoughtful and strategic professional outlook. However, planning is just one facet of exemplary preparation. Enlisting the support of interview coaching can elevate the potency of your preparation, lending you expertise in the nuances of interviewing and personalized guidance to refine your approach.
Effective interview coaching transcends generic tips, offering tailored strategies that enhance your strengths while systematically addressing weaknesses.
To ensure that your career strategy is articulated convincingly during an interview, consider the following steps:
Identify clear milestones and learning objectives that align with the industry's future.
Work with a career coach to develop grounded and aspirational responses.
Practice your interview technique with mock sessions that simulate the real interview environment.
Interview coaching doesn't just prime you for answering with confidence—it also sensitizes you to body language, tone, and other non-verbal cues that contribute to the overall impression you make on your interviewers.
Promoting Your Unique Personal Branding in the Interview
On top of laying down a groundwork of skills and experience, your branding must shine through during the interview. It's the unique value proposition that you offer that sets you apart from other candidates. Your branding is the narrative thread that links your past accomplishments, present capabilities, and future potential into one cohesive story.
When fine-tuning your responses, be mindful of these key elements:
Highlight experiences that demonstrate your brand's core values and mission.
Recount stories where your unique approach led to tangible results.
Be consistent in your messaging, ensuring each response reflects the brand identity you have crafted.
The synergy of career planning and personal branding, coupled with effective interview preparation and coaching, culminates in an indelible impression on the interviewers. Through structured practice, your answers will embody both the depth and authenticity employers seek.
Through this intersection of strategic career planning and personal branding, bolstered by the expert guidance of interview coaching, you'll forge a response for the "Where do you see yourself in 10 years?" question that is compelling, well-crafted, and resounding with purpose. Remember that the goal of an interview is not just to answer questions but to engage the interviewer and leave a lasting impression of what you represent as a professional.
Avoiding Common Mistakes When Answering This Question
Securing interview success requires navigating many pitfalls, with one particularly treacherous area being the tendency to offer scripted responses or vague answers to questions about your future. While it's commendable to come prepared, overly rehearsed answers can appear robotic and lacking in sincerity—a stark contrast to the dynamic and authentic interactions interviewers prefer.
Equally detrimental are responses that are so broad they're practically meaningless. Giving a vague answer to "Where do you see yourself in 10 years?" can convey a lack of vision or a reluctance to commit to a path, casting a shadow on your candidacy. Therefore, balancing preparedness and genuine engagement is critical for your response to resonate with hiring managers.
Avoiding Overly Scripted or Vague Responses
To steer clear of these common mistakes, job seekers need to personalize their narratives. Detailed here are expert interview tips for refining your answer to inject spontaneity without under-preparing:
Root your response in real goals and genuine interests, ensuring that what you discuss reflects your personal and professional aspirations.
Practice responding to different variations of the "decade-ahead" question to enhance the naturalness of your delivery without sounding rehearsed.
Illustrate your vision with specific examples of how past experiences and current skills set the stage for your ambitions.
Show flexibility by acknowledging that while you may have a plan, you're adaptable to the dynamic nature of the job market.
By focusing on these strategies, candidates can shape distinctive and engaging responses.
A practical way to visualize how to avoid presenting overly polished or overly broad responses is to review this concise table:
| Mistake | Implications | Strategy for Avoidance |
| --- | --- | --- |
| Scripted Response | Makes candidate seem robotic, with a lack of spontaneity | Personalize your response with genuine goals and practice variations of the question |
| Vague Answer | Can be interpreted as lack of vision or commitment | Provide specific examples that link past experiences and current skills to future ambitions |
| Irrelevant Details | Dilutes the relevance of your answer and may confuse the interviewer | Stay focused on aspects that align with the job role and company goals |
In summary, achieving interview success when tackling where you see yourself in 10 years hinges on authenticity. By thoughtfully preparing but avoiding rote or evasive talking points, your answer can highlight your genuine career passion, understanding of the industry, and readiness to become a valuable asset to any organization.
Conclusion
Navigating the terrain of interview questions and answers is no small feat, particularly when confronted with the daunting inquiry about your professional whereabouts in a decade.
This article has endeavoured to map out a route towards interview performance that anticipates future career turns and leads to professional success. Armed with the career advice outlined in the preceding sections, candidates are in a stronger position to sculpt an answer that is as strategic as it is sincere, fostering a connection with potential employers.
The keys to unlocking a positive outcome lie in the meticulous crafting of your response—detailed yet adaptable, personalized yet aligned with the company's mission. As we've stressed, it's about striking a delicate balance between presenting a clear vision and demonstrating flexibility, thus conveying a full grasp of the dynamic nature of career development.
Such an approach illustrates your potential for growth and underscores a commitment to adding value wherever your professional journey leads.
FAQs
What does the question about long-term goals reveal to an interviewer?
This question offers insights into a candidate's ambition, foresight, and suitability for the role. It helps the interviewer understand whether a candidate has realistic goals, sees a future with the company, and has the adaptability and drive necessary for career advancement within the organization.
How can I express my commitment to job retention and company loyalty?
Communicate a genuine interest in growing with the company and a vision that includes career stability within the organization. Share concrete ways you plan to contribute to the company's long-term success, emphasizing your dedication to achieving shared objectives and your view on long-term planning.
What are some key factors to consider when planning my career trajectory?
Consider industry trends, personal skills, educational opportunities, and advancements in technology that may impact your field. Think about realistic goals that align with these factors while still being ambitious enough to demonstrate your commitment to professional growth and long-term strategy.
How can I align my career goals with the company's mission during the interview?
Research the company's mission and values in advance and reflect on how your personal and professional goals overlap with the company's direction. During the interview, communicate how your career trajectory and aspirations support the company's long-term objectives and how your personal development can contribute to the organization's growth.
When answering where I see myself in 10 years, what are common mistakes to avoid?
Avoid giving a response that sounds overly scripted or is too vague, as it may not resonate with the interviewer. Strive for a balance in your answer that demonstrates preparation yet feels genuine and tailored to the specific job and company. Eliminate any elements that do not connect directly to your career path or the potential employer's needs.