Disclaimer: We sometimes use affiliate links in our content. For more information, visit our Disclaimer Page. 
In today's business world, audience intelligence plays a vital role, allowing companies to learn more about their target audiences and tailor marketing strategies accordingly. 
The market is flooded with audience intelligence platforms. Still, Audiense stands out as a world-leading platform in this field by providing businesses with advanced technology, unique features, and valuable insights to help them meet their marketing objectives. 
This article will explore why Audiense is considered a world-leading audience intelligence software.
What is Audiense?
Audiense is a social marketing tool that concentrates on Twitter. With Audiense, you will have all the information you need to make instructed decisions regarding your Twitter marketing strategies.
The Audiense platform provides more information about your target audience than any other social media tool. Businesses and organizations can better understand their target audiences by using Audiense, making it easier for them to accomplish their goals.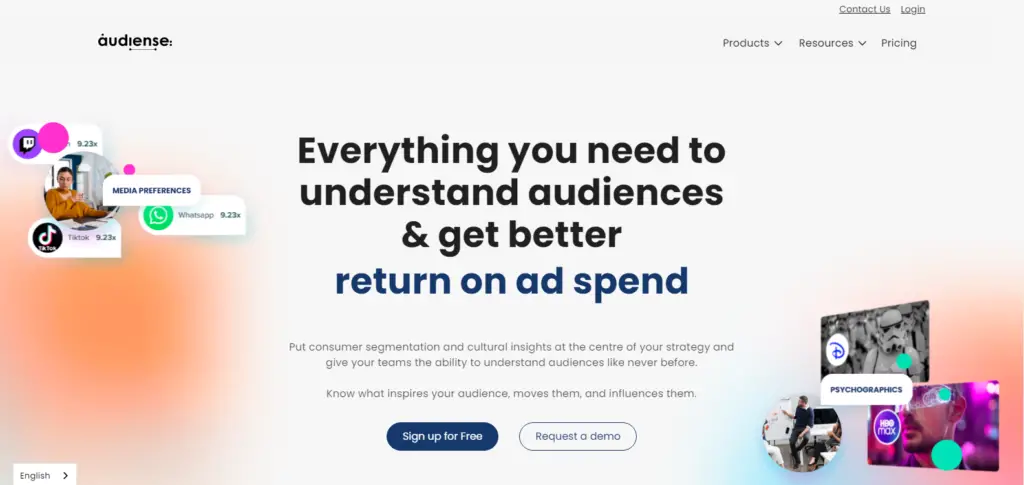 The Audiense interface
Here is a quick overview of Audiense to show how it works once you're logged in and registered.
Insights Overview
You'll immediately see a list of reports you generated and some demos that Audiense provides its users.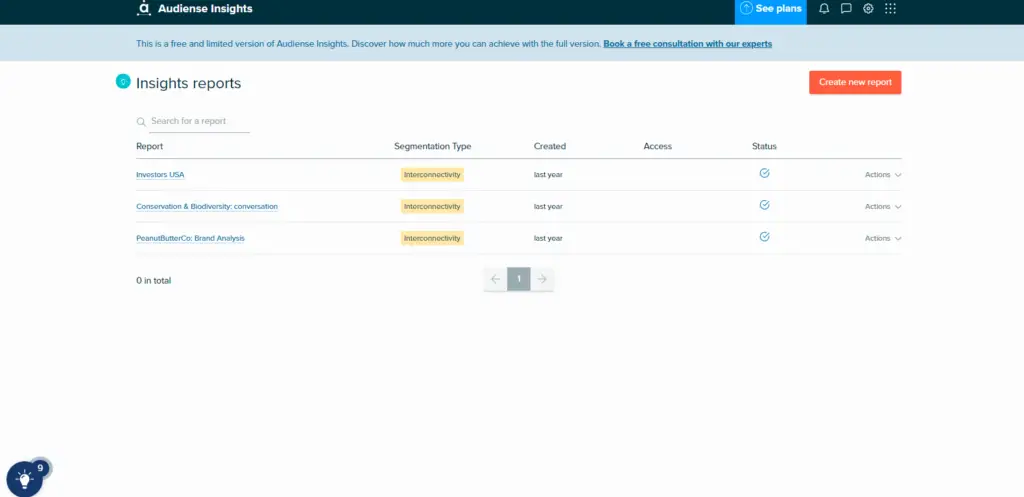 You can start generating your reports for Insights by clicking Create New Report when you're ready. You have a few steps to follow in formulating an Insights report. First, you have to select your audience type. You can also name your report at this point.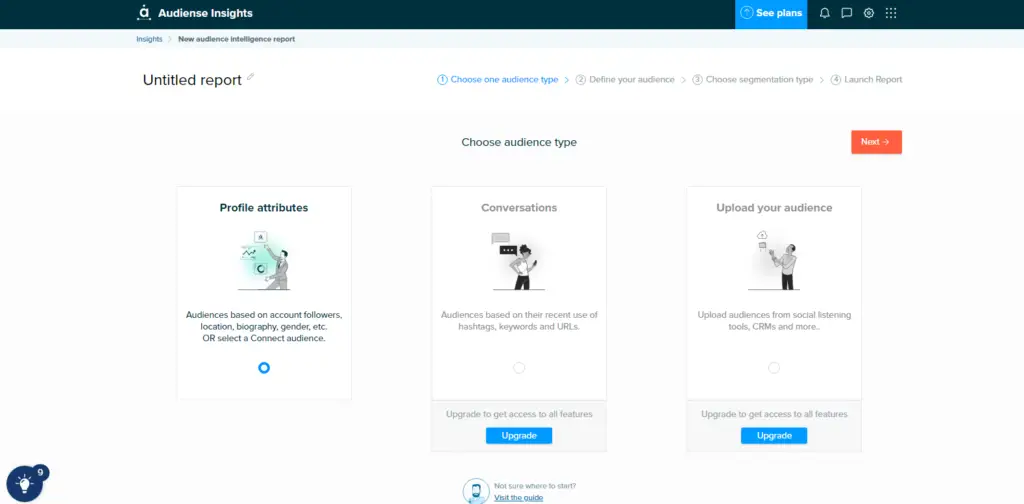 Then there are three options to choose from:
Profile Attributes: If you select this option, Audiense will be able to analyze your audience based on their bio, gender, job title, and other personal information.
Conversations: By checking hashtag usage, keywords, and URLs within a given audience, you can gain a better understanding of the audience.
Upload your audience: You can upload an audience you have compiled using social listening tools, CRMs, and other methods to gather an audience.
As a result of choosing any of these three options, you can move to the next step.
Report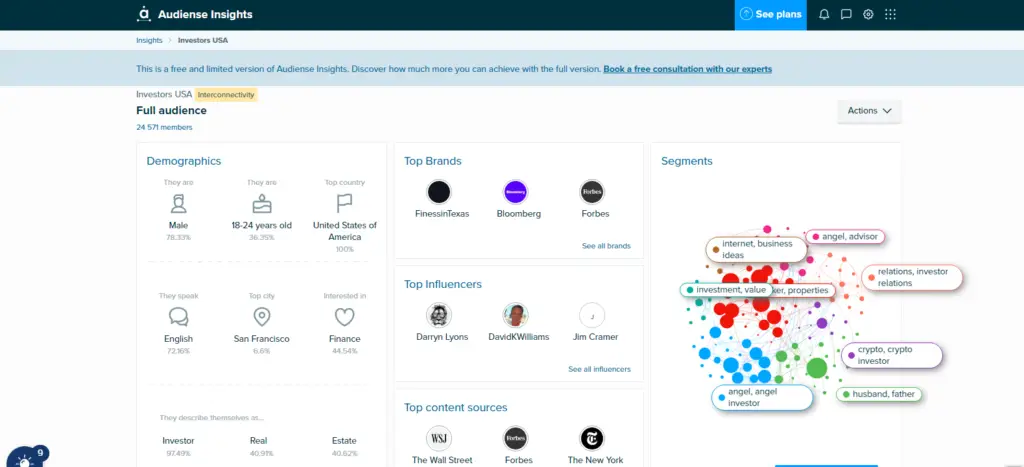 The report interface is divided into several sections: demographic information, top brands, influencers, content sources, and segments.
Demographic Information: Using audience demographics, businesses can make informed marketing decisions by learning about their target audience's gender, age, location, and interests.
Top Brands: The top brands mentioned in social media conversations related to the target audience are shown here, so you can monitor brand reputation and track marketing campaigns' success.
Top Influencers: The following section provides information on the top influencers within the target audience. This information can be used to identify key influencers and leverage their reach for product promotions.
Top Content Sources: This section gives you information on the most famous content sources in the target audience. This can help you create content that people will engage with and buy.
Segments: Find out what consumers want based on your industry, competitors, or customer data by digging into audience insights. A business can use target audience segments to tailor its marketing strategies to specific segments and understand what they want. 
A report can be downloaded, or it can be shared with your team. It is a handy tool for any marketing person to have in their arsenal. After experiencing Audiense Insights, you'll find it hard to switch to other tools that don't offer the same level of Twitter reporting that Audiense Insights does.
The Technology Behind Audiense
With Audiense, businesses and organizations get valuable insights from social media data. Its technology is based on the following essential components:
1. Data Collection
To provide users with a comprehensive view of social media conversations and activities across social media platforms, Audiense collects data from various social media platforms such as Twitter, Facebook, Instagram, and others.
2. Data Cleaning and Preprocessing
The collected data will then be cleaned and preprocessed to ensure that the data is accurate and ready for analysis. This process will remove irrelevant or duplicate data and standardize the data format for further analysis.
3. Insights Generation
Through the analysis of the collected data, helpful insights are obtained that businesses and organizations can utilize. With these insights, they can better understand target audiences and adapt their strategies accordingly.
4. AI algorithms
Audiense stands out from other audience intelligence platforms because of its innovative technology. Businesses can use this technology to understand their existing audience and reach new customers with their marketing efforts because it uses advanced data analysis and AI algorithms. 
5. Insights Visualization
A visual presentation makes it easy to understand the insights, so businesses and organizations can use them. By visualizing insights, you'll be able to highlight trends and patterns, making it easier to make informed decisions.
You'll be able to tailor your marketing efforts to meet your target audience's needs and interests. As a result, businesses get to know their customers better.
Together, these components create a complete solution for business and organization social media intelligence so that decision-makers can make informed decisions based on data-driven insights.
Key features:
Audience Segmentation: Marketing strategies can be improved by segmenting customers based on their demographic, psychographic, and behavioral characteristics.
Influencer Identification: Businesses can use advanced algorithms to identify key influencers within a target audience and reach a wider audience through influencer marketing without breaking the bank.
Competitive Intelligence: A competitor analysis can help businesses understand their competitors' audiences and marketing strategies, enabling them to make better marketing decisions.
Social Listening: A business can monitor and analyze mentions of their brand, products, and competitors by using Audiense's social listening capabilities, which will provide them with deep insight into their audience's sentiments and opinions about their brand, products, and competitors.
Data Integration: Provides an integrated view of audience data from various third-party sources, such as customer relationship management (CRM) systems,

marketing automation tools

, and analytics platforms, giving you a unified view of audience information.
Customizable Reports: Reports can be customized to meet specific business needs and can be exported to share easily.
Competitor Monitoring: Keeping an eye on your competitors' social media presence and engagement, analyzing their strengths and weaknesses, and using insights to improve marketing strategies.
Related: Best Marketing Automation Software
Examples of how businesses can leverage Audiense
Fashion Retailer: A fashion retailer can use Audiense to segment their audience based on age, location, and interests. This information can be used to create more targeted marketing campaigns that resonate with specific audience segments, resulting in higher engagement and conversions.
Beauty Brand: Using Audiense to identify key influencers within their target audience, a beauty brand can collaborate with these individuals to reach a wider audience and drive brand awareness.
Fast-food Chain: A fast-food chain can use Audiense to monitor and analyze mentions of their brand and competitors on social media, gaining valuable insights into audience sentiment and opinion. This information can be used to adjust their marketing strategies better to meet the needs and preferences of their target audience.
Benefits of Using Audiense
Following are the benefits of Audiense.
1. Data-based Audience Identification
Audiense provides a unique social consumer segmentation that forms a strong data foundation for persona development. This helps businesses to understand the audiences that matter to them and identify new audience opportunities. With this feature, companies can make informed decisions about their marketing strategies and other vital areas.
2. Identifying Effective Interests and Affinities
Businesses can gain actionable insights by segmenting their audiences based on interconnectedness. By conducting audience research, businesses can identify niche segments and "odd ones out," giving them a deeper understanding of their target market.
3. Strategy Personalization
A business can stay on top of trends and culture with Audiense's affinity analysis and segmentation. If you do well, marketing is personalized, including media planning, influencer and sponsorship selection, content and creative development, PR, and communication.
Keeping up with market changes and staying ahead of the competition is easy with market research.
4. Complimenting Your Tech Stack
The platform integrates with existing social listening tools, third-party audience survey platforms, and 1st party data sources. This serves as the "bridge for intelligence" to stack sources of insights, providing businesses with a comprehensive view of their target audience.
The integration helps businesses to complement their existing tech stack and make more informed decisions about their marketing strategies.
5. Easy-to-use Platform
Audiense offers a simple and intuitive interface, requiring no technical expertise. With real-time insights and analysis, businesses can stay ahead of the curve and respond quickly to changing market conditions. The platform is designed to be easy to use, making it accessible to companies of all sizes and levels of expertise.
Pricing: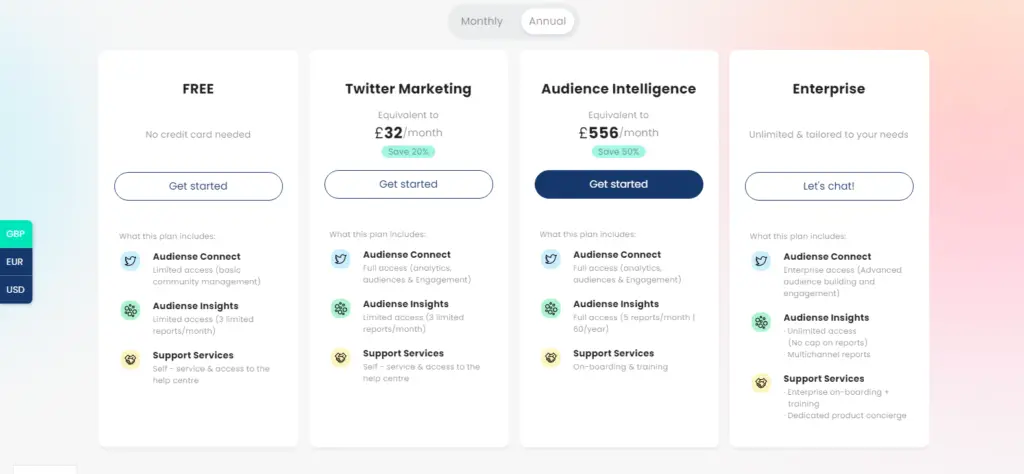 There are four pricing plans available:
Free: The free version of Audiense offers limited access to audiense connect, Audiense Insights provides limited access to three monthly reports, and Support Services for Self-service and help.
Twitter marketing: The plan costs £32/month and includes Audiense Connect with Full access (analytics, audiences, engagement), Audiense Insights with Limited access (3 reports per month), and Support Services with Self-service.
Audience marketing: This plan costs £ 556/month and includes Audiense Connect, Audiense Insights with Full Access (5 reports/month | 60/year), Support Services with On-boarding & Training, and Audiense Insights with Full Access.
Enterprise: For the enterprise plans, you can contact them.
Related: Market Targeting Examples
Conclusion
Audiense revolutionizes how companies and organizations get insights into their target audiences. Whether you want to reach new customers or get a better understanding of your existing customers, Audiense will help you understand your target audience and make informed marketing decisions.
FAQ
What is Semrush audience intelligence?
It's a digital marketing tool from Semrush called Semrush Audience Intelligence. Using a comprehensive analysis of social media data, businesses, and organizations can better target their audience by understanding their users' media consumption.
Audience tools are software or applications that help businesses, organizations, or individuals understand and analyze their target audience. These tools provide insights into the audience's demographics, interests, behaviors, and preferences.
What is the target audience used for?
A target audience is a specific group of consumers that a company or organization aims to sell its products or services to or to communicate with through advertising or other marketing efforts. Determining the target audience helps focus marketing efforts and resources on the most receptive consumers, leading to more efficient and effective outcomes.
What is audience profiling tool?
Audience profiling tools are tools or methods used to collect, analyze and categorize information about a target audience. This information can include demographic information, psychographic information, behaviors, motivations, and interests.