Disclaimer: We sometimes use affiliate links in our content. For more information, visit our Disclaimer Page. 
Instagram is an integral part of digital marketing and is no exception. This platform allows brands and individuals to build a solid online presence and connect with their target audience. However, competition is fierce, and it can be hard to stand out.
You can increase your reach and engagement on Instagram by organically growing. Using proven strategies, Social Boost Co can help you attract genuine followers and boost engagement without bots or buying followers. We'll show you how Social Boost Co can help you grow organically on Instagram in this blog post.
What is Social Boost Co?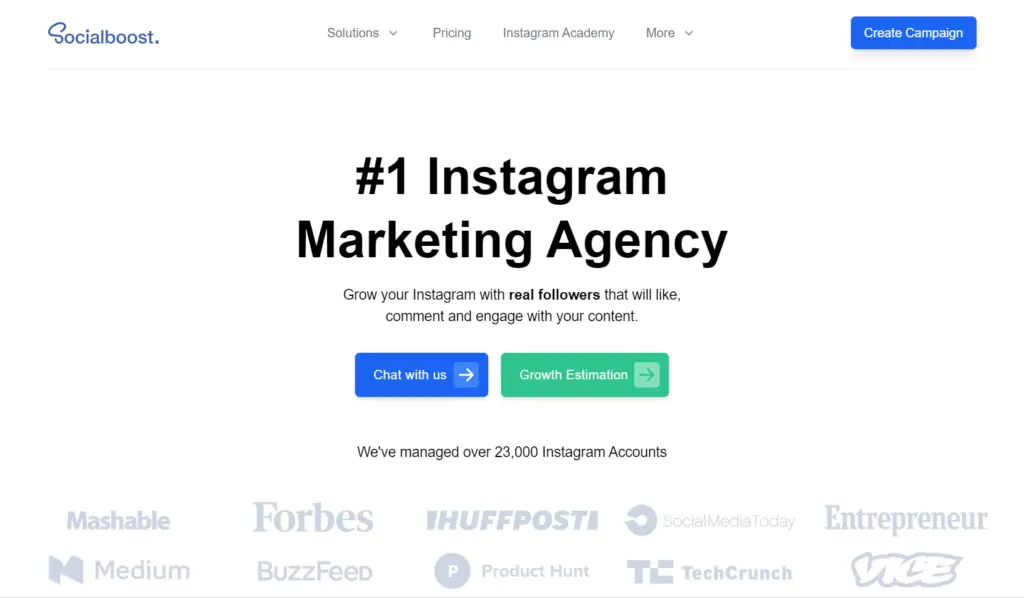 The SocialBoost company claims to be a 100% organic growth company for Instagram, which means that it can help its clients grow their engagement safely without fearing the danger of being exposed to any negative media coverage.
They say they can help, support and grow your Instagram profile with real people and advertise that they have over 23,000 perky customers.
The company claims that they have a lot of features that will help you to get targeted likes and followers, as well as direct messaging so you can communicate with everyone without having to do it manually whenever you want.
In addition, Social Boost says its Instagram growth services are 100% safe and secure, and they guarantee that its Instagram users won't be harmed. They even provide a committed account manager who will be there for every client needing help.
How Does Social Boost Work?
Social Boost is a company that specializes in helping brands grow their social media followers, focusing on quality over quantity. They employ a team of "Growth Experts" or Social Media Managers committed to your Instagram account and will handle your growth.
The process starts with the Growth Expert linking your account to a dedicated iPhone and conducting a targeted engagement. Next, the Growth Expert will ask you to provide information about accounts and hashtags related to your niche, which they will use to target the right audience.
The engagement process involves liking photos and commenting on posts of possible followers, with comments designed to encourage them to visit your profile and follow you. The comments will usually be a pacifist message followed by a link to your page.
Once your profile is optimized and your content is engaging, the Growth Expert will continue to engage with potential followers, helping you to increase your Instagram following. The process involves simple yet practical actions such as liking, commenting, following, and unfollowing, aimed at getting the maximum number of people interested in your content.
Social Boost aims to provide you with an organic and engaged Instagram following, so you can handle stagnant or unengaged following again. They focus on providing consistent growth and engagement, which is why they have successfully supported brands to grow their following on Instagram.
Social Boost Key Features
The company offers the following key features:
Real Followers: You can use Social Boost to attract followers interested in your content and will like and comment on your posts. These are actual people, not bots.
Advanced Optimization: Use the correct hashtags and post at the right time, and the team will provide many more tips to optimize your account for better growth.
Analytics & Reports: You can view detailed reports that show exactly how your account is developing. You can see new followers, likes, comments, and more.
Handmade Growth: Their team of marketing experts helps you to grow your account organically–literally by hand.
Personal Account Manager: Your account will be managed by a personal account manager who will provide you with the support you need to grow your account. You can reach them via email, chat, or phone 24/7.
24/7 Live Support: A team of experts is available 24 hours a day, 7 days a week, to resolve any issues you may have.
Benefits of using Social Boost Co
Using Social Boost Co for your organic Instagram growth can bring a multitude of benefits, including:
Increased reach: When you attract real followers on Instagram, you will be able to reach a larger audience and get your content seen by more people because you will have more followers.
Boosted engagement: By engaging with your followers in targeted ways, you can increase your likes, comments, and other engagement metrics, making your account more attractive to new followers.
Time-saving: You can save a lot of time and effort by automating engagement activities, allowing you to focus on creating content that will engage your audience.
Safe and secure: Social Boost Co has taken great care to ensure that nothing unethical is being used to increase your account's growth, and you do not have to worry about your account being banned.
Social Boost Case Study
@prolycht is a company that designs and sells LED spotlights used in video production. They initially started with a small following on social media, but with the help of Social Boost, they grew their following significantly.
Social Boost, a company specializing in helping brands grow their social media following, was approached by @prolycht to help them increase their online presence. Social Boost's approach was to provide consistent and engaging content that resonates with @prolycht's target market.
They were able to do this by thoroughly understanding the types of content that would appeal to the target audience in the LED Spotlight niche, which is known to be a challenging market.
As a result of Social Boost's efforts, @prolycht's growth rate skyrocketed by 125%. This consistent and measured approach made @prolycht outperform other accounts in their niche and helped establish them as a leader in their field.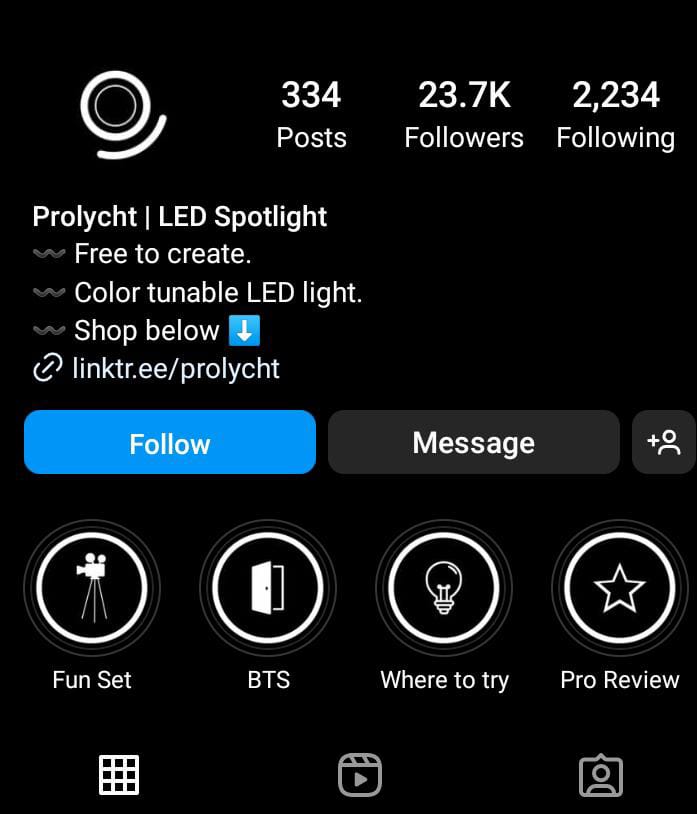 Social Boost prioritizes engagement over mere presence on social media to drive growth. Their approach emphasizes the value of engaged followers and focuses on quality over quantity. This philosophy is reflected in their work with @prolycht, where they successfully grew the account by delivering relevant and engaging content. They believe "1 real, engaged follower is worth a thousand fakes".
Pricing: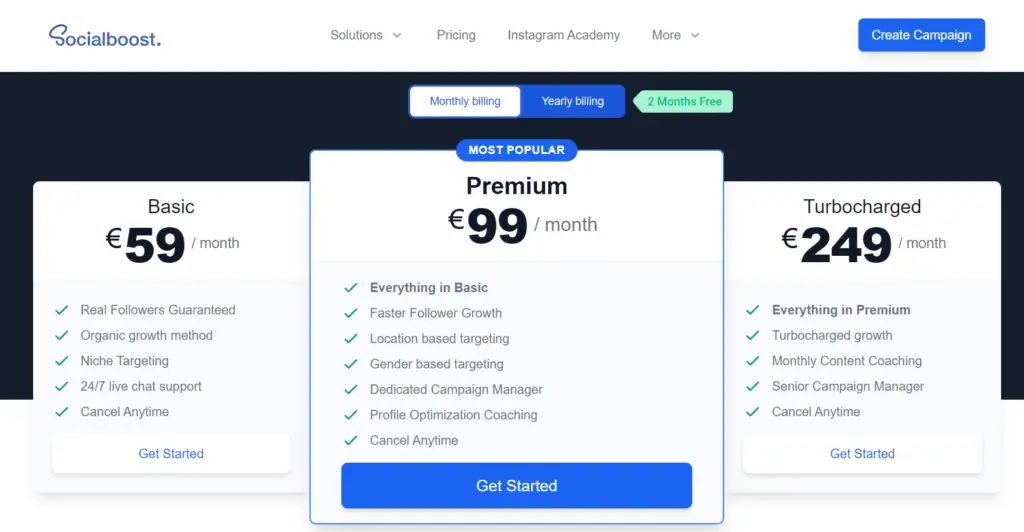 There are three packages available.
Basic: Using this package, you will receive Real Followers Guaranteed, Organic Growth Method, Niche Targeting, 24/7 Live Chat Support, and you can Cancel Anytime you want.
Premium: In this package, you will get everything in Basic and gain even more followers. This package costs $99/month. It comes with fast follower growth, location-based targeting, gender-based targeting, a dedicated campaign manager, and profile optimization coaching, and you can cancel anytime.
Turbocharged: The cost of this package is $249/month for everything in the Premium package, as well as turbocharged growth, monthly content coaching, and a senior campaign manager.
Organic vs. Nonorganic Instagram Growth: What's the Difference?
Many people have aimed to increase their follower count on Instagram since it first appeared. Some of these methods have included buying fake followers, while others have relied on organic methods such as following and hashtagging to increase their numbers.
Let's start with the nonorganic growth since it's the easiest of the two to explain. Nonorganic growth describes any method of increasing a follower base that does not involve real interaction with other users. These methods include purchasing fake followers and buying shoutouts from larger accounts to grow your following.
The first reason people might use nonorganic methods to grow their account is that they are fast. In a matter of days, you can go from having zero followers to having 10,000 followers if you are keen to pay for it, and the second reason is that it is easy. You do not have to put in any effort; you sit back and watch the fake followers roll in.
However, a downside to nonorganic growth is that it needs to be more sustainable. If you want to grow your account, you must stop buying more Instagram followers at some point and switch to organic growth. Your reach will be restricted as these fake followers will not interact with your content, which results in limited reach.
Organic growth is a slower process than nonorganic growth, but in the long run, it is more sustainable since it builds a base of real followers who will continue to interact with your content and help you to grow your account.
Social Boost's team of Growth Experts will help you grow your Instagram following organically through genuine engagement with other users, such as commenting, liking, and following users in your target market or niche, to help you grow your Instagram following the organic way.
What is the Importance of Organic Growth?
Real followers and engagement are crucial to Instagram growth since they increase your reach and visibility. Real followers are people who genuinely like and share your content. You can measure your Instagram success by how many likes, comments, and shares you get on your posts. Getting real followers can do these things for you:
Boosts credibility and legitimacy of a profile: Having real followers and engagement on social media platforms enhances the legitimacy of a profile or brand. It demonstrates that a profile or brand has a genuine following and active engagement, which increases its credibility and legitimacy.
Social media visibility and reach are improved: Real followers and engagement help increase visibility and reach on social media platforms. The profile or brand becomes more visible to a broader audience as followers engage with posts and share them with their networks.
Insights into target audience preferences and behavior: Engagement from real followers provides valuable insights into the preferences and behavior of the target audience. This information can be used to tailor content and marketing strategies to engage better and attract followers.
Helps attract potential customers or clients: Having a large, engaged following on social media can help attract potential customers or clients. It demonstrates the popularity and success of the profile or brand, which can increase interest and attract new followers.
Establishes a solid and loyal community of followers: Engagement from real followers helps establish a solid and loyal community. As followers engage with content and participate in discussions, they feel more connected to the profile or brand, strengthening the community and fostering loyalty.
Boosts search engine optimization (SEO): Real followers and engagement can also boost search engine optimization (SEO). As the profile or brand becomes more visible and attracts more engagement, it can increase its ranking on search engines, making it easier for potential customers or clients to find.
Provides opportunities for user-generated content and engagement: Engagement from real followers can provide opportunities for user-generated content and user engagement. For example, followers can share their experiences and opinions, generating new content and further engaging the community.
Enables effective measurement of social media marketing success and ROI: Real followers and engagement allow for effective measurement of social media marketing success and return on investment (ROI). As engagement and reach increase, it becomes easier to quantify the success of social media marketing efforts and calculate the ROI.
Enhances brand reputation and customer trust: Real followers and engagement can enhance brand reputation and customer trust. As the profile or brand demonstrates a genuine following and active engagement, it can increase customer trust and enhance its overall reputation.
Related: Audience Intelligence Platform
Social Boost Alternatives

Here are some alternative options to consider:
1. Flock Social
With Flock Social, you get targeted Instagram followers, hashtags, and competitor analysis. But it might be better to access AiGrow's dashboard to manage your account more effectively. Make sure the claims of a growing service are legit and effective before you pick one.
2. Upleap 
According to Upleap, their service is the best Instagram growth service because they offer organic Instagram followers and a dedicated account manager who is only concerned with growing your account and saving you time and effort managing your Instagram accounts.
3. Nitreo 
The Nitreo organic Instagram Growth Service promises to grow your Instagram following organically by following, liking, and viewing stories for you. As well as saving users 9 hours a week by automating the process, Nitreo promises 100% account safety and a dedicated account manager.
They'll get Instagram followers by targeting hashtags, usernames, and locations. They say they're the safest automation service because they use real phones and artificial intelligence.
Conclusion
In conclusion, Social Boost is a fantastic option for those seeking to grow their Instagram presence organically. With a focus on client satisfaction and comprehensive features, this platform can help you reach your goals and build a solid online presence. 
We hope you found this article to be informative. Please let us know your thoughts about social Boost by leaving a comment below.
FAQ
What is the meaning of organic growth?
Organic Instagram growth refers to increasing the number of followers, engagement, and visibility on the platform naturally and sustainably. It involves using methods such as creating high-quality content, using relevant hashtags, engaging with other users, and leveraging influencer marketing to attract genuine followers.
What does growing organically mean in business?
In business, organic growth is when a company grows its revenues, market share, and customer base sustainably and naturally, without depending on mergers and acquisitions or any other form of external investment to increase its revenue, market share, and customer base.
Is Instagram's growth service legit?
Instagram's growth service is legit, and many Instagram growth services work well in building your Instagram following and effectively improving your engagement metrics on the social network effectively and legally.
Is Instagram still growing?
It's true that Instagram is still growing. Instagram has consistently seen an increase in its user base, usage, and overall popularity.