Disclaimer: We sometimes use affiliate links in our content. For more information, visit our Disclaimer Page. 
Are you a small business owner struggling to keep up with social media? Do you feel you're wasting time posting and tweeting and not getting the results you want?
You're not alone. Managing social media can be overwhelming, especially for businesses that don't have the staff or resources.
But it's important to stay involved to connect with your customers and grow your business. So what can you do?
Here's an in-depth guide to social media management. Then, we'll discuss how business owners can use social media to generate sales and establish their online presence.
So whether you're getting started or looking for ways to improve your social media strategy, this guide will help you out!
Why Does Your Business Need a Social Media Strategy?
Social media is an excellent way to connect with your target audience. If you are not using social media to communicate with your customers, you miss out on a valuable opportunity. You can use social media to build relationships and grow your business.
In today's business world, social media is no longer optional. Businesses need to have an active presence on Facebook, Twitter, and Instagram to stay competitive.
Some small businesses shy away from social media, thinking that it's too time-consuming or not worth the effort. However, the truth is that an effective social media strategy can be a game-changer.
Businesses can connect with potential customers, build relationships, and drive sales through social media. In addition, social media provides a level playing field for small businesses, allowing them to compete with larger companies on an equal footing.
Finally, it's important to remember that social media is not a static platform; it's constantly evolving. So if you want to stay ahead of the curve and keep your business relevant, you need to be active on social media.
So if you're still on the fence about whether or not your small business needs a social media strategy, hopefully, these points have convinced you of the importance of making social media a priority.
Related: Business Marketing Plan
How to Create Social Media Marketing Strategies for Small Businesses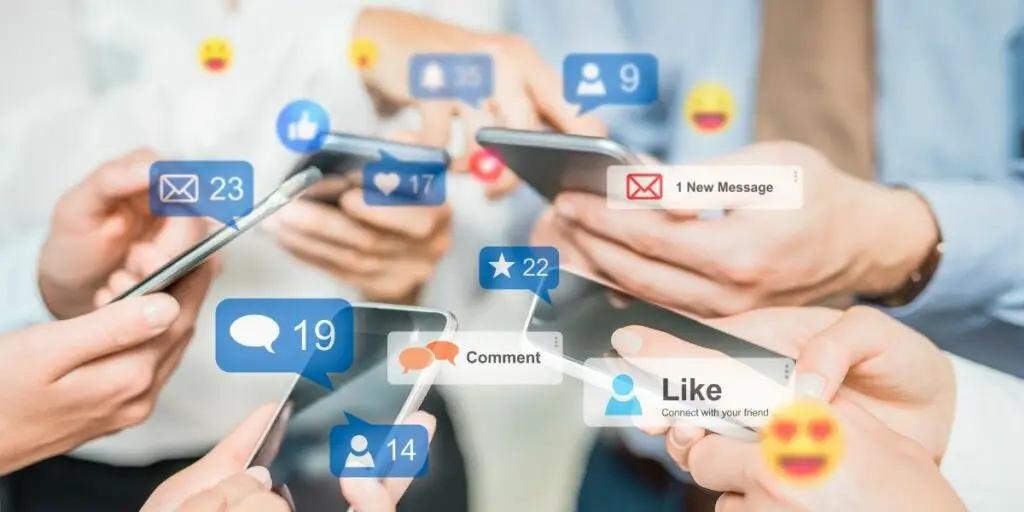 Social media is a powerful tool for promoting your brand and connecting with customers. However, creating an effective social media strategy with so many platforms to choose from can be challenging. To help you get started, here are six tips for creating a social media strategy for small businesses:
1. Set clear objectives.
Before you start creating social media content, it's essential to take some time to think about your objectives. What do you want to achieve with your activity?
Are you looking to increase brand awareness, drive website traffic, or generate leads? Once you know what you're hoping to achieve, you can create content relevant to your target audience, which will help you reach your business goals.
For example, if you're trying to increase brand awareness, you'll want to create shareable content to reach a broad audience.
But, if you're trying to drive website traffic, you'll want to create optimized content for search engines, which will lead people to your website.
If you're unsure what your objectives should be, take some time to research your competition and see what they do on social media. You can also talk to a marketing professional for guidance. Once you have clear objectives, you'll be well to social media success.
2. Identify your target audience.
Who are you trying to reach with your social media activity? What are their demographics, interests, and needs? Creating buyer personas can be helpful in this process. In addition, identifying your target audience will help you determine which platforms are most likely to reach them.
Once you have a clear understanding of your objectives and target audience, you can start to create content that will resonate with them.
Remember to focus on quality over quantity and provide value in every piece of content you create.
3. Choose the right platform.
Deciding which social media platform to use for your business can be challenging. There are a lot of factors to consider, and it's crucial to do your research to figure out which platform is most popular with your target audience.
For example, if you're targeting millennials, you'll need to be active on Snapchat and Instagram. On the other hand, Facebook and LinkedIn are better options if you're targeting baby boomers.
The key is to figure out where your target audience spends the most time online and then focus your efforts on that platform.
4. Be consistent.
Posting content regularly is vital for maintaining a presence on social media. Moreover, it also makes it more likely that your followers will see your content.
Of course, posting too often can be just as bad as posting too little, so it's crucial to balance. A good rule of thumb is to post at least once a week, though more frequently is better.
You can also use scheduling tools to help you plan and space out your posts ahead of time. Consistent with your postings will ensure that your social media presence remains strong.
5. Engage with your audience.
It's important to remember that social media is a two-way street. If you're only posting content and never engaging with your followers, you're not taking advantage of all that social media offers.
Make sure to take the time to respond to comments and questions. This helps build relationships with your followers and makes them more likely to return to your page in the future.
When you engage with your audience, you're also more likely to get feedback that can help you improve your content and better understand what your followers are looking for.
6. Measure your success
There's no point in investing time and effort into social media if you don't have a way to measure your success. So before you launch your campaign, take some time to consider what metrics you will use to track your progress.
Some common metrics you may want to track include:
Engagement rates (likes, comments, shares, etc.)
Reach (how many people see your content)
Click-through rates (how many people click on links in your posts).
Some factors that you may want to consider to measure success include the number of new followers you gain, the engagement rate of your posts, and the reach of your content.
Using social media to generate leads or sales, you'll also want to track how many leads or sales are attributed to your campaign.
By monitoring these metrics over time, you'll see how well your social media strategy is performing and make adjustments as needed.
Related: Social Media Marketing
Top 6 Social Platforms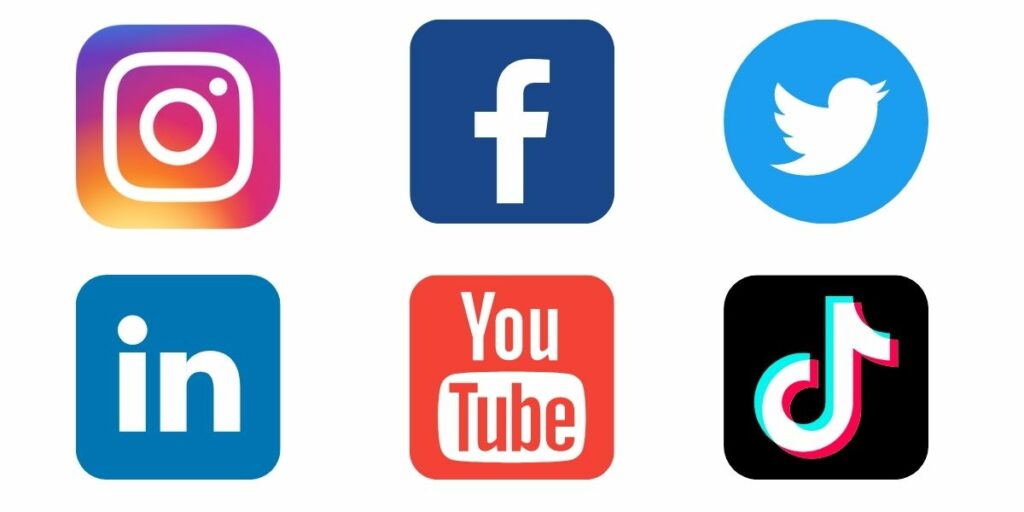 Instagram
In recent years, Instagram has become an increasingly popular tool for marketing and communications. Instagram provides small businesses with a vast potential audience with over one billion active users. What makes Instagram particularly well-suited for small businesses is it's highly visual.
Businesses can use beautiful photos and videos to showcase their products and services. And with the ability to post directly to Stories, companies can give their social media followers a behind-the-scenes look at what goes into making their products.
In addition, Instagram offers a variety of features that businesses can use to interact with their customers, such as hashtags and geotagging. Instagram has a passionate and engaged user base, which means that your posts are more likely to be seen by potential customers.
Facebook
Facebook has over 2 billion active users making it the biggest social media platform globally. And with nearly 80% of internet users in the United States accessing Facebook at least once a month, it presents a unique opportunity for small businesses to connect with potential customers.
While there are many ways to use Facebook to promote your business, some of the most effective include:
Creating a Page for your business
Running Facebook Ads to reach a wider audience
Using Facebook Groups to build community and engage with potential customers.
The key to success on Facebook is to create interesting and engaging content that speaks to your target audience. This can be achieved through a mix of text, images, and video content. Moreover, it is important to be responsive to comments and messages.
By taking the time to interact with your audience, you will build trust and credibility. With so many people using Facebook, small businesses need to have a presence on this platform.
Through Facebook, businesses can share updates, special offers, and educational content with a broad audience.
What's more, Facebook also offers powerful targeting tools that allow businesses to reach specific demographics.
For example, businesses can target users by location, age, interests, and behavior. By leveraging the power of Facebook, you can reach a large number of people with your message and grow your business.
Twitter
These days, nearly every business has a presence on social media. Yet, while platforms like Facebook and Instagram are popular choices for many companies, Twitter is often overlooked.
However, Twitter can be an extremely valuable tool for small businesses, especially when promoting special offers and driving customer engagement.
With over 330 million monthly active users, Twitter offers small businesses a huge potential audience. And since tweets are shorter and to the point, it can be an ideal platform for sharing news, updates, and special discounts.
Additionally, Twitter's search function makes it easy for customers to find your business and learn more about what you have to offer.
And because it's such a fast-moving platform, you can quickly respond to customer questions and concerns. In addition, Twitter is a great way to connect with other businesses in your industry.
You can use it to network and build relationships with other small business owners. For small businesses looking to get the most out of social media, Twitter is worth a closer look.
LinkedIn
LinkedIn is often thought of as a platform for job seekers and large businesses, but it can also be an effective tool for B2C marketing.
LinkedIn allows businesses to create a profile and connect with other companies and individuals in their industry. This can be a valuable way to network and find new customers.
In addition, LinkedIn provides users with various tools, such as the ability to post articles and create groups.
LinkedIn also offers tools that businesses can use to target specific audiences, such as LinkedIn Ads and LinkedIn Groups.
While LinkedIn is not traditionally thought of as a social media platform, it can be an extremely effective way for small businesses to connect with their target audience.
YouTube
Small businesses have to get creative when promoting their products and services. With limited budgets, they often rely on word-of-mouth and personal connections to spread the word. Social media has emerged as a helpful tool for small businesses looking to reach a wider audience in recent years.
While YouTube is commonly thought of as a platform for videos and entertainment, it can also be an effective social media tool for small businesses. YouTube offers a variety of features that can be used to connect with viewers and build a following.
For example, businesses can use YouTube annotations to link to their website or add additional information about their products.
YouTube also offers live streaming, which can be used to host virtual events. It further provides various features that businesses can use to further interact with their audiences, such as comments, likes, and shares.
Perhaps one of the most appealing aspects of YouTube for businesses is the ability to create engaging content.
Businesses can use YouTube to tell their story creatively and compellingly, from product demonstrations and tutorials to customer testimonials and behind-the-scenes footage.
Furthermore, YouTube offers businesses a range of tools to help them measure their performance and track their results. YouTube is an ideal social media network for small businesses for all these reasons.
Tiktok
Tiktok is a short-form video-sharing app that allows businesses to share creative content with potential customers. Although younger users primarily use it, TikTok has the potential to be a valuable marketing tool for small businesses.
What makes Tiktok particularly well-suited for small businesses is its focus on creativity and human connection. By producing engaging content, businesses can create a strong bond with their audience, increasing sales and brand awareness.
Additionally, Tiktok's algorithm favors creative and personal content, making it easier for businesses to get their videos seen by a large number of people.
Moreover, Tiktok offers a variety of features that can be beneficial for small businesses, such as the ability to run ads and access analytics.
TikTok users are highly active, meaning that businesses can reach many potential customers quickly and easily.
With so much potential, it's no wonder that small businesses are increasingly turning to TikTok to reach new customers and grow their business.
Related: Digital Marketing
4 Best Social Media Tools for Small Businesses
If you're a small business owner, you're always on the lookout for new and effective ways to market your products or services. And in today's digital age, there's no better place to start than social media.
There are hundreds of social media platforms out there, so it can be tough to know which ones are worth your time and energy. To help you make the most of your social media marketing efforts, here are four of the best social media tools for small businesses:
Sprout Social
Managing social media accounts can be a full-time job, and most small businesses don't have the resources to spare.
That's where Sprout Social comes in. It's everything a small business needs to manage its social media presence effectively – and it's all available at a price that won't break the bank.
In addition, the package offers a wide range of features and benefits that are designed to help businesses grow their online presence.
Sprout Social takes the guesswork out of social media management, allowing them to focus on running their business.
With its easy-to-use interface and wealth of resources, Sprout Social is the best choice for small businesses looking to take their social media game to the next level.
Related: Sprout Social Review
Zoho Social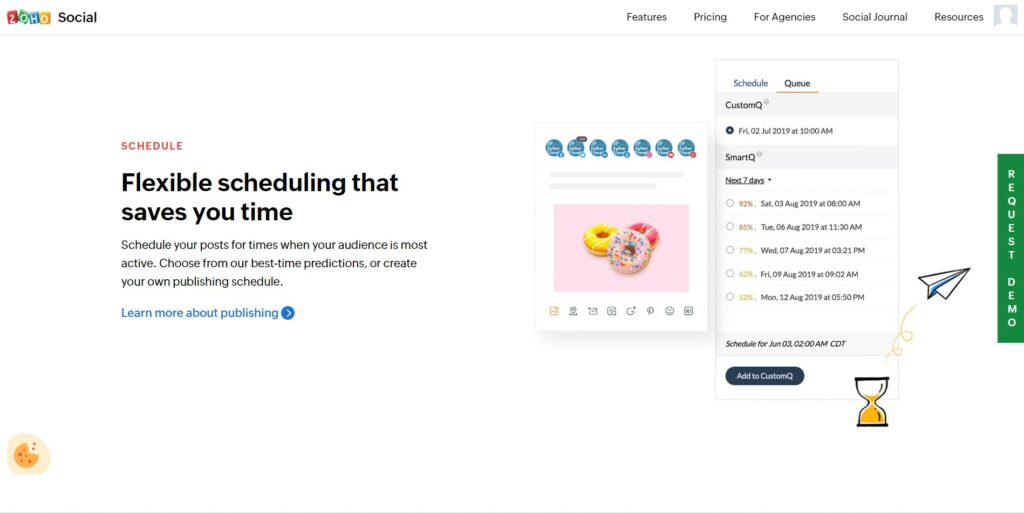 Zoho Social is a social media management tool that helps you effectively manage your social media accounts. With Zoho Social, you can schedule unlimited posts and create custom reports to analyze your social media performance.
With its intuitive interface and powerful features, Zoho Social makes it easy to control your social media presence and maximize your reach.
Additionally, Zoho Social's engaging content library ensures that you always have fresh and relevant content to share with your audience.
Hootsuite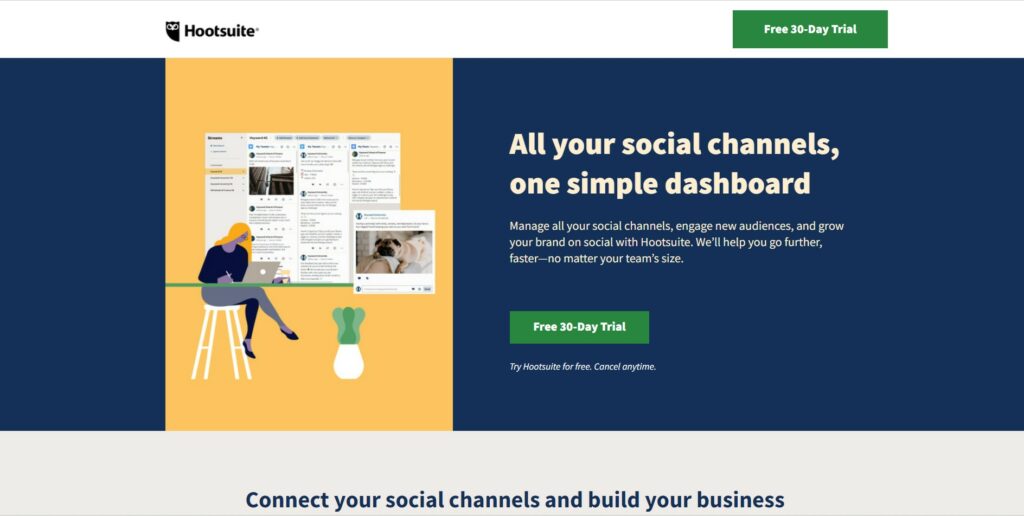 Hootsuite offers a wide range of features for managing your social media accounts, including scheduling posts, monitoring keywords, tracking analytics, etc.
The platform is also easy to use, even for those with limited experience with social media management tools. In addition, it offers training and support for users new to social media management.
And compared to other social media managers, Hootsuite is very affordable, making it an excellent option for small businesses and individuals on a budget.
Thanks to its comprehensive feature set and user-friendly interface, you'll be up and running. And if you ever need help, the Hootsuite community is always there to lend a hand.
Buffer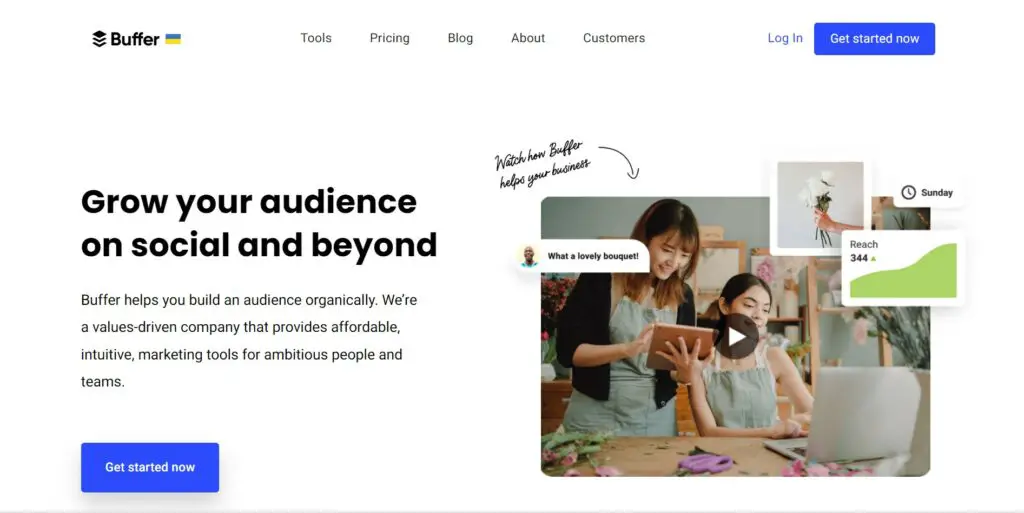 Between running your business and managing your personal life, it can be tough to find the time to post on social media regularly.
That's why many businesses are turning to social media managers like Buffer. Buffer makes it easy to post content across all of your social media channels, including Facebook, Twitter, LinkedIn, and Instagram.
You can also schedule posts in advance and track your analytics to see what's working and what's not. And unlike some other social media managers, Buffer has a great mobile experience so that you can post on the go.
Plus, Buffer's customer service is top-notch if you need any help along the way. If you're on a tight budget, Buffer is worth checking out.
Benefits Of Using Social Media For Small Businesses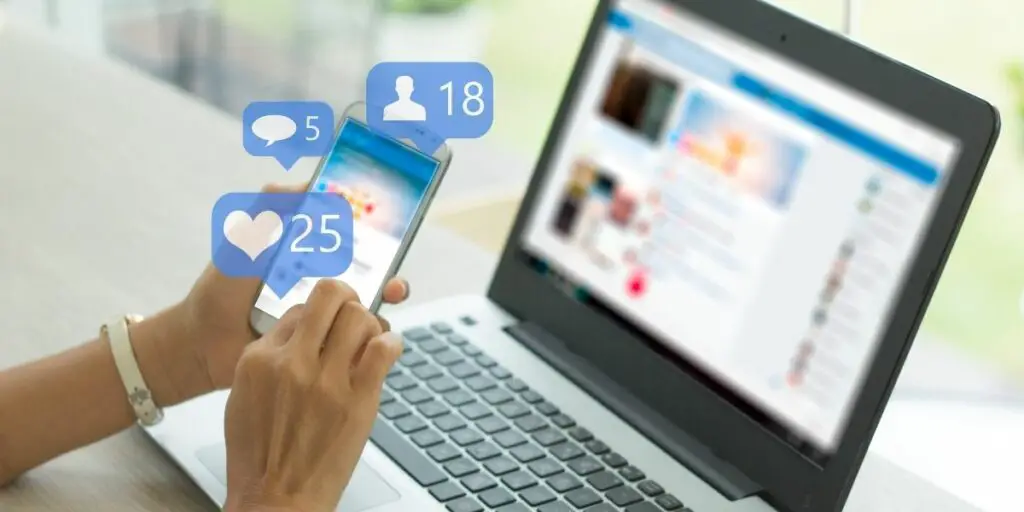 Social media has become an integral part of our lives, and its impact is only growing. For small businesses, harnessing the power of social media can be a game-changer. Here are four ways that social media can benefit your business:
1. Generating Brand Awareness
A solid social media presence is a great way to get your brand in front of more people. When users see your content, they'll become familiar with your brand and what you have to offer.
If they see that you're consistently putting out high-quality content, they'll start to trust your brand and be more likely to buy from you in the future.
In addition, social media presence can also help you reach out to new potential customers who may not have been aware of your brand before.
Therefore, making sure that your social media accounts are active and engaging is a great way to generate brand awareness and reach a larger audience.
2. Increasing Site Traffic
Increasing site traffic can be a challenge for any website owner. After all, why would users bother to visit your site when there are millions of other websites out there? One way to encourage users to visit your site is by sharing your content on social media.
By posting links to your articles, blog posts, and other web pages on social media, you can give users a reason to click through to your site. Plus, you can use social media to run promotional campaigns and drive even more traffic to your website.
For example, you could offer a discount code to users who visit your site on social media. By using social media effectively, you can encourage users to visit your site and explore what it has to offer.
3. Selling Products And Services
The internet has changed how we do business, and social media has played a significant role. These days, you don't need a physical storefront to sell your products or services – you can do it all online through platforms like Instagram and Facebook.
This is great news for businesses, as it opens up a whole new world of potential customers to reach. Also, by setting up a shop on one of these platforms, you can make sales without any overhead associated with a brick-and-mortar store.
Plus, social media provides an easy way to connect with potential customers and build relationships with them.
4. Low-cost brand recognition
By investing time and resources into creating low-cost brand recognition, businesses can reach new heights without breaking the bank.
Customers are increasingly turning to social media to find out about new products and services, so businesses need to have a presence on Twitter, Facebook, and Instagram.
By regularly posting engaging content and interacting with customers, businesses can build up a following of loyal fans who are more likely to convert into paying customers. In today's competitive landscape, low-cost brand recognition can be the difference between success and failure.
Related: How to Generate Leads for Your Business
Social Media Tips For Small Businesses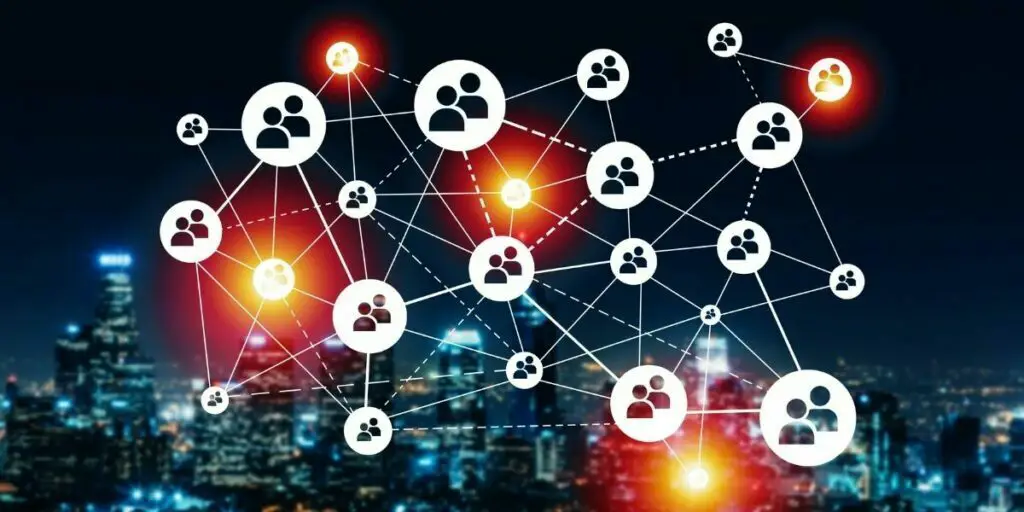 1. Lead with goals & objectives
Before diving into social media, small businesses should take a step back and think about their objectives.
What are the three most important things they want to achieve? Once they have a clear answer, they can evaluate how social media can help.
For example, if their goal is to increase brand awareness, they might create a profile on a large platform like Facebook or Instagram and post regular updates.
If their goal is to drive traffic to their website, they might focus on platforms like LinkedIn, where users are more likely to click on links. Small businesses can ensure that their social media efforts are focused and effective by starting with objectives.
Your authority is like a currency. The more you have, the more you can cash in on growth opportunities.
To build your authority, start by becoming an expert in your field by sharing your knowledge with others through speaking engagements, writing articles, or leading workshops. As you establish yourself as an expert, maintain a professional appearance and demeanor.
This will help you build trust and credibility with others. In addition to becoming an expert, it is also essential to develop strong relationships with others in your field.
Forming alliances and networking with influential people will help increase your visibility and further establish your authority.
3. Show appreciation
One of the simplest and most effective ways to show appreciation is through social media. If you think about the 10 to 20 most influential people in your business, the chances are good that many of them are active on major social media platforms like Twitter and LinkedIn.
By recognizing and recognizing and recognizing them for their contributions, you can show that you value their partnership and reaffirm your commitment to working together.
Additionally, other people who see your posts and shares will positively impact your business. So, expressing appreciation benefits your relationships and can also help improve your reputation and build goodwill.
Imagine having a month's worth of content ideas, topics, and blogs ready to go with minimal effort. This is what a content calendar can do for your business and social media presence.
By taking some time upfront to map out what you want to say and when you want to say it, you can lay the foundation for a more prosperous, engaged, and consistent social media strategy that will save you time in the long run.
Plus, you can use your calendar to track your progress and measure your results over time to continue to refine and improve your approach.
5. Don't try to do it yourself
Trying to run a small business is hard enough without having to add social media management to your list of responsibilities. Fortunately, there are plenty of options for delegating this work to someone else.
You can assign it to an employee or team or hire an outside expert. Either way, make sure to add the cost of your social media strategy to your budget. Otherwise, you risk stretching yourself too thin and not being able to give your business the attention it deserves.
Related: How to Promote Your Business Locally
Closing Thoughts
As the use of social media continues to grow, so does its importance as a tool for small businesses. While managing social media can be time-consuming and challenging, the benefits outweigh the costs.
Businesses can connect with customers through social media, build relationships, and create a loyal following. In addition, social media provides an affordable way to reach a broad audience and promote products or services.
Ultimately, managing social media is essential for small businesses that want to stay competitive and succeed in today's market.
With a little effort and some creativity, businesses can use social media to reap the rewards of increased exposure and customer engagement.