Disclaimer: We sometimes use affiliate links in our content. For more information, visit our Disclaimer Page. 
Are you looking for an easy-to-use social media scheduling and analytics tool? Do you want a service that will make your social media marketing easier? SocialPilot is the answer! SocailPilot has an extended list of features curated in each plan so that it can best suit your needs.
SocailPilot allows you to save time by automating your social media activities while also creating some pretty awesome reports about what's going on with your business.
Read more below to learn how SocailPilot can help you!
What is SocialPilot?
SocialPilot is a cloud-based social media management tool that allows companies to create, curate, schedule, and manage their social media presence. It is flexible and intuitive, making it a viable option for smaller businesses and marketing agencies.
About SocialPilot
A simple to use Social Media Scheduling and Analytics Tool aids small businesses, social media experts, and digital agencies automate their social media marketing activities.
Every plan of SocialPilot is designed with a specific objective in mind, and the features are curated to provide added value for each customer.
Free 14-day Trial (No credit card required)
The following platforms are supported: Facebook, Twitter, LinkedIn, Instagram, Pinterest, Google My Business, Tumblr, VK, and Xing.
Add and manage up to 100 social accounts.
With one dashboard, you can keep track of your team and clients' social accounts.
With Social Inbox, you can reply to your social media posts and mentions.
Social Media Analytics and Reporting Are Simple to Understand
You may modify your posts for different social media platforms from one place.
Bulk upload up to 500 posts together.
With Content Curation, you won't have to worry about running out of fresh new material.
What are the benefits of using SocialPilot?
SocialPilot is a social media management tool used to optimize social media marketing efforts. It provides various tools which can be used to monitor, engage, and understand the target audience better.
SocialPilot helps you monitor your brand's performance through your followers' activity on Facebook, Twitter, Pinterest, Google My Business pages, and more.
Its reports provide insights into how people interact with different posts. It also helps you identify trending content or generate new ideas by recognizing what your audience likes.
It can help you schedule posts in advance so that you have time to create unique content for all your social media accounts. SocialPilot can also help you increase engagement by creating customized messages for each follower individually.
SocialPilot Features
SocialPilot provides all the tools you need to manage your social media accounts. It also has some advanced features that will help you increase the performance of your campaigns.
SocialPilot's design is elegant and straightforward, making it easy to use. It also has several useful tools for managing and posting your social media updates. How effective is it? What are its shortcomings? Let's have a look…
1. Publishing 
When choosing a social media scheduling tool, the first and most essential thing to check for is support for all major social media platforms.
All of your favorite social media sites are supported by SocialPilot, which means you can make the most of your existing presence on them. Facebook, Twitter, LinkedIn, Google My Business, Instagram, Pinterest, Tiktok, Tumblr, and VK are all there.
You can modify the publishing schedule or timetable as soon as you connect an account, which is ideal, so you don't have to bother with it again.
Although SocialPilot is still working to keep up with the ever-changing social media landscape, its relatively early support for TikTok does a fantastic job. However, the absence of a direct Instagram link is disappointing, especially when compared to firms like Buffer that can do this.
There are several benefits to utilizing SocialPilot's social media posting features. The post creation interface is clean and straightforward, with a useful Canva integration to include photos or videos from your account. The post preview tool is effective, and you may include clients or team members in the account group to have a say in the content before it publishes.

You may even schedule carousel posts for platforms that support it (Facebook, LinkedIn).
Tagging individuals on your posts (both on Facebook and LinkedIn comments) is possible with SocialPilot if that's what you're looking to boost interaction.
2. Scheduling 
To assist you with scheduling your posts that fit your marketing plan, SocialPilot provides a wide range of possibilities.
You can add to the queue, post right away, scheduled for a later time slot, share articles on-demand at your preferred intervals, or save them as drafts to get back to them later. If you'd like to bulk schedule with a CSV file, you may do so.
SocialPilot is one of the best tools for scheduling many postings across many accounts, and it's also among the most effective. You may also choose to show only one account's scheduled postings.
SocialPilot – the powerful social media scheduling and analytics solution lets you: 
Create and schedule a post using text, pictures, links, or a combination of all three.
Simply resend and reschedule any posts that you've already published.
You can analyze and monitor your social profiles even though the posts are not from SocialPilot.
User-friendly interface
3. Content Recommendations
In today's competitive, fast-paced world, keeping up with the ever-changing social media content may be difficult for any organization. Business owners and social media managers must read through multiple feeds, determine relevant information, and publish new information several times each day.
SocialPilot has a fantastic feature that suggests content to repost based on your company's sector. You may use the search box to submit keywords, and SocialPilot will generate a list of articles to review. Then, if you think the material is appropriate for your audience, you can add it to your calendar.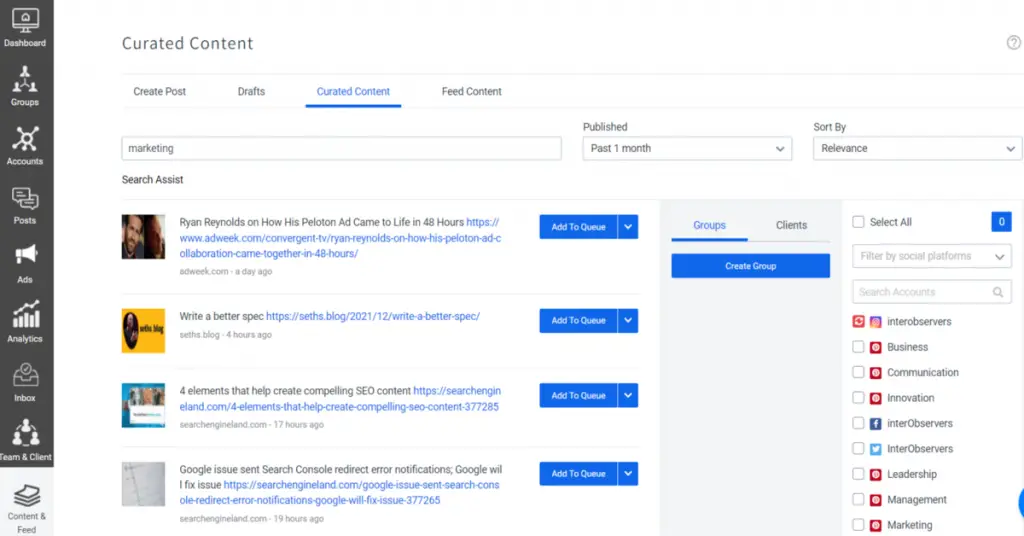 It lets you put your social media accounts into groups. This is useful for working with RSS feeds and content suggestions and making posts on social media.
You can add your favorite social media sites to your queue and schedule them with a single click. It's really simple, and it saves time for busy business owners. In addition, you may sort results by publication date and shorten or extend the timeframe you're viewing.
4. Social Inbox and Engagement
SocialPilot's social inbox, unlike many other social media dashboards, is currently a Facebook-only product. However, it may monitor and manage your Facebook inbox and comments for numerous sites. As a result, it's an excellent method to keep track of messages and respond to them from a single interface.
The dashboard is straightforward. However, it does have some limitations. While this was effective, other social media dashboards offer more comprehensive monitoring capabilities, such as monitoring numerous social networking sites simultaneously.
5. Social Listening
Because SocialPilot is primarily concerned with publishing and scheduling content, it doesn't include any social listening tools.
As previously said, you can manage messages and comments on your Facebook page. However, if you're searching for a social media tracker or hashtag tracker, this isn't the right tool. Instead, try Hootsuite, Sendible, or Buffer Reply for more robust social listening alternatives.
6. Team Features
SocialPilot is a tool built for teams and agencies, as evidenced by its features. You may quickly add team members as account holders with a couple of clicks. A single interface lets you decide what team members can do on their accounts. For example, you can give them the ability to add feeds and link accounts. It also helps you moderate their profiles.
The Content Scheduler role is the one who determines which material to publish and when. This is done in the approval flow by people with this job title. You may access and approve these through the Posts section.
You may invite clients, for example, and enable them to view, create, or promote content as an agency owner.
7. Facebook Ads
Managing ads within social media management software is a great way to streamline the process for agencies. since you can manage all your clients' accounts at once, this becomes very easy and manageable
Increasing posts right from your dashboard are one of SocialPilot's features. In addition, it has all the tools necessary to define objectives, narrow your audience, and adjust other settings.
They also provide you with helpful ad insights.
8. White Labelling
The white-label capability of SocialPilot allows you to personalize your client's experience with SocialPilot to match your brand and style.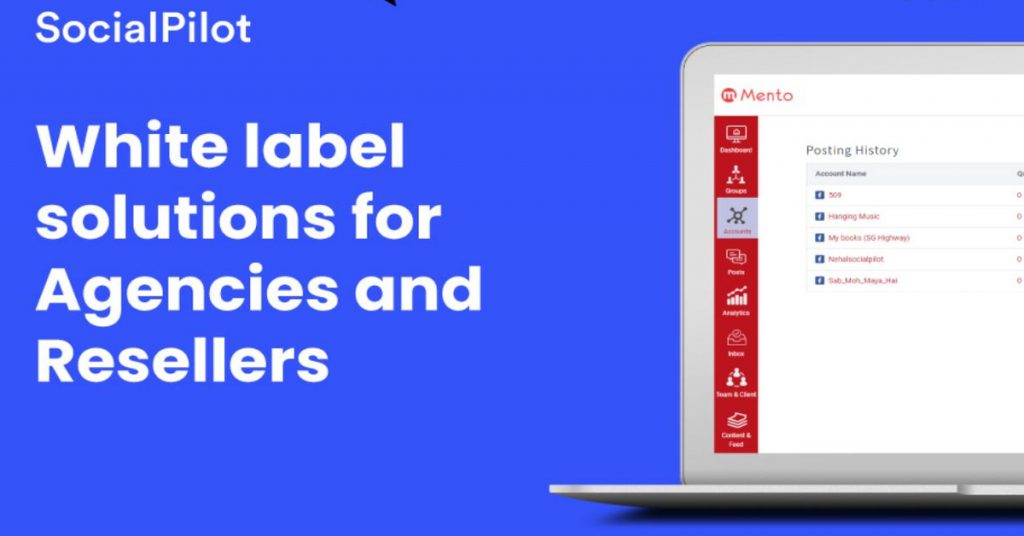 You may personalize the website URL, design, color palette, icons, personalized emails, custom analytics reports, and reseller rights (only available with the Enterprise Plan).
9. External Integrations
SocialPilot's simplicity is its most distinguishing characteristic. Its integrations include URL shortening applications (Bitly, Sniply, and Rebrandly), browser add-ons, Feedly for sharing feeds, and Canva for image creation.
Do not be discouraged by how short this list is! SocialPilot makes up for this with Zapier integration. That means that you can integrate your SocialPilot account with other apps your team might use.
10. Performance 
SocialPilot provides marketing analytics reports for your Twitter, LinkedIn, Facebook, Pinterest, and Google My Business accounts. The lack of Instagram may make a big difference to businesses concentrating their social media efforts on this network.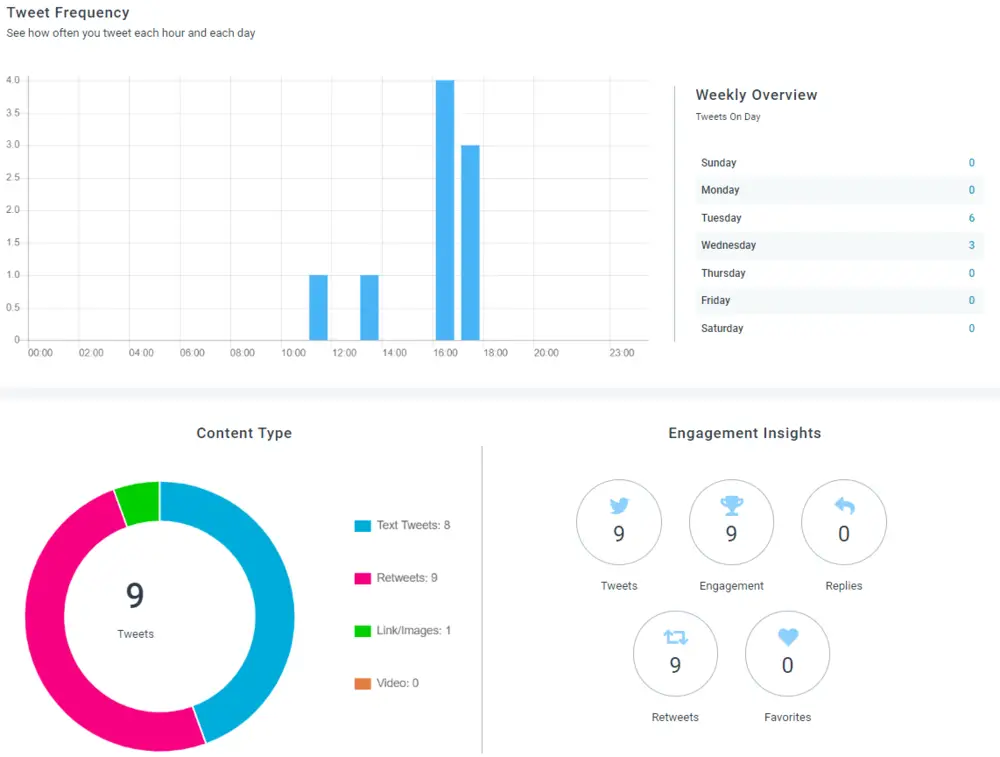 The data is easy to understand, and the most common marketing KPIs are included. In addition, there are some special things about this app. For example, you can see a list of your most popular hashtags and the top influencers who have interacted with your posts. You can also see statistics from your past posts. This information could be helpful as you use this app to find insights that might not be easy to find otherwise.
This might be beneficial information, showing how SocialPilot may discover hidden insights in the data.
11. Reporting
The reports in 'SocialPilot' provide data on content performance, engagement, and more. The sole issue is that SocialPilot's analytics measurements aren't accessible to Professional accounts.
If you want to create a white label report for your business or agency, the Small Team or Agency plan is required. The Professional plan does not include that functionality. You may, however, share analytics data from each social media account with your coworkers and clients by downloading or emailing it.
Support
The customer service on this website is very good. Staff is always available to help with any issues that you may be experiencing with the website. They can also answer any questions you may have about the system and how to use it.
The knowledge base is a good place to start if you want SocialPilot assistance. You may access it by going to the FAQ button in your dashboard, which contains several articles and images on every aspect of the software.
Contact Form
You can also contact the support team by clicking on "Contact" in your navigation menu and sending a message about any issues that you may have. The company promises to respond within 24 hours.
How much does SocialPilot cost?
Four pricing options are available with SocialPilot.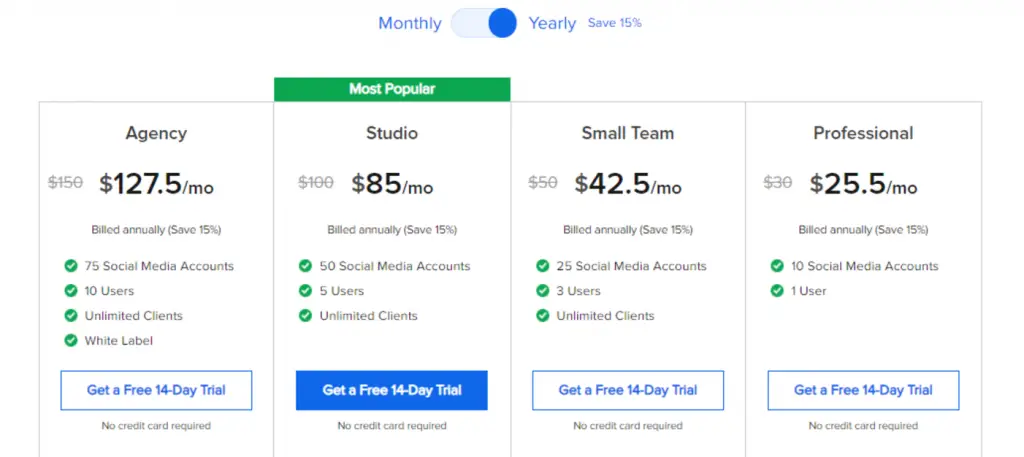 The Professional plan is the most affordable at $25.5 per month if you pay in a single year. However, it's $30 per month if you opt for monthly payments.
In the Small team plan, you can access 25 social media profiles and bulk scheduling and content curation for up to three team members.
SocialPilot is built around the idea of providing value to its users. Since this is one of SocialPilot's most selling features, it makes sense that the company would want to emphasize it. Other platforms demand a more expensive subscription to access enhanced functions and extra users. However, SocialPilot's introductory membership will suffice for many organizations.
The Small Team membership costs $42.5 per month. It complements the Professional account by allowing you to connect to 25 social media accounts and accesses the Social Inbox tool for managing discussions, Whitelabel reports, and client management.
The Whitelabel Dashboard is only available in the Agency plan. To find out all the details, click below.
SocialPilot Pros and Cons
SocialPilot Pros
Ease of use
Best for its overall affordability
It supports every major social media platform, including TikTok.
Connects with Facebook ads
Almost every social media management function is covered, including Social Listening and Scheduling.
Provides powerful collaboration features to teams
Analytics with a high degree of sophistication
Reseller options
Content Curation
Images may be added to the bulk schedule.
Canva integration is a useful feature
It offers a keyword research tool to help
SocialPilot Cons
Lack of Instagram analytics
No automated Instagram posting
Support options are limited
Conclusion 
If you're looking for a social media management tool that's affordable, easy to use, and has all the features needed by teams or businesses, this is an excellent option. It may not have native Instagram support, but it does include team functionality alongside other powerful tools like analytics.
We hope our review helped answer some questions about what happens inside SocialPilot. If you want more information on the latest products, follow us on social media or sign up to receive updates via email.
---
FAQ
Which features does SocialPilot have?
SocialPilot is a social media automation tool. It can be used to run Facebook, Instagram, Twitter, LinkedIn, and Pinterest marketing campaigns. This tool has analytics, social listening, project management tools, and collaboration features.
SocialPilot is an all-in-one platform created to help with social media strategy. The company provides several tools and services that allow users to manage and grow their social media presence with no effort.
Who is the ideal audience for SocialPilot?
SocialPilot is a social media tool that helps businesses manage their social media accounts. It's meant for marketers, managers, and entrepreneurs looking to make their work easier.
Is there a free trial for SocialPilot?
SocialPilot is a social media management software that offers a free trial of its service.
The company offers a 14-day free trial of the software to new customers. This gives users ample time to see if SocialPilot is the right fit for them and if they want to continue using the software.
Do you need technical knowledge to use SocialPilot?
No, you don't need any technical expertise to use SocialPilot. All you need is a computer and an internet connection.
Social media management is a process of managing, generating, and controlling the social media content of a company. It starts with research and an audit of the current status of a company's social media channels. Then a strategy is developed to improve the performance of the company's social media channels. It includes posting content on various channels and engaging with followers. After this, metrics are analyzed and measured to evaluate how well the strategy has worked for that particular company.
A successful social media strategy can be the difference between a brand or company growing or not. Managing social media accounts is the best way to keep up with what consumers are saying and stay relevant in today's digital world.
Social media management is a time-consuming and challenging field. Such work requires knowledge in various fields such as sociology, psychology, and marketing. The benefits of social media management include:
– Improved brand awareness
– Increased customer engagement
– Improved customer service
– Boost sales
Many people think that social media management tools are only for businesses. But, in reality, they can be used by anyone who wants to stay updated with the latest content on the internet. So, whether you are looking for a new blog to follow or an informative video on YouTube, these tools help you find it quickly and easily. People use social media management tools for different reasons. For example, they can be helpful if you want to ensure that you do not miss out on any updates from your friends and family members. On the other hand, if your business uses social media marketing to generate leads and build relationships with potential customers, this might be a good option!
There are many reasons why it is crucial to have an efficient system for social media management. One is that it saves time. So many people are on social media networks, and some companies use them to advertise their products, brands, and services. And when you have a system in place that can handle all of this efficiently, it saves time because you don't have to check in manually on each account every day or every hour. A second reason is that it saves money. When you have an efficient system for managing social media accounts, you don't need so many people working on the accounts because the system automatically manages all of the tasks. This means that you can save money by not paying so many people at once for this job!
"Strategically placed content is what gets seen and shared."
A good social media strategy is a way to improve your company's reach, engagement, and visibility. It can also help reduce the time wasted on social media. In addition, with a strategy, it's easier to focus on content that will have the most impact on your company and ensure consistency across all of your channels.
What is a media manager?
A media manager is a company employee responsible for overseeing the company's marketing and advertising campaigns. They work with different media outlets, social media platforms, and advertisers to increase exposure for a company.
What are the responsibilities of a media manager?
Media managers are responsible for gathering information about the audience, finding out what they want and need, and developing ways to connect. They are also responsible for distributing content in all forms – whether it is through social media, news outlets, or traditional advertising.
What are the skills required for a media manager?
Some of the basic skills required for this role include excellent communication skills, business writing, marketing research, public relations, and event management. They also need to be able to think strategically to come up with ways of communicating the message to suit different audiences. And they need time management skills to keep track of their workload without getting overwhelmed.
What are the best media planning tools?
The best media planning tools can monitor advertising data and metrics to spot trends and changes in the market, which is essential for knowing what elements to emphasize or cut back on.
There is a variety of media tools that are available online. SocialPilot is an excellent option for managing social media accounts, as it offers simplicity and practicality with its intuitive interface and options.
---