Disclosure: We sometimes use affiliate links in our content, meaning, at no additional cost to you, we will earn a commission if you click through and make a purchase. This helps us offset the costs of paying our writing team and keeping this website running. Thanks for your support!
---
As a marketer, you're probably familiar with the 7 Functions of Marketing. But what are they, and how do they align with business objectives? In this blog post, we'll break it down for you. We'll also show how each function can help your business achieve its goals. So if you're looking to get your marketing efforts in order, read on!
What are marketing functions? 
The marketing functions are the foundation for all types of marketing work. Each function has a set of duties and responsibilities for a marketing team to create, plan, and execute an effective campaign. Seven well-known marketing processes make up the bulk of marketers' work.
There are seven primary functions of marketing: promotion, selling, product management, pricing, marketing information management, financing, and distribution.
While these functions may vary depending upon the type of business or organization being marketed, they all work together to achieve common objectives – attract customers. Therefore, it is essential to look at each function in detail to understand how marketing supports business goals.
Why are the seven marketing functions important? 
Marketing functions provide a framework for aligning marketing activities with business objectives. The seven functions are also essential because they help ensure that all aspects of the marketing mix are considered when developing a campaign.
When it comes to aligning marketing activities with business objectives, the most crucial function is usually selling. Therefore, sales goals should always drive marketing decisions so that campaigns are designed to generate leads and sales.
However, it's also essential to consider the other six functions when planning marketing initiatives. For example, if you're considering a new pricing strategy, you'll want to ensure that the product is suitable for the new price and that your distribution channels can handle the change.
The seven functions of marketing provide a valuable framework for helping marketers align their activities with business objectives. The more closely the marketing team operates in this way, the better they'll address customer needs and deliver on company goals.
What are the 7 marketing functions?
The seven marketing functions are Promotion, Selling, Product Management, Pricing, Marketing information management, Financing, and Distribution.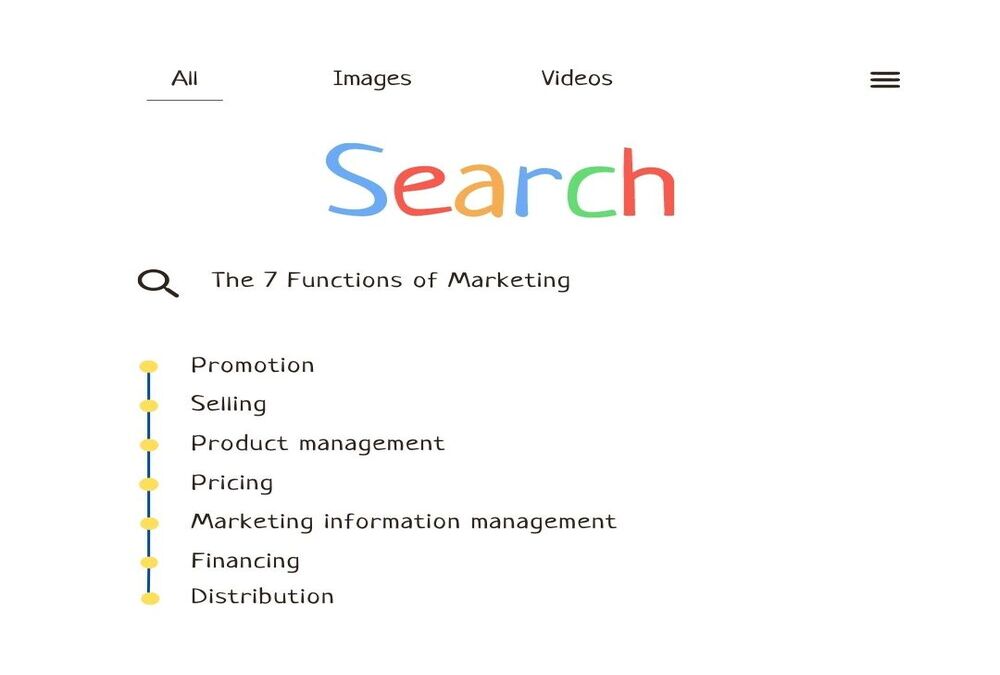 The first four functions comprise the essential work that a marketer does in developing and executing a campaign. The last three functions support the first four and are necessary for a successful marketing effort. So let's take a closer look at each function:
1. Promotion
Promotion is one of the seven functions of marketing, and it can be described as any activity that raises awareness of a company or product. The promotion goals are to get your name in front of prospective customers, build brand awareness and increase sales.
Promotion is often synonymous with advertising, but it also includes other activities such as content marketing, email marketing, social media, and influencer marketing. These strategies work together to create a comprehensive promotional plan that helps achieve business objectives.
It's important to remember that promotion is just one piece of the puzzle and should be aligned with overall business objectives. If you're not sure where to start, here are some tips that can help guide your promotional efforts:
Awareness: creating awareness, increasing product knowledge and differentiation
Education: building credibility, thought leadership, and trust
Consideration/preference: getting noticed by the right prospects through messaging that resonates with them at the right time in their journey. The goal is to create interest in your company or products, so they are top of mind when it's time for a purchase decision.
Purchase intent: moving customers along the path from creating awareness to consideration towards preference, making an intended purchase, or taking some form of action you want them to take next.
The ultimate goal is conversion – lead generation, eCommerce sales, or online inquiries.
Related: 10 Marketing Goals 2021
2. Selling
The goal of marketing is to increase sales, so selling is a crucial function. However, it's essential to do it in a way that doesn't alienate your target audience. Therefore, every decision you make should support the ultimate goal of increasing sales.
The most effective way to sell is by providing value to your customers. Show them that you understand their needs and offer solutions that meet those needs.
Be sure to focus on the benefits of your products or services, not just the features. When people see how your product can improve their lives, they're more likely to buy it.
Use persuasive language in your content and make it easy for people to take action by including clear calls to action.
Be consistent with your selling messages so that your target audience knows what to expect from you. If they see a mismatch between your content and your sales pitches, they'll be less likely to trust you.
Remember that selling is just one of the seven functions of marketing. The more you focus on providing value, not just pitching your products or services, the easier it will be to break through in today's competitive marketplace and see results from your efforts.
Related: Sales Strategies to Help You Grow
3. Product and Service Management
To be successful, it needs more than just great products and services. The organization also needs to have a well-oiled machine when it comes to product and service management.
That means having processes in place that ensure the timely delivery of high-quality products that meet customer expectations. It also means effectively managing customer feedback and making necessary changes to improve the customer experience.
Marketing teams can play an essential role in helping with product and service management by conducting market research to understand what the target audience wants and need. To manage a product or service effectively, it's crucial that we first determine what our target market is and set the price accordingly.
They can also help track competitor activity and market trends to stay ahead of the curve. And finally, they can provide valuable input into how best to manage customer feedback and implement necessary changes.
4. Marketing Information Management
The primary goal of Marketing Information Management (MIM) is to make sure that marketers can easily find and use the data they need to create effective marketing campaigns. What does this mean in practical terms? Here are a few examples:
Marketers should know where each bit of information lives, who has access to it, and how often it's updated.
Qualified individuals should monitor data quality within your organization so that there aren't any gaps or inaccuracies in reports.
Marketing teams should have "one source of truth" for all customer info – meaning everyone on your team gets their information from the exact centralized location instead of retyping everything over and over again. This saves time & energy and helps to avoid any potential data duplication or inconsistency issues.
The most common types of Marketing Information Management systems are:
Customer Relationship Management (CRM) – CRM is a process that helps your company manage and understand customer interactions and relationships. For example, what products or services do they purchase? What companies are our biggest competitors? Where are my customers located geographically? Are there any new markets I should consider entering? What does my customer base look like over time? These questions all fall under CRM.
Enterprise Resource Planning (ERP) – It is the system that integrates all aspects of a company's operations, from sales and marketing to accounting and human resources. How many people work in each region? What are our company's financial goals? What is the current market share of each product or service we offer? What can I do to optimize my budget and increase revenue? These questions fall under ERP.
In any modern organization, all departments must have access to this data so everyone from CEO down to entry-level employees can make informed decisions to help the company achieve its strategic objectives.
Marketing Information Management is a critical function of marketing analytics that ensures all data is collected, organized, and analyzed to form actionable insights. In addition, by having access to metrics from other teams within the company, marketers can make more informed decisions about their overall strategy.
The bottom line: MIM is all about making sure that the correct information is available to the right people at the right time. By streamlining your marketing data management process, you'll make it easier for everyone in your organization to do their jobs more effectively.
5. Pricing
One of the most critical aspects of marketing is setting the price for your product or service. The right price can mean the difference between success and failure, so it's essential to get it right.
Unfortunately, pricing is as much an art as a science, and there are several factors to consider when setting prices.
Evaluate the value of your product and business carefully before deciding on a price. You can either sell for too low without making a profit, or you could potentially lose customers if prices are set higher than what people are willing to pay 
Perceived value is a significant factor in pricing. Customers are more likely to pay a higher price for something they perceive as worth it. Therefore, the perceived value of your brand can have a significant impact on your pricing strategy. You may need to charge more for your products or services than your competitors to maintain the perception of value associated with your brand. The perception of value can also change depending on your audience.
The cost associated with producing and delivering the goods should be considered when setting prices. The price you set needs to cover costs and profit margin. The current price of competing products or services will also influence your pricing strategy. If you charge more than the competition, customers may perceive your product as worthless and look for a lower-cost option instead.
Another factor is market conditions, such as inflation and consumer spending levels, impacting what consumers are willing to pay for goods or services.
Marketing research can help you understand your customers' willingness to pay and find the sweet spot for pricing that meets your business objectives. By understanding the different factors involved in pricing, you can set prices that give your products or services the best chance of success.
The way you price your products and services is essential in generating better sales. Businesses need constant marketing campaigns to stay relevant within the market. Still, with this knowledge of pricing strategies, they can create fresh approaches for growth that will set them apart from their competitors.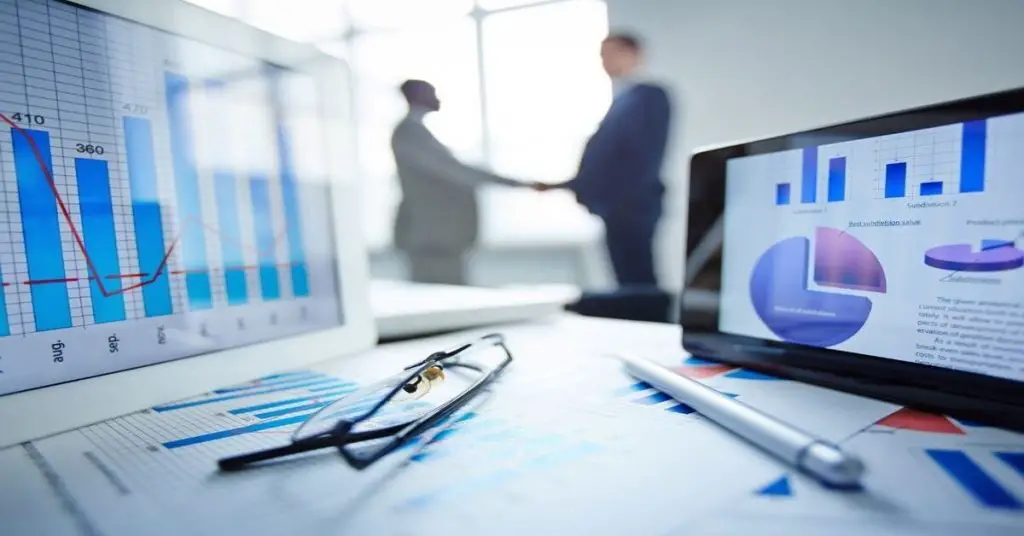 6. Financing
Financing is an ongoing concern for business owners and should be crucial for any marketing strategy. The goal of financing is to secure the resources necessary to achieve your objectives. This may include obtaining loans, lines of credit, or other investment capital.
There are various ways to finance your business, and each has its benefits and drawbacks. The key is to find financing that aligns with your marketing objectives, time frame, and business goals in general.
For example, if you are trying to launch a major marketing campaign in the next few months, applying for an SBA loan or other long-term financing may not be wise because this will take weeks or even months to process. In this case, you may be better off obtaining a short-term loan or using a credit card to finance your campaign.
Financing is an essential part of any business, and marketing teams are often tasked with generating revenue that can be used to finance operations.
The most successful marketing programs will identify opportunities to expand the business into new markets or reach more potential customers, increasing sales and a robust bottom line.
In addition, good marketing management can help businesses secure loans or funding from third-party sources, create better marketing strategies, and improve the company's overall financial stability.
Related: Marketing Management: How to Take the Proper Decisions
7. Distribution
The last of the 7 functions of marketing is distribution, which can be defined as the process of getting your products or services to market. The term also applies to the channels by which you offer your products and services.
Distribution is more than just sales; it encompasses merchandising, branding, and even how your product or service flows through a company (such as in manufacturing). The decision about where you sell your brand — whether that's online, at retail stores, or both — is a marketing decision.
However, it is just as important as where you sell your products and services is how you get them there. The channels through which you distribute your brand can be physical (such as stores or direct sales) or digital (including websites, social media platforms, and search engines). The key to effective distribution is understanding your target customer and finding them.
Understanding the distribution channels you should use for your business is one of the most critical marketing decisions. The channels you choose will depend on your target customer, how they view your brand, and where they expect to find you.
There are two main types of distribution when it comes to distribution: physical and digital. Physical distribution is when products or services are sold through stores or other physical locations, while digital distribution is when products or services are sold online or through other online channels.
Conclusion
The 7 Functions of Marketing are the foundation for any marketing strategy. With this information in hand, you'll be able to see how each function of marketing can help your business achieve its goals. You might also want to follow us on social media and share the blog post with others who could benefit from it! Thanks for reading–we hope we've been helpful as always. Happy Marketing!
---
---