Disclaimer: We sometimes use affiliate links in our content. For more information, visit our Disclaimer Page. 
When starting a business, it's essential to have a plan for how you will market your product or service. A business marketing plan outlines your strategies and tactics to reach your target market and achieve your desired results.
In this blog post, We'll discuss the business marketing plan and how to make a marketing plan that will help you achieve success.
What is a Business Marketing Plan?
An effective marketing plan will help a business identify its target market, reach its customers with the right message, and achieve its desired results. A good marketing plan will include an analysis of the current situation, goals and objectives, strategies, tactics, and a budget. The current situation consists of analyzing the business's strengths and weaknesses and an understanding of the external opportunities and threats.
The goals and objectives section should be specific, measurable, achievable, relevant, and time-limited. The strategies section should describe how the goals will be achieved. Tactics are the specific actions that will be taken to implement the strategy. Finally, the budget specifies the resources allocated to each activity. A well-executed marketing plan can help a business to achieve its desired results.
Related: Marketing
Marketing Strategy vs. Marketing Plan
The terms "marketing strategy" and "marketing plan" are often used interchangeably, but they are two distinct concepts. A marketing strategy is your overarching approach to achieving your desired position in the market. It describes why you are pursuing a particular course of action and how it will help you achieve your long-term goals.
On the other hand, a marketing plan details the specific activities you will undertake to achieve your strategy. It includes tactical decisions about what kind of content to create, which channels to use, and how to allocate your budget. While the marketing strategy provides direction, the marketing plan brings that direction to life.
What is the Importance of Marketing Planning?
Marketing planning is an essential tool for any organization that wants to continue to grow and be successful. By looking ahead and thinking strategically about the future, businesses can ensure that they are prepared for whatever challenges and opportunities lie ahead.
Marketing planning helps organizations develop a clear vision for the future and set achievable goals. It also allows businesses to identify potential threats and opportunities and the most effective ways to respond to them. In short, marketing planning is an essential part of any organization's long-term success.
What are the 5 main purposes of marketing?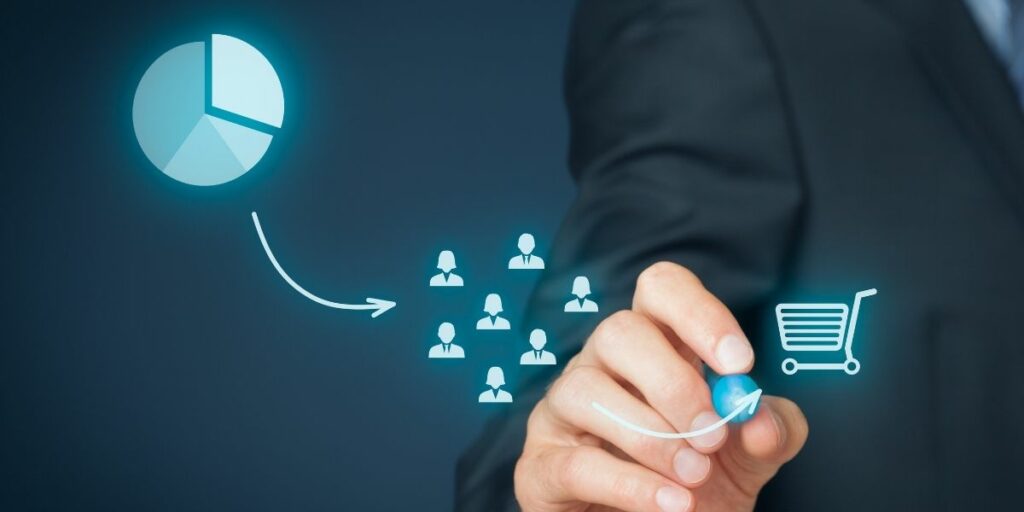 Below are the five most common marketing objectives.
1. Identifies your Competitors'
Understanding your competition is critical in business. How can you hope to succeed if you don't know who you're up against? An effective marketing plan includes a SWOT analysis of your competitors. This will help you to understand their strengths and weaknesses, as well as opportunities and threats. With this information, you can determine how to improve or augment your offering so that it is favorably compared to your competitors. By taking the time to understand your competition, you can give yourself a leg up in the race to succeed.
2. Identifies your Target Market
In order to create an effective marketing plan, it is essential first to identify your target market. This can be done through market segmentation, which involves dividing your potential customers into groups based on shared characteristics. Once you have identified your target market, you can begin to understand their needs, problems, and values. This knowledge will enable you to determine how your product or service can meet their needs or address their problems in a way that creates value. By taking the time to understand your target market thoroughly, you will be able to develop a marketing plan that is much more likely to succeed.
Related: Market Segmentation Theory
3. Defines your Unique Selling Position
To succeed in today's competitive marketplace, it is essential to have a clear and compelling Unique Selling Position (USP). A USP is the one thing that sets your company, product, or service apart from all others in your industry. It is what makes you unique and most relevant to your target audience. Without a strong USP, it will be challenging to differentiate yourself from the competition and win business.
Defining your USP begins with a deep understanding of your capabilities and your competitors. Once you have this insight, you can then start to craft a positioning statement that articulates the unique value that you offer. This statement should be concise, memorable, and relevant to your target market. With a well-defined USP, you will have a powerful tool for winning new business and driving growth for your company.
4. Supports ROI on Marketing Spend
It's essential to have a clear and defined marketing plan to achieve a positive ROI on your marketing spend. Your marketing plan should include specific and measurable goals and timeframes, and activities. This will ensure that you're only investing in promotional activities that will yield positive results. In addition, keep in mind your target market's purchase behaviors when planning your marketing strategy to ensure maximum effectiveness. You can be confident that your marketing spend will generate a positive ROI by taking these measures.
5. Sets out a Strategy to Target Ideal Customers
The most effective marketing plans always start with market research to identify the target audience. This helps you define the messages, channels, and tools you will use to reach your target market. It also ensures that you don't waste time and money on marketing activities not aligned with your strategy. Once you clearly understand who your ideal customers are, you can develop a plan to reach them.
This may involve using various marketing channels such as social media, email marketing, and advertising. The important thing is to ensure that all of your marketing activities support your overall strategy. By taking this approach, you can be sure that you are making the most efficient use of your resources and reaching your target audience effectively.
What does a Business Marketing Plan Includes?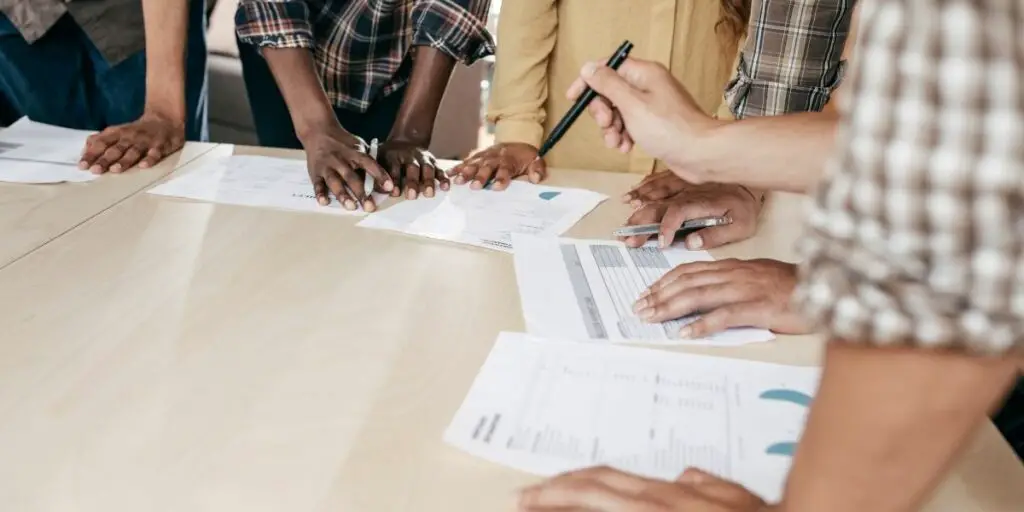 A business marketing plan includes several different elements, all of which are designed to help you achieve your business goals. Below listed are the key performance indicators every marketing plan includes.
1. Business Summary
The Business Summary is an important part of any marketing plan. It provides potential investors with a snapshot of the company, its goals, and operations. In addition, the summary should include the company name, headquarters location, and mission statement.
This information helps to provide context for the rest of the marketing plan. It also helps to set the tone for the rest of the document. For example, the mission statement should be clear and concise, and it should accurately reflect the company's values and goals. Including this information in the Business Summary helps create a strong foundation for the marketing plan.
2. Budget
It's important not to confuse the budget element of your marketing plan with your product's price or other company financials. Your budget is simply the amount of money that the business has allotted to the marketing team to pursue the initiatives and goals outlined in the other elements of the plan. Depending on how many individual expenses you have, you may want to itemize this budget by specifying what each dollar will be spent on.
Examples of common marketing expenses include: outsourcing costs to a marketing agency and other providers, marketing software, paid promotions, and events (those you'll host or attend). By clearly delineating your marketing budget, you can ensure that your team can stay on track and within budget as you work to achieve your marketing goals.
3. Customer Analysis
As a first step in putting together your marketing plan, it's crucial to analyze your customers and the market you're selling to. This will help you develop a buyer persona, a semi-fictional description of your ideal customer. The buyer persona should include information on traits like age, location, title, goals, personal challenges, pains, and triggering events. This information will be essential in creating a targeted marketing campaign that appeals to your ideal customer. In addition, conducting customer research will help you better understand your target market's needs and wants, allowing you to create more effective marketing strategies.
4. SWOT Analysis
SWOT stands for a business's strengths, weaknesses, opportunities, and threats. A SWOT analysis is a crucial part of any marketing plan. It helps companies to identify their strengths and weaknesses, as well as opportunities and threats. The analysis can develop strategies to capitalize on strengths and opportunities and overcome weaknesses and threats. Businesses need first to understand their target market to carry out SWOT analysis.
They then need to identify the key factors that will influence the success or failure of their marketing efforts. These can be internal factors, such as the business's strengths and weaknesses, or external factors, such as industry trends or changes in the economic environment. Once these critical factors have been identified, they can be used to develop a SWOT analysis. The SWOT analysis can be a powerful tool for businesses, helping them to focus their resources on areas that are most likely to lead to success.
5. Market Strategy
Before crafting a market strategy, it is essential to understand your target market and what they are looking for. Once you have a handle on this, you can start to develop a plan for how your business will offer something unique that meets these needs. Your market strategy should consider the various elements of the marketing mix, such as product, price, place, promotion, people, process, and physical evidence.
By carefully considering each of these elements, you can develop a plan to help your business stand out from the competition. Remember that your market strategy will likely need to be revised as your business grows and evolves, so don't be afraid to revisit it regularly.
6. Competitor Analysis
When it comes to your buyer persona, they have a lot of choices when it comes to solving their problems. They can choose from various solutions and providers that can administer those solutions. Therefore, in your market research, you need to consider your competition, what they do well, and where the gaps are that you can potentially fill.
This can include Positioning, Market share, Offerings, and Pricing. When you understand your competition and what they offer, you can better position yourself in the market and offer a solution that meets your buyer persona's needs. If you can provide a better solution at a lower price, you will be able to capture more market share. Understanding your competition is essential to success in any market.
7. Business Initiatives
The Business Initiatives element of a marketing plan is vital for outlining the various goals of your department. This section should carefully detail the projects specific to marketing and their goals and how those goals will be measured. Without this element, it would be difficult to assess the effectiveness of your marketing campaigns properly.
Additionally, this element provides a clear roadmap for your marketing department, ensuring that everyone is on the same page and working towards common objectives. By taking the time to segment your business and marketing initiatives properly, you can create a marketing plan that is both effective and efficient.
8. Marketing channels
Marketing channels are the vehicles through which companies deliver their marketing messages. These channels can take many different forms, but all share the common goal of reaching potential customers with a targeted message. Traditional marketing channels such as print ads, television commercials, and direct mail are still used by many companies, but the internet has opened up a whole new world of possibility.
Online channels such as social media, email marketing, and search engine optimization offer incredibly efficient ways to reach buyers. As a result, savvy marketers are increasingly turning to digital channels to create awareness, generate leads, and build their brands. However, there is no one-size-fits-all solution when it comes to marketing channels. Instead, the best approach is to experiment with different channels and find the best combination for your company and your products.
Related: Digital Marketing
How to create a Business Marketing Plan?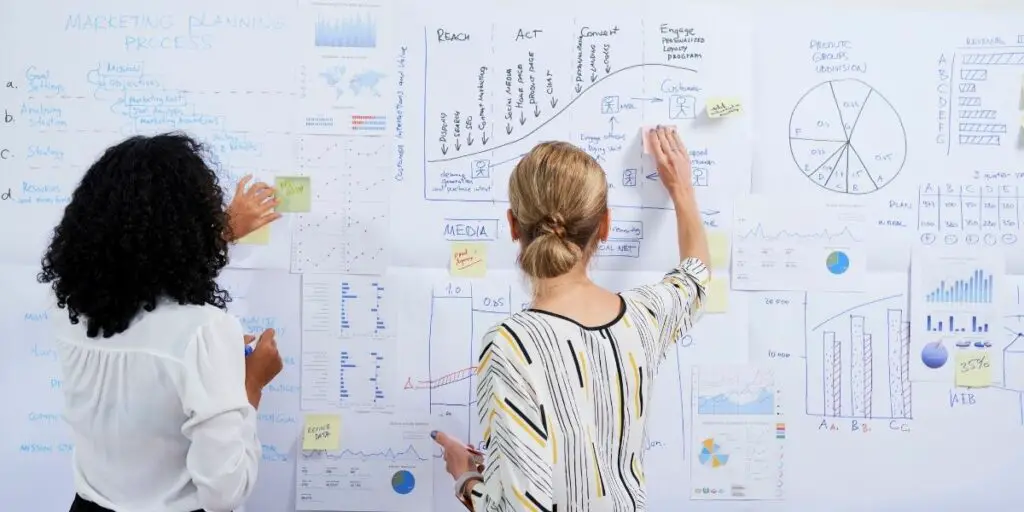 A marketing plan is a document that details the entire marketing strategy. It includes everything from market research and target customers to promotional activities and budgeting.
Creating a marketing plan can seem daunting, but it doesn't have to be. By following these simple steps, you'll be on your way to putting together a comprehensive and effective marketing plan for your business.
1. Conduct a situation analysis
Before you can start putting together your marketing plan, you need to understand your current situation clearly. This means taking a close look at your business, including strengths and weaknesses and opportunities and threats. You can use tools like SWOT analysis to help with this process.
Once you've conducted your situation analysis, you should have a good understanding of your starting point. This will be important as you start to develop your marketing strategy.
2. Define your target audience
Who are you trying to reach with your marketing efforts? It's essential to have a clear understanding of your target audience before developing your marketing plan. Take some time to consider your ideal customer, their needs and wants, and how you can reach them.
Once you've defined your target audience, you can develop your marketing strategy and objectives. Remember, your target audience should be at the center of everything you do regarding marketing. If you take the time to understand who they are and what they need, you'll be in a much better position to create a successful marketing plan.
3. Write SMART goals
Now that you know your starting point and who you're trying to reach, it's time to set some goals. But not just any goals – SMART goals. SMART stands for specific, measurable, achievable, relevant, and time-bound. In other words, your goals should be clear and concise, with a defined timeline for achieving them.
Some examples of SMART marketing goals could include:
Increasing brand awareness by X% in the next year
Growing website traffic by X% in the next six months
Increasing leads by X% in the next quarter
By setting SMART goals, you'll be able to measure your progress and determine whether or not your marketing efforts are successful. This is an essential part of any marketing plan.
4. Analyze your tactics
Now that you've set your goals, it's time to start thinking about how you will achieve them. This is where your marketing-mix comes in. Your marketing mix is a combination of different marketing tactics that you'll use to reach your target audience and achieve your goals.
Some examples of standard marketing tactics include:
Advertising
Public relations
You'll need to think carefully about which tactics are right for your business and your goals. Once you've selected your tactics, you can create your marketing plan.
Remember, your marketing mix should be flexible. As your business grows and changes, your marketing mix should change.
5. Set your budget
Last but not least, you'll need to set a budget for your marketing efforts. This can seem daunting, but there are a few ways to make it easier. First, start by estimating how much you're willing to spend on marketing each month or year. Then, look at your revenue and expenses to see how much you can realistically afford.
Once you've set your budget, you can start to allocate funds to each of your marketing tactics. Remember, your budget should be flexible. As your business grows and changes, your marketing budget should change.
Final Thoughts
A marketing plan is a document that details the overall marketing strategy. It can be used to attract investors, gain senior management approval, or guide day-to-day decision-making.
Creating your marketing plan does not have to be an overwhelming task. On the contrary, it can be pretty simple if you follow the five steps listed above. By taking the time to develop a plan, you can ensure that your strategies are well thought out and tailored to reach your target market.
What strategies will you use in your business marketing plan? How will you measure success? Leave a comment below and let us know!