Disclaimer: We sometimes use affiliate links in our content. For more information, visit our Disclaimer Page. 
There are many different options to choose from when it comes to coaching leadership styles. Each style has its pros and cons, so it's essential to know which type of coach you are before trying to lead others.
This blog post will discuss the five most famous coaching leadership styles. By the end, you should have a good idea of which coaching style best suits your personality and goals.
What is a coaching leadership Style?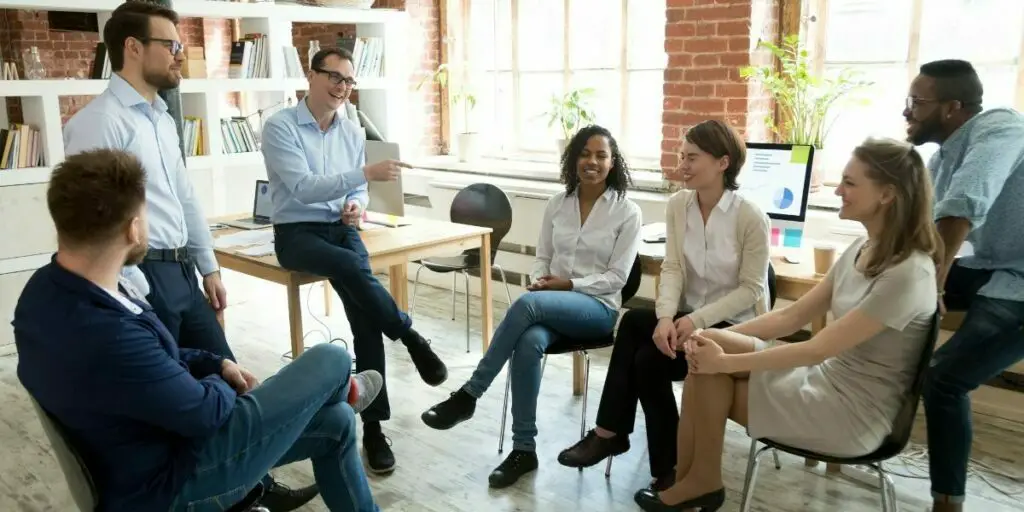 The coaching leadership style is a leader-follower relationship in which the leader acts as a guide or coach to help the follower achieve their goals. This type of leadership is usually characterized by frequent constructive feedback, open communication, and focus on an individual's personal and professional development.
The coaching leader provides support and guidance without dictating what the follower should do. Instead, they help the follower identify their strengths and areas for improvement. This type of leader often has a "coaching mentality." They believe that everyone has the potential to be successful if given the right resources and support. The coaching leadership style can be used in various settings, including business, sports, education, and personal relationships.
Related: Leadership Styles
Who is an example of a coaching leadership style?
Dale Carnegie was a world-renowned speaker and author best known for his best-selling book How to Win Friends and Influence People. Throughout his career, Carnegie advocated the importance of developing relationships and treating others with respect. He also stressed the importance of taking a personal interest in others and helping them to reach their full potential.
These principles formed the foundation of Carnegie's coaching leadership style. Carnegie believed that everyone had the potential to be great, and he strove to help others reach their full potential through his writing, speeches, and personal interactions. While this leadership style can be time-consuming, it can also be gratifying, both for the leader and the people they are coaching.
Why are coaching styles important?
Because coaching styles can help manage different aspects of life, it is essential to understand when to use a specific type of coaching. In addition, different coaching styles can help individuals ease their learning process or sharpen other skills.
For example, a coach can help individuals become more confident in their self-image or improve their decision-making skills. Coaching can also help individuals complete their goals by providing them with structure and holding them accountable. Therefore, understanding when to use different coaching styles can be beneficial for meeting personal or professional goals.
Related: 5 Levels of Leadership
8 Characteristics of a Good Coach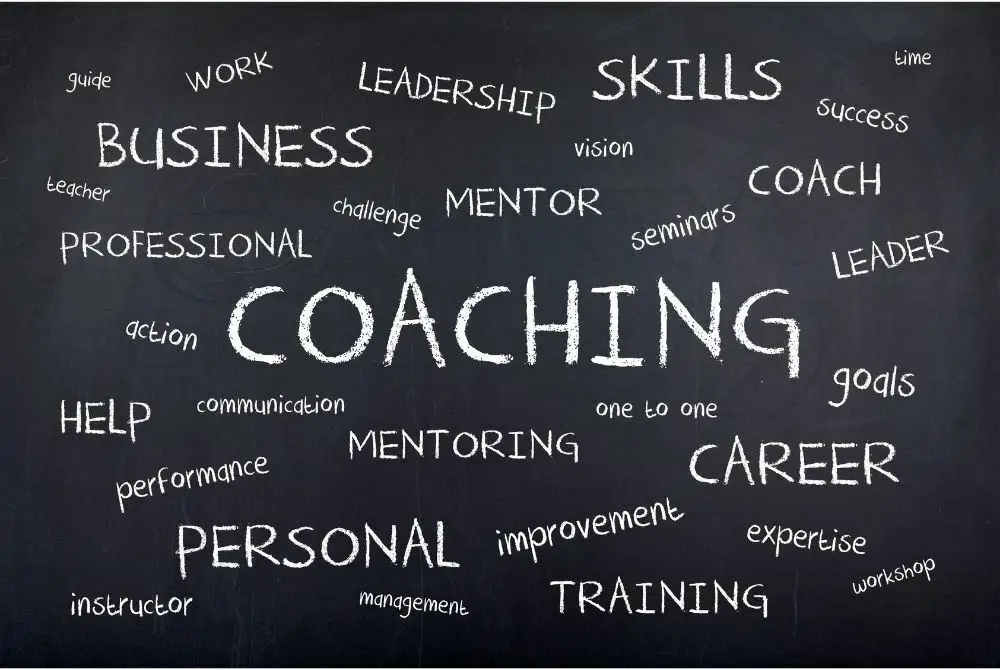 Famous coaching leaders should always have the following characteristics or coaching skills:
1. Patience
As any good coach knows, patience is a virtue. One of the critical traits of a successful coach is the ability to be patient with their players. Everyone learns at different speeds, and it is essential to give clear instructions without overwhelming or confusing those being coached. At the same time, it is also important to be quick to correct mistakes.
A coach who is too overbearing will quickly lose the respect of their players, but one who is too lax will find it difficult to instill a sense of discipline. Finding the right balance can be challenging, but it is essential to ensure that players reach their full potential.
2. Empathy
In order to be a successful coach, it is also essential to be able to empathize with your players. This means seeing things from their perspective and understanding how they are feeling.
This can be difficult, especially when trying to help them through tough times. However, if you can connect with them on an emotional intelligence level, you will be much better at motivating and inspiring them. When your players know that you understand them and are there for them, they will be more likely to trust and respect you. As a result, they will be more likely to follow your lead and work hard to achieve their goals.
3. Encouragement
A good coach knows the importance of positive reinforcement and is always quick to give praise when it is due. However, they understand that motivation comes in many forms and that every player responds to different types of encouragement. While some players may respond well to positive reinforcement, others may need a more hands-on approach.
A good coach will be able to adapt their style to meet the needs of each player. They also know how to motivate their players to keep pushing themselves even when things get tough. Setting a good example and instilling a sense of confidence in their players can help them overcome any obstacle.
4. Dedicated
A dedicated coach is fully committed to their team members and helping them improve. They are always willing to put in the extra time to help their players reach their full potential. A dedicated coach will never give up on their team, no matter how difficult the situation may be. They will always be there for their players, providing support and guidance. A dedicated coach truly cares about their team and wants nothing more than for them to succeed.
5. Self-Aware
A good coach is someone always willing to learn and grow. They are never satisfied with their current knowledge or skills and are always looking for ways to improve. One of the essential qualities of a good coach is self-awareness. A self-aware coach knows their strengths and weaknesses and is always working to improve upon them.
They also have a deep understanding of how their employees perceive their coaching style and are always looking for ways to adjust it to meet their needs better. A self-aware coach is an invaluable asset to any organization and one that any leader should strive to be.
6. Understand different views
A good coach is someone who knows how to listen. In any situation, it's crucial to be able to see things from multiple perspectives. That's why a good coach doesn't just give orders or assign blame. Instead, they try to understand the other person's point of view.
The coach can often uncover the root of a problem and help find a solution. This kind of open communication is essential for any team to function effectively. Without it, misunderstandings and miscommunications are bound to happen. So if you're looking for a good coach, be sure to choose someone who knows the importance of listening.
7. Lead by Example
A good coach leads by example and is always the first to step up and take responsibility. They are a role model for their players and set the standard for how they expect their team to conduct themselves both on and off the field. Someone is always willing to put in the extra work to ensure their team is prepared and ready to compete.
They know that their actions speak louder than words and that their players will follow their lead. A good coach sets the tone for their team and establishes an expectation of success. When a coach leads by example, they create an environment where their players can thrive and reach their full potential.
8. Goal-oriented
It has been said that the best way to achieve success is to have a clear and attainable goal. This certainly applies to coaching leaders, who need to be able to articulate their goals for their teams to help them achieve success. But what exactly does it mean to be goal-oriented?
A goal-oriented coach sets clear goals for their team and themselves and then takes actionable steps to achieve those goals. They are always looking for ways to improve their team's performance and constantly evaluating their progress to ensure that they are on track.
Coaching leaders need to identify their team's goals and then create a plan of action to help them achieve those goals. They also need to motivate their team to stay focused on the task at hand and keep pushing forward even when it gets tough.
The above are just some of the many characteristics that make up good coaching leadership. If you have what it takes to be a good coach, then don't hesitate to put these into practice. Remember, a good coach is always dedicated to their team and willing to help their players reach their full potential. So, go out there and show your team what you're made of!
Related: Top 15 Successful Leadership Behaviors
What are the 5 coaching styles?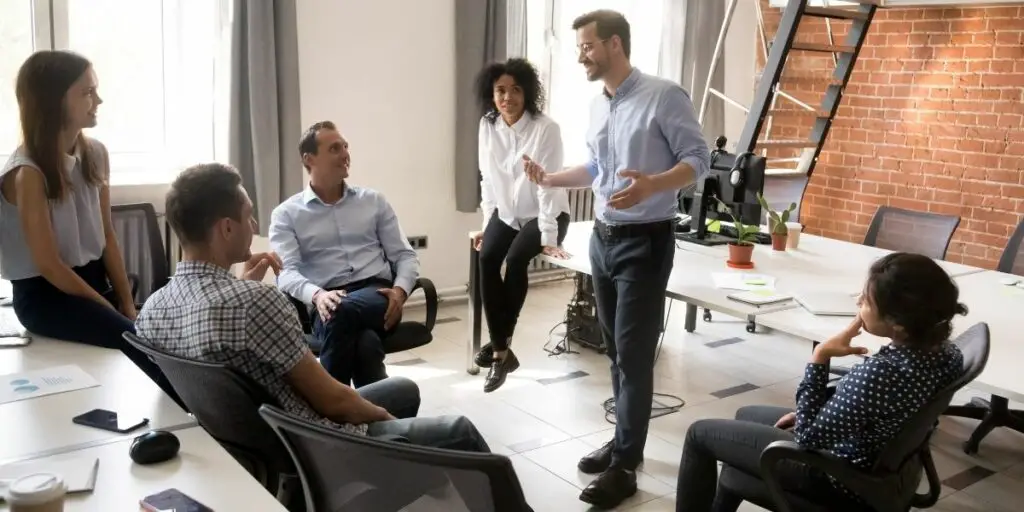 The five common coaching styles include Democratic coaching, Authoritarian coaching, Holistic coaching, Vision coaching, and Autocratic coaching.
1. Democratic coaching
Democratic coaching is a method that gives the team freedom and accountability, with the coach stepping in only when needed to keep the process going. As a result, individuals will feel self-empowered and in control and are encouraged to give input.
The result is top-down decision-making and communication and greater cooperation. Of course, it can take a little longer than other approaches to see the results, but it can be very effective when it comes to performance coaching styles, as the onus is on the team to work together and explore solutions.
Related: Democratic Leadership
2. Authoritarian coaching
This coaching style is based on the belief that the coach knows best and that the client should trust in the coach's expertise. The coach makes all of the decisions and sets all of the goals. The client is expected to follow directions and work hard to achieve the desired results. This coaching style can be effective for clients who need structure and discipline in their lives. It can help them learn how to set goals and work towards achieving those goals.
However, it is important to note that this coaching style is not for everyone. Some clients may prefer a more collaborative approach, where they have more input into the decision-making process. Others may find an authoritarian coaching style to be too restrictive and constraining. Therefore, it is crucial to discuss coaching styles with a potential coach before beginning any coaching relationship.
3. Holistic Coaching
Holistic coaching is a life coaching style that emphasizes the importance of balance in all aspects of an individual's life. The belief that everything is connected drives this approach, which holds that people are a sum of their parts. Therefore, to encourage growth in the workplace, a balance must be achieved in all areas of an individual's life.
This includes their physical, mental, emotional, and spiritual well-being. By providing employees with a sense of their role in your team, holistic coaching can give them perspective on their place in the broader business. This can help them feel more connected and show them how they matter. In addition to its benefits for individual employees, holistic coaching can also lead to improved teamwork and better overall productivity in the workplace.
4. Vision coaching
As its name suggests, vision coaching is all about helping individuals develop and focus on a clear vision for their future. A good coach will work with their clients to help them identify their goals and then create a plan to achieve them. While the coach will provide guidance and support, it is ultimately up to the individual to take action and make their vision a reality.
This coaching style can be particularly effective in a fast-paced environment, where individuals may need help to stay focused and motivated. If you are struggling to develop a clear vision for your future or need some help achieving your goals, vision coaching could be the perfect solution.
5. Autocratic Coaching
Autocratic coaching is a leadership style in which the coach tells employees what to do rather than engaging in a dialogue. This approach can be effective in disciplining employees and helping them to commit to excellence.
However, it can also feel stifling due to the lack of flexibility and the rigid structure that is in place. Therefore, if you consider using autocratic coaching, it is essential to carefully weigh the pros and cons to ensure that it is the right approach for your team.
Related: Autocratic Leadership
What is an international management consultancy?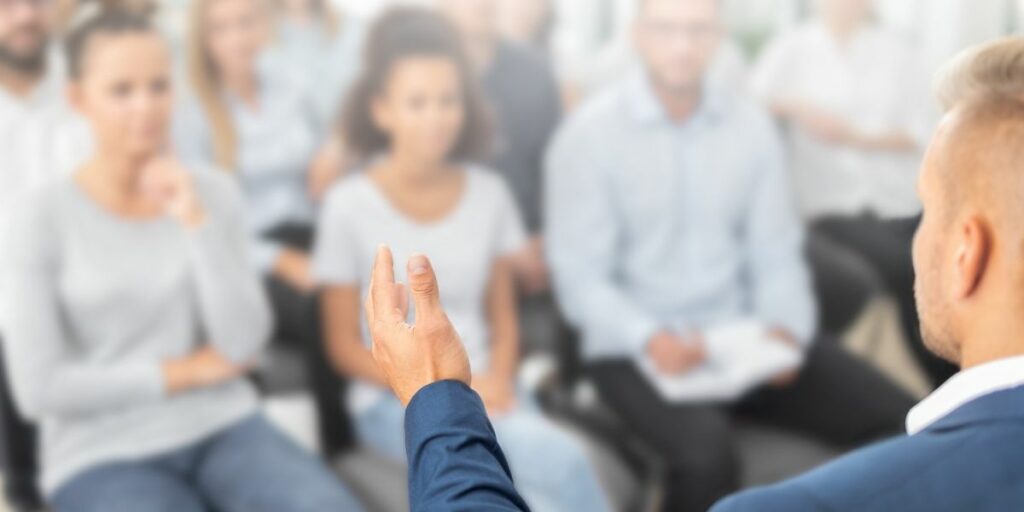 So, what exactly does an international management consultant do? In a nutshell, they help firms find or sustain success in overseas markets. This can be accomplished by analyzing the organization's operations and proposing improvements. The main focus is on achieving objectives that contribute to growth and profits in a highly competitive environment.
To do this effectively, consultants must have a deep understanding of global business dynamics. They must also identify opportunities and challenges that may not be obvious to their clients. In many cases, consultants are brought in to provide an objective perspective on a particular situation.
They may also be called upon to develop and implement strategies for entering new markets or expanding into existing ones. International management consultants are trained to provide solutions that help their clients achieve their goals, whatever the challenge.
Related: Types of Management Styles
Final Thoughts
As you can see, there are a variety of different coaching styles that can be used to achieve different results. The key is to find the right style for your needs and goals. If you are unsure which style would be best for you, it is always good to speak with a professional coach who can help you assess your individual needs. Then, with the right coach, you can achieve anything you set your mind to.
So what are you waiting for? Get out there and start reaching your potential today!