Disclaimer: We sometimes use affiliate links in our content, meaning, at no additional cost to you, we will earn a commission if you click through and make a purchase. For more information, visit our Disclaimer Page. 
What is enterprise risk management? This is a question that many business owners ask themselves when looking to improve their operations. ERM can be defined as "the identification, assessment, and prioritization of risks followed by coordinated and economical application of resources to minimize, monitor, and control the probability and/or impact of unfortunate events or circumstances on the achievement of organizational objectives."
In other words, ERM is a system that helps businesses identify potential risks and find ways to mitigate them. This blog post will discuss best practices for enterprise risk management and how you can implement them in your own business!
What is Enterprise Risk Management?
Enterprise risk management (ERM) is a comprehensive approach to risk management that considers all aspects of an organization's risks. ERM looks at risk from a strategic perspective and aims to identify, assess, and prepare for potential losses that interfere with an organization's operations and objectives. ERM is a top-down approach that requires management-level decision-making to mitigate risks effectively.
While ERM may not always make sense for individual business units or segments, organizations need to manage overall risk exposure. When implemented correctly, ERM can help organizations avoid costly losses and realize significant improvements in operational efficiency.
Related: Management
What benefits does ERM provide?
There are many benefits that Enterprise Risk Management (ERM) can provide to organizations. One of the most important benefits is that it can help organizations identify and manage risks more effectively. Additionally, ERM can also help improve organizational performance, decision-making, communication, and collaboration between different departments within an organization.
Another benefit of ERM is that it can help organizations save money by preventing or mitigating losses. Additionally, ERM can also help organizations protect their reputation and brand image. In today's increasingly interconnected and complex world, Enterprise Risk Management provides a comprehensive approach to managing risks and maximizing opportunities.
If your organization is not currently practicing ERM, many resources are available to help you get started. The first step is to assess your organization's current risk management practices and identify areas where improvement is needed. Additionally, it is crucial to develop a clear understanding of the benefits that ERM can provide. Once you have done this, you can create an ERM framework tailored to your organization's unique needs.
Traditional vs. Enterprise Risk Management
The traditional approach to risk management (TRM) is focused on reacting to incidents that have already occurred. The goal of TRM is to prevent those same incidents from happening again in the future. Traditional risk management is typically carried out after an incident has occurred to learn from what went wrong and make changes to prevent it. Enterprise risk management (ERM), on the other hand, looks to the future and attempts to identify potential events and situations that could occur.
ERM is proactive rather than reactive and seeks to address risks before they happen. By identifying risks early on, ERM can help organizations take steps to avoid them altogether or minimize their impact if they do occur. In today's ever-changing business landscape, ERM has become increasingly important as organizations look to protect themselves from potential disasters.
4 Types of Enterprise Risk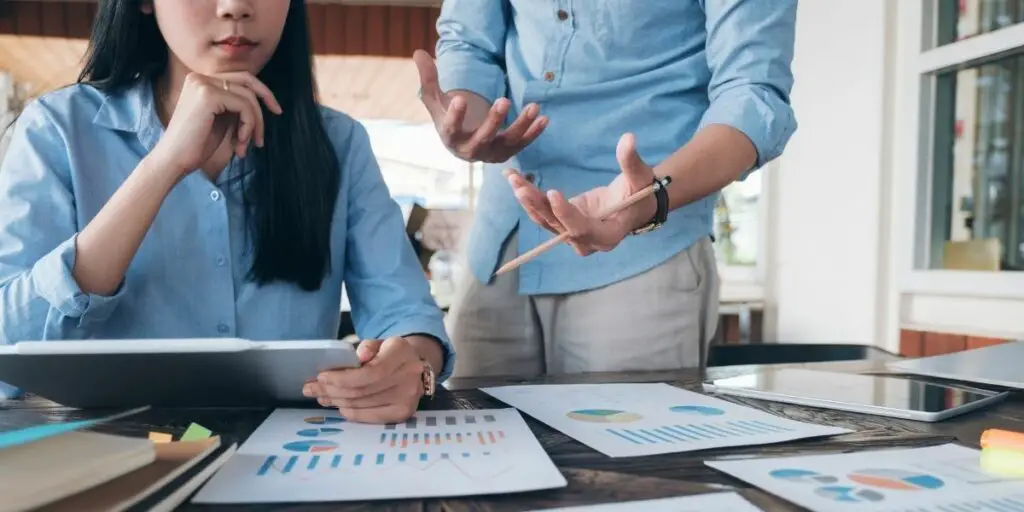 There are four main types of enterprise risk: strategic, operational, financial, and compliance. Each type of risk has its own set of characteristics and can have a different impact on the organization.
1. Strategic Risks
Strategic risks can arise from various sources, but all stem from directors' basic decisions about an organization's objectives. For example, a company might take on too much debt to finance expansion plans, putting the company at risk of defaulting on its loans if the expansion does not go as planned. Similarly, a company might make a significant investment in a new product line that fails to find a market, leading to financial losses. In both cases, the underlying cause of the problem is a poor strategic decision. As a result, Strategic Risk Management is essential for any organization that wants to stay afloat.
There are many ways to manage strategic risks, but the most important thing is to make sure that risks are identified and assessed before making any decisions. Once the risks have been identified, it is essential to plan to mitigate them. This might involve diversifying the business portfolio, hedging against currency fluctuations, or setting aside money in reserve in case of unexpected problems. Whatever approach is taken, it is essential to remember that strategic risks can have severe consequences if they are not managed effectively.
2. Operational Risks
Operational risk can be defined as the risk of a change in value caused by actual losses incurred from inadequate or failed internal processes, people, and systems or from external events that differ from the expected losses. In other words, it is the risk of loss resulting from errors or negligence in the operation of a business. This type of risk can come from various sources, including human error, system failures, natural disasters, and malicious attacks.
While operational risks are always present, they can be exacerbated by rapid technological changes or global economic conditions. Managing operational risk is therefore essential to ensuring the long-term success of any business. Operational risk management includes identifying potential risks, assessing their likelihood and impact, developing mitigation plans, and monitoring actual losses. By taking these steps, businesses can minimize the impact of operational risks on their bottom line.
3. Financial Risks
Financial risk is the probability of financial loss. The main types of financial risks are a business, credit, and market risks. Business risk is the risk of a company's revenue and expenses not meeting expectations. Credit risk is the risk that a lender will not be repaid a loan in full or on time.
Market risk is the risk that an investment will lose value due to changes in market conditions. Other types of financial risks include liquidity risk, interest rate risk, foreign exchange risk, and commodity price risk. Each type of risk has different implications for businesses and individuals. Companies need to consider all types of financial risks carefully when making investment decisions. Individuals should also be aware of the different types of financial risks when making investment decisions.
4. Compliance Risks
Compliance risks are manifold but can be roughly divided into four main categories: financial, organizational, reputational, and legal. Financial compliance risks include the possibility of fines or other monetary penalties for non-compliance with laws or regulations. Organizational risks include the potential for disruptions to business operations and damage to relationships with key stakeholders such as customers, employees, or shareholders.
Reputational risks can arise from negative publicity surrounding compliance breaches, while legal risks include the costs associated with defending against enforcement actions or private lawsuits. Given the potentially severe consequences of failing to comply with applicable laws and regulations, companies must take care of key risk indicators and manage compliance risks proactively.
What are the main elements of the enterprise risk management process?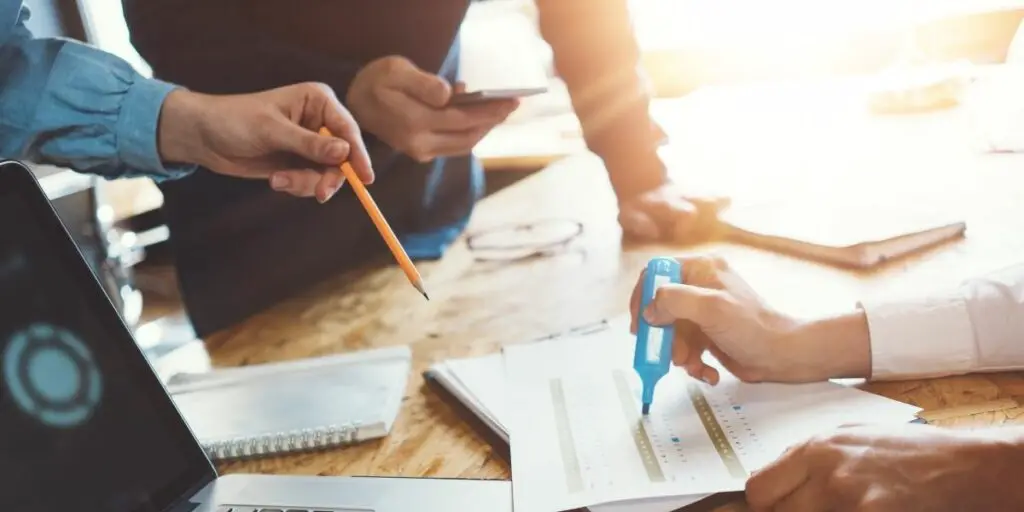 The enterprise risk management processes include five specific elements – Strategy/objective setting, Risk identification, Risk assessment, Risk response, and Communication/monitoring.
1. Strategy/objective setting
As the saying goes, "no risk, no reward." But when it comes to business, not all risks are created equal. Some risks can lead to significant payoffs, while others can result in devastating losses. That's why it's so crucial for the enterprise risk management process for businesses to consider their strategies and objectives carefully and to weigh the potential risks and rewards before taking any action.
Businesses can face many different risks, from financial to operational risks. And every kind of risk comes with its own set of challenges and opportunities. By doing strategic planning and associating risks with the business, companies can make informed decisions about how to protect themselves and their shareholders. As a result, companies can make strategic decisions that maximize rewards while minimizing losses with a clear understanding of the risks involved.
2. Risk identification
One of the most important things that a company can do is identify risks that could negatively impact its financials. There are a variety of risks that businesses face, and it is crucial to have a clear understanding of which ones could have the most significant impact.
The most common risks include business interruption, natural disasters, cyber-attacks, and regulatory changes. By understanding these risks and others, companies can make contingency plans and take steps to mitigate them. This is an essential part of ensuring the long-term financial health of any business.
3. Risk assessment
Risk assessment is a vital part of any safety plan. By identifying potential risks, businesses can take steps to minimize their impact. The first step in any risk assessment is to identify the hazards.
Once the hazards have been identified, they must be strictly analyzed to determine their likelihood and potential. Effective mitigation strategies can be put in place only after the risks have been fully understood. Businesses can protect their employees, customers, and bottom line by assessing the risks adequately.
4. Risk response
There are various risk response strategies that organizations can choose from when managing risk. The key is to select the best strategy aligned with the organization's risk tolerances. For example, one common approach is to accept the risk. This may be appropriate if the organization has a high tolerance for risk and/or if the potential downside of the risk is manageable.
Another strategy is to take steps to avoid the risk altogether. This may be done by changing how processes are carried out or redesigning products or services. A third strategy is to transfer the risk to another party, such as buying insurance. Finally, some organizations may choose to mitigate the risks by taking steps to reduce the likelihood or impact of adverse events. By carefully considering all of their options, organizations can develop an effective plan for managing risks.
5. Communication/monitoring
The flow of information is essential to the smooth operation of any organization, and nowhere is this more true than in the case of data. For decision-makers to clearly understand what is happening within a company, they need access to accurate and up-to-date information.
This information needs to be communicated across all departments so that everyone is aware of the latest developments. Furthermore, it is not enough for this information to be collected; it also needs to be monitored on an ongoing basis. By constantly monitoring the data, organizations can identify trends and make changes accordingly. In today's fast-paced business environment, communication and monitoring are essential to ensure that relevant information is available when it is needed.
What are the COSO ERM framework and components?
The Committee of Sponsoring Organizations of the Treadway Commission (COSO) is a private sector initiative that provides thought leadership through developing frameworks and guidance on internal control, enterprise risk management, and fraud deterrence. For example, COSO's Enterprise Risk Management-Integrated Framework helps organizations manage internal and external risks more effectively by providing a clear definition of risk management and how it should be done.
COSO's ERM framework consists of eight interrelated components: institutionalization, identification, assessment, prevention and mitigation, control activities, information and communication, monitoring, and reporting. The Framework provides clear direction and guidance for enterprise risk management, helping organizations improve their risk management practices.
It is important to note that COSO's ERM framework is not a one-size-fits-all solution; instead, it is designed to be adapted to the specific needs of each organization. Therefore, it is vital for organizations to carefully evaluate their risks and tailor the framework's application to their unique circumstances. By doing so, organizations can more effectively manage risk and create value for their stakeholders.
Final Thoughts
Overall, Enterprise risk management is a critical part of any organization. By understanding the risks faced by their businesses and taking steps to mitigate those risks, organizations can protect their employees, customers, and bottom lines.
While there is no single blueprint for success, the COSO ERM framework provides a valuable starting point for organizations to improve their risk management practices. By tailoring the framework's application to their specific needs, organizations can develop an effective risk management strategy that meets their unique challenges.
Thank you for reading! We hope this article has helped explain enterprise risk management and best practices. If you have any questions, please feel free to leave them below. We would be happy to help!