Disclaimer: We sometimes use affiliate links in our content. For more information, visit our Disclaimer Page. 
In the fast-paced world of business growth, the '5 Ps of Marketing' stand as a cornerstone, guiding marketers through the intricate dance of strategic planning. They are more than just buzzwords; they are a blueprint for success in a landscape that demands adaptability and insight. From product development to positioning in the marketplace, these five foundational elements – Product, Price, Place, Promotion, and People – work in concert to elevate your marketing mix.
As a business owner, marketer, or entrepreneur, understanding and applying the 5 Ps can transform your marketing efforts from good to great. This isn't about following a trend; it's about harnessing a tried and true framework that aligns with your target audience and business goals. So, let's dive into how integrating these key marketing elements can forge a successful marketing plan that resonates in 2023 and beyond.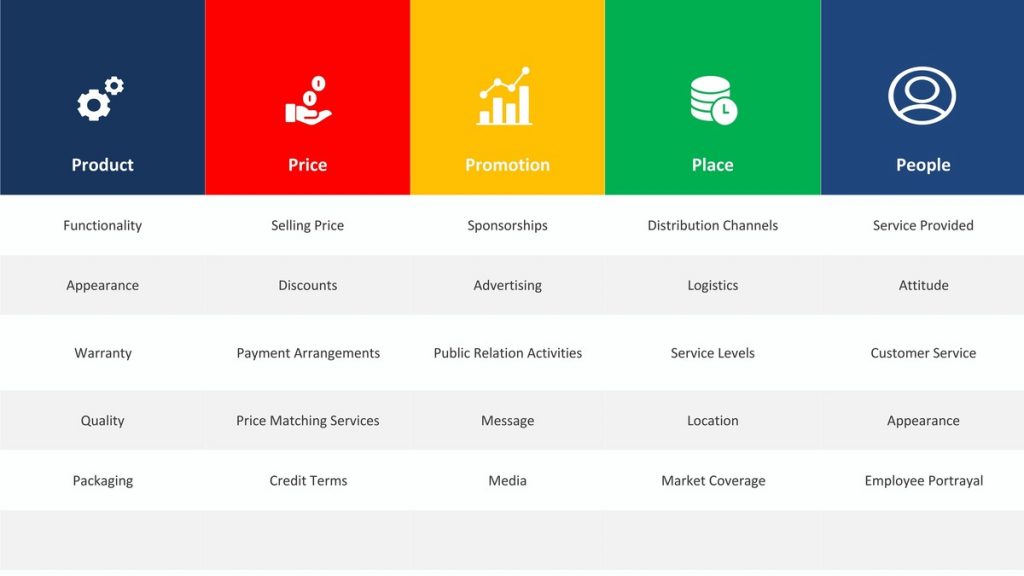 The First P: Product
At the heart of every successful marketing strategy is a product or service that meets a specific need or desire. Defining your product within the marketing mix is about much more than a list of features; it's about understanding how those features translate into real-world benefits for your customers.
When considering product decisions, you're not just looking at what you sell but also how it aligns with market demands and adds value to the consumer. This alignment is crucial – it's the difference between a product that sits on the shelves and one that flies off them.
5 Ps of Marketing Examples: Product Features and Benefits
Let's delve into examples that illustrate the importance of features and benefits:
Feature: A smartphone with a high-resolution camera.
Benefit: Captures life's moments with stunning clarity, making it perfect for photography enthusiasts.
Feature: A battery with extended life.
Benefit: Provides the convenience of longer usage, ideal for busy professionals on the go.
Each feature offers a clear benefit that addresses specific customer needs, demonstrating the product's value. In your marketing, highlight these benefits to show not just what your product is, but why it matters.
The Second P: Price
Setting the right price is a balancing act that reflects not just the value of your product or service but also the expectations of your target market. A pricing strategy is not about pulling numbers out of thin air; it's a calculated decision that influences how your brand is perceived and dictates your place within the competitive landscape. It's a powerful tool that can either add value to your offering or detract from it.
Proper pricing takes into account the management of marketing costs while also aligning with the perceived value by customers. It's a strategic element that determines not only profitability but also market share and customer loyalty.
Break-Even Analysis and Credit Terms as Part of Pricing Decisions
A break-even analysis is an essential step in pricing, where you calculate the point at which the revenue from sales equals the costs associated with sales, ensuring that your pricing strategy is financially viable.
Moreover, the credit terms offered can be a part of your pricing decision. They represent the conditions under which you'll provide a product or service before receiving payment, which can influence a customer's decision to purchase. For example:
Short-term credit: Attracts buyers looking for immediate, flexible payment options.
Long-term credit: Appeals to customers who need time to manage cash flow but are willing to commit to a purchase.
Incorporating these considerations into your pricing decisions ensures that you're not just competitive but also profitable and customer-centric.
The Third P: Place
The 'Place' within the marketing mix is all about location and distribution channels — ensuring that your products reach the customer not just at any time, but precisely when and where they need them. It's about the right quantity, too; too much, and you're overstocked, too little, and you miss out on sales. This P is as much about logistics as it is about understanding customer behavior and preferences.
Choosing the right channels for your target audience is critical. Whether it's a brick-and-mortar storefront, an online shop, or a third-party distributor, each channel has its own set of advantages and customer reach strategies.
Use Case: How Place Strategy Ensures That Customers Can Access Your Products and Services
Consider a use case where a business optimized its place strategy: A company selling eco-friendly home goods opened pop-up shops in urban areas with high foot traffic of environmentally conscious consumers. They also partnered with popular online marketplaces known for sustainable products. This dual approach addressed the convenience for both in-person shoppers and digital consumers, ensuring that customers had easy access to their products.
This strategic approach to 'Place' considers:
Physical location: Where your customers are and where you need to be.
E-commerce platforms: Leveraging the reach of established online marketplaces.
Inventory management: Balancing supply with predicted customer demand.
Logistics: Streamlining delivery processes to reduce wait times and enhance customer satisfaction.
By mastering the 'Place' aspect of the marketing mix, you ensure your products are seen and available where your customers are most likely to buy them, thus maximizing the potential for sales and customer loyalty.
The Fourth P: Promotion
In the realm of marketing, Promotion is the compelling voice that tells the world about your product or service. It's an art that combines creativity and strategy to communicate value and persuade potential customers. Crafting campaigns that resonate with your target market isn't just about being heard; it's about being remembered, creating an emotional connection, and driving the audience to action.
Promotional costs must be balanced carefully, as they can significantly impact your return on investment (ROI). Every dollar spent on promotion should work as hard as possible, turning audience attention into sales, brand loyalty, and customer advocacy.
Promotion Refers to Public Relations Activities and Effective Marketing Tactics
Promotion is a multifaceted tool comprising various elements:
Advertising: Traditional and digital ads that raise awareness and entice customers.
Sales promotions: Limited-time offers that stimulate interest and prompt immediate action.
Personal selling: Direct interactions that tailor the sales experience to the individual.
Public relations (PR): Activities that shape and maintain your brand image in the public eye.
Direct marketing: Targeted communication that speaks directly to the consumer's needs.
These tactics work together to create a holistic promotional strategy. Effective promotion isn't just about broadcasting a message; it's about fostering a dialogue, engaging with the community, and building a brand that people trust and recommend. It's a mix of sharing your story, showcasing your benefits, and providing irresistible reasons for customers to choose you over the competition. By leveraging these activities, you can craft a narrative that not only reaches your audience but also resonates with them deeply.
The Fifth P: People
When it comes to marketing, People often emerge as the linchpin of success. This critical fifth P transcends the boundaries of mere transactions and delves into the realm of customer experience and service. It's about understanding the pulse of your customer base, empathizing with their needs, and crafting experiences that not only meet but exceed their expectations.
Building a customer-centric approach is essential in today's market landscape. It's not enough to have a stellar product; the service accompanying it must be equally impressive. This strategy involves every touchpoint a customer has with your brand, from the initial contact to post-purchase support.
Real-World Testimonials: The Impact of the Fifth P on Customer Base
Real-world testimonials often shed light on the profound impact that a focus on people can have:
Loyalty and Retention: Customers who feel valued are more likely to become repeat buyers.
Word-of-Mouth: Satisfied customers become brand ambassadors, sharing their positive experiences with others.
Feedback Loop: Engaging with customers can provide valuable insights for improving products and services.
Brand Reputation: Consistently positive interactions can elevate a brand's standing in the marketplace.
Incorporating the fifth P into your marketing strategy means investing in training for your team, ensuring they have the skills and motivation to deliver outstanding service. It's about building a culture that prioritizes customer satisfaction and empowers employees to make decisions that enhance the customer experience.
Embrace the human element of your brand and recognize that every member of your team plays a vital role in the customer journey. When the fifth P is fully integrated into your marketing mix, it can transform satisfied customers into loyal fans and elevate your brand to new heights.
Integrating the 5 Ps into Your Marketing Efforts
Achieving synergy among the 5 Ps of Marketing—Product, Price, Place, Promotion, and People—is crucial for aligning with your business goals and marketing strategies. This integration ensures that every aspect of your marketing efforts resonates with your target audience and differentiates your brand in the competitive marketplace.
To stand out, it's essential to craft a unique selling proposition (USP) that highlights the distinct benefits and features of your product. It's not just about being different; it's about being better in ways that matter to your customer.
Applying the 5 Ps to Ensure a Comprehensive Marketing Campaign
Product: Start with a deep understanding of your product's strengths and how it fulfills market needs. This forms the foundation of your campaign.
Price: Your pricing strategy should reflect the value you offer, be competitive, yet also ensure profitability. It's a balance that communicates worth and appeals to your target market's price sensitivity.
Place: Select distribution channels that make your product readily accessible to customers. Whether it's online, in-store, or a hybrid, the right channels are those where your customers already shop.
Promotion: Develop promotion campaigns that tell your brand's story and connect emotionally with customers. Utilize various channels to reach broader audiences, from digital advertising to traditional media.
People: Foster a service culture that prioritizes customer experience. Train your team to deliver exceptional service at every point of contact, creating memorable experiences that encourage repeat business.
Integrating the 5 Ps requires a strategy that is fluid and adaptable to market changes and customer feedback. Each element should not only align with the others but also with the evolving needs and expectations of your customers. When successfully executed, the 5 Ps become more than a marketing framework—they become the essence of your brand identity and the blueprint for your business's success.
Next Steps to Take in Your Journey to Implement a Robust Marketing Plan
Assessment:

Conduct a thorough audit of your current marketing strategies.
Evaluate how well your product or service aligns with the needs and desires of your target market.

Strategy Development:
Implementation:

Roll out your marketing plan in phases to manage resources effectively and allow for adjustments based on feedback.
Use metrics to monitor the performance of each element of the marketing mix, making data-driven decisions to enhance your strategy.

Feedback and Adjustment:

Create channels for customer feedback to understand their experience and expectations.
Be prepared to pivot and adjust your strategies in response to market trends, customer behavior, and competitive pressures.

Continuous Learning:

Stay informed about marketing trends and the evolving needs of your consumers.
Invest in professional development for your team to keep your marketing strategies innovative and effective.
Remember, the journey to a robust marketing plan is iterative and dynamic. It requires a commitment to continuous improvement and a willingness to adapt to the ever-changing landscape of the market. As you take these next steps, keep your focus on creating value for your customers, and success will follow.
Example of the 5Ps of Marketing
James has a brilliant idea to open up his surf shop exclusively for travelers and tourists. Although he's just getting started, one of the first steps is positioning himself in an area that attracts these types of clientele. This can be done by following marketing mix principles found in a good marketing plan.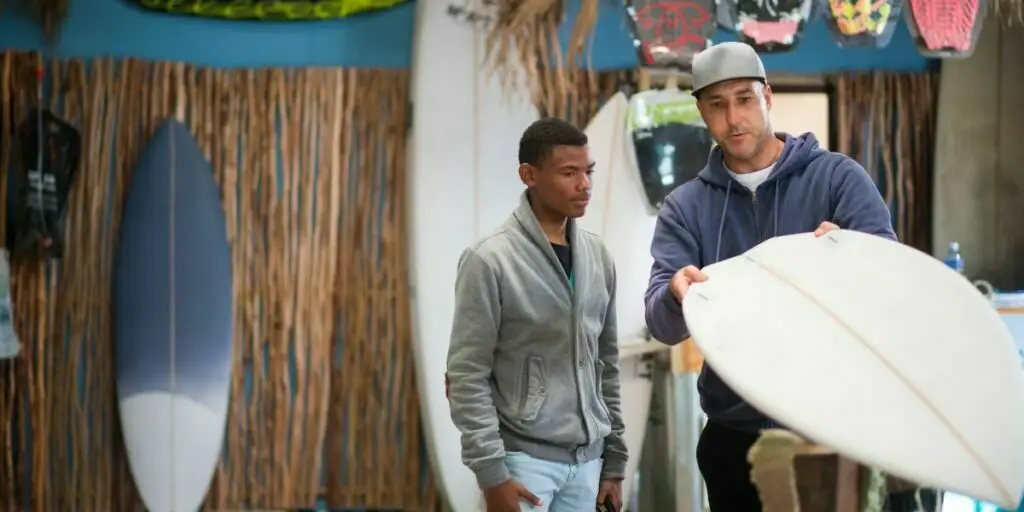 James has been surfing and teaching for over ten years, leading him to be the perfect person to own a surf shop. His love of surfing and his customers make it impossible not to go into business with these two passions!
Product
Surfboards and wetsuits are the specialties of this shop. With over 15 years of experience in his trade, James knows much about surf gear and ocean safety. James's surf shop will offer high-quality surfing equipment and accessories, as well as provide information on the best surfing spots in the area.
Price
James plans to charge a fair price for his products and services that are in line with other surf shops in the area. Additionally, he will offer discounts for customers who purchase multiple items or who book lessons in advance.
Promotion
James will use a variety of marketing tools to promote his business, including email marketing, social media, Google Maps, and his website. He hopes to attract both local and tourist customers.
Place
The surf shop will be located in a beach town that is popular for surfing. This will make it convenient for customers to stop by before or after hitting the waves.
People
James plans to hire friendly and knowledgeable staff who can assist customers with their purchases and answer any questions they may have. He also hopes to create a community atmosphere in his shop where people can come to learn about surfing and meet other like-minded individuals.
Which of the following marketing strategies can be best employed to attract tourists?
There are many ways to attract tourists, and the best method depends on the destination. Place marketing is a good option for destinations with unique features that are not well known. This type of marketing focuses on promoting the destination itself, rather than just the attractions.
To be effective, place marketing must be targeted at a specific audience. It should also be integrated into the overall marketing strategy for the destination.
Someplace marketing ideas include:
Developing a unique brand for the destination
Creating a website or blog specifically about the destination
Focusing on positive reviews and word-of-mouth promotion
Developing promotional materials that highlight the unique features of the destination
Working with travel writers and bloggers to promote the destination
Organizing events or activities that showcase the destination's uniqueness
Destinations can attract tourists looking for something different by employing a place marketing strategy. This can help to boost tourism numbers and improve the local economy.
Conclusion
Embracing the 5 Ps of Marketing is pivotal for crafting effective strategies that lead to success. By integrating Product, Price, Place, Promotion, and People, you create a comprehensive marketing mix that resonates deeply with your audience and solidifies your position in the market.
As you conclude this exploration of the 5 Ps, it's important to recognize that each component is a cog in a larger machine. When they work in harmony, they drive your marketing engine forward, powering your business toward its goals.
FAQs
What are the 5 Ps in marketing?
The 5 Ps in marketing are Product, Price, Promotion, Place, and People. These elements form a framework for developing effective marketing strategies.
What are the 7 P of marketing?
The 7 Ps of marketing, in addition to the 5 Ps, include Process and Physical evidence. This expanded framework helps in comprehensive marketing planning.
What are the 5 P's of content marketing?
The 5 P's of content marketing typically refer to Plan, Produce, Publish, Promote, and Prove. These steps guide the creation and distribution of content for marketing purposes.
What is 5 P's strategy examples?
The 5 P's strategy examples can vary but typically involve defining strategies for each of the 5 Ps, such as product differentiation, competitive pricing, creative promotion, effective distribution, and customer-focused strategies.