Disclaimer: We sometimes use affiliate links in our content. For more information, visit our Disclaimer Page. 
If you are looking for a marketing automation tool that can take care of the entire customer life-cycle, then VBOUT is an excellent option. With robust analysis and targeting tools and automated content delivery based on behavior or interests, businesses with any size list will be able to use this platform to generate more leads and engagement.
Imagine having a platform that automatically sends the right content at the right time, based on their behavior and interests. It also allows you to easily segment your audience into different groups to send relevant and engaging messages. VBOUT can do just that because it uses AI technology, and the software is constantly learning how to serve your needs over time better.
In this review, we'll take a closer look at VBOUT's capabilities and see how it can help you market your business more effectively.
What is VBOUT?
VBOUT is an all-in-one marketing automation tool that small and medium-sized businesses can use and agencies to find the right prospects, manage leads, and automate marketing tasks. The platform offers many features, including email marketing, lead capture forms, CRM integrations, landing pages, and more.
One of VBOUT's standout features is its easy-to-use drag-and-drop builder. This makes creating custom campaigns a breeze – even for those with no coding experience. Plus, it integrates with many popular CRMs (such as Zoho CRM), making it easy to keep your sales and marketing efforts in sync.
Overall, VBOUT is a powerful yet user-friendly marketing automation tool that can help businesses of all sizes improve their marketing results. So if you're looking for a comprehensive, all-in-one marketing automation solution, it is worth checking out.
About Vbout
VBOUT is a lead generation and marketing automation platform trusted by 1000's businesses to automate their campaigns while delivering engaging, personalized experiences.
You may use VBOUT to:
Social media scheduling
Run marketing campaigns
From one place, you may manage your clients marketing needs
Develop and send effective email campaigns to engage with your consumers.
With no code, you may design beautiful, personalized, and dynamic landing pages.
Create complex automations with a simple visual builder.
Capture and nurture a lead from start to finish.
With simplicity, create, maintain, and segment audience lists.
On a customizable dashboard, track and evaluate all of your marketing activities.
What are the benefits of marketing automation?
Marketing automation software platforms and technologies are designed to help marketing teams and businesses advertise on several online channels (such as email, social media, websites, etc.) and automate repetitive tasks.
Companies use this technology to get rid of human error, generate more leads and track the performance of campaigns more accurately.
There are many benefits to marketing automation, such as:
Reducing time spent on repetitive tasks.
Connecting with customers better.
Improving customer experience.
Better customer targeting.
Decreasing marketing costs.
VBOUT Features
There's no doubt about it: marketing is challenging. It's a complex and constantly-changing field, and the options for what you can do are endless. But luckily, there's one tool that can help you take advantage of all that complexity and possibility: automation.
With the right tools, you can automate your marketing tasks and free up your time to focus on more important things. So if you're feeling overwhelmed by marketing or want to squeeze a little more efficiency out of your process, it's time to start automating. 
VBOUT has powerful features to help you grow your business and develop lasting customer relationships. Here are some of the remarkable features: 
1. Email Marketing 
VBOUT allows you to create email campaigns quickly. The simple drag-and-drop editor makes it straightforward to generate responsive email templates with complete creative control. You can utilize VBOUT's unique pre-designed blocks, design your own using custom layouts, or even upload your HTML.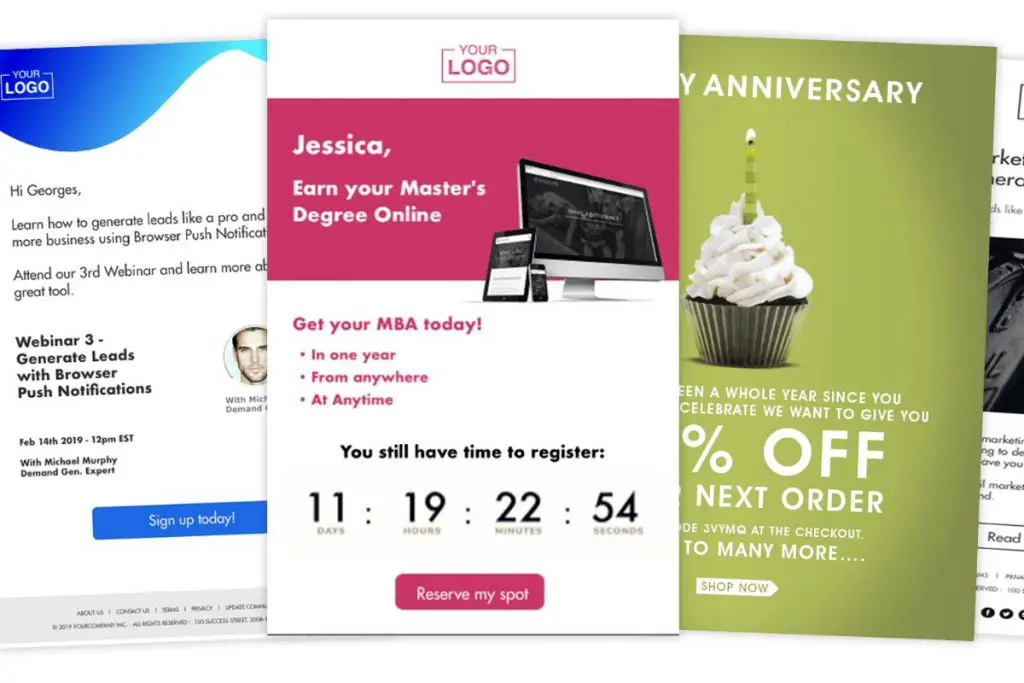 Merge tags provide the ability to personalize your emails and add dynamic content such as animated GIFs, countdowns, CTA buttons, and "Add-to-calendar" events.
You may use automation processes to automate the following: Create automatic emails that are triggered by lead score, behavior, or progress in your automation workflow. Create newsletters, drip campaigns, and transactional emails for various audiences.
With the help of VBOUT, you'll be able to send better emails and preview emails across different devices. You can also A/B test different variations for your email campaigns to have a higher engagement rate!
2. Automation Builder
VBOUT offers ready-made automation templates created by marketing experts that you may utilize to execute procedures without building one from scratch instantly.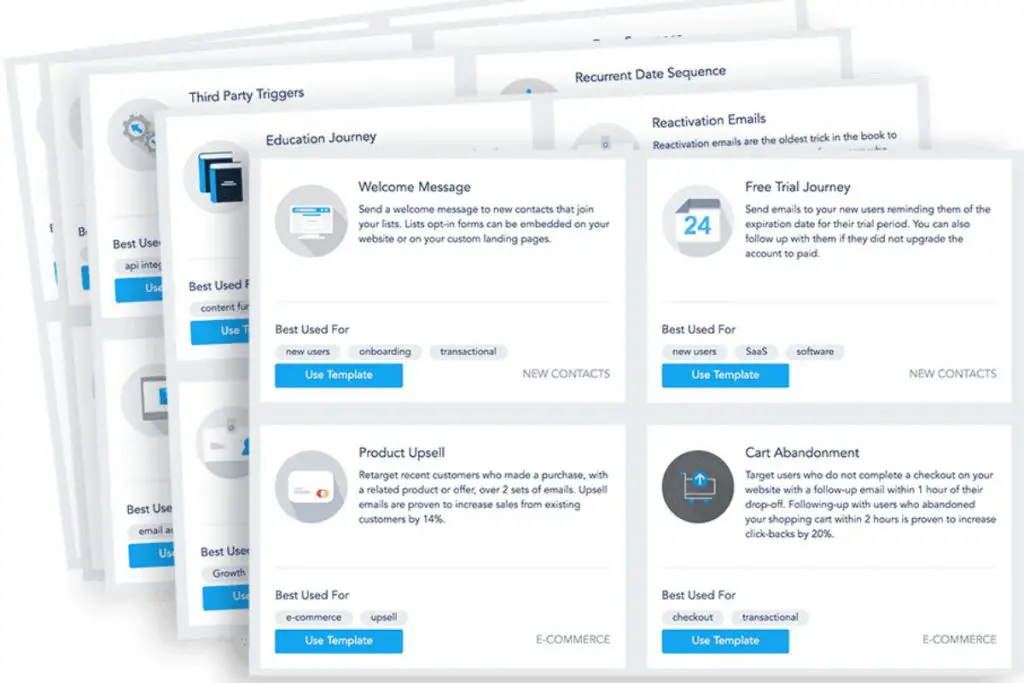 Customize your workflows without the need for a developer. Develop simple yet powerful workflows with VBOUT's drag-and-drop visual workflow builder.
Improve your customer interactions. Automate the communication experience for each lead, such as emails, SMS, and browser push notifications, based on specific triggers and lead engagement behavior with your brand.
Create your automation and run them. By linking your messages, lead engagement tracking, landing pages, and 3rd-party applications, you may create cross-channel automations.
I like the automated capabilities of VBOUT; it has a lot of valuable triggers and actions in a decent visual flow builder. It's a sophisticated, well-thought-out, and comprehensive all-in-one marketing platform.
3. Lead Management
Use VBOUT's easy-to-use drag and drop form builder to increase lead generation. Design landing pages or popups for a more personalized touch!
VBOUT software makes it easy to manage your lists and sync them with any CRM you may have. In addition, you can segment contacts like never before, using smart filters that will give each group its personalized message tailored just for them!
Utilize the power of VBOUT's lead tracker to see what your prospects are doing at every stage in their journey. Get a better understanding with integrated intelligence tools like IP Locator, analytics, and tracking that will give you insight into who they are as well as where they came from!
Set up your parameters and labels to categorize leads into hot, warm, or cold categories so you can focus on the most valuable prospects. VBOUT's Lead Scoring tool will help make this process easier by tracking their progress through various stages to determine how likely they will convert.
VBOUT is a tool that helps you schedule your appointments faster without all the back-and-forth emails. Instead, share an invite link so contacts can choose their own time, work with Google Calendar, and integrate seamlessly into marketing accounts.
3. Landing Page Builder 
VBOUT's drag & drop templates make it easy for everyone to create simple and complex landing pages. With a super-intuitive interface and tremendous variety of design elements, including fonts, images, or blocks, you can build your landing page in no time at all.
White-labeling your landing pages with VBOUT is flexible. You can use the default URL or any domain name and manage them from one place.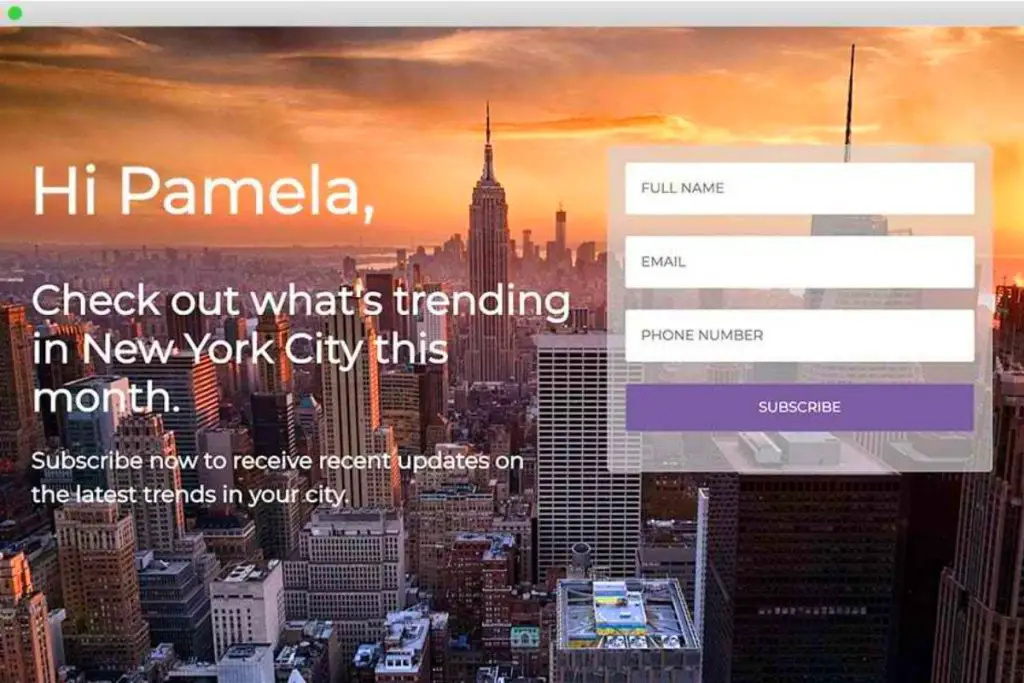 You can personalize your landing pages and be more relevant to the visiting people. Enhance conversions by dynamically changing content based on visitor data.
4. Social Media Management
VBOUT gives you the power to manage social media accounts in one place without logging into individual profiles. You can also group them by brand or assign them according to their team members, so they don't get overwhelmed with everything going on around them.
With a drag-and-drop calendar, you may effortlessly manage your social media postings. You can create, schedule, and publish content across multiple social networking platforms in bulk or set recurring posts to display at various intervals.
The VBOUT platform will allow you to monitor all of your social media channels from a single dashboard, giving you access and staying up-to-date on what's going on.
A depth insights feature and comprehensive analytics to check how well you're doing on your social media platforms are also available. Monitor your metrics and KPIs, examine new conversations, and discover mentions through a hashtag and keyword geo-search.
Related: SocialPilot Review
5. Analytics
This marketing platform is the perfect way to get an in-depth understanding of your marketing performance across different channels. With it, you can track campaign results and monitor critical metrics like website traffic or open email rates on a single dashboard!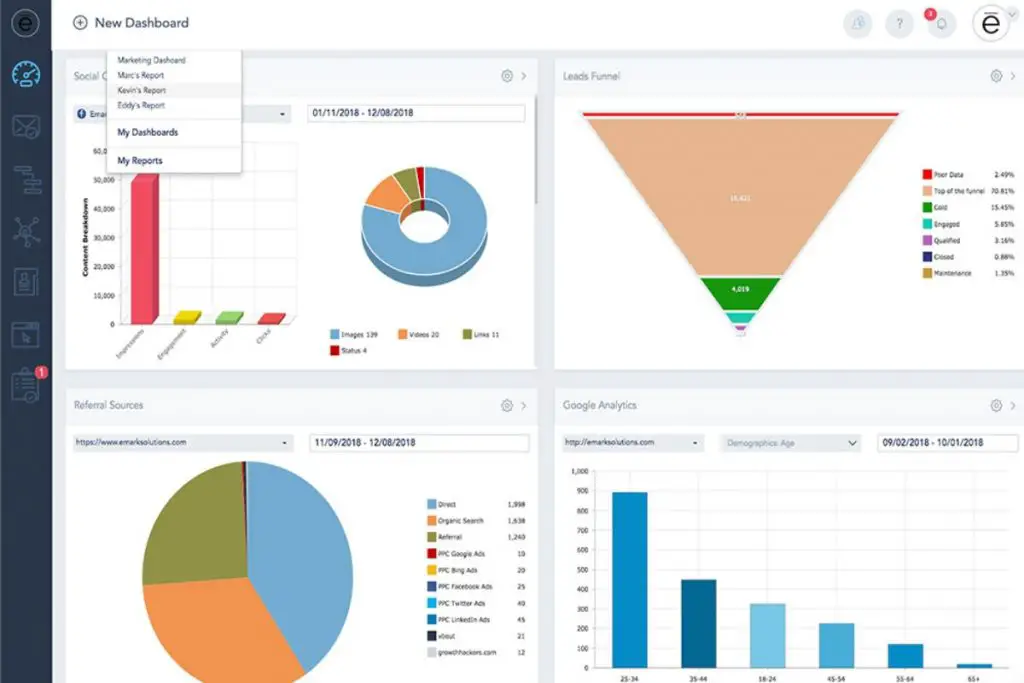 Keep your attention on the most important things. Use more than 30 drag-and-drop reporting widgets to construct your dashboard and display your favorite indicators. Visualize all of your critical KPIs, calendars, lists, feeds, tasks, funnels, and more using these marketing tools. You may also build separate dashboards for yourself or other members.
Customize your reports with your branding and have them sent to you or other recipients regularly using the reporting builder. You may also distribute them via a publicly accessed URL and save them as a PDF or image report.
VBOUT Support
You can find a lot of helpful information in the knowledge base if you want Vbout assistance! You may access it by going to your help center button on the top right corner or dashboard, which contains articles and videos about every aspect of using this software.
Live chat is a great way to get questions answered quickly. The average response time during business days can be as little as 5 minutes for them to answer your question.
I've had a great experience with VBOUT so far. From their software to customer support, everything has exceeded my expectations!
VBOUT Pricing
VBOUT comes in three different plans: professional, enterprise, and agency. 
The professional plan is the company's most affordable plan is the $54 per month paid annually option that includes lead management with email marketing rights to send 5000 emails a month—the price increases depending on the email you send and the features. 
You need to ask for a quote for the other two price plans. The agency plan is possible with White-Label Options!
You can try VBOUT for free for 14 days without any credit card required!
VBOUT Integrations
VBOUT has integrations with the following:
Salesforce
WordPress
WooCommerce
Magento
Shopify
VBOUT API
Ecommerce Integration
Elementor
GoToWebinar
Zoom
Insightly
FTP Sync
Pabbly
Konnectzit
Syncspider
Integrately
Future roadmap upcoming features Q4 2021
Predictive time sending in emails
Enhanced filtering options
Folders
Data export manager
TBD
Conclusion
In a nutshell, VBOUT is your all-in-one marketing automation platform. Vbout can help you increase web traffic, convert leads into customers, and automate every aspect of marketing that needs to be tracked. The advantage is that you don't need to spend hours researching or tinkering around to find the right tools for your business.
With a single subscription plan in place, startups will have everything they need from email campaigns to social media management–all in one convenient dashboard without having to worry about additional monthly charges or hidden fees! Click below to know more about VBOUT.
FAQ
What are some of the benefits of using Vbout?
Vbout is an all-in-one marketing automation platform fully loaded with tools and features. It can help you to grow your business by providing all the tools you need, such as lead management, email marketing, social media management, marketing campaigns, and more.
Who are the main competitors of Vbout?
The main competitors of Vbout are HubSpot, GetResponse, and MailChimp. These platforms offer a wide range of features but can be expensive for small businesses. Therefore, Vbout is an excellent option for businesses that want to automate their marketing tasks without spending too much money.
What is the difference between marketing automation and CRM?
Automated marketing is a type of marketing that is done without any human intervention. It is a way of using technology to reduce the workload on the marketers and to use data for close personalization. CRM software stands for customer relationship management software. It helps businesses streamline their interactions with their customers and prospects across channels, including telephone, email, social media, and point-of-sale systems. Click below to know more about Vbout.
What are the challenges of marketing automation?
The challenges of marketing automation are that it takes time and effort to implement it. In addition, marketing automation tools can also be expensive, which makes it difficult for smaller organizations or startups to utilize this form of technology.
What is a marketing automation platform?
Marketing automation is a set of software tools that streamline and automate their marketing efforts. Marketing automation platforms allow marketers to create a customer journey with a series of automated, customized interactions – from the first point of contact with the company to the last interaction before they're ready to buy.
Why use a marketing automation platform?
A marketing automation platform manages and integrates marketing activities for your company. These platforms can help you improve marketing efficiency and effectiveness. They also provide a central hub for all the generated data throughout your marketing campaigns.
How to choose a marketing automation platform?
It automates all your marketing-related tasks, saving you time and money. With that said, the success of your marketing campaign depends on the marketing automation platform that you choose. There are many different platforms to choose from, but which one should you choose?
Choosing a marketing automation platform is easy if you know what to look for. But, first, you need to ask yourself these questions: What are your team's priorities? What are the features essential for your business? And what are some other aspects that will make it easier for you to work with this particular platform?
What are marketing automation best practices?
Marketing automation is a procedure for automating marketing activities. It is the process of using customer data and analytics to automate digital marketing channels such as email, web push notifications, chatbots, and others. In addition, marketing automation software tools help with lead identification and lead scoring.
A marketing automation best practice is to use a CRM system to keep track of the customer journey. By doing so, marketers can quickly know who their customers are and what they want. In addition, the CRM system should be centralized for all business needs, including sales management, customer service management, account management, lead generation, and more.
What is the best B2B marketing automation platform?
Depending on your needs, Vbout will probably be a good choice. Vbout is a marketing automation platform that helps small to midsized businesses and agencies attract the right prospects, manage leads, and automate marketing tasks. Vbout provides a great selection of tools for creating landing pages, the form captures, email marketing campaigns, and much more.
Which marketing automation software is the best?
There is no one-size-fits-all answer to this question, as the best marketing automation software will vary depending on your business' needs. However, Vbout is an excellent option for small to midsized businesses and agencies, as it offers a wide range of features and capabilities.
What are the best marketing automation agencies?
It's not always easy to find a marketing automation agency that does everything you need. The Vbout review is here to help. Vbout is an all-in-one marketing automation platform for small and medium-sized businesses and agencies to automate their marketing tasks. Vbout offers many features, including email marketing, White-Label Options, lead capture forms, CRM integrations, landing pages, and more.
What is a marketing automation manager?
A marketing automation manager is a professional who oversees and coordinates marketing automation tasks and campaigns. They typically have a strong understanding of marketing and automated software systems, allowing them to manage and execute marketing tasks and goals effectively.
What is the best marketing automation software?
What are the best marketing automation tools?
HubSpot: This award-winning software is designed to convert more leads into customers, and many small businesses love it.
Vbout: Offers several marketing tools in one powerful platform – Social media, lead management, email marketing, automation, and analytics.
GetResponse: An excellent option for managing your list (of subscribers), this versatile tool also features landing pages that you can customize with design templates or images from their library; plus webinars hosting; autoresponders; and much more.
What are the best tools for marketing automation?
According to G2 Crowd, HubSpot is ranked #1 for Marketing Automation, and Vbout has 4.7 out of 5. Getresponse also offers a variety of tools for marketing automation.
What are the best marketing automation platforms?
The HubSpot software is the best marketing automation tool because it provides various features. For example, it makes it easy to reach and convert leads into customers. The Vbout platform also has many valuable features perfect for marketers. Those features include social media, landing pages, lead management, email marketing, and automation. GetResponse is another excellent marketer automation program for marketers because it offers an online platform for email marketing software, landing page creators, webinars hosting, and more.
What is the best marketing automation?
HubSpot is the #1 marketing automation software for small to enterprise businesses. With HubSpot, you'll never have too many emails, social followers, or abandoned shopping carts again.
GetResponse makes it easier than ever to make decisions about how your company connects with prospects and customers by providing everything you need in one place.
With Vbout, you can quickly create social media posts, landing pages, lead capture forms, and email marketing content. In addition, you'll have all the analytics you need to make data-driven decisions about your marketing campaigns.