Disclaimer: We sometimes use affiliate links in our content. For more information, visit our Disclaimer Page. 
When I first discovered AI-powered paraphrasing tools, my expectations were sky-high. The promise of effortless content creation seemed almost too good to be true. And truth be told, not all tools live up to that potential.
Much like many new technologies, the initial wow factor can sometimes give way to a more tempered, "It's useful, but not a magic wand."
And that's where Paraphrasingtool.ai comes into the picture. 
Does it truly revolutionize content creation or is it just another player in an already crowded field?
If you're curious to know how it fares and if it's the answer to your content creation needs, stick around for our Paraphrasingtool.ai review.
What Is Paraphrasingtool.ai?
Paraphrasingtool.ai's marketing says that it's an "all-in-one AI writing assistant solution" that is not far off the mark. 
Paraphrasingtool.ai helps you paraphrase existing content, create new content from scratch, and edit your text to perfection. 
Being an AI writing tool, the result might not be ready to hit. You will need to make some manual edits to the feedback. 
Better stated, Paraphrasingtool.ai is even more than its competitors, like Quillbot. 
So, it is an excellent paraphrase tool to help you rewrite your content and beat writer's block. 
And there is a lot more on top of that.
You can paraphrase text from multimedia content such as images, speeches, and audio files. 
Paraphrasingtool.ai is one of the best paraphrasing tools that has the most advanced paraphrasing features like different modes, or tone customization options. 
Wondering how it works? Let's get more technical.
Typically, Paraphrasingtool.ai is an AI paraphrasing tool, powered by artificial intelligence and machine learning algorithms. It operates on the same foundational technology as other paraphrasing tools like Quillbot, and it's a pretty best paraphrasing tool. 
It's not perfect, of course. Because AI models are still evolving, there are times when the tool might not capture the nuances or intricacies of human language fully. 
For instance, if you feed it a complex sentence with multiple clauses and metaphors, it might provide a paraphrased version that loses some of the original meaning or wit. 
Right off the bat, that means you should be prepared to occasionally step in and fine-tune the output for optimal results.
And of course, you cannot replace human writers and editors with a paraphrasing tool. 
Still, it is one of the go-to solutions when it comes to improving your writing and saving time. 
So let's go over a quick tour, to see what it can do. 
The Demo: A Quick Tour Of Paraphrasingtool.ai 
When you first visit the website "Paraphrasingtool.ai", you'll be greeted with its default paraphrasing tool. 

Here's how it works.
You'll need to enter the content you want to paraphrase: 

Then choose the paraphrase settings such as selection of mode, tone, and language: 

We chose to improve the quality of the English text, so we selected the text improver mode and professional tone. Then hit the "Paraphrase" button: 

And then get the paraphrased text:
You get the paraphrased text in mere seconds. 
The story does not end here. 
Unlike most other paraphrasers, Paraphrasingtool.ai allows you further rewrite content sentence by sentence. Yes, you've heard that right. You can click on any paraphrased sentence and it will show you alternate sentence options to choose from, with a lot of fluff. 

So if you are not satisfied with the spun results, maybe you can use this outstanding feature. If you want to choose any of the sentences, get ready to edit them heavily.
After you complete paraphrasing, you can also use its built-in plagiarism checker to ensure that spun content is plagiarism-free. 
For this, you can simply click on "Plagiarism" in the dashboard:

The tool will open its plagiarism checker into a new window having the same paraphrased text in its editor: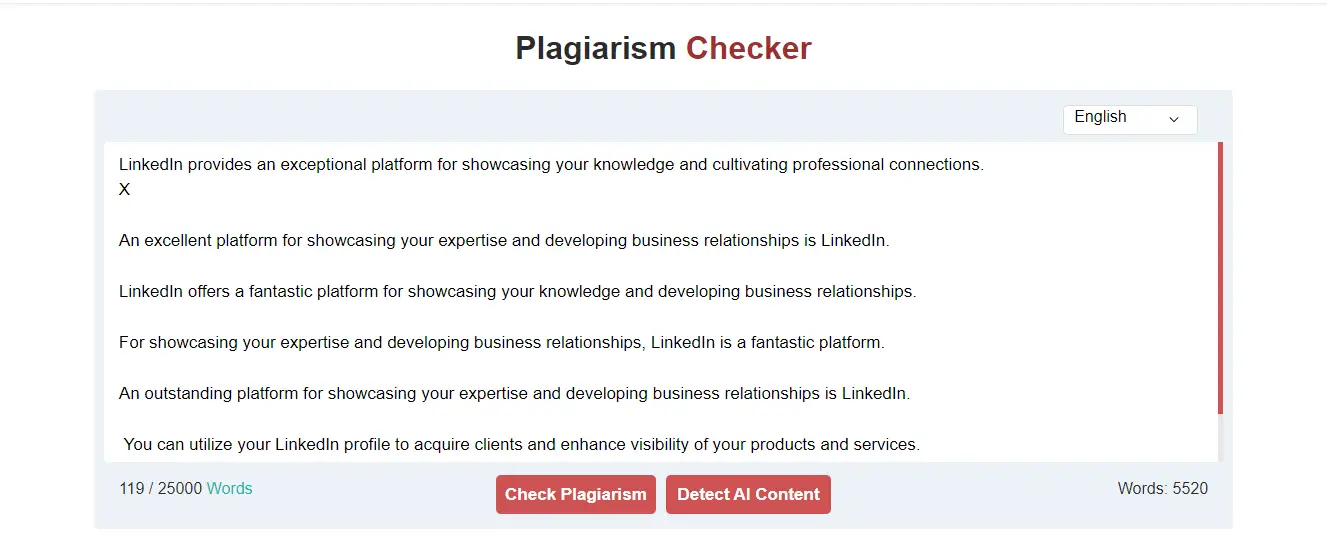 Click on "check plagiarism" and get plagiarism report: 

See how only the text-improving mode made your content unique and original. 
Paraphrasingtool.ai Features and Tools
Paraphrasingtool.ai has 30+ advanced writing and editing tools. The platform offers more than what you find in a basic paraphrasing tool, for example. 
So without any further ado, let's look at the core features of Paraphrasingtool.ai: 
1. Primary Writing Tools 
You get a lot of primary features that help you produce better content such as a paraphraser, summarizer, plagiarism checker, grammar checker, and more. 

The entire process of making writing unique, engaging, and error-free seems easier with this set of AI writing tools. 
But honestly, if you go to use its paraphrasing tool, you'll get high-quality, human-readable, and genuine content in output that needs little to no manual edits afterward.
In the best-case scenario, you can use primary writing tools to help you burst writer's block by rewriting existing ideas and fine-tuning content to ultimate perfection. And that's about it.
2. Blog Wizardy 
When it comes to blogging, Paraphrasingtool.ai has truly put its best foot forward. Under this toolkit, the platform goes beyond just offering basic tools and provides a holistic approach to blog creation.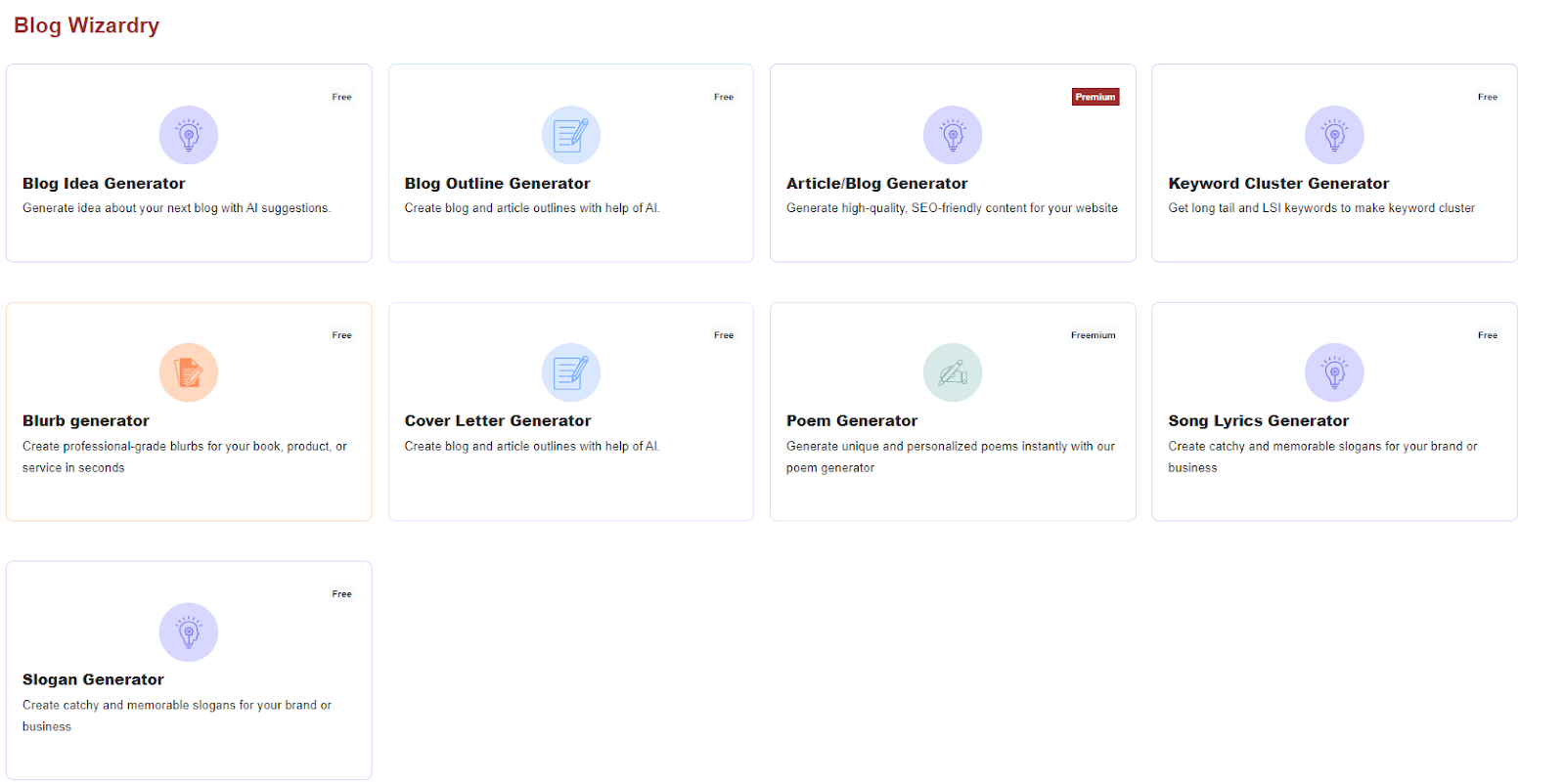 You can generate fresh and relevant blog topics using AI, ensuring you never run out of things to write about.
The platform also plans your blog structure efficiently with AI-generated outlines while crafting compelling intros and conclusions that hook your readers and provide a satisfactory end to your articles.
From ideation to execution, its blog post generator creates full-fledged blog posts that resonate with your audience and are SEO-friendly.
You will also get a keyword cluster tool that helps you make sure your blog ranks higher.
3. Student's Saviour
Parphrasingtool.ai's student savior tools are fantastic. Some of the best AI writing tools this AI paraphrase tool offers.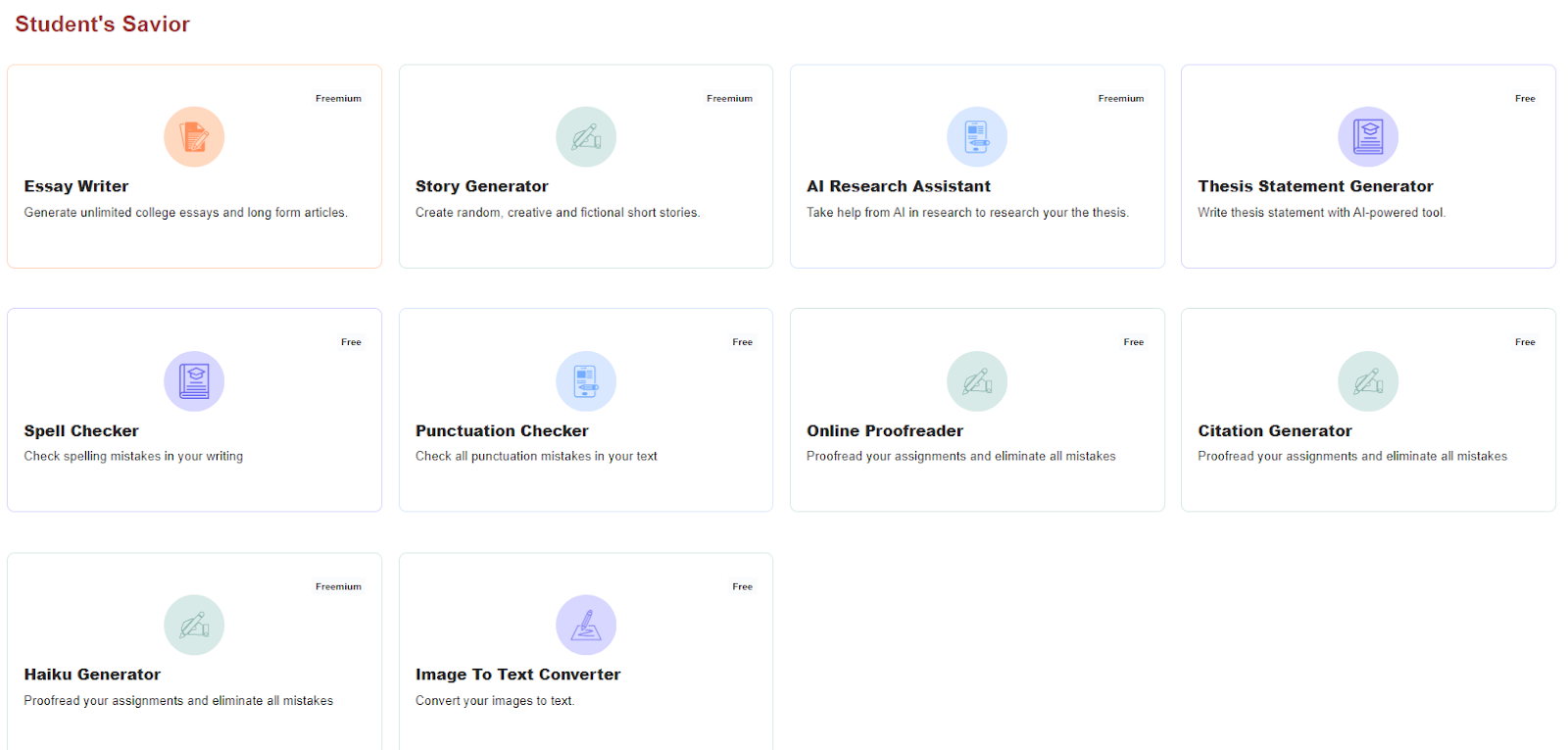 You get help writing well-structured essays, compelling narratives, powerful thesis statements, and even more concise summaries without losing the original text essence.
Basically, everything the average student needs.
4. Copywriting Tools
This section is pretty thin, it has much fewer features than all the other Paraphrasingtool.ai categories.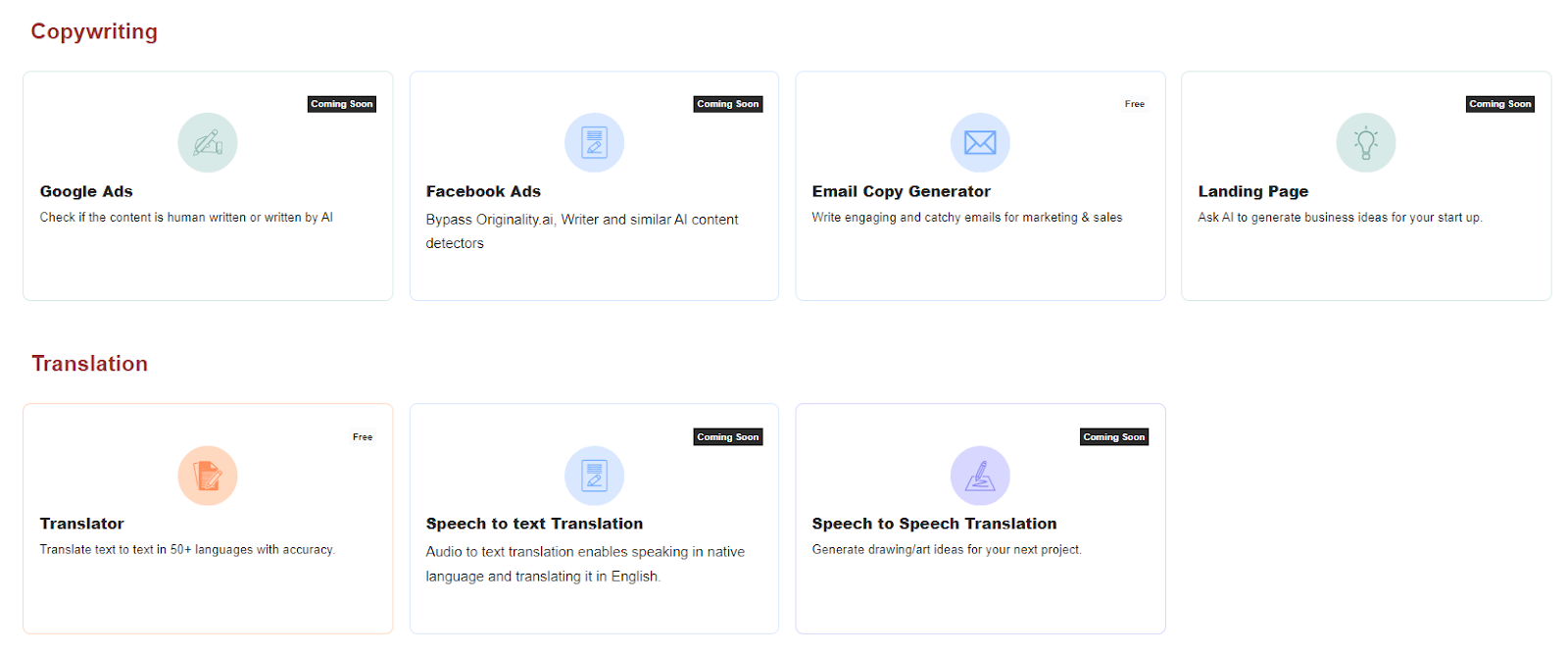 You'll probably get a set of tools specifically designed for online advertising such as Facebook ads, Instagram captions, and Google Ads. 
But even if you use them, don't expect much.
5. Freelancing Tools
For freelancers looking to make a mark in the competitive market, Paraphrasingtool.ai has your back.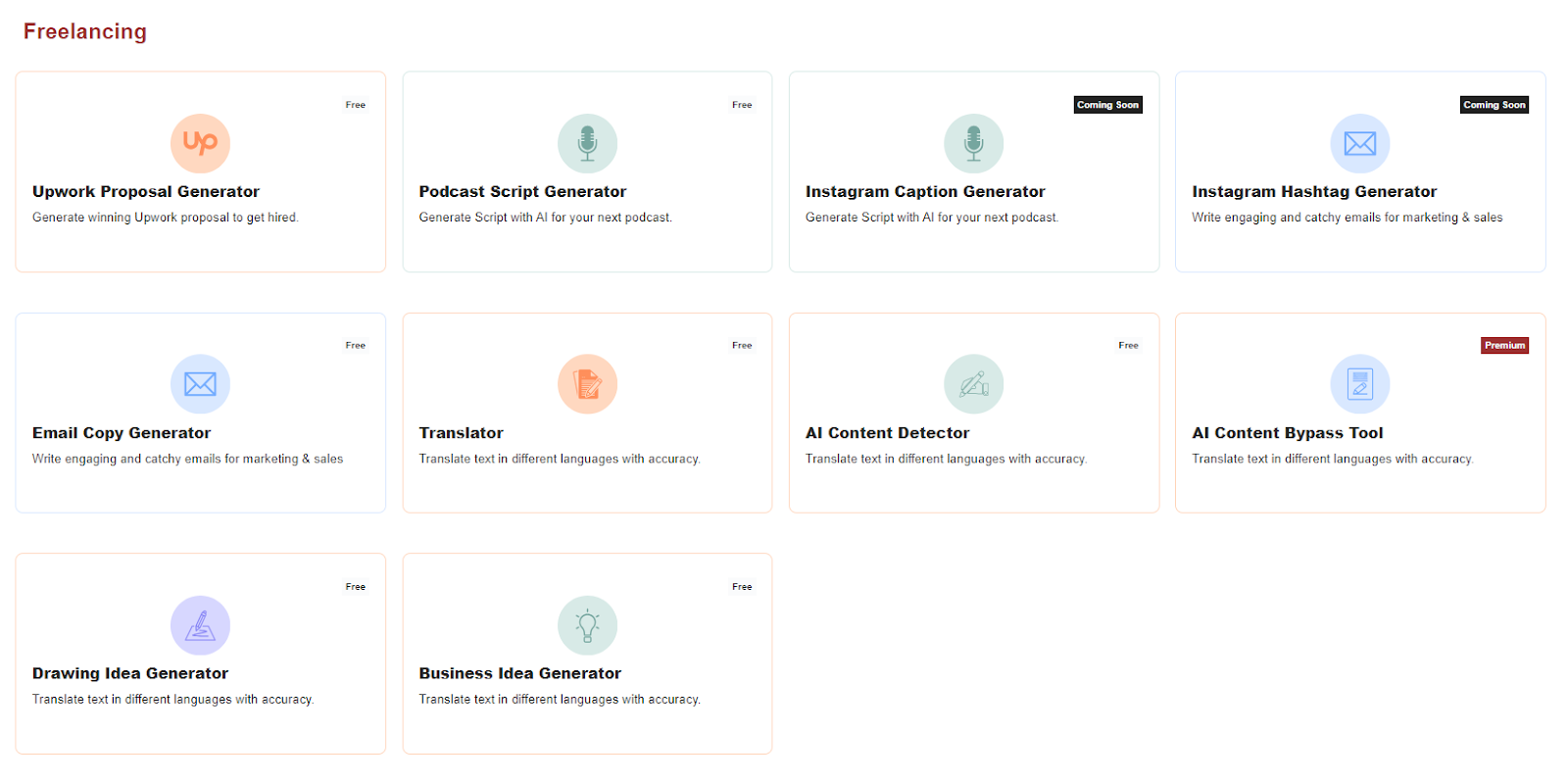 Using the Upwork cover letter generator, you can write persuasive proposals that help you win projects.
But, there is still a lot that you need to do yourself such as tweaking the proposal as per your expertise and past experiences. 
Paraphrasingtool.ai also helps you craft impactful email copies and scripts that drive results and captivate audiences.
6. Translation Tools 
Breaking down language barriers, Paraphrasingtool.ai allows you to convert content from one language to any of the 30 languages available.
You can transcribe spoken content into written form which is ideal for meetings or interviews.
In addition, its speech-to-speech translation features provide real-time translation of spoken content, facilitating multilingual conversations.
To sum it up, Paraphrasingtool.ai isn't just a paraphrasing tool—it's a comprehensive suite of tools catering to bloggers, students, marketers, freelancers, and more. Its diverse functionalities make it stand out as an indispensable tool in the wealth of AI-powered writing tools.
Multi-Language Support
Paraphrasingtool.ai has support for more than 30 languages:
Here's where to find it:

This sets the benchmark for AI writing tools in the market.
Moreover, its performance in other languages is pretty impressive.
We evaluated its capabilities in Romanian and Spanish, and the quality was on par with the English content generated by this paraphrase tool.
Integrations And Add-Ons
Paraphrasingtool.ai offers multiple browser extensions such as for Chrome, Firefox, Edge, Opera, or Safari. All of these extensions are free to install and use, ensuring you can seamlessly rephrase content without toggling between platforms.
Additionally, for mobile users, the Android App and the iOS version available on the Apple App Store make on-the-go editing and paraphrasing a breeze.

For those who rely heavily on Microsoft Word for their content creation, there's even an MS Word add-on. This facilitates in-document paraphrasing without the need for copy-pasting or switching to a separate platform.
Pricing: Is Paraphrasingtool.ai Worth The Money?
Paraphrasingtool.ai has a free plan, with some limits on paraphrasing features and character limits. Also, you don't need any credit card or login details to get started with its free plan. 
If you want to use Paraphrasingtool.ai premium, there are three premium plans you'll get:
Solo Text Generation Plan
Solo Paraphrasing Tool
All-in-one Bundle Tools Plan
Here's what you can expect from its monthly and yearly plans:
The pricing is straightforward, consistent, and aligns with the individual average when juxtaposed with its competitors.
Conclusion: Is Paraphrasingtool.ai The Best AI Tool?
No doubt, AI writing tools are pretty impressive today. Still, they cannot wholly replace the touch of a human writer. 
However, in certain scenarios, such as battling writer's block, platforms like Paraphrasingtool.ai do offer a helping hand.
When considering the value proposition, this paraphrasing tool's pricing seems reasonable, especially when compared to competitors like Quillbot, which might be slightly superior but also comes with a heftier price tag. 
In summary, while Paraphrasingtool.ai might not be the definitive best among a sea of AI writing tools, it undoubtedly holds its ground with its robust features and competitive pricing, making it a worthy consideration for content creators and writers alike.